I love any kind of cinnamon roll, but this time of year it's hard to beat a pumpkin cinnamon roll!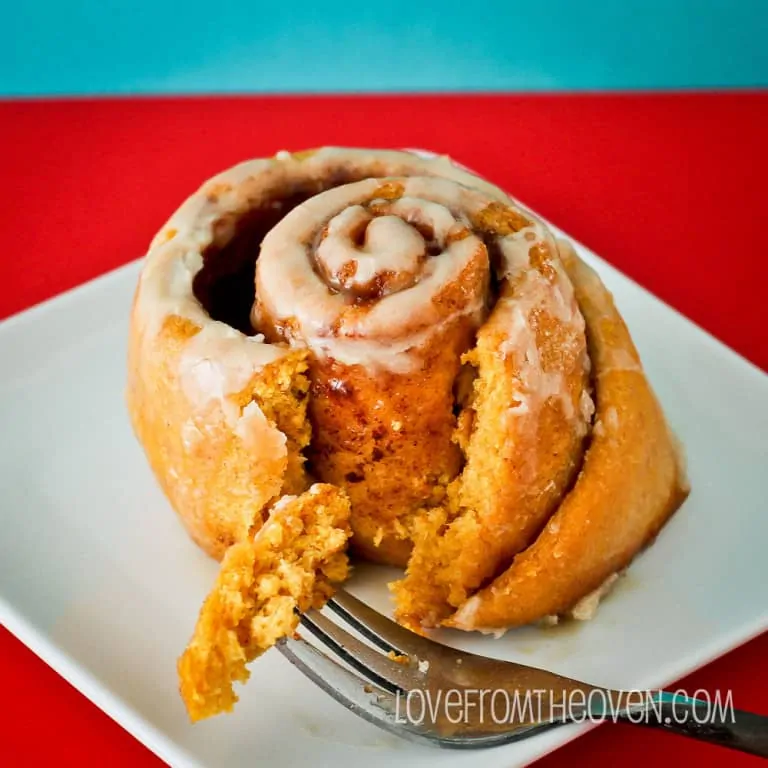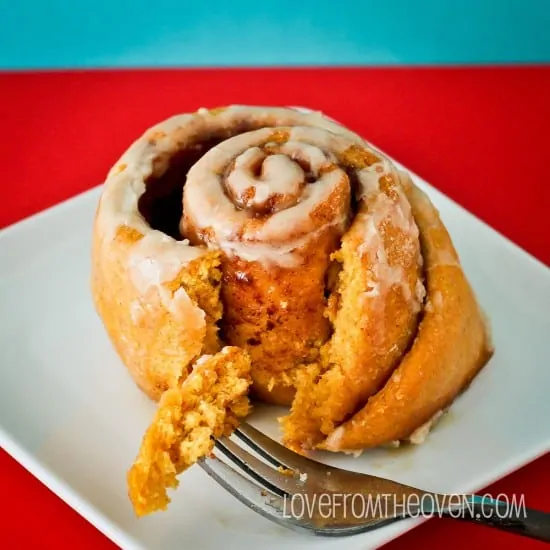 If you are wondering how a pumpkin cinnamon roll tastes, let me tell you, it's AMAZING! And these ones are borderline health food (work with me here), made with pumpkin and whole grains! As often as possible I try to substitute whole wheat pastry flour or white whole wheat flour for all purpose flour in recipes. The heartiness of the pumpkin pairs perfectly with the whole grain flour in this cinnamon roll recipe. For years I've been a big fan of the white whole wheat flour, but I recently started using whole wheat pastry flour, and wow, it's kind of amazing in recipes like these.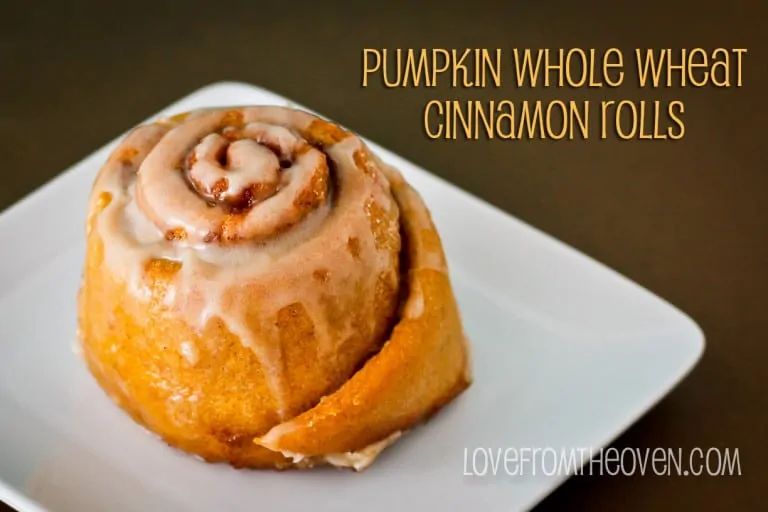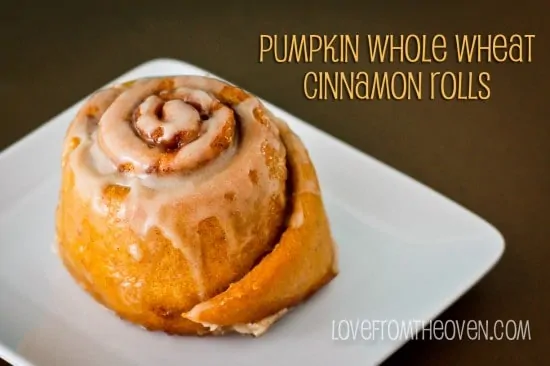 These were a big hit with everyone in the family, with my cinnamon roll loving daughter declaring them the best cinnamon rolls ever. If you are big pumpkin fan, you want to work these pumpkin cinnamon rolls into your fall baking line up!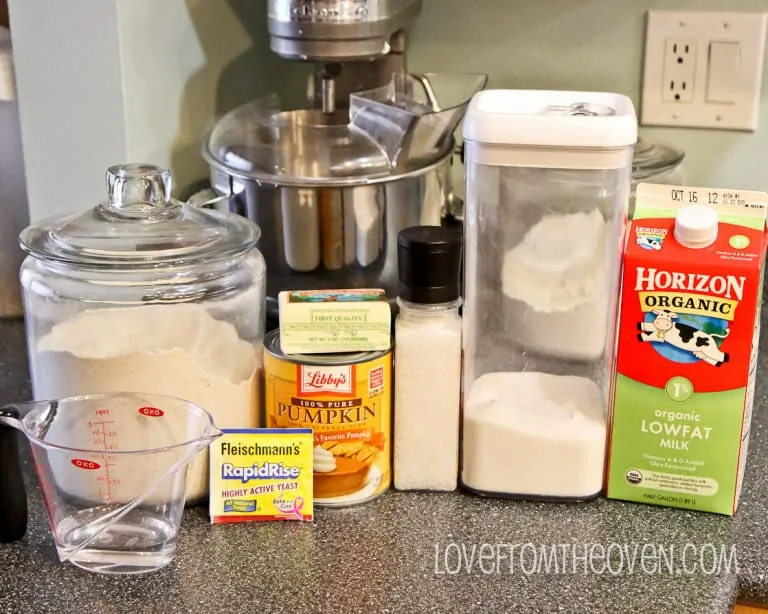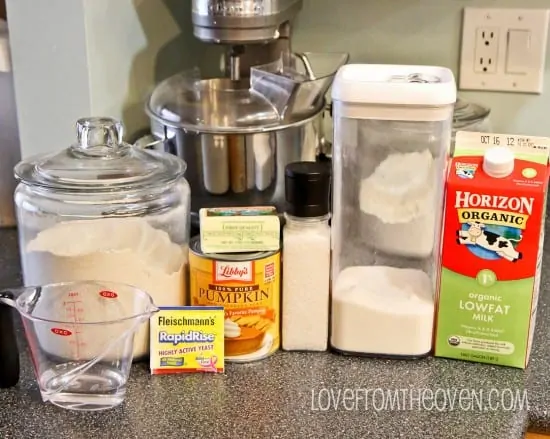 These are pretty simple to make, very straight forward, and they do not take all day (though they probably take a bit more time then you want to spend if you are making them for breakfast – so that might be a prepare the night before thing).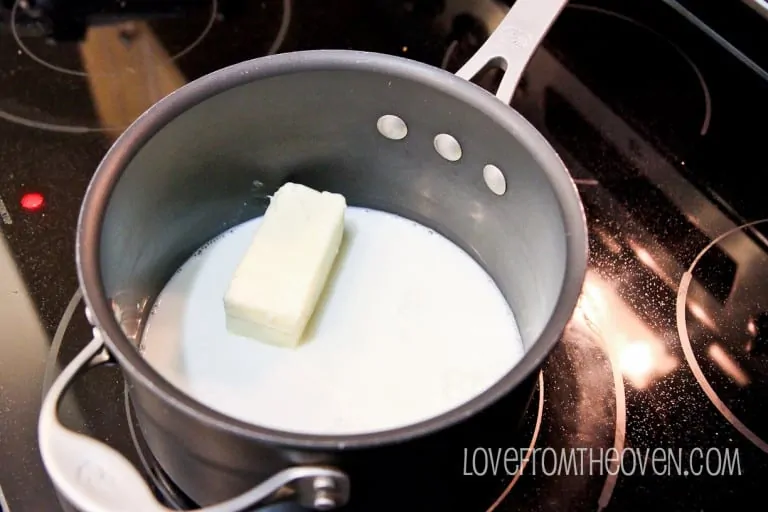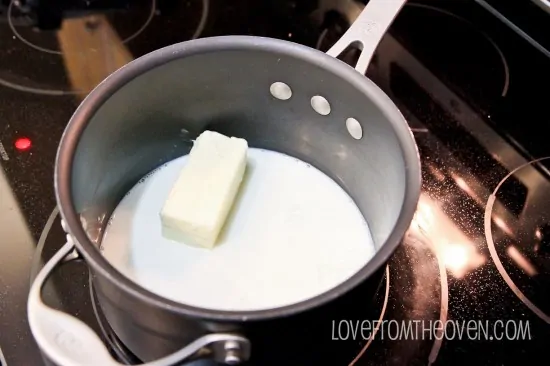 You'll melt your butter and milk in a saucepan on low and add the sugar in when melted. While that's happening, you want to get your yeast and water all friendly with each other. I have long had a fear of baking with yeast, but the more I work with it, the easier it gets. My biggest advice is do not make your water too hot, you don't want to cook the yeast at this point (or kill it). I don't use a thermometer, but I make the water about as warm as I would make a bath for my toddler. Not hot, but comfortably warm to the touch. Let the yeast and water hang out a bit.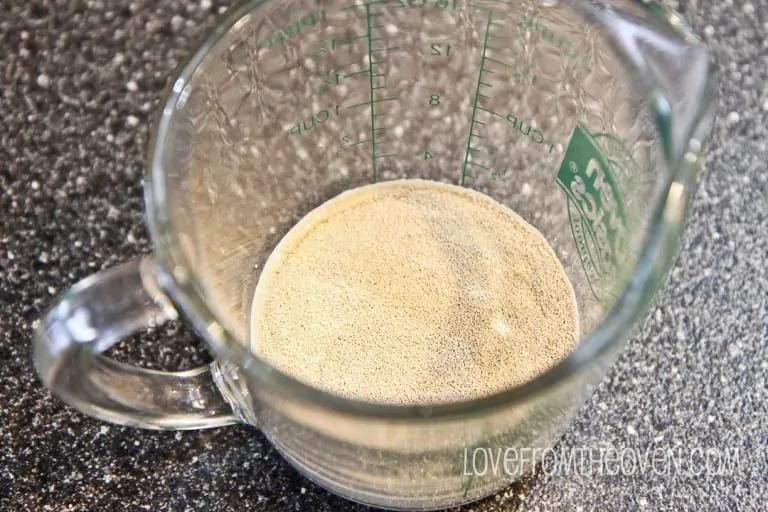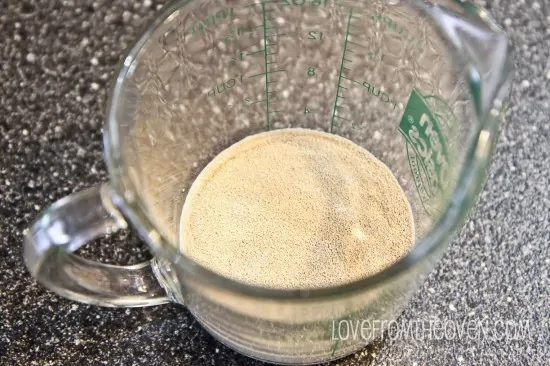 After you have melted your butter and milk you want to let them cool, as you will be mixing them with the yeast and water, which again, you don't want to kill. Once your butter/milk combo has cool, combine it with the yeast and water as well as the pumpkin. Add in your flour.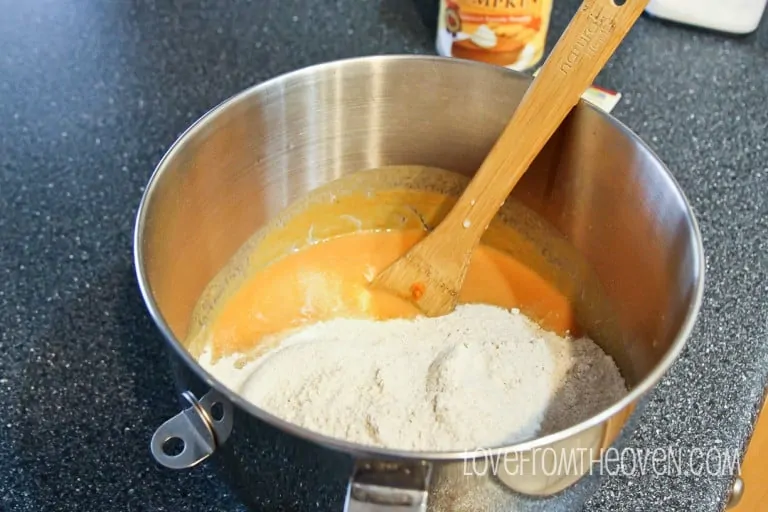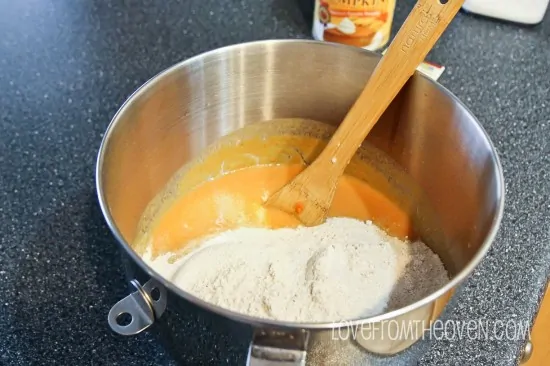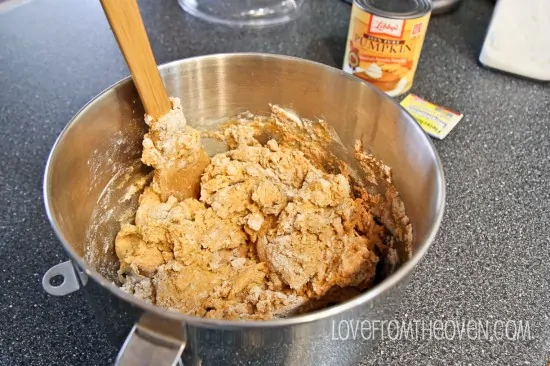 My mixture was pretty dry, and it took working it together by hand to get all the flour incorporated and well combined.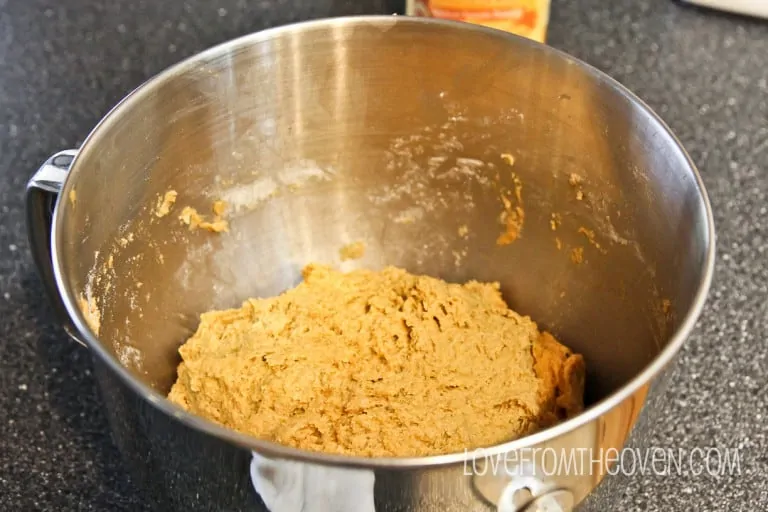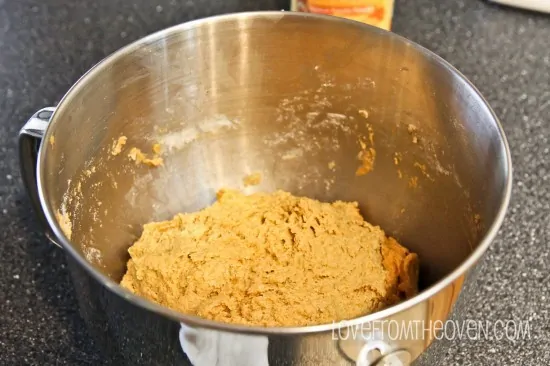 At this point it's time to let it rise. I like to turn my oven on to 350, leave it on for about one minute of preheating (so it's NOT at 350, it's starting to warm up) then turn it off, cover my bowl with a towel and sit it in the oven that is ever so slightly warm. After sitting for at least an hour (I usually do 1.5-2 hours) it should be doubled in size and ready to go.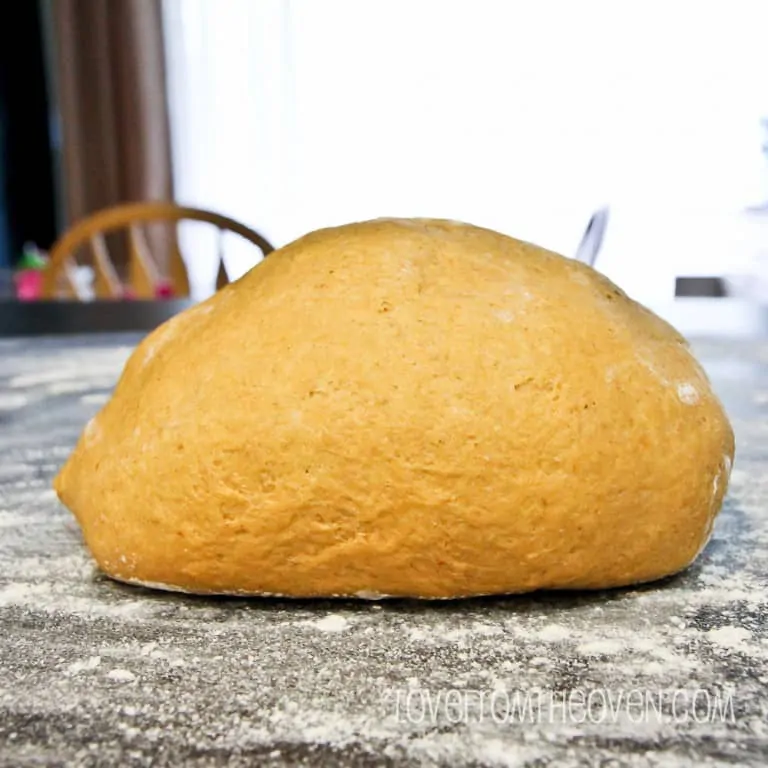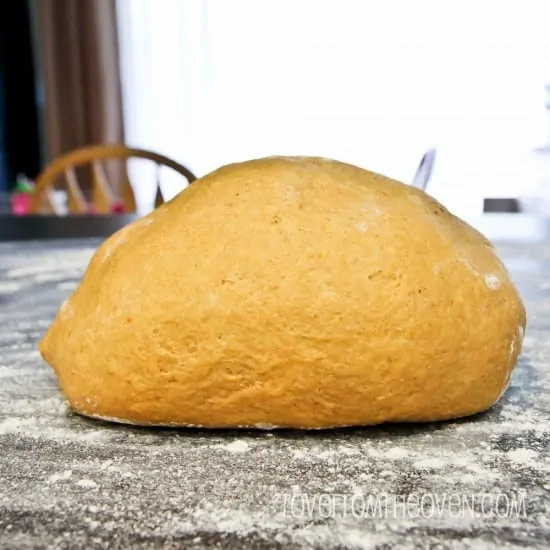 I kneaded my dough six or seven times. Nothing major, just a little bit of kneading. It's not too needy, I'm not a fan of needy. Or kneady. After that roll it out into a big rectangle.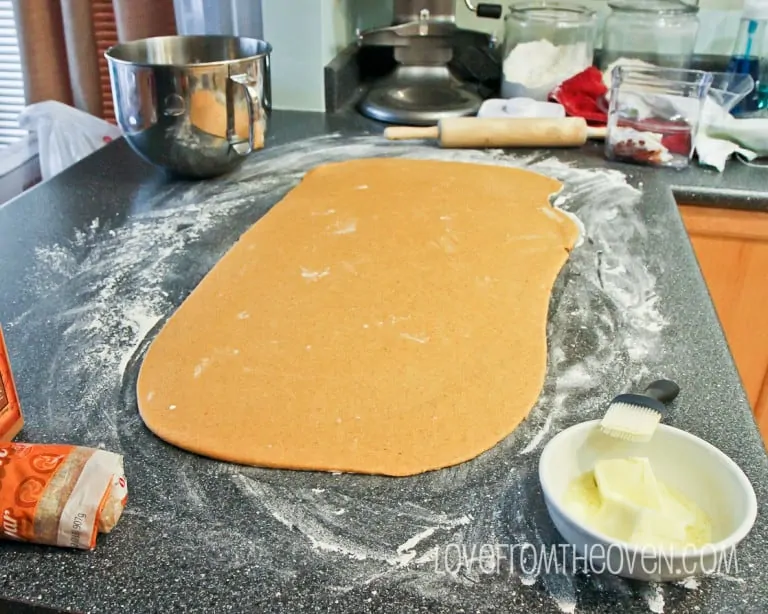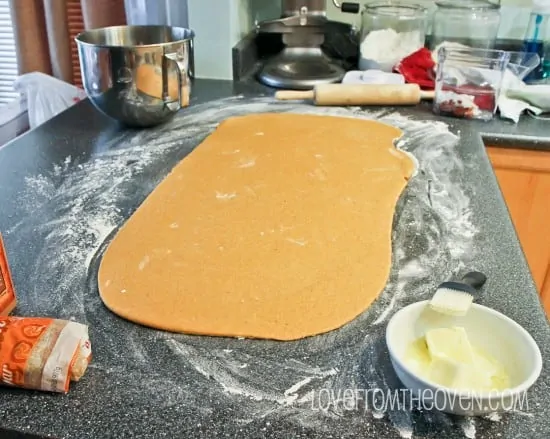 Time to add the butter, cinnamon and sugar. For this size batch (which made two 13×9 pans, 24 cinnamon rolls) I usually use about 2/3-3/4 of a stick of butter, one to two cups of brown sugar and as much cinnamon as strikes my fancy. You can use white sugar for this as well, but I like the more caramely taste of brown sugar. Also, some people go a lot heavier with the sugar coating than I do. Do whatever YOU like.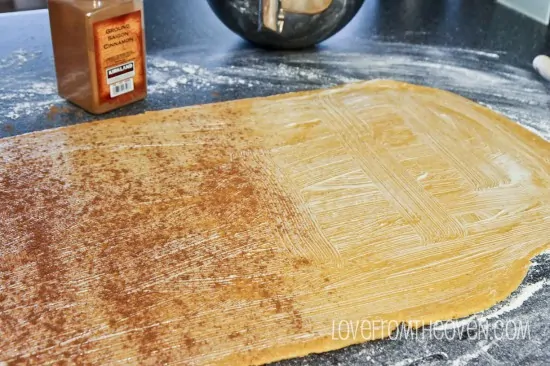 Brush on your butter (I prefer mine softened. Melted butter is just a big mess in my opinion). Then add your cinnamon and sugar.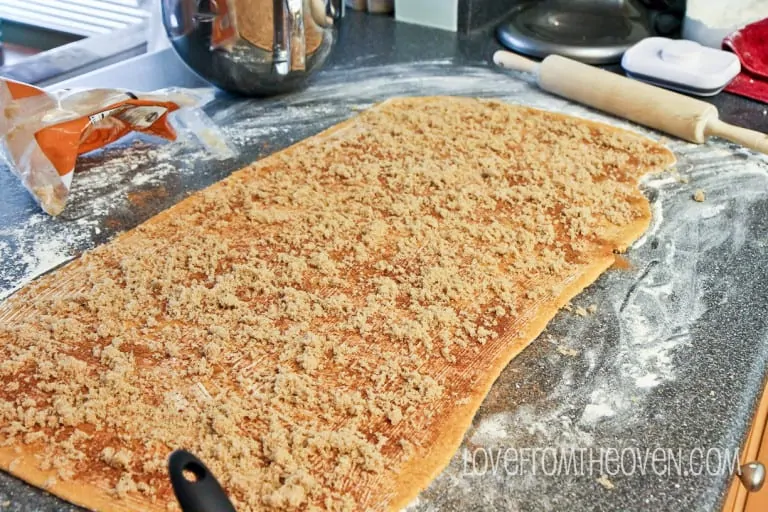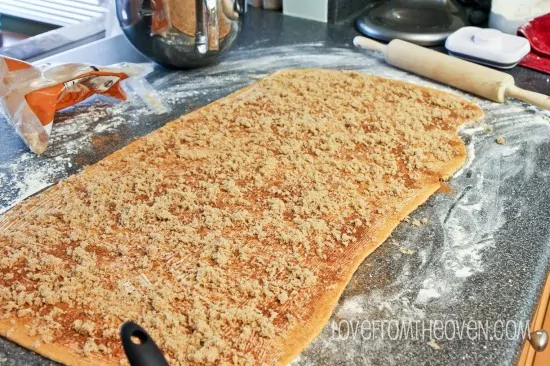 Then roll it up…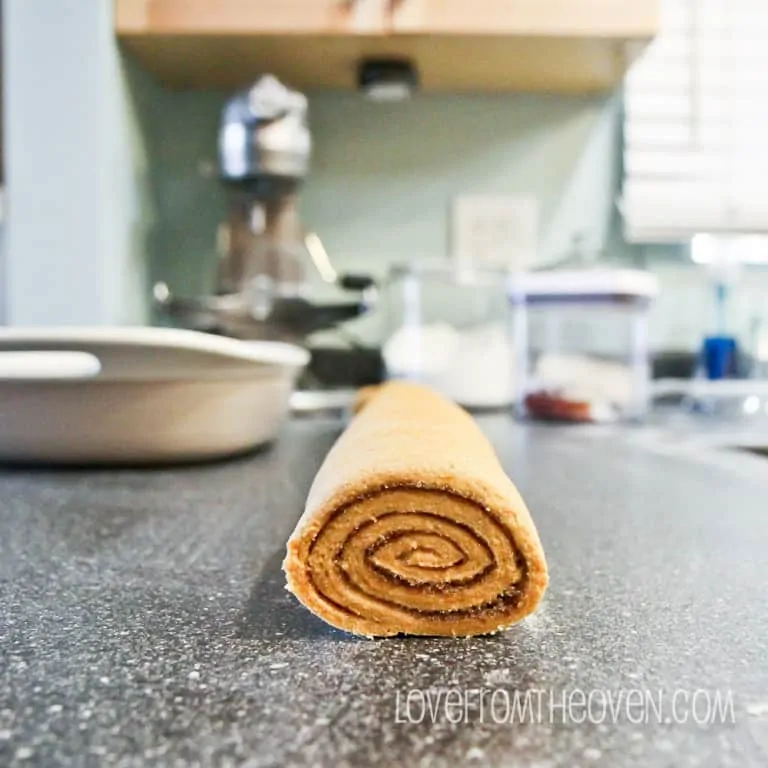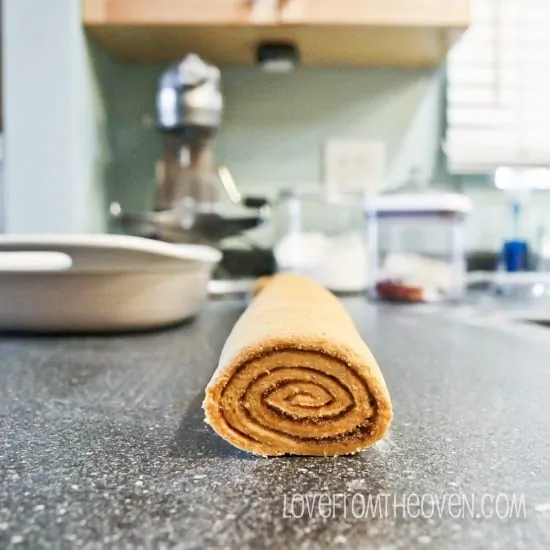 And cut into individual rolls. I butter my baking dishes prior to sitting the cinnamon rolls in them.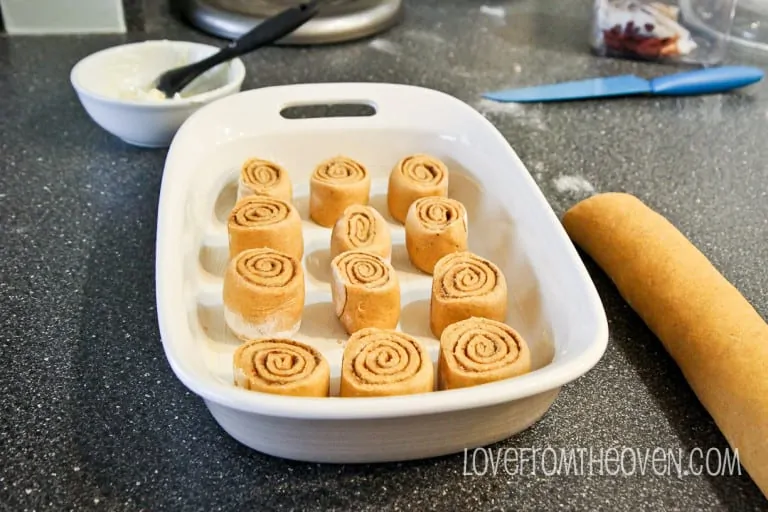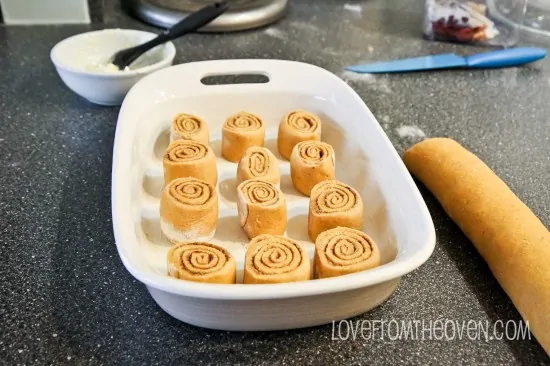 From here I let them sit out and rise a bit more while my oven preheats. Then into the oven they go, and within a few minutes the house smells amazing.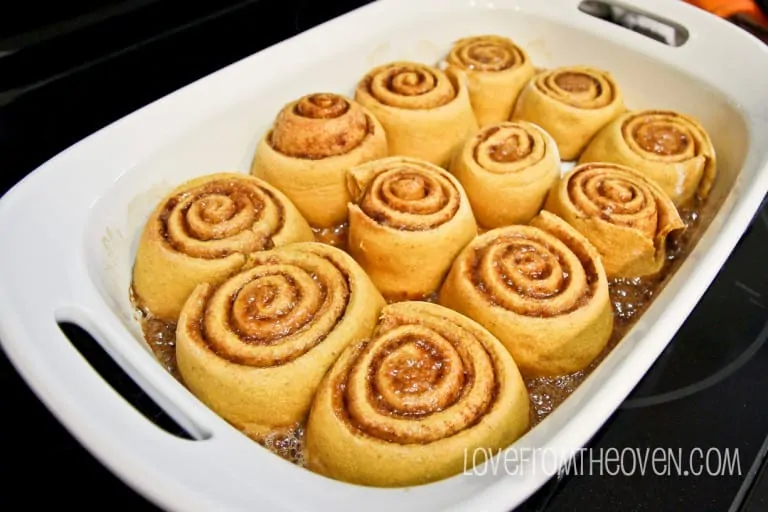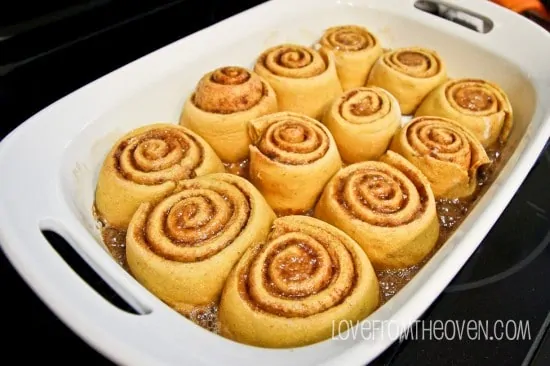 While I love a nice thick cream cheese frosting on top, I have grown to be quite fond of The Pioneer Woman's method of pouring your icing/frosting/glaze on them right after they come out of the oven. They soak up the flavor wonderfully this way. But if that's not your thing, don't do it – it's baking, have fun and do what works for you.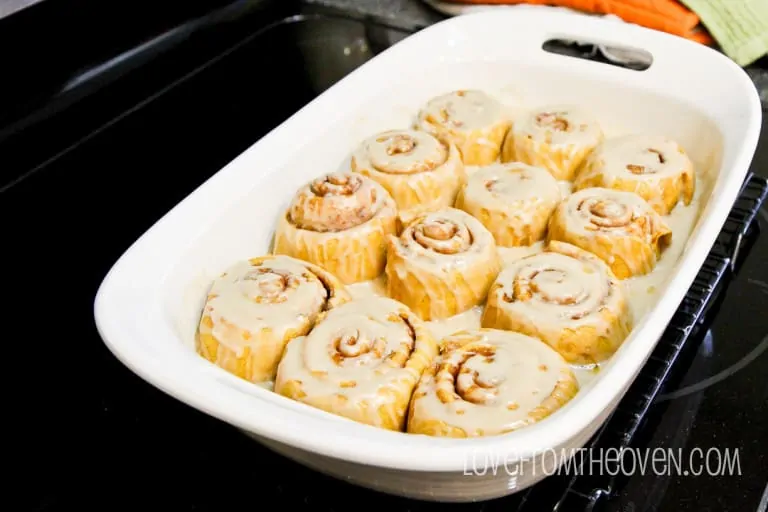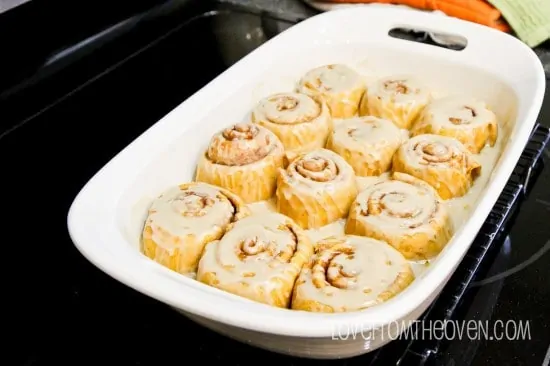 These were delish warm and right out of the oven, but I think my favorite way to enjoy cinnamon rolls is the next morning. After they've soaked up all the glaze. Oh. So. Good.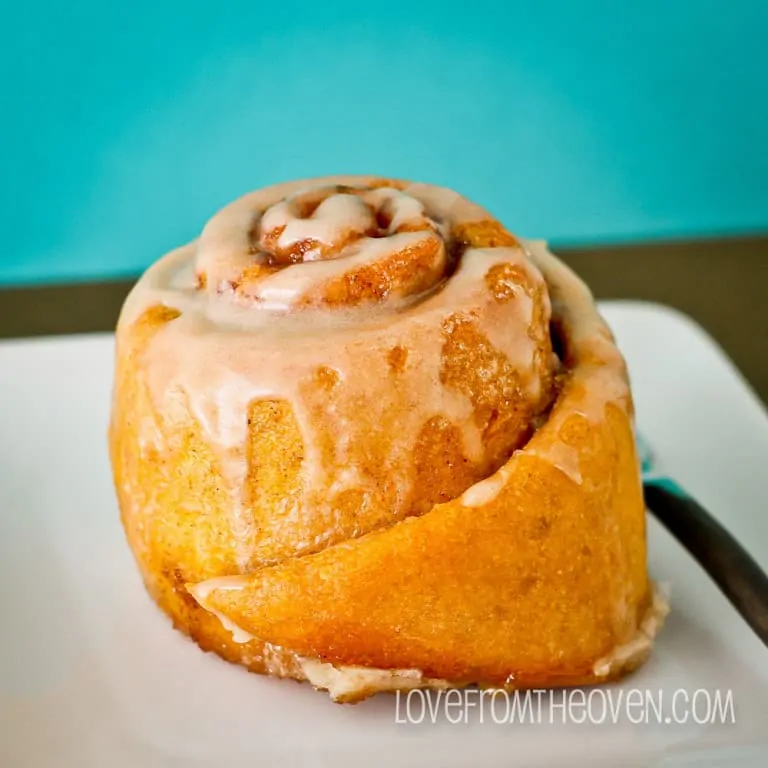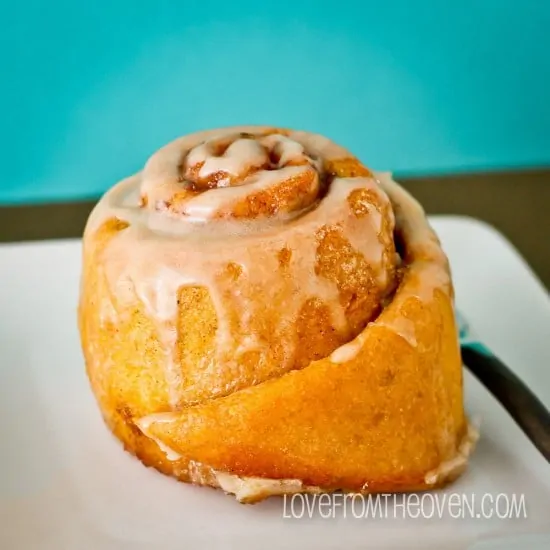 PUMPKIN CINNAMON ROLLS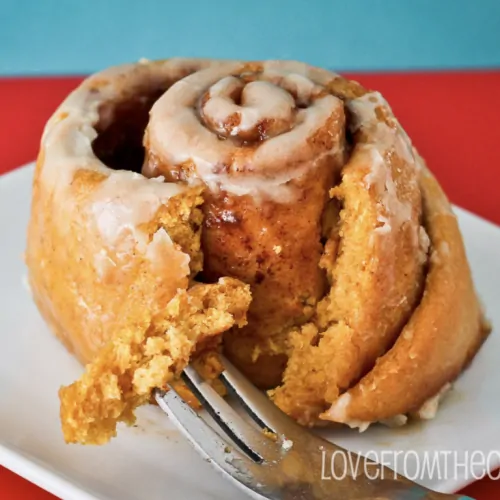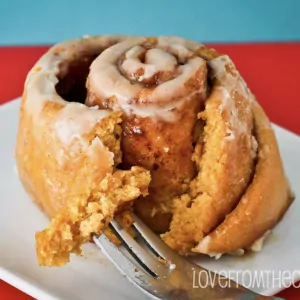 Pumpkin Cinnamon Rolls
Ingredients
Cinnamon Roll Dough
1

cup

milk

1/2

cup

butter

1/2

cup

sugar

15

oz

can OR 1 3/4 cups pureed pumpkin

1/4

cup

warm

not hot water

1

packet of yeast

1 tablespoon

5 1/2

cups

white whole wheat flour

2

tsp

pumpkin pie spice
Filling
1

stick

1/2 cup butter - softened

1 -2

cups

brown sugar

3-4

tablespoons

cinnamon

1

tsp

pumpkin pie spice

optional
Glaze
4

cups

powdered sugar

1/2

cup

milk

2

tablespoons

melted butter

2

tsp

vanilla extract

1

tsp

maple extract

pinch

of salt

optional
Instructions
Combine butter and milk in a sauce pan and heat on low until butter has melted. Once butter has melted, add sugar and stir well to combine, cooking on low heat.

Add yeast to 1/4 cup of warm water (make sure it's not too hot, just warm to the touch). Let the yeast dissolve into the water.

While yeast is dissolving, pull butter, milk and sugar mixture off stove and let cool.

Once butter, milk and sugar has cooled down to warm (not hot), combine it with the yeast and water mixture in a large mixing bowl. Add in pumpkin puree, flour, pumpkin pie spice and salt. Stir to combine, you may need to work the ingredients together with your hands to fully incorporate flour.

Once combined, set bowl, covered, in a warm draft free spot for 1-2 hours to rise.

After dough has risen (it should double in size), punch it down and prepare to roll it out. Cover your work surface in flour and set dough on surface. Knead dough six to seven times. Roll out with a rolling pin into a large rectangle. If dough is sticky, add a bit of flour to it, as well as your rolling pin.

Once dough is rolled out, brush softened butter over dough. Sprinkle on cinnamon and pumpkin pie spice followed by brown (or white) sugar.

Tightly roll dough up, starting from edge furthest from you. Continue to roll until you've reached the end. Slice cinnamon rolls (you should get 24 of them, about one inch thick depending on how thin you've rolled out your dough). Set cinnamon rolls in buttered pan (two 9x13 pans works well, each holding 12).

At this point you can bake your rolls, or cover and place in the fridge for up to twenty four hours.

Preheat your oven to 375. While oven preheats, let cinnamon rolls sit at room temperature (approx 20 minutes). If cinnamon rolls have been in the fridge and are cold, it's best to give them 30-40 minutes at room temperature prior to baking.

Bake the cinnamon rolls for 18-25 minutes, until tops are golden brown and centers look firm. Remove from oven and let cool for approx five minutes.

While cinnamon rolls are cooling, mix up glaze, combining milk, powdered sugar, melted butter, vanilla extract, maple extract and pinch of salt in a large bowl and mixing well. The glaze should be pourable. If it's too thick, add additional milk, one tablespoon at a time.

Pour glaze over cinnamon rolls. Serve immediately or allow to sit. Store covered. Enjoy!
Disclaimer
Nutrition information is estimated as a courtesy. If using for medical purposes, please verify information using your own nutritional calculator. Percent Daily Values are based on a 2000 calorie diet.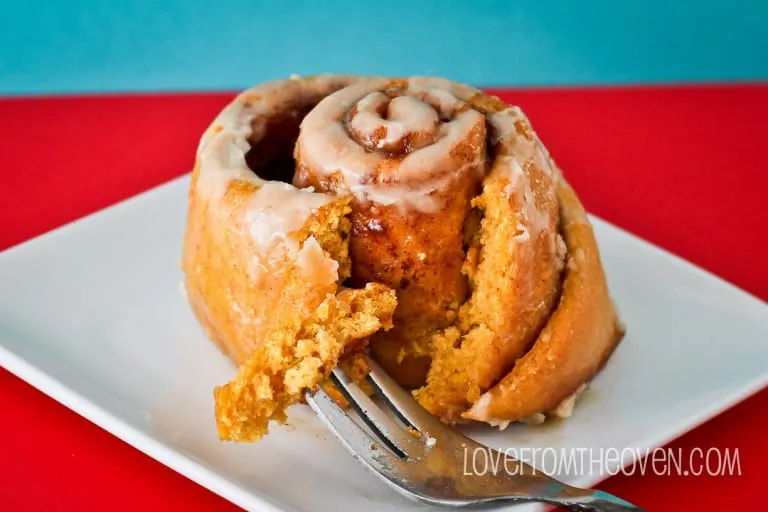 Yum yum.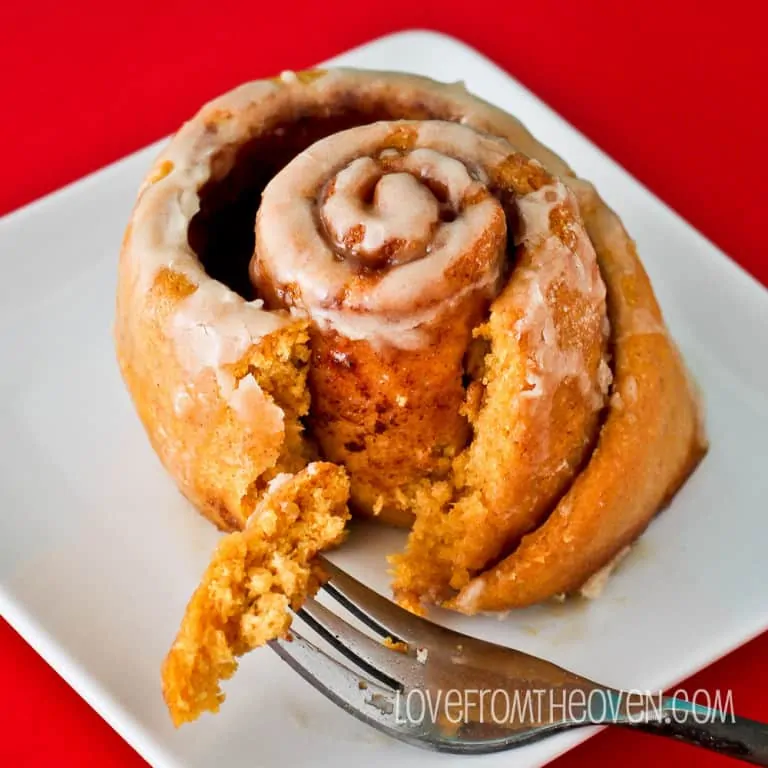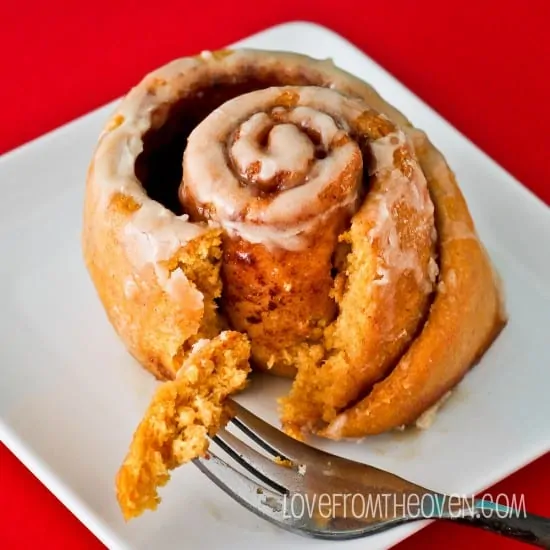 And you can feel a little less guilty as they are made with whole wheat and pumpkin. Yup, some veggies in your cinnamon rolls. Enjoy!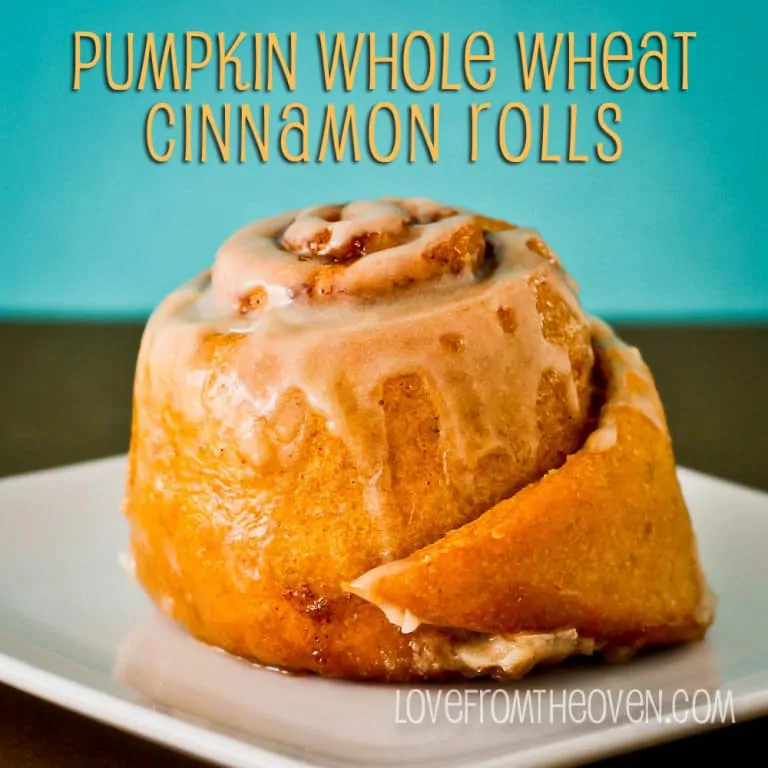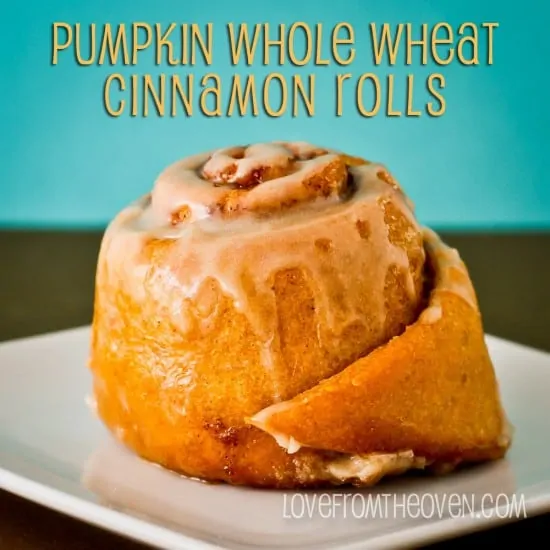 If your are a cinnamon roll fan, make sure to check out these delicious recipes as well…
Birthday Cake Cake Mix Cinnamon Rolls…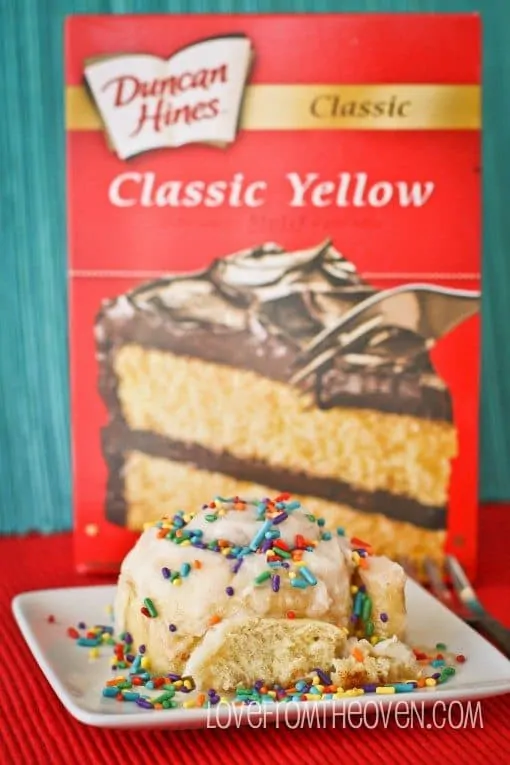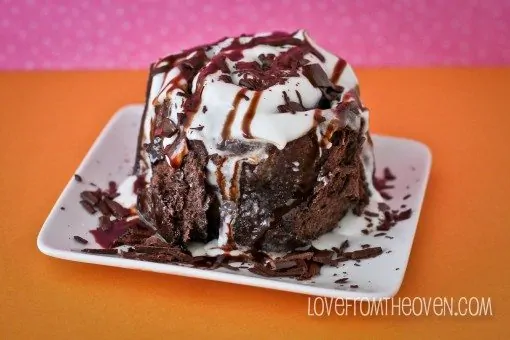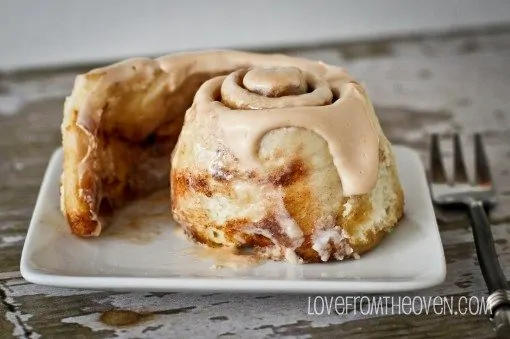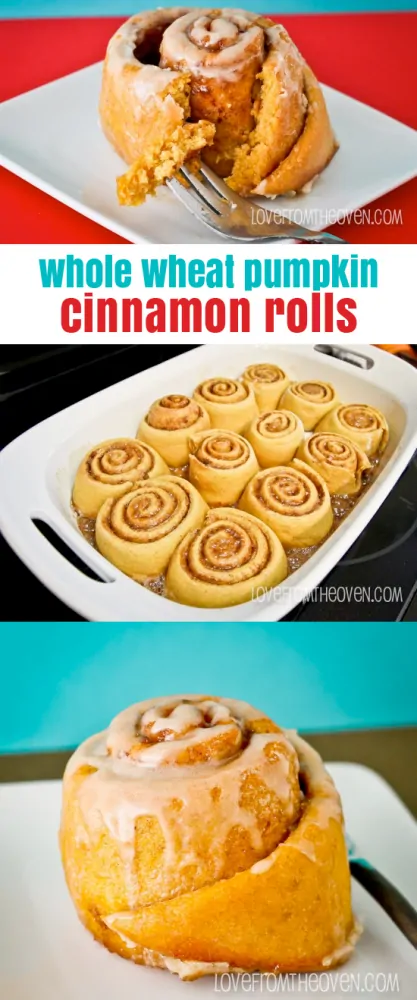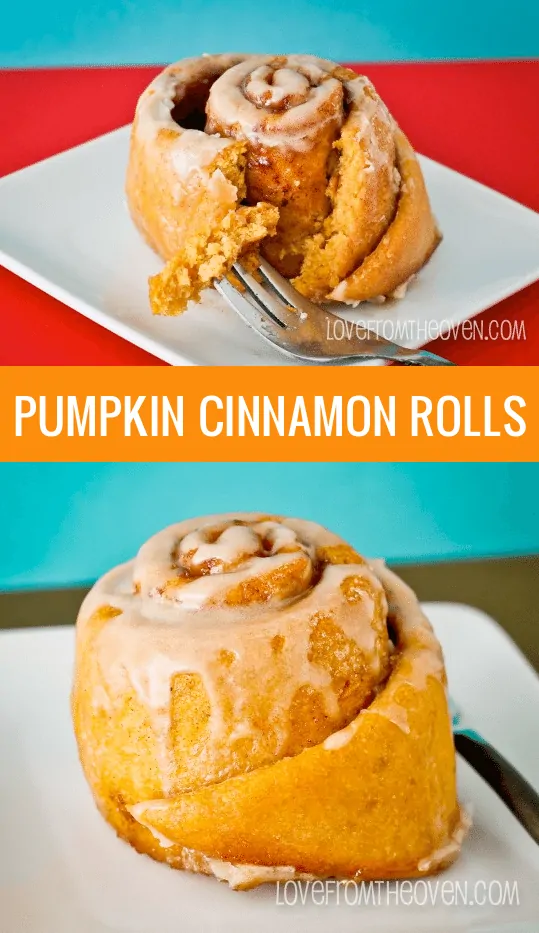 Originally published September 2012.
SaveSave
SaveSave
SaveSave