Sheet Pan Lasagna might just be the easiest and most delicious way to make that layered pasta dish you know and love. Inspired by the recipe from Giada De Laurentiis, these flawlessly prepared noodles are combined with a savory and cheesy lasagna sauce, and baked to perfection. A well-balanced and flavor packed dinner will be on the table in no time. It's guaranteed to please your whole family!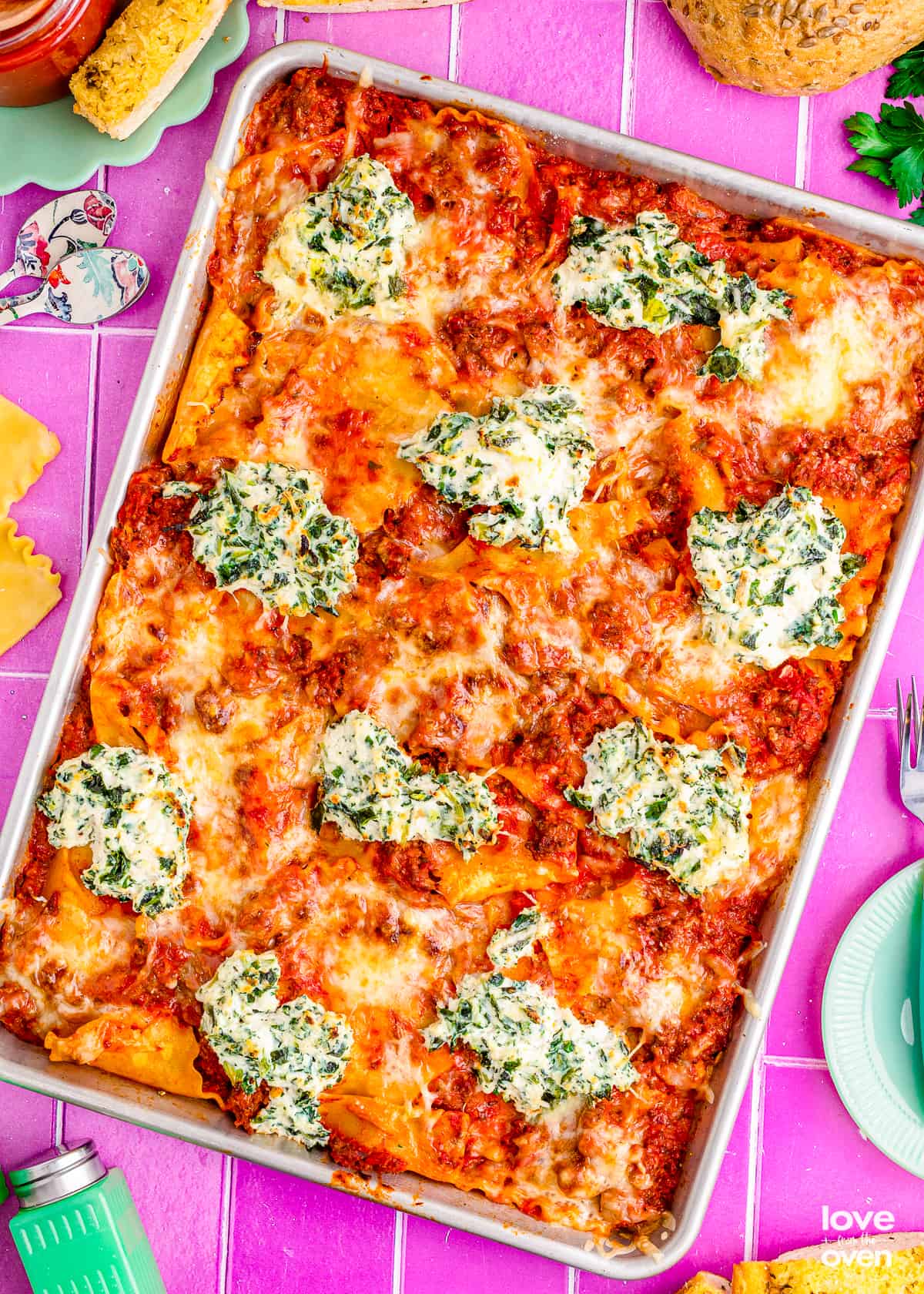 Reasons You'll Love This Recipe
No Layering – Ditch the most tedious part of making lasagna, and just mix everything together, pop it on the pan, bake and serve! No layering needed.
Easy Ingredients – Finding the ingredients for this recipe is simple. You won't need anything crazy to whip up a fantastic dinner.
Quick – Not only is this recipe quicker to make than traditional lasagna, it also bakes more quickly.
Flavor Packed – The best part of mixing everything together, is that you get all the flavors of this dish in every bite! It's so good!
Kid Approved – Picky eaters are hard to cook for, but this dish is something that everyone will love.
Crust Lovers – If your favorite part of the lasagna is the crust, this recipe is perfect for you because you get a bit of that crunchy texture in every bite!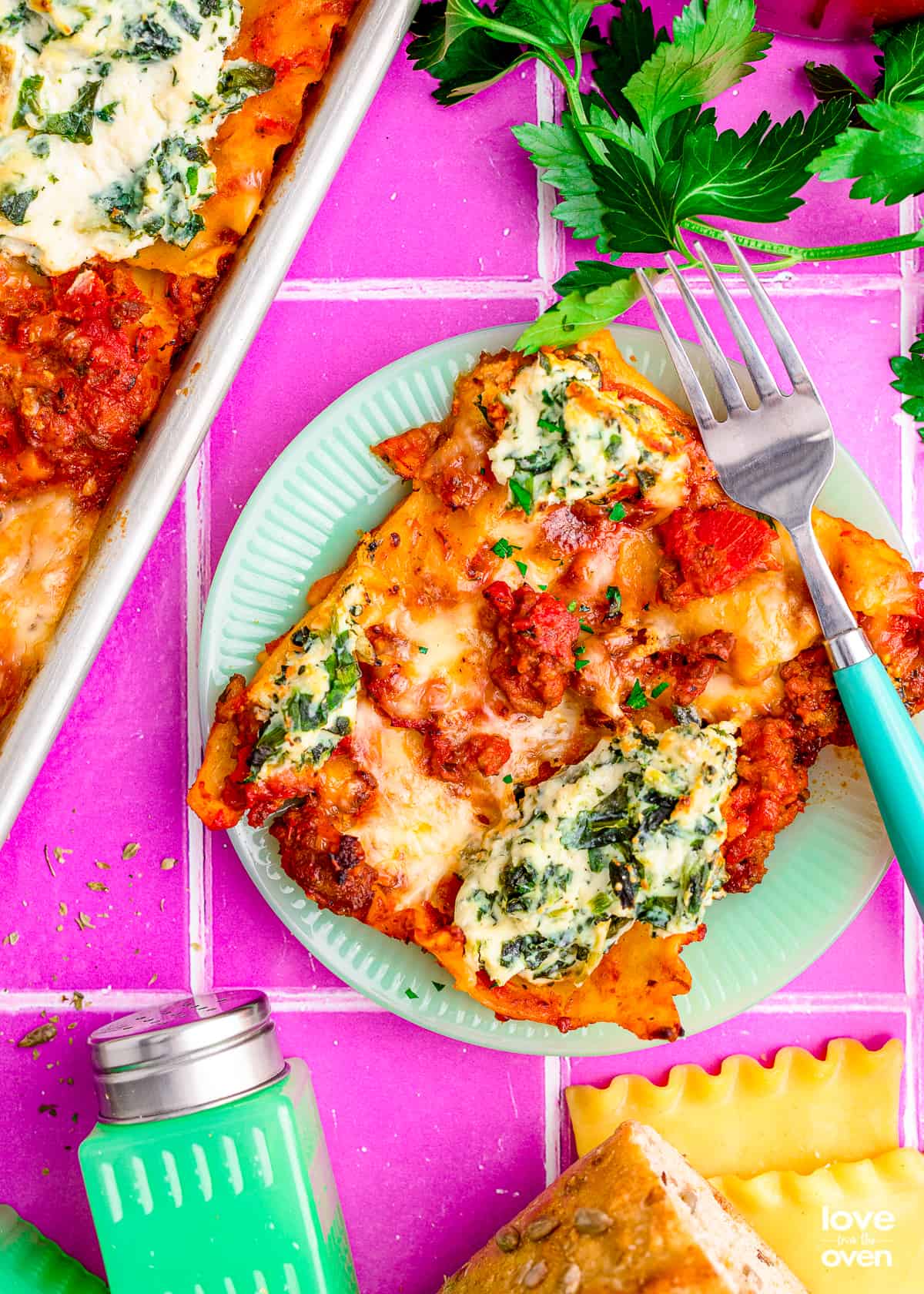 Sheet pan meals are the savior of weeknight dinners. Anything that can be made in an hour and please everyone? Seems like a dream, but it's not! It's real and it's called Sheet Pan Lasagna. I guarantee your entire family with be thanking you at the end of the night, and everyone will leave the dinner table with a big happy smile on their face.
Ingredients and Substitutions
Recipe Discussion
Let's discuss how to make this Sheet Pan Lasagna recipe, as well as the ingredients that are needed. Please take note that below you will find discussion, expert tips, and answers to frequently asked questions about this recipe to help you recreate it in your kitchen. If you *just* want the recipe itself, scroll down. The full printable recipe itself, with exact measurements and instructions, is found at the bottom of this page.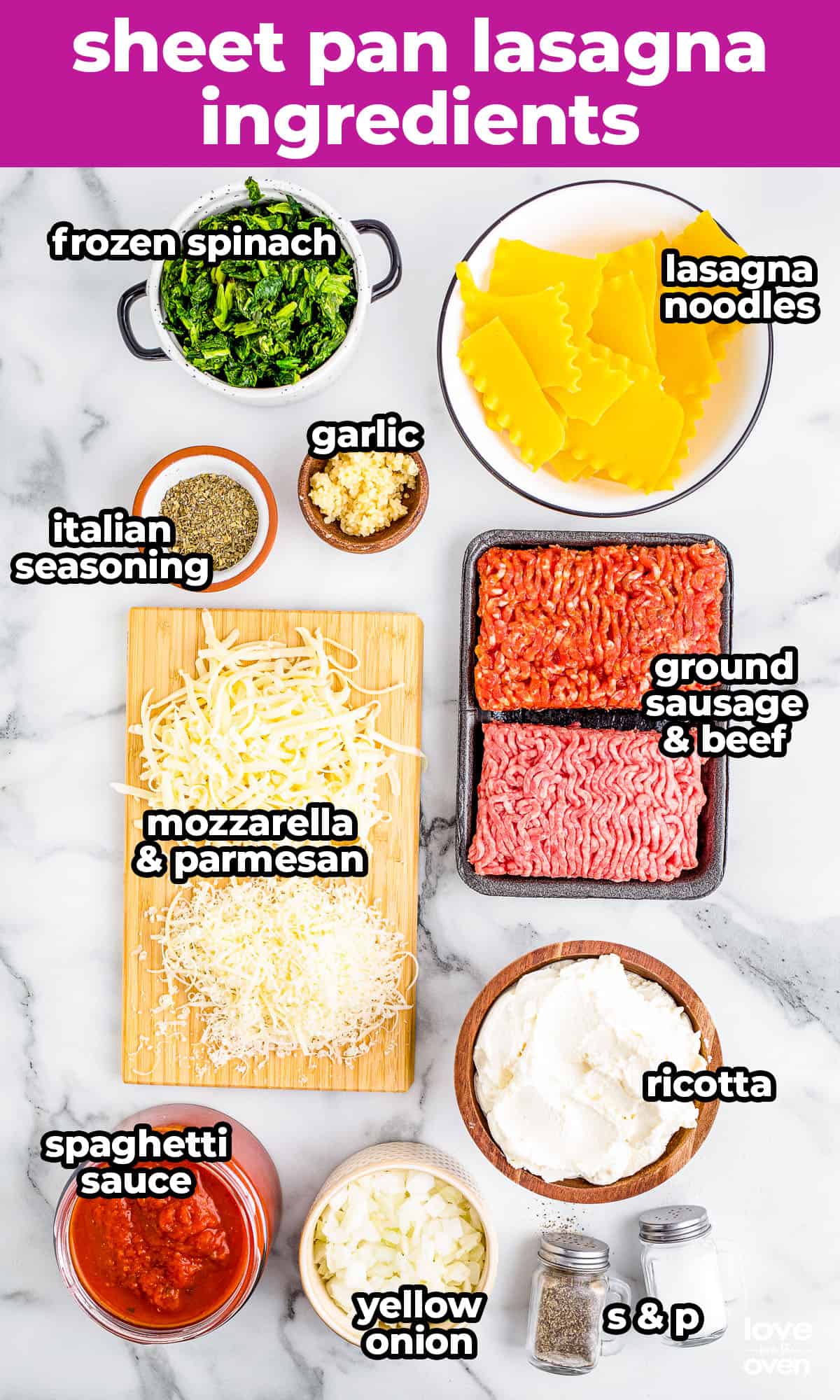 Spaghetti Sauce – Use your favorite spaghetti, pasta or marinara sauce. We like Rao's or Victoria White Linen Marinara. While this recipe calls for 32 ounces of sauce (approximately 1 and 1/2 jars) if desired, you can just use a single 24 ounce jar. It will still be good, it just won't be as saucy. If you have leftover sauce, I highly recommend pairing it with some easy Garlic Knots.
Lasagna Noodles – You'll want to break the lasagna noodles into 2 inch long pieces before cooking them. They won't look pretty, but remember, we are not going for pretty, we are going for delicious!
Ground Beef & Italian Sausage – This recipe calls for a half a pound of both ground beef and Italian sausage. You can do it this way, or you can use 1 pound of ground beef or 1 pound of Italian sausage. If you don't like either option just use 1 pound of any ground meat you prefer.
Ricotta Cheese – Ricotta cheese is fantastic in this recipe, and pairs really nicely with the spinach. If you don't have Ricotta Cheese you can substitute it for cottage cheese or cream cheese if you want something richer. I find that these substitutes are hard to compare to the ricotta, but will work.
Frozen Spinach – Make sure the frozen spinach is completely thawed out and drained before adding it to this dish, otherwise it will become soggy. Really squeeze that excess water out, as you don't want it in the dish. You can use fresh spinach, just wash it, cook it down with some olive oil and chop it into pieces before adding it to the cheese.
Mozzarella and Parmesan – Mozzarella and parmesan are great for any Italian inspired dish. However, some good substitutes are Romano cheese, provolone, gouda or fontina cheese.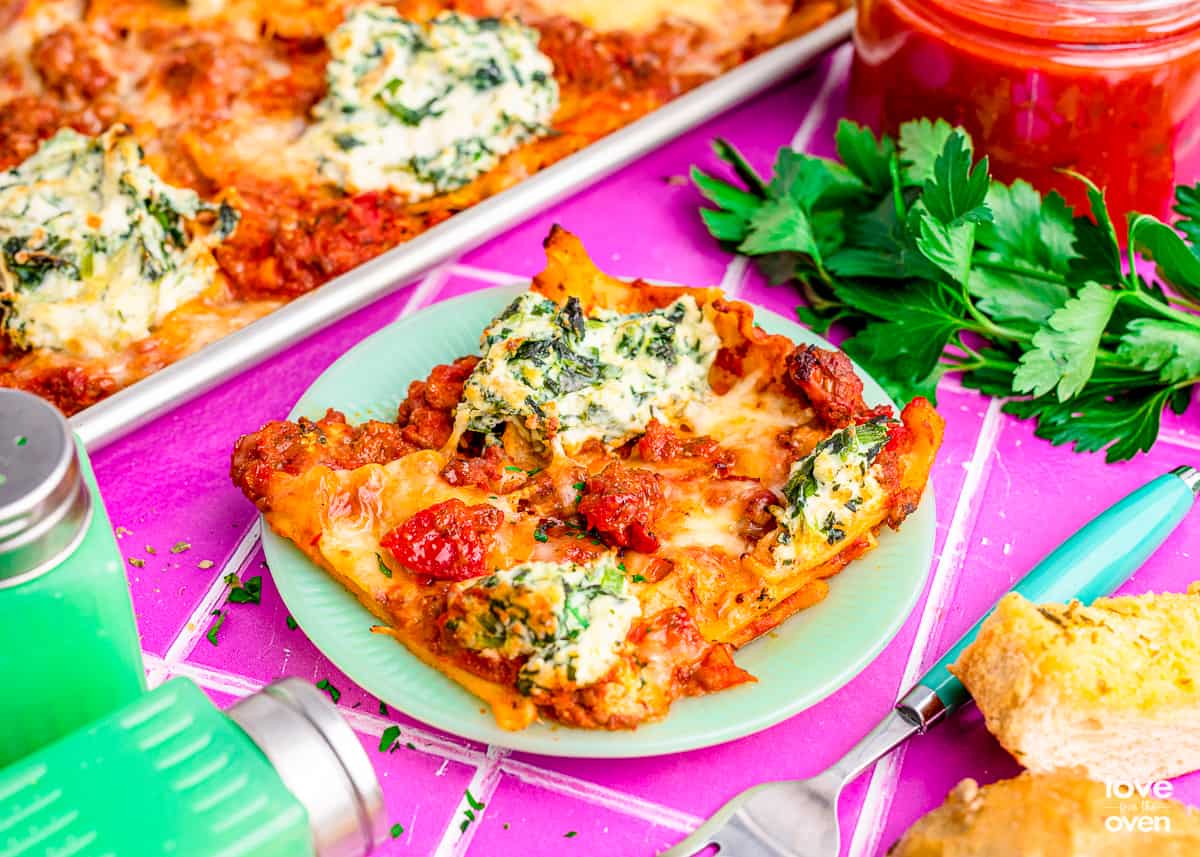 How To Make Sheet Pan Lasagna
Start by bringing a large pot of water to a boil, and cook the broken lasagna noodles according to the instructions on the package. Once the noodles are cooked, drain them from the boiling water and add them to a large bowl. Cover the noodles with lukewarm to cool water. This will stop the noodles from sticking together. Set this aside and preheat the oven to 350°F.
Heat a large skillet over medium heat and add the diced onion, minced garlic, ground sausage and ground beef to the pan. Break up the meat and cook it until browned. Drain the liquid fat from the skillet. To the drained meat, add the pasta sauce, Italian seasoning, salt and pepper. Allow the sauce to simmer in the skillet for about 10 minutes.
While the sauce simmers, grab a separate mixing bowl and add the Ricotta Cheese, drained and thawed spinach, and salt and pepper to taste. Mix that together until combined then set it aside.
Once the sauce has finished cooking, drain the water out of the large bowl of the lasagna noodles. To the noodles, add the finished pasta sauce as well as 1 cup of mozzarella cheese and 1 cup of parmesan to the bowl. Stir it together until combined.
Lightly coat a 13×18 sheet pan with a cooking spray. Add the pasta mixture to the pan and use a spatula to smooth the top.
Add dollops of the spinach ricotta cheese to the top of the lasagna evenly around the pan. Sprinkle the remaining mozzarella and parmesan cheese on top. Bake the lasagna in the oven for 35-40 minutes. You'll know it's ready when the cheese is golden brown and the sauce is bubbly. Take it out of the oven and allow it to cool for about 10 minutes before serving.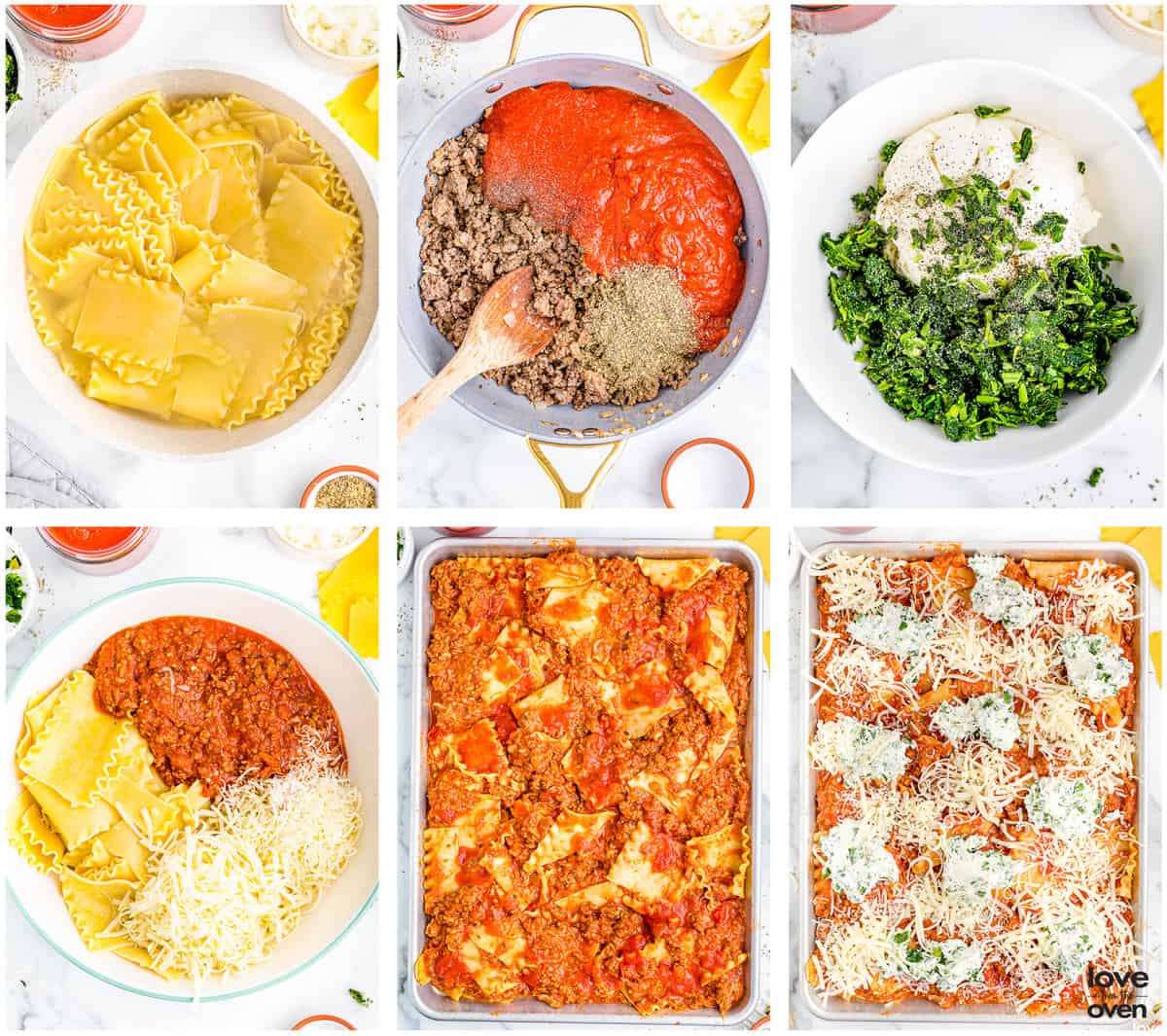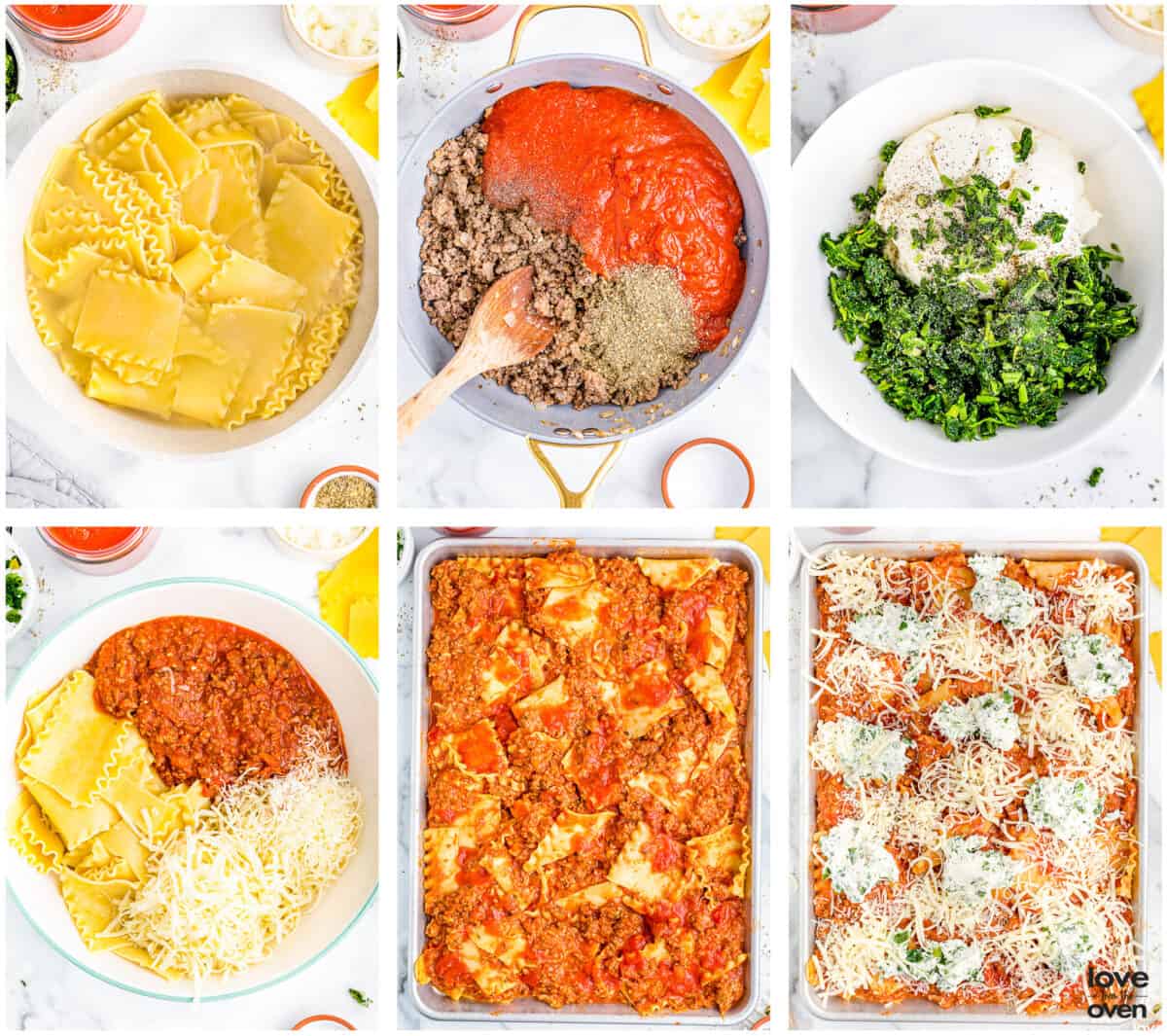 Recipe Tips and Advice
Storage – Store the leftovers in an airtight container in the fridge for 3-4 days. This dish also freezes well, and will last in the freezer for about 3 months.
Equipment – For this recipe you'll need a large pot, a 13 x 18 baking sheet pan (also known as a half sheet), a skillet, a few mixing bowls of various sizes, a spatula or something to stir with, and some non-stick cooking spray.
To Boil or Not to Boil
That is the question! I know "No Boil Lasagna Noodles" exist, but I've never used them for this recipe. Because the noodles are a bit more exposed in this recipe, they may not cook as well as they do in a traditional lasagna.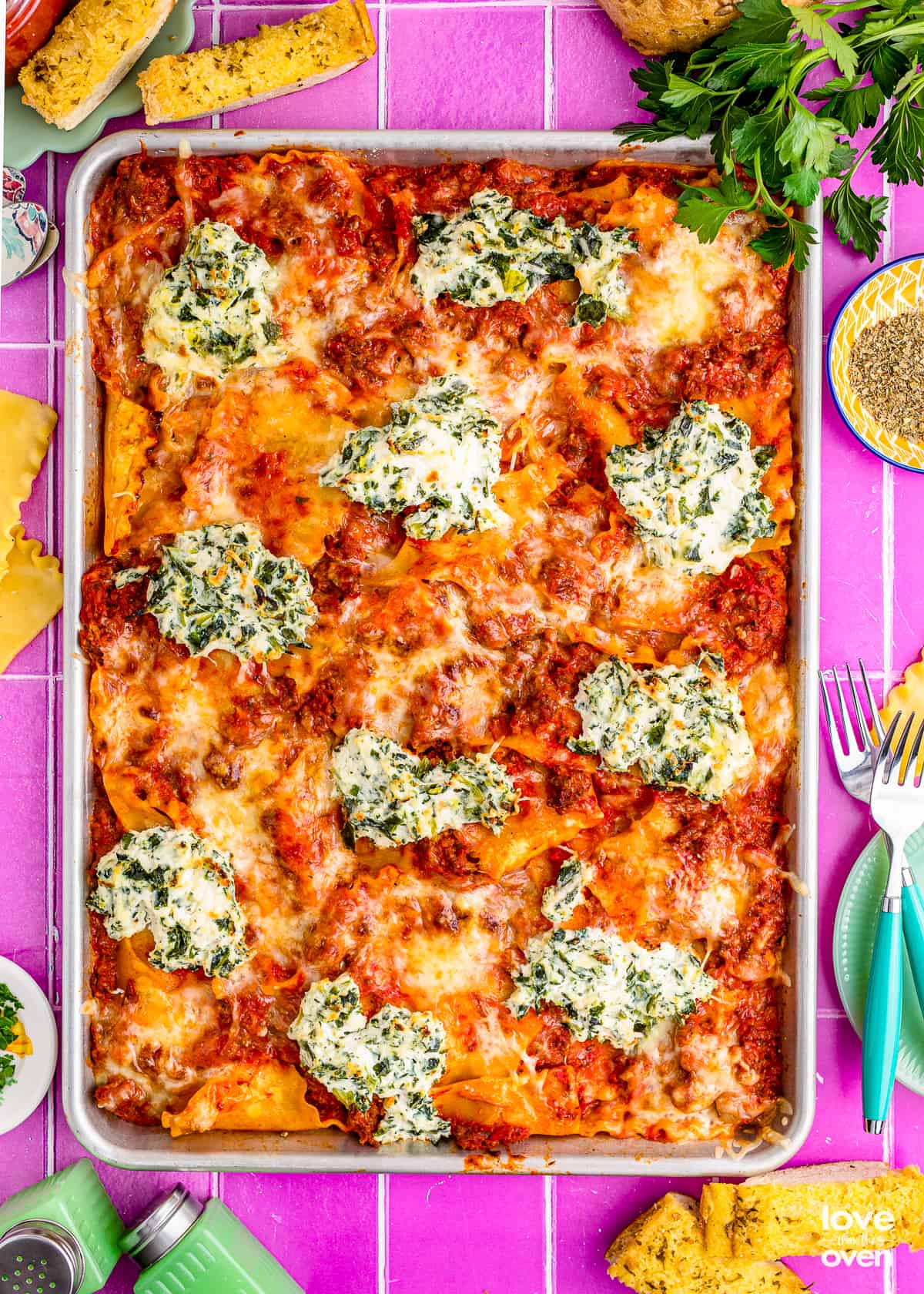 Recipe FAQs
Should ricotta cheese be drained for lasagna?
Yes, if there is any liquid in the Ricotta cheese, drain it before mixing it with the spinach.
Do you bake lasagna covered or uncovered?
You don't have to cover the lasagna for this recipe. Since the 13 x 18 sheet pan is shallow, it doesn't need a lengthy cook time like a normal lasagna would. Therefore, you don't have to worry about the top of the lasagna burning.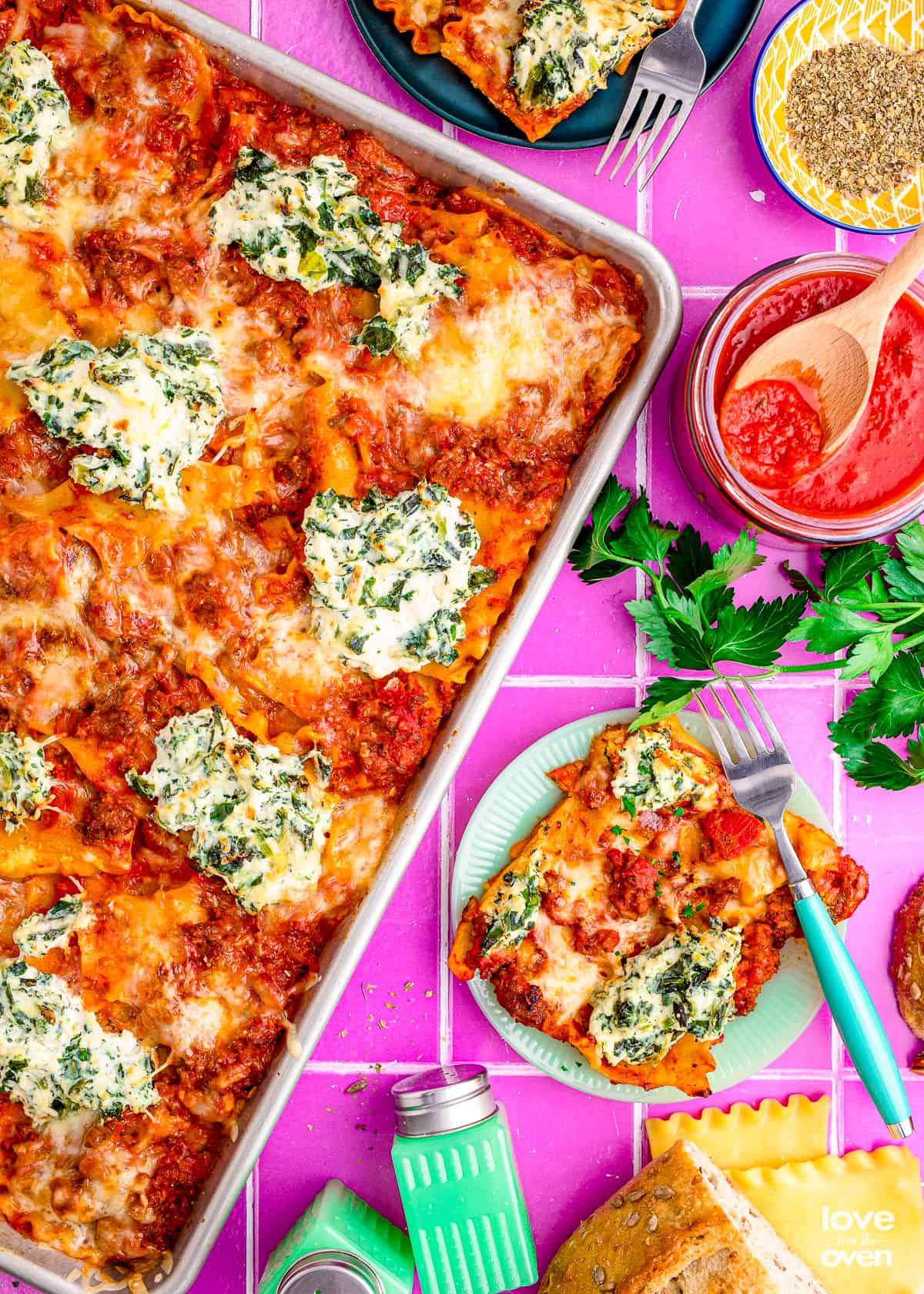 More Recipes To Try
What To Serve With Sheet Pan Lasagna
This Sheet Pan Lasagna makes a filling dinner in itself! However, you can't go wrong with a side of garlic knots, dinner rolls or a side salad for the perfect meal! Cannoli Dip with dippers makes a fun dessert afterwards.
Other Recipes To Try
If you love a good Italian inspired meal, here are more delicious recipes I think you'll enjoy!
Lasagna Recipes You'll Love!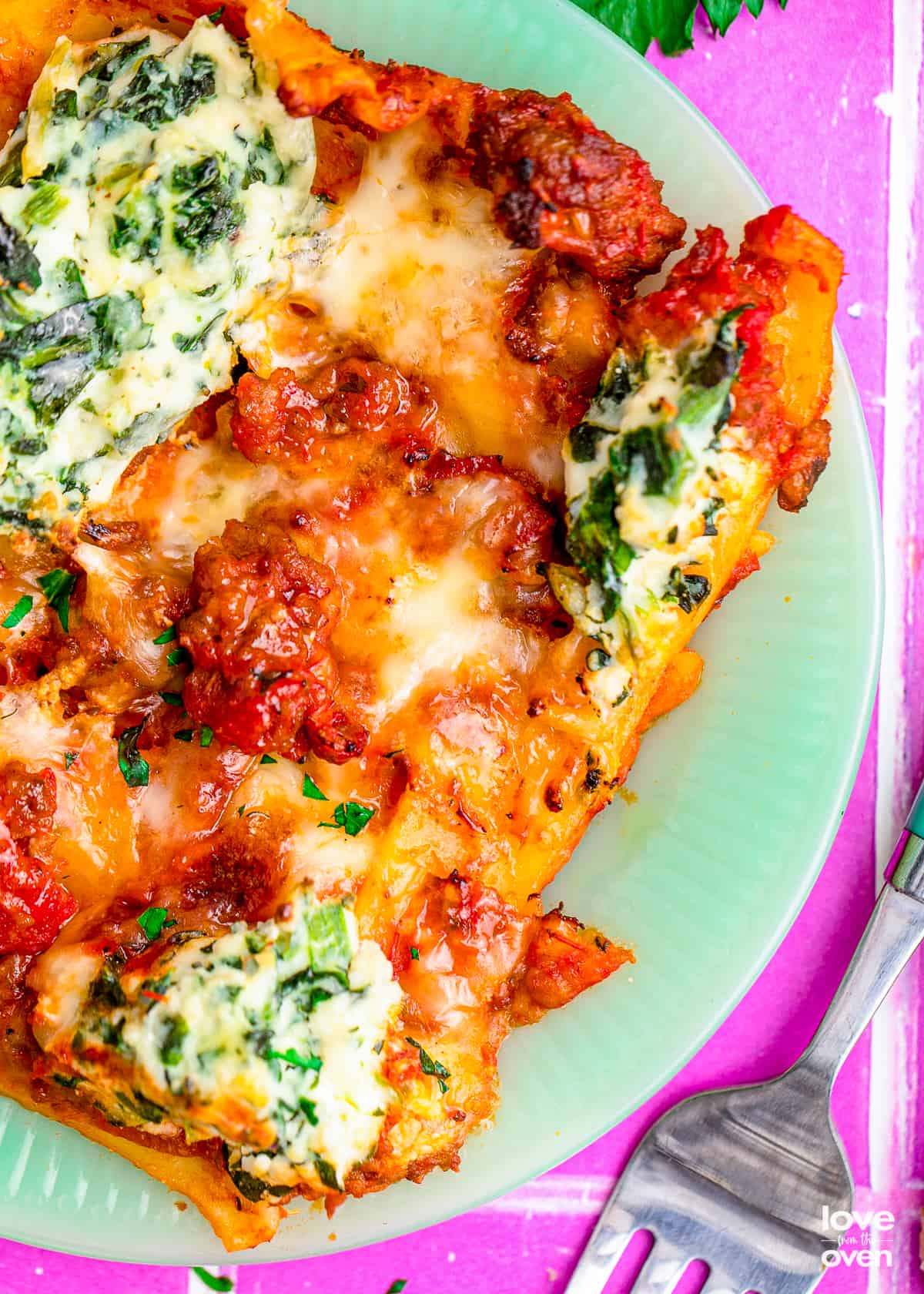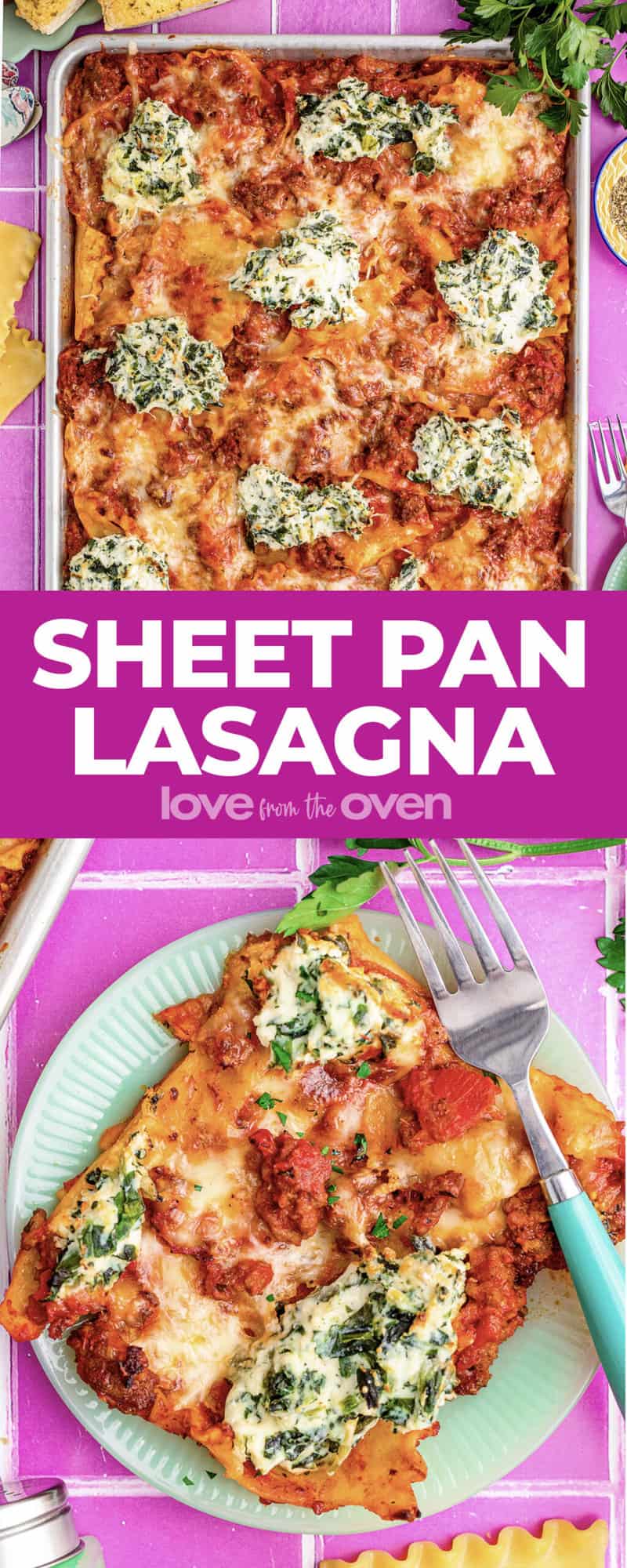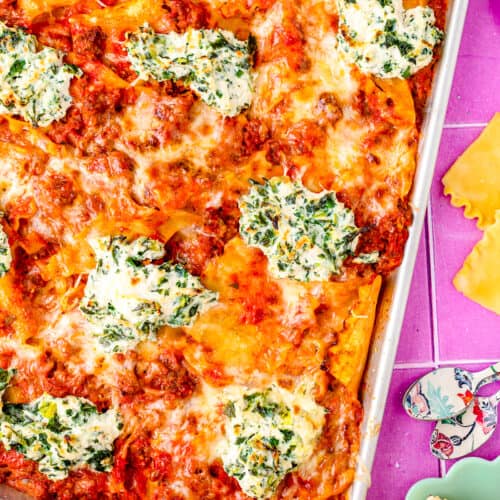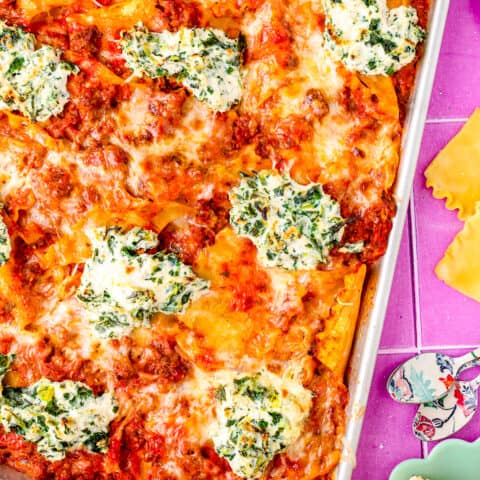 Sheet Pan Lasagna
Ingredients
16

ounces

lasagna noodles

broken into 2" long pieces

1/2

pound

ground beef**

1/2

pound

ground Italian sausage**

1

yellow onion

diced

32

ounces

spaghetti sauce*

use your favorite spaghetti, marinara or pasta sauce

2

teaspoons

Italian seasonings

salt and pepper to taste

2

cups

ricotta cheese

8

ounces

thawed, frozen spinach

make sure to squeeze out any excess moisture

2

cups

grated mozzarella cheese

divided

2

cups

grated parmesan cheese

divide
Instructions
In a large pot boil the lasagna noodles (broken into 2- inch pieces) to al dente according to package directions. Drain and pour into a large mixing bowl. Cover noodles with lukewarm water. This will help prevent the noodles from sticking to each other. Set aside.

In a large skillet, cook ground beef, sausage, onion and garlic over medium heat until browned. Drain off any excess fat and return to the pan.

Stir in the pasta sauce, Italian seasoning, salt, and pepper. Bring to a simmer and let cook for 10 minutes

While the sauce is simmering, in a separate bowl, mix together the ricotta cheese, thawed and drained spinach, and some salt and pepper to taste. Set aside.

Once done cooking, pour the meat sauce into the large bowl with the cooked pasta and mix together. To that mixture, add 1 cup mozzarella cheese, and 1 cup parmesan cheese and combine.

Lightly spray a 13 x 18 inch sheet pan (a half sheet pan) with non-stick cooking spray.

Pour all the lasagna noodles, sauce and cheese mixture onto the baking sheet and spread out evenly.

Next, places dollops of the ricotta mixture over the top of the noodle mixture. It will not fully cover it, just put spoonfuls around the pan. Then sprinkle on the remaining grated mozzarella cheese and parmesan cheese.

Bake for 35-40 minutes or until the cheese is golden brown and bubbly. Let the lasagna cool for 10 minutes before serving.
Notes
*Spaghetti Sauce – if desired, you can just use a single 24 ounce jar, but I find using 32 ounces (approximately 1 and 1/2 jars) really gives a nice saucy lasagna. 
**You can use all beef, all sausage, or any ratio you prefer. 
Store in an airtight container in the refrigerator for 3-4 days. It can be frozen for up to 3 months. 
Nutrition
Calories:
479
kcal
|
Carbohydrates:
38
g
|
Protein:
26
g
|
Fat:
25
g
|
Saturated Fat:
12
g
|
Polyunsaturated Fat:
2
g
|
Monounsaturated Fat:
8
g
|
Trans Fat:
0.2
g
|
Cholesterol:
78
mg
|
Sodium:
969
mg
|
Potassium:
579
mg
|
Fiber:
3
g
|
Sugar:
5
g
|
Vitamin A:
3002
IU
|
Vitamin C:
7
mg
|
Calcium:
384
mg
|
Iron:
3
mg
Disclaimer
Nutrition information is estimated as a courtesy. If using for medical purposes, please verify information using your own nutritional calculator. Percent Daily Values are based on a 2000 calorie diet.