Nothing store bought can match the flavor of Homemade Spaghetti Sauce! Learn how to make spaghetti sauce from scratch to take your pasta game to the next level. This easy spaghetti sauce recipe makes spaghetti night the best night of the week!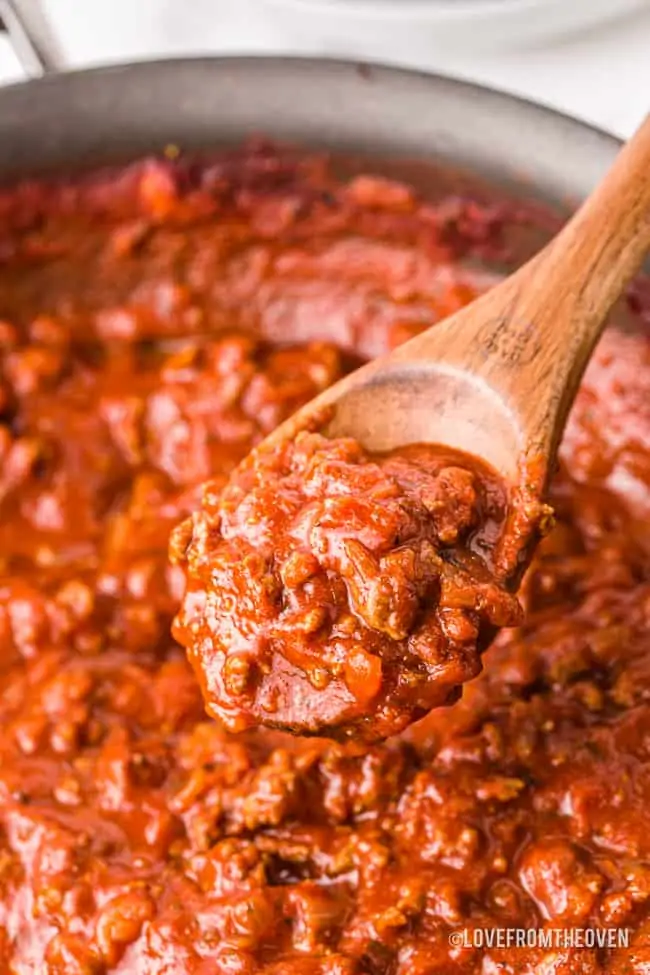 Reasons to Make this Recipe
Wondering why making your own pasta sauce is worth it?
This easy sauce recipe uses tomato paste and canned tomatoes. No peeling or chopping necessary.
Lots of herbs give the spaghetti sauce an aromatic Italian flavor.
It's ready to eat in 30 minutes. I cook my pasta while the sauce is simmering so everything is ready at once.
Easy to make ahead and store or freeze for later.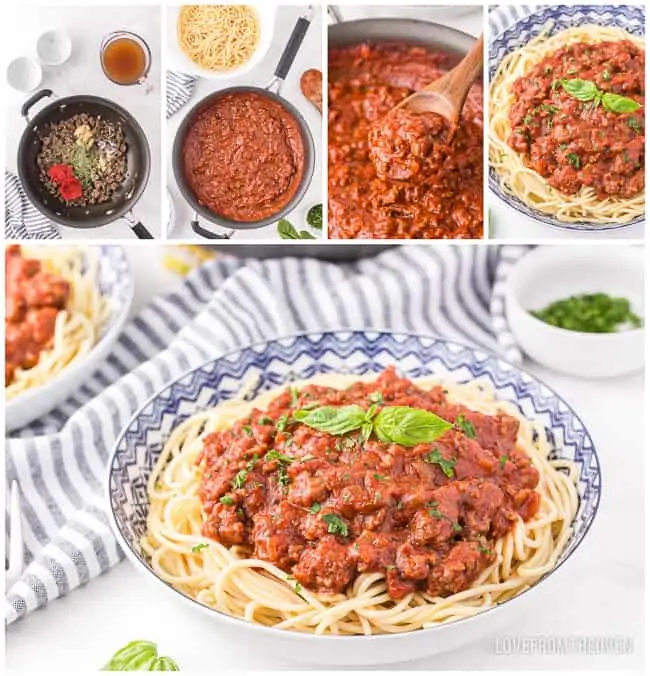 Give me a bowl of spaghetti noodles covered in tomato sauce and I'm a happy girl. Store bought spaghetti sauce is fine but making your own sauce from scratch is so much better!
This is one of those recipes that's bound to become a staple in your home. If you have pasta lovers in your family like I do, this is the best go-to homemade spaghetti sauce for those busy weeknights. As easy as it is to make, it's tasty enough to serve to a dinner guest too.
You'll love the way the sauce makes your kitchen smell as it's simmering! The garlic and herb aroma is so tantalizing that everyone will be lining up for a taste.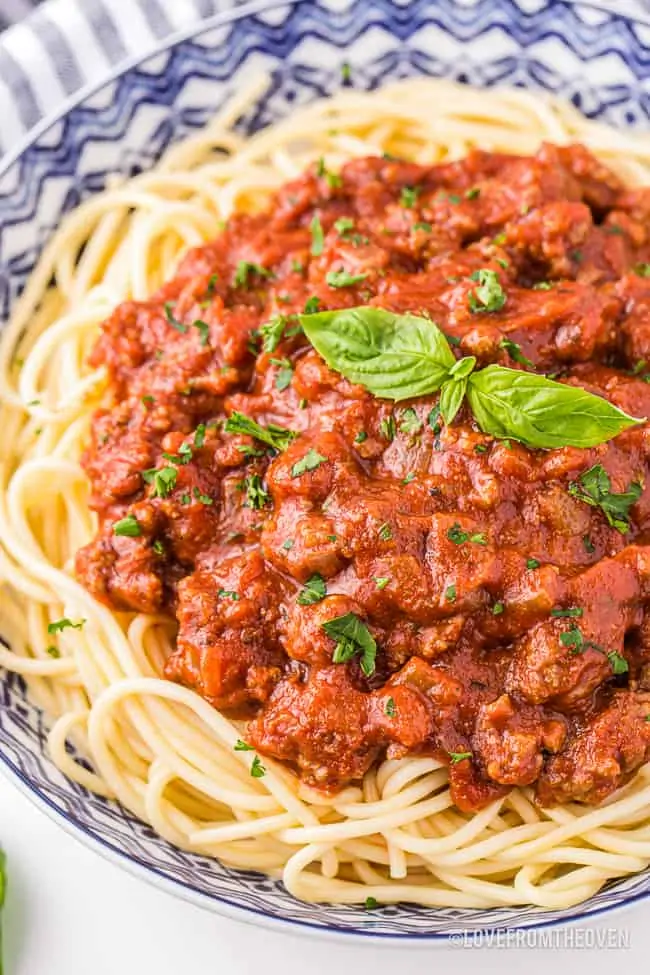 How To Make Homemade Spaghetti Sauce
What Ingredients Do I Need?
Ingredients at a glance, full printable recipe is found below.
Ground beef: For a slightly healthier option used ground turkey or chicken. You can also use Italian sausage instead of ground beef.
Onion: I used a yellow onion, but you are free to use a sweet or red onion.
Tomato paste
Seasoning: Salt, dried parsley, dried oregano, dried basil and garlic powder.
Brown sugar: The Brown sugar can be replaced with granulated white sugar. The sugar shouldn't make your sauce sweet. its purpose is to offset some of the acidity from the tomato paste.

What Supplies Will I Need?

Steps To Take
To make this sauce, begin by browning the ground beef and cooking the onion. If you are looking for a time saver, you could cook up your beef ahead of time.
Next, the broth, tomato paste, brown sugar and seasonings are added to the ground beef. After that simply bring it to a gentle simmer and let it cook for 20 minutes. It's as simple as that!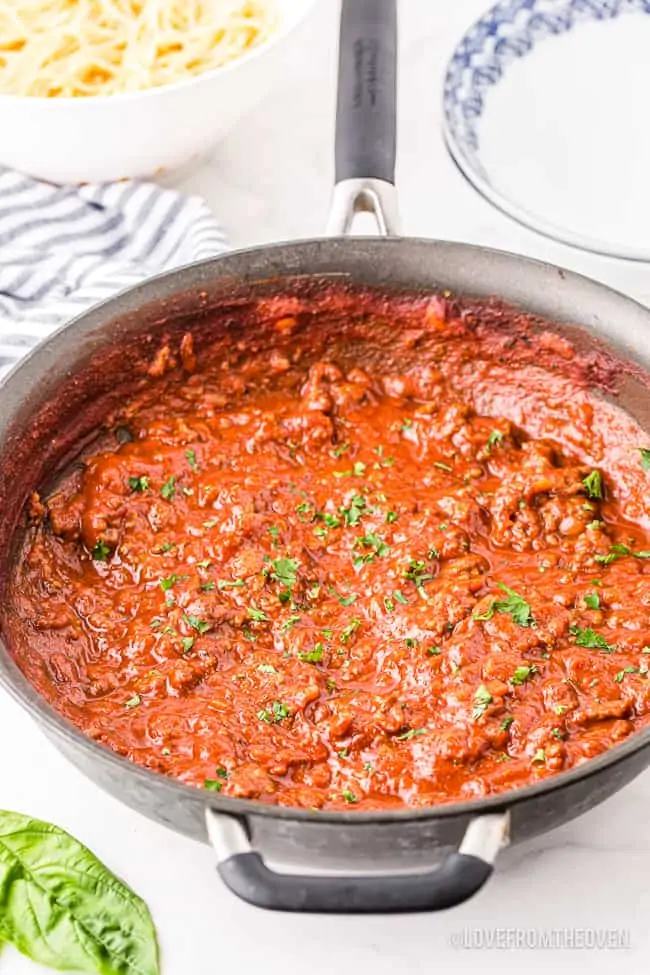 How do I store spaghetti sauce?
To store your spaghetti sauce, Cool the sauce, then store in the refrigerator in a covered, airtight container. Refrigerate within 2 hours of making it. Use within 3 to 5 days.
You can freeze this spaghetti sauce in a heavy-duty freezer bag or in a covered, airtight container. For best quality, use within 4 to 6 months. If stored at 0 degrees F., it can be stored indefinitely.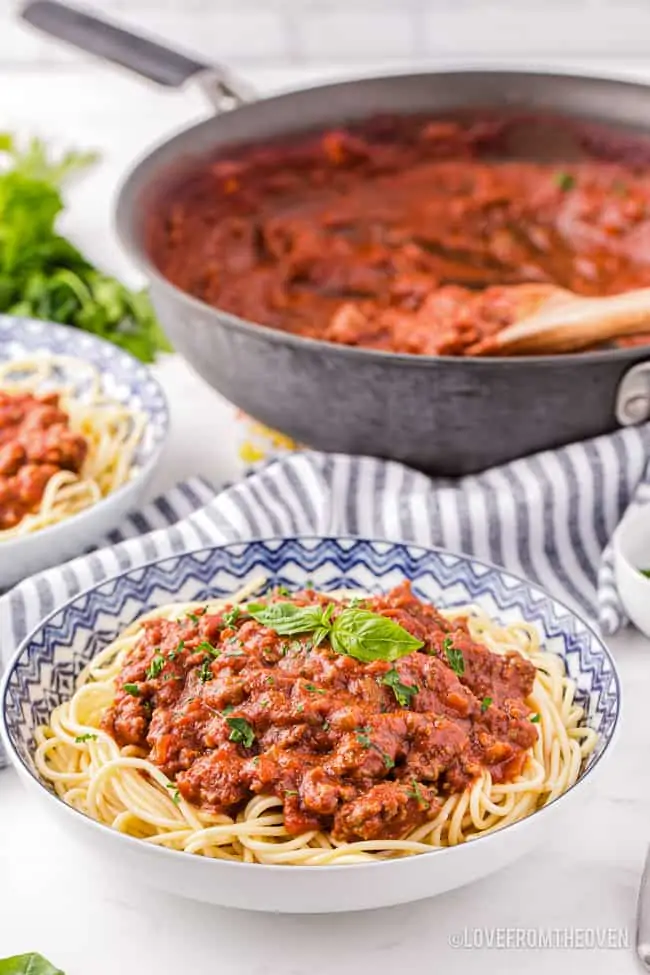 What are thawing instructions for frozen spaghetti sauce, and how long can it keep in the fridge once it's thawed?
You can thaw homemade frozen spaghetti sauce in the refrigerator, the microwave, or in cold water. If you thaw it in the refrigerator, you will have 3 or 4 days before you have to cook it. If it's thawed in the microwave or in cold water, it should be heated and eaten right away.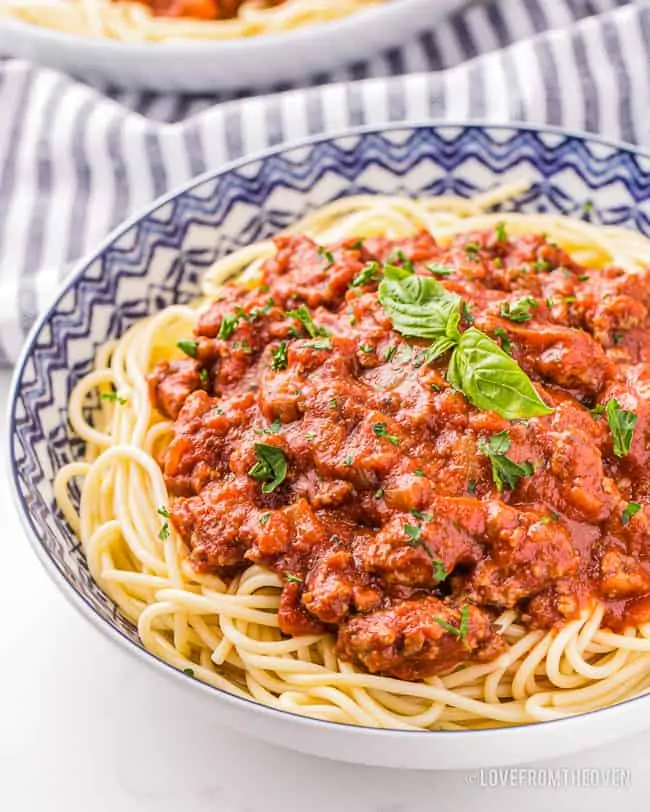 How can I thicken up this sauce?
To thicken your sauce without compromising flavor, add more tomato paste, a Tablespoonful at a time, to thicken up the sauce if needed. Another method of thickening your sauce is to allow it to marinate for an additional 10 to 15 minutes. I have found that this helps to thicken it up nicely as well.
What the Serve with Spaghetti Meat Sauce
Naturally, this is a perfect sauce for spaghetti (it's right there in the name) or any other cooked pasta you like. I also love mixing in some cooked meatballs to make meatball subs!
Need some inspiration for side dishes? Serve spaghetti with a tossed green salad and a slice of garlic bread. Cheesy Garlic Rolls or Garlic Knots are amazing for soaking up any leftover sauce on your plate too.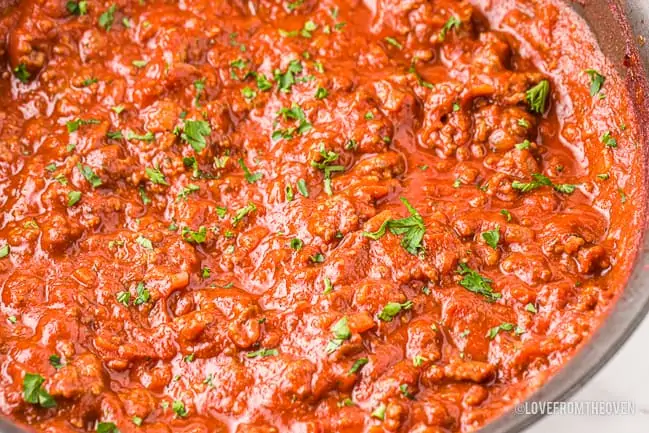 More Recipes You'll Love
We can never have enough easy recipes on hand for quick meals! If you like this spaghetti sauce, check out some of my family's other favorite dinner recipes.
Looking for more homemade pasta sauce recipes? You'll love my easy creamy Alfredo Sauce, quick and easy Instant Pot Spaghetti, and Marcella Hazan Tomato Sauce is my go to for a non-meat tomato sauce.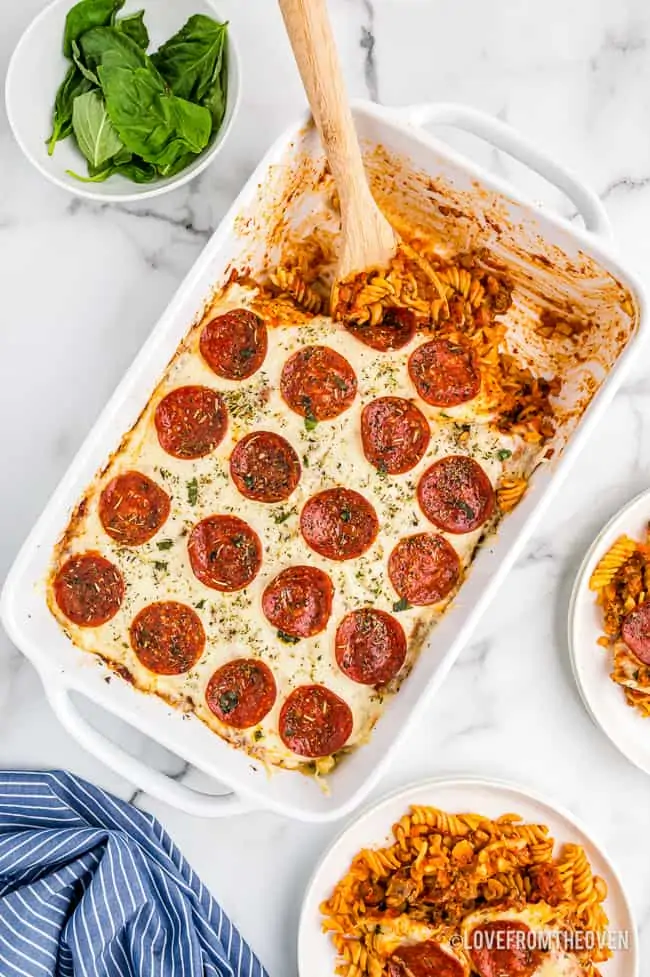 Save Room For Dessert
We always save room for dessert! Here are some dessert suggestions to finish your meal with.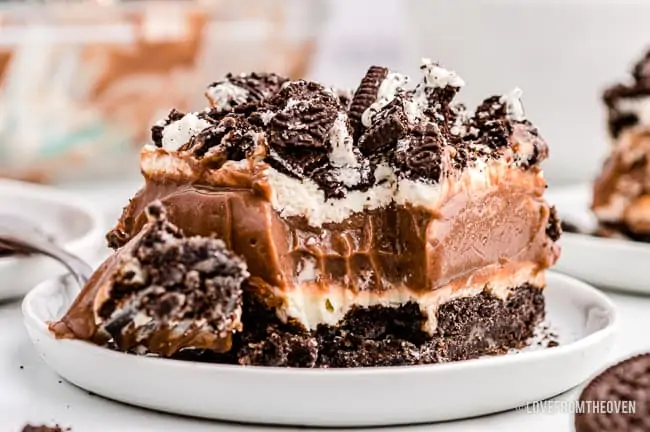 Why buy a jar of sauce when you can make it from scratch? Make this easy homemade spaghetti sauce with ground beef and dinner's done in 30 minutes!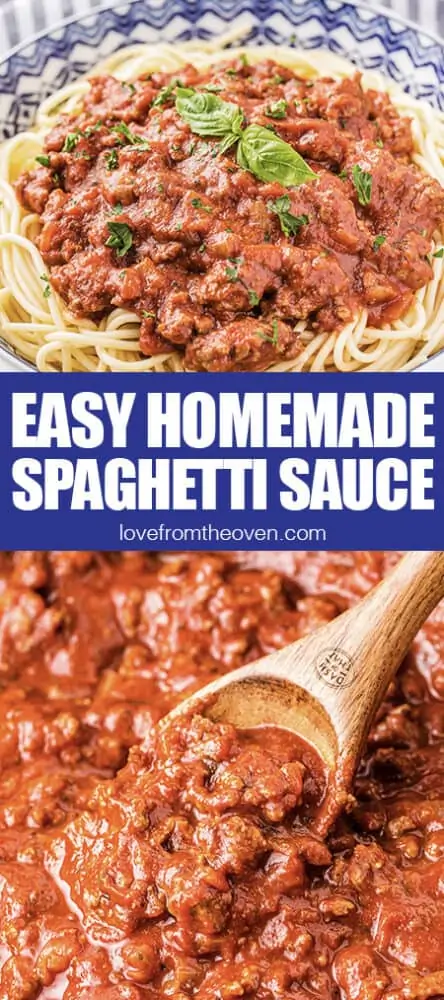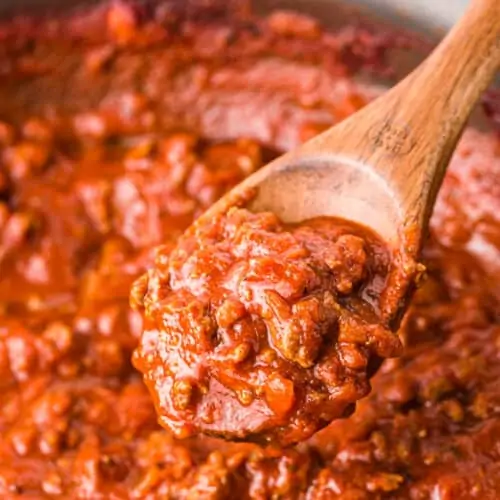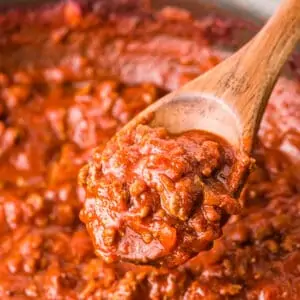 Easy Homemade Spaghetti Sauce
Better than store bought, this tangy tomato sauce is the perfect match for a plate of pasta!
Ingredients
1

lb

ground beef

1/2

yellow onion, diced

2

6 oz cans

tomato paste

4

cups

beef broth or stock

1

tsp

salt

plus more to taste

1 1/2

tsp

dried parsley

1

tsp

brown sugar

lightly packed

1

tsp

dried oregano

1

tsp

dried basil

1

tsp

garlic powder

chopped basil or parsley for garnish

optional

Cooked spaghetti or pasta of your choice for serving
Instructions
Brown ground beef and onion in a large skillet. Drain excess fat.

Stir in the beef broth, tomato paste, salt, parsley, brown sugar, oregano, basil, and garlic powder together.

Bring mixture to a boil. Turn down heat and gently simmer, uncovered, for 20 minutes.

Serve over hot, cooked, and salted spaghetti or pasta of choice. Garnish with chopped parsley or basil (optional) before serving.
Nutrition
Calories:
314
kcal
|
Carbohydrates:
2
g
|
Protein:
22
g
|
Fat:
23
g
|
Saturated Fat:
9
g
|
Trans Fat:
1
g
|
Cholesterol:
81
mg
|
Sodium:
1555
mg
|
Potassium:
465
mg
|
Fiber:
1
g
|
Sugar:
1
g
|
Vitamin A:
19
IU
|
Vitamin C:
1
mg
|
Calcium:
51
mg
|
Iron:
3
mg
Disclaimer
Nutrition information is estimated as a courtesy. If using for medical purposes, please verify information using your own nutritional calculator. Percent Daily Values are based on a 2000 calorie diet.