You know what makes a s'more extra yummy? A cookie baked into a s'more, that's what! A smores cookie or cookie s'more or s'mores stuffed cookie or a Smookie. Call it what you want, just make it!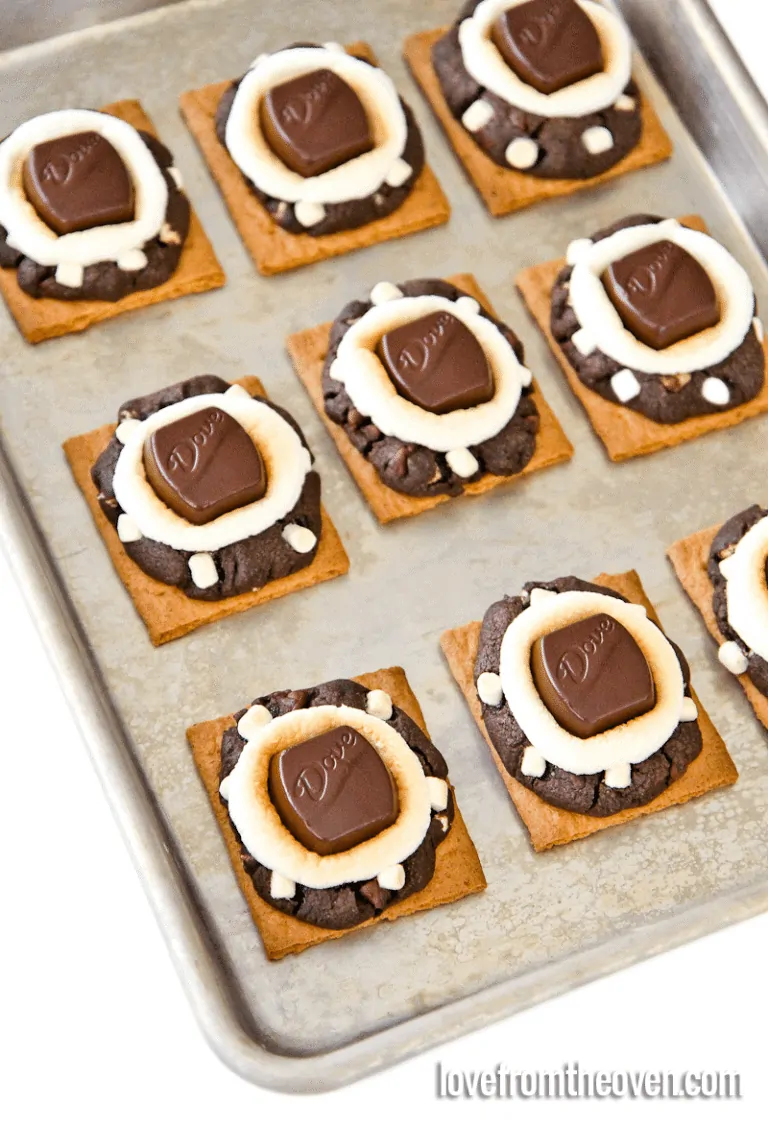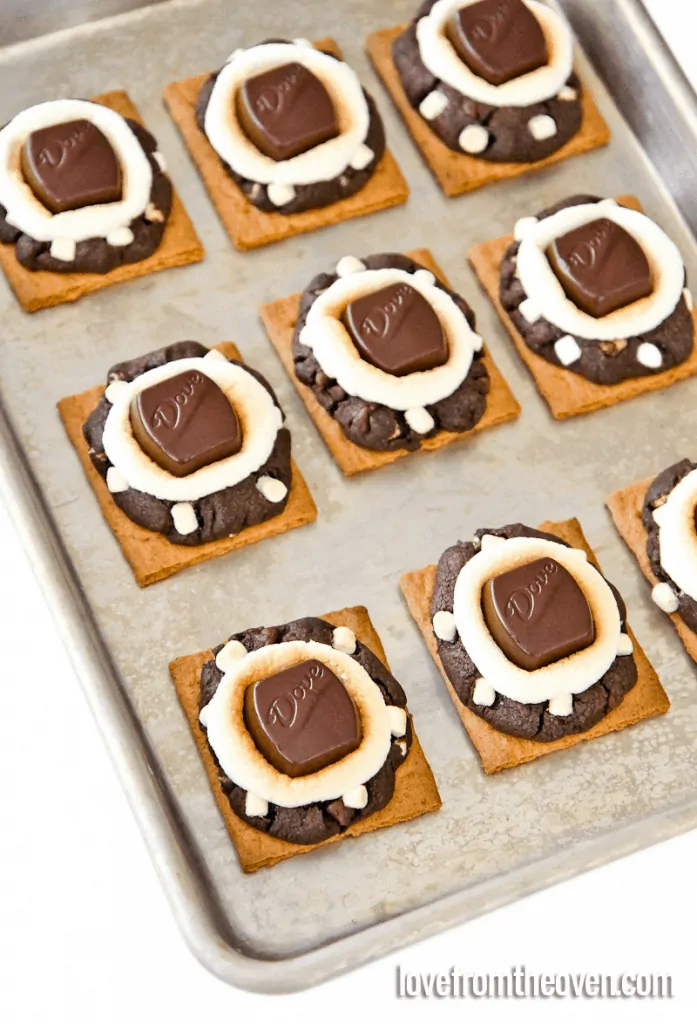 I was making chocolate cookies, with intentions of putting graham crackers in them (okay, I might have done that as well, stay tuned!) and I wondered what would happen if I just baked the cookies on graham crackers. I'm so glad I tried it out, because these are pretty darn delicious! All the goodness of a s'more with a chocolate cookie tucked inside. A s'mores stuffed cookie? A Smookie? I don't know what you would actually call these.
I'm sure if I searched Pinterest, I'd find some that someone made, and came up with a great name for, but Pinterest is like a slippery slope. Get on looking for cookies, end up deciding you need to learn to knit, workout and reorganize your closet, if you know what I mean.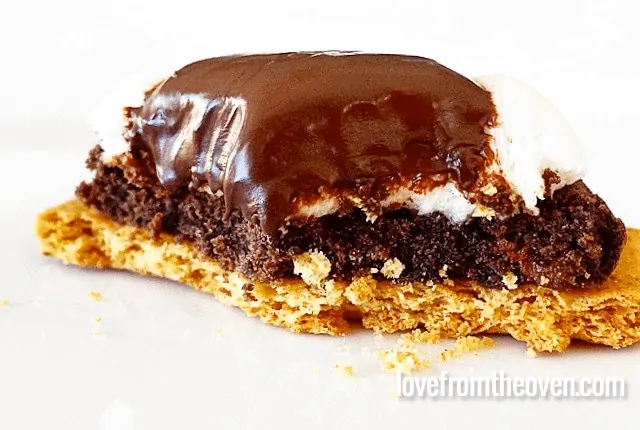 I wasn't sure if the cookies would stick to the graham crackers, but they totally did, and it was really quite simple. And totally awesome. A cookie in a s'more, yes please! While I didn't try it, there's probably no reason that you couldn't bake the cookies onto the graham crackers and then use them to make traditional (over the campfire) s'mores. 🙂 But in lieu of a campfire, the oven is my s'mores making friend.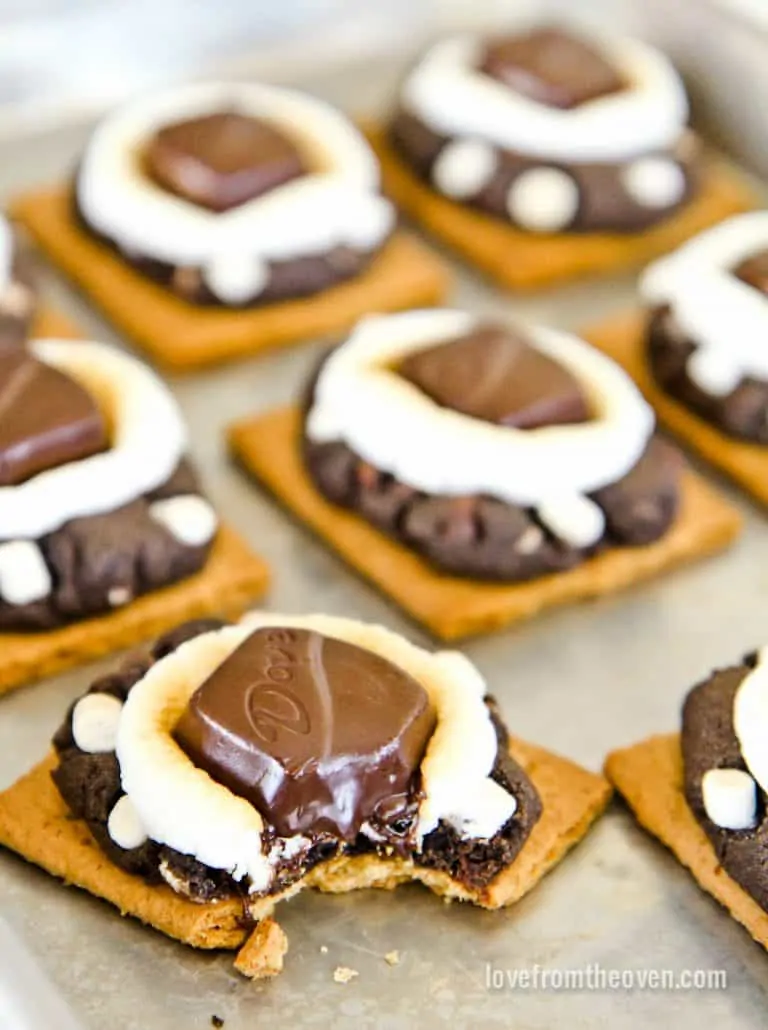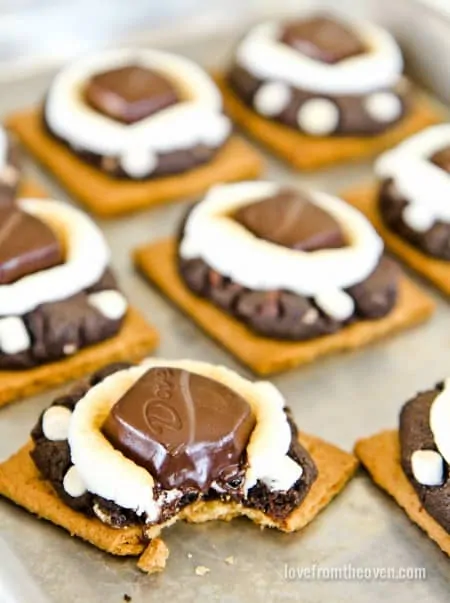 This recipe does take a few more steps than a regular cookie recipe, but it's totally worth it. You'll start by making your cookie dough, which you will then place onto graham crackers prior to baking.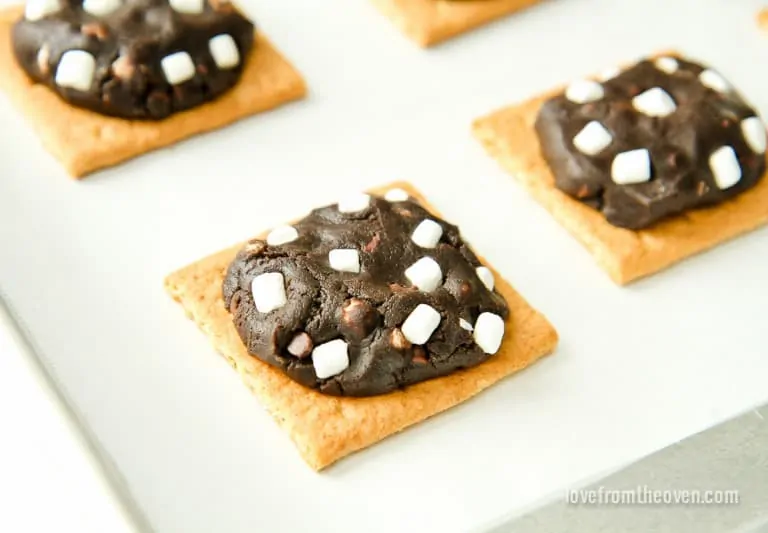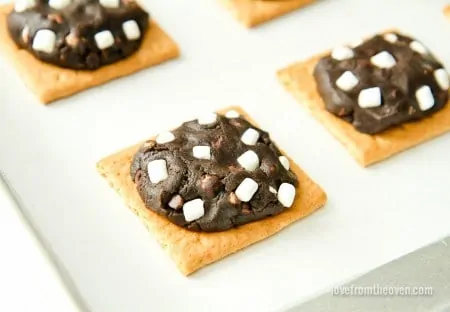 A little tip, if you want cookies that have that fun look on top where you see lots of marshmallows and chocolate chips, hold back some of your mix ins and do not mix them into the dough, instead pushing them into the cookie dough just prior to baking. It's kind of labor intensive, and while I sometimes do it for blog posts and when I want really fun presentation on my cookies, but half the time I just mix it all in – it all tastes the same. 🙂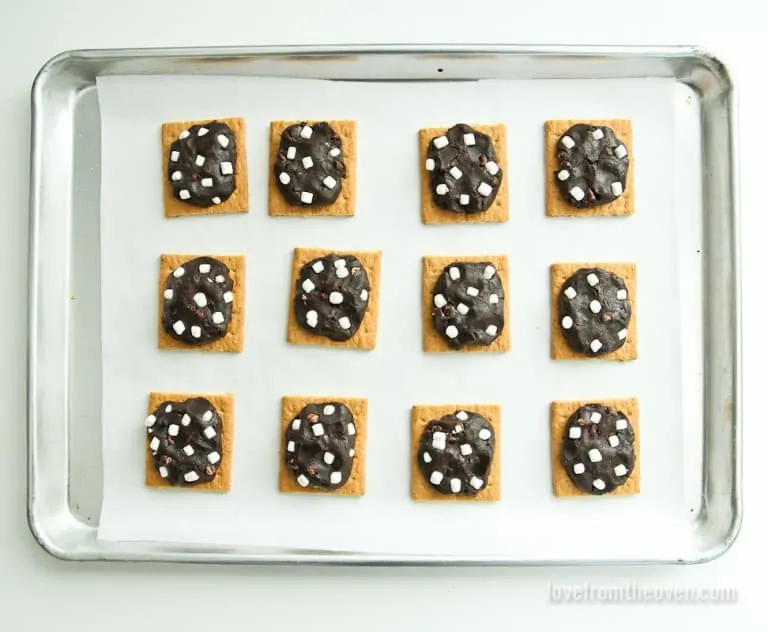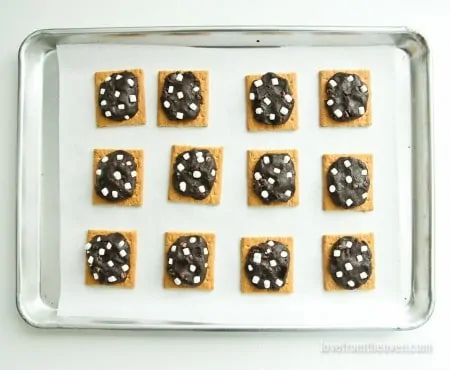 Let's take a moment to discuss what not to do. I have wax paper on my cookie sheet. Don't do this. I wasn't thinking, or was distracted by children, and completely forgot that I was going to need to turn the broiler on at some point with these, and at least the wax paper I use is only safe to 420 degrees F. So while you see wax paper on my baking sheet, skip that part. 🙂 I don't want anyone starting fires in their oven. It's Love From The Oven, not Flames From The Oven.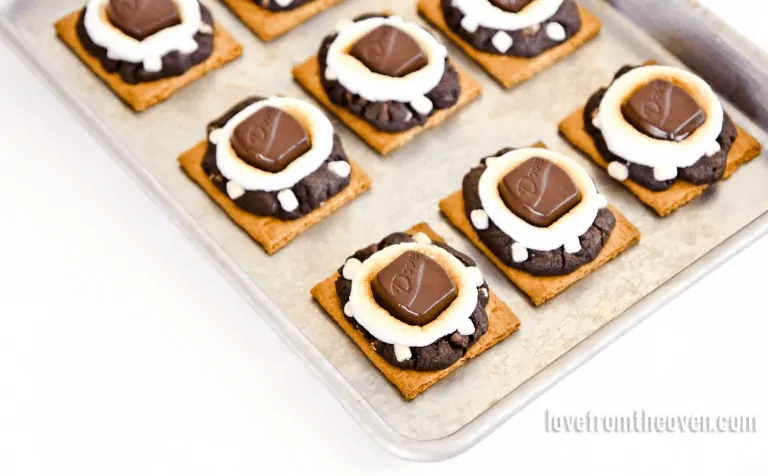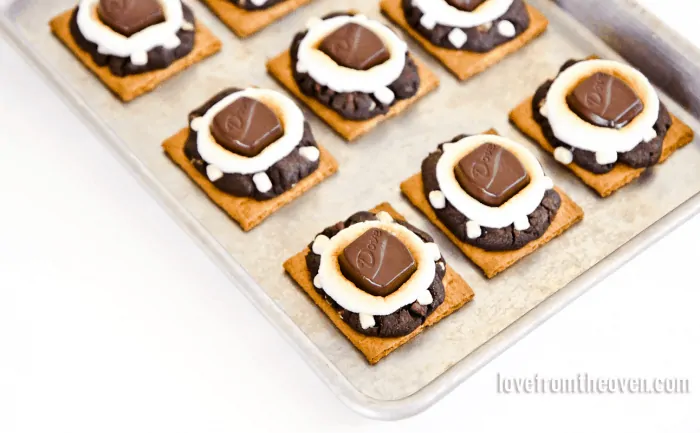 So you bake your cookie dough, on your graham crackers, for about 10 minutes. The cookies do take a bit longer to bake with the graham crackers under them. At about the ten minute mark, you will pull them out of the oven, and quickly top each cookie with half of a large marshmallow (put the sticky side down onto the cookie and give them a little press) then turn on the broiler and pop them back into the oven under the broiler, watching them like a hawk. The marshmallows start to brown very quickly, so you can go from a nice campfire like marshmallow to a burnt marshmallow in seconds, so stay right at the oven, eyes on them. As soon as the marshmallows reach your desired level of toasty (is that the correct term), pull the sheet out and immediately press a square of chocolate onto the top of each marshmallow.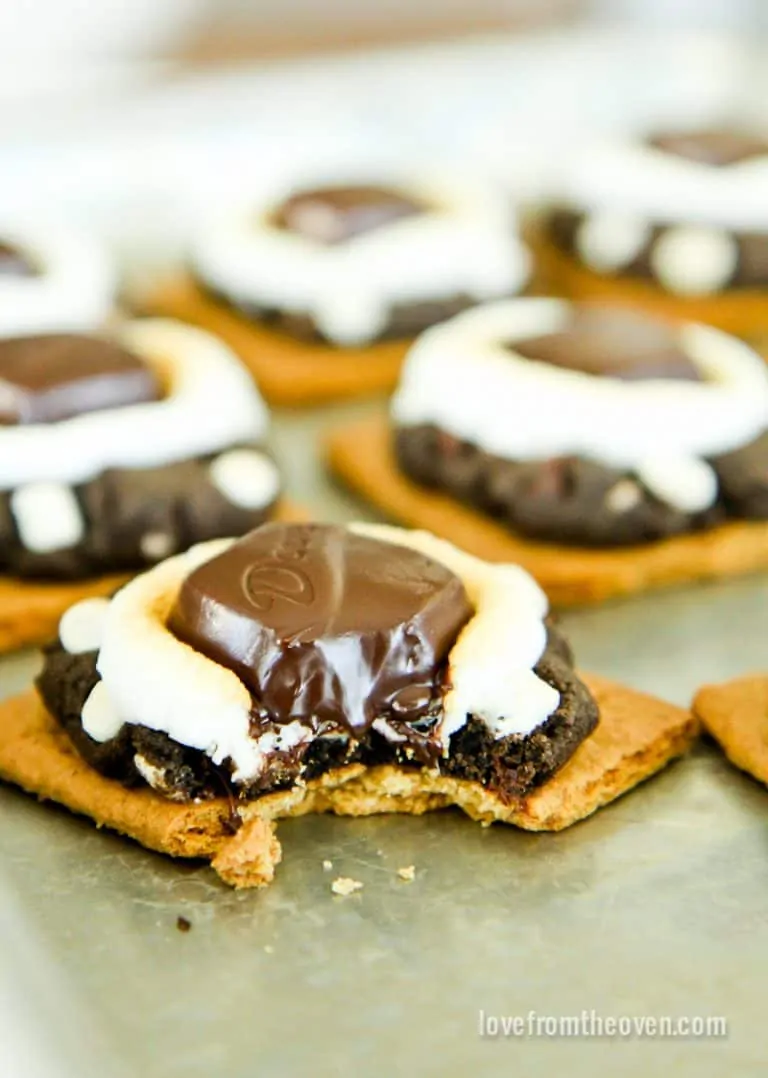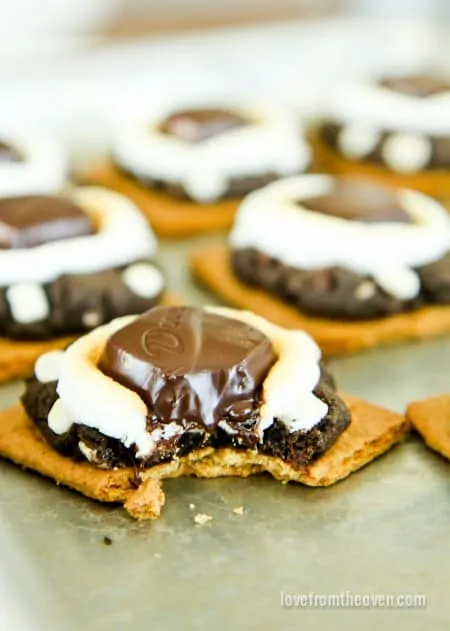 Dude. These were all kinds of awesome. I love it when a crazy idea works out.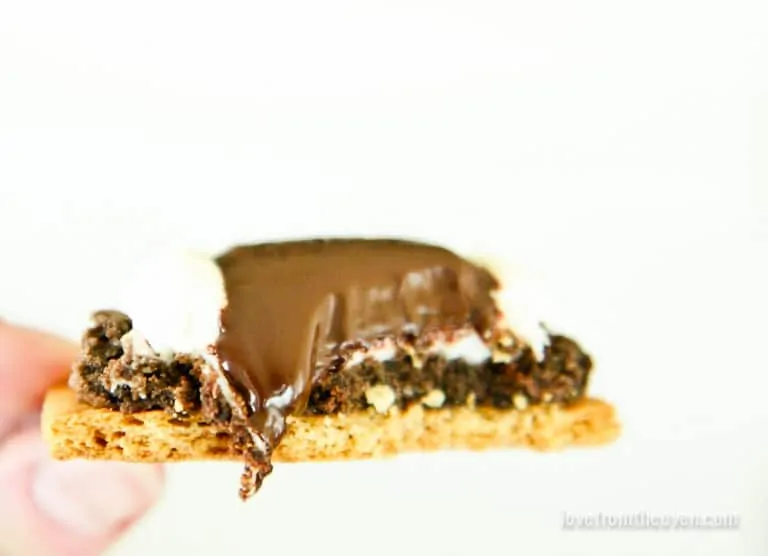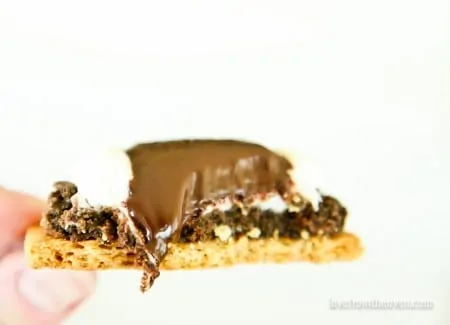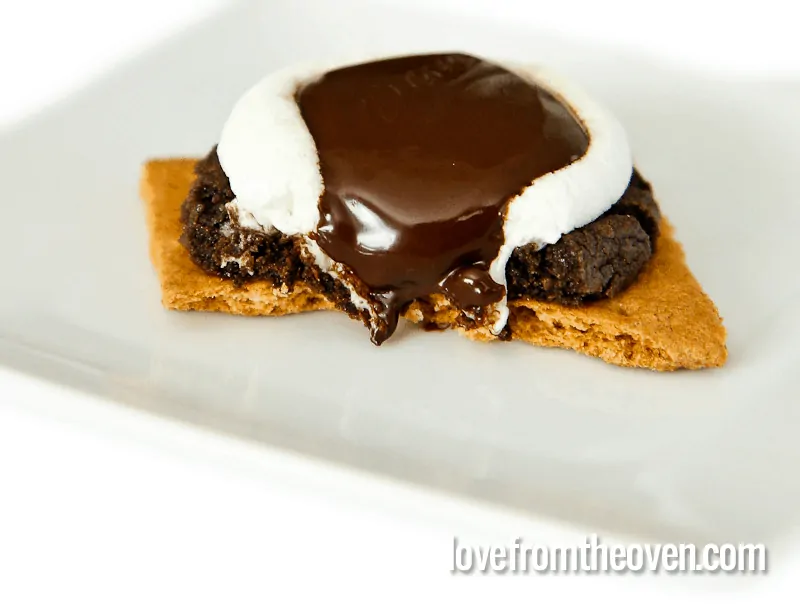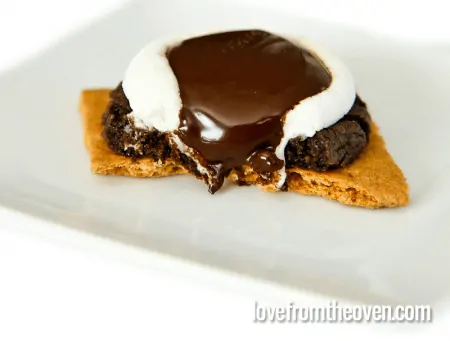 The chocolate cookie that I used for this recipe is one of my favorites. It's just a really solid chocolate cookie recipe that is a go to for me. I decided to half the recipe for these, as they are pretty indulgent. You can certainly double the recipe if you want. I added mini chocolate chips and KRAFT Mallow Bits to my cookie dough. I love the Mallow Bits, they are like the little dehydrated marshmallows you find in cereal or hot cocoa, and are perfect for cookies. You can skip them if you want though, as you will get a lot of marshmallow flavor from the marshmallow on top. Your call. I am ALL about baking being flexible.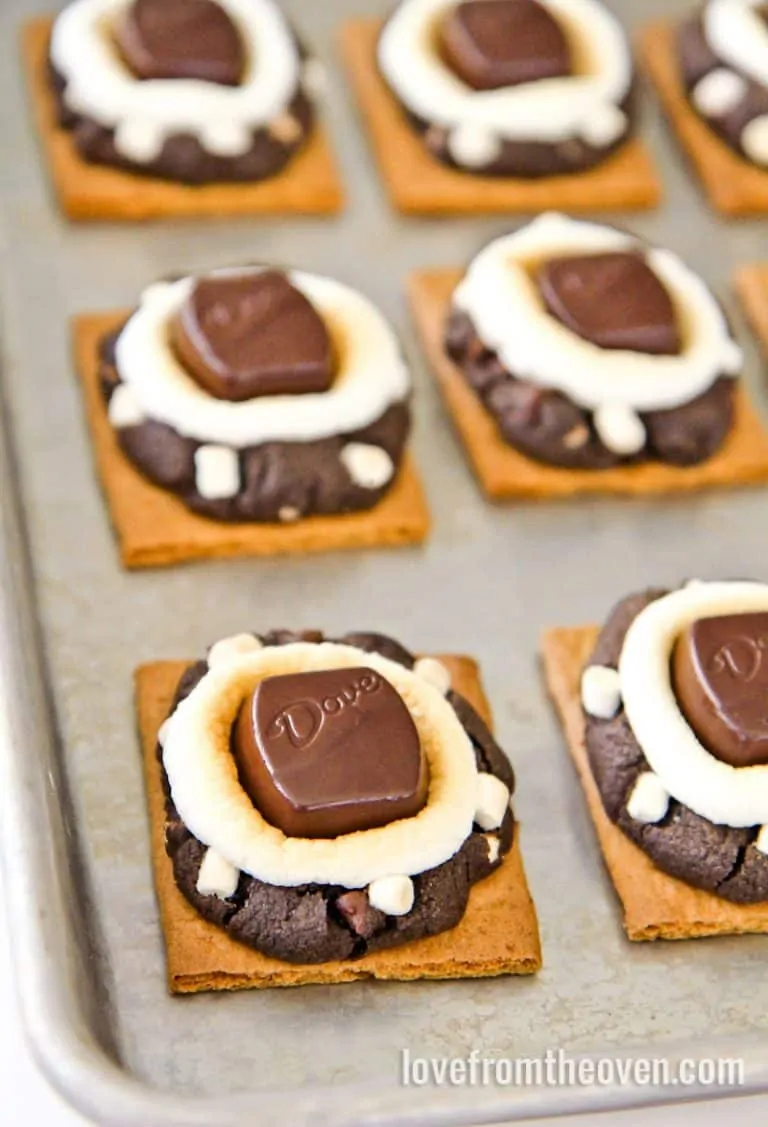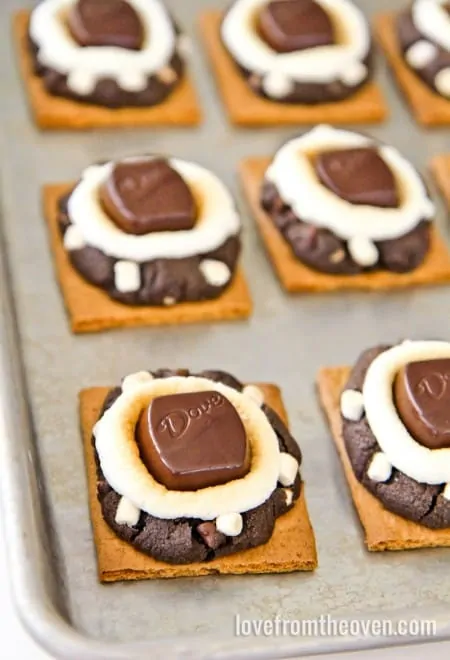 I used dark cocoa powder for these (I love Hershey's Special Dark – only one of my local stores carries it, Safeway, and I use in almost all recipes that call for cocoa powder). You can use regular cocoa powder, I'm just all about dark chocolate. I topped my s'mores cookies with DOVE Dark Chocolate Promises. Again, go with milk chocolate if that is your thing, and I think the caramel filled Dove Promises would probably be totally amazing on these. So get creative! 🙂 One thing to note, my chocolate held it's shape, but it never quite hardens back up, so if you need that (for transporting for example) you probably want to stick them in the fridge for a bit. But the melty chocolate thing kind of keeps with the s'mores theme in my book.
If you like this recipe, make sure to try my Smores Cookie Recipe – it has a more traditional Chocolate Chip Cookie base.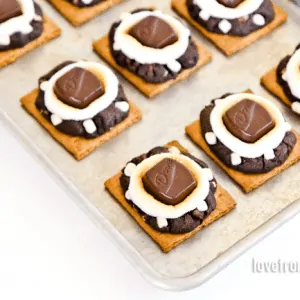 S'mores Cookies
Ingredients
Cookie Dough
1

stick butter

softened but not melted

2/3

cup

sugar

1

large egg

1/4

cup

cocoa powder

1 1/4

cup

all purpose flour

1/2

tsp

baking powder

1/4

tsp

salt

1/2

cup

mini chocolate chips

1/2

cup

Mallow Bits

miniature marshmallows could also be used, but the result will be different
S'mores Items
28

graham cracker squares

28

DOVE Chocolate Promises

unwrapped

14

KRAFT Jet-Puffed Standard Sized

not miniature Marshmallows, cut in half for a total of 28 marshmallows. The KRAFT Jet-Puffed Stacker Marshmallows would probably also work.
Instructions
Preheat the oven to 350 degrees F.

In the bowl of an electric mixer, combine the butter and sugar. Beat together on medium-high speed until light and fluffy, 2-3 minutes. Blend in the egg, scraping down the bowl as needed. Mix in the cocoa powder until well blended.

Add the flour, salt and baking powder to the bowl and mix on low speed just until incorporated. Fold in the chocolate chips & Mallow Bits with a spatula.

The dough is very thick and dense, which helps keep the cookies from spreading over the top of the graham crackers.

Line a baking sheet with graham cracker squares. Place a spoonful of cookie dough on each square. It helps to slightly shape the dough to fit on the square, but make sure to not completely cover the graham cracker, as the cookies will spread slightly when baked.

Bake for approximately 10 minutes, remove from oven and quickly place a half of a marshmallow, sticky side down, on top of each cookie, giving it a slight press into the cookie.

Switch oven to broil (low) and place cookies, with marshmallows, back into the oven. Do not walk away! Closely watch until marshmallows reach your desired level of brown, which for me was just shy of 90 seconds. Remove from oven and immediately place a DOVE Chocolate Promise on top of each marshmallow.

Return oven to 350 degrees if you still have more cookies to bake and give it a few minutes to cool back down after broiling, and repeat the process.

Store loosely covered, with a lid or covering not touching the top of the cookies. The chocolate will hold it's shape, but remain soft and melty, just like in a s'more, so anything that touches it will get chocolate on it. Enjoy!
Disclaimer
Nutrition information is estimated as a courtesy. If using for medical purposes, please verify information using your own nutritional calculator. Percent Daily Values are based on a 2000 calorie diet.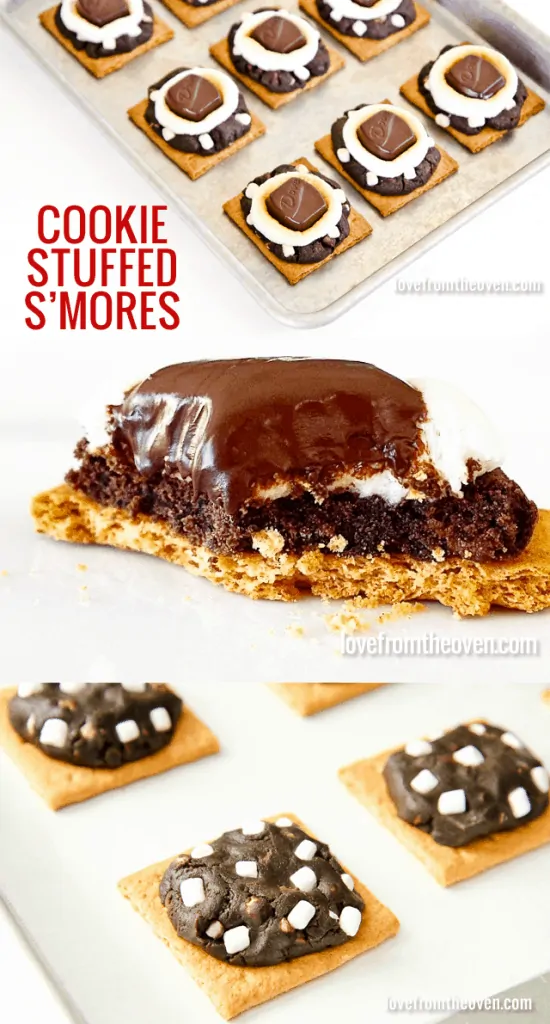 If you love s'mores, I have a few other s'mores recipes you might want to try out…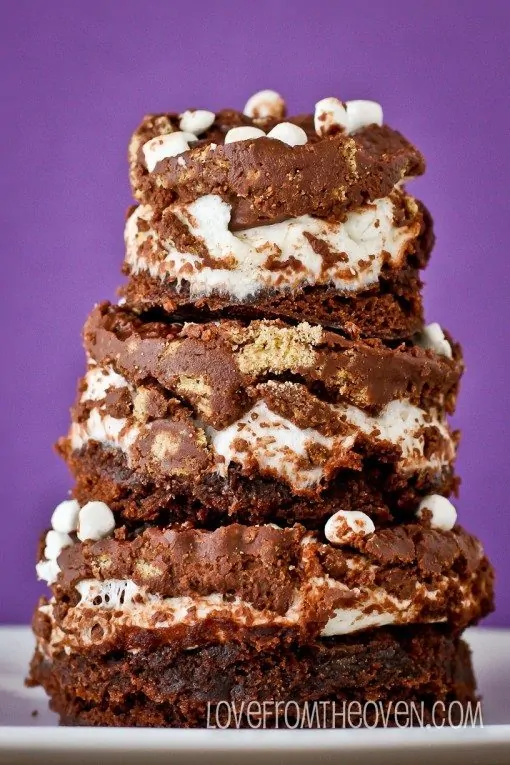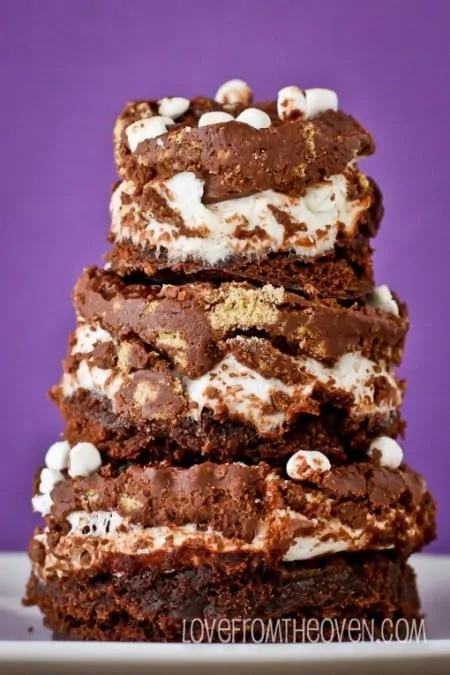 Pretzel S'mores. One of my all time favorites!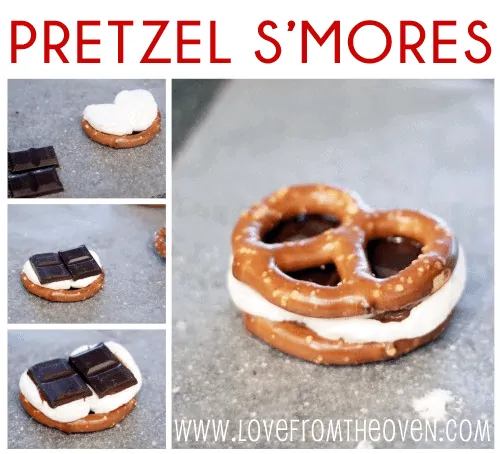 S'mores Ice Cream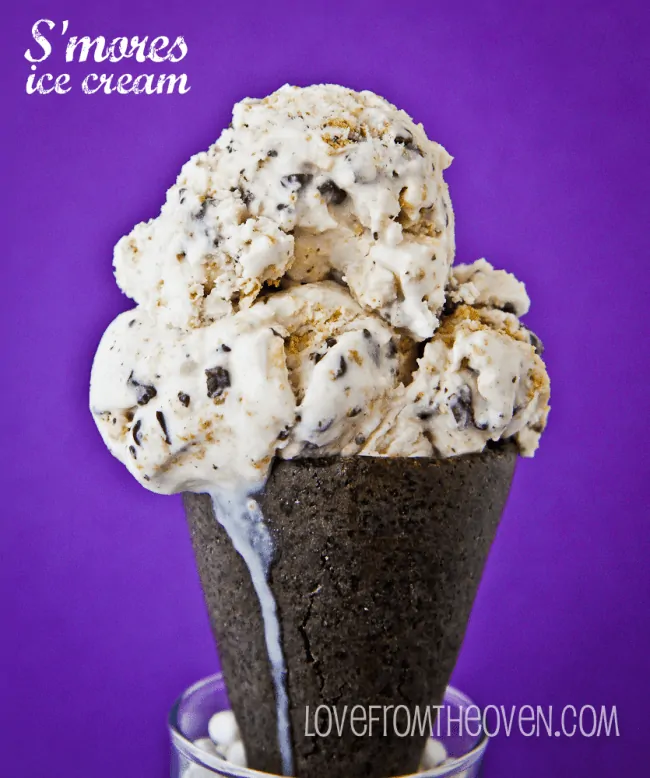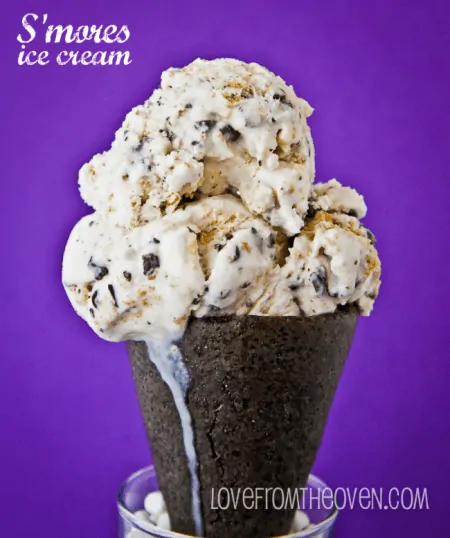 Over The Top Marshmallow Pretzel Pops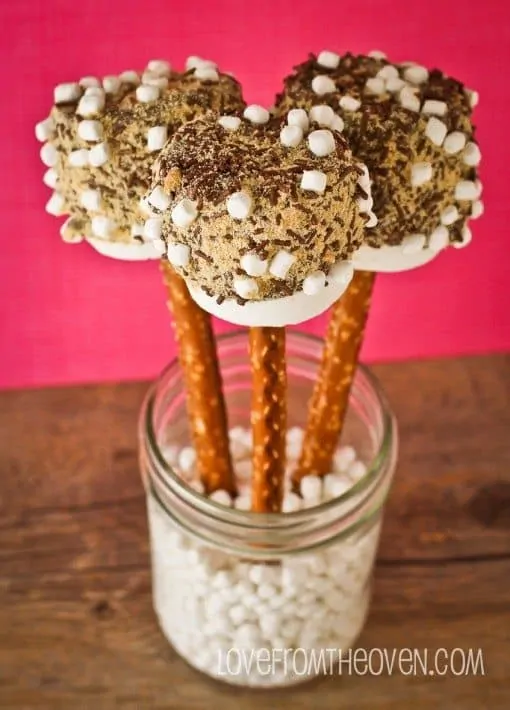 How To Make S'mores Pops Tutorial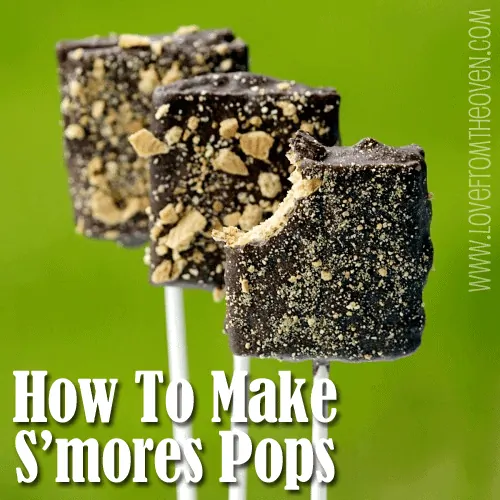 Easy No Bake S'mores Cheesecake Mousse Pies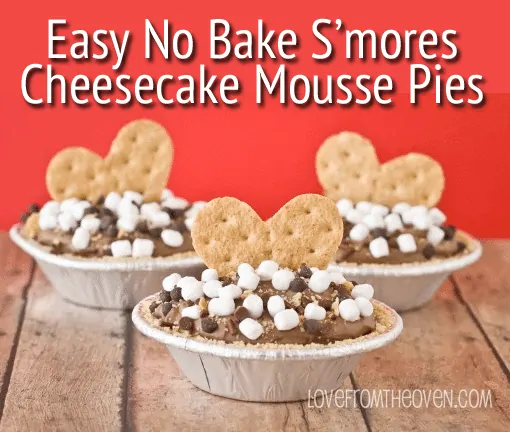 S'mores On A Stick