I have a long time love of the Dairy Queen Blizzard. It brings together what I love about ice cream the most, a soft serve consistency with lots of "stuff" in it. I think every town, rest area and random landmark I've ever been to seems to have a Dairy Queen (even if they have nothing else), and it's always been our travel treat on long road trips. Recently I heard Dairy Queen was featuring a S'mores Blizzard, so naturally I had to try it. You know, for research purposes (work with me here). It was good, but not quite what I was hoping for, I wanted more chocolate chunks and more marshmallows, something a bit more like rocky road ice cream. So what's a girl with an ice cream maker to do? Make her own s'mores ice cream, of course!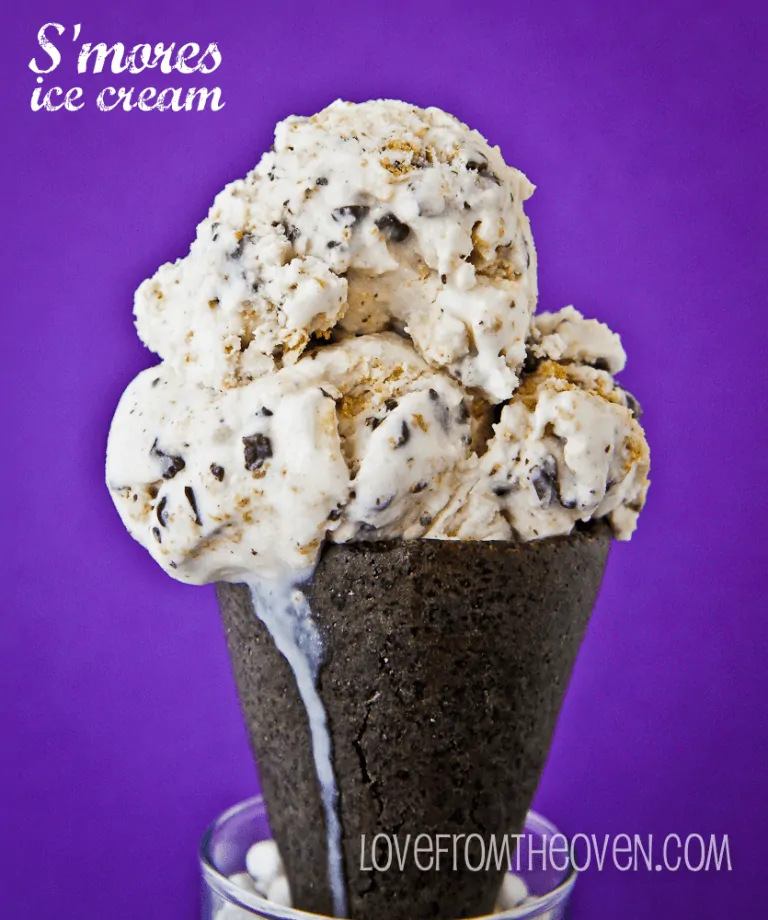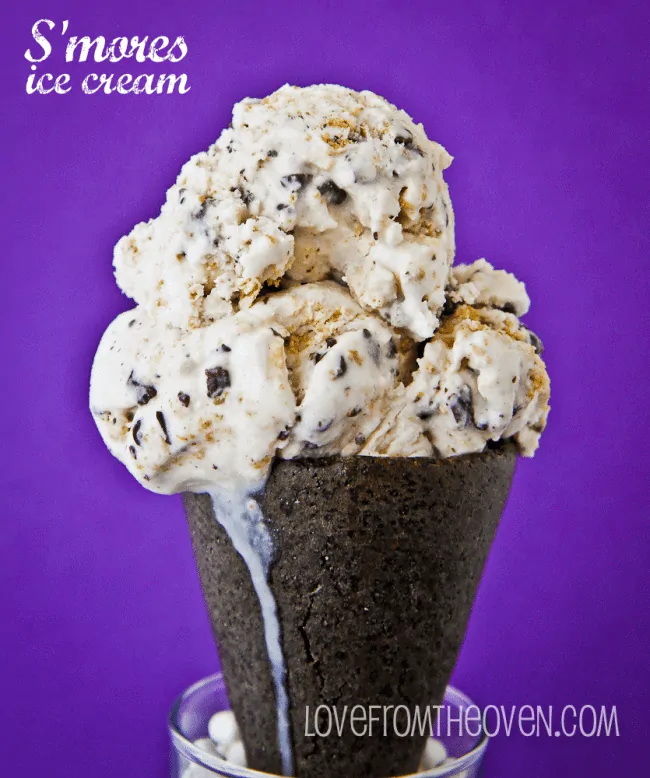 Yeah, this one hit the spot. Full of crushed graham crackers, chocolate chunks and lots of marshmallows. And so easy that you could really make it in the same time that it would take you to head to Dairy Queen.
The Chocolate Cookie Cone is just the cherry on top. Or cone on bottom. Somehow that second saying doesn't sound as good, but I'd rather have the cone than the cherry any day.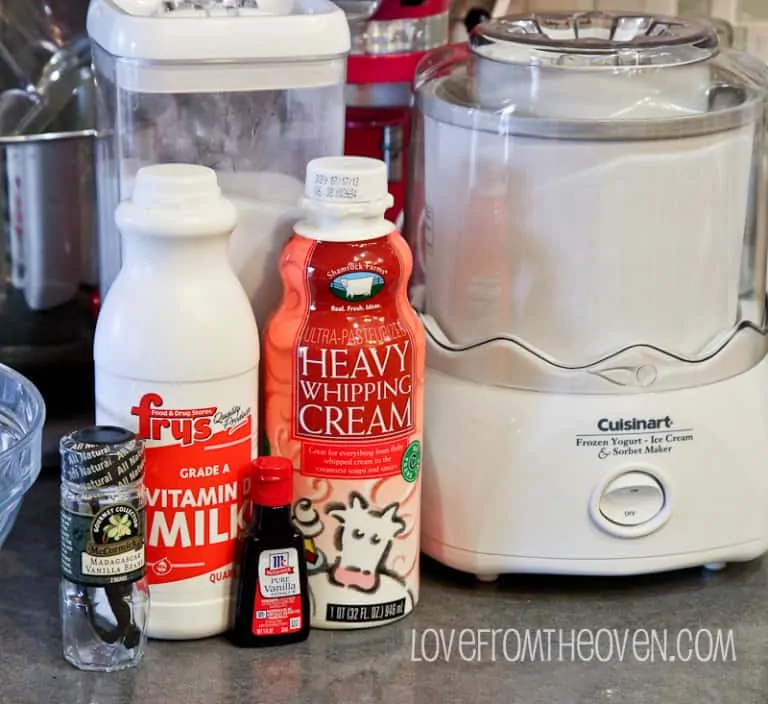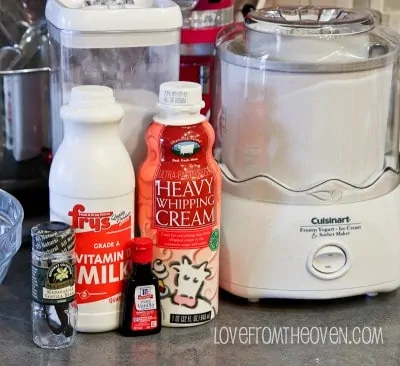 The ingredients for your ice cream base are simple – milk, heavy cream, sugar, vanilla and vanilla beans if you are so inclined. Mix those together and toss them in your ice cream maker while you get the s'mores goodies ready.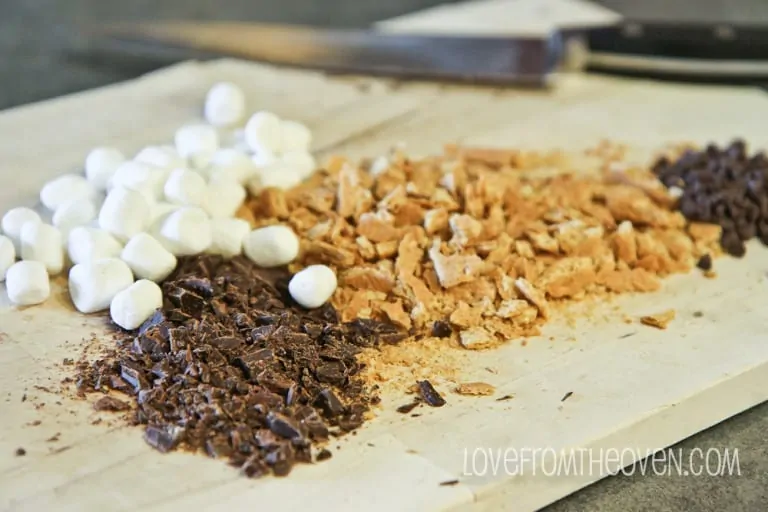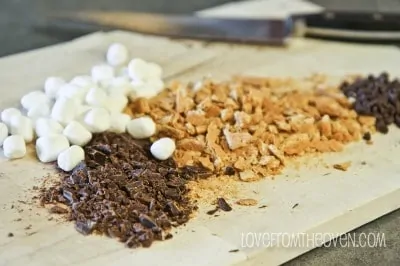 Once your ice cream base is done (about 20 minutes) it's time to mix it with your graham crackers, chocolate chunks and marshmallows. I did a combo of graham cracker crumbs and bigger chunks, as well as chocolate chunks and mini chips. Oh, good stuff ahead people…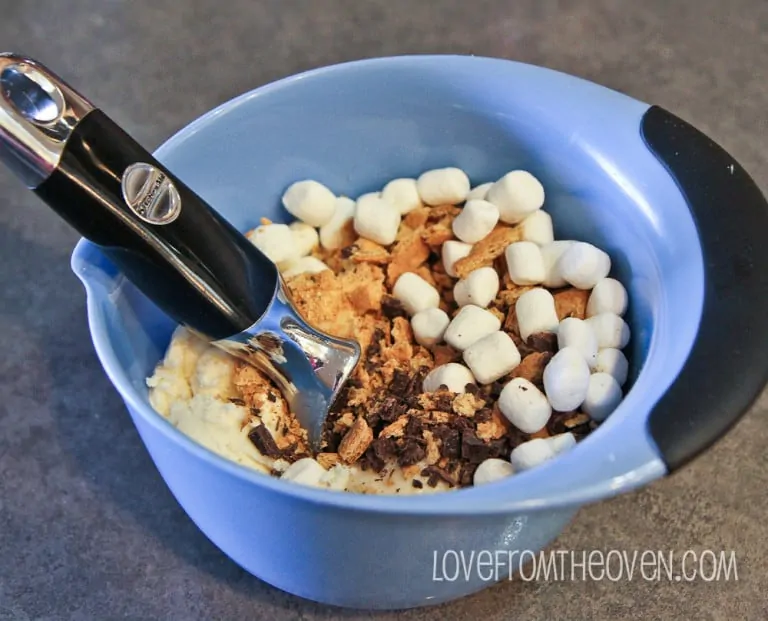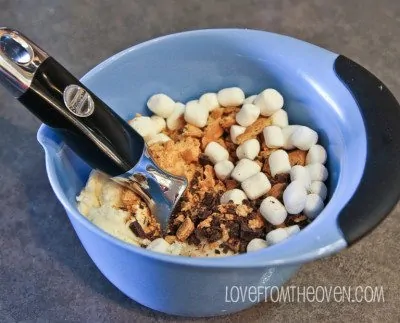 Would it be wrong to just eat it by the scoop? For a Blizzard like consistency, you can mix up your ice cream and mix-ins, grab your spoon and dig in. If you want more of a solid ice cream consistency, throw it in the freezer for at least 3-4 hours. Then it'll be scoop-able in case you want to go the cone route…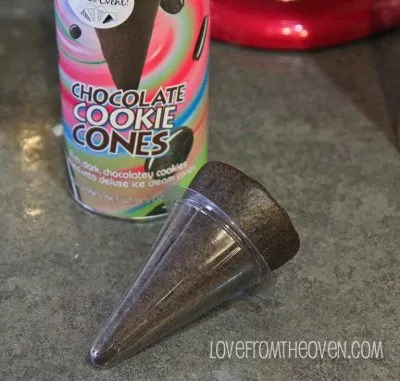 Delish and easy peasy!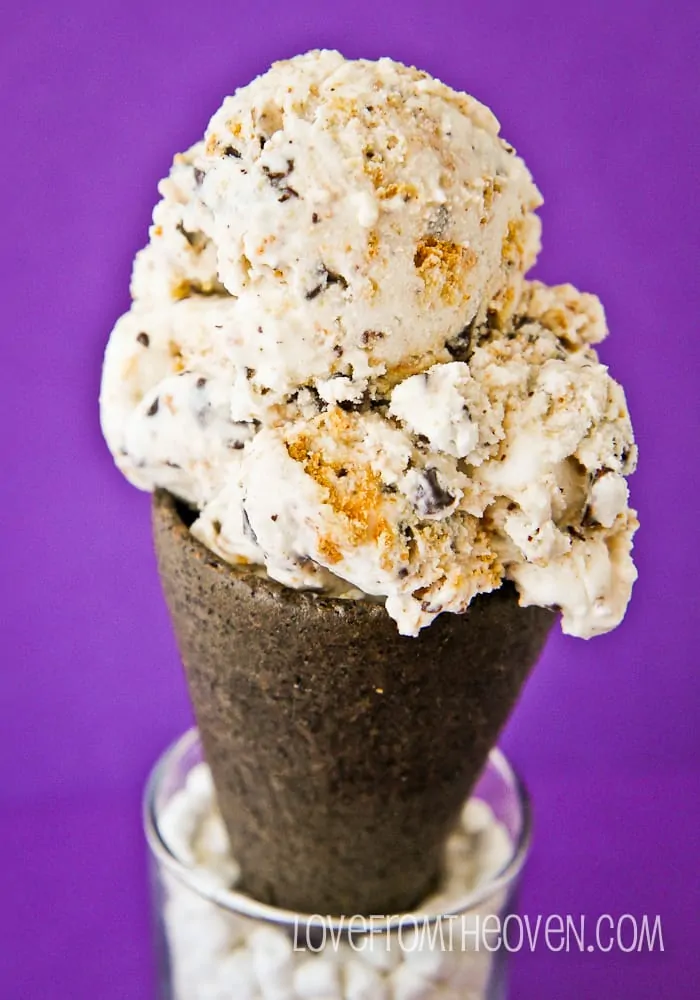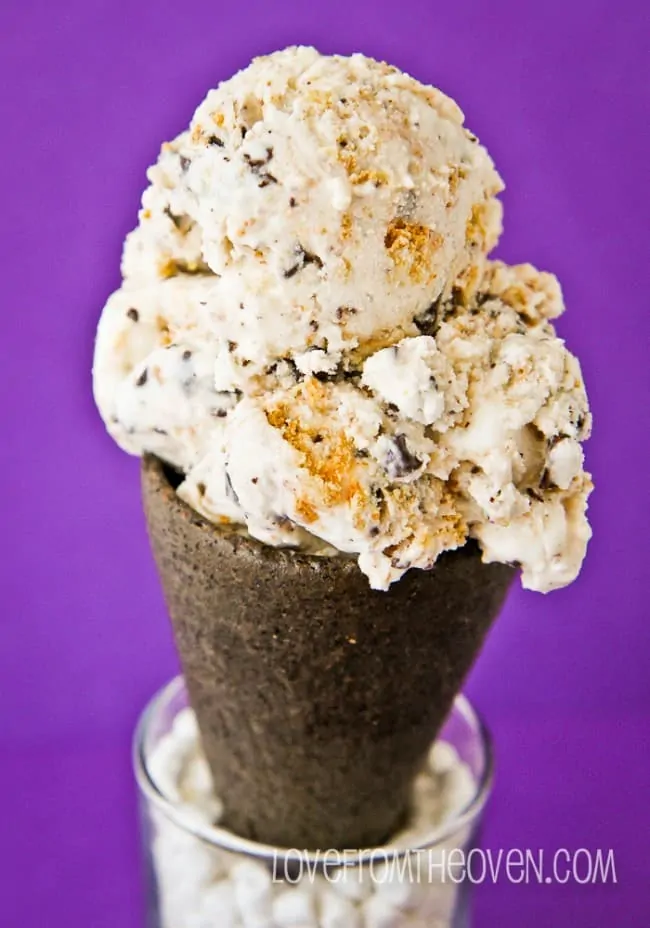 Love S'mores? Try my Smores Dip!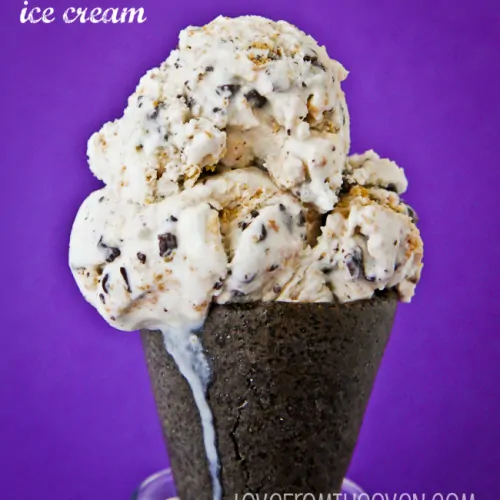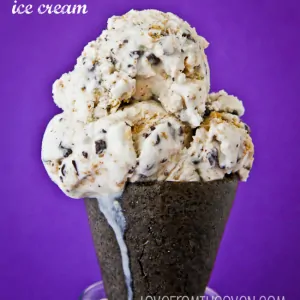 S'mores Ice Cream
Too hot to toast s'mores outside? Enjoy the flavors of s'mores in a cool ice cream treat. An easy and fabulous summer dessert.
Ingredients
1-1/2

cups

whole milk

1-1/8

cups

granulated sugar

3

cups

heavy cream

1-1/2

tablespoons

pure vanilla extract

1

vanilla bean

optional

1

cup

crushed graham crackers

as coarse or fine as you like

1/2-1

cup

of chocolate chunks or chocolate chips

1

cup

miniature marshmallows

Optional – your favorite ice cream cones
Instructions
In a medium mixing bowl, use a hand mixer on low speed to combine the milk and sugar until the sugar is dissolved, approximately 1-2 minutes.

Stir in the heavy cream and vanilla.

Slice open your vanilla bean, scrape out seeds and add to the mixture, if using vanilla bean.

Turn the machine on; pour the mixture into freezer bowl, and let mix until thickened, about 20 to 25 minutes. The ice cream will have a soft, creamy texture.

Scoop your ice cream out and into a freezer safe container.

Mix in your graham cracker pieces, chocolate chunks and marshmallows. Stir well to combine.

If a firmer consistency is desired, transfer the ice cream to an airtight container and place in freezer for 3 or more hours.

Enjoy in bowls or on top of cones.
Notes
Base ice cream recipe adapted from Cuisinart.
Disclaimer
Nutrition information is estimated as a courtesy. If using for medical purposes, please verify information using your own nutritional calculator. Percent Daily Values are based on a 2000 calorie diet.
Looking for more ice cream recipes? Here are some great ones to try!
Peanut Butter Pretzel Chocolate Chunk Ice Cream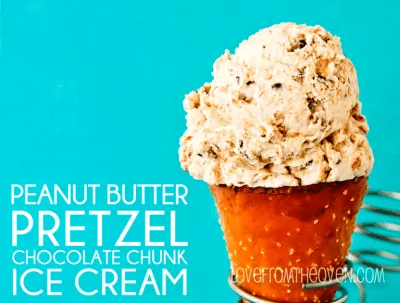 Deep Dark Delicious Chocolate Ice Cream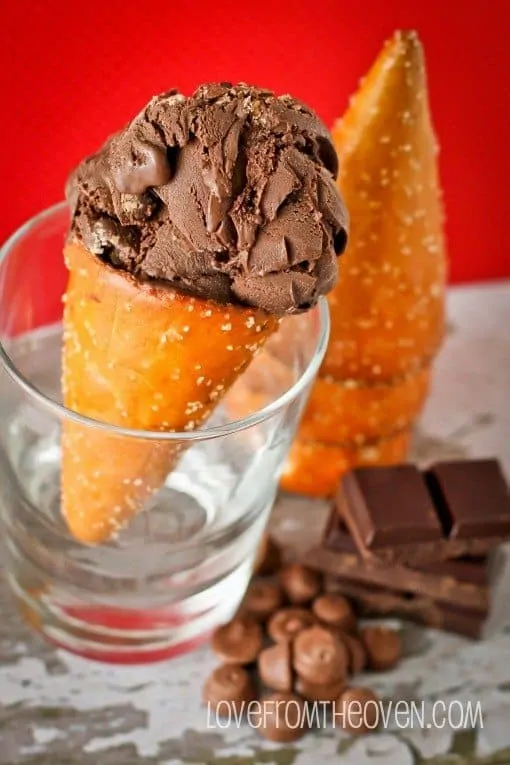 Easy Homemade Cookies & Cream Ice Cream Recipe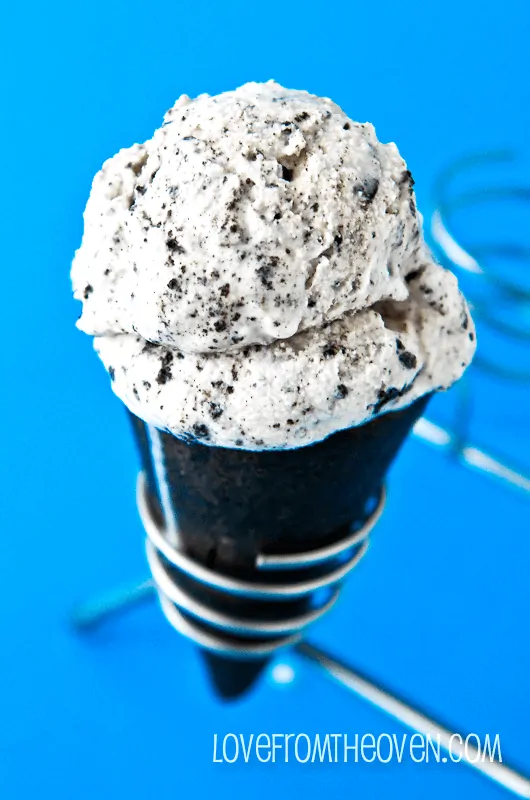 Chocolate Chip Cookie Ice Cream Recipe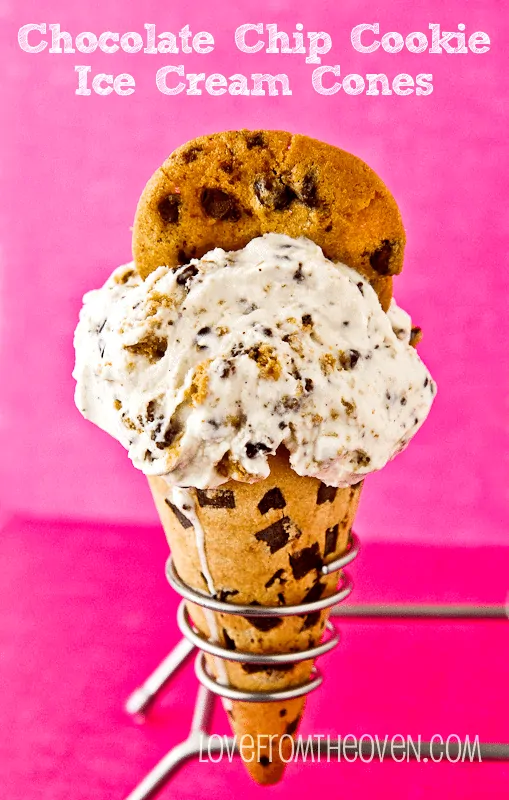 Enjoy!