Today I am sharing a recipe for one of my all time favorite cookies, the simple, delicious and oh so buttery Spritz Cookies. I'm not sure how, but I have never made Spritz Cookies before. Spritz Cookies has always been a favorite of mine. I remember digging through the giant gift tins of holiday cookies my Dad would bring home from work, looking through the little white paper cups for those deliciously simple but incredibly delicious spritz cookies.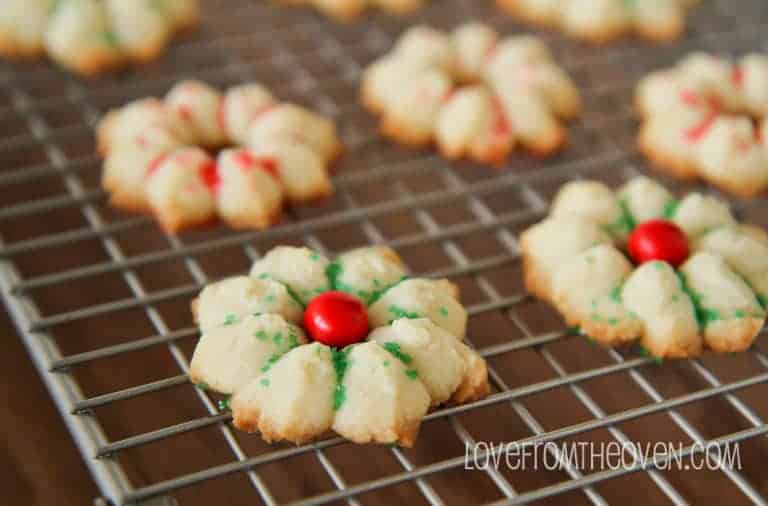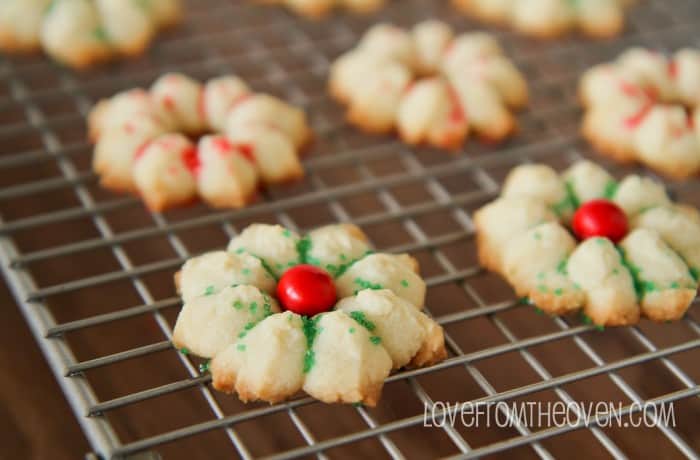 When the folks at Pampered Chef reached out to me and asked if I would like to try some of their products, as well as give some to one lucky reader, I was totally on board. I've always loved their products and have many friends who always make Spritz Cookies with the Pampered Chef Cookie Press.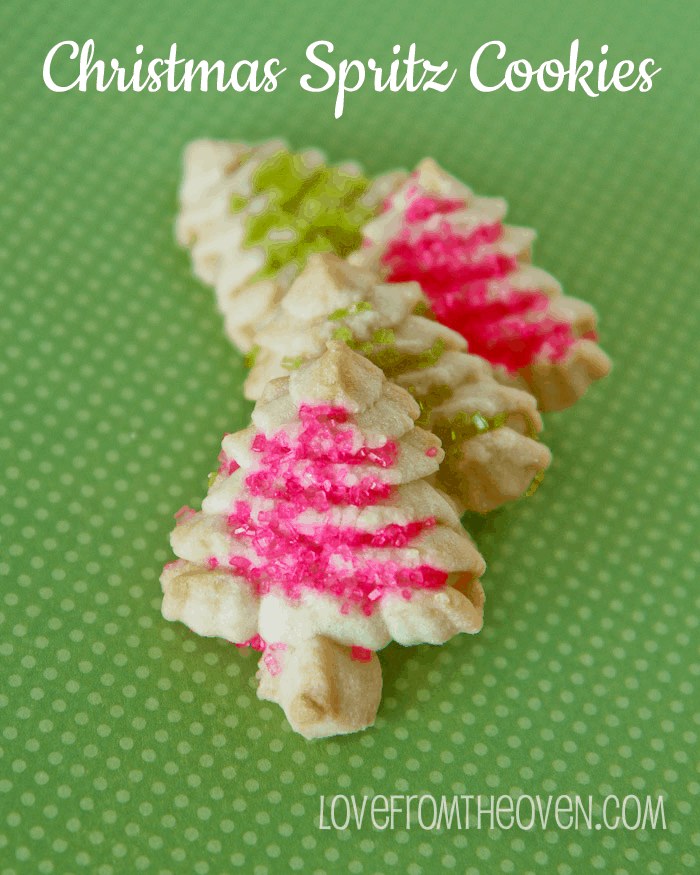 It took about two seconds to decide that I had to make some of those delicious spritz cookies. After using the Pampered Chef Cookie Press, I am kind of embarrassed that I've never made them before. Not only are they delicious, but they are SO easy to make. For some reason I always thought they were more complicated, but my daughter and I cranked out dozens of these delicious cookies, in a variety of shapes, in no time at all.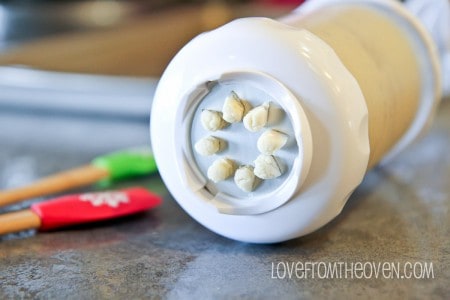 Once we filled the cookie press with the dough, it took us each one or two tries to get the pressure and turn just right with the cookie press, and then we were off making cookies. We tried a variety of the different shapes, and I think the little Christmas trees were my favorite. My ten year old daughter did a great job using the press and creating perfect little cookies.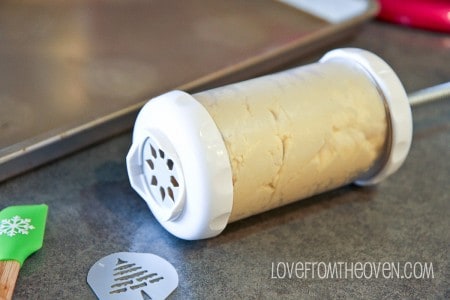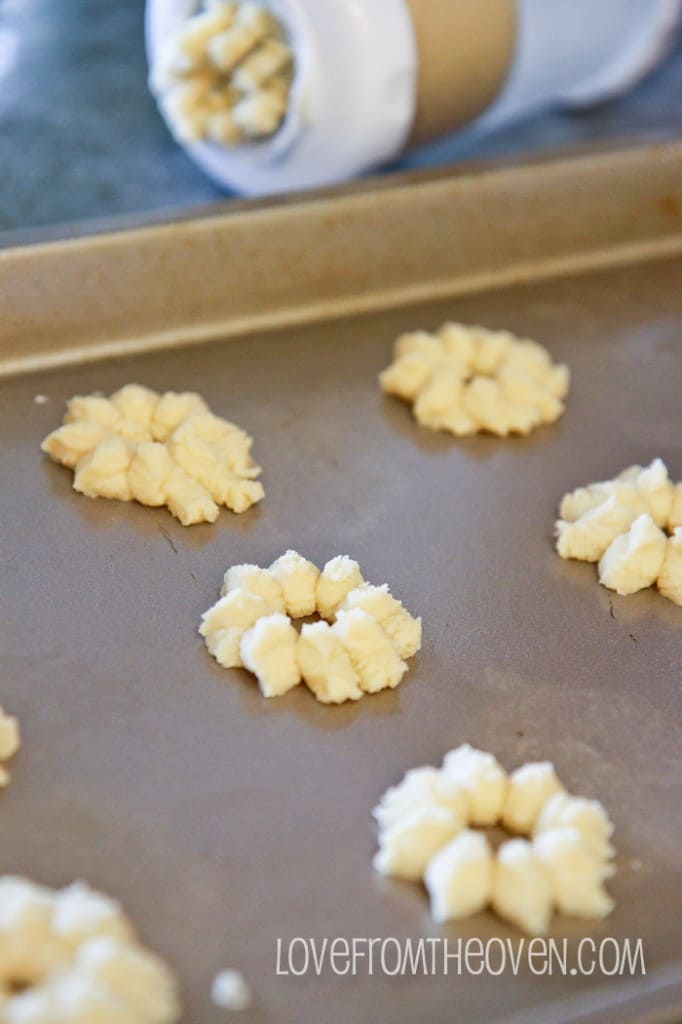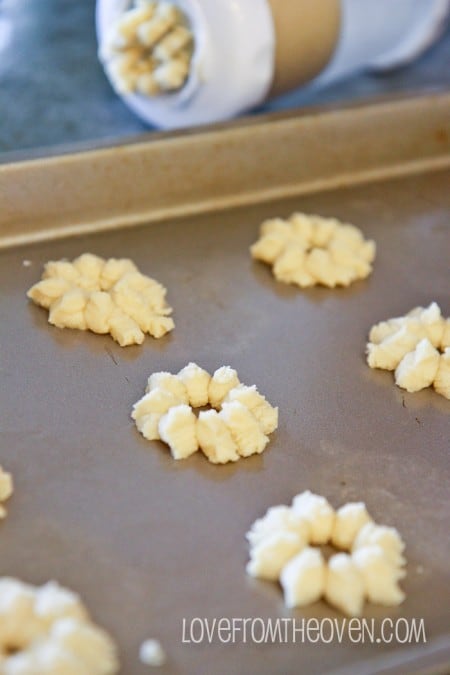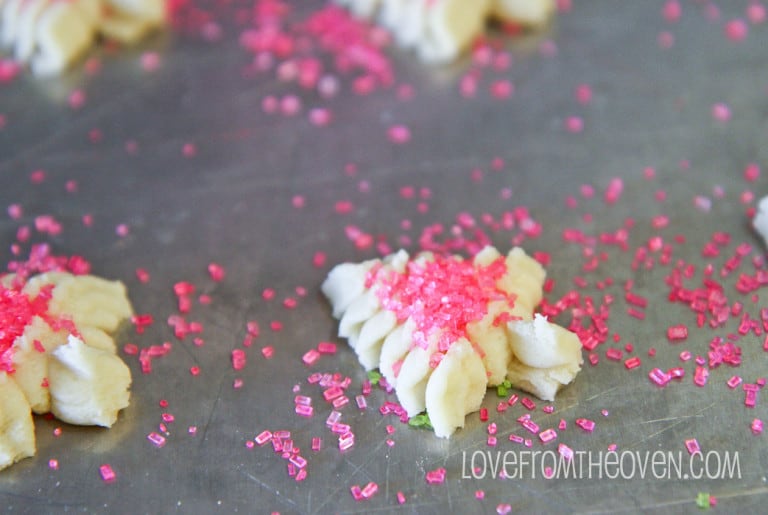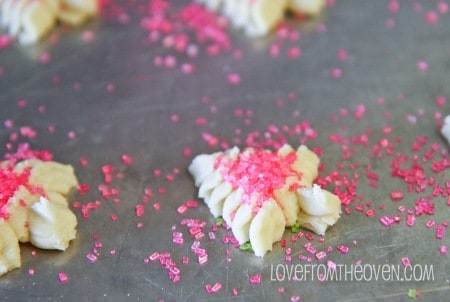 We made quite a few with the traditional red and green sprinkles, but I loved using pink and lime green sprinkles for a fun modern twist on the Christmas colors. While I love a packed full of stuff chocolate chip cookie, there is something so beautiful and so perfect about a delicate butter cookie like these.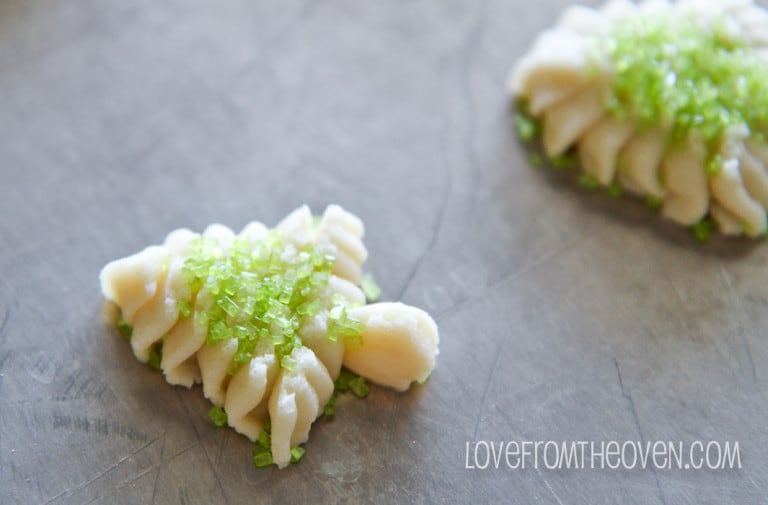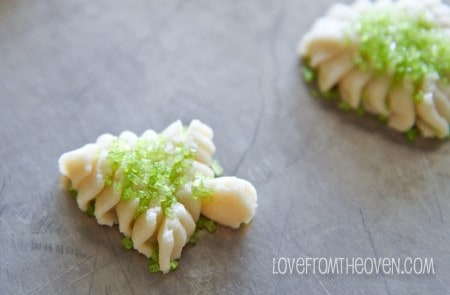 It's probably no surprise that one of my holiday traditions is to do a lot of baking and cookie making during the month of December. One thing that sometimes does surprise people is that I very rarely, if ever, include decorated sugar cookies. It's not that I don't love them (and have SO much respect for the amazing bakers and decorators that create them), it's that they are quite a time consuming cookie, at least for me, to make. Time is always in such short supply, and I like to make a wide variety of cookies and candies, so sticking with cookies such as these Spritz Cookies is perfect for me. In no time at all you can churn out enough to load up multiple cookie platters. My daughter likes to help with the holiday baking, and these were perfect to make with her. We alternated who worked the cookie press, who added the sprinkles and who topped some them with candy when they came out of the oven. From sheet to sheet we alternated the colors of the sprinkles as well as the shape of the cookies. Our one batch of cookies felt like multiple batches with all of the fun variety we easily created.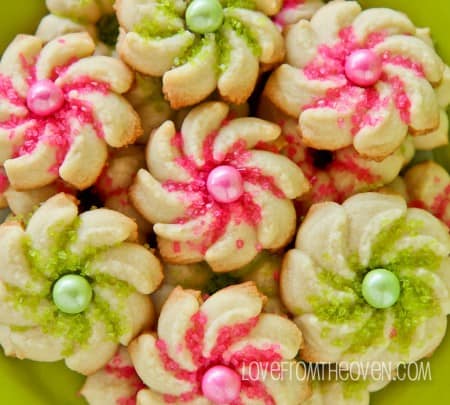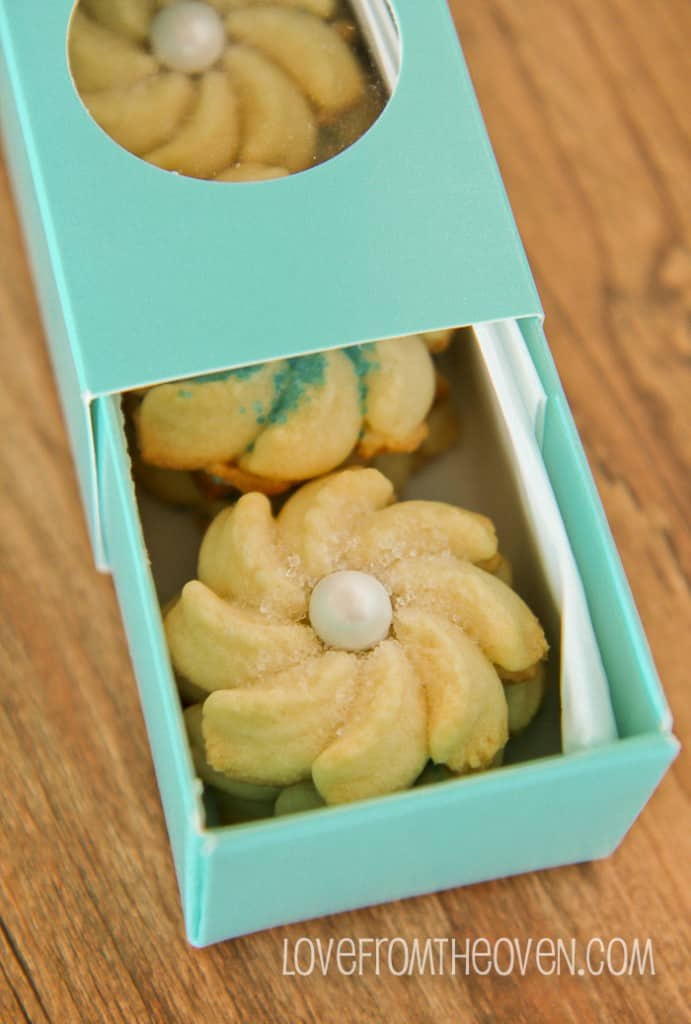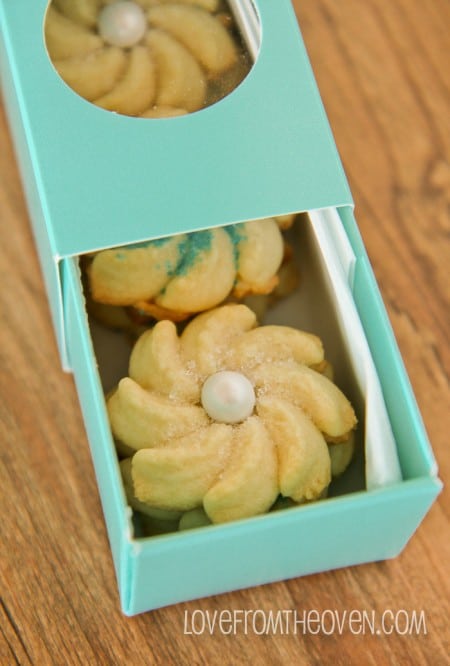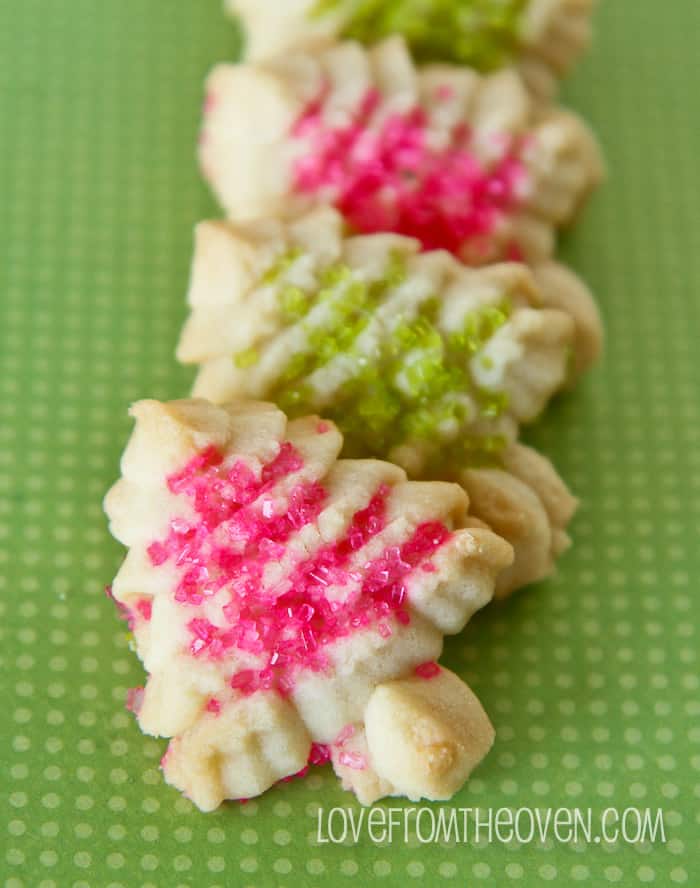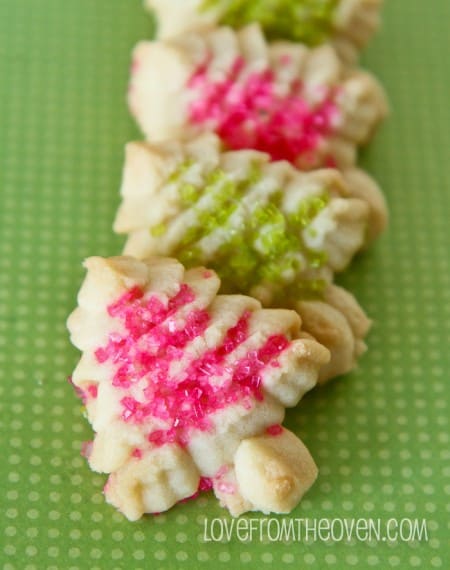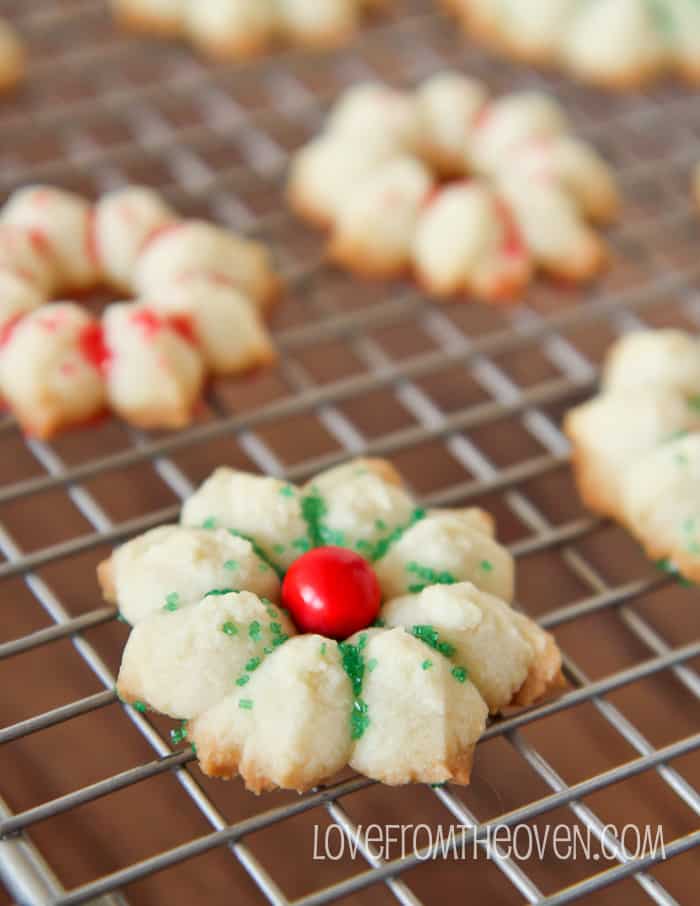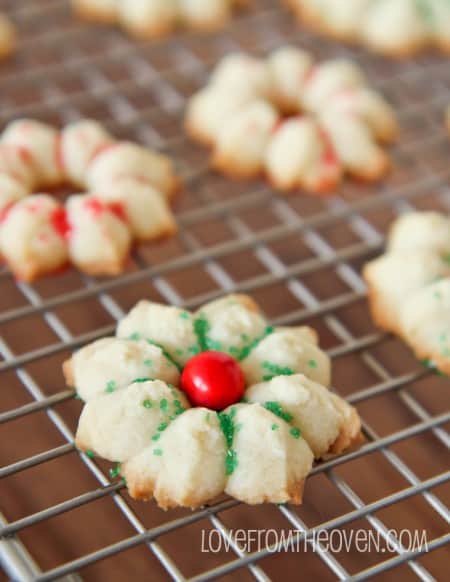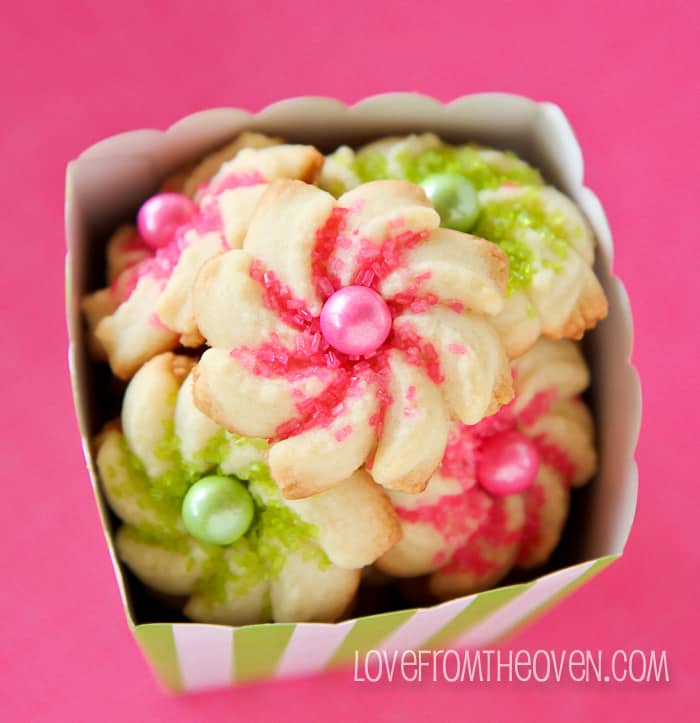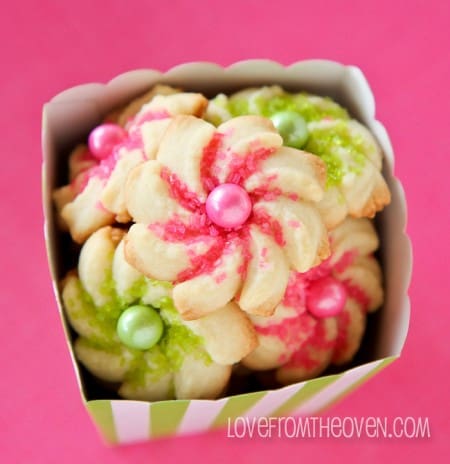 Simple. Sweet. Delicious. Beautiful. These Spritz Cookies are a perfect addition to your holiday treat trays.
I am so excited that Pampered Chef is going to give one lucky Love From The Oven reader a prize package full of goodies perfect for making lots of cookies this holiday season! (Giveaway closed on 12/10/13, thank you!).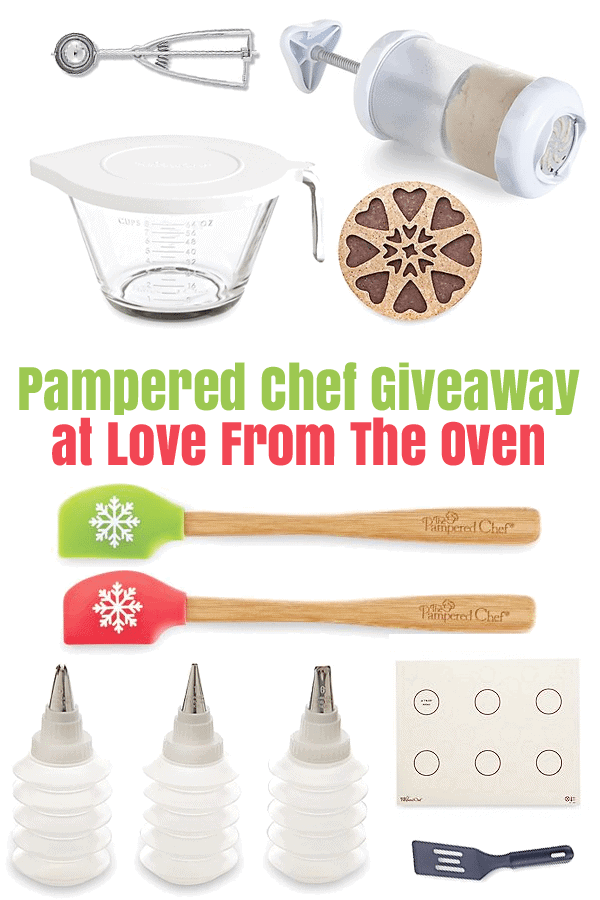 One Love From The Oven reader will receive the following from Pampered Chef…
What a fantastic gift for you, or a friend that loves to bake!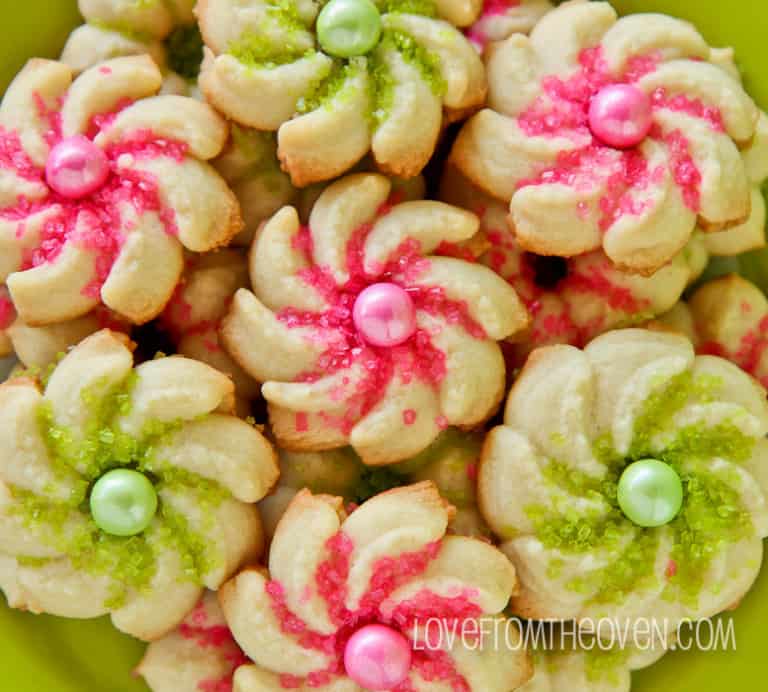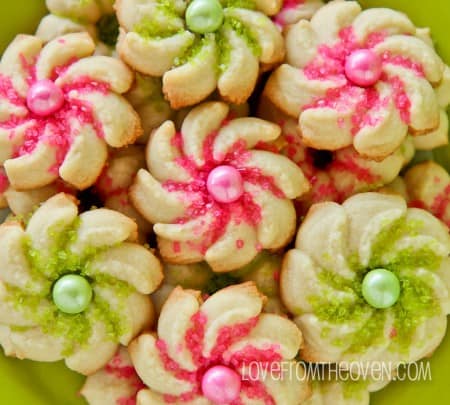 Before we get to entering the giveaway, you need this delicious Spritz Cookie recipe!
Spritz Cookies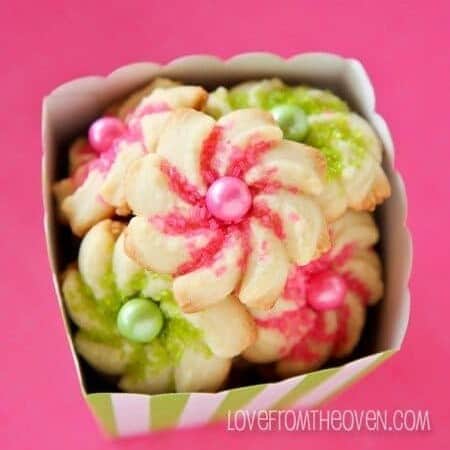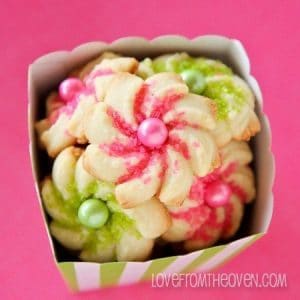 Spritz Cookies
A delicious, delicate buttery cookie.
Ingredients
1 1/2

cups

375 mL butter (3 sticks), softened

1

cup

250 mL sugar

1

egg

1

tsp

5 mL vanilla extract

3 1/2

cups

875 mL all-purpose flour

Colored sugar or sprinkles

optional

Candies for the centers of cookies

optional
Instructions
Preheat oven to 375°F (190°C). In large mixing bowl, beat butter and sugar on medium speed of electric mixer about 3 minutes or until creamy, scraping down sides as necessary. Add egg and vanilla; beat well. Add flour; mix on low speed just until blended, scraping down sides as necessary. (Dough will be soft; do not refrigerate.)

Fit Cookie Press with desired disk (see Cook's Tip); fill with dough. Press dough onto Cookie Sheet 1 in. (2.5 cm) apart. Decorate cookies with colored sugar or sprinkles, if desired. Bake 10-12 minutes or until edges are light golden brown. Cool cookies 2 minutes on Cookie Sheet; remove to cooling rack. Repeat with remaining dough.
Notes
Recipe from Pampered Chef
Variation: Chocolate Spritz Cookies: Decrease flour to 3 cups. Increase sugar to 1 1/4 cups. Add 1/3 cup unsweetened cocoa powder to flour mixture. Proceed as recipe directs.
Some other great cookie recipes from Pampered Chef that you might want to try include…
Chocolate Chip Peanut Butter Cookies
Click here to see more Holiday Delights recipes from The Pampered Chef.
If you are looking for some holiday gift ideas, don't miss The Pampered Chef's Holiday Helpers!
Are you ready to enter to win your own collection of cooking making products from Pampered Chef?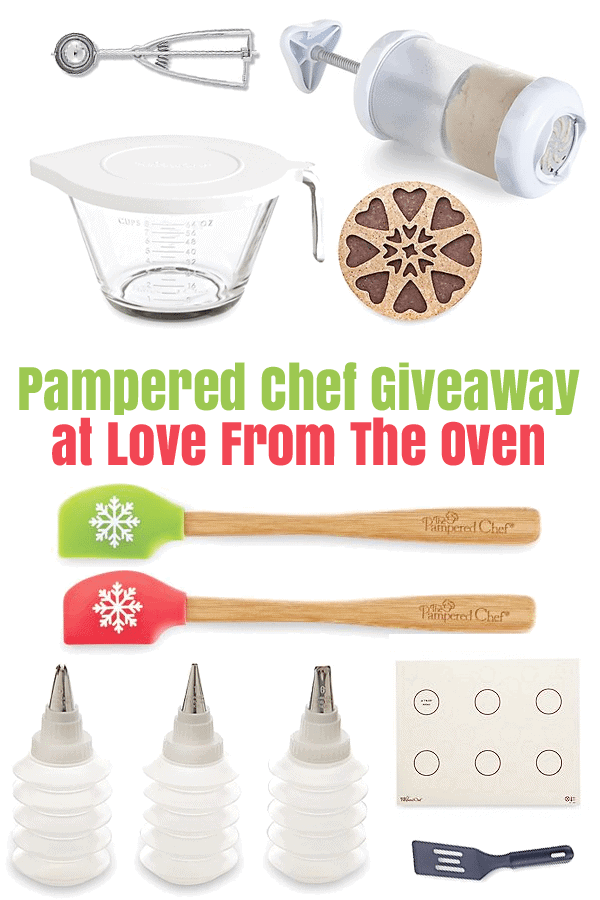 GIVEAWAY HAS ENDED. THANK YOU!
To enter, use the Rafflecopter Widget below.  Open to US Residents of legal age only. Prize can not be shipped to PO Boxes. This giveaway is a sweepstakes. No purchase necessary and a purchase will not increase your chances of winning. Void where prohibited. Odds of winning depend on number of entries received. Winner will be selected at random. Entry period runs from December 3rd, 2013 to December 10, 2013. Prizes provided directly from The Pampered Chef. Okay, here's the widget to enter (sometimes it's slow to load). GOOD LUCK! Give it a minute to load, it can be slow.  If you do not see it below this sentence, you might try using a different Internet browser.

a Rafflecopter giveaway
Disclosure: The Pampered Chef compensated me for sharing this post and provided me the tools used in this post at no charge. They are providing the prize for the winner of the giveaway. All opinions shared however are, as always, mine and mine alone.