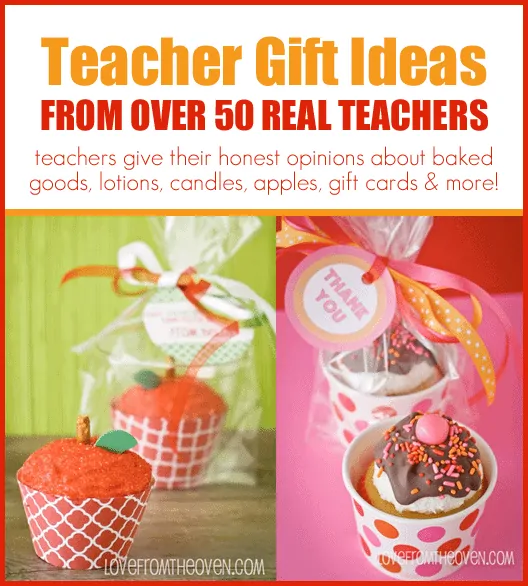 I am a huge fan of teachers (how can you not be?) and I know that every holiday, I want to find a way to show my appreciation and say thank you, but I also struggle with gift ideas for teachers. So instead of asking my Magic 8 Ball for answers (and I have one – it's pink – truth!),  I decided to ask teachers what it is that they really want.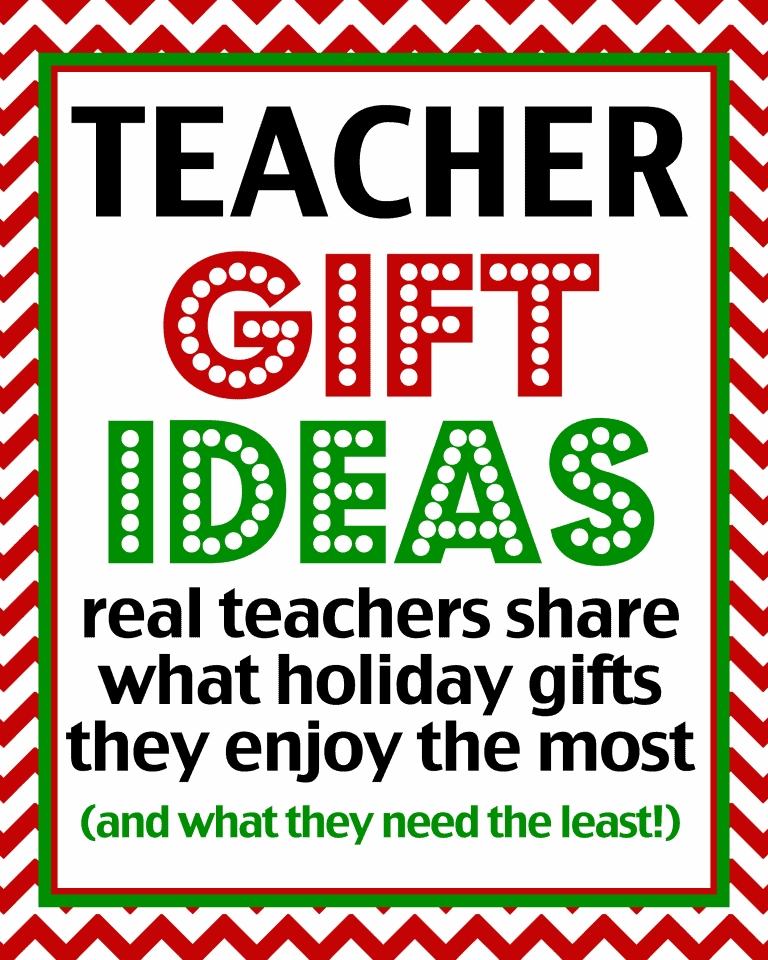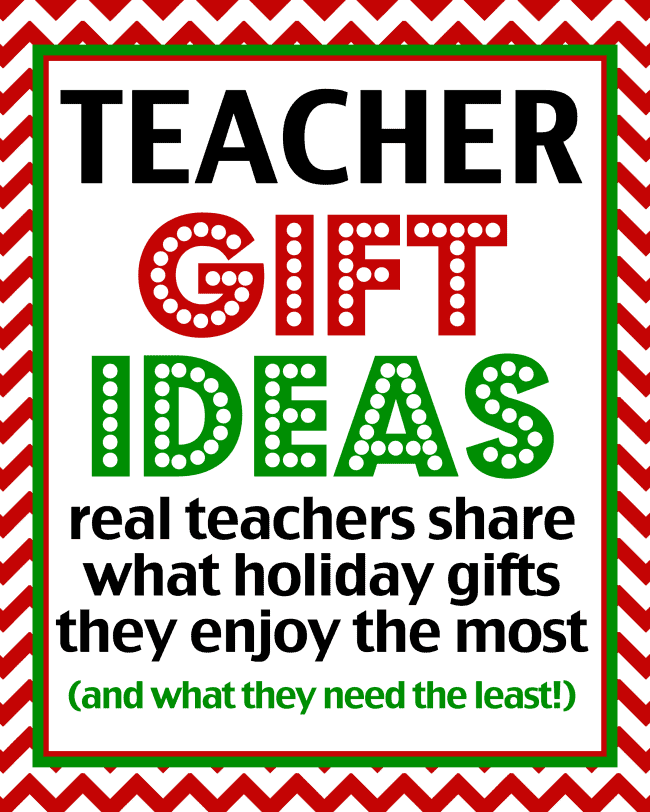 I have three teachers in my own family, my brother and his wife both teach high school and my other sister in law teaches middle school. I decided to also reach out to my daughter's awesome teacher (3rd/4th Grade), friends I have that are teachers, as well as my awesome readers on Facebook who are teachers, and ask them – what is it you really want when it comes to gifts. This is not a post about ideas that I have for teachers. Or what I think teachers want. This is what teachers themselves have shared.   So I hope this can help all of us who are looking for gift ideas for teachers.
I am going to add a disclaimer that some of the answers might not be the ones we want to hear. I always tell my daughter, when giving a gift we want to think about what the recipient really wants/needs/likes, not what we might want them to like. 🙂   I will also add that every teacher said they are incredibly appreciative ANY time anyone thinks of them or gives them a gift of ANY kind.

So what is the number one top answer by a landslide of every teacher that I asked?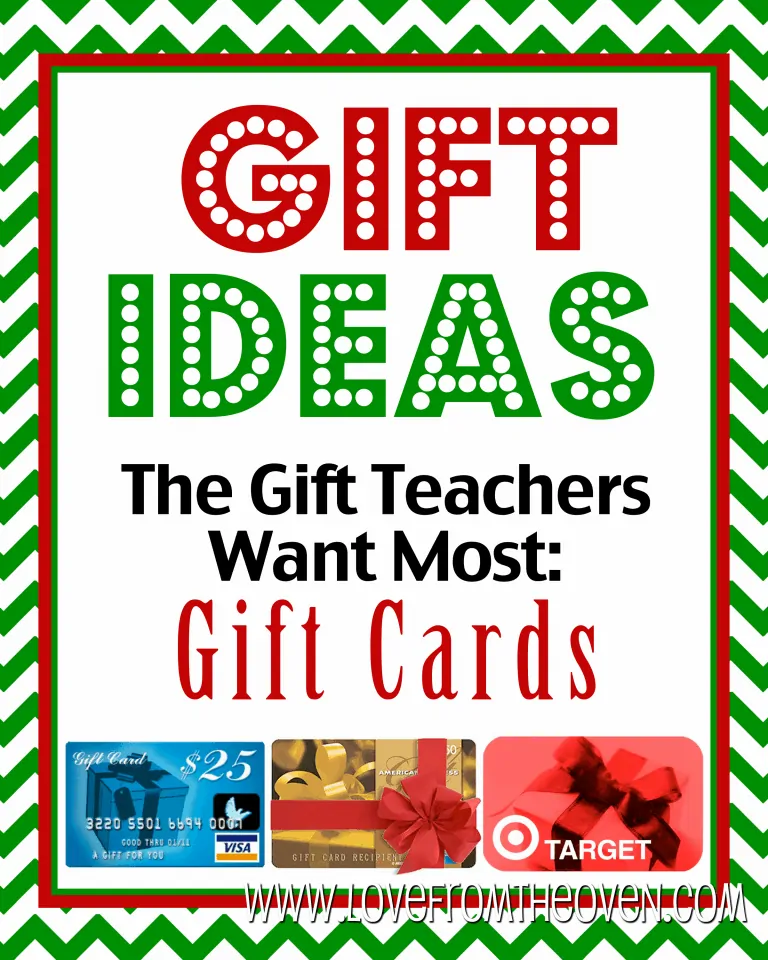 1. Teacher Gift Idea – GIFT CARDS. You basically can not go wrong with a gift card. It was the number one answer, and for some teachers, it was the only answer. I know that I always feel like gift cards are impersonal. Almost too easy. Like I'm not putting any effort into it. But, every teacher said that they are thrilled to receive a gift card – no matter what the amount, even that $5 gift card will be put to good use. Visa, American Express or Target Gift Cards are all great, and teachers added that Spafinder.com, bookstore, Starbucks, office supply and restaurant gift cards are also great (nice in that those can't be used on school supplies, as I'm sure many teachers do use their gift cards – this really makes sure that your teacher treats her or himself!).
I am working on another post (hopefully up in the next day) with some ideas for cute ways to wrap/give those gift cards, so that those of us who so badly to do something personal or "special".
2. Teacher Gift Idea – A HAND WRITTEN NOTE OF APPRECIATION.   Most teachers mentioned that a touching letter or card about the positive impact that they have made on a child is a wonderful gift. Teachers also added that sending a copy of this to the school principal makes it even better. Teachers work so hard, and often for little money or thanks, so sharing your true appreciation is a gift that costs nothing, but will absolutely be appreciated.
3. Teacher Gift Idea – BAKED GOODS.  Now, let's talk about all of the other gift ideas and comments teachers shared with me. Since this is a baking website, let's talk about baked goods.  The majority of teachers, while appreciating the sentiment, basically say pass on the baked goods. The comments came back with a variety of thoughts and opinions. Some say it makes sticking to diets incredibly hard. Some say that due to allergies and food issues, they often don't know or can't eat what is made (my daughter's 1st Grade teacher couldn't eat gluten – a big one in baking!). Many said they simply take the baked goods to the teacher work room and put them out for anyone who might want them. I know fellow bakers, this is hard for us to hear.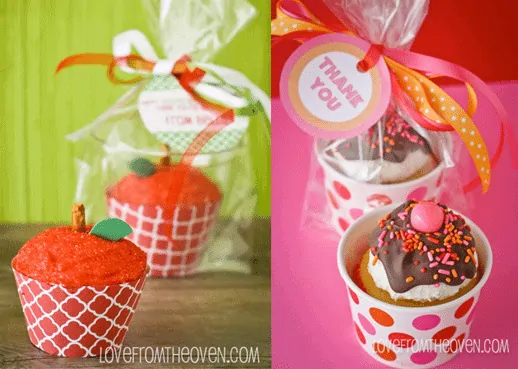 Apple For The Teacher Cupcakes & Ice Cream Sundae Cupcakes
What some did share is that a single, nicely packaged baked good is by far the best way to go.  One beautifully decorated cookie. A single fancy cake pop. One freshly made cinnamon roll. My daughter's teacher shared how she liked the individual cupcakes I have sent in before – they were nicely packaged and presented (always makes food more appealing) and being a single cupcake, it could be a dessert and wouldn't go to waste. Another baked good that has gone over well is chocolate covered pretzels. These have a much longer shelf life than say cookies or cupcakes and ingredient wise are pretty straight forward and apparent. I have a tutorial with a video of how I make chocolate covered pretzels if you want to try making some.
4. Teacher Gift Idea – MAKE IT PERSONAL.   As with most people, something personal seems to go over well with most teachers. This may not always be the easiest thing, depending on how well you know or don't know the teacher. In 1st and 2nd grade, I volunteered in my daughter's classrooms weekly, and was very fortunate to get to know her teachers. I knew her first grade teacher was planning her daughter's wedding and in second grade the teacher had her baby at the start of the year. For both teachers I thought more of in terms of what would I buy a friend, than a "teacher". At the time I ran a personalized jewelry business, and I think the necklaces that I gave out tended to be the talk of the workroom – they were always personalized with the names of the teacher's children – something personal, not teacher related. Given I ran the company, I could make necklaces at cost, but I did have other classes chip in to buy necklaces as a class gift for their teachers. My daughter's current teacher adores her dogs and the kids know that – and she has loved gifts that are centered around her dogs. Personal, personal, personal is key.
Other personal gifts that teachers have shared that they enjoy include – personalized stationary, personalized book labels, personalized thank you cards and the like. Last year our class gift for our teacher was a framed Wordle word cloud, where each student shared a word about the teacher (and on the back was a word cloud with the kids names on it). Some of the latin stems and vocab words they worked on ended up in it, and our teacher says she really got a kick out of it. From what teachers told me, I think it's important to think of the person as a person and not just "teacher".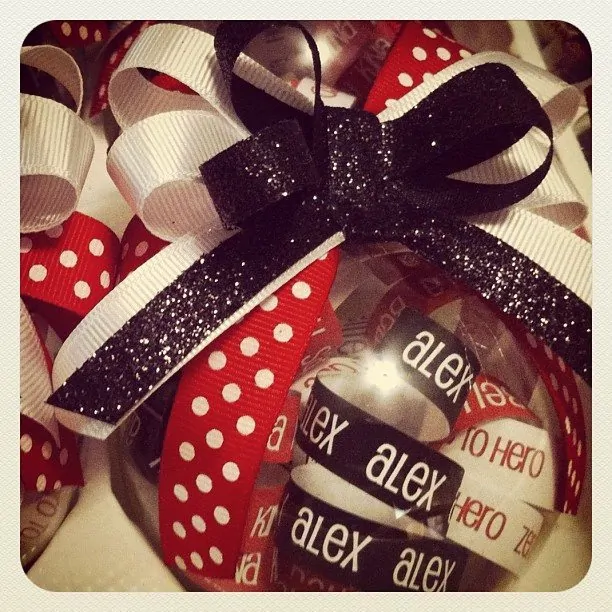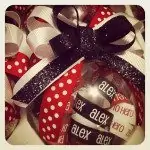 5. Teacher Gift Ideas – ORNAMENTS. This one was very split in the answers, about half of the teachers like them, the other half can do without.  I think newer teachers enjoy them and those with decades under their belt, might have had their fill. Some people are more sentimental than others. I think this is once again a time when it's nice to think of the person and not just the teacher. A personalized ornament with their own children's names on it might be great (my sister-in-law has a one year old son, so I'm sure that would be a hit with her), or one that speaks to their hobbies or interests. My brother and his wife are very eco-friendly, run the recycling club at their school, green lifestyles… so a recycled materials DIY ornament project for them would probably be a huge hit, because it speaks to them as people, not just teachers.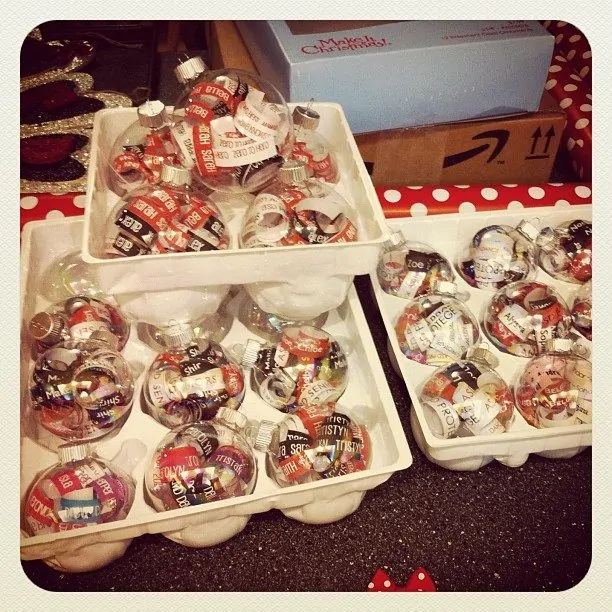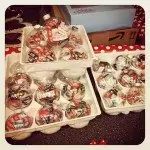 All that said, I did make a personalized ornament for our teacher last year (each year I have a handmade gift that I make personalized versions of for many of our friends and family, and that was last year's gift). The ornament had each child's name on it, the year, the school name and mascot and was done in the school colors. While it was not expensive, it was very personalized, and hopefully captured her class for that year, in a single ornament. (I actually love these ornaments and will do a how to post on making them – they take some time but are really fun – and can be personalized with anything, names, dates, wedding info, song lyrics…).
6. Teacher Gift Ideas – LOTIONS, MUGS AND CANDLES – While a few teachers mentioned these are nice, overwhelmingly, these all got a thumbs down. I think one can only use so many mugs, and lotions, candles and their scents are really personal. If you are in the classroom from time to time and see or know what a teacher uses, than maybe that's a good choice. Or possibly a Bath & Bodyworks type of gift card, but I would say these items received a "no thank you" from probably about 90% of the teachers who replied.
7. Teacher Gift Ideas – CLASSROOM SUPPLIES – I think it goes without saying that supplies are always a very welcome gift. My brother very specifically shared that he wanted "EXPO Markers" (ha, as his sister, that may be what I get him this year!). I actually had quite a few teachers reply with "white board markers". Post-It's, highlighters and other classroom supplies were all popular choices. Our teacher has an Amazon Wish List that we can go check out – it's great – we can see what she can use in class and get just that. You might want to see if your teacher has one (or even suggest- hey room mom's, that could be a great project to help out with).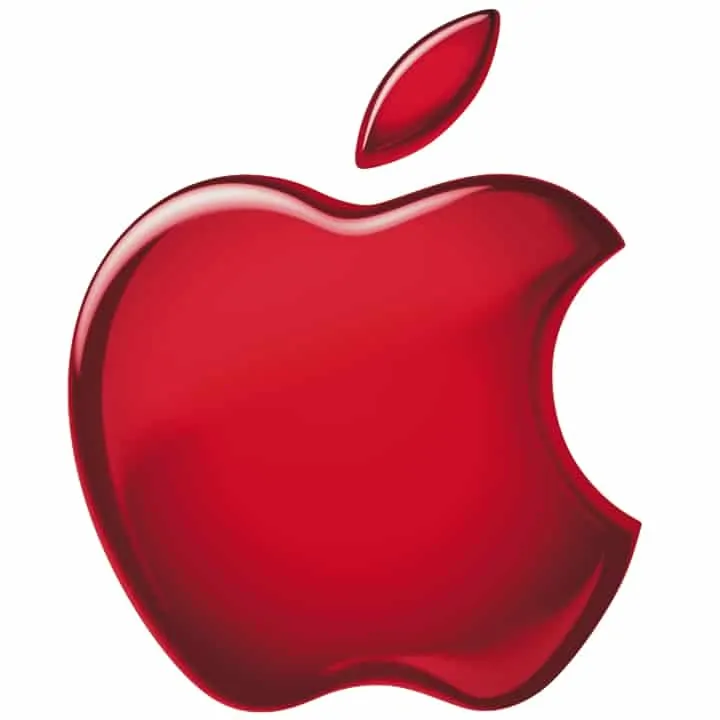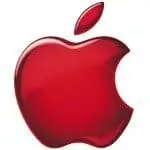 8. Teacher Gift Ideas – APPLES.   Most teachers are kind of over the whole apple theme it seems. I do like how one teacher suggested that if you want to give something "Apple" related – an Applebee's Gift card would be great. Or even an Apple Gift Card (so many teachers now have access to iPads and technology in class, but not always the funding for apps or cases). So you can do apple, but maybe think more in what could be useful than what could be decorative.
I will wrap this up the apple topic with this… My brother has always said that he is waiting for the day that a student brings him an apple. Just a ready to eat apple. Now, knowing him, if it's organic and locally grown, he'd be over the moon, but it doesn't get much simpler than that – and I can guarantee whatever kid in the Vail School District outside of Tucson that gets to that idea first, will forever be remembered by him. 🙂  Sometimes it really is the simple things.
And my final thought… if you have kids that are middle schoolers or high schoolers – remember that their teachers probably see the least amount of appreciation and might spend most of their days feeling quite "unliked" by students. Many of the elementary teachers have kids who think they walk on water and probably run up to hug them most mornings. Parents are involved and in the classroom and know the teachers. That falls off as kids get older. Maybe just take a minute and write a quick thank you note to each of your teachers, and mail them to the school (in case that whole handing a card to the teacher when you are 13 is just too embarrassing). I think something that simple and inexpensive would probably really make their day. I watch my brother and his wife, both high school science teachers, put in unbelievable hours, volunteer their time with clubs, coach sports, mentor, tutor, do anything and everything possible, and then some. Even if your child is 18 and a senior in high school, know that his or her teachers are working hard each day to help prepare them for the future, and try and find some small way to say thank you. It doesn't have to cost a thing, but might just be worth gold to those teachers.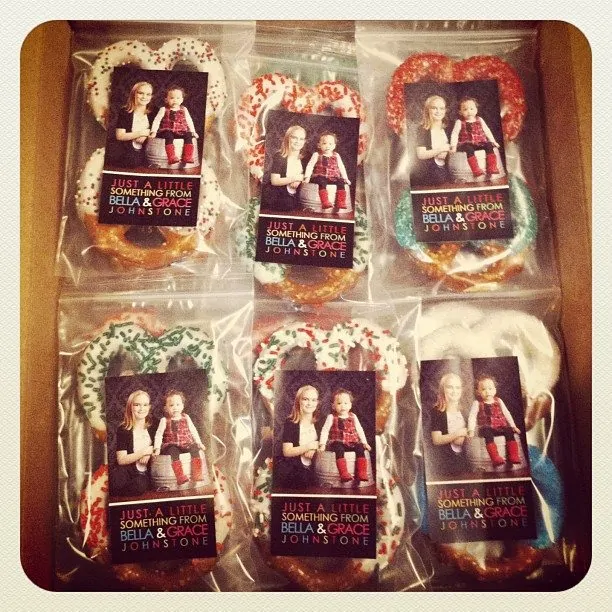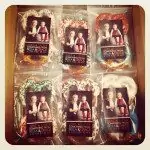 Wait, I have a second final thought, sorry, I do that a lot. Don't forget the support staff!!!! Seriously. Is there anyone who works harder than the janitor at a school? The lunch ladies? The nurse? While I know that our findings show that baked goods don't go over well (or get eaten), but I gave them to the support staff at our school the past few years. It was a way to do even a little something just to recognize these people who make our schools run. Last year I made pretzels (they are my go to), and packaged them two to a bag. I had "treat" stickers made up (through my awesome family photographer) with my kids photo on them and dropped them off at the front desk (I called a few days earlier to make sure I had a good head count on support staff). Really, it's such a small thing, but it's safe to assume that a lot of duty aides, custodians, speech therapists and the like aren't included in the teacher gifts. I'm guessing even if someone doesn't really want to eat someone's baked goods, hopefully it at least brought a smile to be thought of. So again, even if it's a note that says "Thanks for all you do!" – please, try and do something for the support staff.  Okay, off my soapbox and back to my oven. 🙂