On my recent Alaska cruise on Princess Cruises I went on some amazing excursions and I'm excited to share with you what I think are the best Alaska excursions! All of my Alaska excursions were incredible and I made some fantastic memories.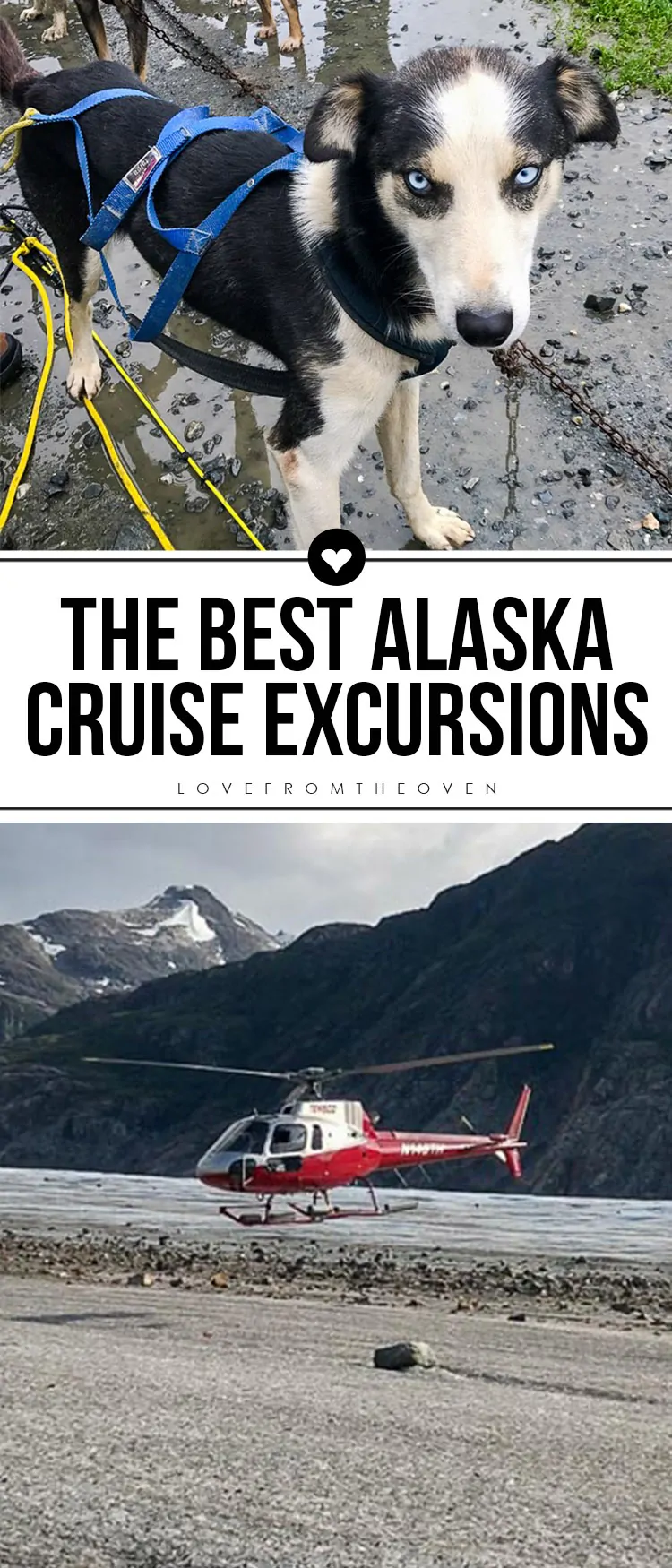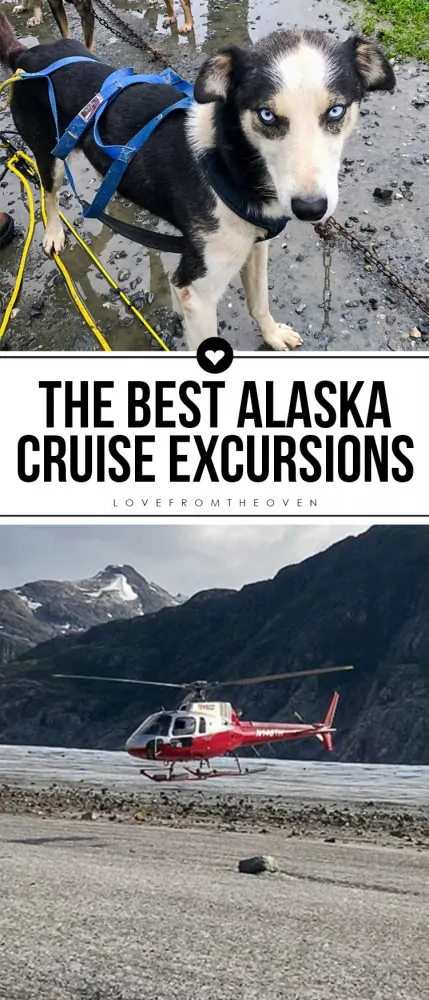 In September I did an inland passage Alaskan cruise on the Ruby Princess. There are so many amazing Alaska excursion choices that it was quite a challenge to pick which Alaska cruise excursions to go on! I think I did a pretty great job of picking the best Alaska excursions for us, but there are a few things I would do a little differently.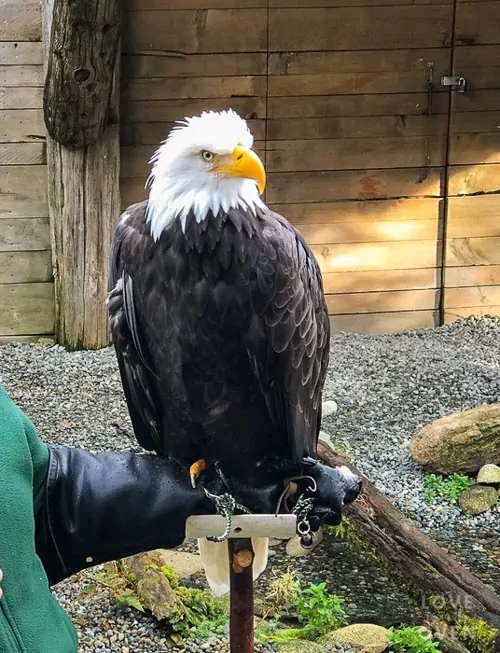 Best Alaska Excursions
Let me take you through my Alaska cruise excursions, city by city. Our cruise went to Juneau, Skagway, Ketchiacan
Best Juneau Excursions
Juneau, Alaska was our first stop. I was both excited, and petrified, for our Mendenhall Glacier helicopter tour the excursion we selected from the Juneau Excursion choices. While it was not raining, it was quite foggy and a little misty. So I was more than a bit surprised to hear that our Alaska helicopter tour was canceled. The visibility at the Mendenhall Glacier was not good, and any helicopter tours headed there were grounded. I had been so excited about this excursion that I had not prepared back up options. CRUISE EXCURSION TIP: For every port, pick five or six back up excursion options and have them ready.
This being my first cruise, it was a rookie mistake. Another rookie mistake was not checking the other helicopter tours, the tours going to the Taku and Norris Glaciers were still running, as their visibility was fine. I didn't learn about this until talking with another passenger back on the ship that night. CRUISE EXCURSION TIP: If your excursion is canceled, don't assume that all similar excursions are also canceled.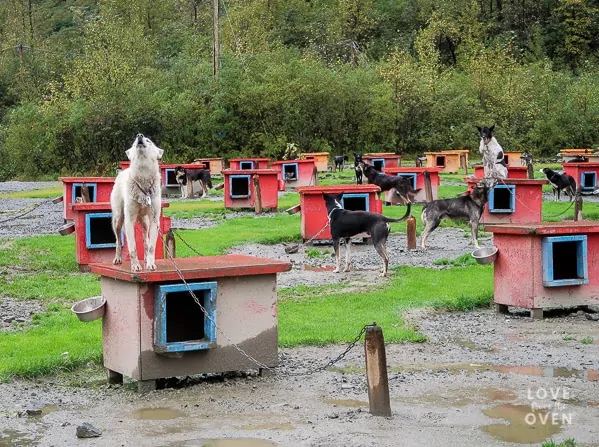 I started scrambling to find a replacement excursion that still had space. We finally got signed up for the Dog Sled Summer Camp. This ended up being SO much fun, and really educational. We learned all about the dogs that run the Iditarod, toured the camp, visited a replica Iditarod race checkpoint, and then got to go for a ride on a wheeled sled pulled by actual Iditarod sled dogs.
It was great to learn so much about the dogs, the mushers and the Iditarod. I feel like this is one of those Alaska experience type excursions. It was cool to see how much the dogs love and want to run, and the great relationship they have with the mushers. I would highly recommend making sure a dog sled excursion is on you Alaska excursion list.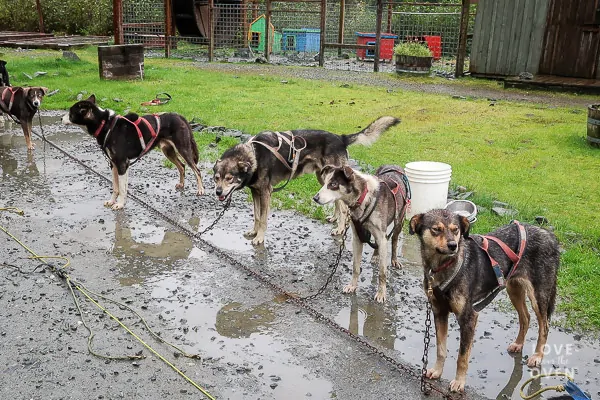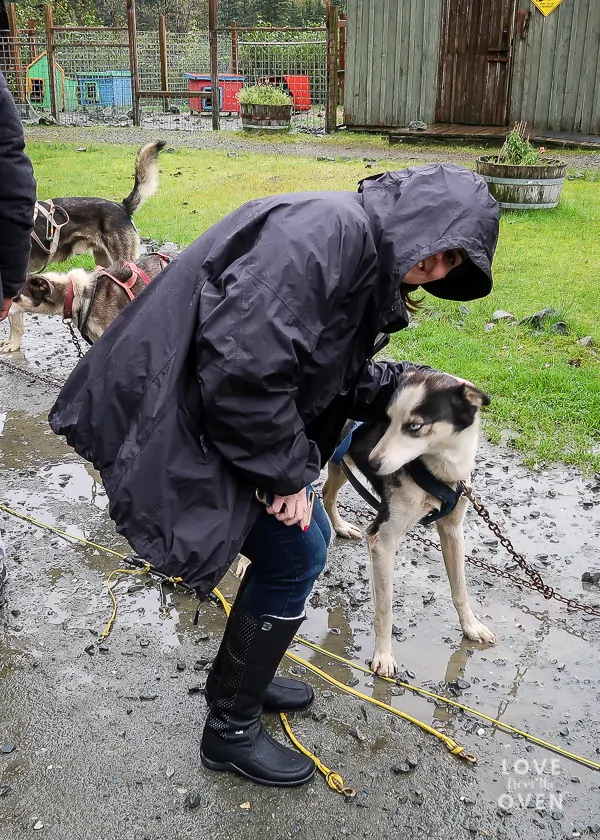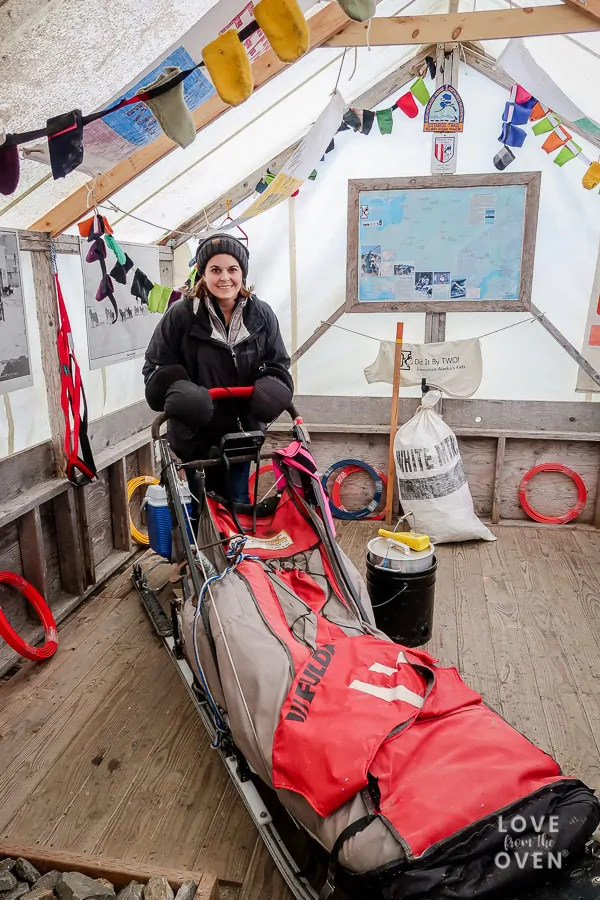 And then there were puppies. Sled dog PUPPIES!!! I'm pretty sure this one will be an Iditarod winner.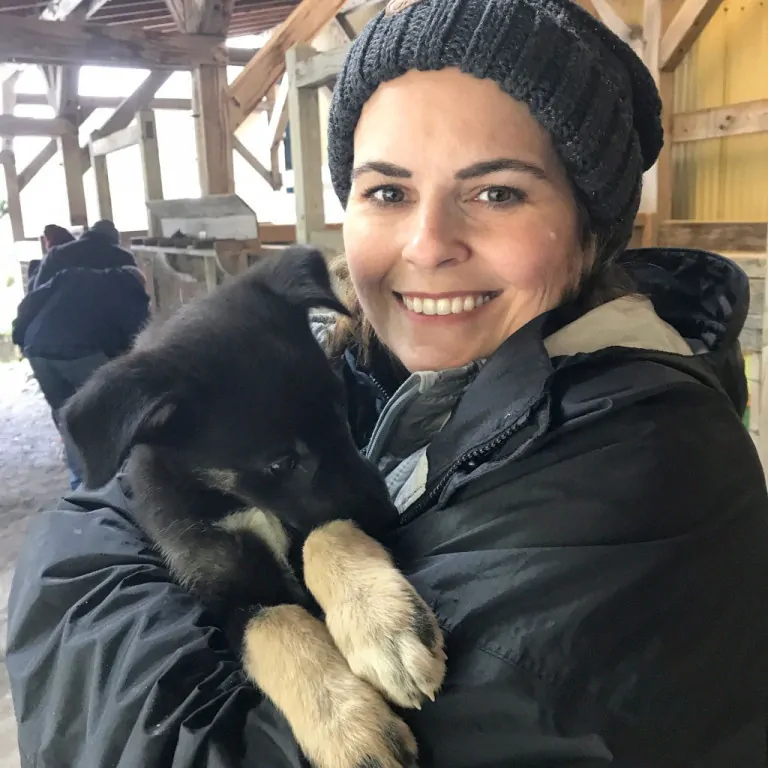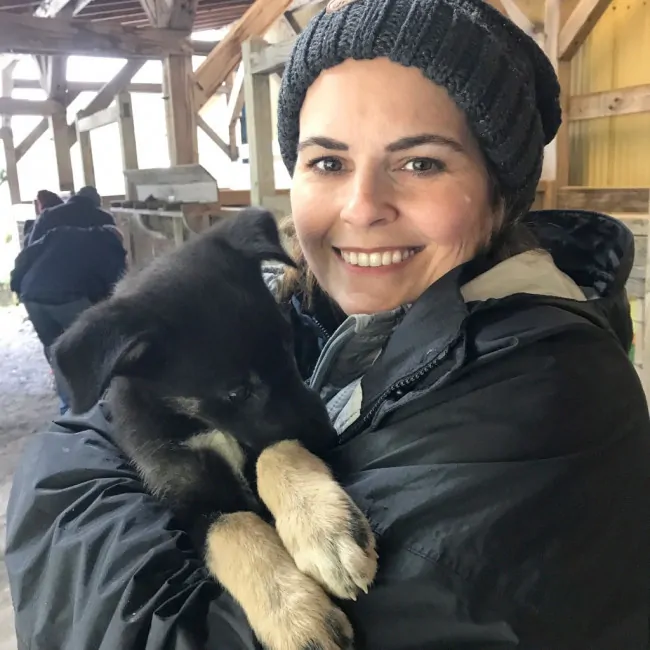 This was probably our coldest and wettest day in Alaska, and I was wearing all my layers from my What To Pack For An Alaskan Cruise list. We had some time to explore Juneau after our sled dog excursion, so we went and had lunch at Tracy's Crab Shack. I think this might be a Juneau requirement. The crab cakes were all kinds of amazing.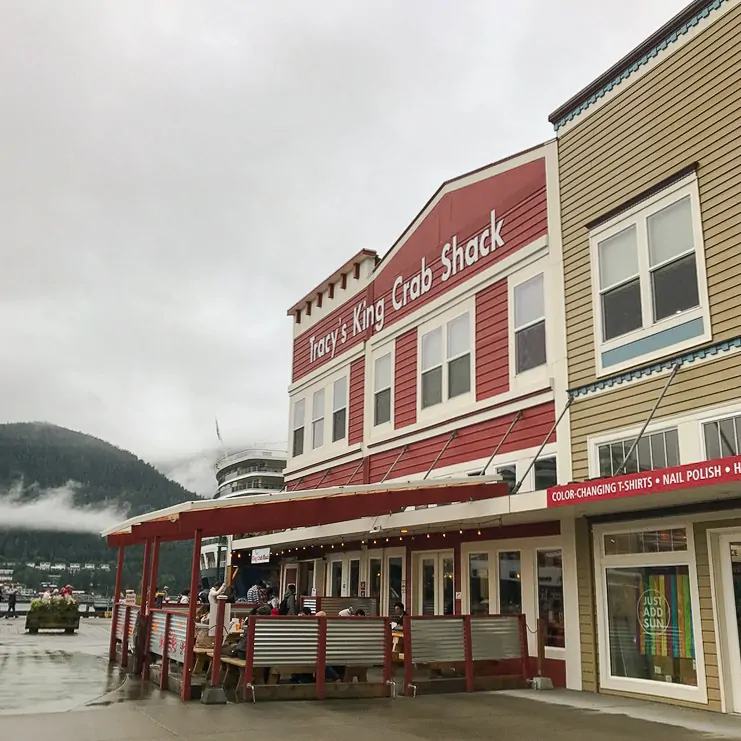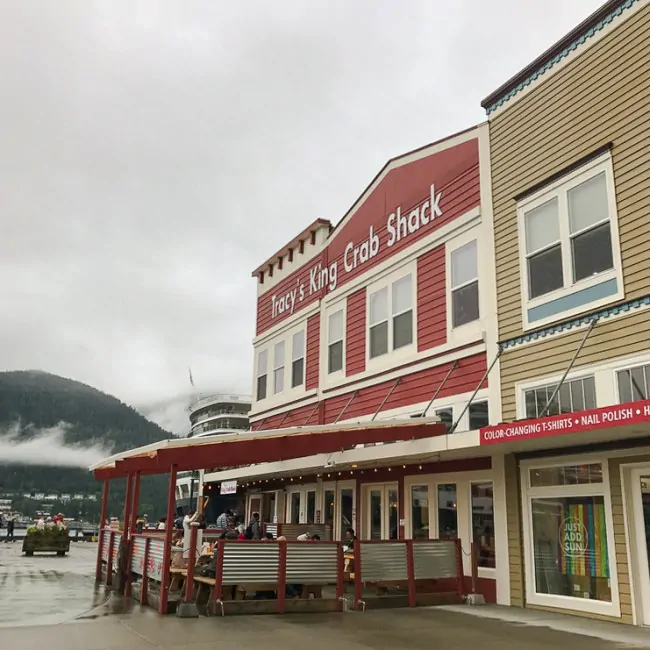 Then back on the ship we went. One of the first things I did was visit the Excursion Desk on the ship to rearrange my excursions, as we originally had a sled dog excursion lined up for Skagway. Luck have it, there were a few spots left on the glacier helicopter tours in Skagway, so I got us signed up. CRUISE EXCURSION TIP: If you need to change or add an excursion, get yourself to the Excursion Desk on the ship, they will be happy to help you get on the best Alaska excursions.
Best Skagway Excursions
I think our Skagway Cruise Excursions might have been the best of the trip. We had a very busy day lined up. The Skagway excursions are pretty amazing. First up was a ride on the White Pass Scenic Railway. Princess Cruises describes it better than I could…
"Built in 1898 as a way to expedite travel during the Klondike Gold Rush, the White Pass & Yukon Route Railroad is a three-foot-wide narrow gauge railroad that climbs from sea level to almost 3,000 feet in the first 20 miles. An engineering marvel, it features two tunnels and travels over sky-high trestles and bridges. Considered an impossible feat, the railway was completed in 26 months by blasting through the mountains with 450 tons of explosives. The 110-mile railroad was officially completed when a final golden spike was hammered into place on July 29, 1900, in Carcross, Yukon. Fully restored, the comfortable passenger coaches feature large picture windows and are pulled by vintage diesel locomotives. At the completion of your excursion, convenient dockside service returns you directly to your ship."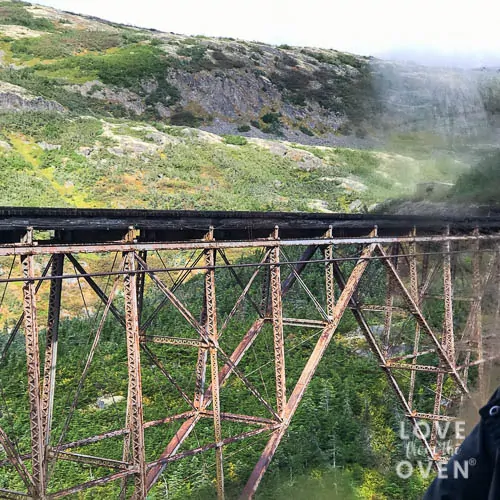 This was a really relaxing, educational and scenic excursion. I wish I had better pictures, but the windows in the train would fog up a bit. It was almost mystical outside. It was really cool to learn so much about the gold rush, and some of the staggering facts about what people went through. It's a round trip train ride, and they have everyone switch seats coming back, so no matter where you sit, you'll have absolutely stunning views.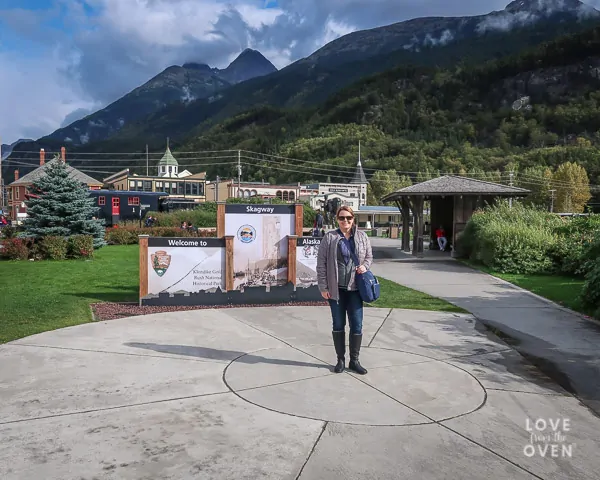 After our ride on the White Pass Scenic Railway, we headed to downtown Skagway (at least downtown to tourists!). It's a darling town, we loved having some time to walk around. We ended up having lunch at the Sweet Tooth Cafe. I mean how do you not eat at a place named Sweet Tooth? The fish and chips and cinnamon roll were both excellent. (No I didn't eat that crazy combo together, the cinnamon roll went back to the ship with me!). I love this picture below, like oh there's my ride at the end of the street!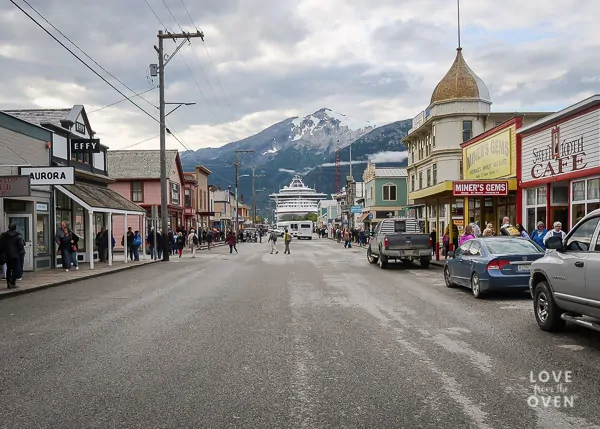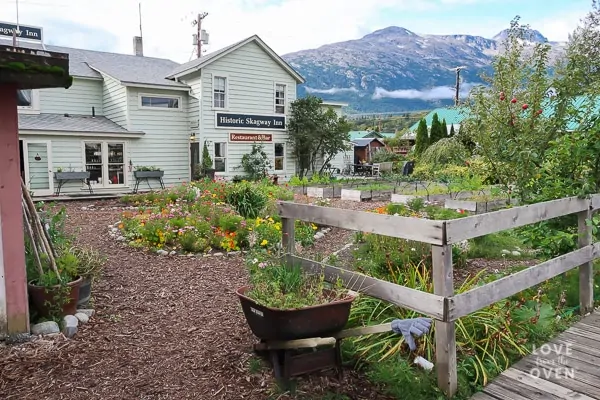 After some lunch and sightseeing, it was time get serious. Serious as in a helicopter ride to, and tour of, The Meade Glacier. I'll be honest. I hate to fly. It's a combo of motion sickness and anxiety. I think it's safe to say I am in the phobia category when it comes to flying. So a helicopter ride? Are you kidding? But come on, how do you pass up the opportunity to take a helicopter ride to a GLACIER. That's a once in a lifetime type of thing. And I am SOOOOO glad I did it. It was the highlight of the entire trip. A life highlight even.
CRUISE EXCURSION TIP: Get out of your comfort zone, way out. Incredible experiences are waiting to be had! As scared as I was of the whole helicopter thing, I actually found it to be really fun – I absolutely LOVED it. It's such a different sensation than flying, and the scenery certainly didn't hurt. We landed on the glacier and spent about 40 minutes there exploring and learning. Just like all of our other Alaska excursions, the guides were amazing, fun, informative and so friendly. We got to drink from the glacier. I have never tasted water like it, and I'm guessing I never will again. Let me tell you, ice cold glacier water is pretty much as good as it gets.
I know this is not an inexpensive excursion, but if you can make it work, I promise this will be one of, if not the highlight of your Alaskan cruise. For me this was what I thoght was the best Alaska excursion.While some cruises are to destinations where laying on a beach and relaxing is what it's all about, Alaska is about getting out there and seeing all of the majestic beauty you can. This is a phenomenal way to do just that. If you have a cruise coming up, please go do it! And then please come back and tell me about it!
Best Glacier Bay Excursion
Our next "excursion" doesn't even require you to get off the ship – you're going to Glacier Bay, Alaska for scenic cruising!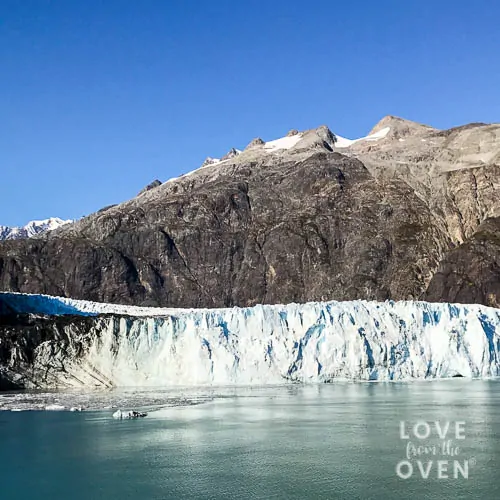 If you aren't familiar with Glacier Bay, here's what Princess shares about it…
"Princess is one of a select few cruise lines permitted to cruise the pristine waters of Glacier Bay, the highlight of our 7-day Voyage of the Glaciers cruise. Just west of Juneau, this breathtaking national park and preserve boasts some of the world's most spectacular tidewater glaciers, such as Margerie Glacier, which often drops colossal chunks of ice into the sea. Not surprisingly, Glacier Bay National Park and its epic ice giants are part of a UNESCO World Heritage Site comprising Alaska's magnificent park system."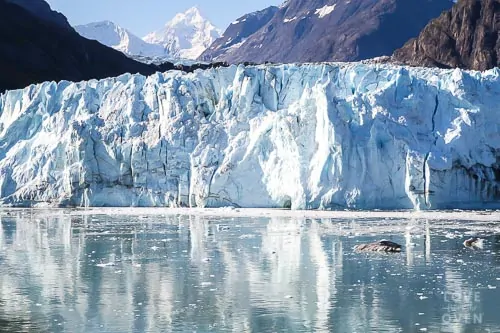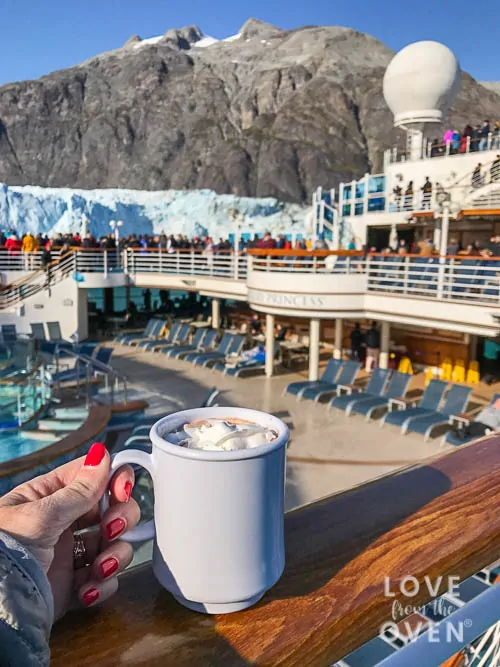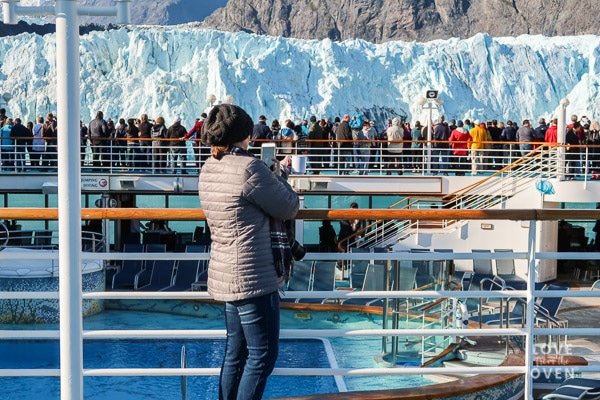 Glacier Bay is breathtaking. And you get to spend most of your morning there. And just like in other national parks, there are park rangers. Park rangers come aboard the ship, narrate your time there and answer questions.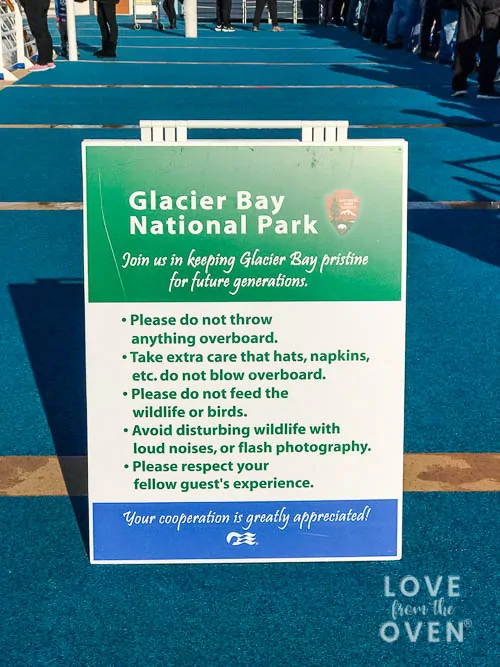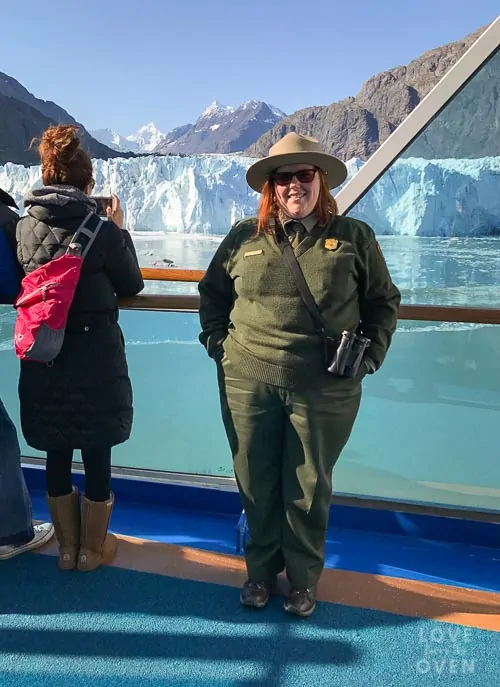 And there is coffee, hot chocolate and kicked up coffee and hot chocolate.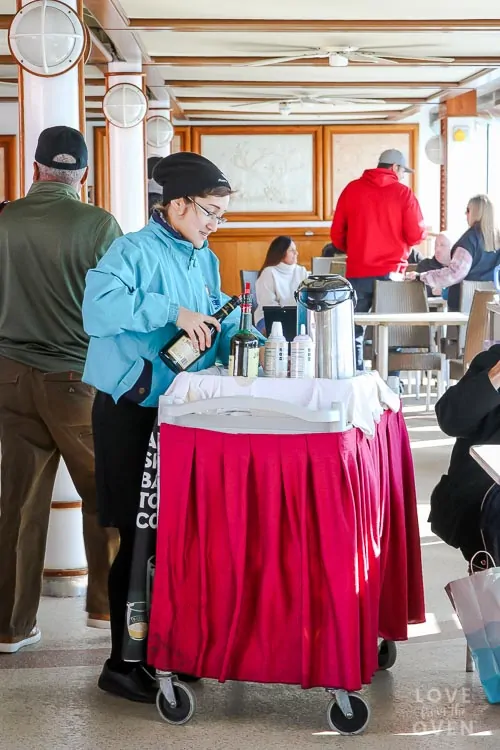 Glacier Bay is another reason you should GET THE BALCONY ROOM! While you can see Glacier Bay from pretty much everywhere on the ship that has decks or windows, it's kind of dreamy to have a four-course champagne breakfast on your balcony while marveling at glaciers. CRUISE EXCURSION TIP: Get the balcony room!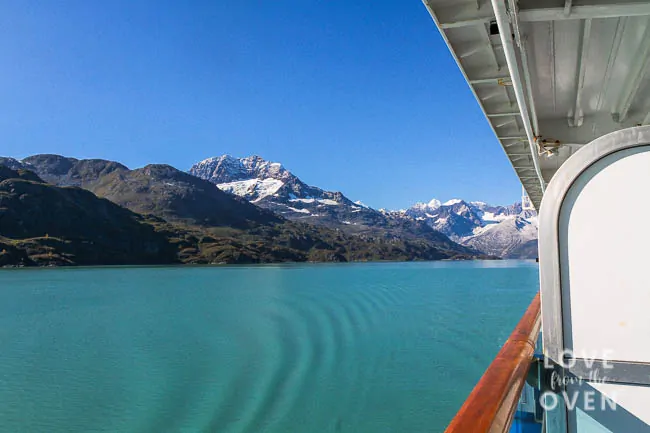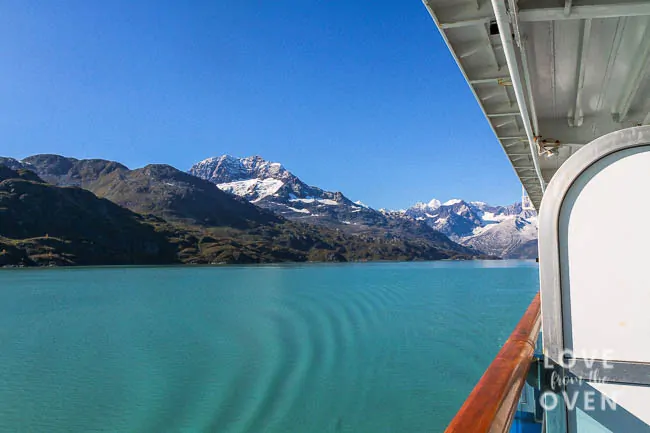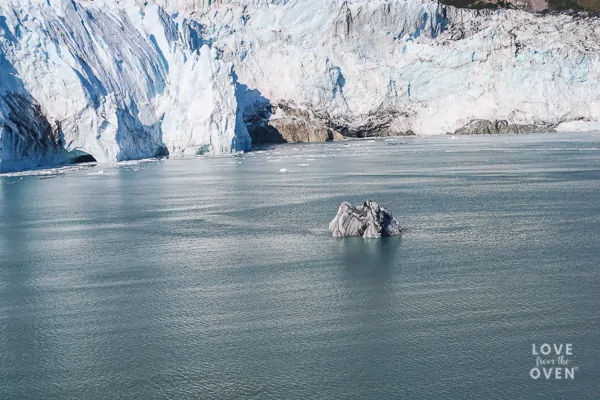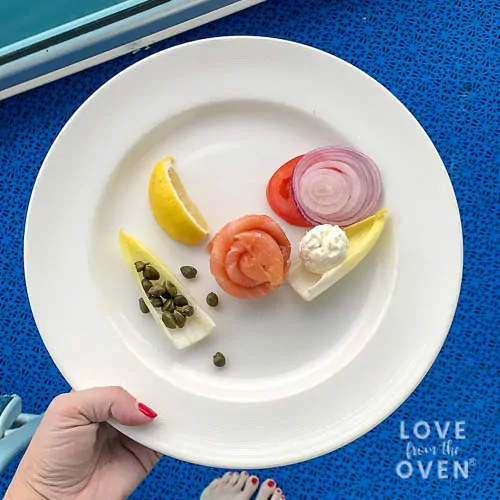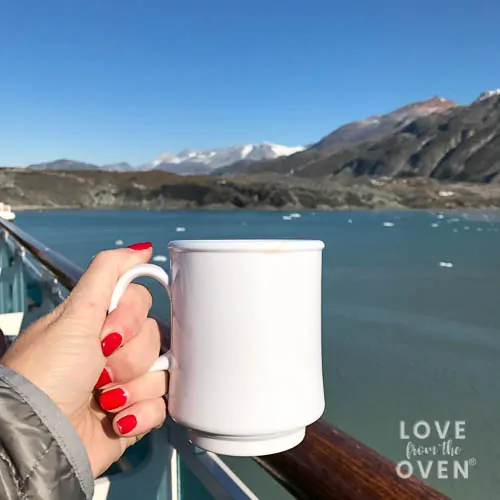 Watching glaciers calve is surreal and bittersweet. But it is an unforgettable sight to see.
Best Ketchikan Excursions
Next up we went to Ketchikan. I have to say, something about Ketchikan really captured my heart. I dream of going back and spending some more time there. There is something special about Ketchikan.
Even though we were in a rainforest, we had picture perfect weather. For our Ketchikan excursion, we did the Rainforest Sanctuary Nature Walk and Crab Feast. The rainforest nature walk is a nice gentle walk, and on it we saw eagles, banana slugs (something I wanted to see!), salmon and a black bear. Nice way to show off, rainforest.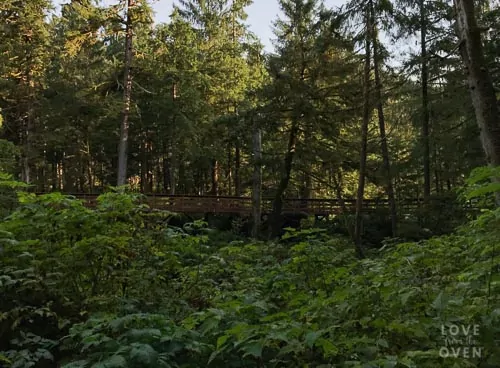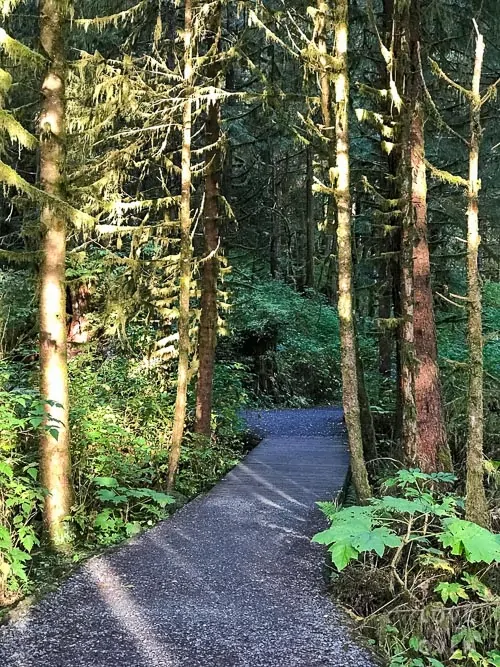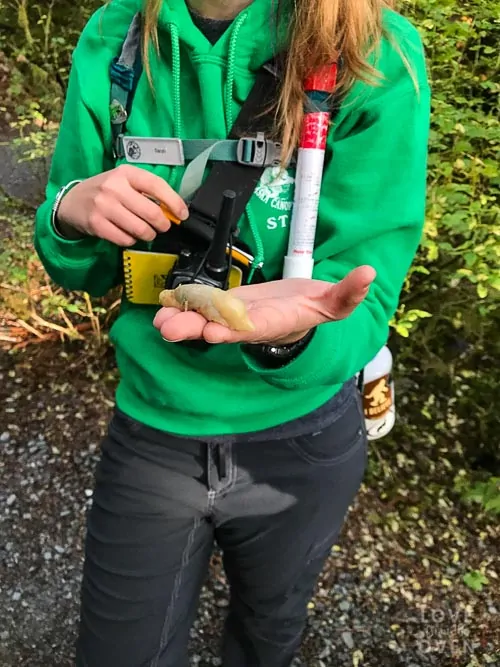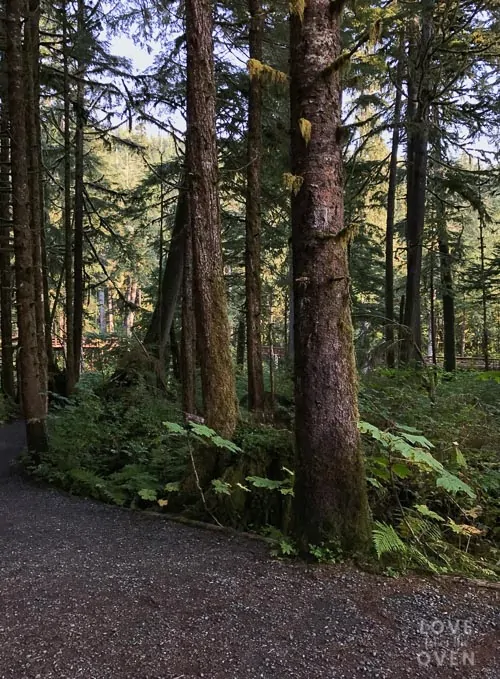 At the end of the nature walk, you get to visit a historic sawmill where they are still making totem poles. After that you get to visit the Raptor Center, which was pretty fantastic. While we had seen a number of eagles during our trip, to stand right next to one was quite an experience. Absolutely one of the best Alaska excursions.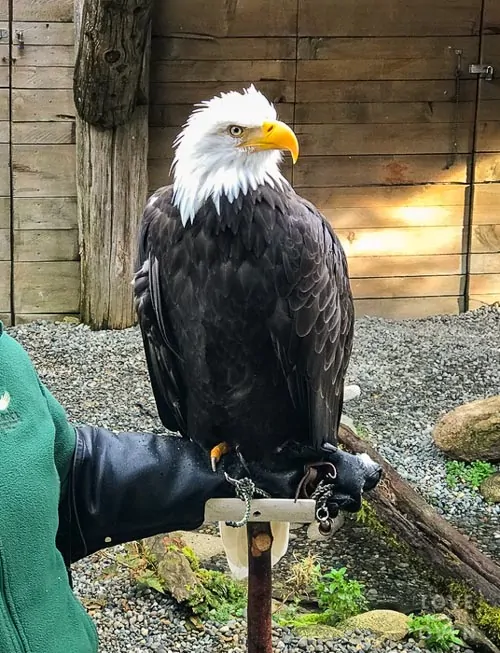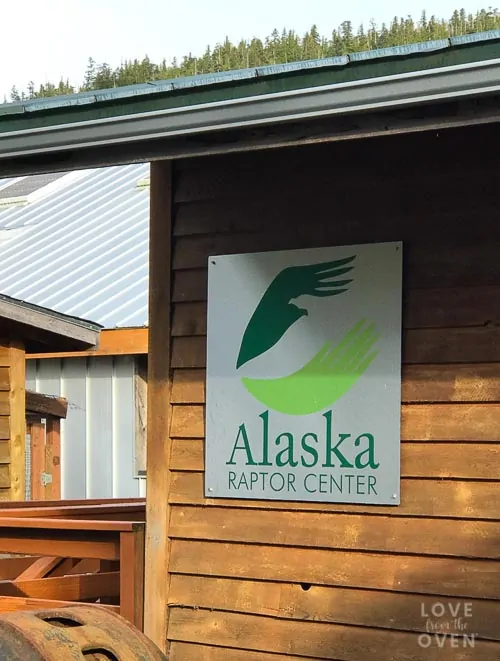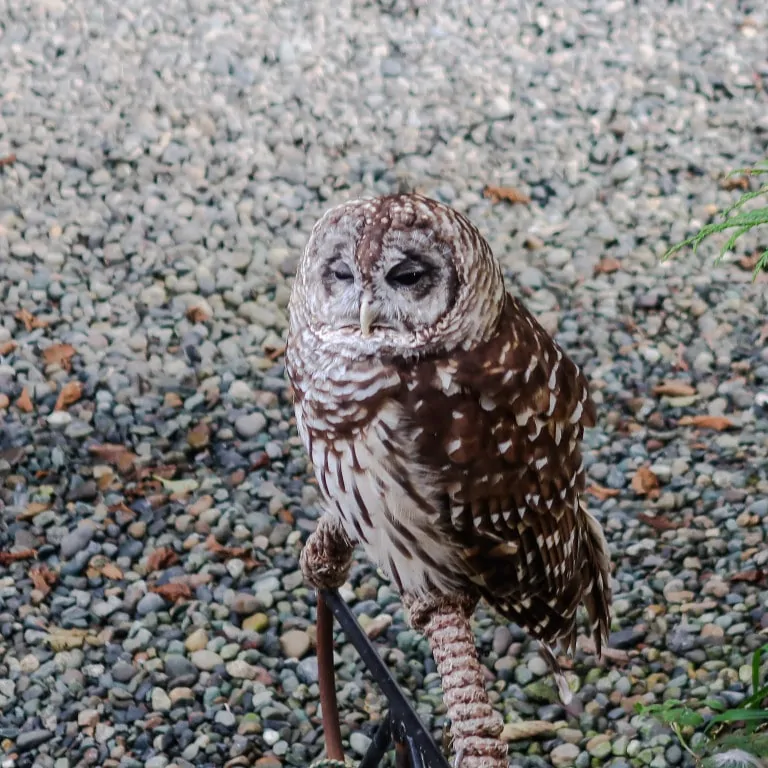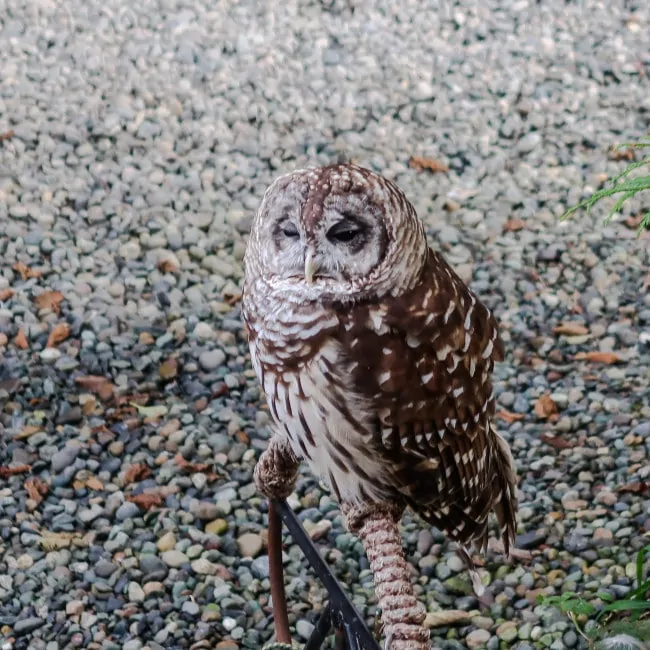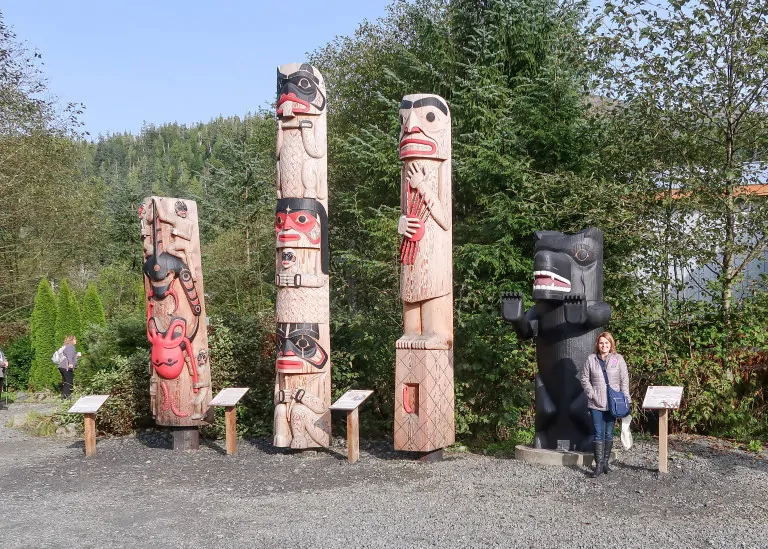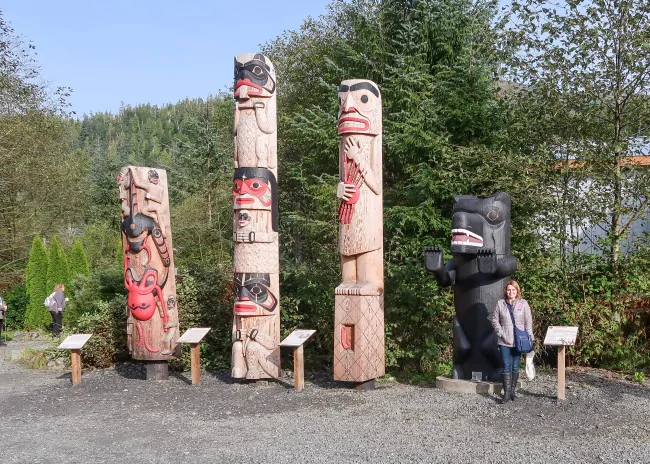 Next we rode the tour bus over to George Inlet Lodge for a Crab Feast. George Inlet Lodge is stunningly beautiful. It's so very picturesque. The Crap Feast was amazing. I am not really much of a crab person, but that's okay, if you plan ahead they will have a lovely chicken meal for you. Everyone who loved crab seemed to REALLY love the crab at the George Inlet Lodge.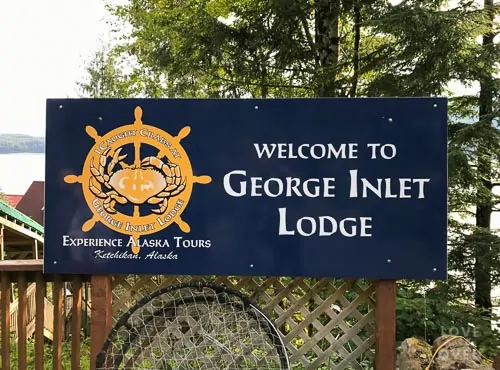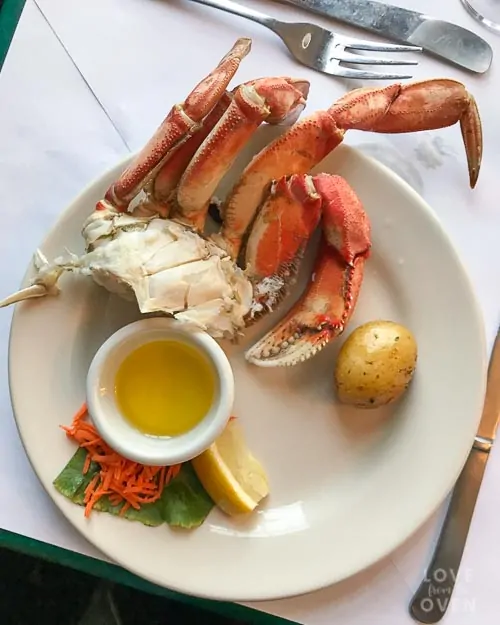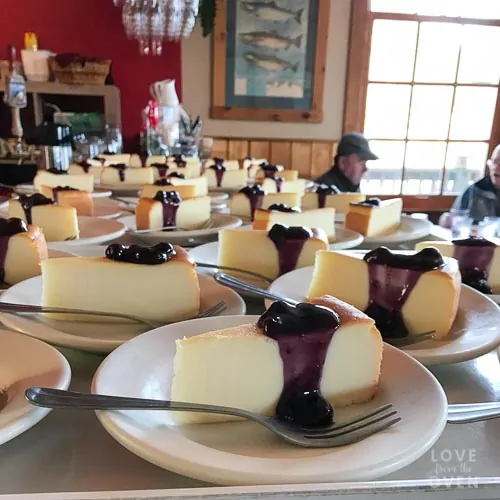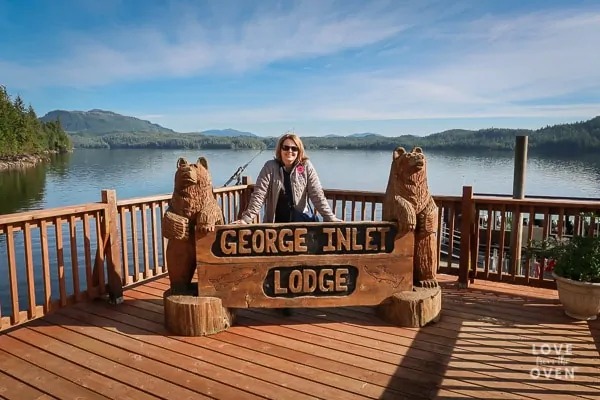 Best Victoria Excursions
Time to briefly leave the US for a stop in Victoria, Canada.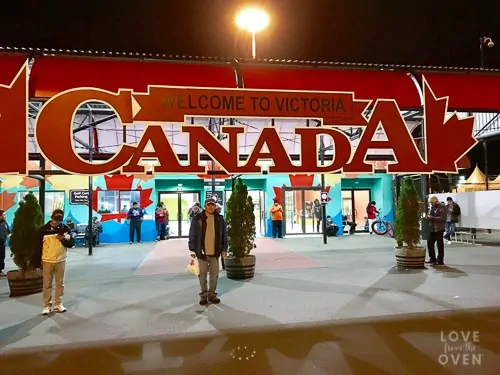 This is the shortest excursion, only a few hours late in the evening. This turned out to be the only place where our excursion didn't work out so well, so it was not the best Alaska excursion I'm afraid. We had planned on a horse drawn carriage ride around the city. Sounds fun. Once we finally found where to line up, we noticed the line was long, nobody seemed to be working the line, and time was ticking at this short stop. A few of our friends quickly bailed on the tour, and grabbed car rides or started walking downtown. We waited another 20 minutes before realizing that there was only one horse drawn carriage, that could seat maybe 10-12. With about 50+ people in line. We finally decided to grab a car to get downtown and try and see something.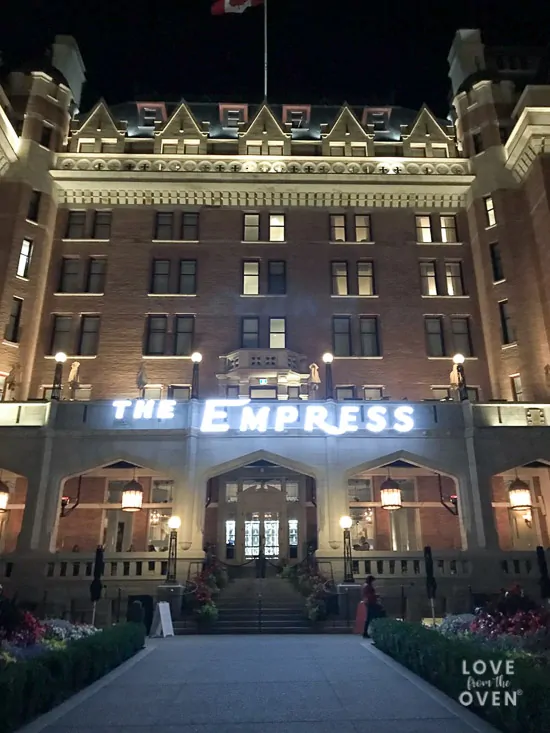 We stopped by the Empress Hotel, but honestly we weren't prepared with any sort of Plan B.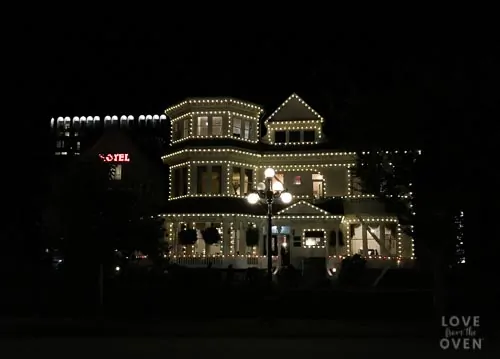 Add to that the fact you are not in the US, and that depending upon your cell phone plan, you could be facing some serious roaming charges for data, and I couldn't really Google all the things like I usually would. We managed to walk around, see some sights, but sadly I feel we kind of missed out on making the most of Victoria. This goes back to that Cruise Excursion Tip of having back up plans! There are so many moving parts when it comes to these excursions that there can be hiccups, so just be prepared. We had friends who did high tea at Gatsby Mansion and Craigdarroch Castle and they seemed to really enjoy those.
Best Seattle Excursions
On the final morning of the cruise, we woke up to a beautiful sleepy view of Seattle.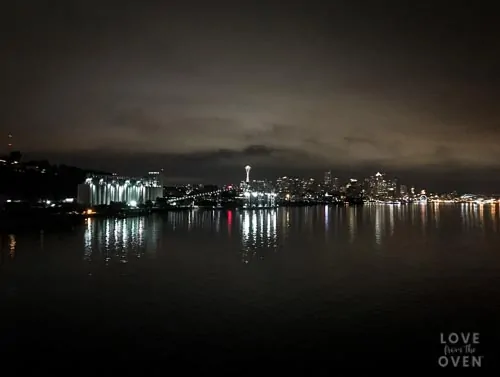 We elected to do an excursion in Seattle, which meant we departed the ship, boarded a tour bus, and got to go to the Space Needle and Pike Place Market. I absolutely ADORE Pike Place, so I've decided to make this excursion it's own blog post. Head here to read about What To See And Eat At Pike Place Market.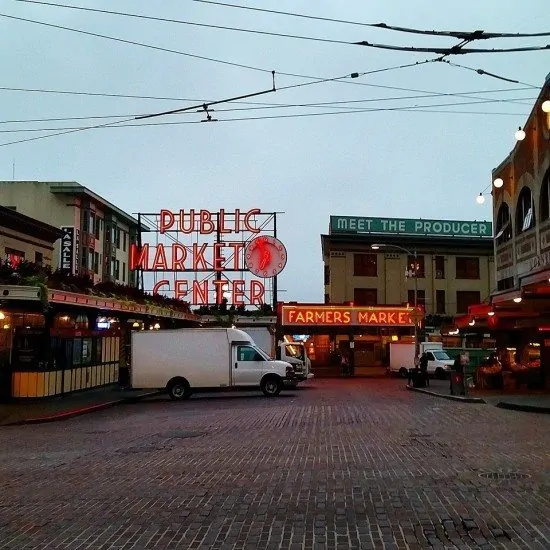 I hope you've enjoyed learning about my best Alaska excursions. I hope you have a fantastic time on your Alaskan cruise!
Disclosure: This post was sponsored by Princess Cruises. All opinions however are mine and mine alone.