Blueberry Pancakes are a quick and delicious way to start the day. This easy pancake recipe creates fluffy and perfect pancakes bursting with the goodness of real blueberries. A fresh stack of blueberry flapjacks is always a hit around the breakfast table.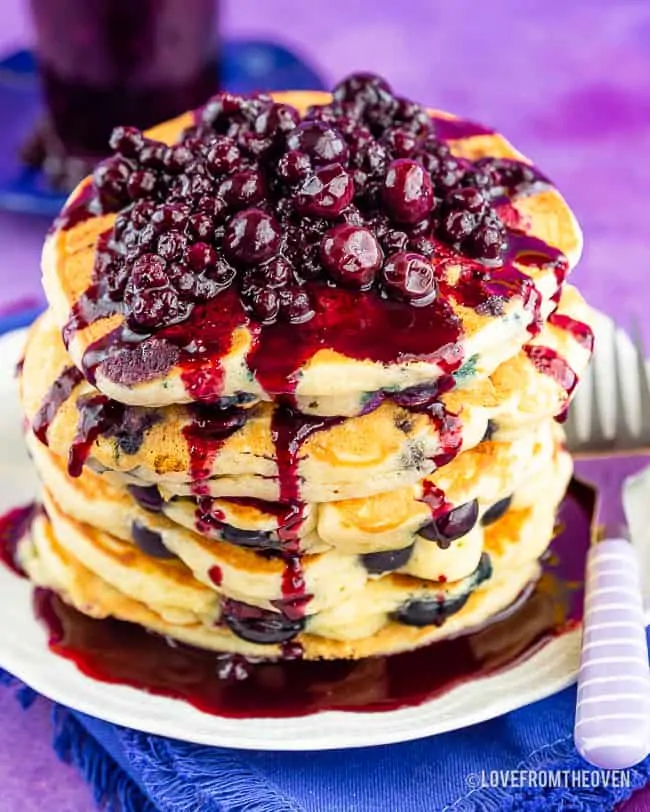 Reasons To Make Blueberry Pancakes
These fluffy pancakes are a delicious way to start the day.
If you have blueberries on hand, this is a fantastic way to put them to use.
You can make a batch in just minutes, making them a great weekday breakfast option.
They also freeze incredibly well, which means you can stock the freezer for later.
Want to sneak some nutritious blueberries into your kids day? They will gobble these right up.
A Good Old-Fashioned Pancake Breakfast
Old-fashioned blueberry pancakes are a surefire way to lure your kids out of bed on a lazy Saturday morning! Based on my all time favorite Buttermilk Pancake recipe, the addition of juicy blueberries takes this breakfast favorite to the next level of deliciousness. Top with easy homemade blueberry compote for the ultimate blueberry pancake feast!
A gussied up pancake is all well and good. We look forward to having Pumpkin Pancakes topped with whipped cream every autumn, buy extra bananas to make our favorite Banana Pancake Recipe and love Chocolate Pancakes as an extra special treat. Chocolate Chip Pancakes are a weekend favorite. But there's something about a hearty stack of pancakes packed full of blueberries that wins me over every time.
The melty butter seeping into each warm pancake, the rich maple syrup or blueberry compote in every bite and the "pop" of delicious blueberry flavor make these homemade pancakes completely irresistible.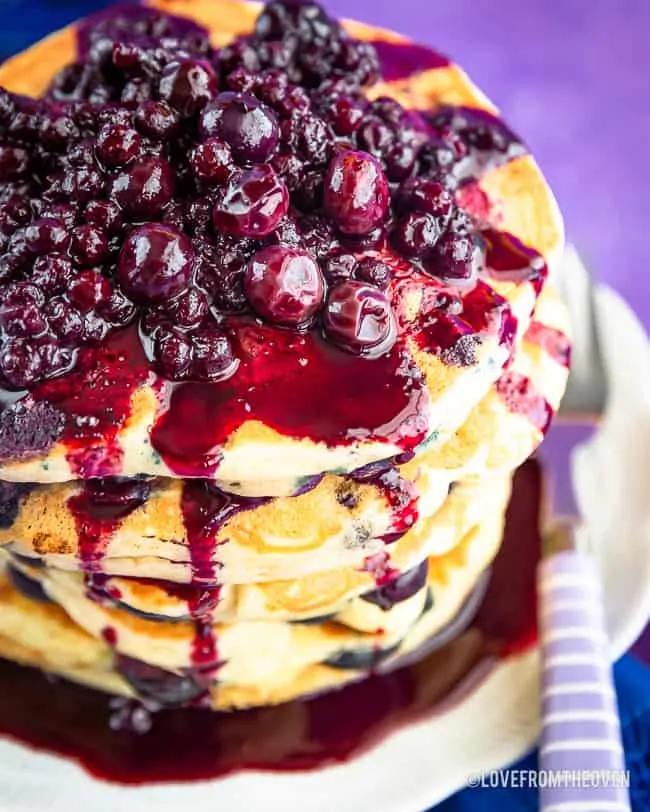 Blueberry Pancake Recipe
While I'm a pro at homemade pancakes now (if I do say so myself!), I wasn't always the best at making pancakes from scratch. I used to reach for the boxed mixes whenever pancakes were on the weekend menu and, while they were fine, they were never the fluffy disks oozing with maple syrup I remembered from my own childhood.
I was especially disappointed by the blueberry pancake boxed mixes. The dried and re-hydrated blueberries just never did it for me.
Once I learned to make from-scratch pancakes at home, the next step was experimenting with my favorite pancake mix-ins: chocolate chips, oatmeal and–of course–blueberries!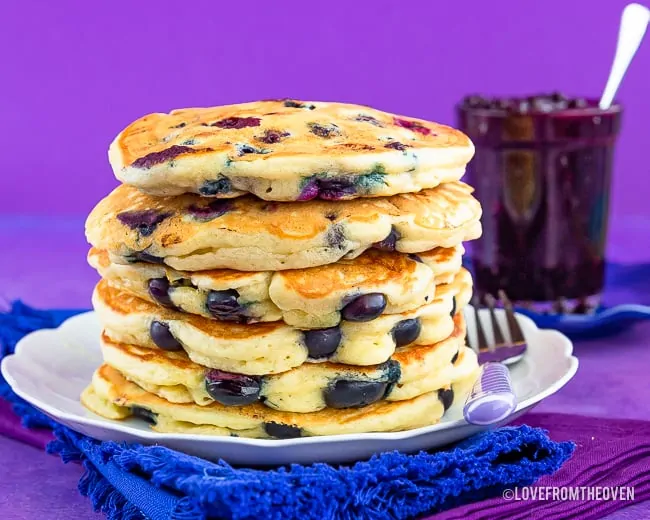 Blueberry Buttermilk Pancakes
If you are looking for the very best pancake recipe, you can call the search off right now. These pancakes have the perfect ratio of blueberry to pancake batter. Made with real buttermilk, these pancakes are light and fluffy with juicy sweet blueberries in every bite.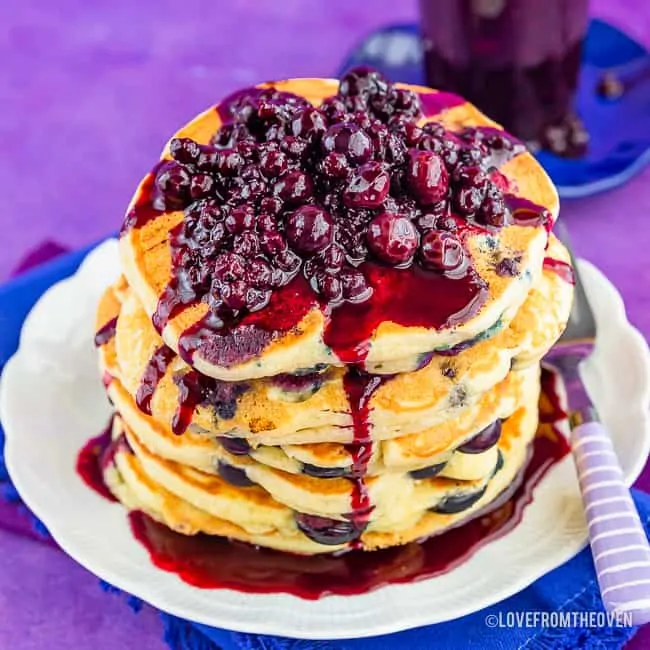 Blueberry Pancake Recipe
Yes, you can turn any pancake recipe into a blueberry pancake recipe by adding whole blueberries to the batter. But have you ever found the blueberries sink to the bottom of the bowl or end up clumped together at the bottom of each pancake?
To make perfect pancakes, I sprinkle the blueberries on top of each pancake after adding the batter to the pan. This gives you more control over the distribution of the blueberries and keeps them from sticking together. That said, feel free to just add them to the batter, it works as well!
Both frozen and fresh blueberries work well in this recipe. Most of the time, I rely on frozen blueberries (my freezer is usually stocked) but when blueberries are in season I use fresh berries with good results too.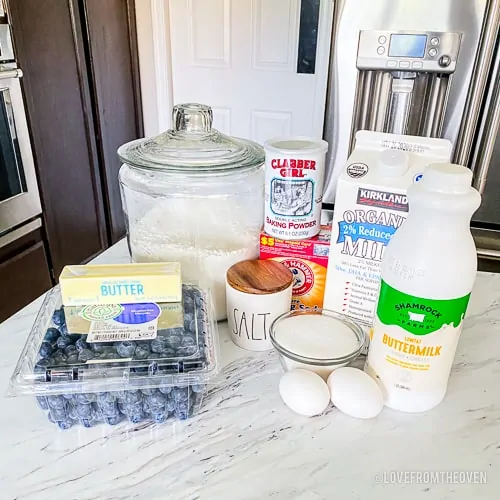 Directions
At a glance, full printable recipe found below.
After mixing the batter, let it rest for 2 -3 minutes while you preheat your griddle pan or cast iron skillet over medium-low heat. (For reference, I set it at level 4 on a 1 – 10 scale burner).
Use an ice cream scoop or a 1/4 c. measuring cup to scoop the batter onto the skillet. Spread it evenly into a disk shape, then sprinkle several blueberries on top of the pancake.
When the pancakes begin to bubble on the edges, they're ready to flip! Cook on the remaining side until golden brown and fluffy.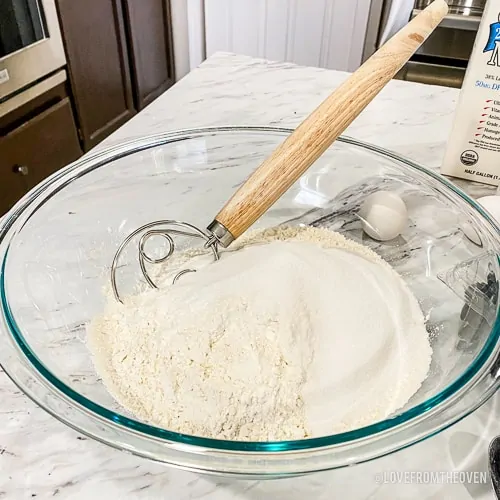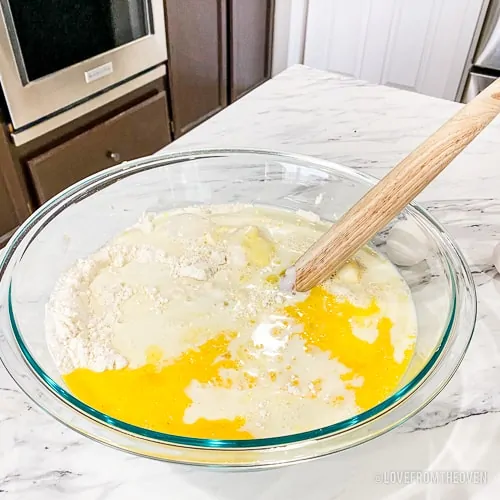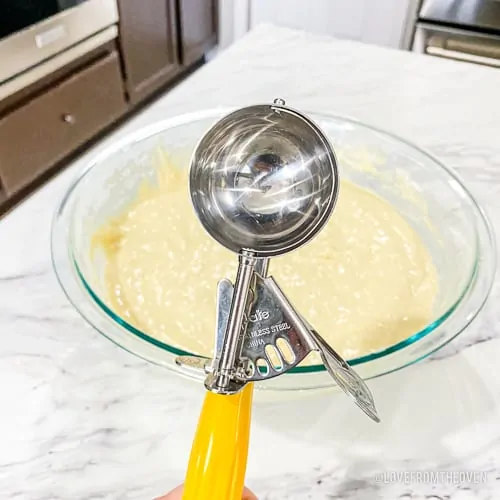 Serve HOT with a pat of butter and a drizzle of real maple syrup or blueberry compote. Have leftovers? These pancakes freeze beautifully!
How To Make The Best Pancakes:
Use real buttermilk. While I love using homemade buttermilk substitutes in most recipes, real buttermilk is my preferred milk in these pancakes. The cultured sour milk reacts best with the baking soda creating sky high pancakes with a sweet taste.
Use fresh baking powder and baking soda. The baking soda and powder are key to pancakes that are light and puffy instead of flat and dense. Check the expiration dates on both these ingredients; if it's flown past on the calendar, it's time to toss the boxes and replace.
Don't over mix. I've said it before and I'll say it again: a light mix is all you need! This batter will be pretty thick and may still have a few small flour lumps. That's just fine. Aggressively mixing your batter is the best way to ensure your homemade blueberry pancakes will be tough. So mix lightly, then put the spoon down!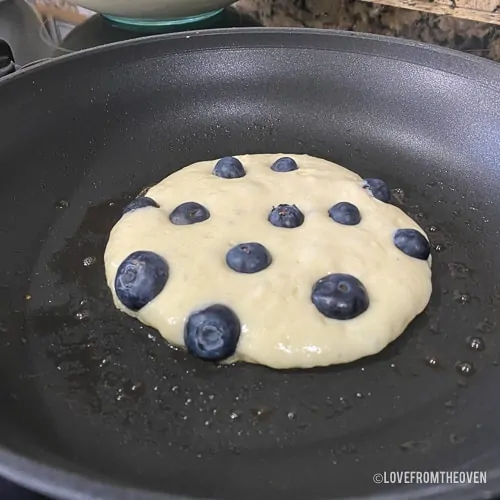 Freezing Pancakes
This recipe makes a generous amount of pancakes because I love having leftovers to freeze for weekday breakfasts. Let the pancakes cool completely then transfer them to a freezer bag separated by sheets of wax paper.
When ready to eat, reheat the blueberry pancakes in the microwave (for 20 -30 seconds per pancake) or in the oven at 350 degrees until heated through (about 10 minutes).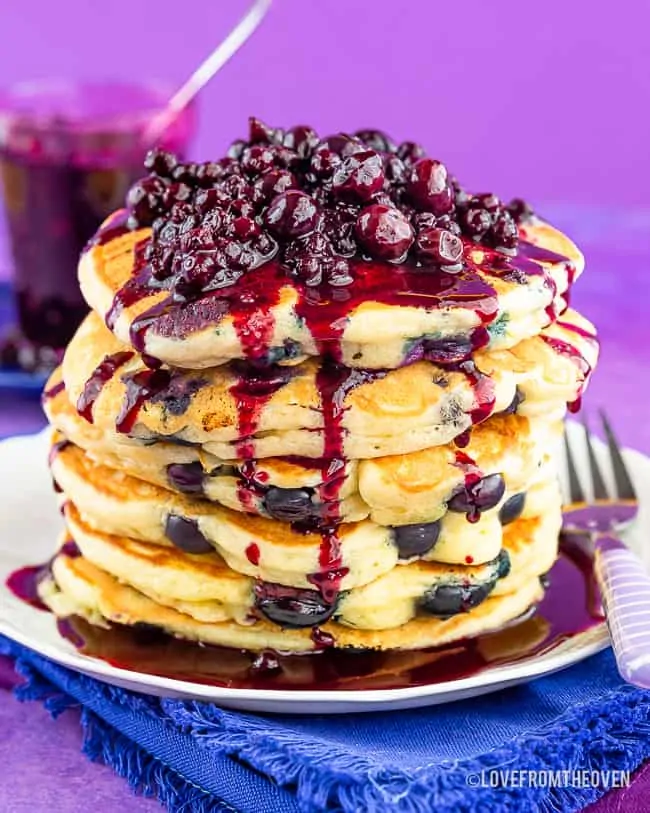 Try these perfect pancakes for breakfast this week–or breakfast for dinner– and I think you'll agree: these are the very best blueberry pancakes!
If you like this recipe, make sure to also check out my Sheet Pan Pancakes!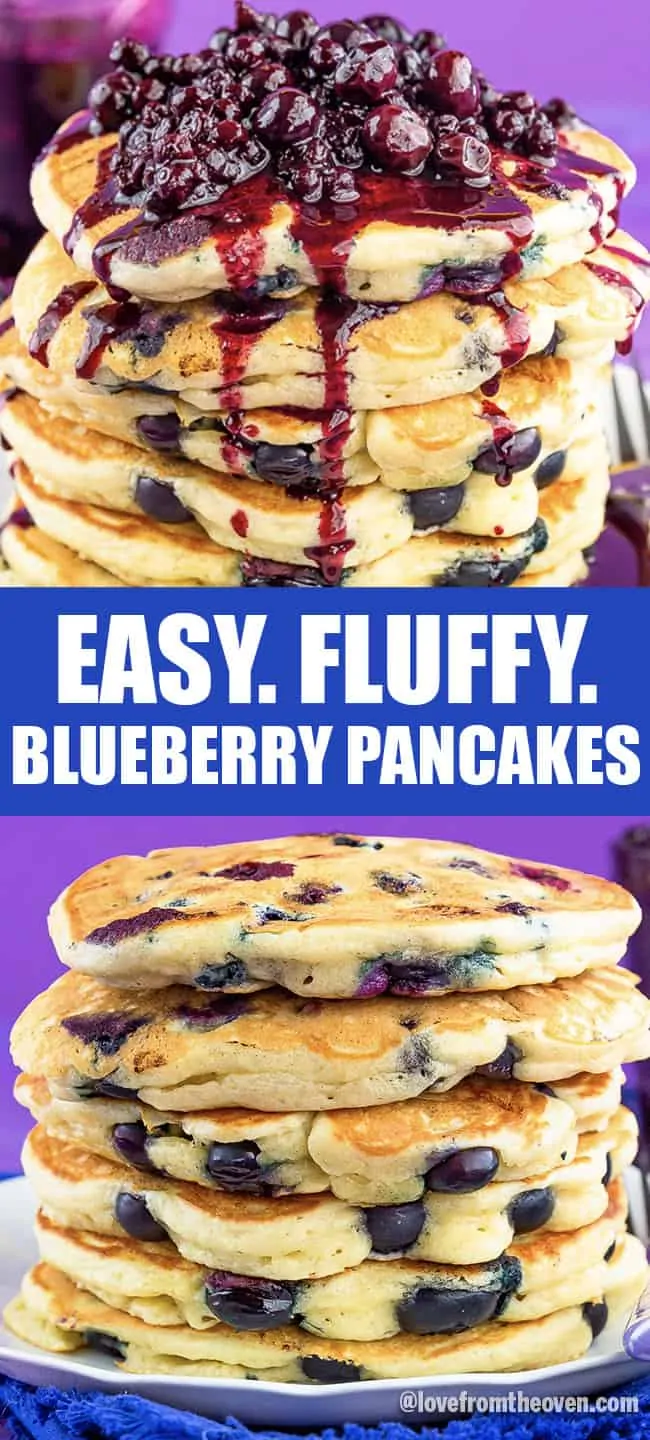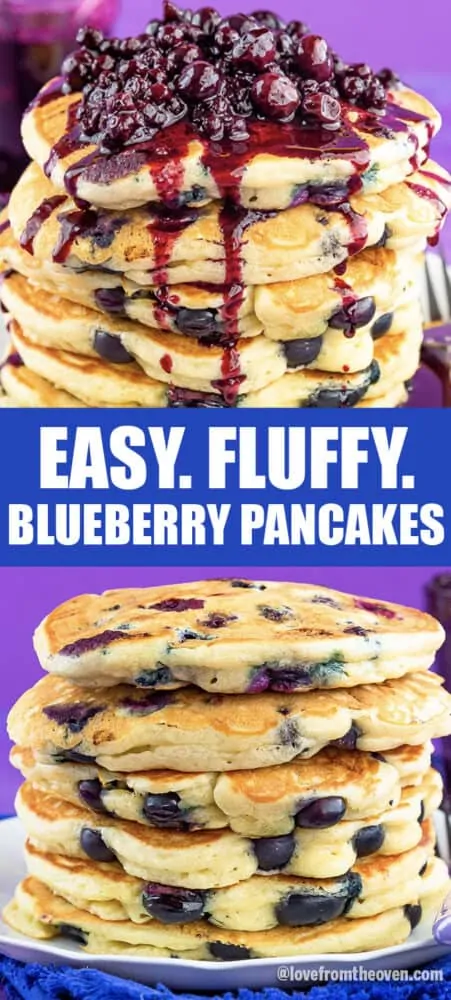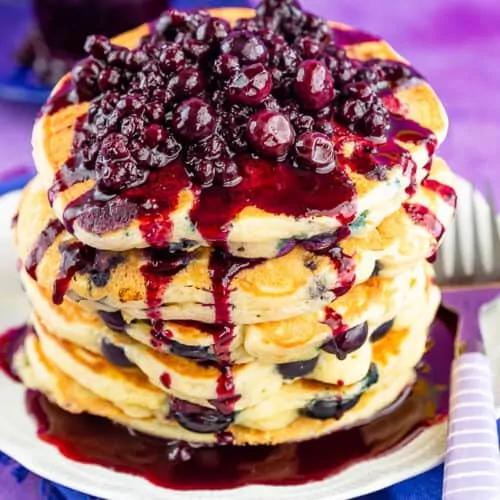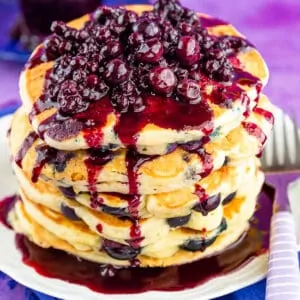 Blueberry Pancakes
Blueberry Pancakes are a quick and delicious way to start the day. This easy blueberry pancakes recipe creates fluffy and perfect pancakes bursting with the goodness of real blueberries.
Ingredients
2

cups

all-purpose flour

3

tsp

baking powder

1

tsp

baking soda

1

tsp

salt

4

tbsp

granulated sugar

1

cup

buttermilk*

see notes for substitution

3/4

cup

milk

2

eggs

1/4

cup

butter

melted

1-2

cups

fresh or frozen (but thawed) blueberries

Additional butter

or oil, for pans
Instructions
Combine flour, baking powder, baking soda, salt and sugar in a bowl. Stir to combine. Add in buttermilk, milk and eggs, stirring just enough to start to combine. Add in melted butter and stir just until combined. Batter will be lumpy and thick. Let batter sit for 2-3 minutes, this will allow time for the baking powder and buttermilk to help puff up the batter.

Scoop approximately 1/4 cup of batter (an ice cream scoop is perfect) into a skillet that has been preheated to medium-low / medium heat (for reference I heat to 4 on a 1-10 scale) and lightly brushed with butter or oil. The batter will be thick and you will need to use your scoop or spoon to help spread the batter out a bit. Drop a handful of blueberries onto the top of each pancake while the bottom cooks.

When bubbles start to appear on surface and edges of pancake begin to appear to be browning, flip with a spatula and cook until golden. Pancakes should only be flipped once. Transfer to a plate and devour with butter, syrup or blueberry compote!
Notes
*BUTTERMILK SUBSTITUTE 
If you do not have buttermilk, you can use a buttermilk substitute recipe. 
Feel free to mix blueberries into batter if preferred. Placing them onto the pancakes while cooking simply allows for even distribution, but it's by no means required. 
Nutrition
Calories:
247
kcal
|
Carbohydrates:
36
g
|
Protein:
6
g
|
Fat:
9
g
|
Saturated Fat:
5
g
|
Cholesterol:
62
mg
|
Sodium:
557
mg
|
Potassium:
320
mg
|
Fiber:
1
g
|
Sugar:
10
g
|
Vitamin A:
329
IU
|
Vitamin C:
2
mg
|
Calcium:
151
mg
|
Iron:
2
mg
Disclaimer
Nutrition information is estimated as a courtesy. If using for medical purposes, please verify information using your own nutritional calculator. Percent Daily Values are based on a 2000 calorie diet.