Red Velvet Pancakes were created so that you could have your favorite dessert for breakfast! These delicious pancakes are fluffy yet rich in flavor, and you won't be able to resist drowning them in decadent cream cheese syrup. In under 30 minutes, you'll have a big plate of delicious pancakes and a sweet start to your morning!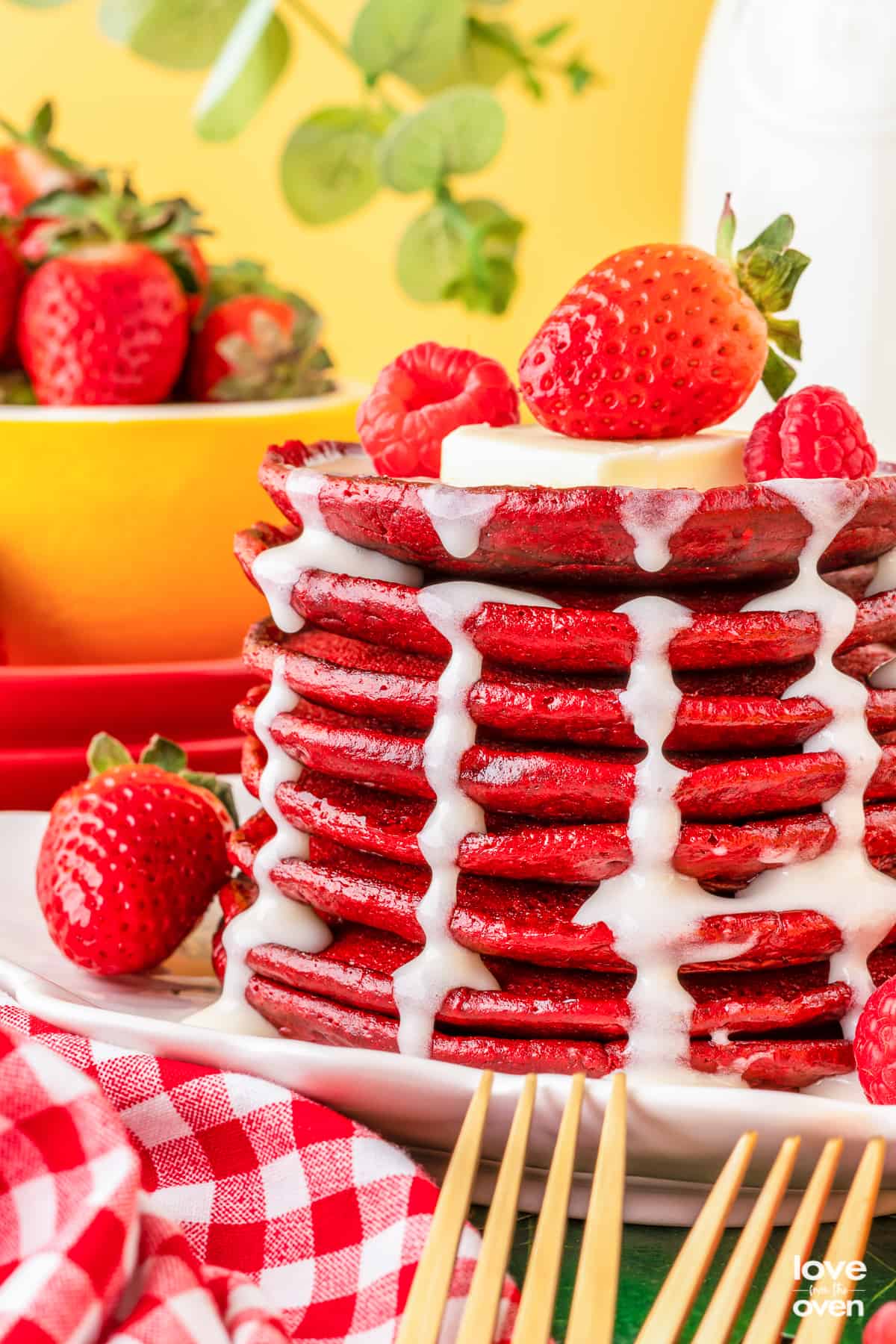 Reasons You'll Love This Recipe
Red Velvet Everything – If red velvet is your go to flavor, you're going to absolutely LOVE these pancakes.
Special Breakfast – Kids go crazy for these pancakes, but they're also great to make for a special breakfast on Valentine's Day, or when you just feel like treating yourself.
Homemade Batter – Homemade pancake batter is already delicious on its own, but this upgraded version is incredible!
Toppings Galore – The great thing about this recipe is that you can add all your favorite toppings to these pancakes. Fruit, chocolate chips, whipped cream, powdered sugar, maple or chocolate syrup, and good ol' butter are some great additions.
Easy To Make – This recipe only needs 30 minutes of your time, minimal dishes, and pantry friendly ingredients. Breakfast will be ready in no time.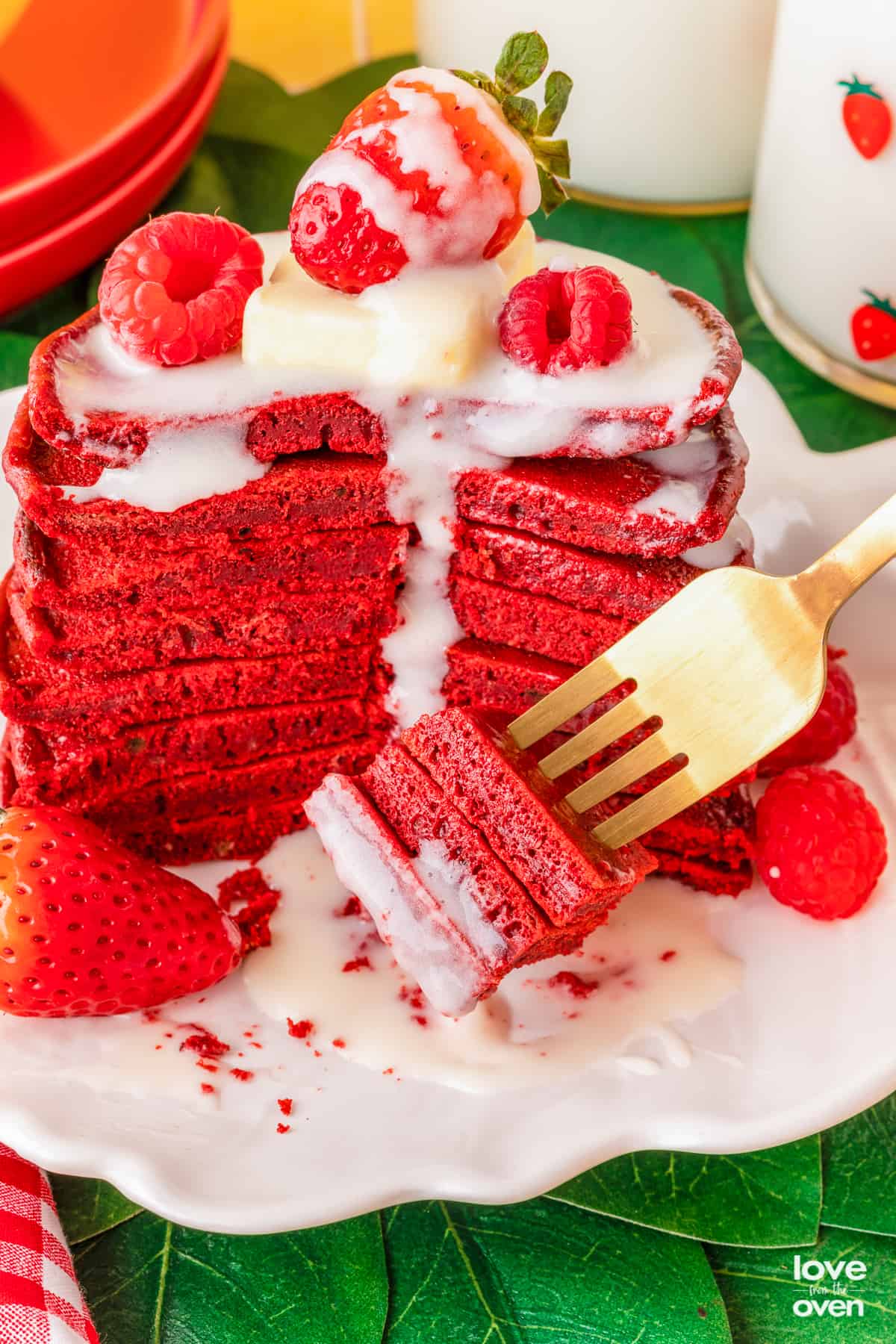 Haters might say that this is "not breakfast food" and that "you're eating cake for breakfast," but unfortunately I can't hear the haters over the sound of the pancake batter sizzling on the griddle.
Regardless, these pancakes are not only dangerously delicious, they are so much fun to make! You can shape them into hearts for the sweetest Valentine's Day breakfast, or just make them on a random Wednesday morning… just because!
Ingredients and Substitutions
Recipe Discussion
Let's discuss how to make this Red Velvet Pancake recipe, as well as the ingredients that are needed. Please take note that below you will find discussion, expert tips, and answers to frequently asked questions about this recipe to help you recreate it in your kitchen. If you *just* want the recipe itself, scroll down. The full printable recipe itself, with exact measurements and instructions, is found at the bottom of this page.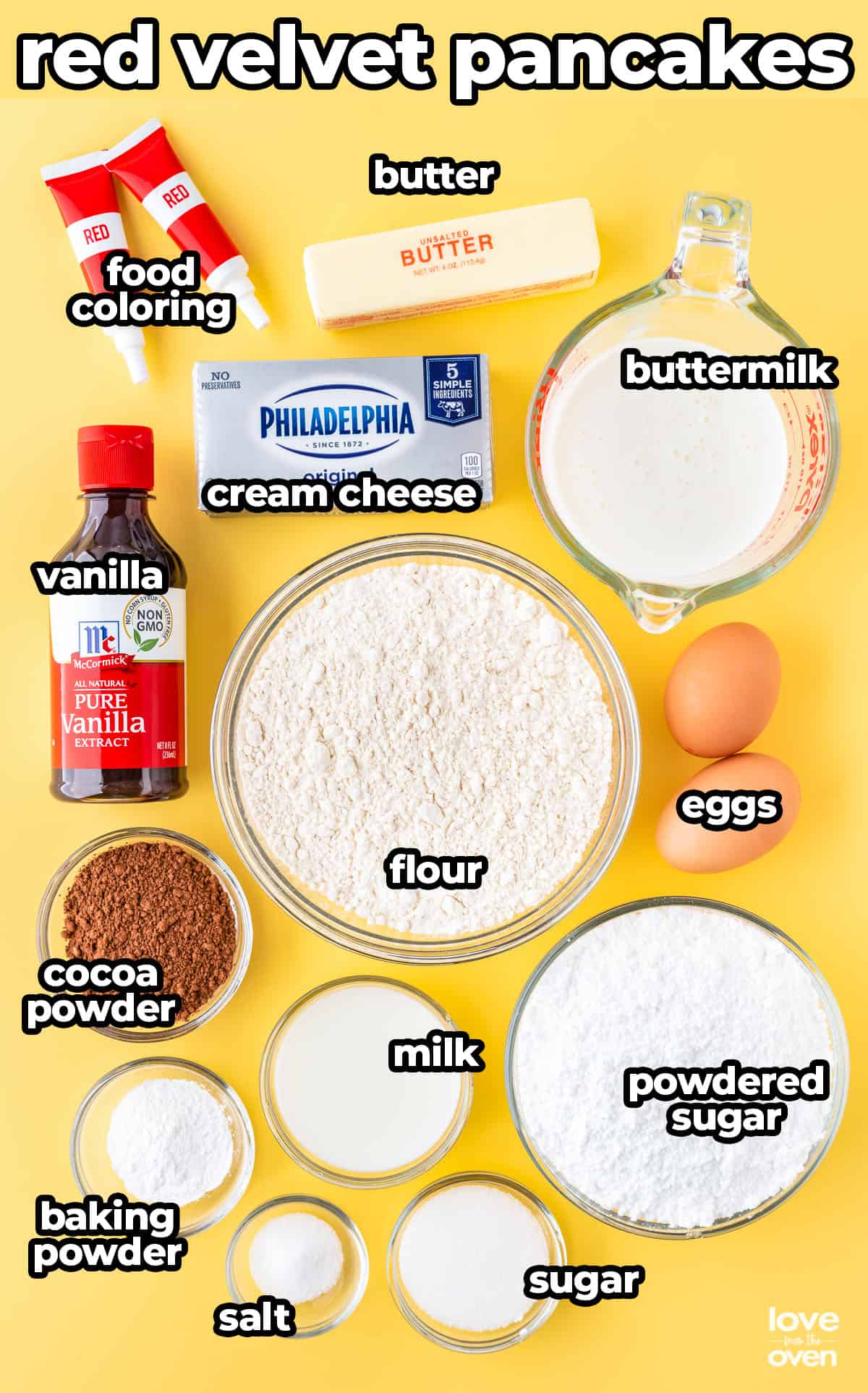 Flour – All purpose flour works best for this recipe. If you decide to substitute, know that the consistency of the pancakes will turn out different.
Sugar – White granulated sugar is best for this recipe. I highly recommend keeping the sugar in the recipe, because you'll be adding unsweetened cocoa powder, and it cancels out the bitterness. Don't worry, your pancakes won't taste overly sweet.
Cocoa Powder – Make sure to get the unsweetened cocoa powder.
Eggs – The eggs should be beaten before adding it to the pancake batter.
Buttermilk – You can buy pre-made buttermilk, or make your own. Keep in mind, if your buttermilk is too thick, you may need to add a little bit extra than what the recipe recommends to thin out the batter.
Butter – Use unsalted butter for this recipe since you'll add additional salt to the recipe. Make sure the butter has been melted then cooled before adding it to the batter. Hot butter will start to cook the eggs before you even start mixing!
Red Food Coloring – You can use liquid food coloring or gel. The gel will give you a more vibrant color compared to the liquid. Use as little or as much as you like for the color you desire. You could even use a different color, like green for St. Patrick's Day. If you don't like using artificial colors, here are some natural options Watkins, Organic Red Beet Powder and Plant Based Food Color.
Cream Cheese – Allow the cream cheese to sit for a bit to soften before using it in the frosting.
Powdered Sugar – Powdered sugar is the best type of sugar to use when making a syrup/frosting. I don't recommend substituting this ingredient.
Milk – This will be used to break down the powdered sugar and create a syrupy consistency. Use more or less milk to your liking. If you'd rather, you can use water or a plant based alternative.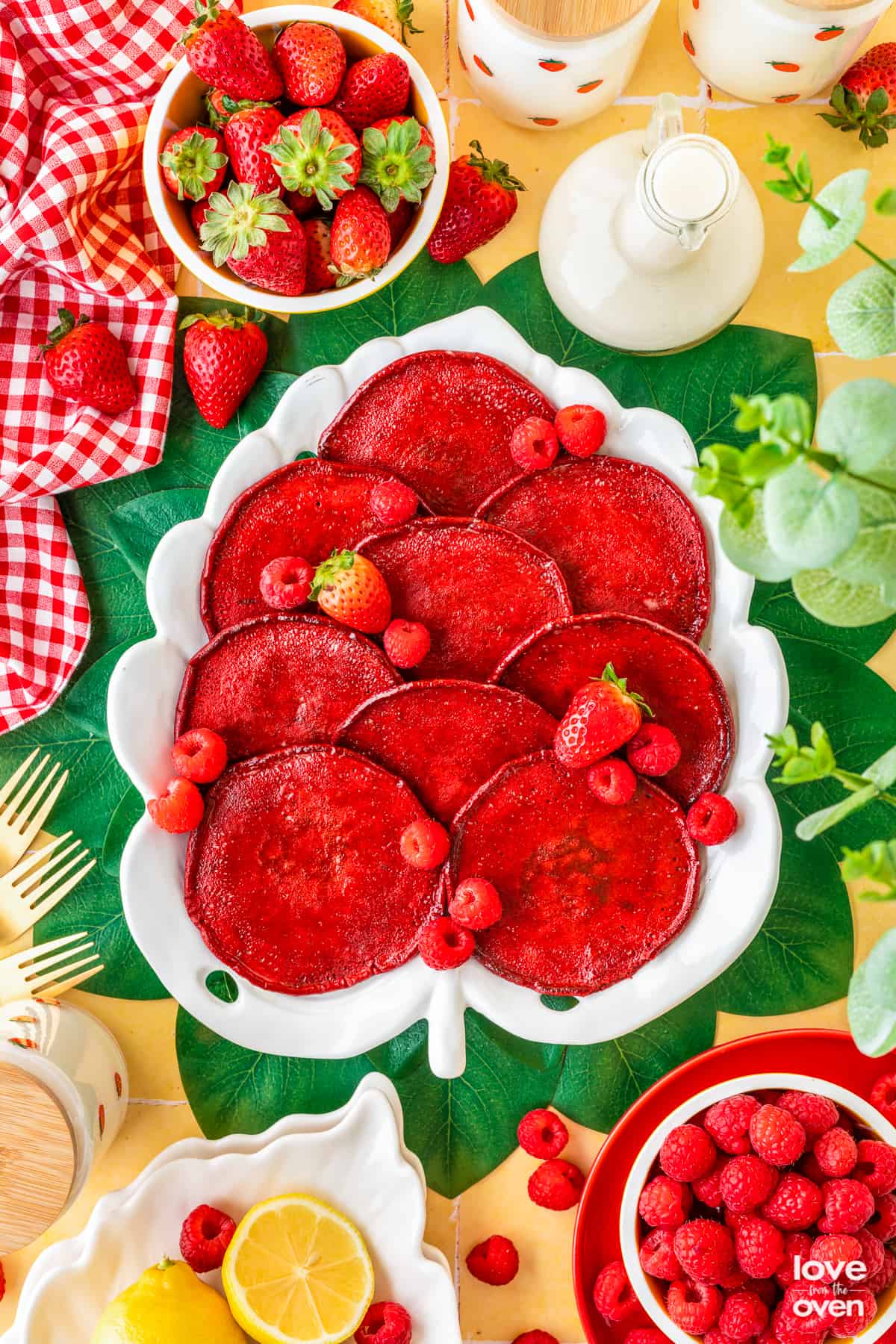 How To Make Red Velvet Pancakes
Start by grabbing a large bowl. To the bowl, add flour, baking powder, salt, sugar, and cocoa powder. Whisk the dry ingredients together to combine.
To the same bowl with the dry ingredients, add the beaten eggs, buttermilk, cooled melted butter, vanilla extract, and the red food coloring.
Mix everything together until combined, but be careful not to over mix.
Set the pancake batter to the side and allow it to rest for 5-10 minutes. This will allow the baking powder time to activate and make the batter nice and fluffy. Be mindful NOT to stir the batter after it has rested. During this resting period, start on the cream cheese syrup. In a separate medium sized bowl, add the cream cheese, powdered sugar, milk and vanilla extract. Use a whisk or spatula to combine the ingredients together until smooth and syrupy. Set this aside for the end.
Grease a skillet, griddle or frying pan with butter or oil and heat it over medium heat. Allow the pan to warm up before scooping a ¼ cup of batter onto the surface of the skillet. Cook the one side of the pancake for a few minutes or until the batter begins to bubble on the top.
Flip the pancake over and cook the other side for about 30 seconds to a minute. Repeat steps 5-6 for each pancake. Serve the pancakes hot right of the griddle. Garnish with your favorite toppings and enjoy!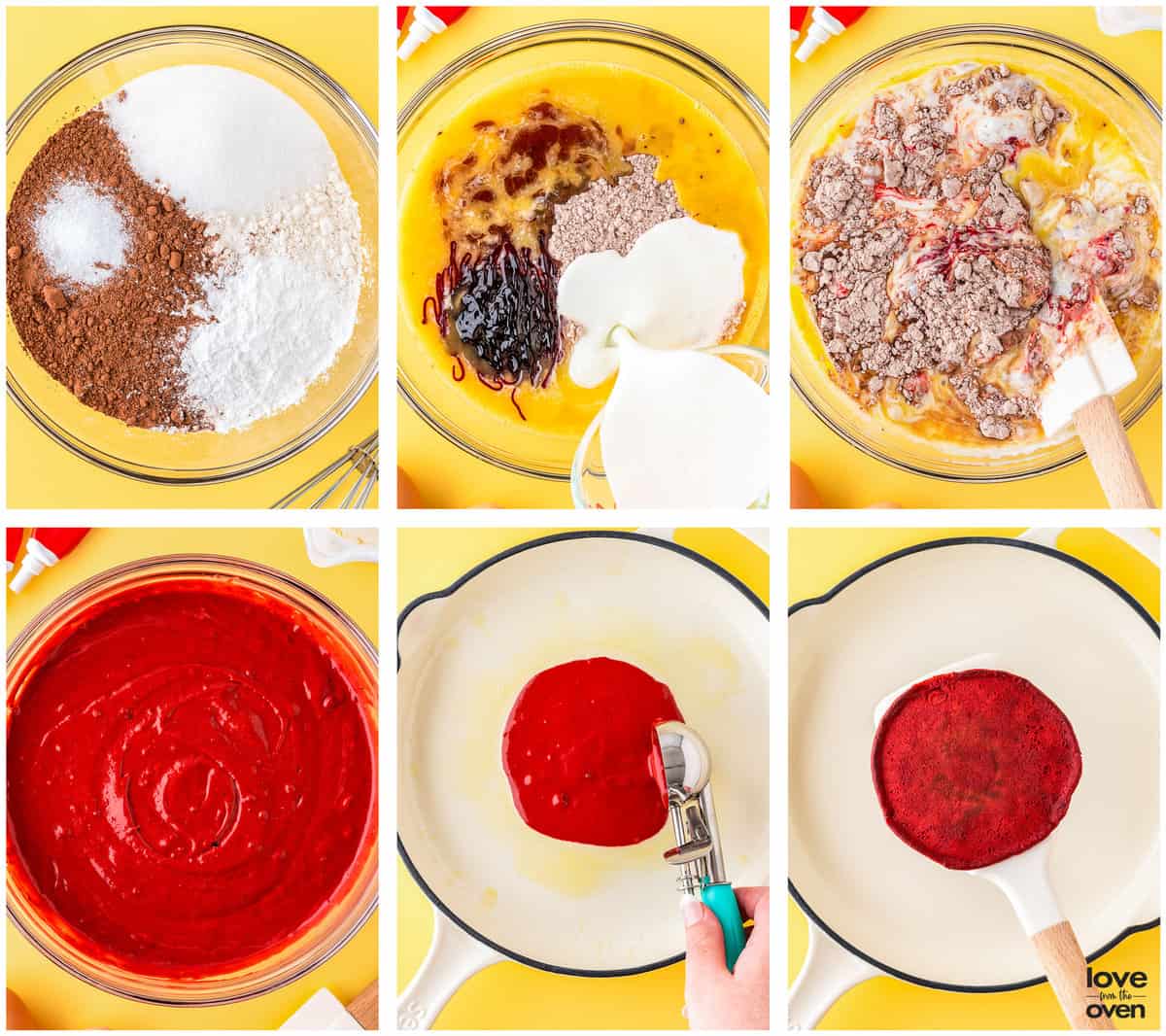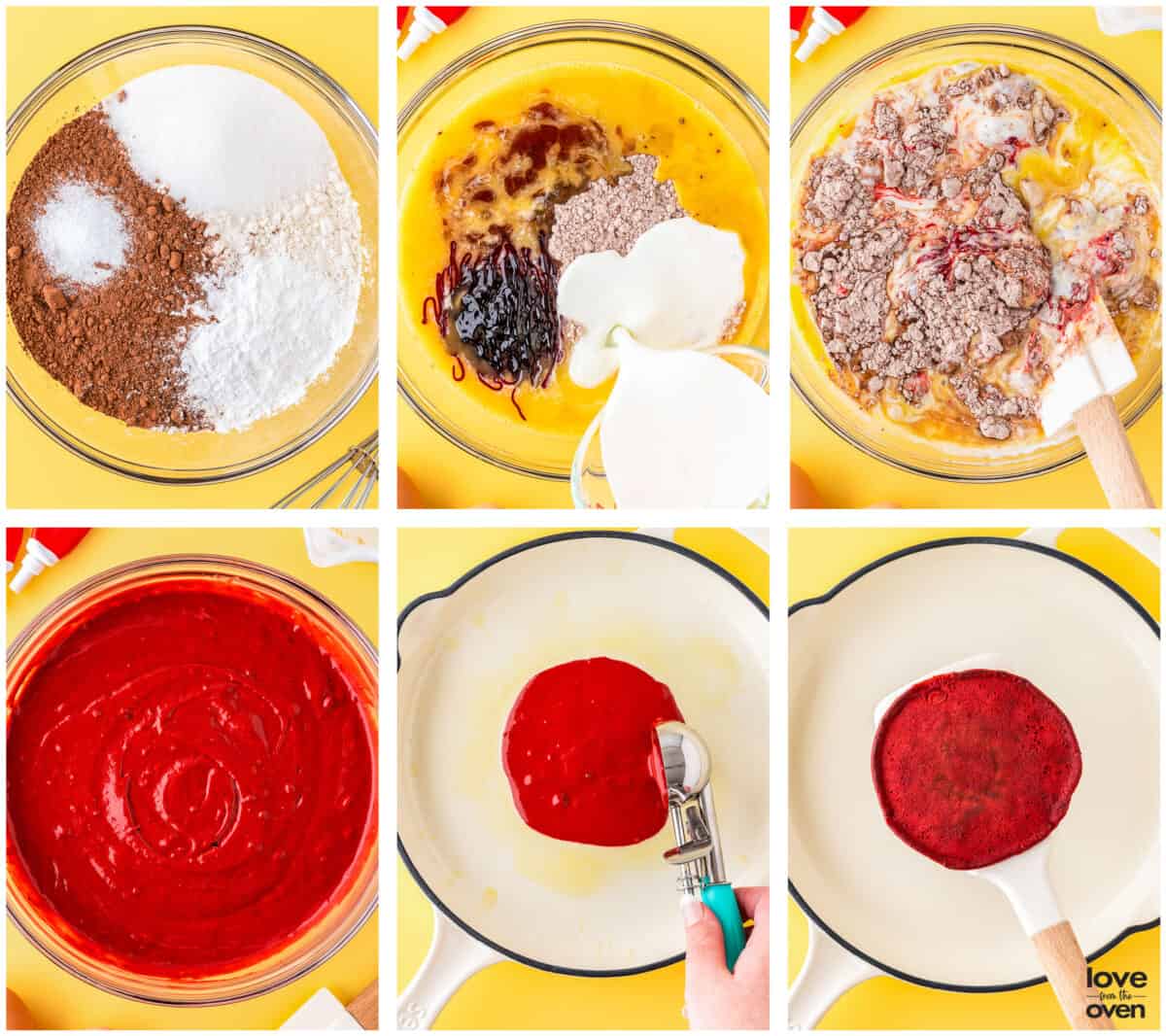 Recipe Tips and Advice
Storage – Store the leftover pancakes in an airtight container in the fridge for up to 2-3 days. Store the leftover cream cheese syrup in a jar or airtight container in the fridge for 2-3 days as well. The pancakes will reheat in the microwave nicely, just heat for 10-15 seconds.
Equipment – For this recipe you'll need a few mixing bowls, a whisk or spatula, and a griddle or skillet.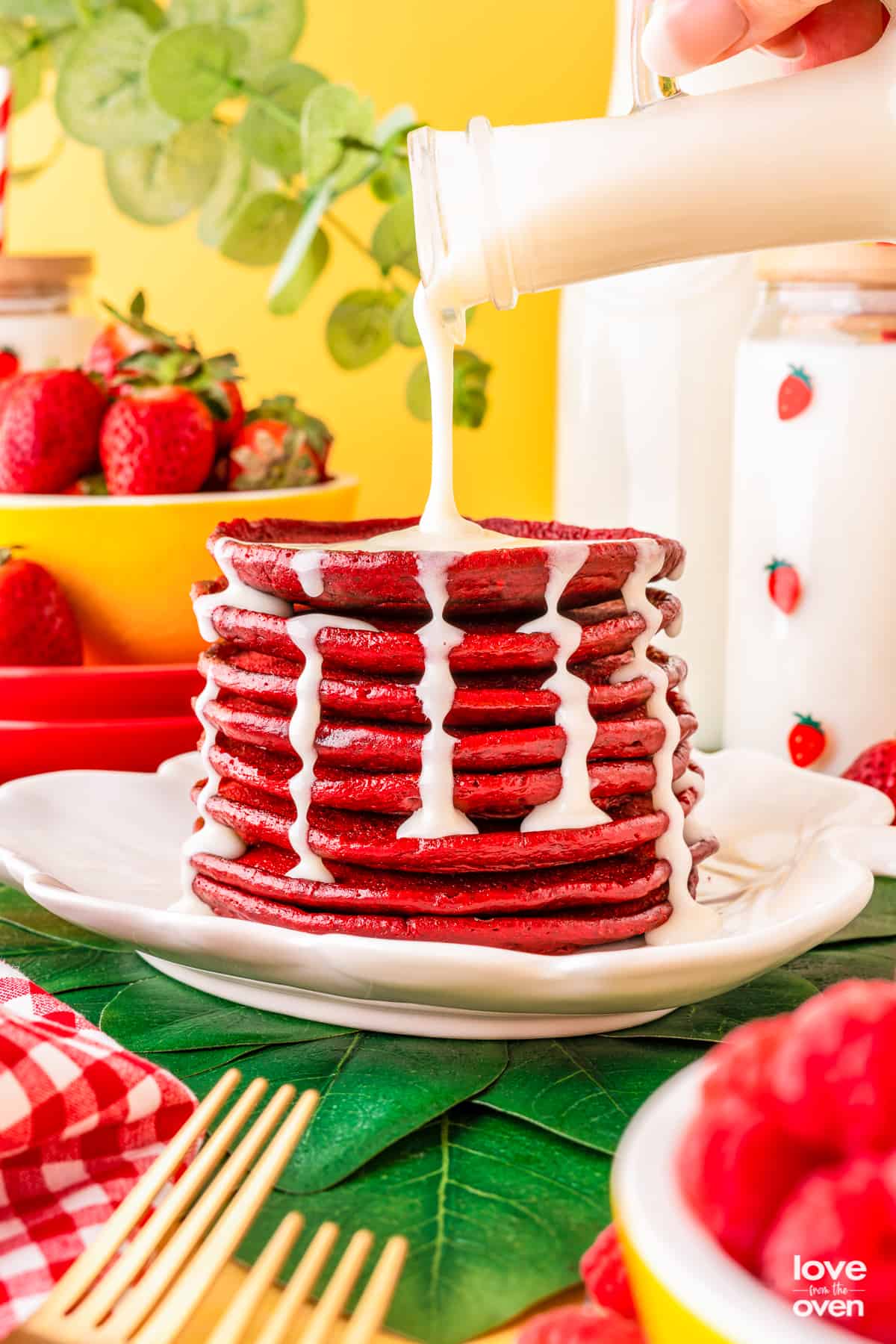 Perfect Pancakes
Be sure to keep an eye on the pancakes while they cook, because they can burn quickly. If you need to lower the heat and let them cook longer, that will help keep them the perfect color. In addition to that, heating the cream cheese syrup in the microwave for a few seconds will add an extra special touch to these already fantastic pancakes!
Recipe FAQs
What is the secret to good pancakes?
The secret to good pancakes is using fresh ingredients in the batter, especially baking powder! Fresh baking powder will make your pancakes light and fluffy. Like I mentioned in the recipe, avoid over mixing and allow the batter to rest for 5-10 minutes before cooking. Don't stir the batter after you let it rest, and be sure to watch your pancakes like a hawk to avoid burning the outside.
Should pancake batter be runny or thick?
The short answer is both! The long answer is to make sure the batter is not too runny to where it pours out like water, but also not too thick to where it can't be poured easily. Feel free to add more flour to the batter if it gets too thin, and more buttermilk if it gets too thick.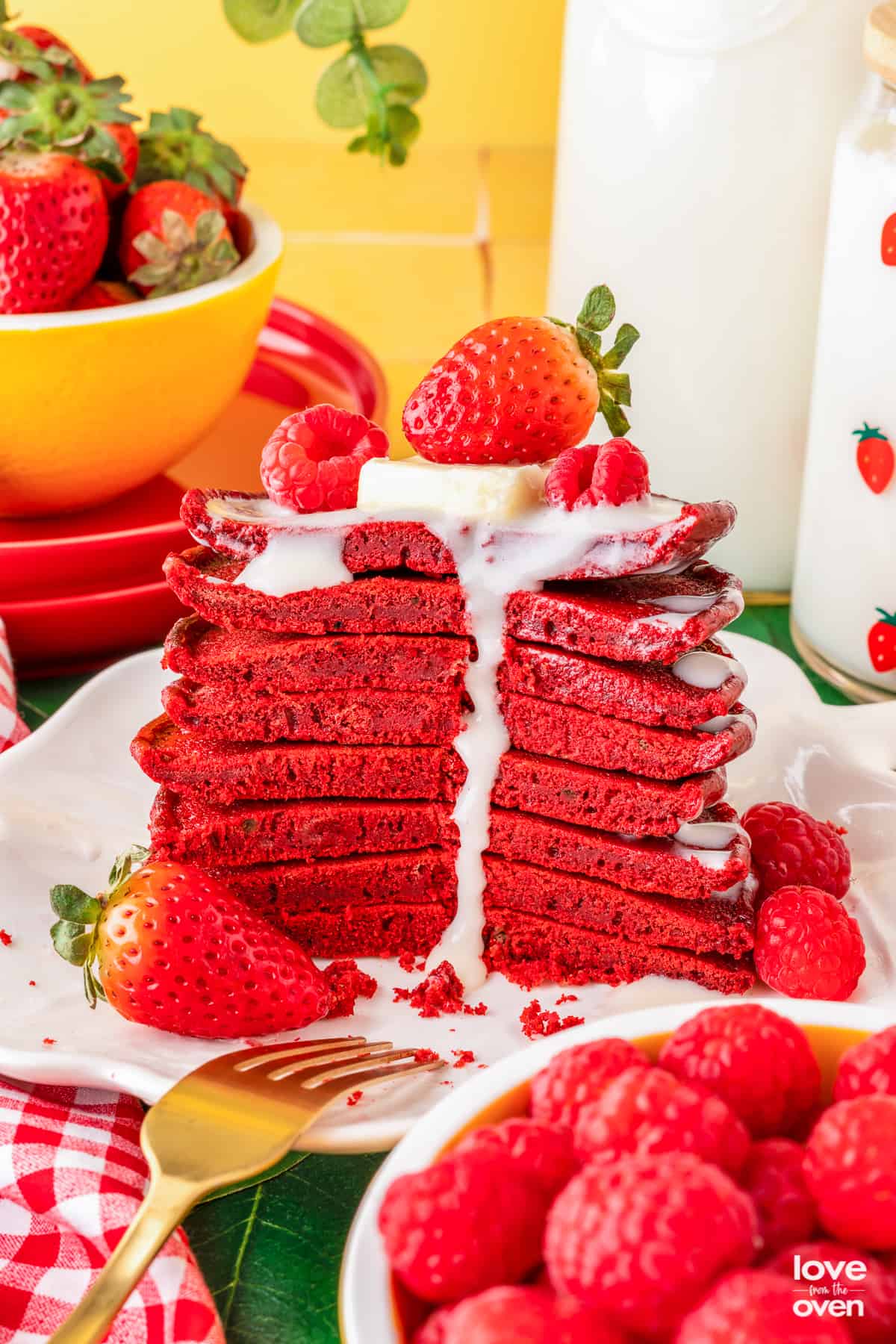 More Recipes To Try
Pancake Recipes
Need something else to fulfill that pancake craving? Luckily, I have a pancake recipe for any occasion that you could possibly imagine. Check out a few more of these amazing recipes!
Valentine Recipes You'll Love!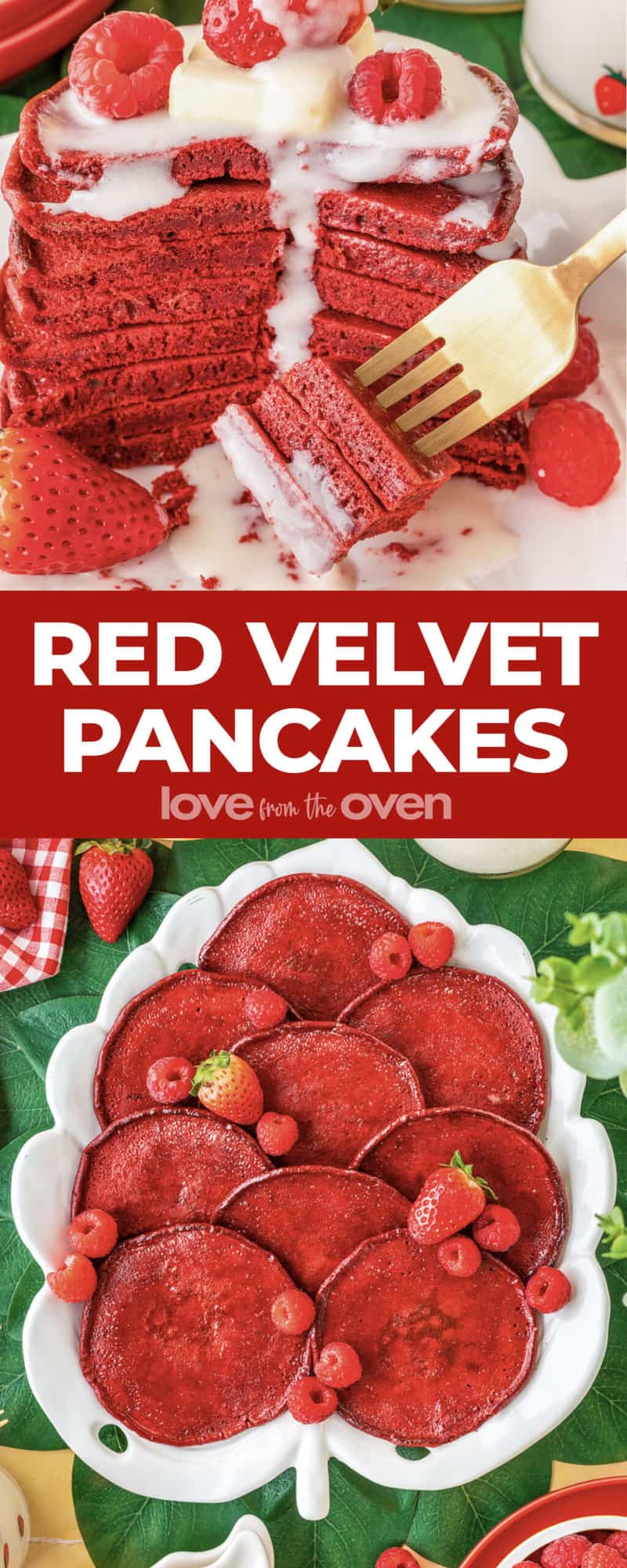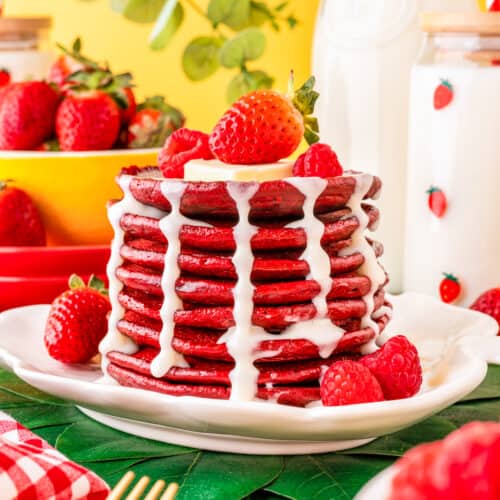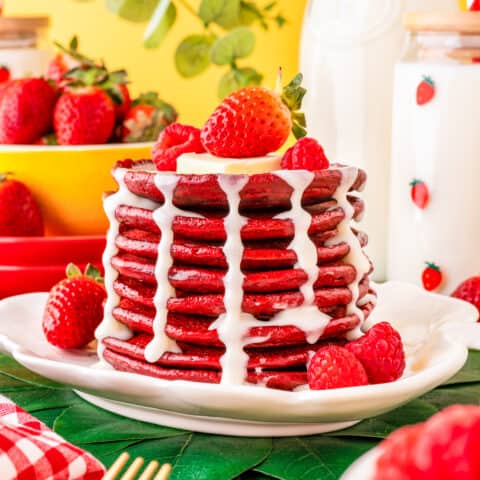 Red Velvet Pancakes
These decadent Red Velvet Pancakes are fluffy yet rich in flavor, and you won't be able to resist drowning them in decadent cream cheese syrup.
Ingredients
2

cups

all-purpose flour

4

teaspoons

baking powder

1

teaspoon

salt

2

tablespoons

sugar

3

tablespoons

unsweetened cocoa powder

2

eggs

beaten

1 1/2

cups

buttermilk

if buttermilk is very thick, a little bit more may be needed to thin batter a bit

4

tablespoons

butter

melted and then cooled

1

teaspoon

vanilla extract

red food coloring

add color to achieve desired hue – the gel food colorings give a more intense color than liquid coloring
Cream Cheese Syrup
4

ounces

cream cheese

softened

1 1/2

cups

powdered sugar

3

tablespoons

milk

additional milk may be needed if a thinner consistency is desired

1

teaspoon

vanilla extract
Instructions
In a large bowl combine flour, baking powder, salt, sugar and cocoa powder.

To the bowl add beaten eggs, buttermilk, cooled melted butter, vanilla extract and red food coloring. Mix until combined, but do not overmix. The batter may have some lumps, but that's okay.

Let the batter sit for 5-10 minutes, which gives the baking powder time to activate and puff up the batter. Once the batter is puffed up, do not stir it, you want to keep those air bubbles that have developed.

During this time, make the cream cheese syrup. In a medium bowl, combine all of the cream cheese syrup ingredients and whisk until well combined and smooth. Set aside.

Preheat griddle or skillet to medium heat and grease with butter or oil.

Once heated, scoop approximately 1/4 cup of batter onto the griddle/skillet. Cook until pancakes have bubbles on the top and sides start to look cooked, then flip and cook an additional 30-60 seconds. Repeat with the remaining pancake batter.

Serve hot. Top with cream cheese syrup, maple syrup or chocolate syrup. You can also serve red velvet pancakes with butter and a dusting of powdered sugar.
Nutrition
Calories:
490
kcal
|
Carbohydrates:
73
g
|
Protein:
10
g
|
Fat:
18
g
|
Saturated Fat:
11
g
|
Polyunsaturated Fat:
1
g
|
Monounsaturated Fat:
5
g
|
Trans Fat:
0.3
g
|
Cholesterol:
101
mg
|
Sodium:
598
mg
|
Potassium:
493
mg
|
Fiber:
2
g
|
Sugar:
38
g
|
Vitamin A:
677
IU
|
Calcium:
233
mg
|
Iron:
3
mg
Disclaimer
Nutrition information is estimated as a courtesy. If using for medical purposes, please verify information using your own nutritional calculator. Percent Daily Values are based on a 2000 calorie diet.