Candied Yams are a must have side dish at Thanksgiving dinner. If you are looking for those ooey gooey marshmallow topped sweet potatoes that you grew up eating at family gatherings, look no further.
This incredibly easy recipe, using canned yams, takes only five minutes of hands on time to make, and is on the table in 30 minutes!
Reasons You'll Love This
Classic Thanksgiving Side Dish – Many of us grew up eating candied yams at holiday gatherings with family and friends. It's like baking up a pan full of delicious nostalgia.
Easy – If you can dump ingredients into a pan, then you are going to rock these candied yams!
Flexible – This recipe is so user friendly and flexible. Use more yams or less, salted or unsalted butter, light or dark brown sugar, add nuts or don't add them, top with marshmallows or leave them off (though why would you want to?). We've even made this in the microwave when the oven was occupied!
Sweet Side – While some may say this seems more like a dessert, I say it's a deliciously sweet side dish. It's amazing paired with turkey or ham!
Marshmallows – It's hard not to love a dish topped with marshmallows, especially when they are golden brown and crunchy on the outside, while ooey gooey on the inside.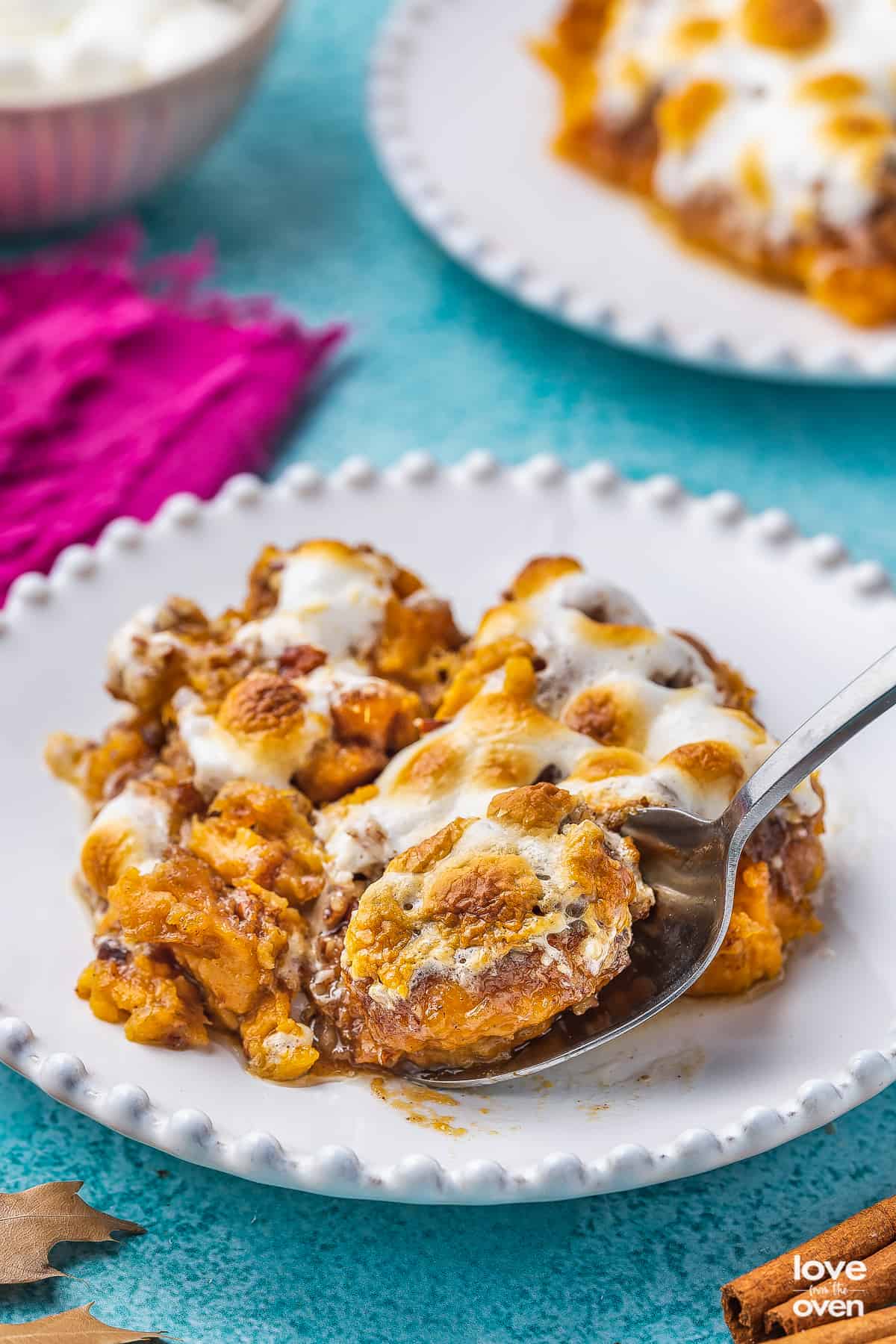 Sweet Potato Casserole With Canned Yams
I'm going to go off script a bit here, and do the most taboo thing in food blogging. The hated thing that memes are made of and comment sections love to vilify. Something I haven't done in probably seven years.

I'm going to make this post personal. I know, you might be screaming "just give me the recipe!".
Here you go, just click here to go to the printable recipe.
Still reading? Thank you. This post, and this recipe, is special. These sweet potatoes are the ones I grew up eating at every single Thanksgiving and Christmas meal. The ones my brother and I always look forward to. They are my mom, Kelli's, candied yams. The recipe isn't unique to her, but it's the one she made.

Five months ago today, on June 14th, 2023, we lost her suddenly and unexpectedly at the age of 68. "Grammy" as we referred to her, her most cherished title in life, lived just a mile away and was constant and dedicated presence in our day to day lives. She was a huge part of our world. That five months feels like five lifetimes, and yet five minutes. We are broken into a million pieces.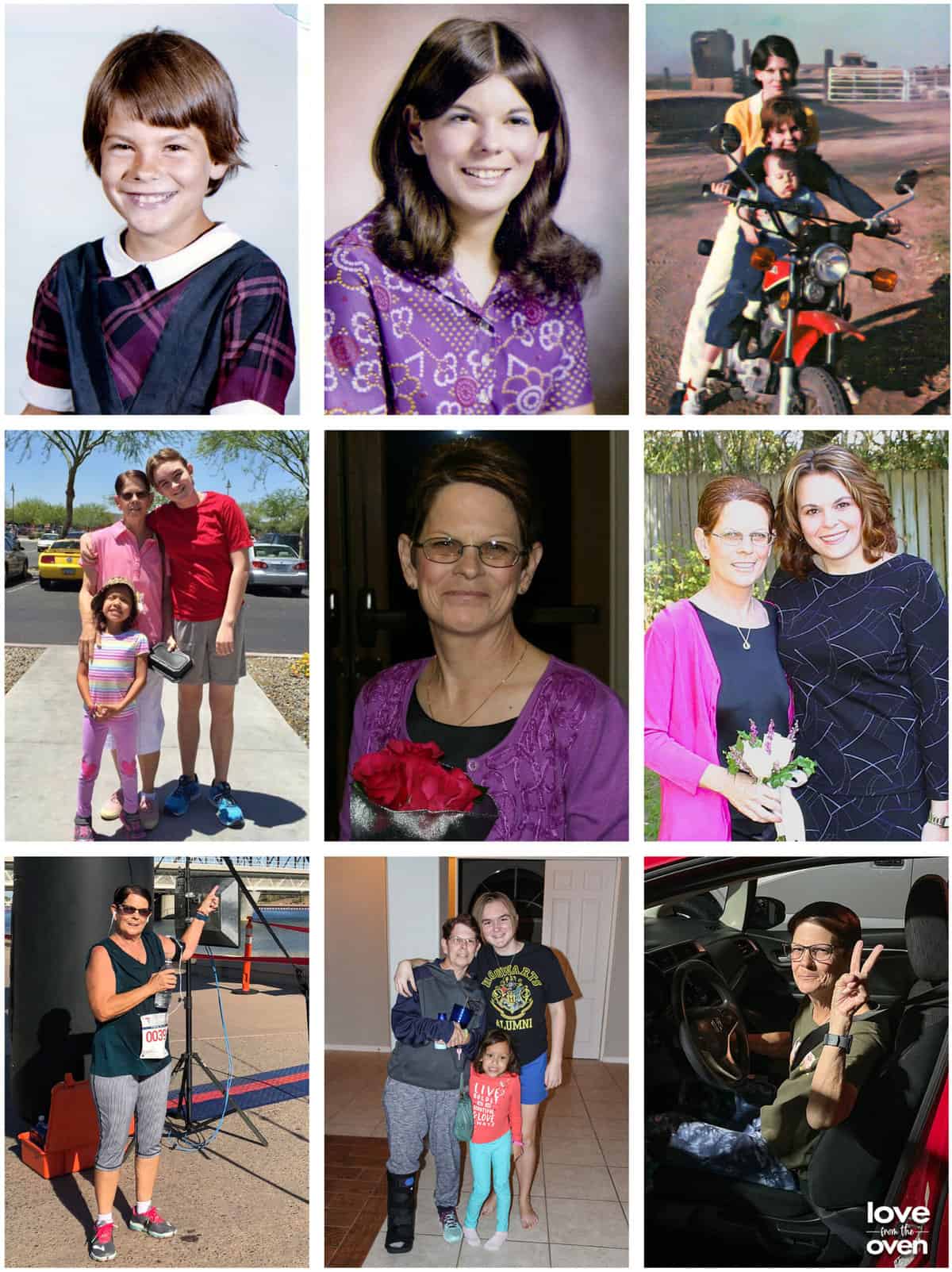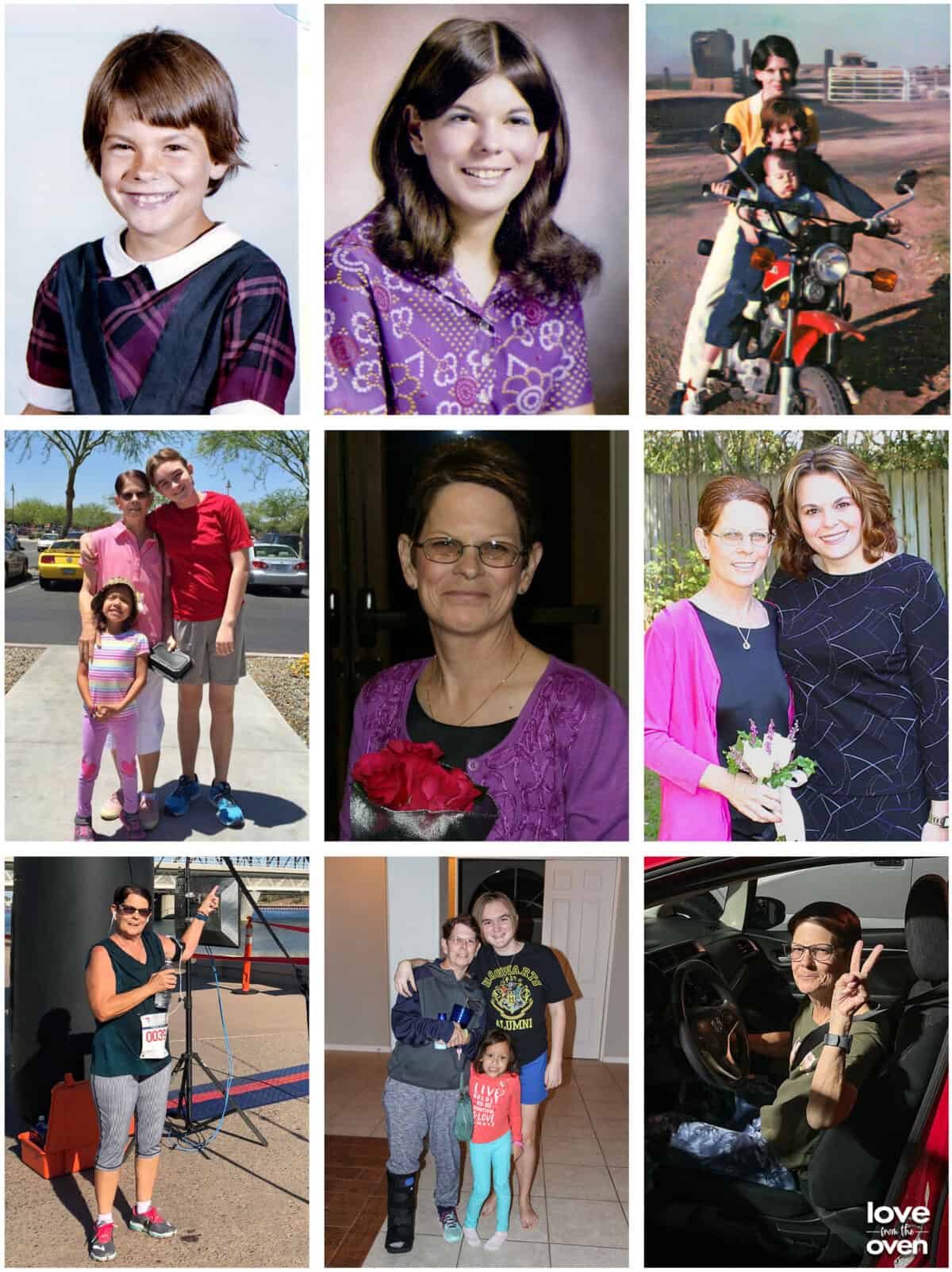 As we prepare to enter the holiday season, and I struggle to know how to get through it, I think of her carrying a casserole dish, or sometimes even a bowl, of these candied yams into my kitchen. She no doubt transported them on the floorboard of her little red car. She would carry them, in holding them with two holiday dish towels, as I don't think she ever used oven mitts.
She also didn't like to use measuring cups. So when I say this recipe is flexible, I can say with certainty that my mom never actually measured the ingredients, she just eyeballed them. And sometimes she'd show up for our holiday dinner, and would just have the ingredients in a bowl, not even assembled. She'd dump them all in and i the oven was full, she'd microwave them. No matter how she made them, they were always delicious. Sure I'd make my "fancy" from scratch sweet potato casserole, but it was always my mom's that tasted like Thanksgiving to me.
She loved the holidays, and kept a Christmas tree up year round – changing out the ornaments for each holiday. She lived on a very tight budget, but would spend months finding meaningful gifts for her family. She'd send good old fashioned, put in the mailbox cards, to all of us year round. Her family was everything to her.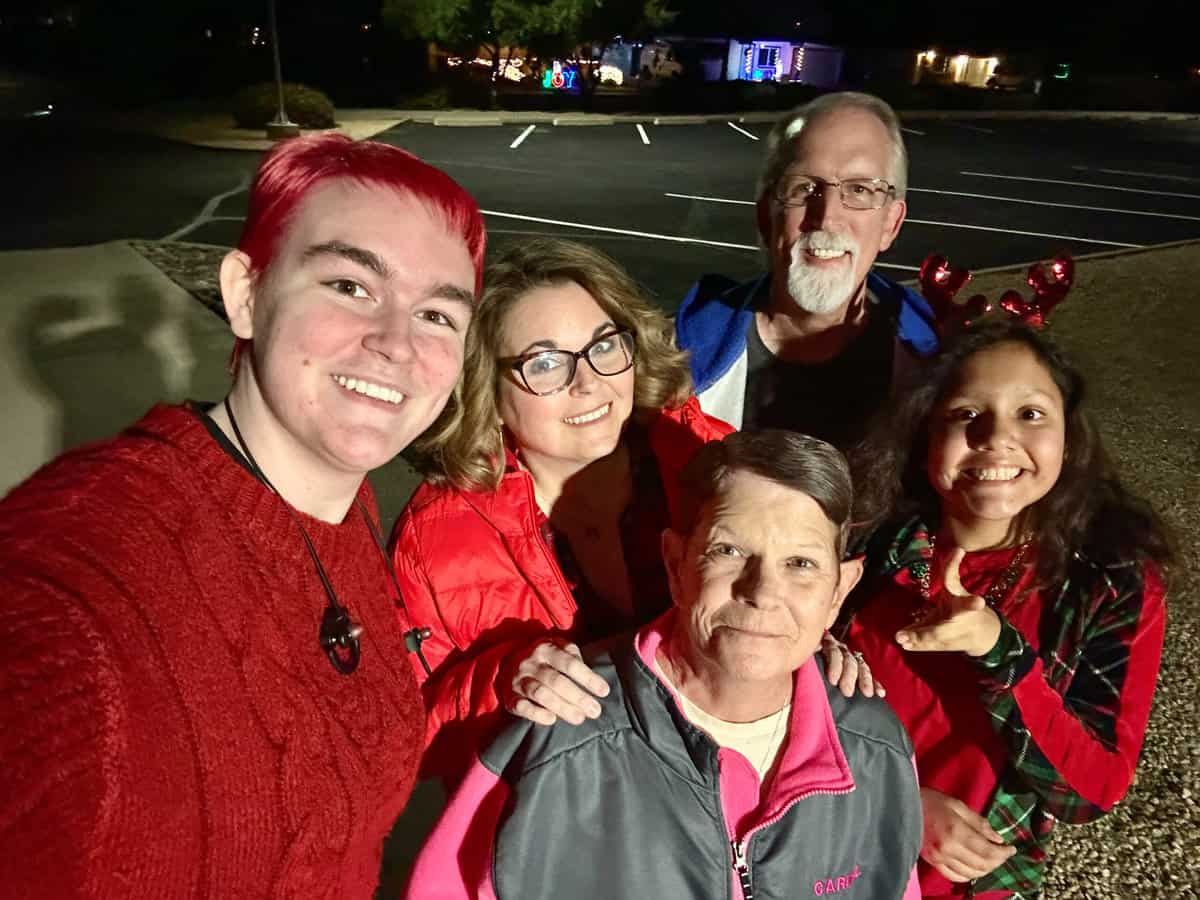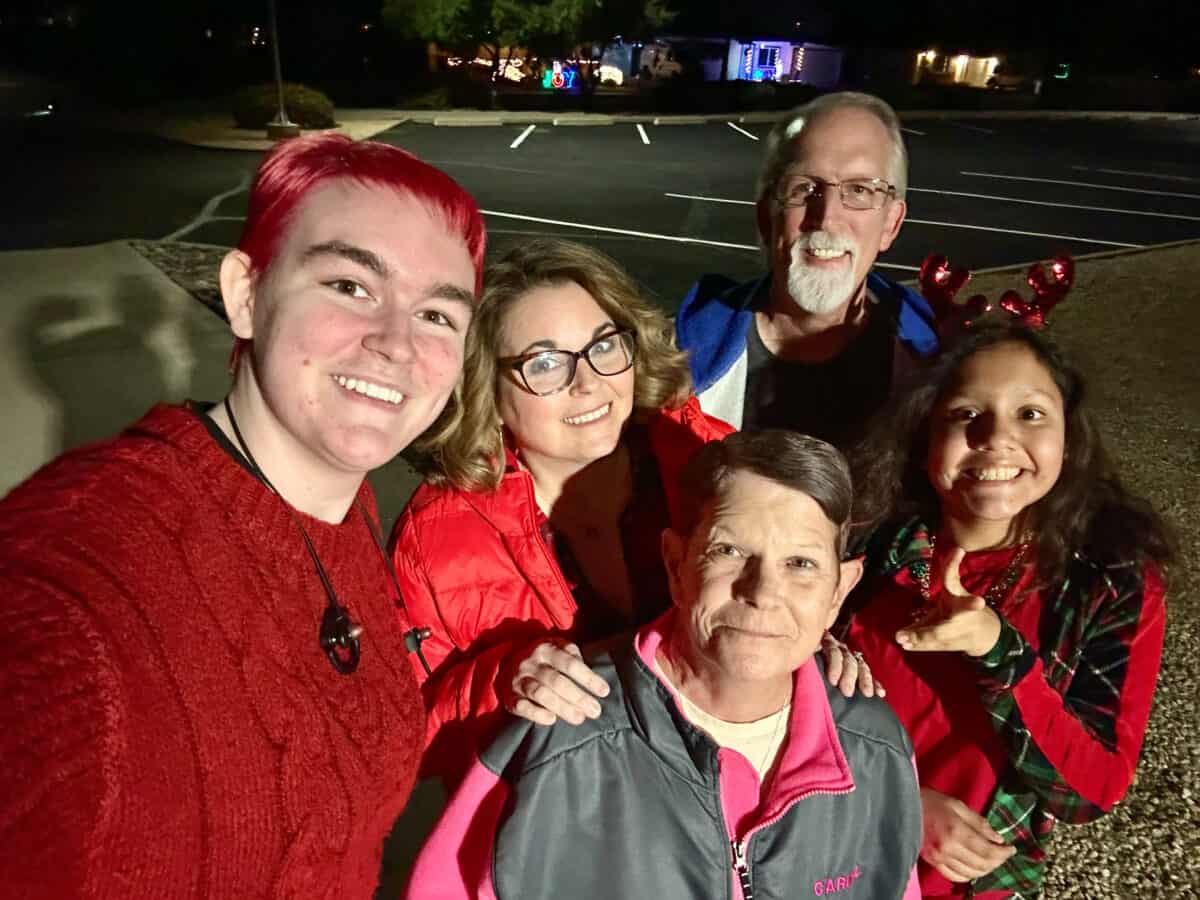 She had a hard life. From a childhood filled with trauma and neglect, to early and unexpected losses of her own mother, brother and beloved younger sister, to many times just being that good person who bad things happened to. But through it all she was strong and she was kind. She had little, but gave much. She raised my brother and I with love, empathy and a belief in the golden rule. And she loved her two granddaughters more than words can ever possibly describe.
If there is one thing I leave you with when sharing about her, it's this. She was a helper. A giver. She was not confident in her cooking and baking, but if she knew you – even just casually, and you were in need – be it someone was sick, there was a death in the family, any sort of hard times came your way, she wouldn't let her lack of confidence in her abilities stop her from making you a homemade meal. What mattered to her was that you felt cared for. She lived to do kind things for other people. Be it sending a card, making a meal, or helping clean your yard, she just wanted to help everyone.
So send a card. Bake someone cookies or bring the a meal. And please, let those in your life know how very special they are and how much you love them. Truly see what is special about each and everyone of those around you. And tell them. Make certain they know. You think you have time. We all take it for granted. And in an instant, everything changes forever. And there are no do overs.
As with all previous Thanksgivings, we will always have her candied yams and her fruit salad on our table. I only wish she would be sitting there with us to enjoy it. Love and miss you, Mama. More than any words could begin to express.
And now back to our regularly scheduled recipe post…
How To Make Candied Yams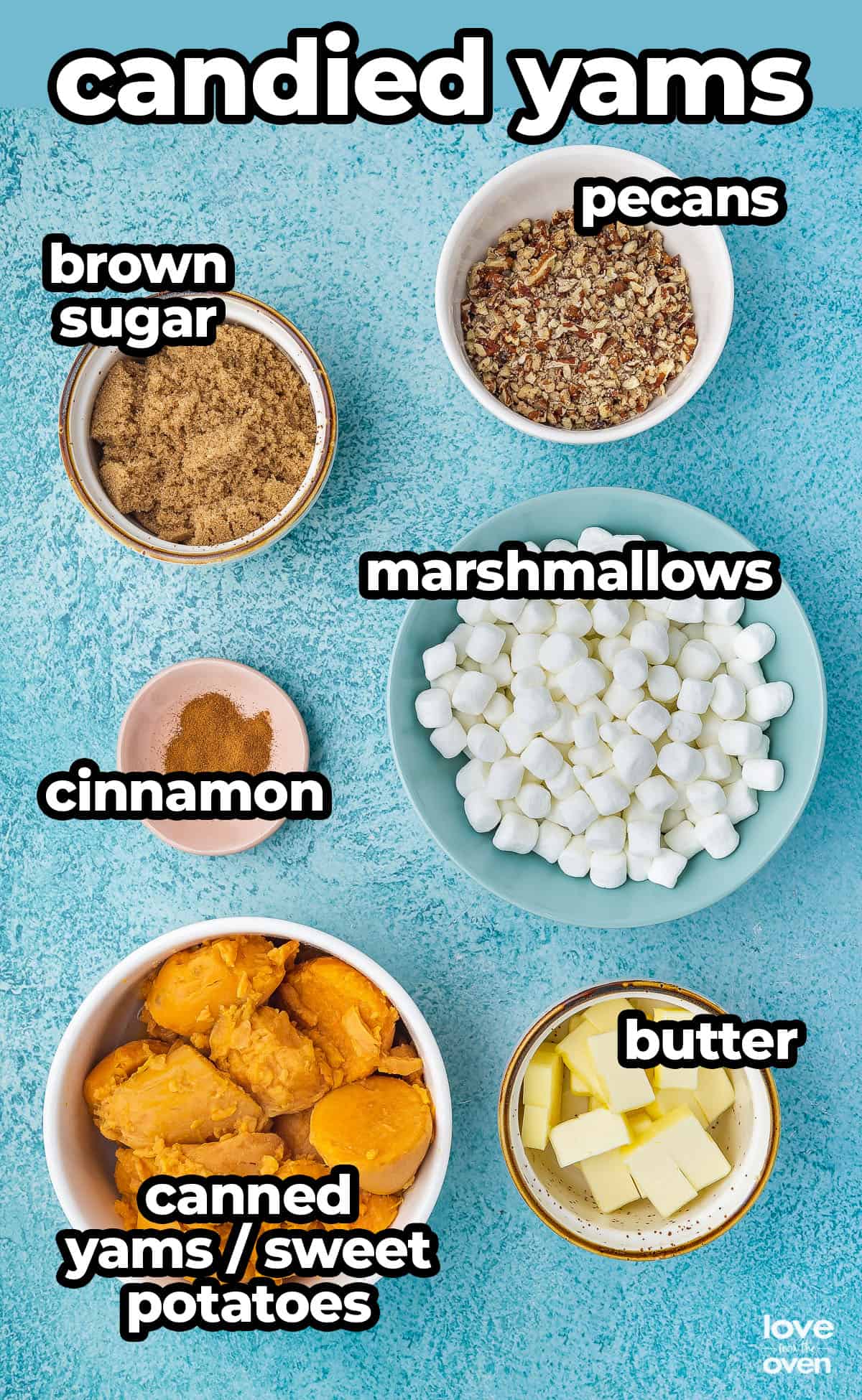 Ingredients
Canned Sweet Potatoes – I usually use the Princella brand, or Bruce's. They come in a syrup that you want to drain off before using. They are also called yams on many cans, the two terms being used interchangeably. If your can is slightly bigger or smaller, no worries, it will work just fine.
Butter – You can use salted or unsalted butter, either will work fine.
Brown Sugar – You can use light or dark brown sugar. Dark is my preference, because I love the caramely flavor it gives.
Cinnamon – Just a pinch and in a pinch, you are fine leaving it out.
Salt – This is optional, but personally I like salty with my sweet, so I add it.
Pecans – Chopped pecans are great for adding a little crunch to the texture. You can use raw pecans or roasted, salted or unsalted. You can also use walnuts, or just leave them out all together.
Marshmallows – While some people believe that marshmallows do not belong on a dinner plate, I believe that they are no fun and should live a little. All kidding aside, to me this is what makes candied yams special – that marshmallow topping. Mini marshmallows work best. If I only have larger ones, I will cut or tear them into smaller pieces. We prefer to add our marshmallows in the last 10-15 minutes of baking, as to not over brown them. And if they aren't browning as much as you like, hit the broiler for a few seconds. Just do not take your eyes off of it, or you can go from "golden" to "scorched" in a blink.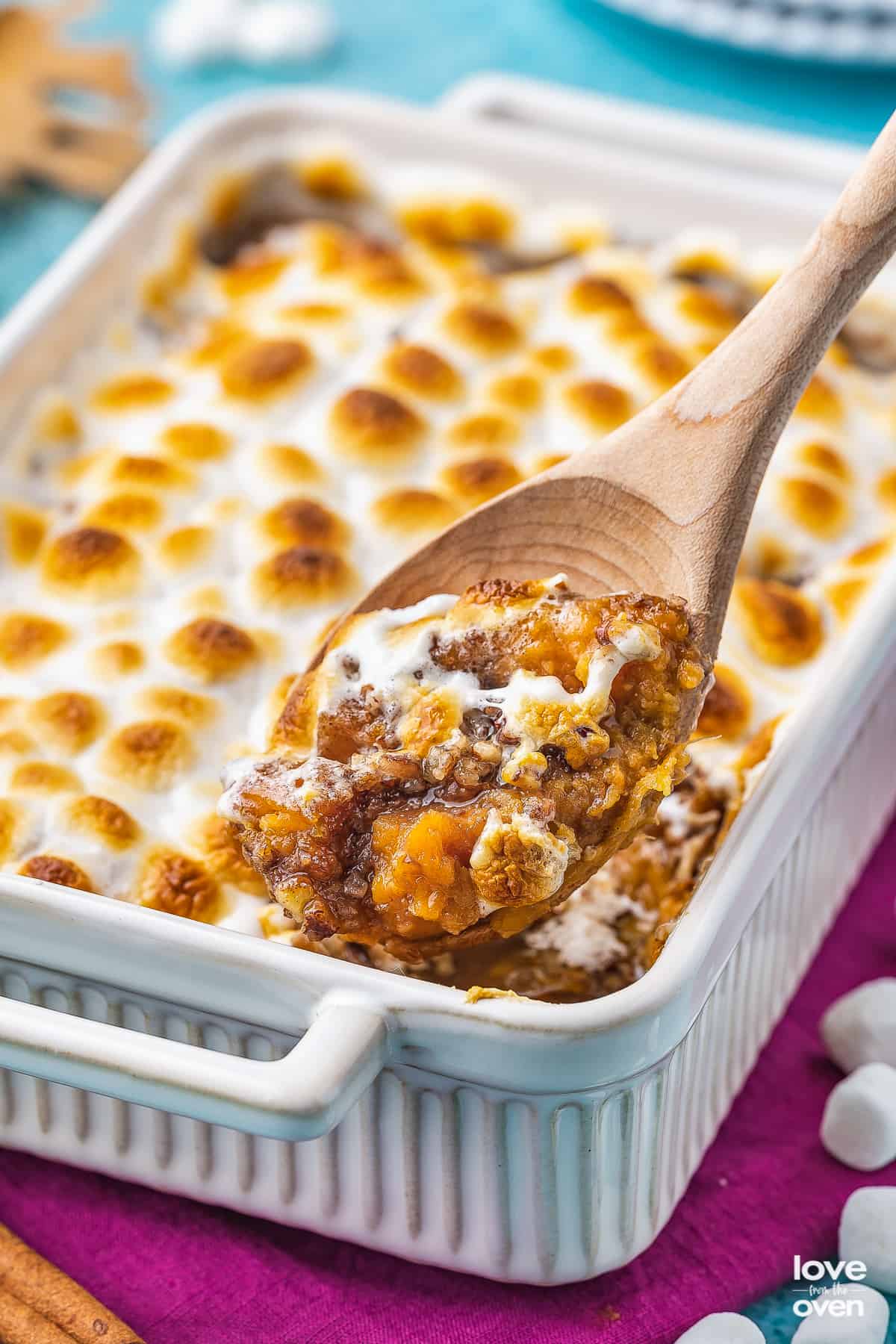 Step By Step Instructions
To make these candied yams, you'll start with your baking pan. Give it a spray with some non-stick cooking spray. After that add in your drained can of sweet potatoes. Top it with pieces of butter, sprinkle on the brown sugar and cinnamon mixture, then the pecans, and then into the oven it goes. After 10 minutes, add on the marshmallows and bake until they are golden brown.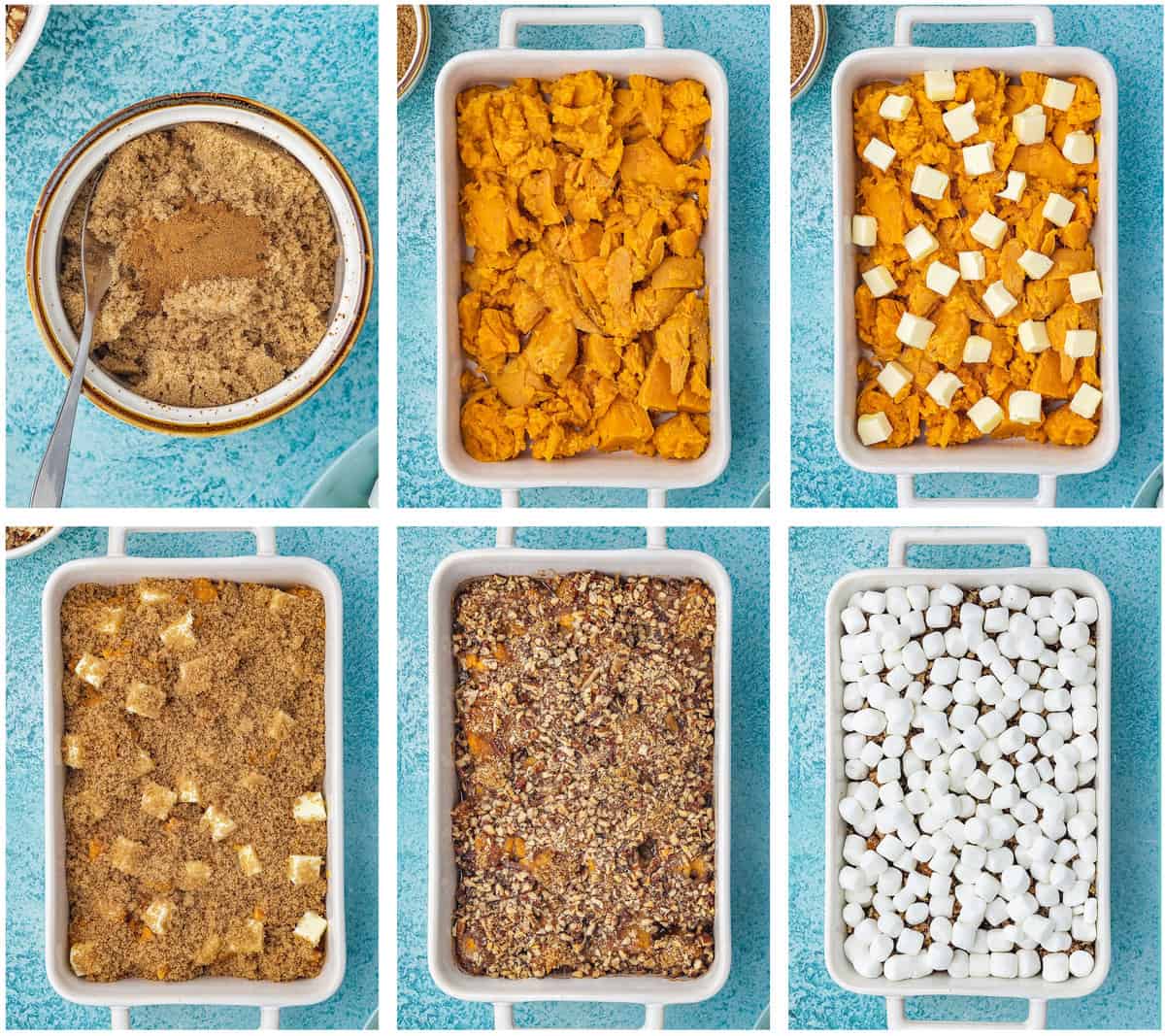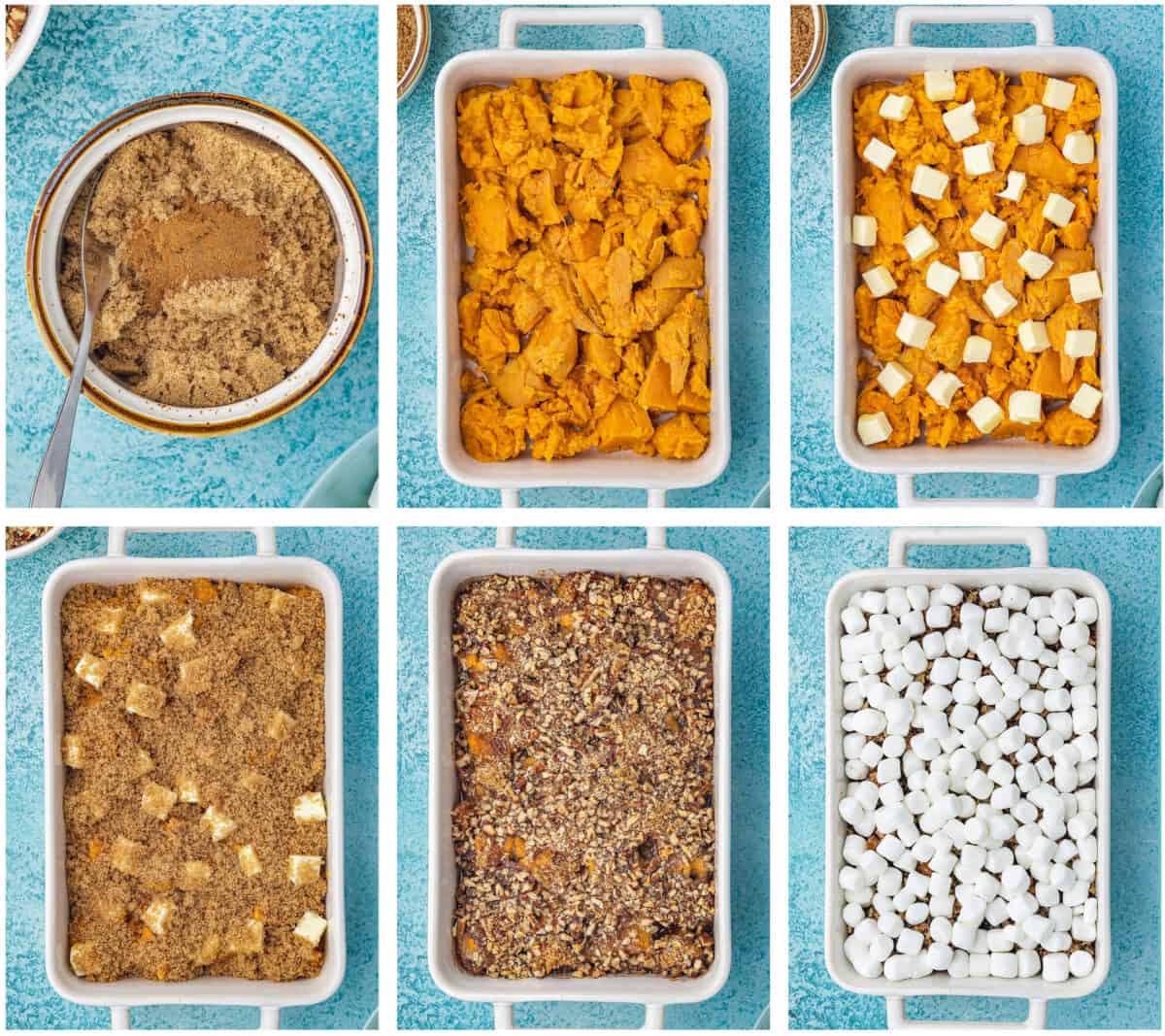 Recipe Tips
Storage: Store in an airtight container in the refrigerator for up to five days.
Reheating: Yams can be reheated in the microwave or oven. To reheat in the oven, bake at 350 degrees for 10-15 minutes. I find that the microwave works best if reheating a single serving, where the oven works well if reheating a larger amount.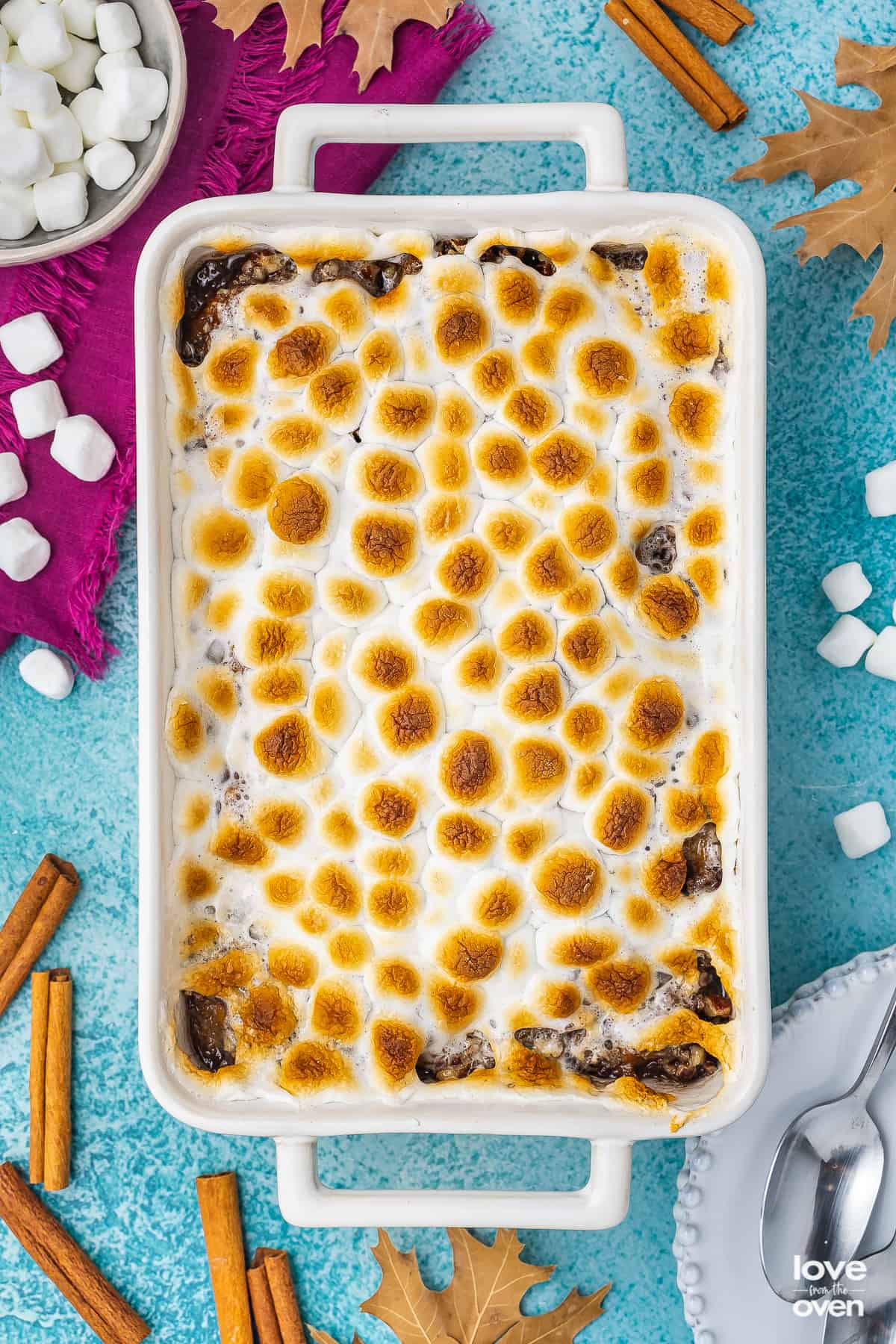 What To Serve With Candied Yams
All the classic Thanksgiving and Christmas dishes pair perfectly with these candied yams with marshmallows. Here are some of my top choices…
Main Dish Recipes
Sauce and Gravy
Thanksgiving Side Dish Recipes
Pies and Desserts
Thank you for reading, and learning a little more about my mom. Hug your loved ones tight, and make presence, not presents, the focus of your holidays this year. XOXO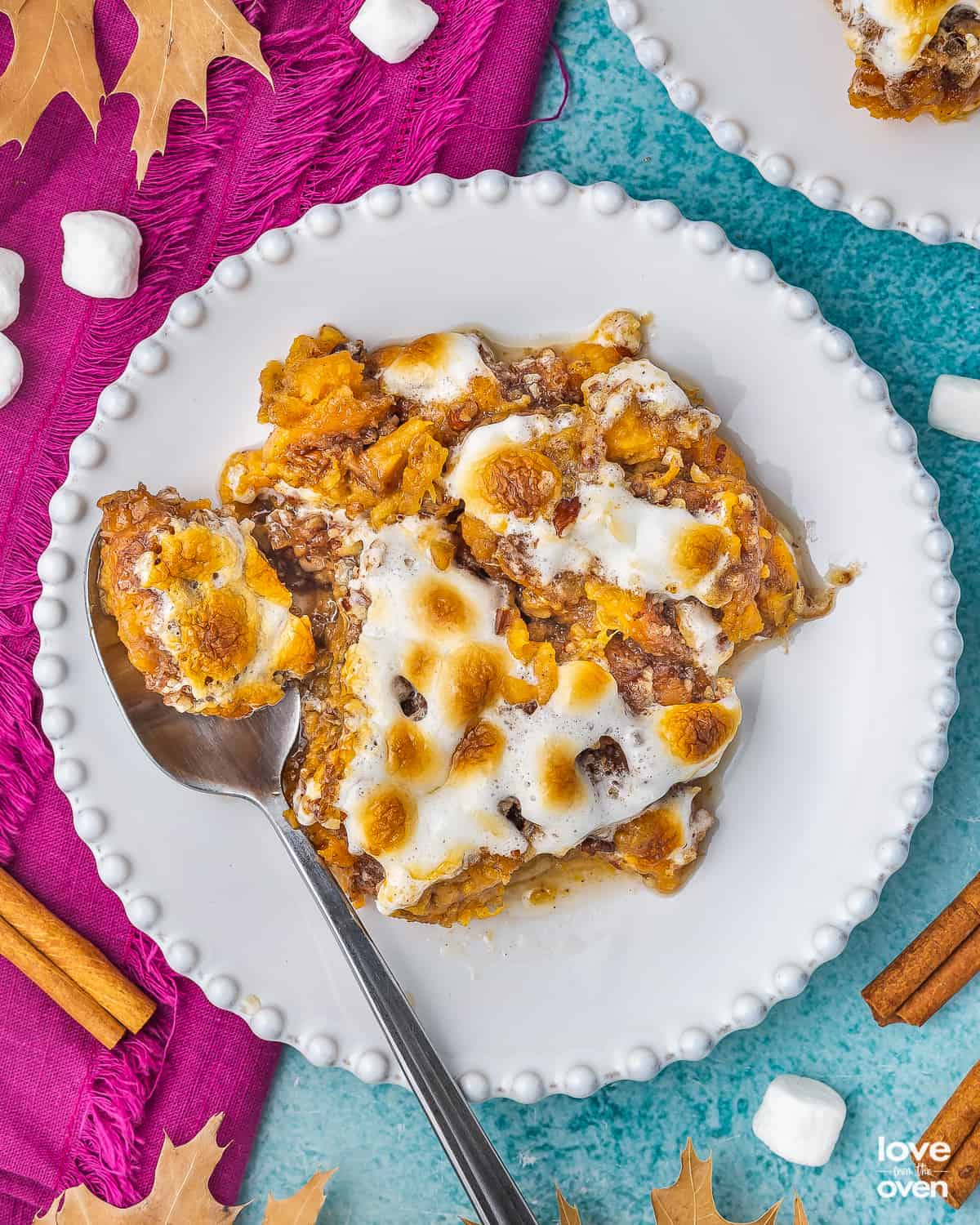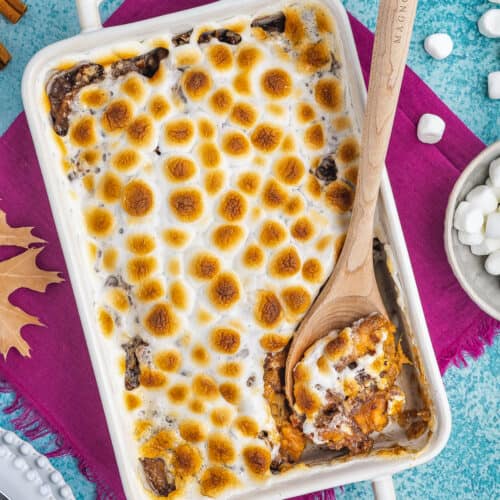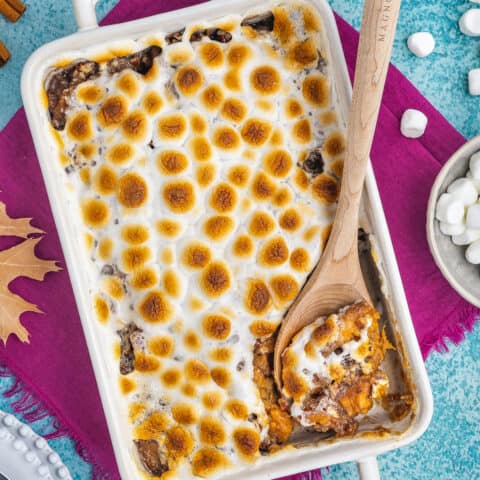 Candied Yams
Quick and easy to make, these Candied Yams are made with canned sweet potatoes and topped with marshmallows. Dessert or side dish, you be the judge, they are delicious either way!
Ingredients
40

ounces

canned sweet potatoes

drained

1/2

cup

butter

salted or unsalted, cut into pieces

2/3

cup

brown sugar

dark or light

1/4

teaspoon

cinnamon

pinch of salt

optional

1/2

cup

chopped pecans

walnuts can also be used, or nuts can be left out all together

2

cups

miniature marshmallows

feel free to use more if desired
Instructions
Preheat oven to 400 degrees F. Spray a 9×13 inch pan with non-stick cooking spray, or grease with butter.

In a small bowl, combine brown sugar and cinnamon. If adding salt, that can be added here as well. Mix well then set aside.

Pour drained yams/sweet potatoes into prepared baking dish. Spread them out so that they are evenly distributed in the pan.

Place small pieces of butter on top of the sweet potatoes, covering as many areas of the sweet potatoes as possible.

Sprinkle brown sugar mixture evenly over sweet potatoes and butter. Then sprinkle chopped pecans over brown sugar mixture.

Place pan in the center of the oven and bake for approximately 10 minutes. Remove pan from the oven and carefully sprinkle marshmallows over the top of the sweet potatoes, then return pan to the oven.

Bake for an additional 10-15 minutes, or until the brown sugar and butter mixture is bubbling and the marshmallows have reached your desired level of golden brown. Remove from oven and allow to cool for a few minutes prior to serving.
Notes
Storage: Store in an airtight container in the refrigerator for up to five days.  Reheating: Yams can be reheated in the microwave or oven. To reheat in the oven, bake at 350 degrees for 10-15 minutes. I find that the microwave works best if reheating a single serving, where the oven works well if reheating a larger amout. 
Nutrition
Calories:
380
kcal
|
Carbohydrates:
58
g
|
Protein:
3
g
|
Fat:
17
g
|
Saturated Fat:
8
g
|
Polyunsaturated Fat:
2
g
|
Monounsaturated Fat:
6
g
|
Trans Fat:
0.5
g
|
Cholesterol:
31
mg
|
Sodium:
184
mg
|
Potassium:
534
mg
|
Fiber:
5
g
|
Sugar:
31
g
|
Vitamin A:
20468
IU
|
Vitamin C:
3
mg
|
Calcium:
67
mg
|
Iron:
1
mg
Disclaimer
Nutrition information is estimated as a courtesy. If using for medical purposes, please verify information using your own nutritional calculator. Percent Daily Values are based on a 2000 calorie diet.