Pumpkin cookies aren't just cookies.  They are cookies with vegetables in them, which is pretty darn awesome.   I don't know about you, but I'm happy to squeeze in vegetables anywhere I can, and if you are going to eat a cookie, it might as well have some Vitamin A in there.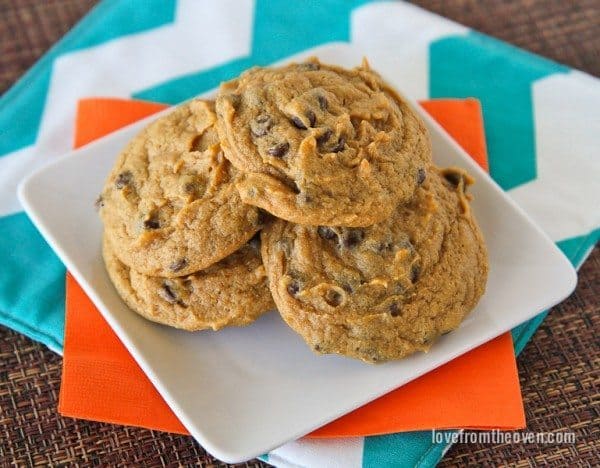 Hopefully you aren't tired of pumpkin yet.   Apologies if you are, just hang tight and I'll be all about peppermint and Christmas cookies before you know it.  But I love pumpkin year round, so it's awesome when I can share that love.  People sometimes look at you funny when you buy pumpkin in March.  I once had a cashier ask me if I was buying canned pumpkin for my dogs.  I guess she couldn't understand why someone would want pumpkin in spring.   Um, hello, cookies, pies, breads…  do I need to go on?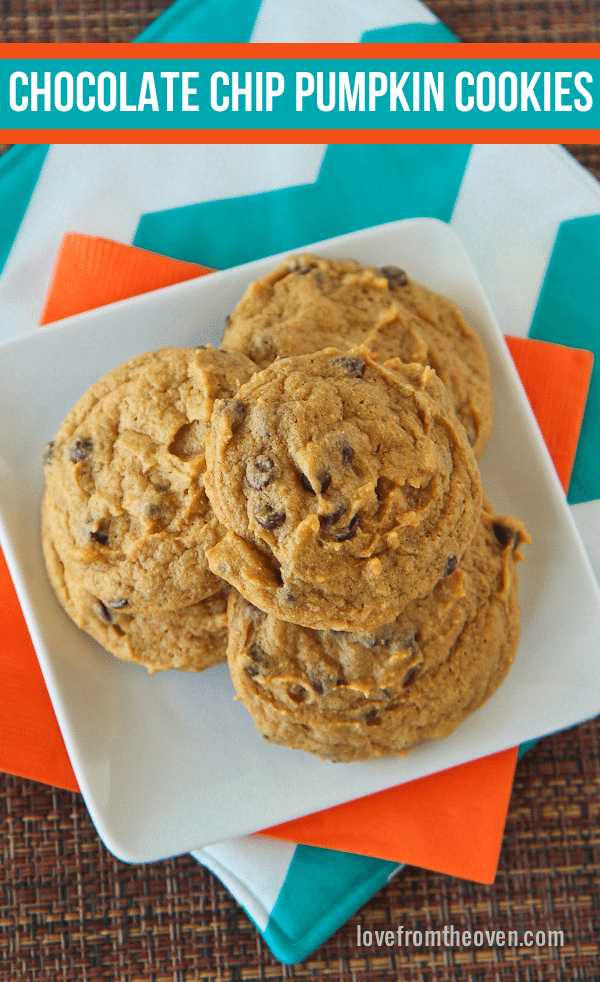 And speaking of buying pumpkin, why is it that stores will stock pumpkin year round, but often only in the form of the pumpkin pie mix in a can.  No.  Just no.  Stock pumpkin.  If I want a pie, I will make a pie (seriously, it's easy, don't use a canned mix), but don't be telling me that's all I can make.  Stock the versatile product, the plain canned pumpkin.  This always boggles my mind.  It also sometimes lead to me hoarding  stocking up on canned pumpkin, you know, just in case.  Just in case what?  Just in case you have a four year old who thinks a tiny piece of crust-less pumpkin pie is magic and will therefore eat her dinner to get some.  When that's the case, you need those cans of pumpkin.  Trust me.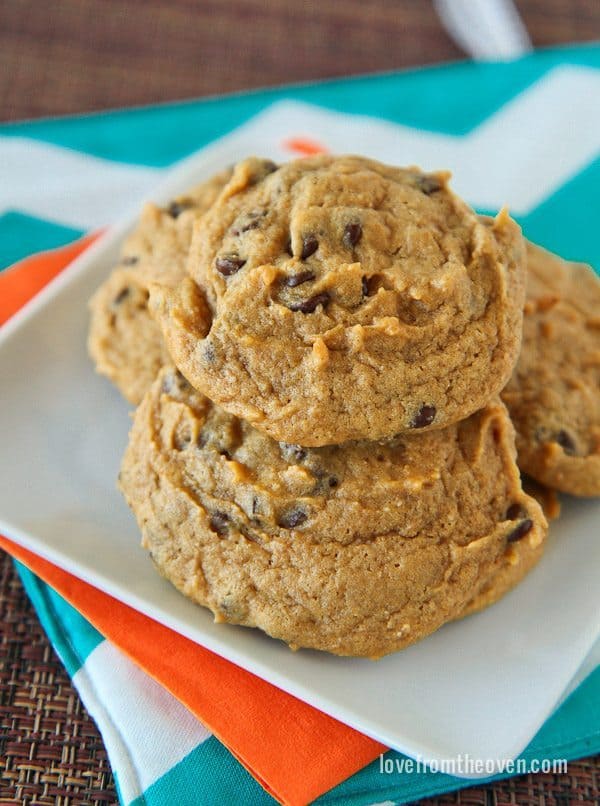 Okay, let's make some chewy, yummy, chocolate chip pumpkin cookies!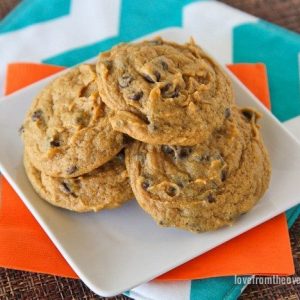 Ingredients
1

cup

butter

softened

1

cup

sugar

1

cup

brown sugar

2

eggs

2

tsp

vanilla

1

cup

canned pumpkin

2

cups

all purpose flour

1 1/2

cup

white whole wheat flour

you can use ALL all purpose flour if desired, I just use the white whole wheat to up the whole grains

1 1/2

tsp

baking soda

1

tsp

pumpkin pie spice

1 1/2

tsp

cinnamon

1/2

salt

1

cup

chocolate chips
Instructions
Preheat oven to 350 degrees F.

In a large bowl, beat together butter and sugars until light and fluffy. Add in eggs and vanilla, mix well to combine. Stir in pumpkin.

In a separate bowl, combine flour, white whole wheat flour, baking soda, spices and salt. Mix in with wet ingredients. Stir until combined, but do not over mix. Add in chocolate chips and give a light stir.

If you can put the dough, covered, in your fridge for a few hours, this helps the flavors develop. If not you can still bake immediately.

Drop or scoop dough, approximately two tablespoons at a time, onto baking sheets. Bake for 10 to 12 minutes or until lightly browned. Remove from oven and allow to cool on cookie sheet for at least ten minutes before transferring to a wire rack to finish cooling. Enjoy!
Want some more pumpkin chocolate chip cookies?  I've got some for you!
Oatmeal Chocolate Chip Pumpkin Cookies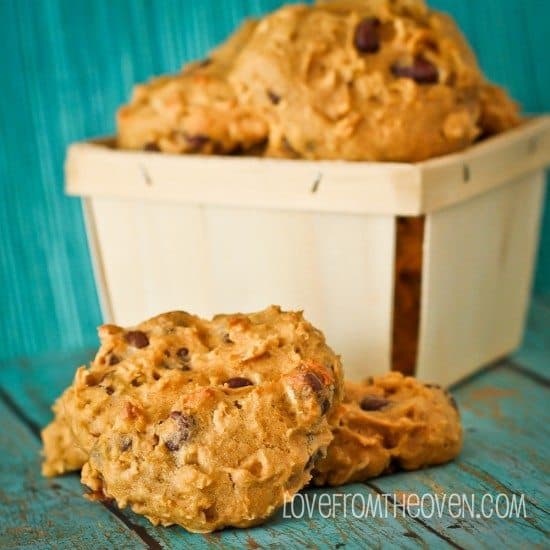 Lightened Up Pumpkin Spice Cookies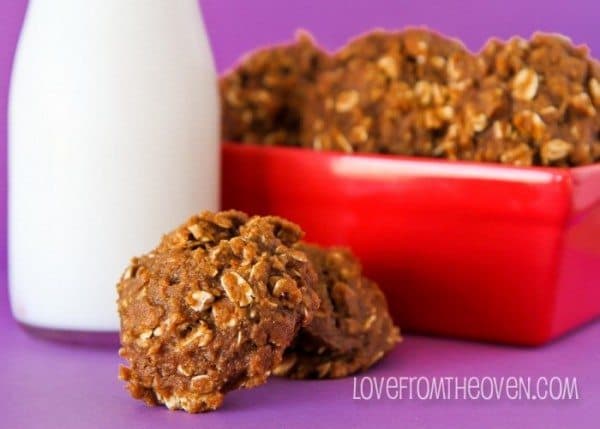 Pumpkin Chocolate Chip Cookies