If you are a fan of the Starbucks Lemon Loaf, you are going to love this Starbucks Lemon Loaf Copycat Recipe!
Lemon is one of those flavors that I tend to not think of as often as others. The funny thing about that is that every time I have any sort of lemon dessert or dish, I am reminded of how amazingly delicious they are, and I wonder why I don't make them more often.
I'm hoping this year I won't forget about my love of both lemon and lime, because we planted a tree of each! Citrus (almost) grows like a weed here in Phoenix. Growing up we had about seven mature grapefruit trees in our yard. Let me tell you, that is an overwhelming amount of grapefruit. And a lot of grapefruit to pick or clean up. As a child that was one of my duties, and let's just stay it turned me off of citrus for quite a while. Thankfully I overcame my citrus aversion, and turned it into a love. Especially for lemons and limes.
My dad has multiple citrus trees in his yard, including lemons and limes. For years I've piggy backed off his citrus crops, but when we moved last year I decided that it was time, and I had the space, to plant a few citrus trees of my own. I think my lemon is a few years off from fruit, but my margarita lime tree already has some little limes on it. Woohoo! Okay, let's get back to the Copycat Starbucks Lemon Loaf, shall we?
For the lively lemon flavor in this pound cake, I use lemon juice, lemon zest and lemon extract. I find this combo to create a fantastic, but not overpowering, lemon flavor in this cake. I adore my Kitchen I.Q. Better Zester, it makes zesting very easy.  I use it with all of my citrus recipes.   I also use a handheld juicer/squeezer for my lemon juice, I find I can get so much more juice when I use it.
Starbucks Lemon Loaf Copycat Recipe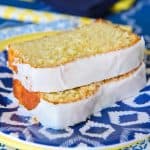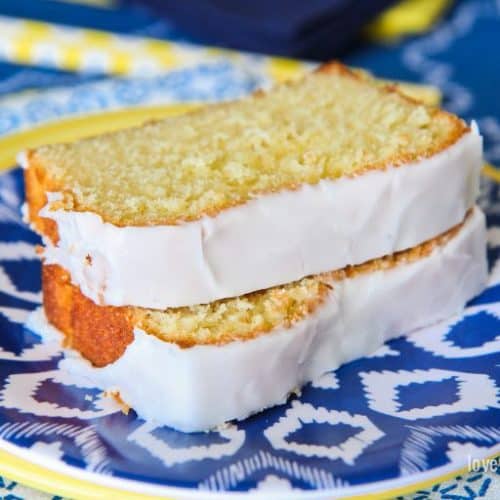 Copycat Starbucks Lemon Pound Cake
Ingredients
3

tbsp

butter

softened

1

cup

sugar

1

tsp

vanilla extract

1

tsp

lemon extract

3

eggs

room temperature

Zest of 1-2 lemons

1/3

cup

lemon juice

1 1/2

cups

flour

1/2

tsp

baking soda

1

tsp

baking powder

1/2

tsp

salt

1/2

cup

oil

Icing

1

cup

powdered sugar

2

tbsp

milk

1

tbsp

lemon juice

1

tsp

lemon extract

Pinch of salt

optional
Instructions
1. Preheat oven to 350 degrees F.

2. In the bowl of a mixer, combine butter and sugar and beat well to combine (mixture will be fairly dry). Add in eggs and beat until well combined. Add vanilla and lemon extracts, lemon zest and lemon juice and beat until well combined.

3. In a separate bowl combine flour, baking powder, baking soda and salt.

4. Add dry ingredients to wet ingredients and mix on low until just starting to combine, then add in oil, and continue mixing until well combined, but do not over mix.

5. Pour batter into a 9x5 loaf pan that has been sprayed with non-stick cooking spray.

6. Bake for approximately 45 minutes until a cake tester inserted into the center of the loaf comes out clean.

7. Remove from oven and allow to cool.

8. Combine icing ingredients in a bowl and mix until combined. If a thicker icing is desired, add more powdered sugar, one tablespoon at a time. If a thinner icing is desired, add more milk, one teaspoon at a time.

9. Remove loaf from pan and pour or spoon glaze over the top. Allow icing to set up for 20+ minutes, then slice and serve.
I hope you enjoy this recipe as much as we did! And if you love lemon recipes, pucker up, I have a few more I think you should try!