Perfect for breakfast or tea time, these Lemon Blueberry Scones are packed full of fresh blueberries! A dreamy lemon glaze drizzled over the top of each scone is the perfect compliment to the bursts of blueberry flavor. With a light crumb and a zesty sweet flavor, you'll love these with your morning coffee or tea.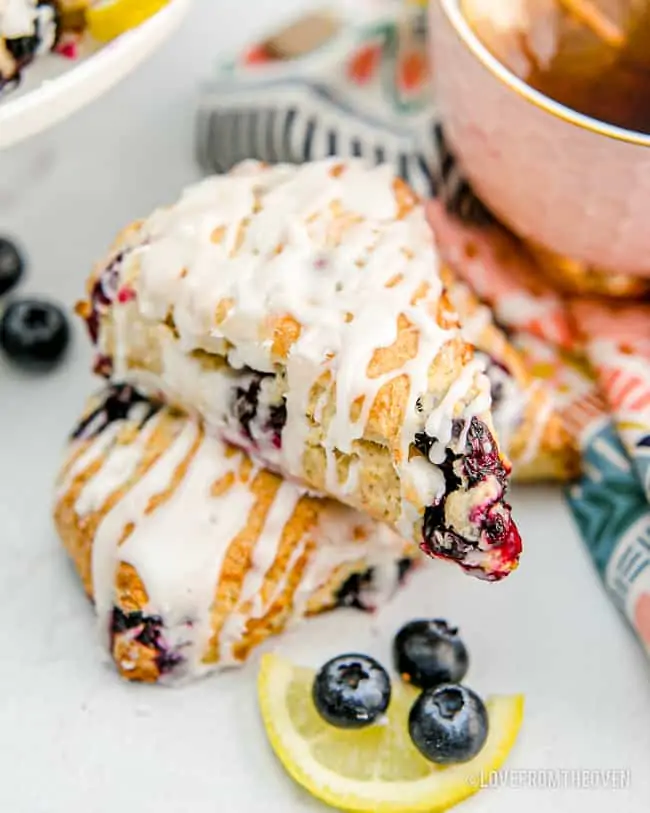 Reasons to make Blueberry Lemon Scones
Blueberry Scones with lemon glaze have the ideal balance of sweetness and tang.
The taste of fresh blueberry lemon scones beats anything from your favorite coffee shop!
They're made with REAL lemon and fresh blueberries.
You can enjoy them as an on-the-go breakfast–or serve them at a fancy brunch or tea party.
Lemon blueberry scones freeze beautifully, so nothing goes to waste.
I can't wax poetic enough about the delicious lemon glaze on these scones. It adds an amazing touch without making these overly sweet.
We enjoyed these for breakfast, but I couldn't resist nibbling a second one with my afternoon coffee.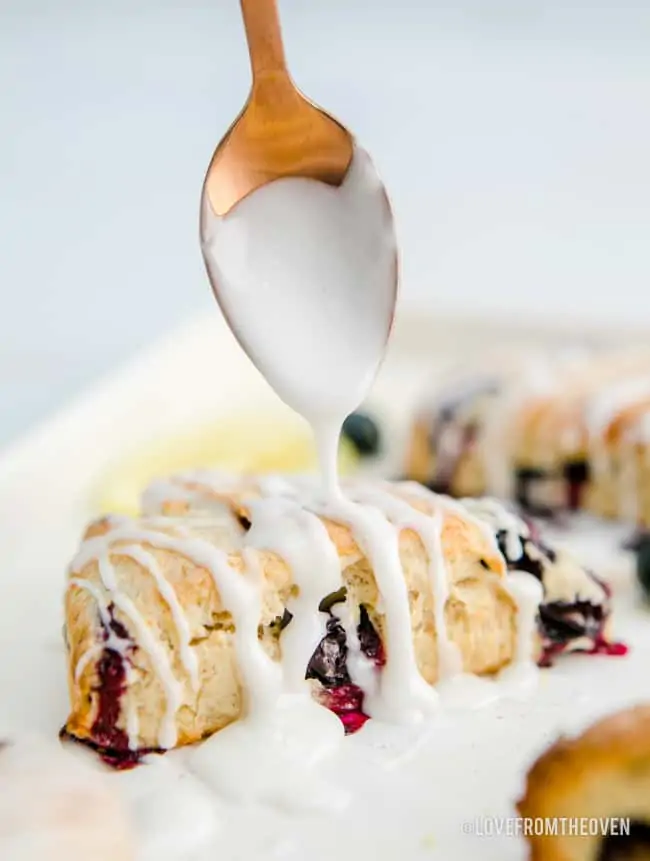 Homemade Lemon Scones
What's more summery than the sunny combination of blueberry and lemon?
If you thought making your own scones from scratch would be too difficult, this recipe is going to change your mind! Scones taste best when they're freshly baked. The scones you get from the pastry case at the coffee shop have often been sitting out for hours or days.
Lemon Blueberry Scones are well worth the little bit of effort. They are full of buttery crumbs with whole blueberries in each bite! Additionally, I used both lemon zest AND lemon juice in these to add deeper citrus notes.
Whether you're a scone pro or new to homemade scone recipes, this easy recipe deserves a try! Kids love them but they're elegant enough for a formal occasion too.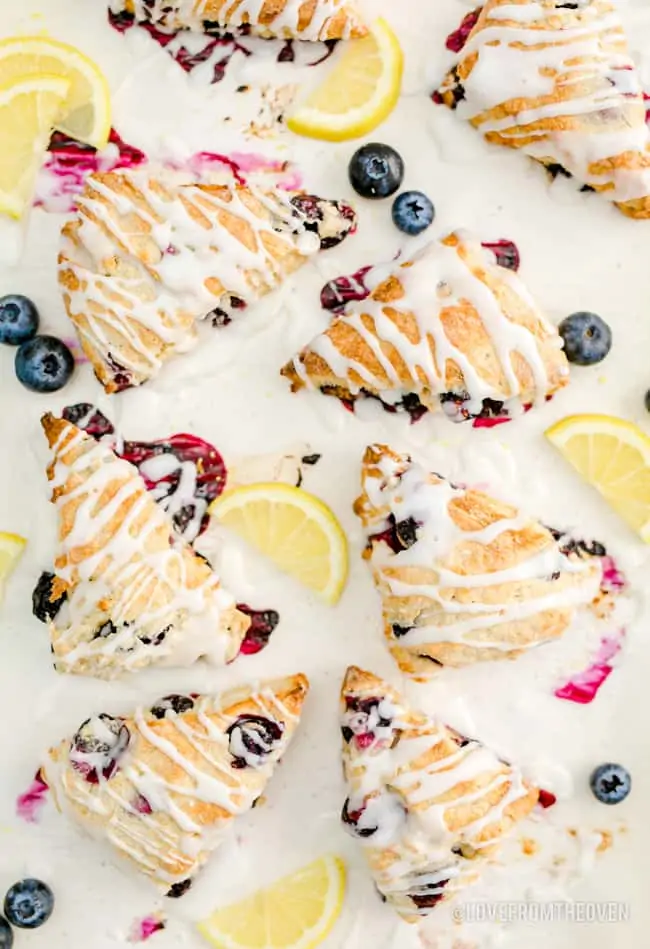 How To Make Lemon Blueberry Scones
What's Needed For This Recipe
Ingredients
Ingredients at a glance, full printable recipe found below.
All-purpose flour
Granulated white sugar: Use brown sugar if you don't have any granulated sugar.
Baking powder
Salt
Cinnamon
Nutmeg
Lemons: You need fresh lemons for the lemon zest and the lemon juice.
Salted butter: You can also use unsalted butter if you want to cut down on the amount of salt in the recipe.
Egg
Half and half: You can replace this with heavy cream, but increase the cream by about 2 Tablespoons. Whole milk will also work as well.
Vanilla extract
Lemon juice: Use fresh lemon juice if you can. However, if in a pinch, you can use lemon juice from concentrate.
Blueberries: You can try another fruit with this recipe like blackberries, raspberries, or strawberries.
Powdered sugar

Supplies
Measuring tools
Mixing bowls and tools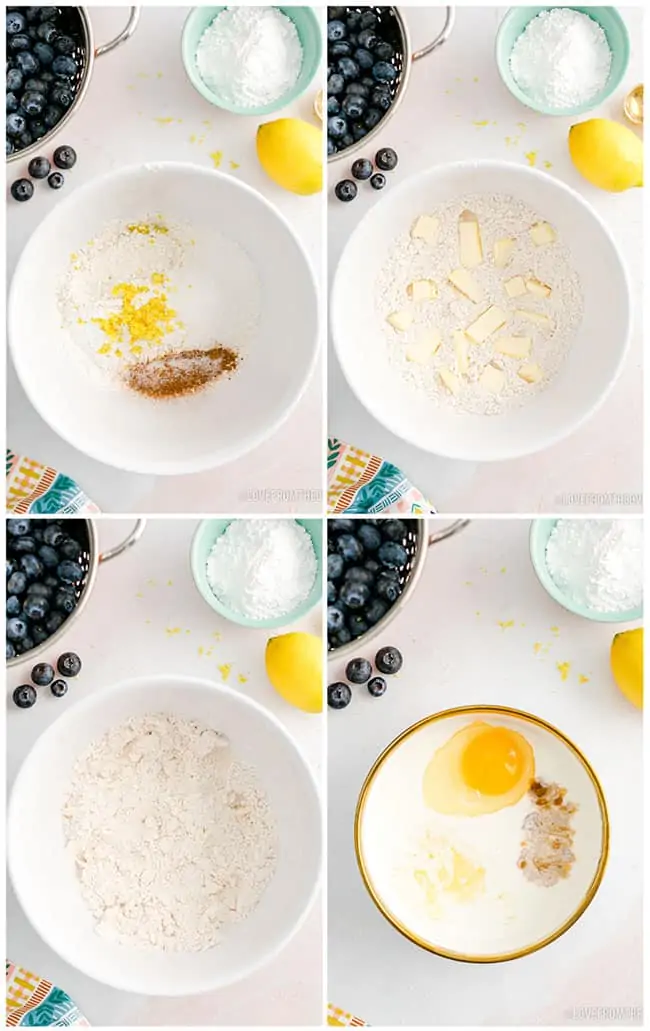 Steps To Take
Steps at a glance, full printable recipe found below.
Combine flour, sugar, lemon zest, baking powder, salt, cinnamon and nutmeg.
With a pastry cutter, cut cold butter into the dry ingredients.
Combine egg, half and half, lemon juice and vanilla.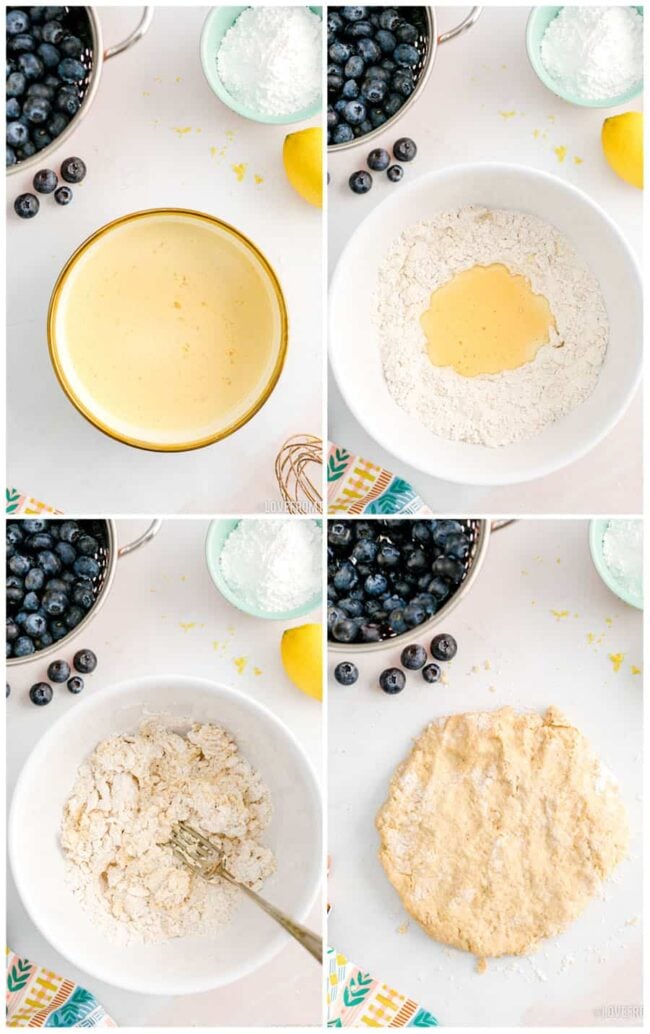 Mix together both wet and dry ingredients. Turn dough onto a clean counter top, knead, fold in blueberries and shape.
Roll and cut the dough, chill for ten minutes, then bake and cool.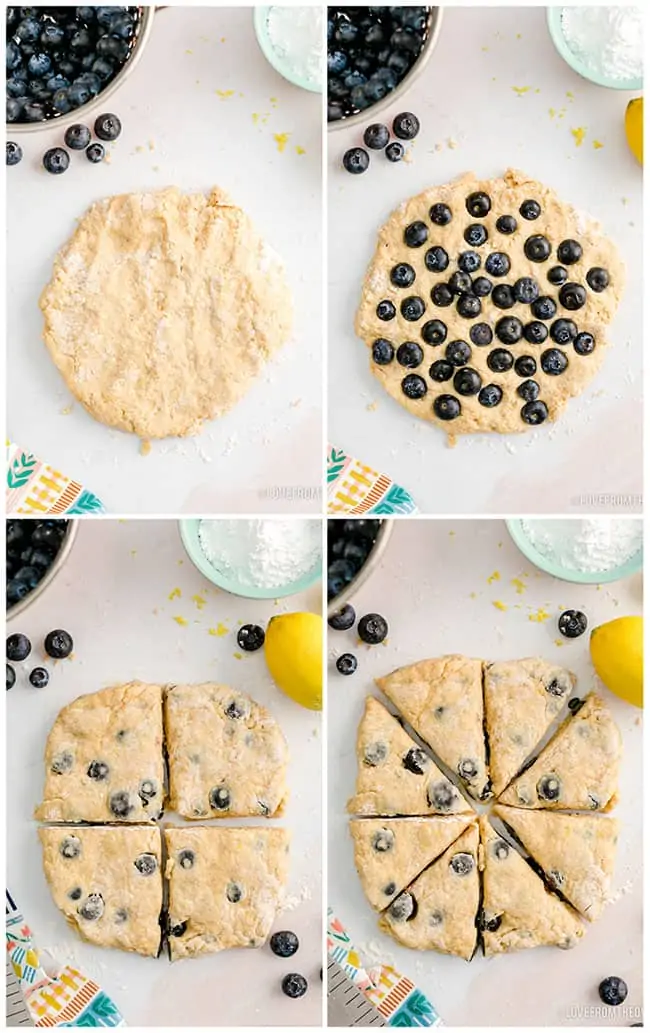 Mix together glaze ingredients and drizzle over scones. Let the glaze set for a few minutes and serve!
Tips & Tricks
Don't skip the freezing step. This helps keep the butter from melting so the scones have a light biscuity texture.
Be careful not to overwork the dough. The dough should look pretty crumbly before you add the blueberries. Don't worry–the moisture from the berries helps everything come together. Over working the dough results in dense, tough scones.
Use fresh lemon. Freshly squeezed juice has an infinitely better flavor than bottled juice.
Use fresh baking powder. Old baking powder will not rise as well and your scones may turn out flat. If your baking powder is older than six months, it's time to replace it.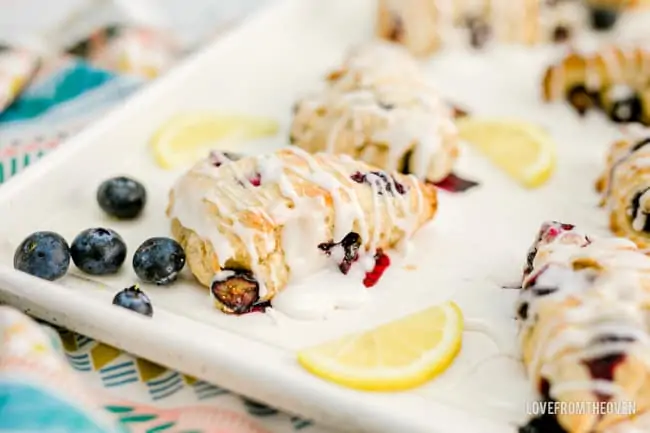 How do I store these lemon blueberry scones?
Store these lemon blueberry scones in an airtight container at room temperature for up to two days. If you store them in the refrigerator, they will last for 3 days. If individually wrapped in the freezer, they will last about 3 months.
How do I keep the blueberries from exploding too much?
The blueberries in this recipe will inevitably be a bit messy. Make sure that when they go into the dough that they are dry because you don't want to add more liquid to the dough. Be very careful when folding the blueberries in so that they don't all burst, but if it happens, that okay too!
The blueberries don't have to be completely incorporated into the dough. Once you cut the scones, if you have a couple of runaway blueberries, press them into the top of the dough before baking.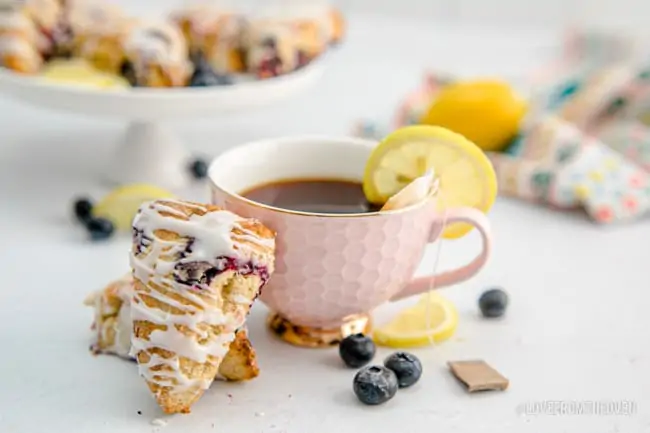 Can I use frozen blueberries instead of fresh?
I don't recommend making lemon blueberry scones with fresh berries. They contain more water and will tend to "bleed" color into the scone dough, changing the color.
Why are my scones flat and tough?
If your scones turn out dense and flat instead of light and fluffy, a few things may have happened. It's possible your baking powder is old. You may also have over mixed the dough during shaping. Over mixing activates the gluten in the flour resulting an a tougher texture.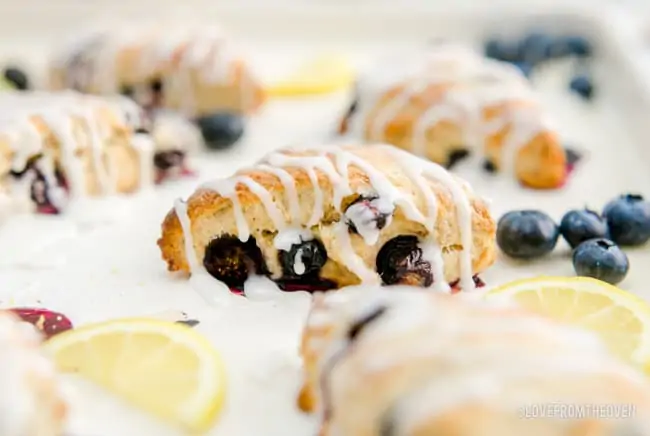 More Recipes You'll Love
Looking for more recipes with lemon and blueberries? Try these reader favorite recipes.
Lemon and Blueberry Recipes
Lemon Recipes
Blueberry Recipes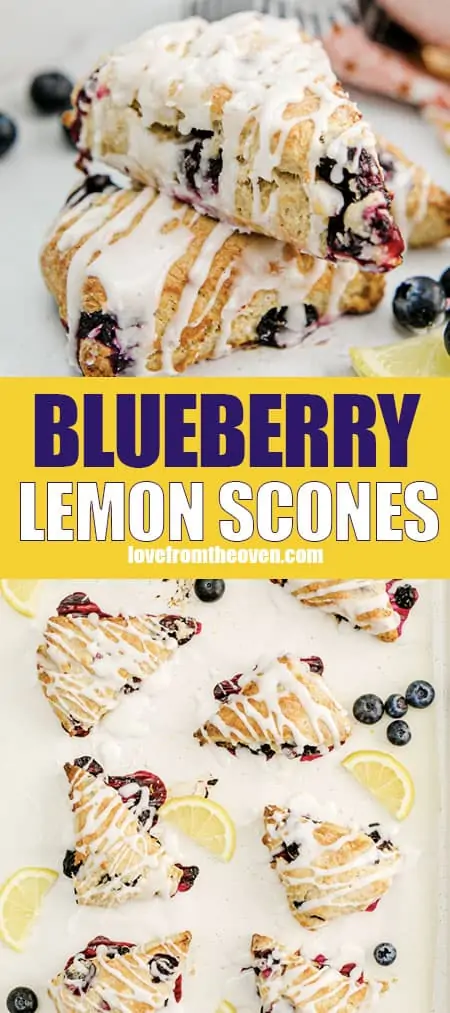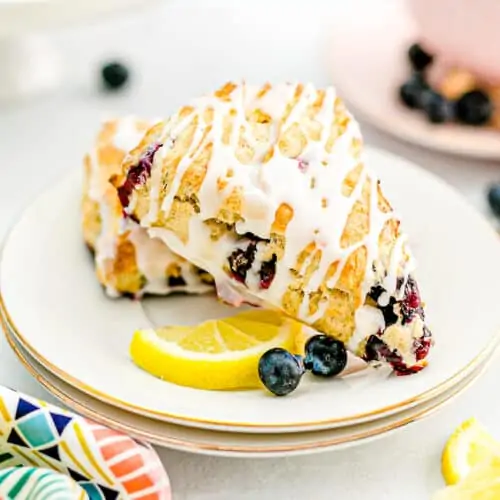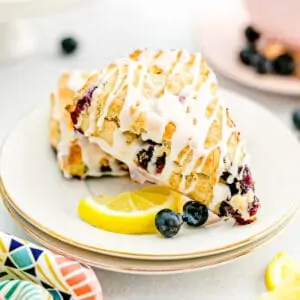 Lemon Blueberry Scones
Tall and fluffy lemon scones are bursting with blueberries and drizzled with a citrus glaze.
Ingredients
1 1/2

cups

all purpose flour

2

tbs

granulated white sugar

1

tbsp

lemon zest

about 1 lemon's worth

1

tsp

baking powder

1/4

tsp

salt

1/4

tsp

nutmeg

1/4

tsp

cinnamon

1/4

cup

cold salted butter, cut into 1 inch cubes

1

egg

1/4

cup

half and half

1

tbs

lemon juice

about 1 large lemon's worth of juice

1/2

tsp

vanilla extract

1

cup

fresh blueberries

washed and patted dry
Glaze
1/2

cup

powdered sugar

1/2 – 1

tbsp

lemon juice
Instructions
Prepare a sheet pan by lining it with parchment paper. Set it aside and preheat the oven to 400 degrees Fahrenheit.

In a large bowl, stir together the all-purpose flour, granulated white sugar, lemon zest, baking powder, salt, cinnamon, and nutmeg.

Use a pastry blender to cut the cold butter into the flour mixture until the butter is completely incorporated. The mixture should resemble coarse meal.

In a separate bowl, whisk together the egg, half and half, lemon juice, and vanilla extract.

Create a well in the middle of the flour mixture. Add the wet ingredients into the well in the center of the dry ingredients and mix them together using a fork at the beginning then transitioning to floured hands.

Turn out dough to a clean countertop and knead 2-3 times until the mixture resembles a shaggy dough.

Gently fold in the blueberries. This can be difficult to do, but be patient and try not to work the dough too much. It's okay if some of the blueberries break in the process.

Roll the dough out until about 1 inch thick and cut it into an even square. Cut the square dough in four smaller squares. Then cut corner to corner, diagonally down the middle, to create triangles.

Place each scone on the sheet pan and then chill the dough in the freezer for 10 minutes.

Bake in the oven for 22-25 minutes or until lightly golden on the bottom of the scone. Cool completely. Once cool, make the glaze.

To make the glaze, whisk together the powdered sugar and lemon juice. Add more lemon juice if the mixture is to thick. If it's too thin, add in a little extra powdered sugar.

Drizzle glaze over baked, cooled scones. Let the glaze set before plating and serving.
Notes
Recipe Notes:
The dough should be pretty crumbly before you put the blueberries in. The blueberries will help create the right consistency in the dough. Be very careful not to overwork the dough, as it will make the scones too dense.
Nutrition
Calories:
178
kcal
|
Carbohydrates:
25
g
|
Protein:
4
g
|
Fat:
7
g
|
Saturated Fat:
4
g
|
Trans Fat:
1
g
|
Cholesterol:
39
mg
|
Sodium:
135
mg
|
Potassium:
113
mg
|
Fiber:
1
g
|
Sugar:
5
g
|
Vitamin A:
244
IU
|
Vitamin C:
4
mg
|
Calcium:
41
mg
|
Iron:
1
mg
Disclaimer
Nutrition information is estimated as a courtesy. If using for medical purposes, please verify information using your own nutritional calculator. Percent Daily Values are based on a 2000 calorie diet.