Sometimes I sit down and plan out what I'm going to bake and share here on the blog. Other times it just sort of jumps into my cart at the store, and that's exactly how today's treat happened.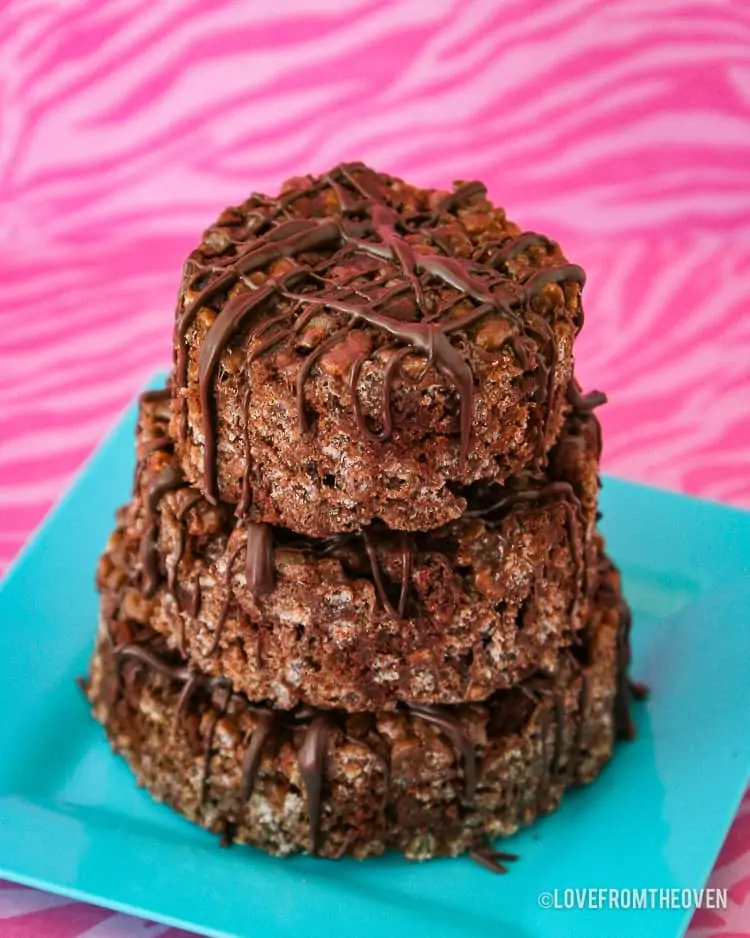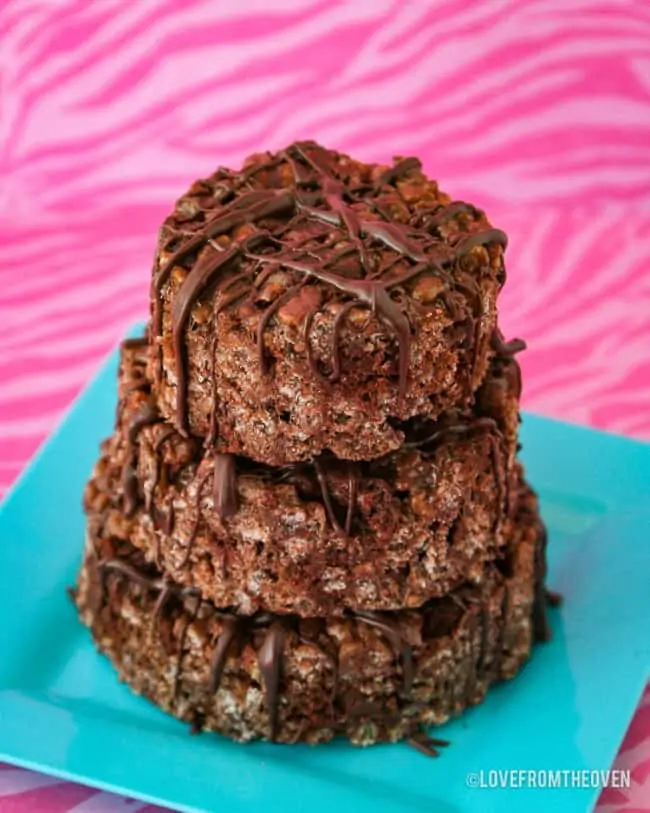 When I came across the new Jet-Puffed Mallow Bites Chocolate Brownie Marshmallows at my local Target, clearly I had no choice but to make Triple Chocolate Brownie Rice Krispies Treats.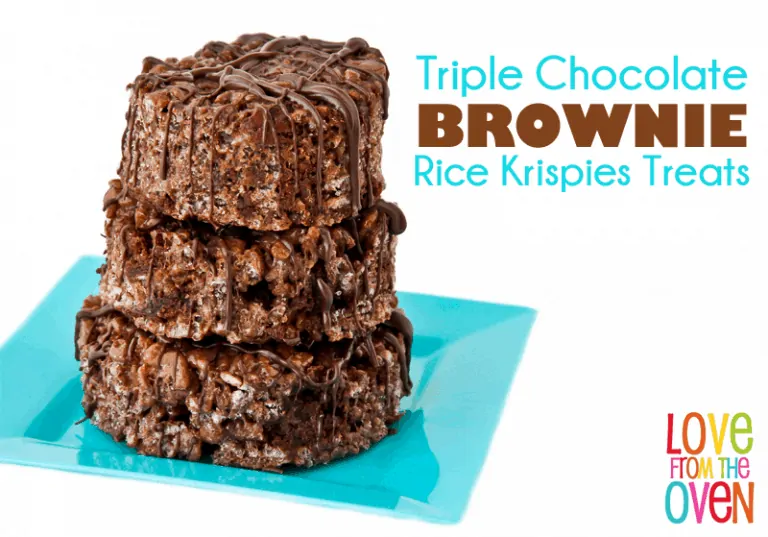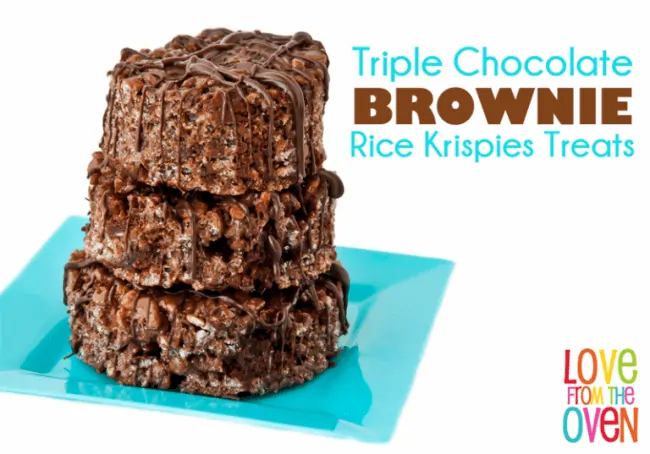 I mean the marshmallows basically told me to do it. Rice Krispies Treats are one of my all time favorites, from the simple delicious original, to the endless ways you can doctor them up – easy and delicious – you just can't go wrong in my opinion. So I did a u-turn mid-isle, grabbed a box of Cocoa Krispies, and headed home. And this was the result…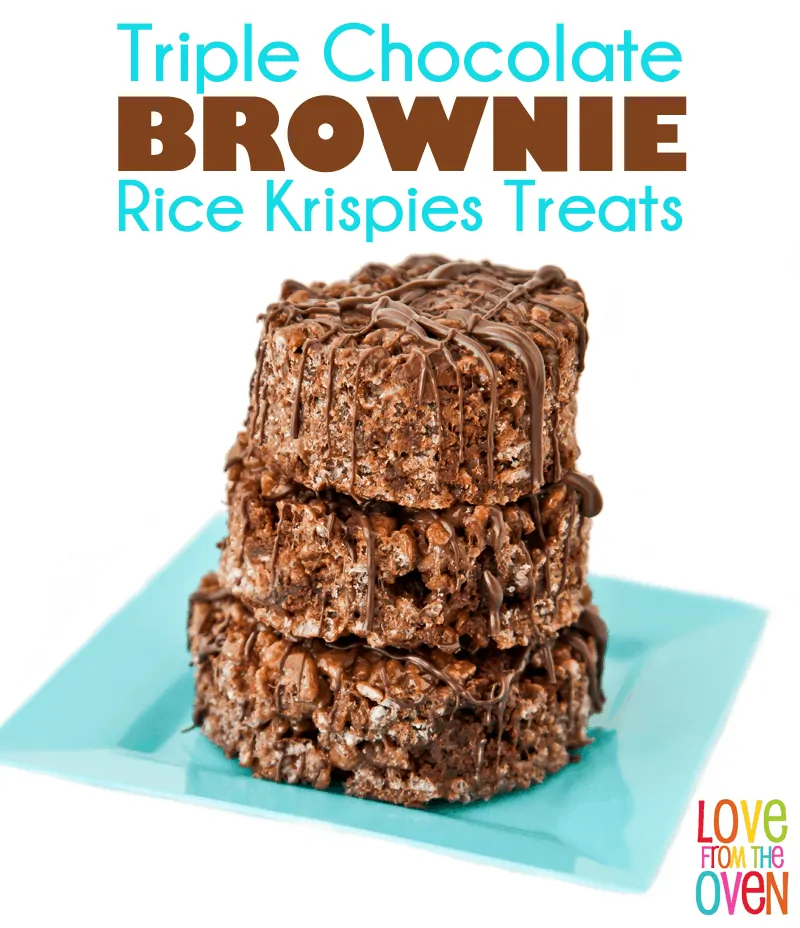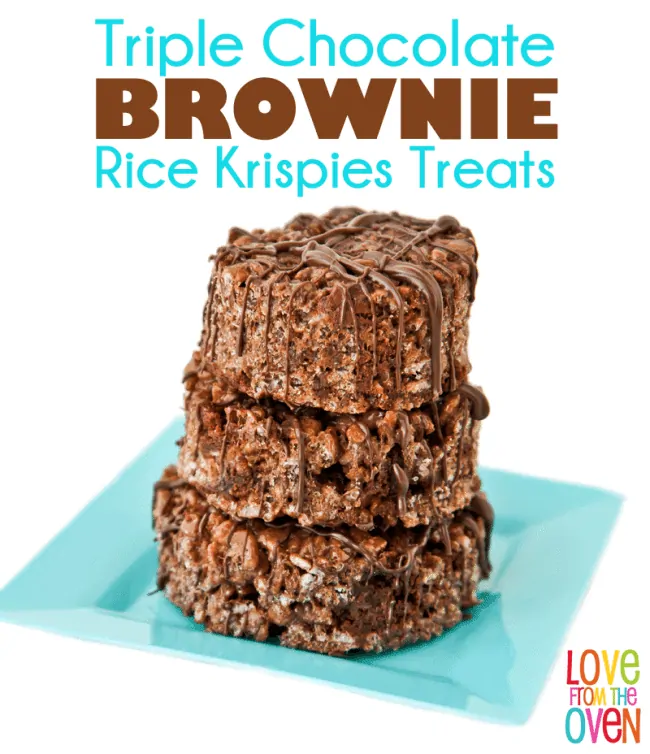 These. Are. Incredible. Trust me on that.
And they are simple to make. Win. Win.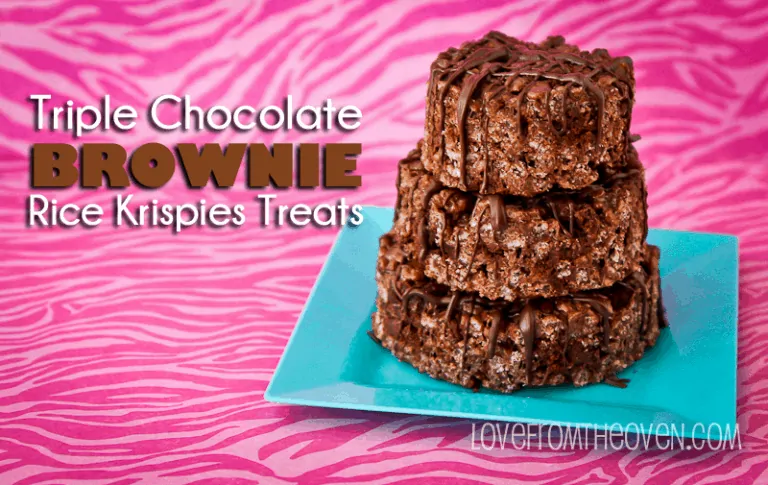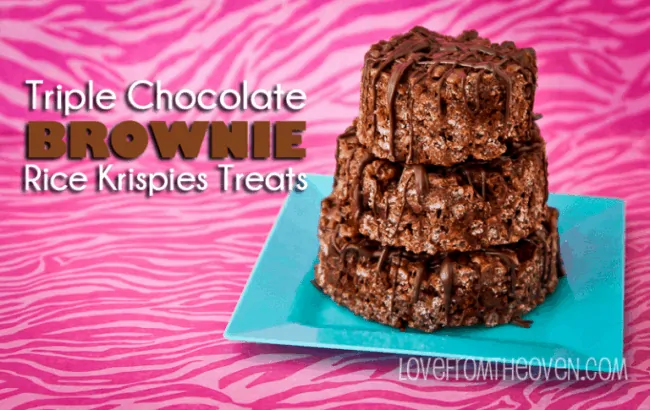 To start you want to make up some brownies. Whatever recipe or mix you like, or go with store bought – whatever works for you. You will want to make your brownies and cool them completely (I made mine the night before I made my Rice Krispies Treats). Once they are cooled, it's time to make these, which takes like ten minutes. Did I mention how much I love Rice Krispies treats. TEN MINUTES PEOPLE!!!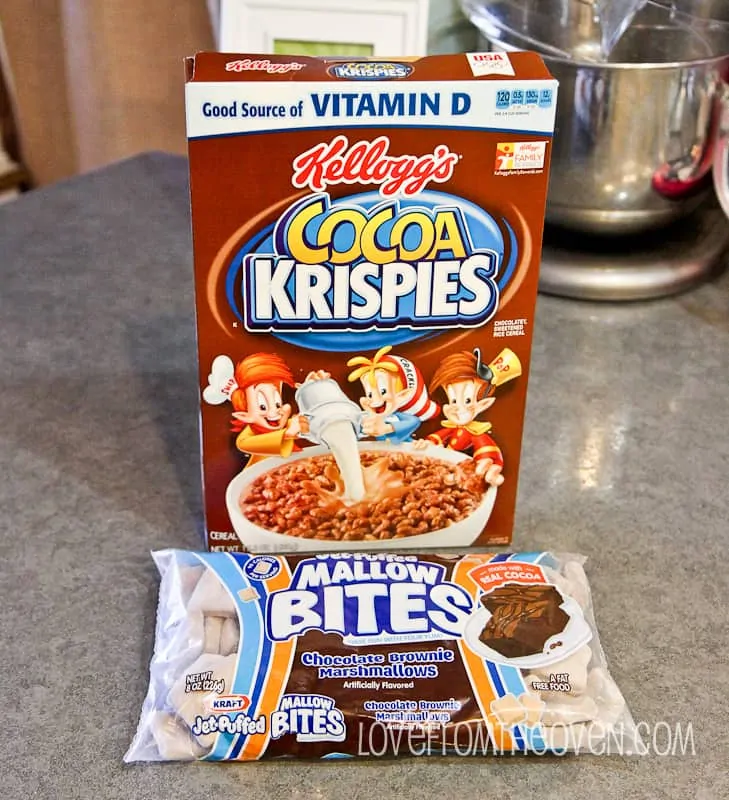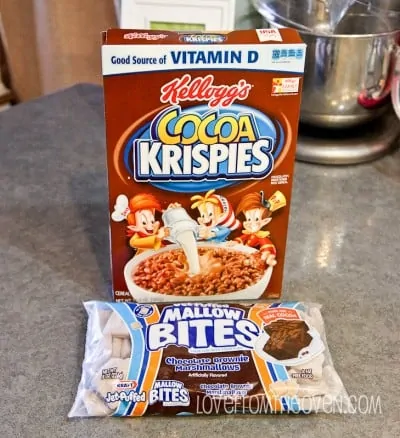 I cut up my brownies into small cubes. I'm not a terribly exact person, but these were probably about 3/4″ in size. I did not use my entire 8×8 pan of brownies, more like 2/3 of it. Use half the pan, use the whole pan, either way they are going to turn out great. The photo below only shows some of the pieces I chopped up (small cutting board!).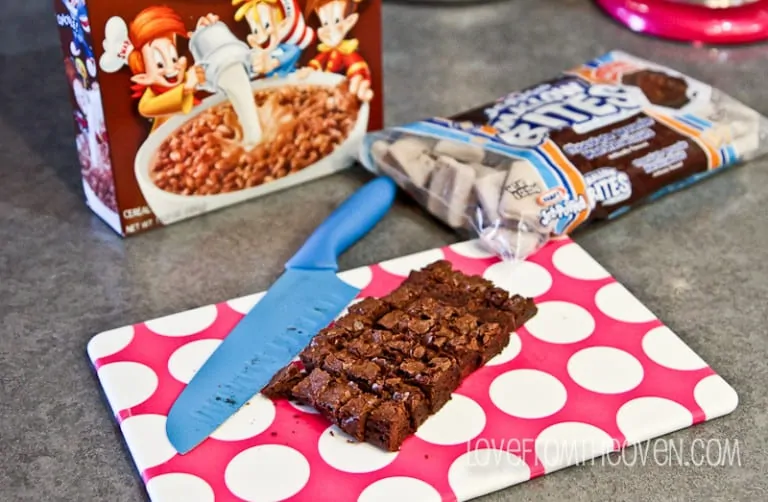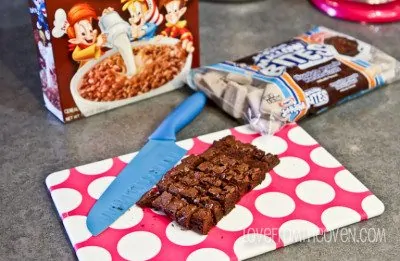 Next you are going to melt your butter and then add and melt your marshmallows. I used the microwave for this.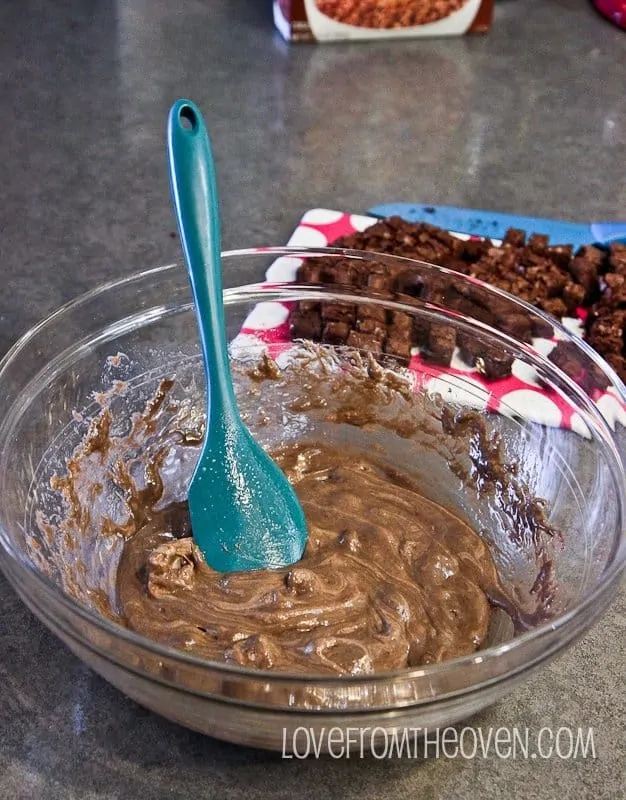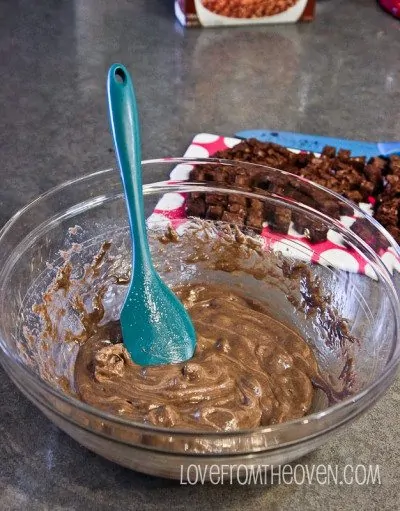 Then add in your Cocoa Krispies. Honestly you could stop right there and have completely fantastic Rice Krispies Treats. But the brownies really take them over the top, so go for it. After you have mixed up your Krispies Treats, add in your brownies and stir to combine.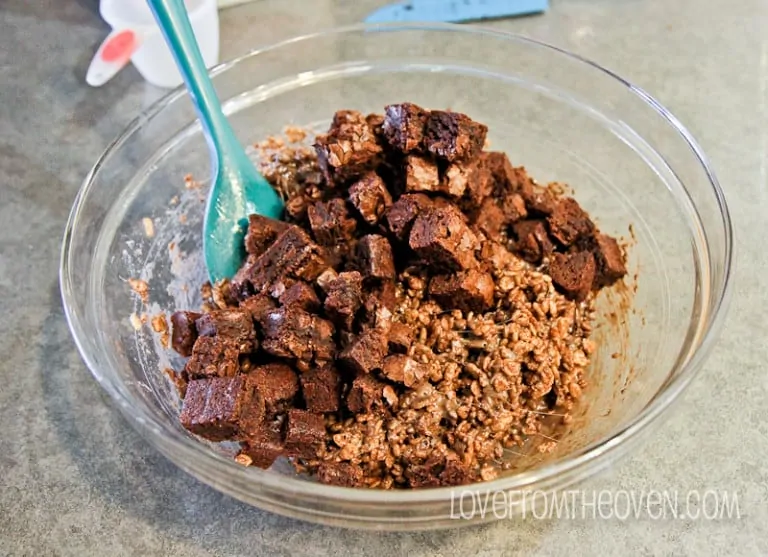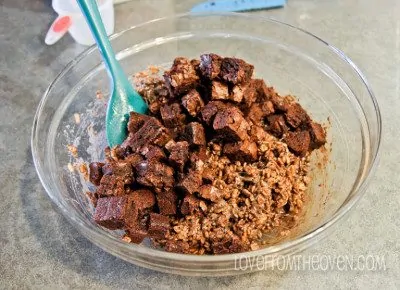 Then into a pan. I prefer to line my pan with wax or parchment paper as it makes it easier to get them out.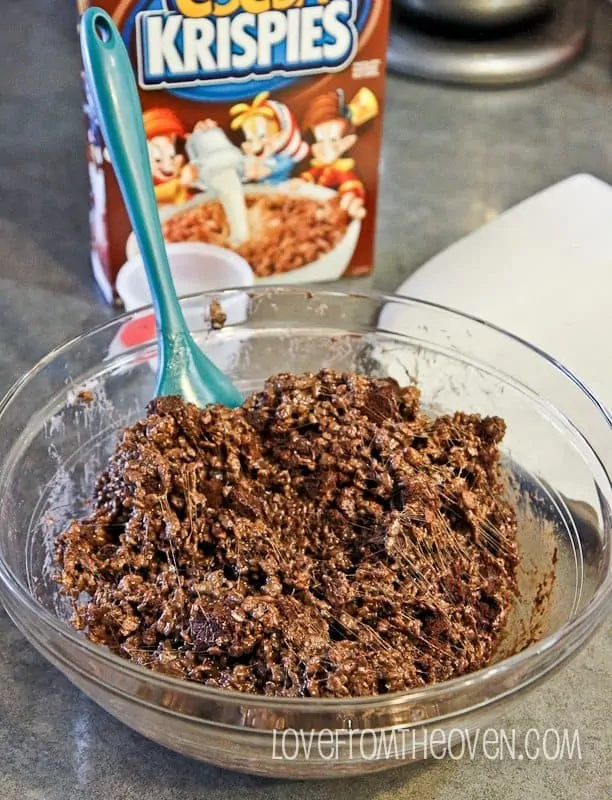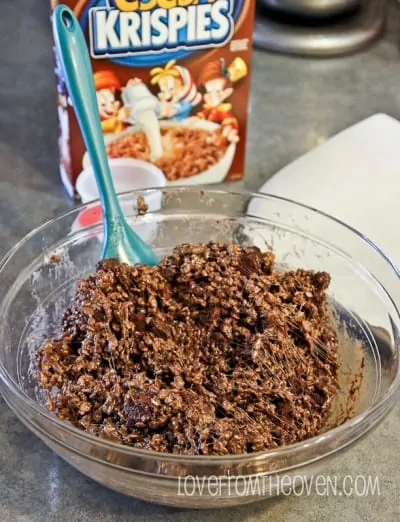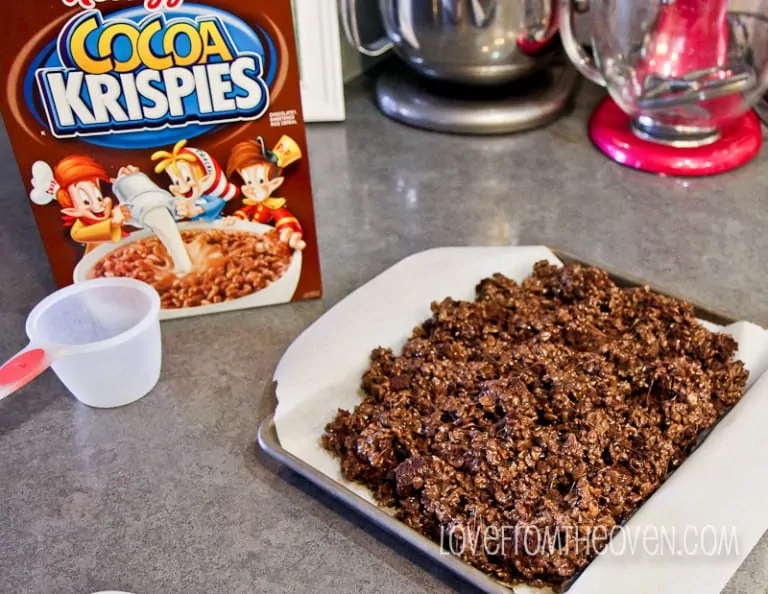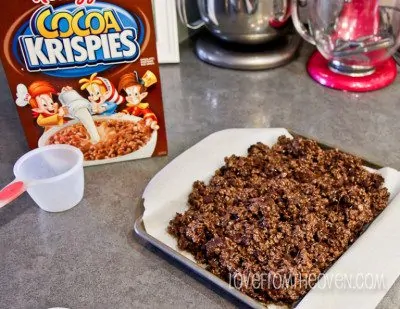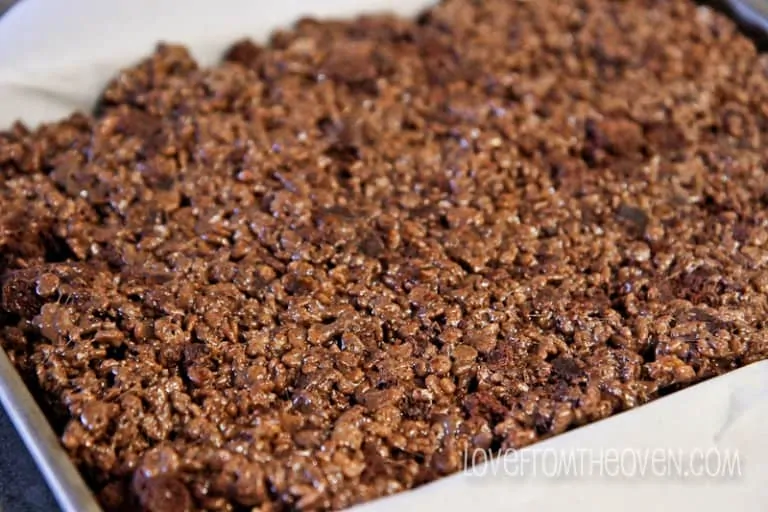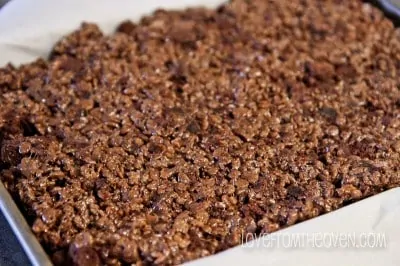 I always cut my Rice Krispies Treats with round or square cutters. It makes it quick and easy to cut them and they are nice and uniform. Here is the round cutter set I used.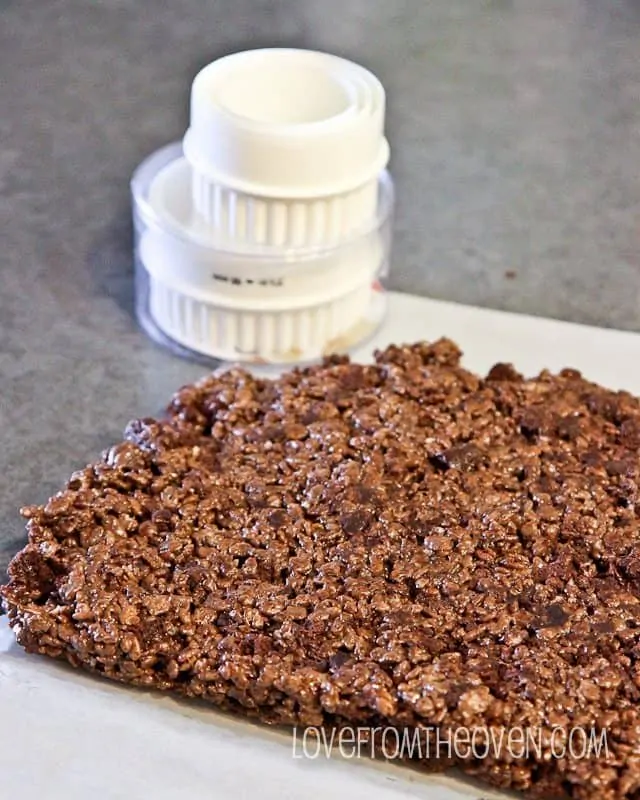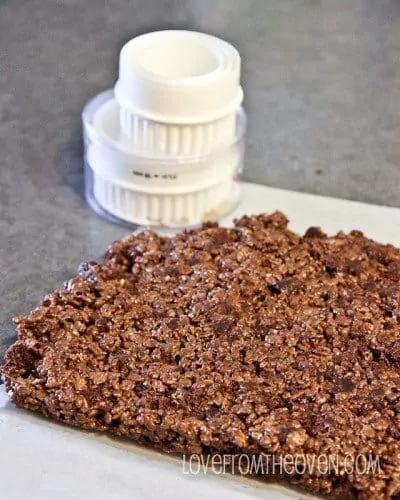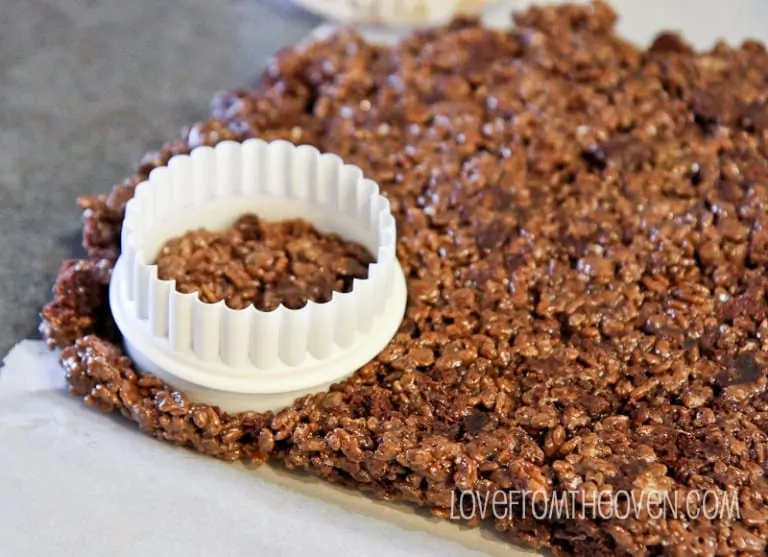 If you want to really go over the top, melt and drizzle a bit of chocolate on top. I simply put a few chocolate coating melts into a Ziploc bag, warmed in the microwave for a few seconds, cut off the tip and then drizzled it on.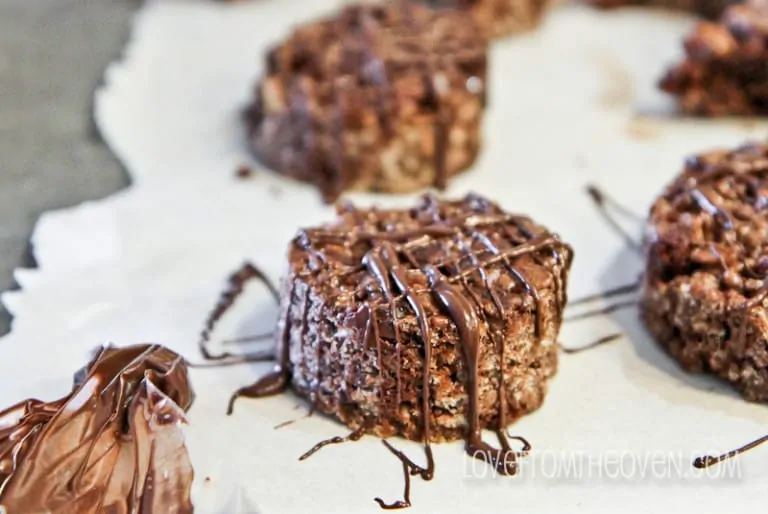 The next time you are pressed for time but want a really over the top awesome dessert, make these. They are so amazing for taking so little time. LOVE!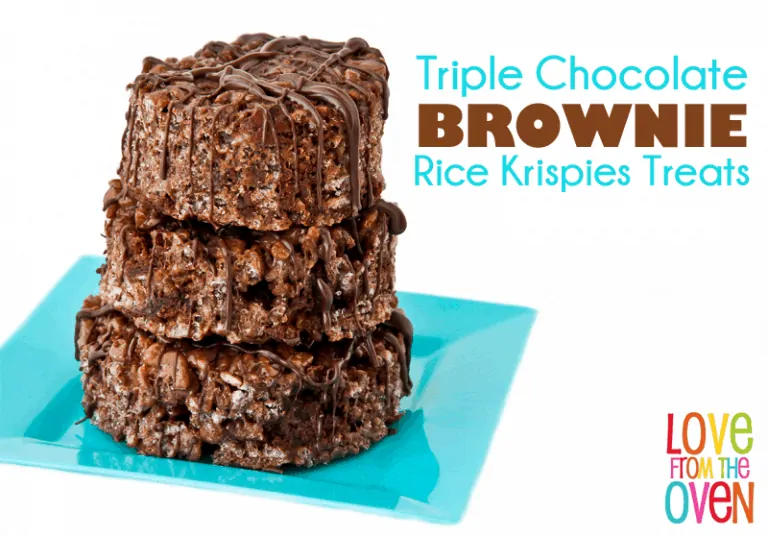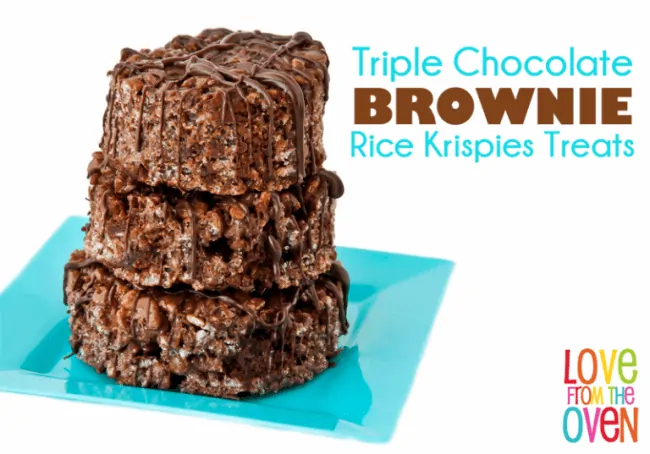 I may or may not have had some of these for lunch. I mean when you cut them into those round shapes, you do end up with some "leftovers". Just sayin.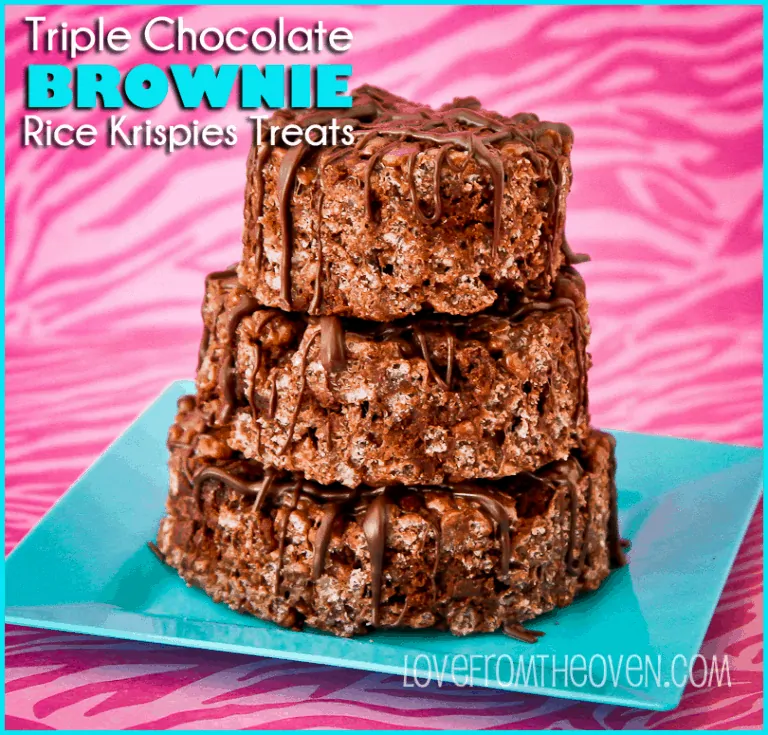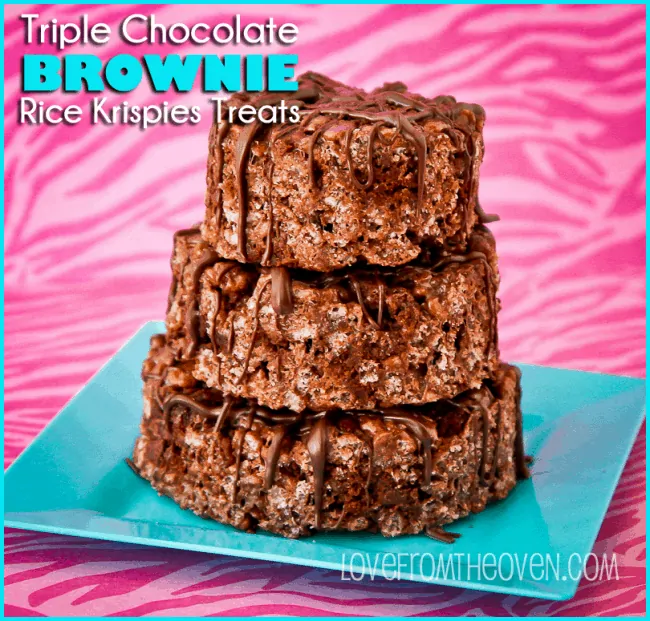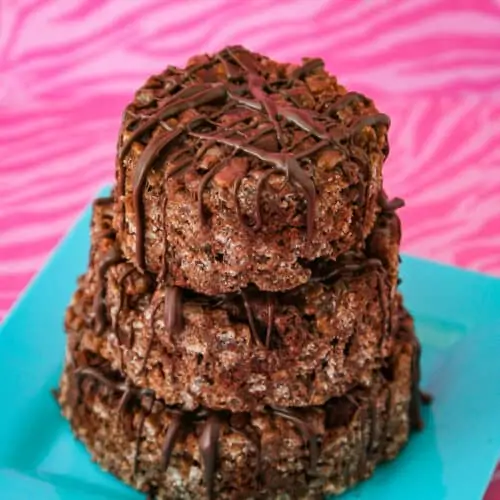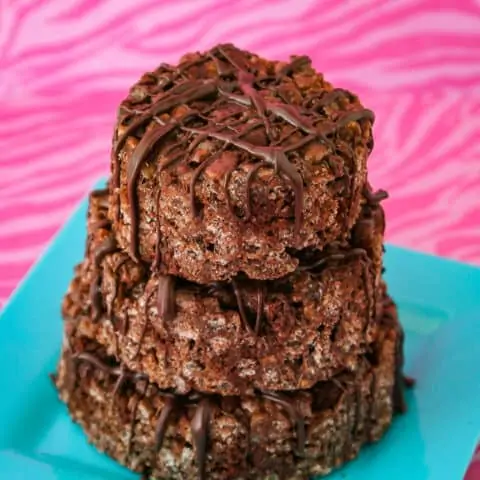 Triple Chocolate Brownie Rice Krispies Treats
Ingredients
5

Cups

Cocoa Krispies

One Bag Jet Puffed Chocolate Brownie Marshmallows

3

Tablespoons

Butter

Approximately 2 cups of brownies

cooled and chopped into 3/4″ sized squares

Optional – Chocolate coating for garnish
Instructions
In microwave-safe bowl heat butter and Chocolate Brownie marshmallows on HIGH for 3 minutes, stirring after 2 minutes. Stir until smooth. Remove from microwave and stir in 5 cups of Cocoa Krispies. Once well combined, add in chopped up brownies. Stir until just combined. Press into a pan that has been lined with wax or parchment paper, or even foil, and lightly sprayed with non-stick cooking spray. Allow to cool then cut into shapes with cookie cutters or a knife. If desired, drizzle melted chocolate coating on top for garnish. Makes approximately 12 2.5″ Rice Krispies Treats. Enjoy.
Disclaimer
Nutrition information is estimated as a courtesy. If using for medical purposes, please verify information using your own nutritional calculator. Percent Daily Values are based on a 2000 calorie diet.
Can't get enough of Rice Krispies Treats? Me either. Check out these recipes…
Chocolate Peppermint Rice Krispies Treats
Enjoy!