It's no secret that I love PEEPS.  Not only am I a life long PEEPS fan, but I have also had the pleasure of working with the great team at PEEPS the past few years to create recipes and craft ideas for their website.
I even visited New York last spring to appear on Fox And Friends to share some quick and easy PEEPS ideas for Easter.  You can watch me fumble my way through that… 
That was a pretty cool experience for a girl that grew up with PEEPS in all of her Easter Baskets (I'm about three here!).
I have so much fun working with PEEPS that it only seems natural that I put together a fabulous round up of the PEEPS Recipes and Ideas that you can find across the web.   PEEPS really inspire so much creativity that I never fail to be amazed at the fun ways people work them into recipes and sweet treats.   So let's get to it and check out some of the great PEEPS Recipes and Ideas around the blogosphere!
I'll start with some of my own PEEPS creations, both here on Love From The Oven and on the PEEPS Website.
PEEPS Pops
PEEPS Fruit Cups
Salty Sweet Pretzel PEEPS
PEEPS Yogurt Parfaits
PEEPS Pudding Cups
PEEPS Chocolate Mousse Dessert Shooters
PEEPS Cookies
60th Anniversary PEEPS Cake, Pops & Cupcakes
Tweet Me PEEPS Pops
Chocolate Marshmallow PEEPS Cupcakes
Brown Butter PEEPS Crispy Treats
Chocolate Covered PEEPS Crispy Treats
Chocolate Dipped PEEPS
Push Pop PEEPS
Salty Sweet Pretzel PEEPS
PEEPS Topped Crispy Treats
PEEPS Cupcakes
PEEPS Spring Fruit Bouquet
Over The Top PEEPS S'mores Shake
PEEPS Bunny Patch Cake
Now let's check out fun ways that blogger, bakers and sweet treat makers are using PEEPS!
PEEPS Chocolate Bird's Nest Cookies from FiveHeartHome
PEEPS On A Stick From Your Home Based Mom
PEEPS Brownie Pops From Munchkin Munchies
Peeping Peeps From Miss Candiquik
S'mores Brownies With Peeps from Shugary Sweets
Peep Ice Cream Syrup from Kleinworth & Co
Easter PEEP-za from Cooking Channel
Chocolate Covered PEEPS From Your Home Based Mom
PEEPS Candy Bars From The Domestic Rebel
PEEPS Cake from Cake Whiz
Dark Chocolate Dipped Nilla Wafer Peeps From A Farm Girl Dabbles
Homemade Chocolate PEEPS From Raining Hot Coupons
Tuxedo Peeps from Babble
Easter Peeps Parfait from Home Is Where The Boat Is
Peeping Bunny Cakes from A Daily Dose Of Toni
Peepa Colada From Peepsdrinks.com
Peeps S'mores From Sally's Baking Addiction
PEEPS Sunflower Cake From Raining Hot Coupons
Push Up PEEPS From Joann Fabric
PEEPS Bunny Cookie Place Card from Joann Fabrics
Peeps Vodka Lemon Drop from Baking Bites
Peeps Bird House S'mores From Kitchen Fun With My 3 Sons
Spring Peeps Truffles from Java Cupcake
Pavlova Peeps Nests From Crazy For Crust
White Chocolate Peeps On A Stick From A Thrifty Mom
Peeps Stuffed Jello Shots From Endless Simmer
Chocolate Dipped Peeps From Tastes Better From Scratch
Baby Peeps From Crazy For Crust
Peeps Birdhouse Cake from Parenting.com
Bacon Chocolate Peeps From Bacon Today
Peeps Playdate From Make Bake Celebrate
Skateboarding Bunnies Peeps From Sweet Simple Stuff
Peeps Eclair Cake Cups From Inside Bru Crew Life
Peeps Cupcakes from Hoosier Homemade
Peeps Treat Bags Free Printable from Chica Circle
Peeps Marshmallow Treats From 7 On A Shoestring
Peeps Martini From DIY Doyenne
Peeps Party Cake And Cookies From Pint Sized Baker
Peeps Cake From Dixie Delights
Peeps Magician Hats from Not Your Momma's Cookie
Bubble Bath Peeps Cupcakes From Party Tipz
Peek-A-Boo Peeps Cookies From In Katrina's Kitchen
Peeps Bunnies In Chocolate Eggs From The Decorated Cookie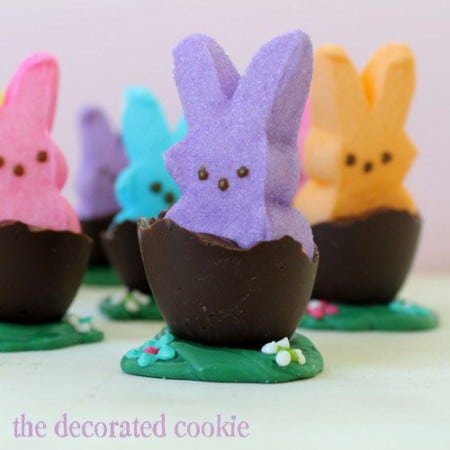 Peeps Fondant From Busy Mommy
Brownie S'mores With Peeps From Busy Mommy
Easy Easter Bunny Peeps Cake From The Celebration Shoppe
Easter Peeps Cupcake Toppers From Shiny Happy Sprinkles
Peeps Cake Batter Candy From Cookies And Cups
Peeps Easter Cake From We're Calling Shenanigans
Peeps Cake Pops From I Am Baker
Coconut Covered Chocolate Peeps Cake From Half Baked Harvest
Peeps Cake From Little Miss Party Planner
Peeps Polka Dot Cake From Made From Pinterest
Peeps Cake From MomDotCom
S'mores Easter Peeps Cupcakes From Sugartown Sweets
Peeps Brownies From With Sprinkles On Top
Orange Creme Peepsicle Cookies from Shake Bake And Party
Easter PEEPS Cupcakes from Mommy Savers
Easter Peeps Kebabs from Warming Sugary Goodness
Peeps Centerpiece Cookies By The Baked Equation
Peeps Smores Cookies From A Spicy Perspective
Peeps Pudding from Hungry Happenings
Peeps S'mores Pies From Something Swanky
Maypole Peep Cake From Party Pinching
Chocolate Cream Peeps Pie from Babble
I hope you've enjoyed all of these fun treats!  Make sure to visit all of the blogs to get the recipes and how to instructions!

>