Come on Barbie, lets go party with this Barbie Party Board! This bright, colorful Barbie themed snack board is undoubtedly going to be the highlight of your summer pool parties. Got a Barbie lover in the house? Are you excited for the upcoming Barbie movie? Well, here's a festive, and absolutely adorable way to celebrate!
Reasons You'll Love This
Barbie Everything – If you grew up playing with Barbies, you're going to love all the themed snacks on this board.
Pink! – This board is covered in so many pink treats! Such a fun callback to the classic Barbie pink.
Customizable – You don't have to use everything shown in this recipe. You can dress up this Barbie party board however you want!
Party Favors – Who doesn't love a themed party? You can serve this at a Barbie birthday party, a Barbie theme party, or at a Barbie movie watch party!
Serve Anywhere! – Not only is this board good for parties, you can make this for school events, work events, wedding receptions, engagement parties, you name it! The great thing is that you can customize the shape of your board, and the ingredients that go on it.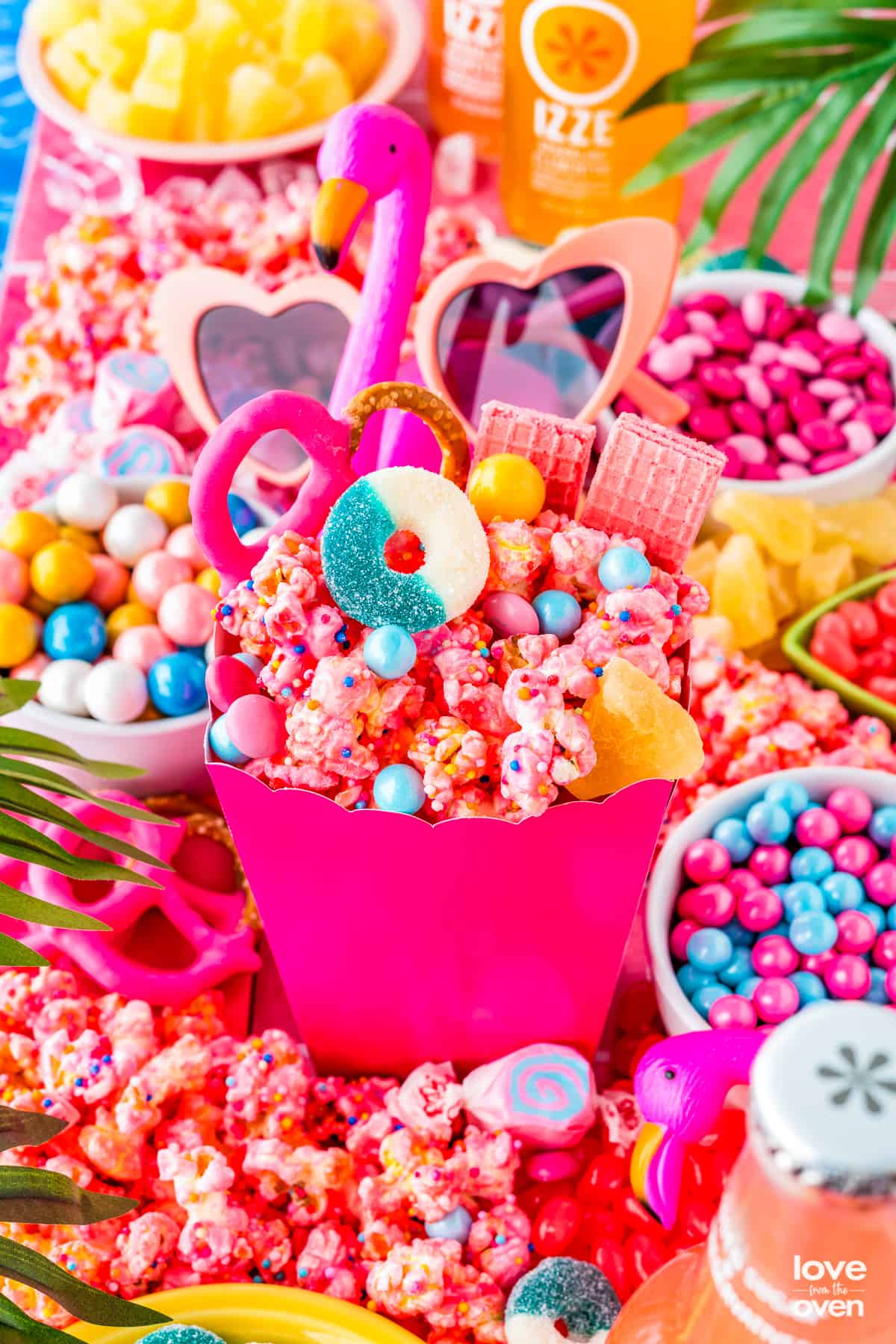 Transport yourself to Barbie-land with this stunning and adorable themed charcuterie board resembling your favorite childhood toy. If you like to host parties, make themed foods, or just love to have a good time, snack boards like these are so easy to make, and come out looking insanely impressive!
Ingredient Info
Let's discuss how to assemble this Barbie Party Board, as well as the ingredients that are needed. Please take note that below you will find discussion, expert tips, and answers to frequently asked questions about this recipe to help you recreate it in your kitchen. If you *just* want the recipe itself, scroll down. The full printable recipe itself, with exact measurements and instructions, is found at the bottom of this page.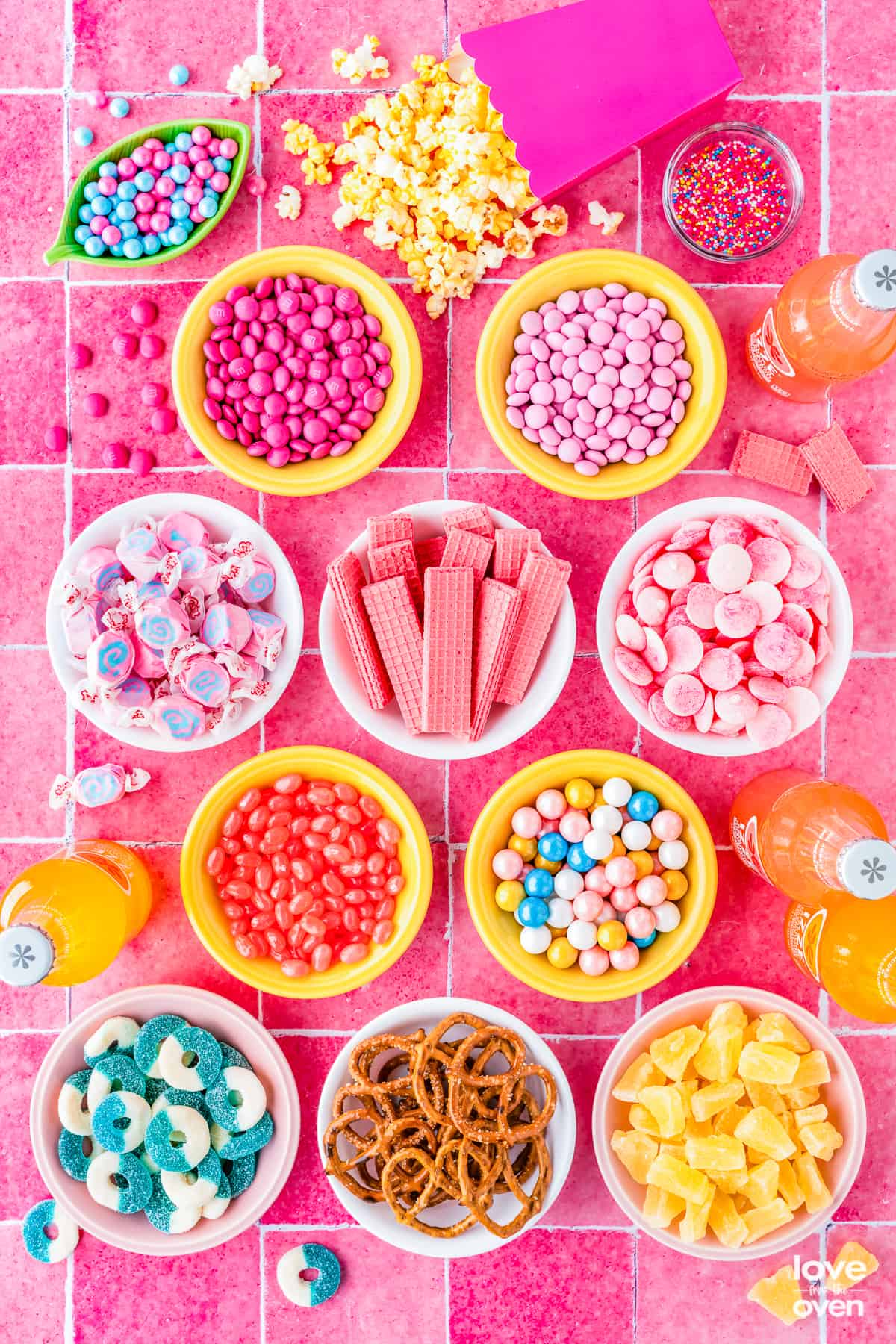 These ingredients listed are 100% optional. If you find something similar to these items, or want to use other ingredients that are completely different, that is totally fine. If you don't use these ingredients, I highly recommend picking ones that have different flavors and textures. Get things that are salty, crunchy, sweet, chewy, soft, etc. You can use as little or as much of any ingredient as you like!
If you have trouble finding some of these specialty candies, or need a certain candy in a specific color, check a local candy store, bulk foods store, or party store near you! You can also order bulk candy online.
That being said, here is what was used on this fantastic Barbie Party Board:
Pink Chocolate Funfetti Popcorn
Pink Chocolate Dipped Pretzels
To make the Pink Chocolate Funfetti Popcorn, and the Pink Chocolate Dipped Pretzels, you'll need the following ingredients:
How To Make Pink Funfetti Popcorn
Line a baking sheet with parchment paper. Pop the microwave popcorn according to the instructions on the bag. Empty the popped popcorn into a large mixing bowl that has a tight fitting lid. Melt the pink candy melts in a separate bowl according to package instructions. If there are no package instructions, melt the candy in 20 second intervals stirring after each interval until completely melted. Pour the pink candy melts over top of the popcorn and immediately cover with the lid. Quickly shake the popcorn bowl to coat it with chocolate.
Spread the popcorn onto a parchment lined baking sheet. Quickly sprinkle the rainbow sprinkles over top of the popcorn. Let it rest at room temperature for about 10 minutes, or until the chocolate has hardened. Once hardened, break apart the popcorn and place it on the board!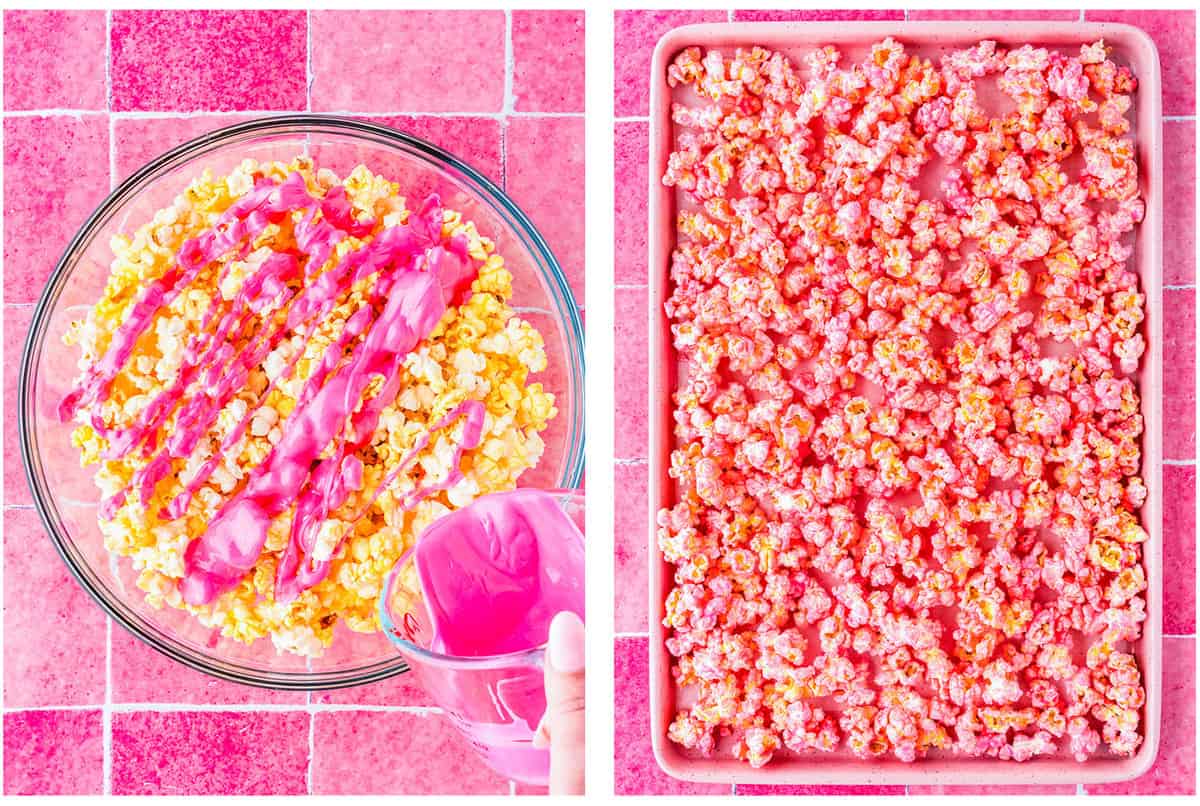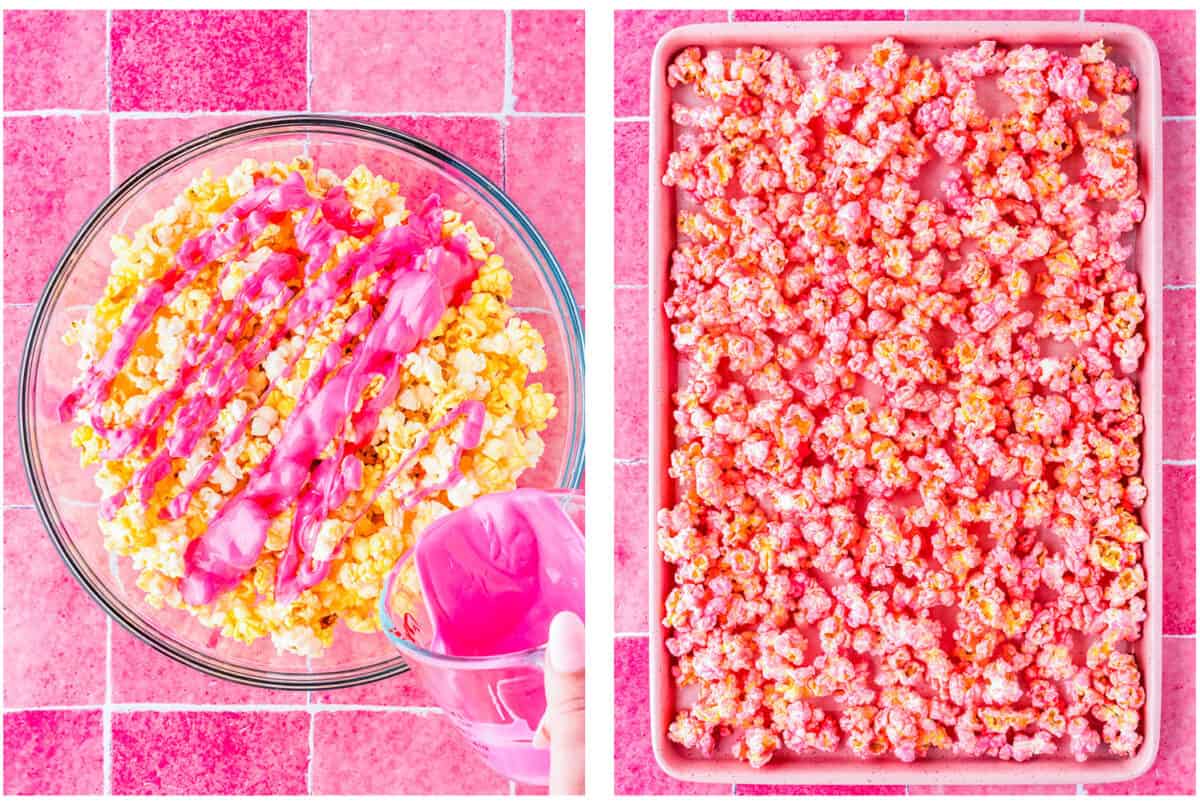 How To Make Chocolate Dipped Pretzels
Start by melting the candy melts according to package instructions in a microwave safe bowl or measuring cup. If there are no instructions, microwave in 20 second increments, stirring after each interval. Line a baking sheet with parchment paper. Once the candy melts are melted, grab a thin pretzel and dip 2/3rds of it into the melted chocolate.
Place the chocolate dipped pretzel onto the parchment lined baking sheet. Continue to dip the pretzels until you fill the baking sheet. Allow the pretzels to cool at room temperature for 10 minutes, or until the chocolate has hardened. Remove from the sheet and place on the board.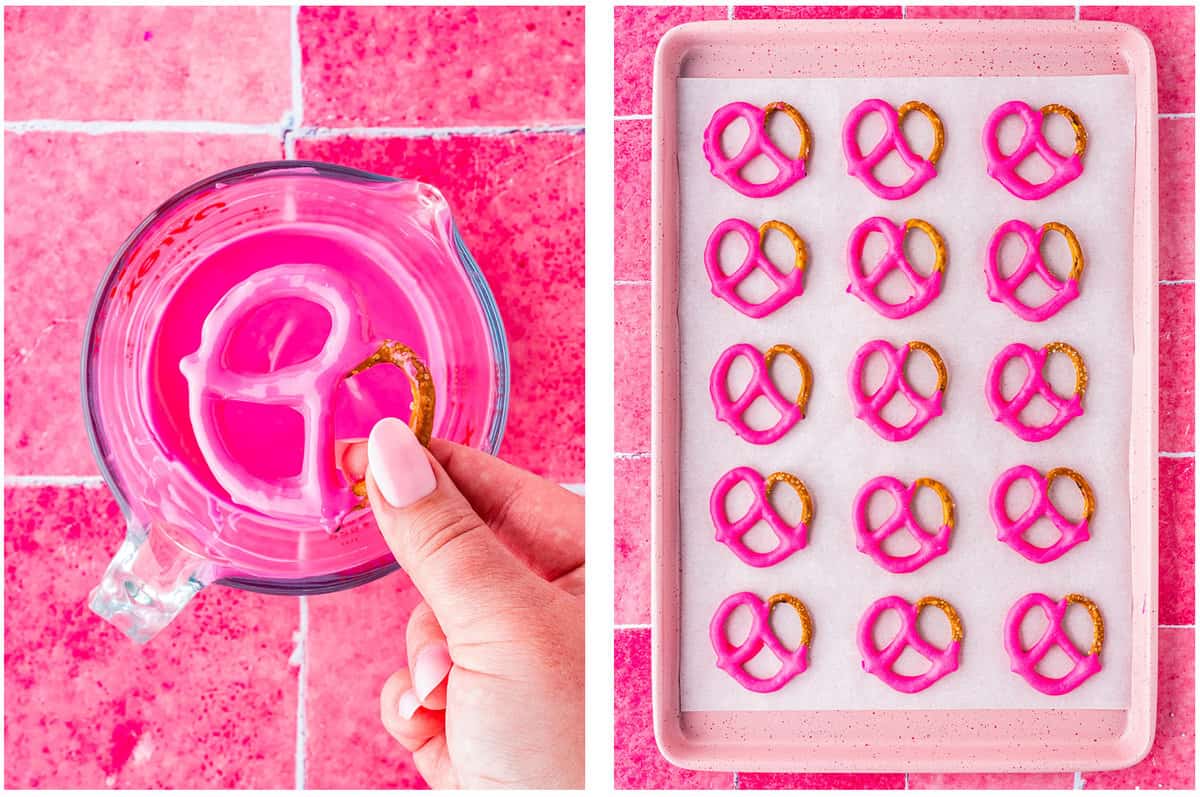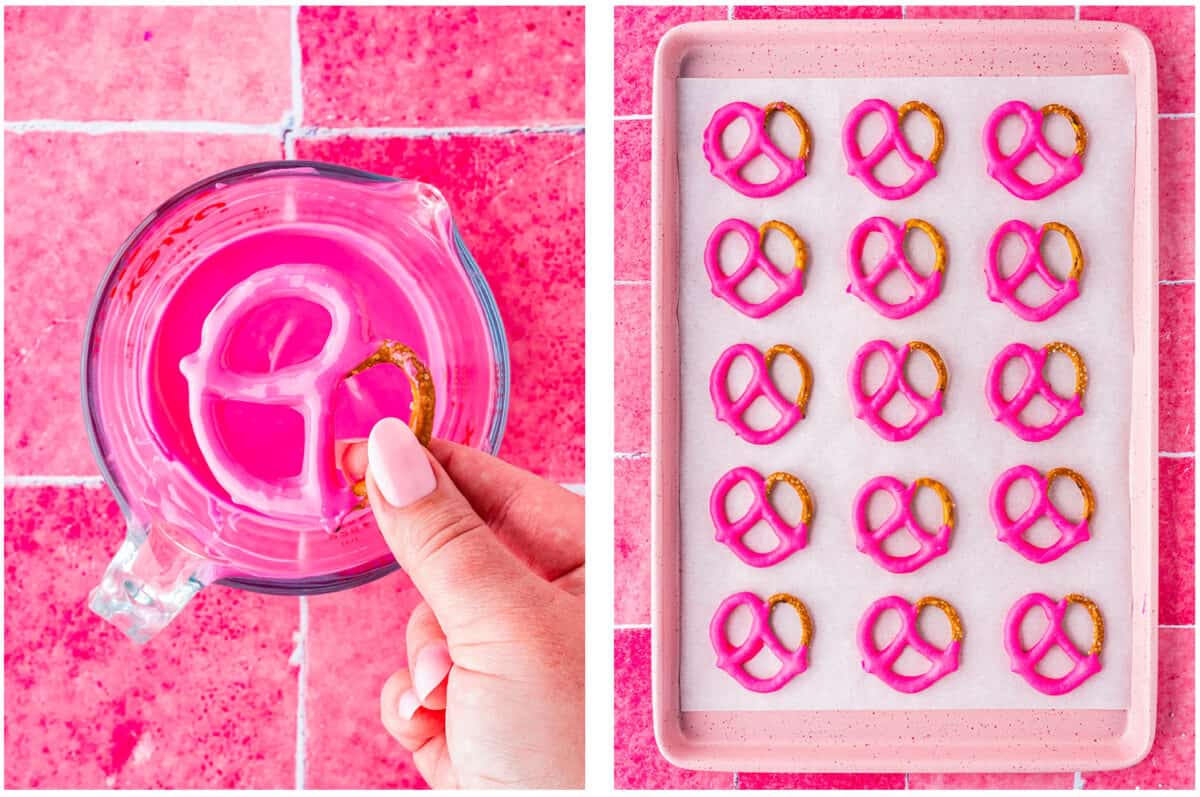 How To Assemble A Barbie Party Board
Place your board in the area you want to serve it. Fill some ramekins and the rest of the board with your ingredients. Serve with pink sodas and enjoy!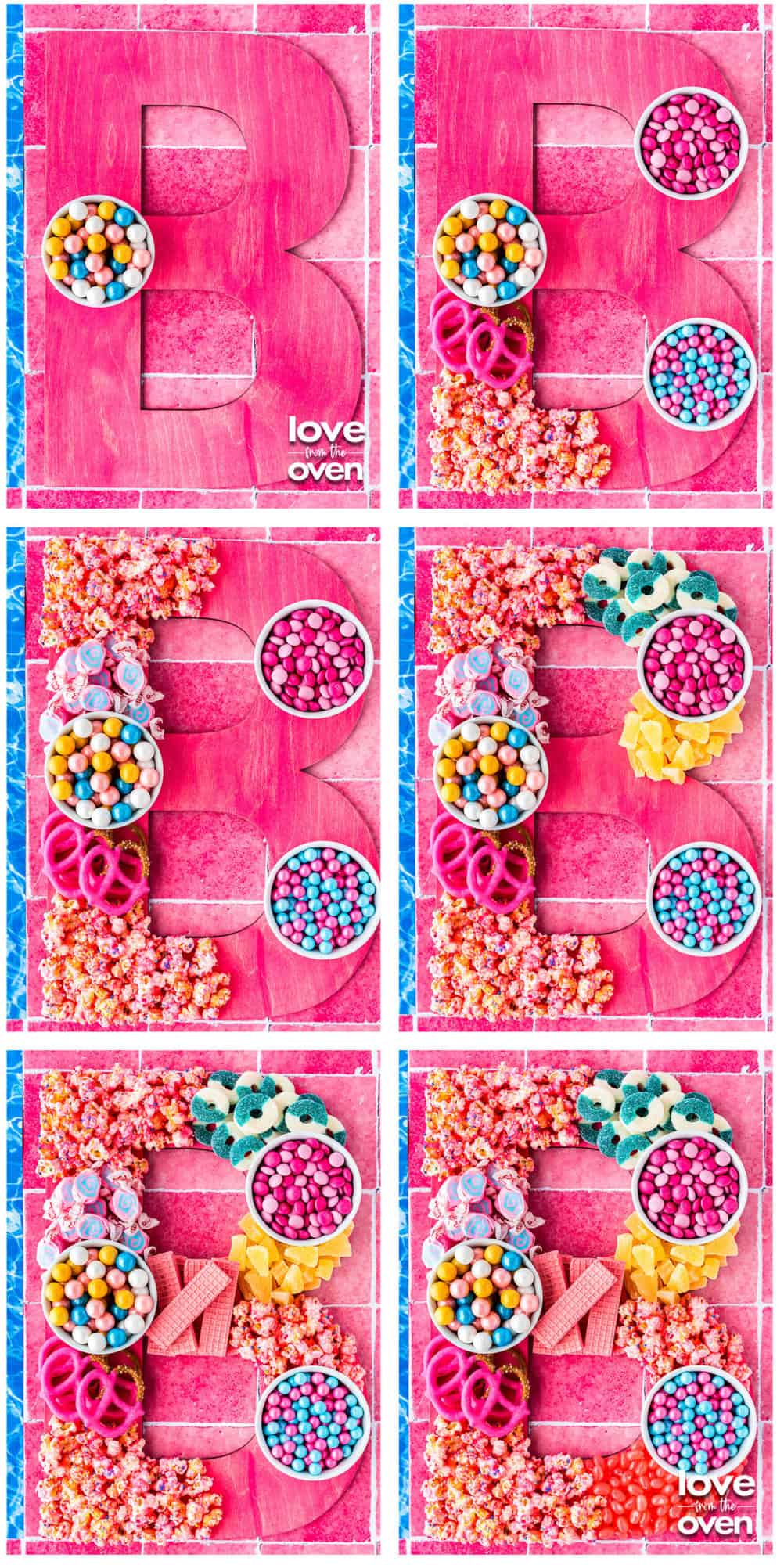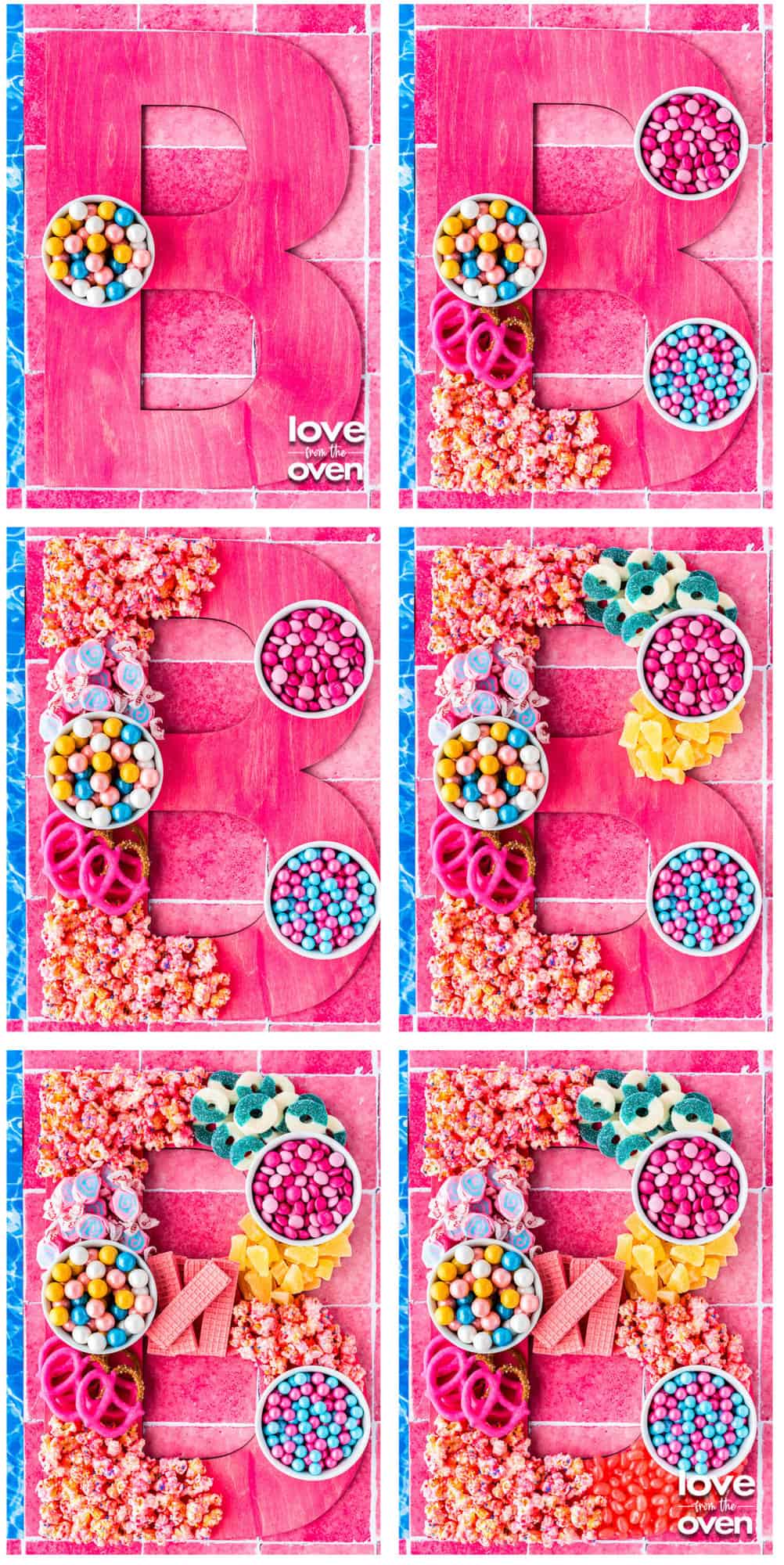 Tips And Advice
Storage – If you have leftover ingredients on the board that are worth saving, throw them in a Ziploc baggie and snack on the leftovers throughout the week!
BOARD ASSEMBLY TIPS
Make sure you have a color palate established before assembling the board, and do your best to spread out the colors as much as possible. For example don't put an ingredient with a light shade of pink next to something with the same shade of pink. This will make the board look more striking.
Speaking of placements, also try to put different textured or flavored ingredients next to each other. For example, put the crunchy, salty popcorn next to the sweet gummy candy or taffy.
Chocolate Tips – If your candy melts didn't come with instructions, here's how you can melt them. Place the melts in a microwave safe bowl or measuring cup. Microwave for 20 second increments, stirring after each time. You should only need to do this 3-4 times. Once the chocolate is completely melted, don't keep microwaving it. This will burn the chocolate and it will become inedible and unusable.
When making the chocolate covered popcorn, you must work fast because the chocolate dries fast. If the sprinkles don't stick to the chocolate covered popcorn, you can try microwaving the popcorn for 15 more seconds in a microwave safe bowl, immediately pouring the sprinkles over the popcorn, covering the bowl with a lid and shaking until covered.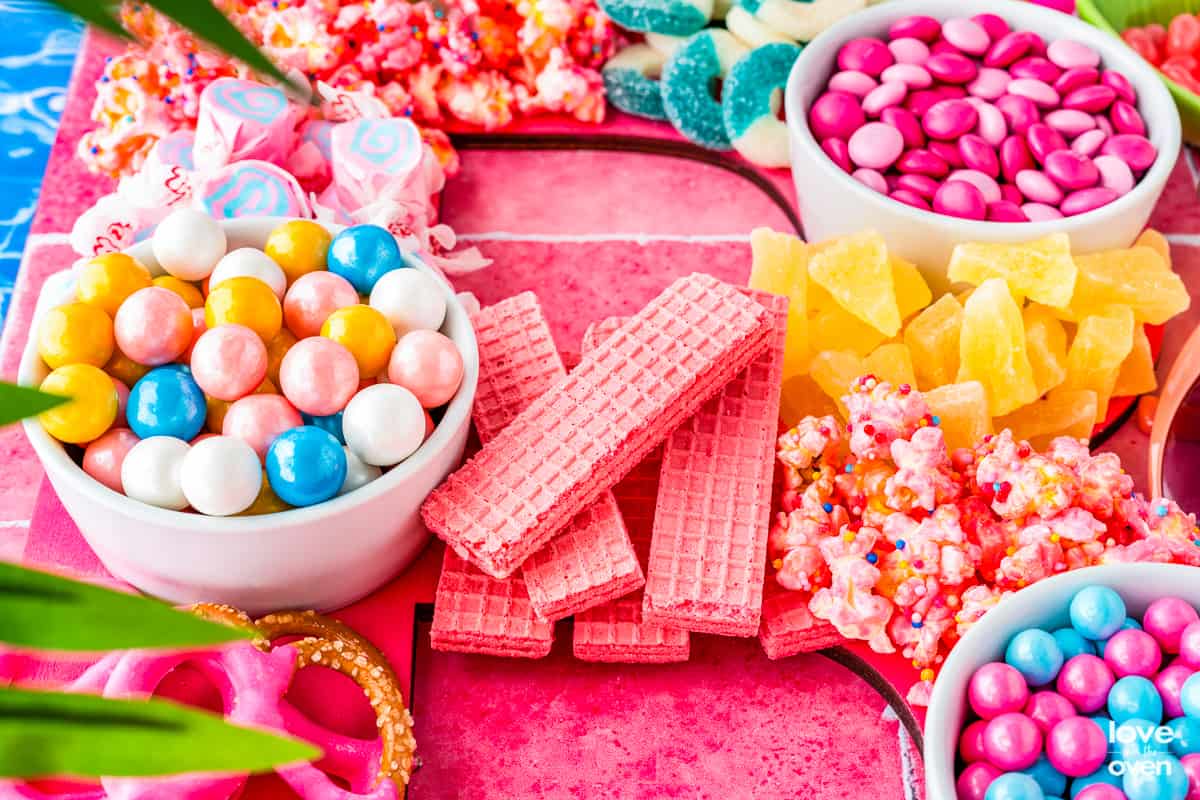 Equipment
For this Barbie Party Board, you'll need a few or all of the following materials. These materials are simply just suggestions, and you can use whatever fun kind of equipment you have or find.
Charcuterie Board – You don't have to use a letter B wooden board for this recipe. Depending on where and who you are serving this board to, you can use any kid of shaped board you like! If its for a birthday party, you can use the person's first initial. If it's just for fun and you don't want to order a million things, you can use a heart shaped board, or a normal round or square board.
DIY Board
If you have some wood, leftover cardboard, an old poster board, or have a countertop, you can make this board into whatever shape you like! Just cut the wood, cardboard or poster board into whatever shape, and then cover the board with your ingredients. If you want the board a certain color, you can paint it with acrylic, food safe paint.
If you just have a countertop, you can line the countertop with some parchment paper, draw your shape with a food safe pen or marker then form the food inside the shape.
FAQs
How do you assemble a snack board?
Using ramekins or small bowls will really help you assemble the charcuterie board. If you have ingredients like gumballs, or anything that is notorious for rolling off a flat surface, you can place them in the bowl. You an also use it as a stand for other ingredients, or a wall so certain ingredients wont fall off the board.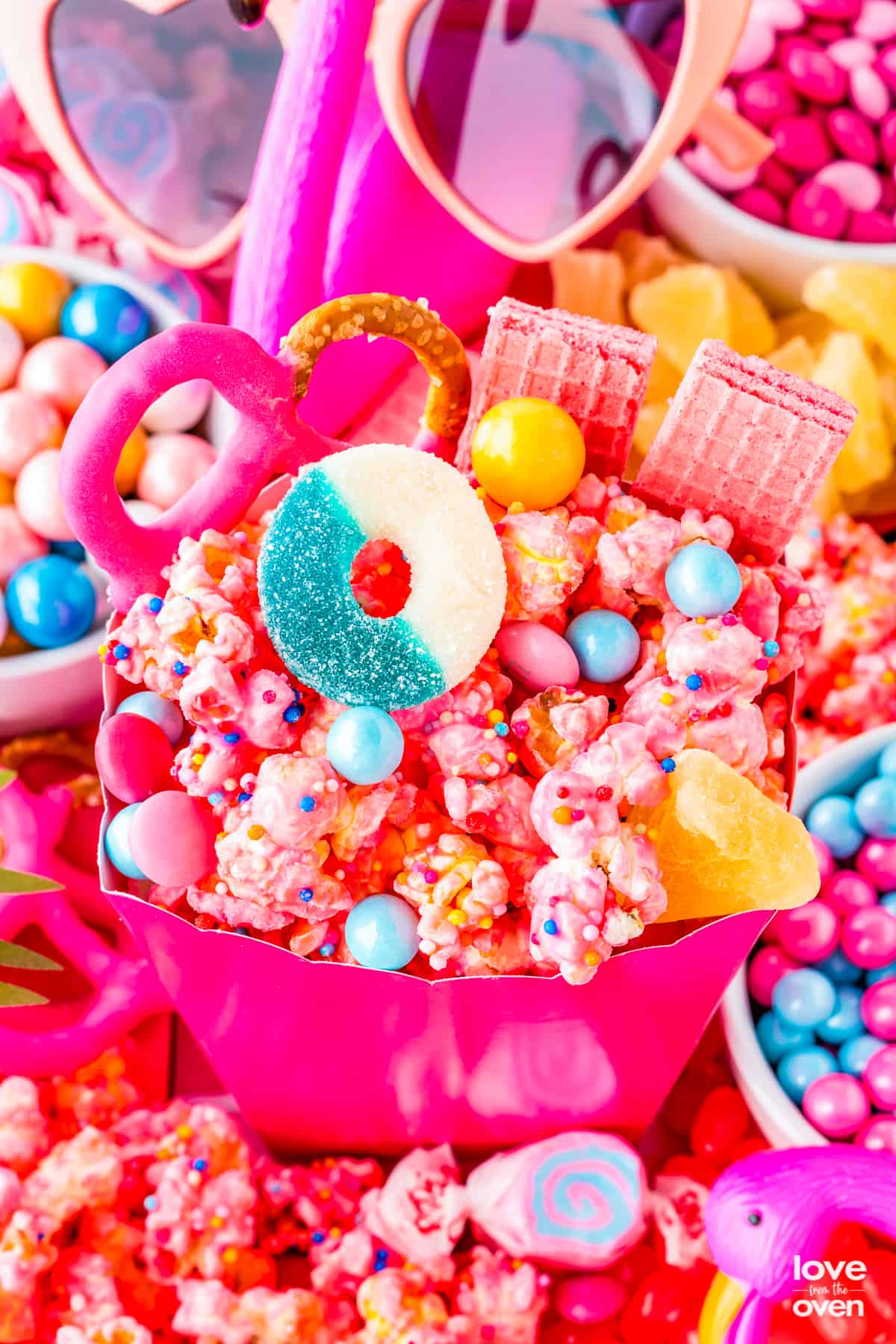 Serves Well With
If you're throwing a party, you're gonna need some party food! Here are some recipes that will look great next to this Barbie Party Board!
More Recipes You'll Love!