I love brownies in almost any form, but caramel brownies? They are pretty much my favorite in all of brownie land.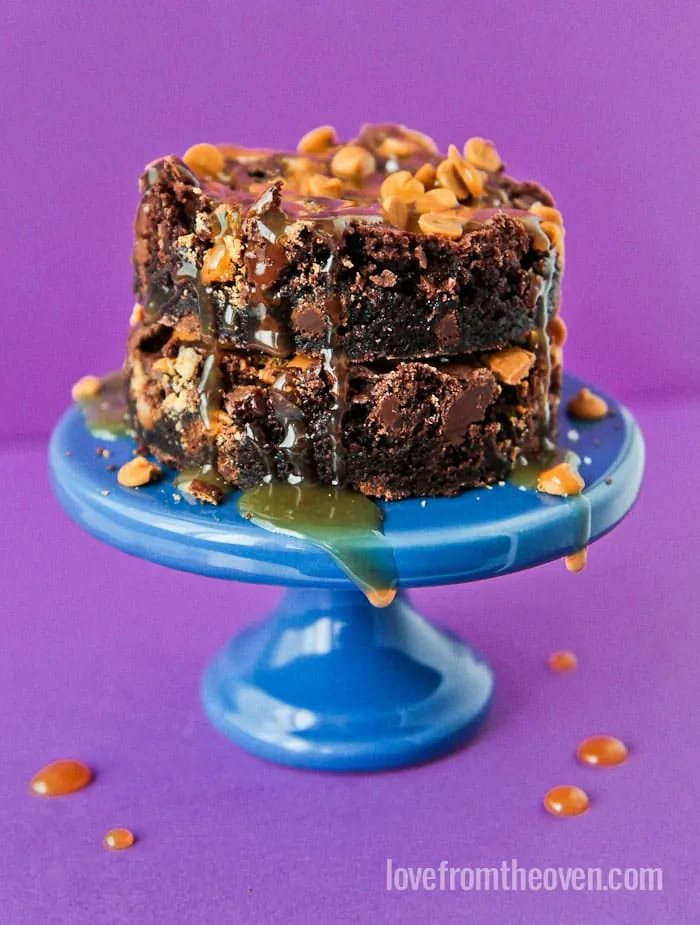 Can I get you a fork and some milk? Rich chocolate brownies and ooey gooey caramel, the only thing missing is a scoop of ice cream. Let's be honest, if I had added a scoop of ice cream, they probably never would have made it into photos, because you know ice cream melting fast is an incredibly convenient excuse to eat the subject of your blog post. Trust me, I speak from experience.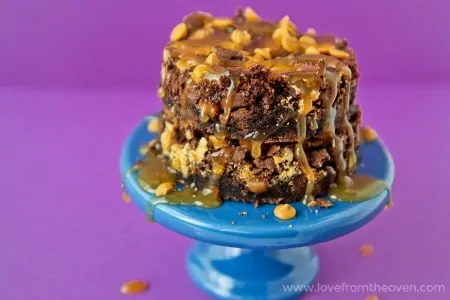 There are a few ways that you can make these. You can dress up a box mix. While I love a homemade brownie, I grew up on box mix brownies, and often when I crave a brownie, that is the brownie I crave. You can make them from scratch. And you can even make them gluten free. Yes, gluten free.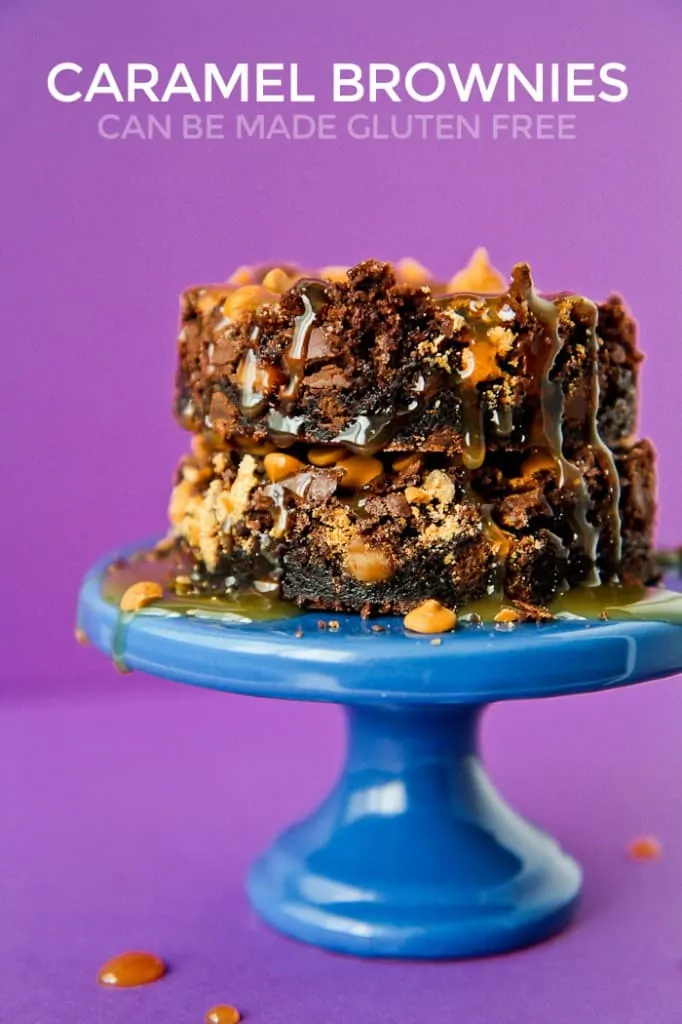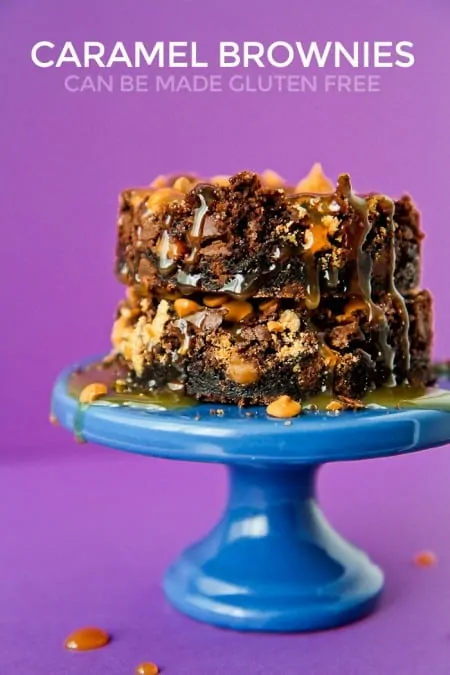 Let's stop and talk for a minute about the gluten free thing for a minute.
Some of you have noticed that I've started sharing more gluten free recipes on here, as well as some gluten free finds on my Instagram. For the last five years, I've been pretty aware of gluten free diets, as we have a friend with a true, carry an epi-pen, gluten allergy, and another friend with Celiac disease.
Having a kiddo on the autism spectrum, I often hear of gluten and casein free diets. I've thought about it for the past year since one of our doctors first suggested it, but truth be told my kids are ridiculously picky eaters, and I thought there was no way we could swing it. But, we are. While I am not quite ready to give up dairy, I figured it wouldn't hurt if we tried going gluten free. We spend so much time and effort on every therapy that we can, why not? We are about a month in, and so far it's going well. It certainly takes more time and preparation, but it's do-able. Barilla makes a gluten free pasta that makes my mac n' cheese loving daughters happy, and that was kind of the sink or swim for us.
Now, I'm not giving up gluten, and will still be making recipes on here the same as always. The only difference is that I hope to offer many recipes with a gluten free option, such as these caramel brownies today.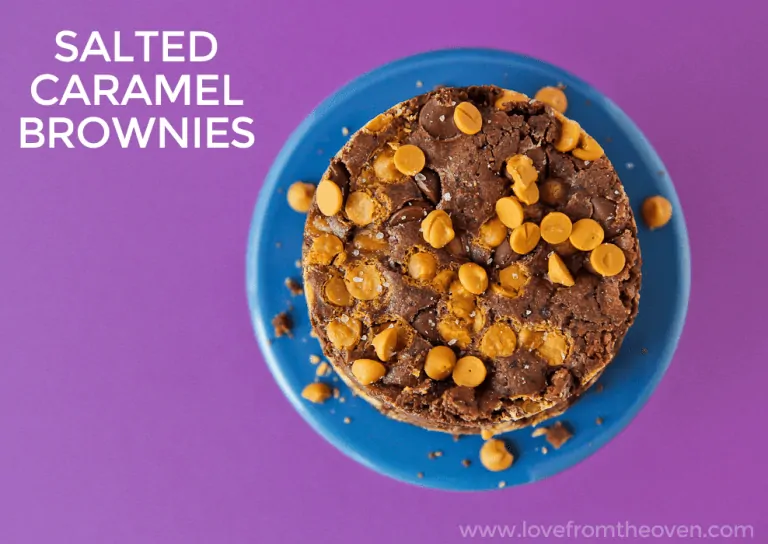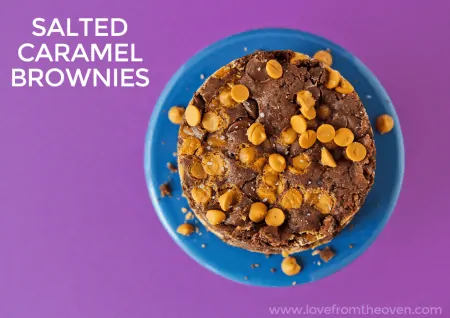 So, back to these yummy, delicious, caramel brownies. If you want to go the box mix route, my favorites are Ghirardelli Double Chocolate Brownie Mix (this seems to the the mix I see the most often in stores, feel free to use another version or another brand) or for a gluten free brownie, the Betty Crocker Gluten Free Chocolate Brownie Mix (which is what is used in these photos). I don't know how they've done it, but the Gluten Free line of baking mixes from Betty Crocker is amazing, and none of us can tell the difference from the regular versions.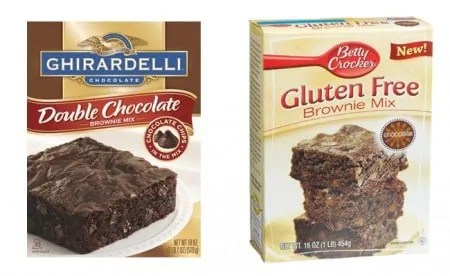 You are going to doctor those mixes up with some caramel bits, chocolate chips, caramel chips (or butterscotch chips) and some sea salt. If you are making your brownies gluten free, make sure to check each of your packages for safety, as different brands contain different ingredients.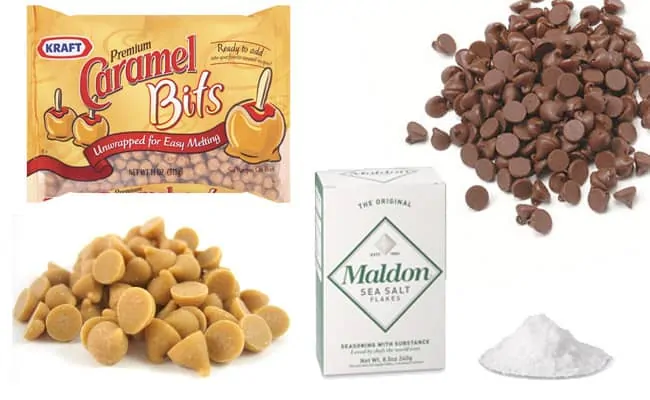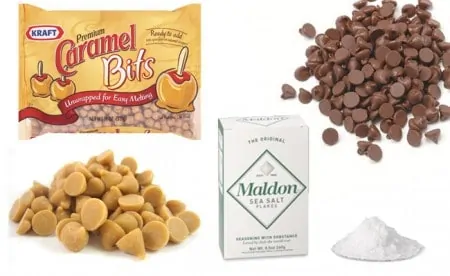 I happened to find these awesome caramel chips at my local baking supply store, ABC Cake Decorating Supply. I've not seen them other places, though Amazon does have a version as does We Got Nuts. You can make these without them however, and butterscotch chips will make a fabulous stand in.
I simply whipped up my brownies as directed on the package, and added in my Caramel Bits, spread them into the pan, and topped with a nice dusting of sea salt. The moment I pulled them out of the oven, I added my chocolate and caramel chips, which allowed them to melt a bit, but not completely melt into the brownies. When serving you can add some caramel sauce (the kind you put on ice cream sundaes) if you want to really turn up the flavor. That's it, such an easy makeover for your regular brownies.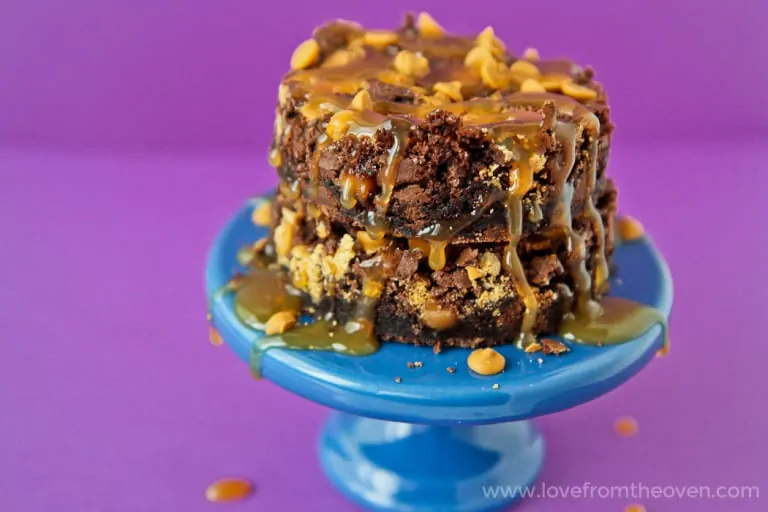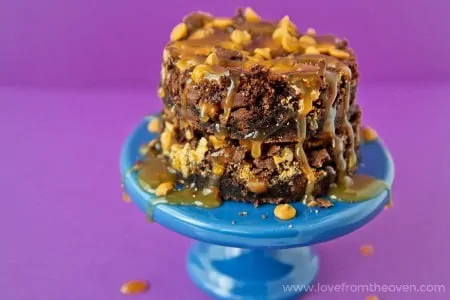 Caramel Brownies Recipe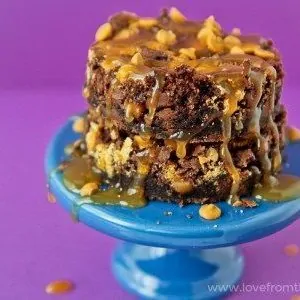 Caramel Brownies
Ingredients
One package

8x8 or 9x9 pan size chocolate brownies (or your favorite brownie recipe)

Ingredients listed on brownie package

1

cup

chocolate chips

1

cup

caramel or butterscotch chips

1

cup

Kraft Caramel Bits

Sea salt to taste

Caramel sauce

optional
Instructions
Prepare brownies according to package directions. Prior to placing into pan, stir in Kraft Caramel Bits. Spread brownies in pan and top with a dusting of sea salt. Bake according to package directions. Immediately upon removing from the oven, sprinkle both chocolate chips and caramel chips over the top of the brownies, allowing chips to slightly melt. Serve warm or cooled. For more caramel flavor, drizzle with caramel sauce just before serving. Enjoy!
Disclaimer
Nutrition information is estimated as a courtesy. If using for medical purposes, please verify information using your own nutritional calculator. Percent Daily Values are based on a 2000 calorie diet.
If you are a brownie lover like I am, you will want to check out these recipes as well!
Brownie Recipes
Chocolate Raspberry Brownie Cupcakes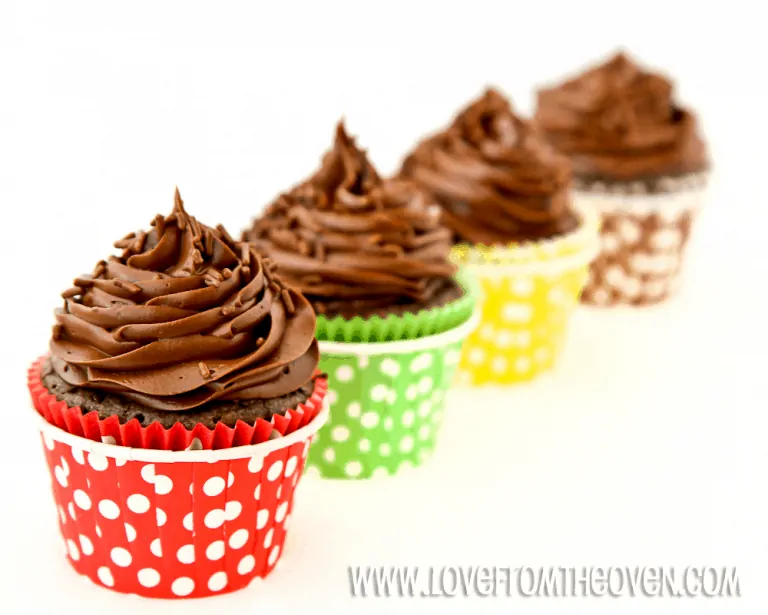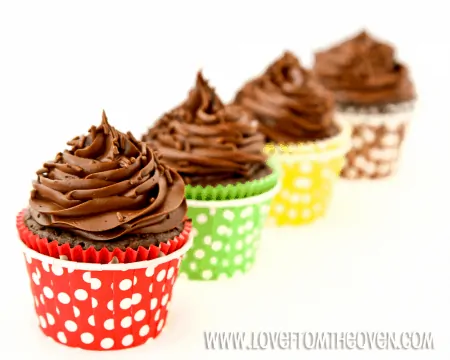 Peanut Butter Pop Tart Brownies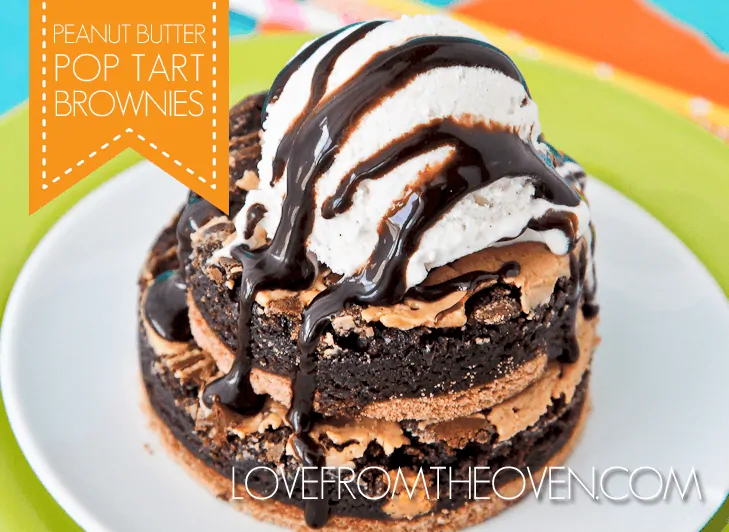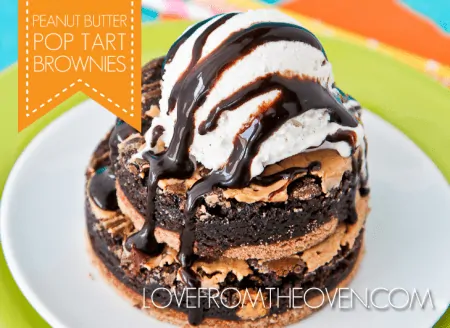 Cookies & Cream Oreo Brownie Overload Bars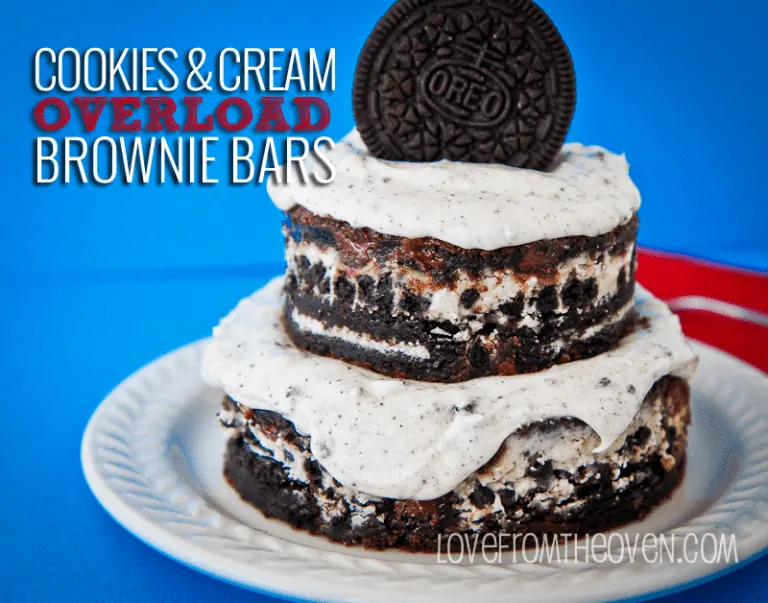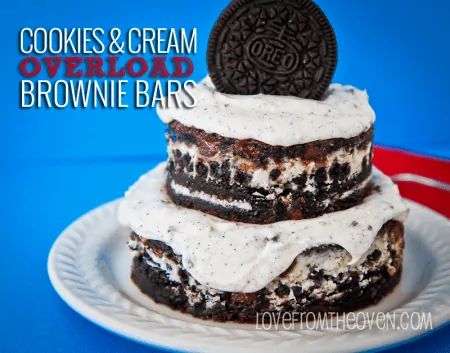 Caramel Toffee Brownies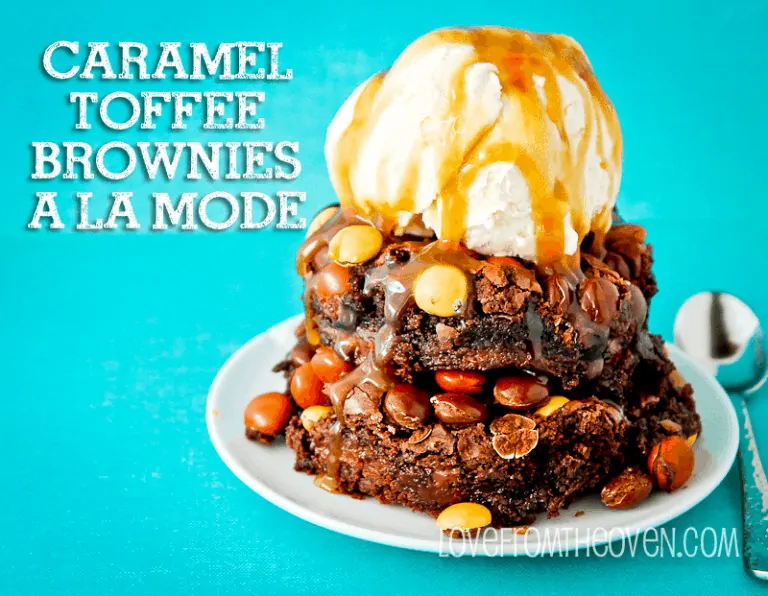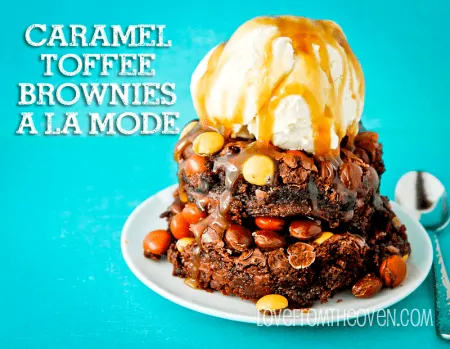 S'mores Crunch Brownies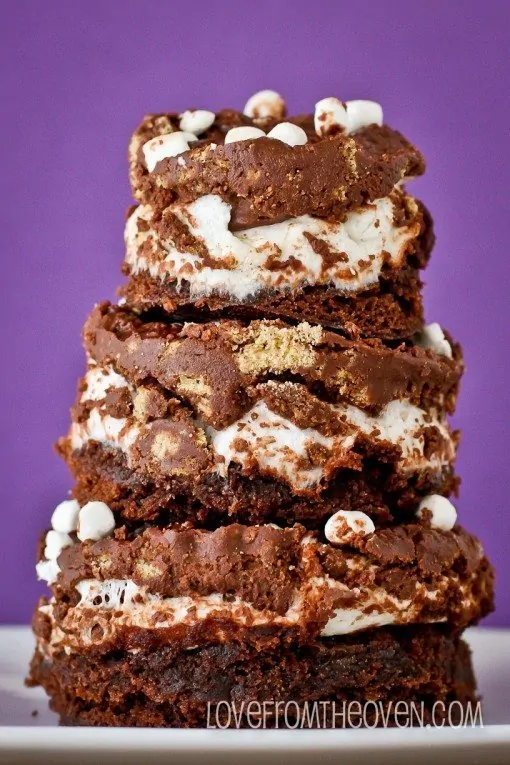 Mocha Cappuccino Hazelnut Biscoff Brownies