Growing up in the southwest, I love Cinco De Mayo, and am always looking for easy Cinco De Mayo snacks and meal ideas. I'm all about cheese enchiladas, chicken tacos, tostadas, taco casserole and nachos! I enjoy washing them down with an icy cold frozen margarita, and never skip desserts like Tres Leches Cake, Churro Cheesecake or Churro Cupcakes.
While I enjoy going out to one of our favorite Mexican restaurants, they can get pretty crowded on Cinco De Mayo, and when you have kids in tow, that's not always fun. Thankfully you can whip up a fun Cinco De Mayo meal at home, quickly and easily.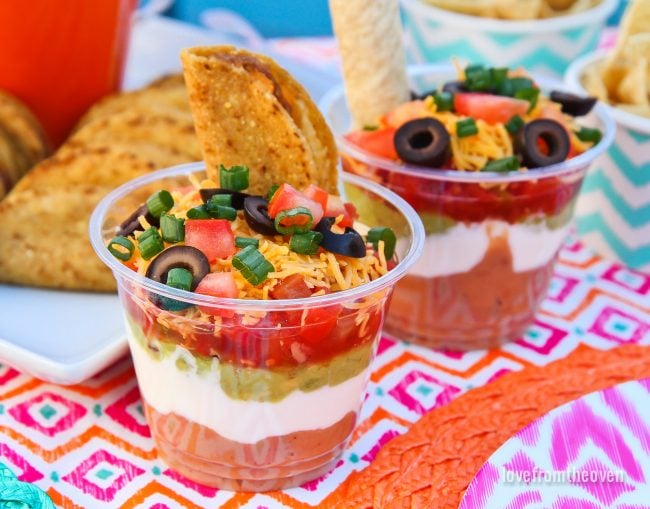 I'm excited to show you how I celebrate Cinco De Mayo at home with my family, making it fun and festive, but really keeping it simple and easy to prepare. While Cinco De Mayo falls on a Sunday this year, it's often on a weekday. If you are like me, you are so busy juggling work, the kids, activities and homework that just getting dinner on the table is a feat, never mind creating a little weeknight celebration.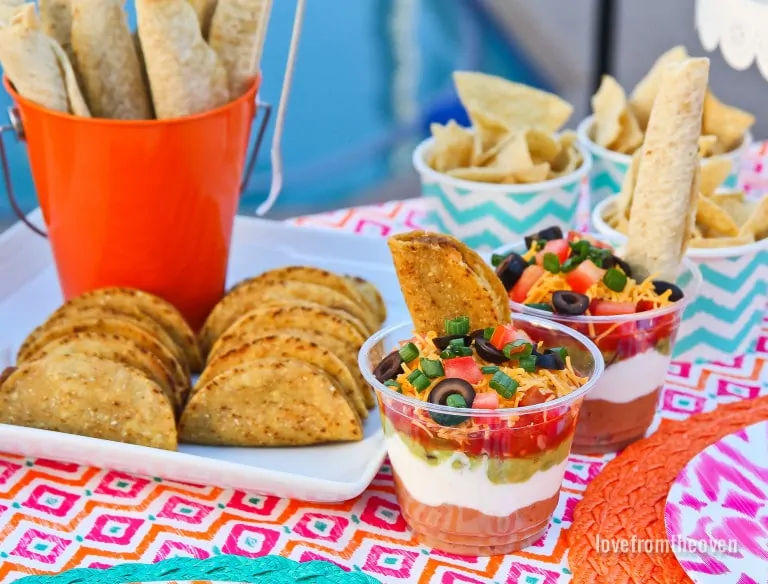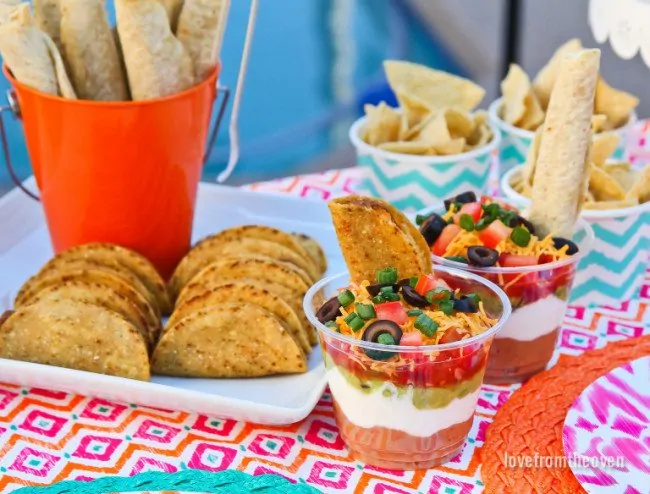 Thanks to my friends at José Olé, it can be quick and easy to create a fun Mexican Fiesta with delicious and easy Cinco De Mayo snacks. Thanks to José Olé for sponsoring this post.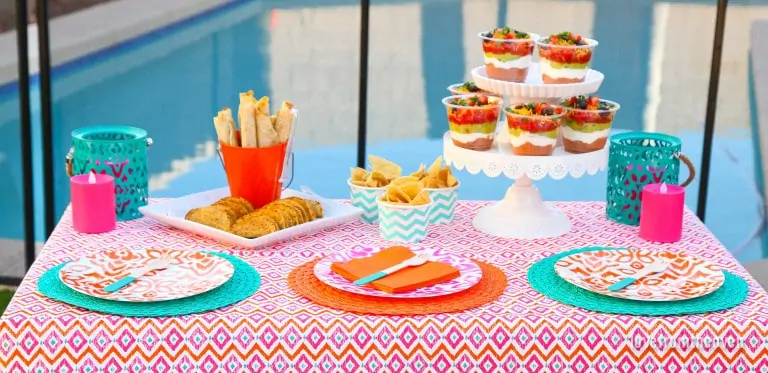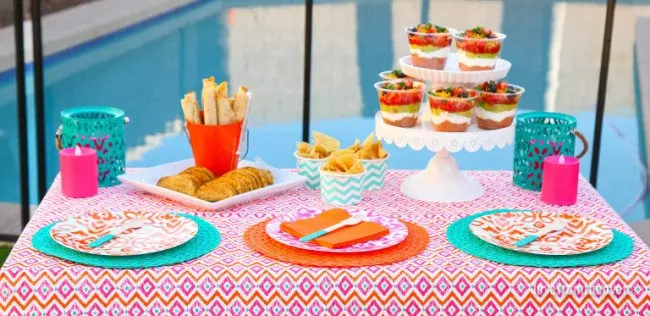 If you are looking to create a fun and easy fiesta for Cinco De Mayo (or any night!) for your family, here are some of my tips. This isn't anything big or grand, but it's something fun for the family. I find that my family doesn't look back and remember how much time I put into things like this (unless it was too much time, leaving me stressed out!), they just remember the experience we shared together.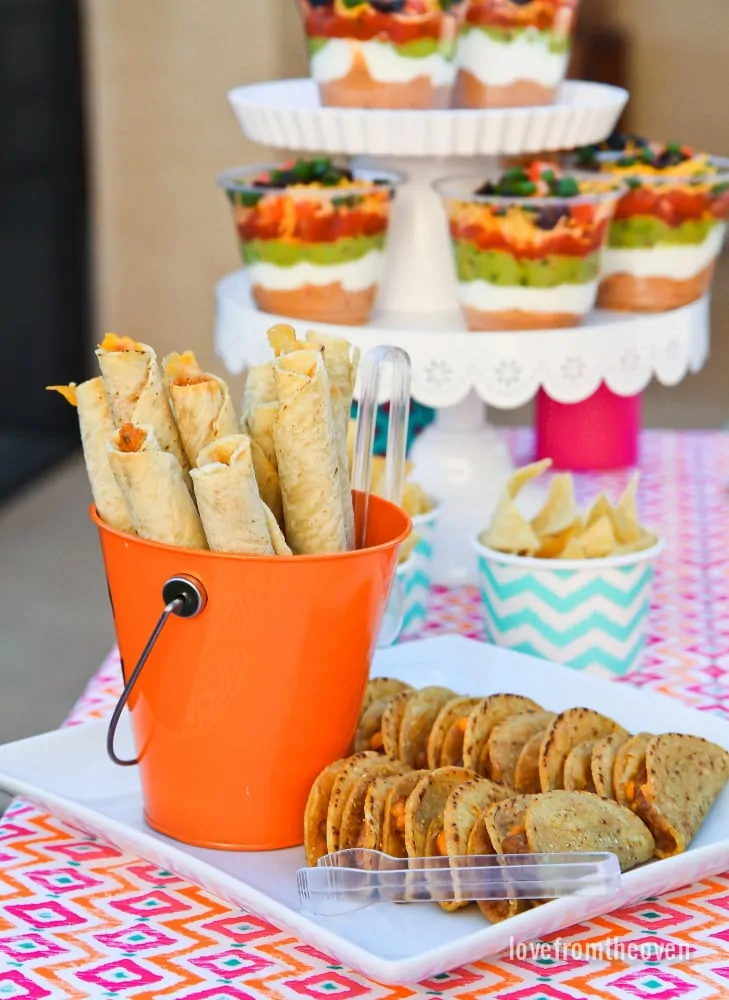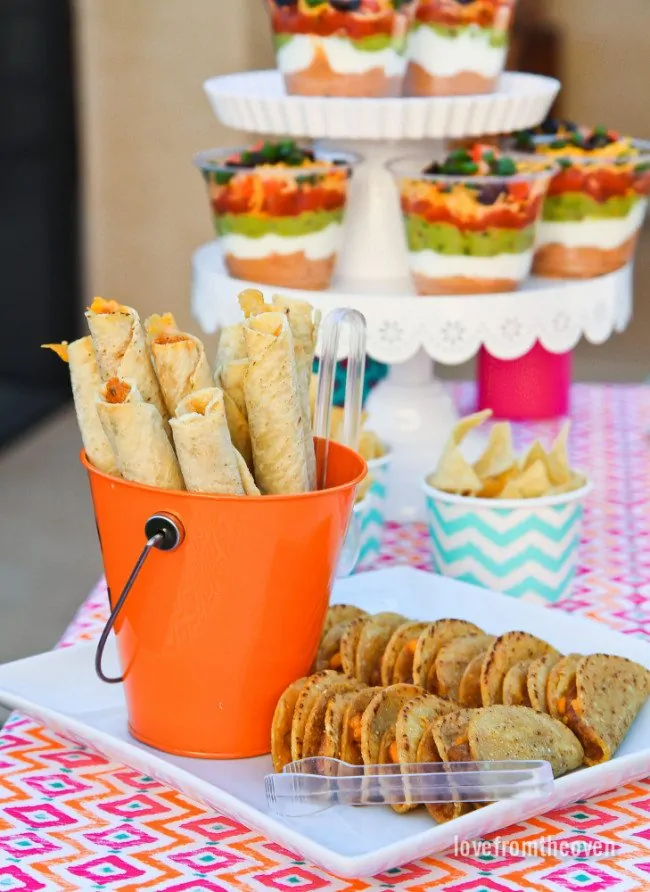 5 Ways To Say Ole – Easy Cinco De Mayo Snacks And Fun
1. Make it Semi-Homemade!
I love a homemade meal as much as anyone, but sometimes mama just needs a little help. From scratch is fabulous, but many days, connivence is my BFF. When I'm trying to put together something like a fun little fiesta for my family, they really enjoy the extra touches such as some fun decor or eating outdoors. For me, it's hard to do all that and cook everything from scratch, so semi-homemade is the way to go.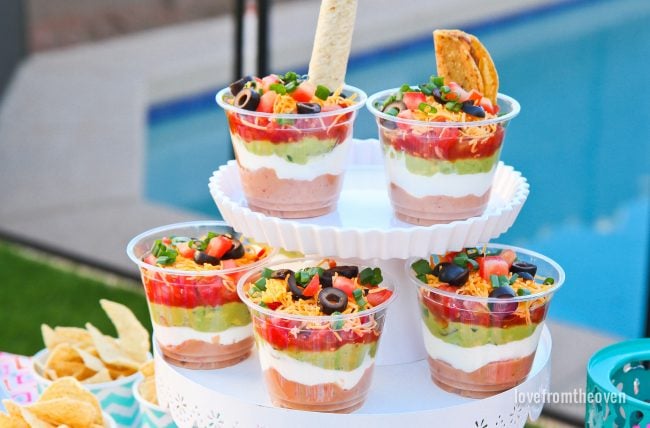 For this meal, I let José Olé take care of my main dishes, and I took care of the sides. José Olé is protein-packed with authentic Mexican flavor, real ingredients and is really easy to make. Those Chicken And Cheese Taquitos in Flour Tortillas? Totally amazing, I couldn't stop eating them while taking these pics! José Olé products are great for feeding the family or feeding a whole crowd.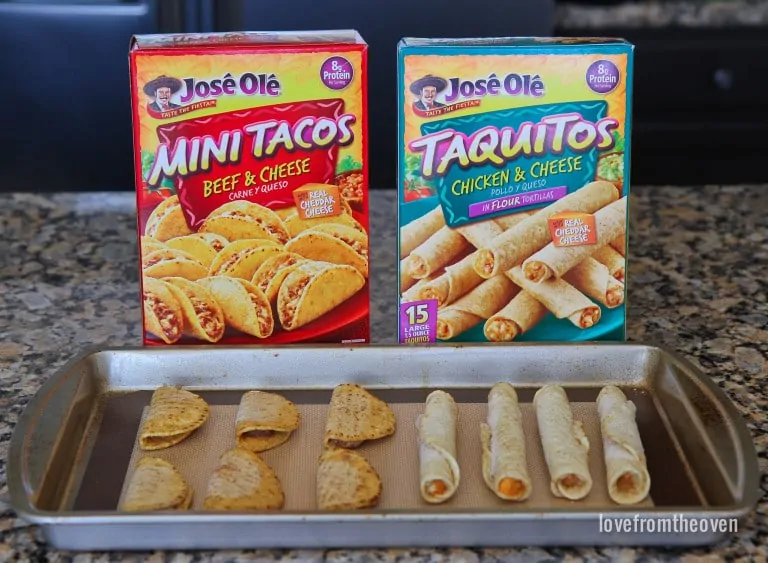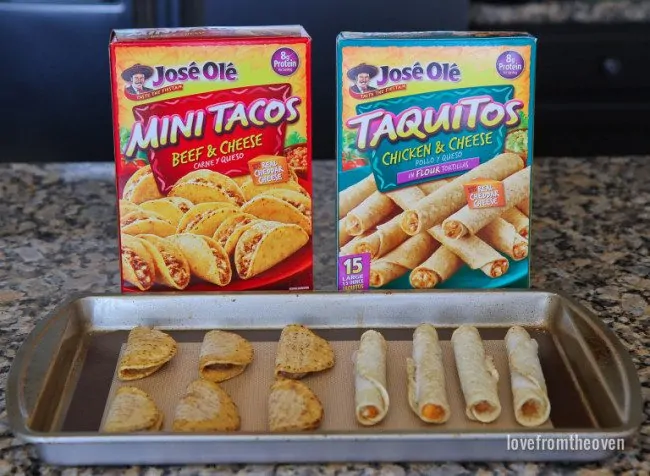 You can keep it simple by letting José Olé do the heavy lifting of the meal so to speak, and you can make other things from scratch, such as some salsa, guacamole or maybe a dessert. And hey, there is no shame if you pick them all up at the store, do what works for you and what you will enjoy.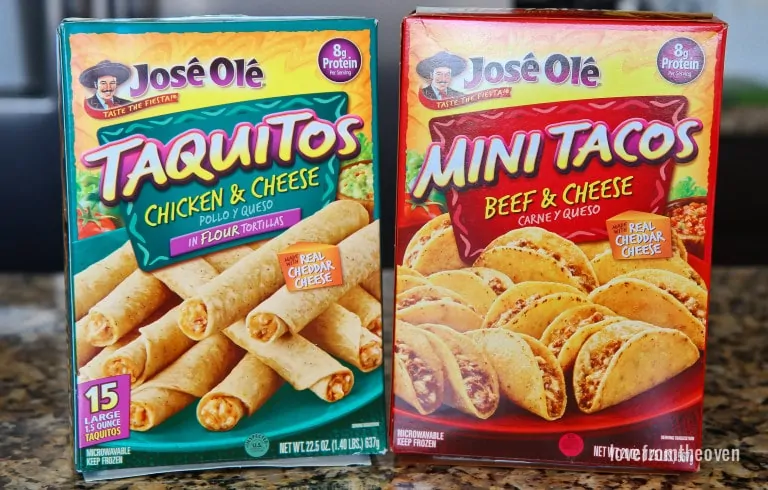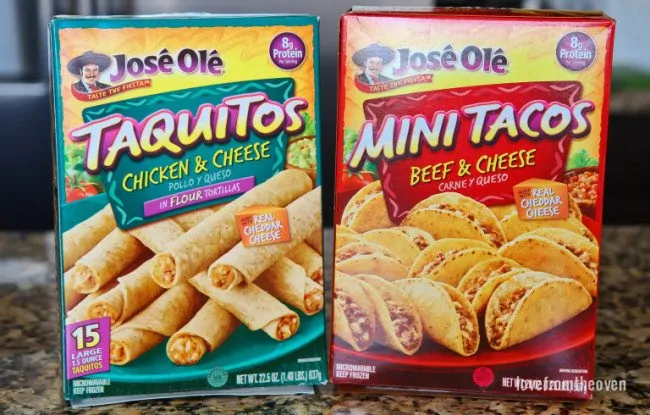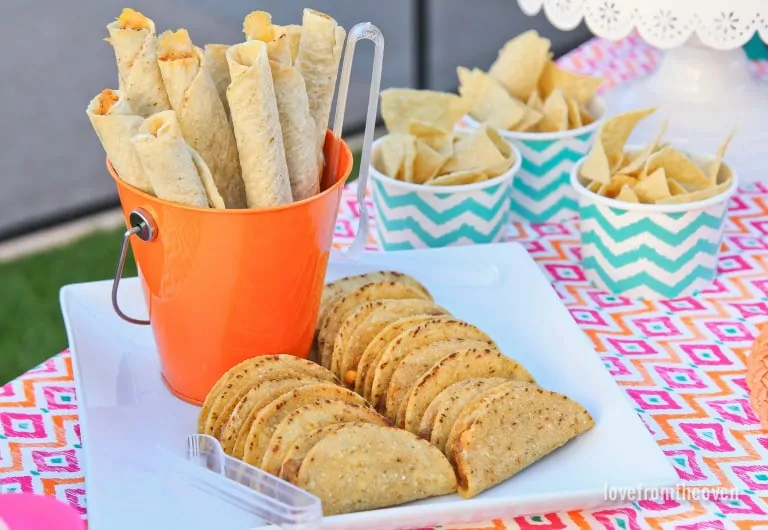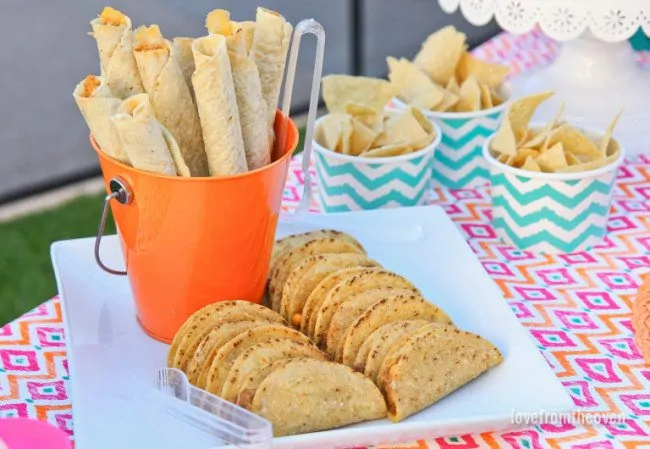 2. Find Fun Twists On Old Favorites
Seven layer dip is such a classic choice for Cinco De Mayo, but truth be told, my kids are kind of messy, and kids, double dipping, you get where I'm going. So instead of the traditional seven layer dip in a pan, I layered the exact same ingredients into clear plastic cups.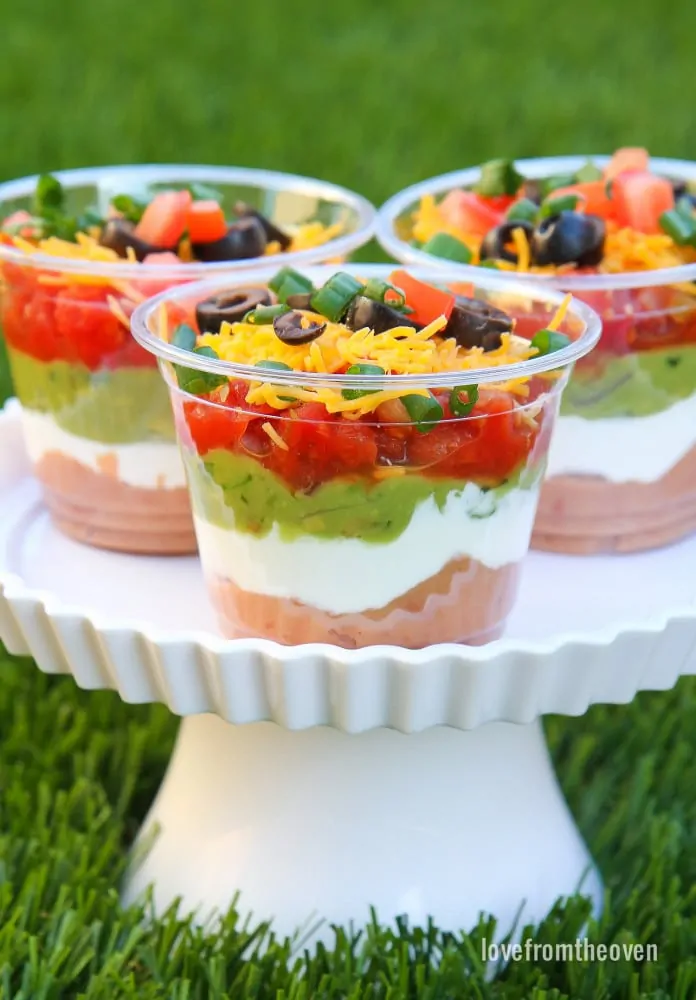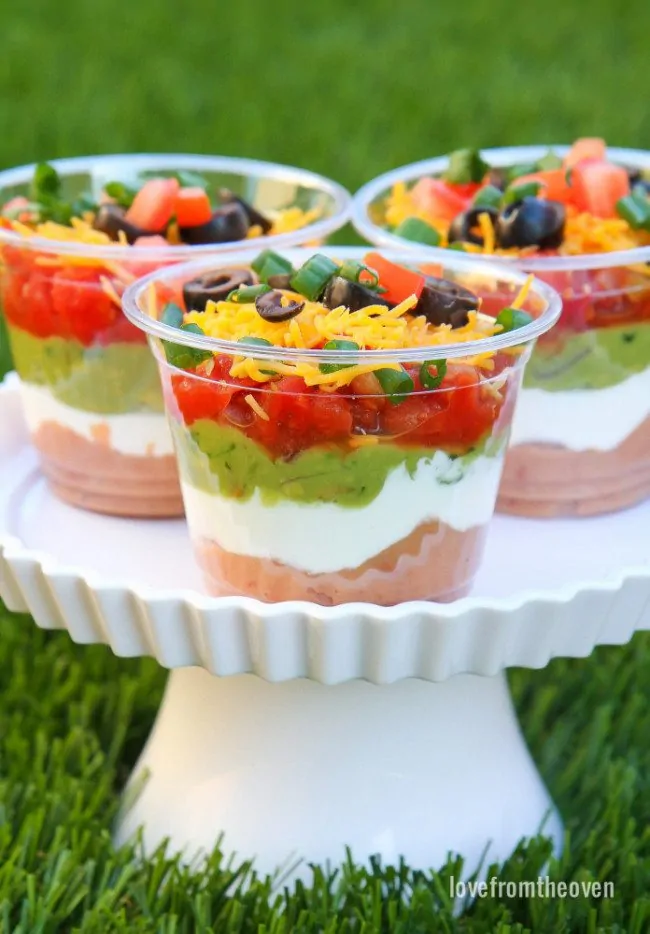 Why is everything so much more fun in single serving sizes? Just take your favorite seven layer dip recipe and put it in cups. Boom, you just made Cinco De Mayo Dippers! Or Seven Layer Dippers. Or Seven Layer Dip Cups – whatever you want to call them! I went with plastic cups, so I didn't have to worry about my kids dropping or breaking them. They both loved these, they are so fun and portable! And they are perfect with your José Olé snacks. Dipping chips is great, but dipping mini tacos and taquitos totally rocks. Not up for seven layer dip? Fill the cups with salsa or guacamole or whatever your gang enjoys.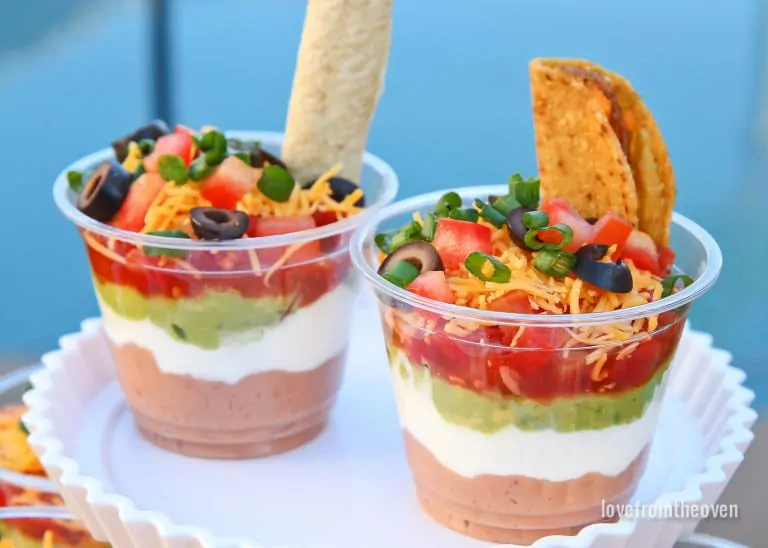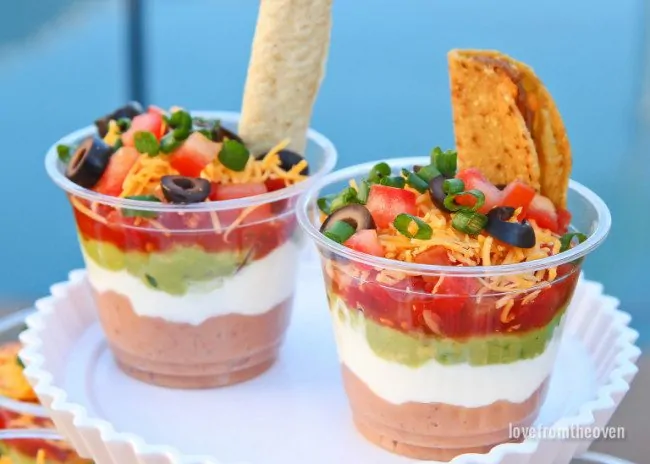 3. Take It Outside
May is one of those months that is beautiful in most areas. Here in Phoenix it's right before we slide into our long hot summer, so I like to get outdoors as much as we can. My kids think it's such a treat and so special to eat outside. It's almost like magic how different it seems when we open up the door and take our meals outside, it turns something ordinary into something really fun.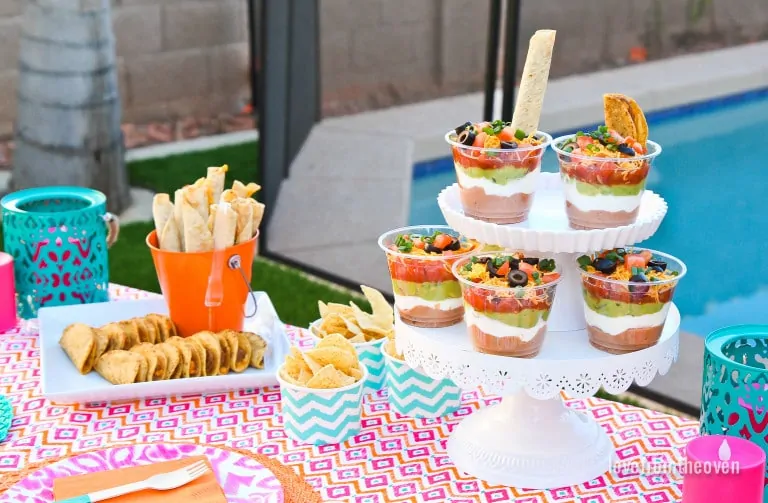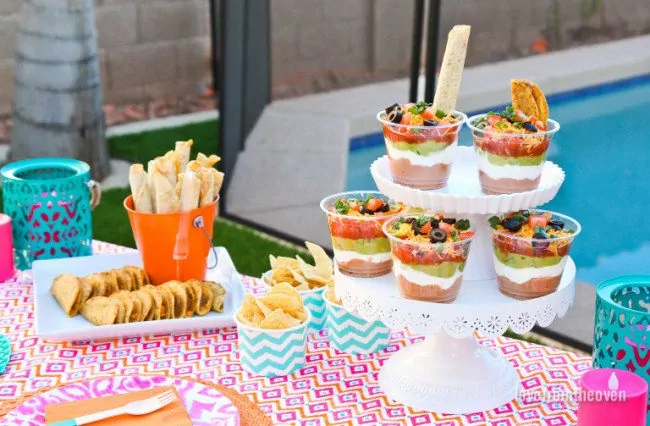 4. Work With What You Have
I think if I had one motto, it would be work with what you have. I pulled together this fun table setting with things I had around the house. The tablecloth and plates came from the dollar spot, and were from another event. The napkins and flatware were leftover from a party. The chip cups, those are also from the dollar spot and are actually for ice cream!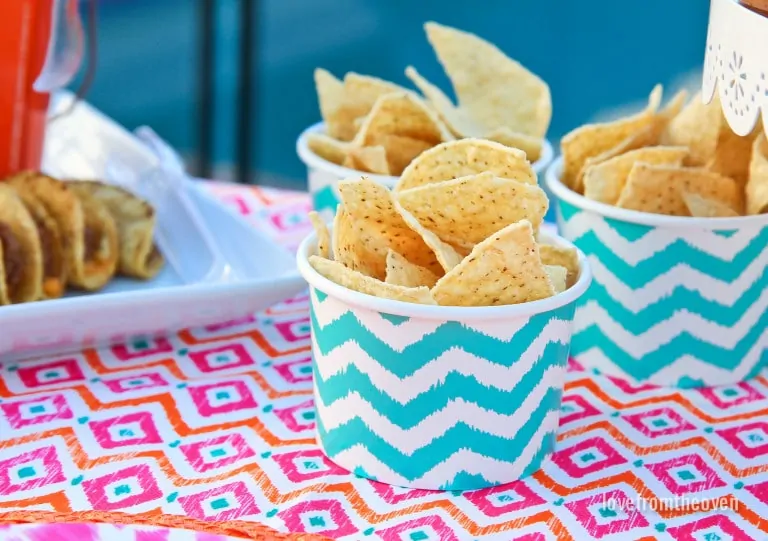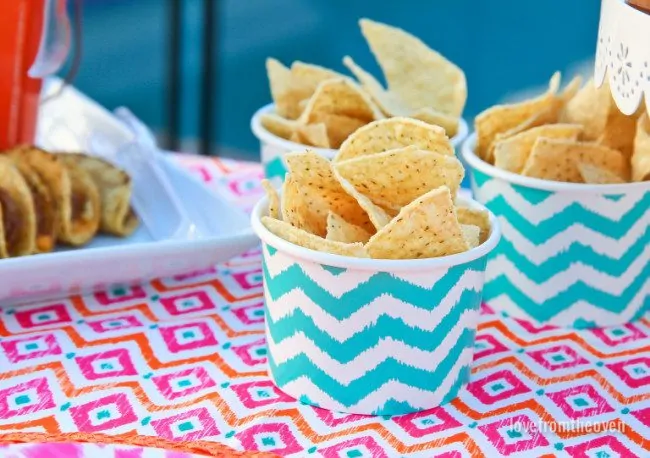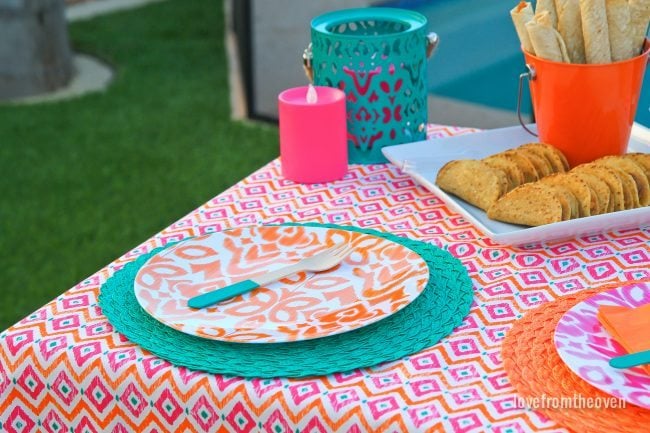 The orange pail holding the yummy José Olé taquitos, it's from Halloween. Work with what you've got around the house.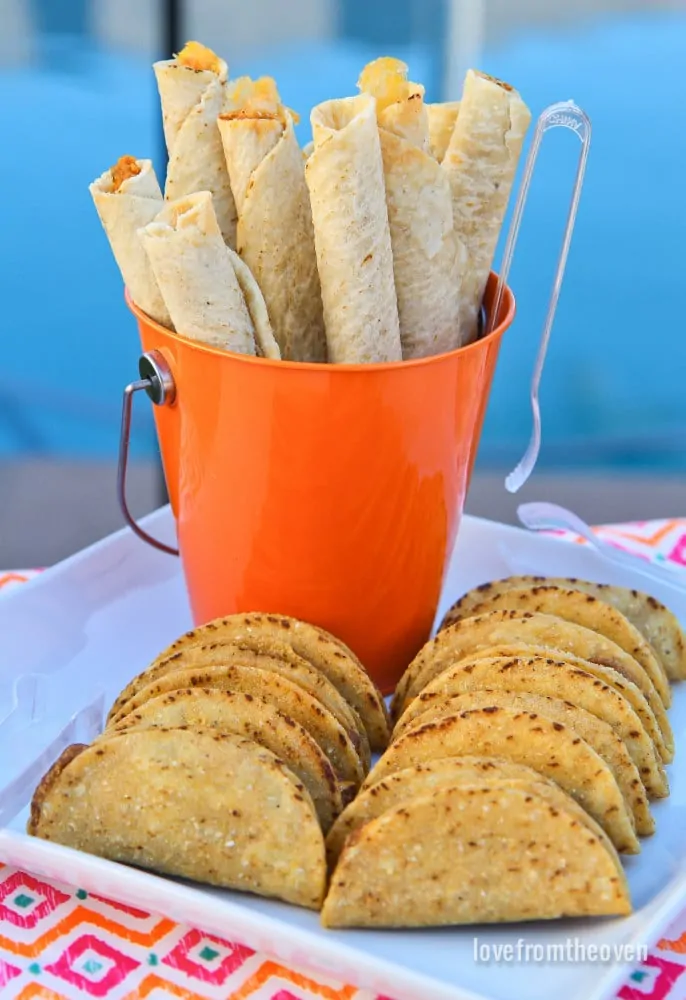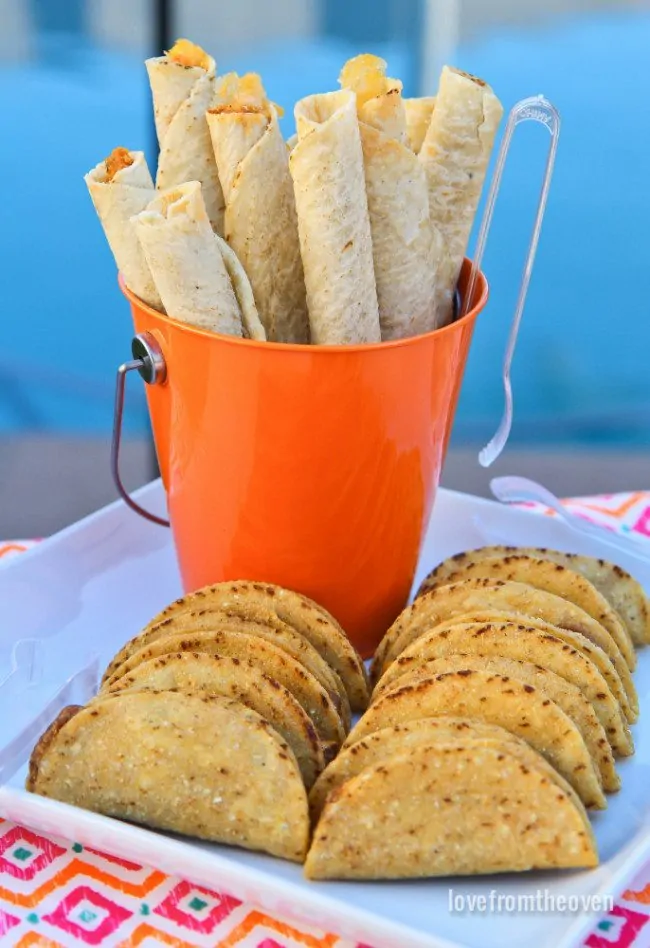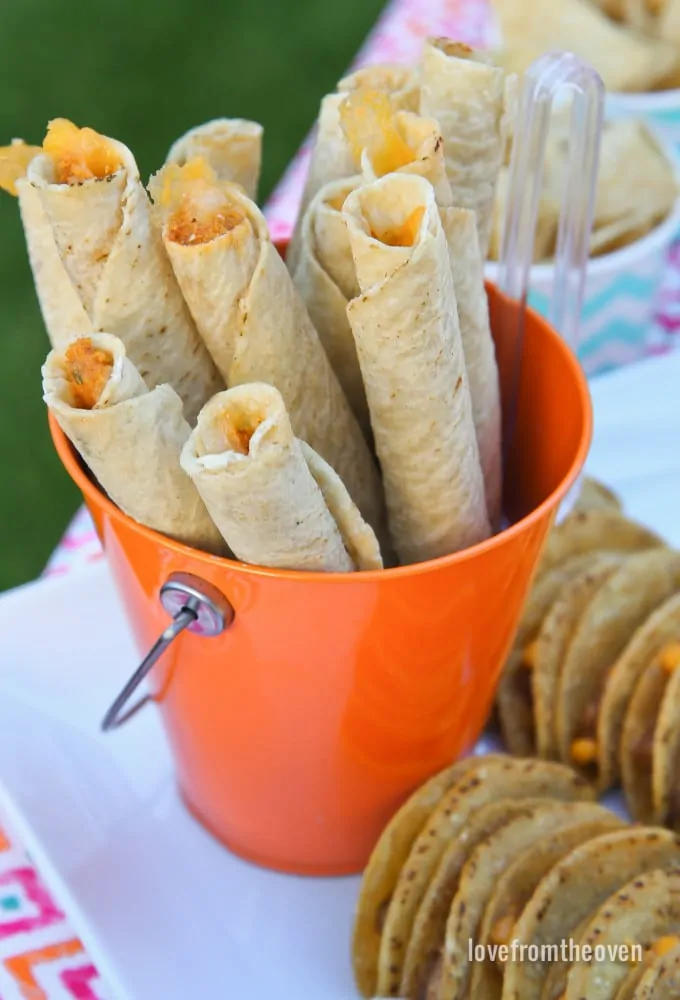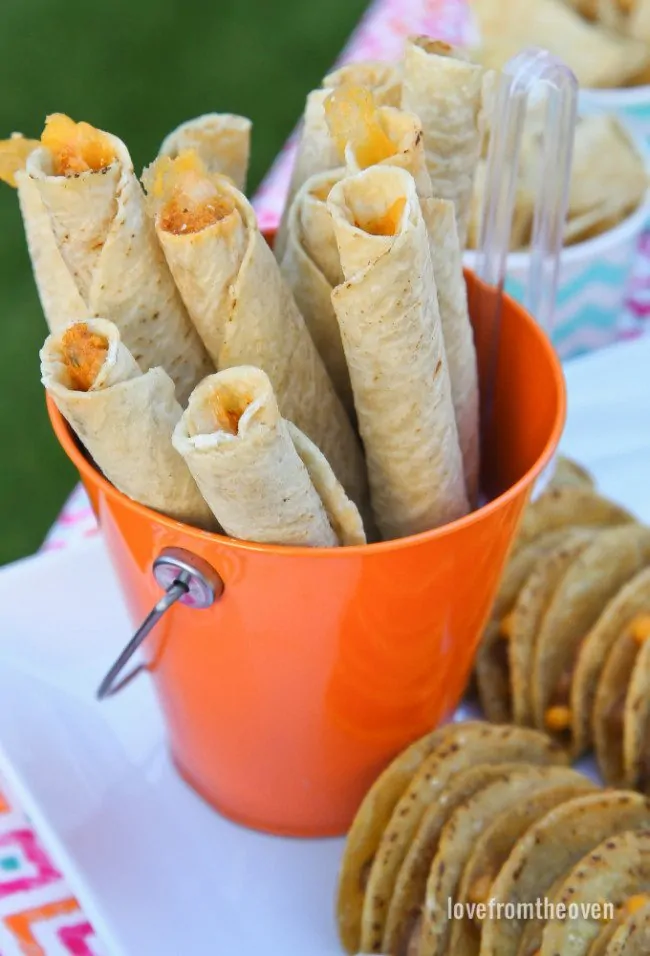 No outdoor dining table? I set this up on a folding table, and threw a blanket down on the grass. Dining al fresco! To be honest we barely used the plates, everyone grabbed their seven layer dip cups, and kept coming back for more tacos and taquitos. I love a meal that you can eat almost anywhere!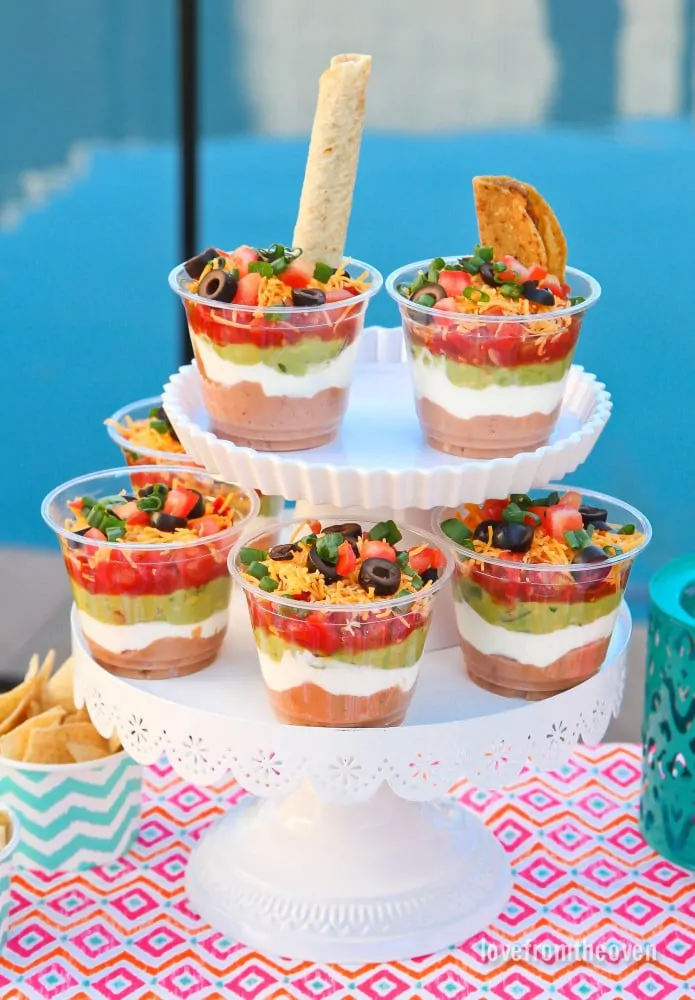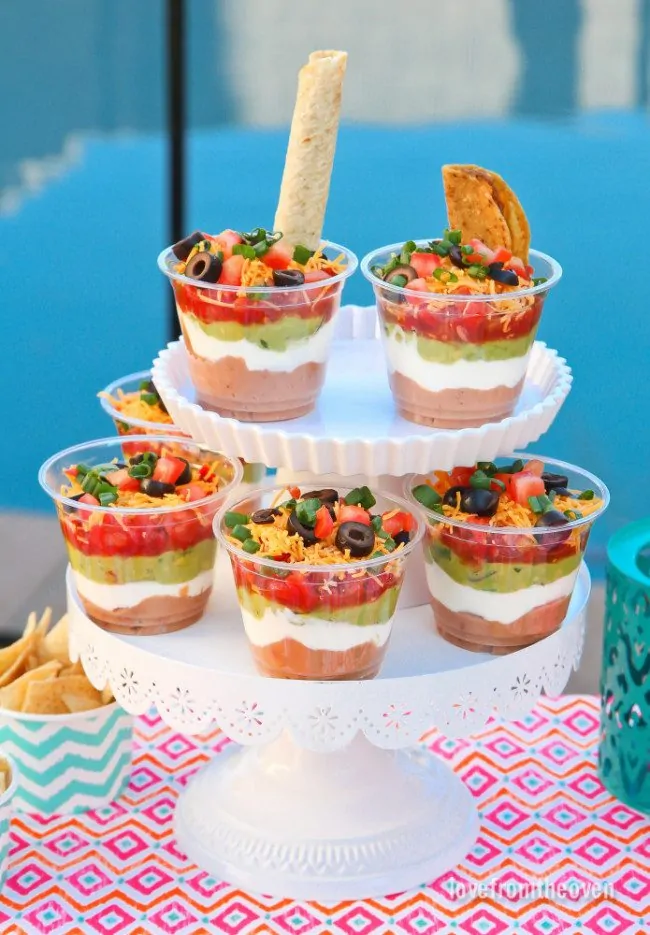 5. Have Fun With It
This might be the most important one, have fun with it! I'm realizing more and more my family doesn't now or care if everything is Pinterest-perfect. They don't care if everything is made from scratch or the table is perfectly accessorized. They care that I was there with them and we had fun. It's easy in this day and age to get wrapped up in having things always be crafty, clever and perfect, but I think as mom's we are the ones focusing on that, not our kids. So have FUN with it. Even if you've had a crazy day and are dropping all the balls that you are juggling, you can throw some José Olé snacks in the oven (or even the microwave), grab a few plates and head outside with the kids for your own little family fiesta. That's the part your loved ones will remember.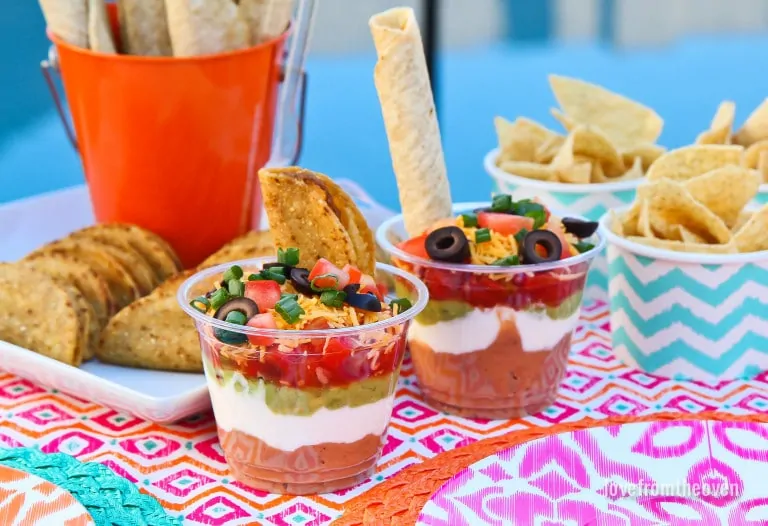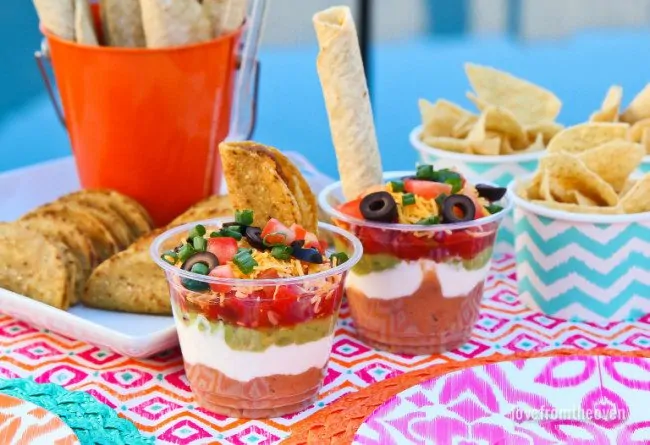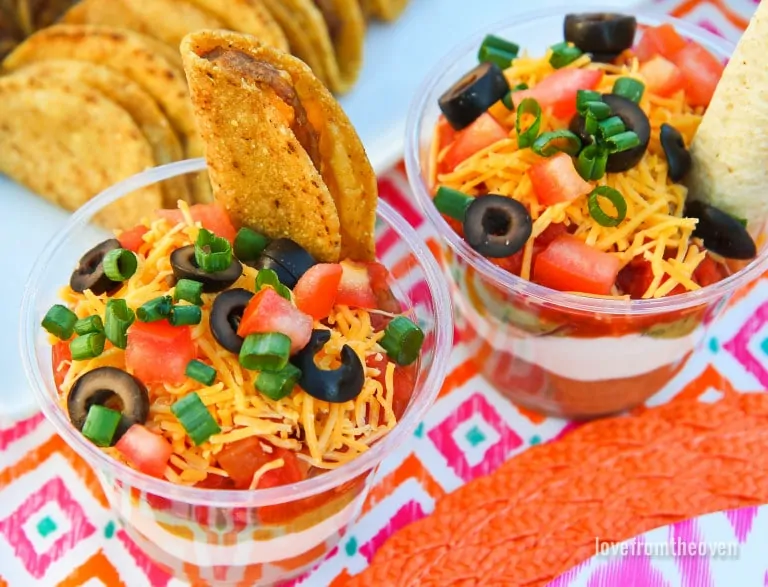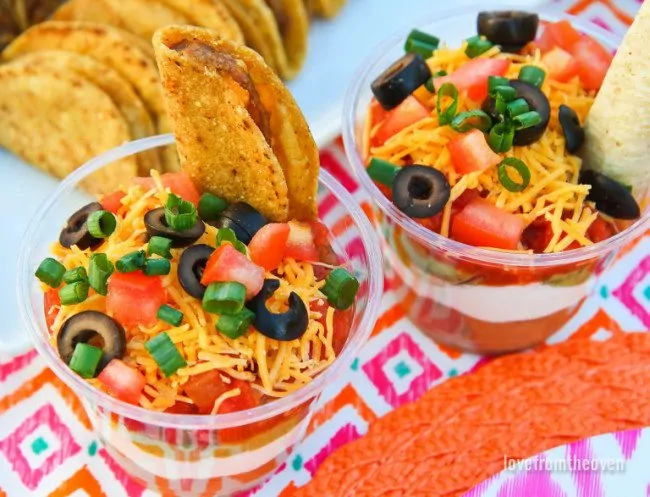 As a blogger, it's my job to come up with things that look pretty on your screen, but as a mom, I know that's not how it usually goes down, and that's OKAY. Keep it simple and have fun finding your own way to enjoy some easy Cinco De Mayo Snacks!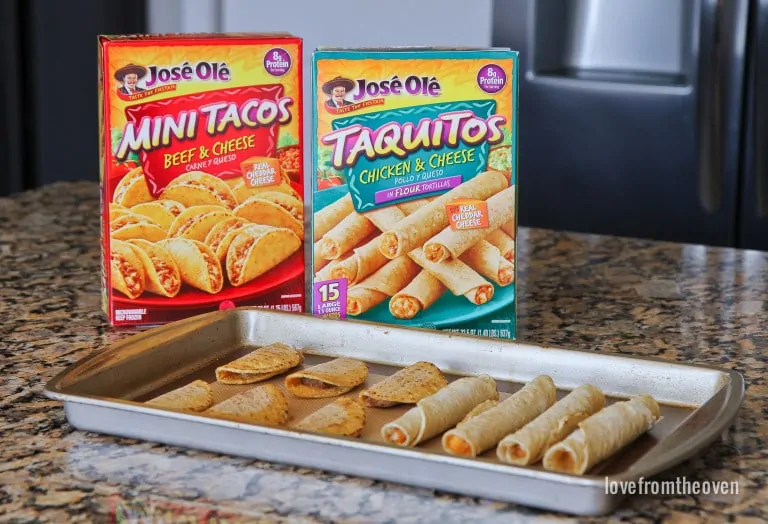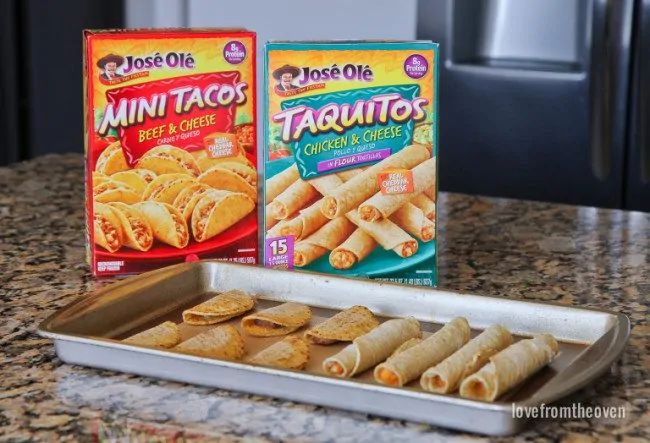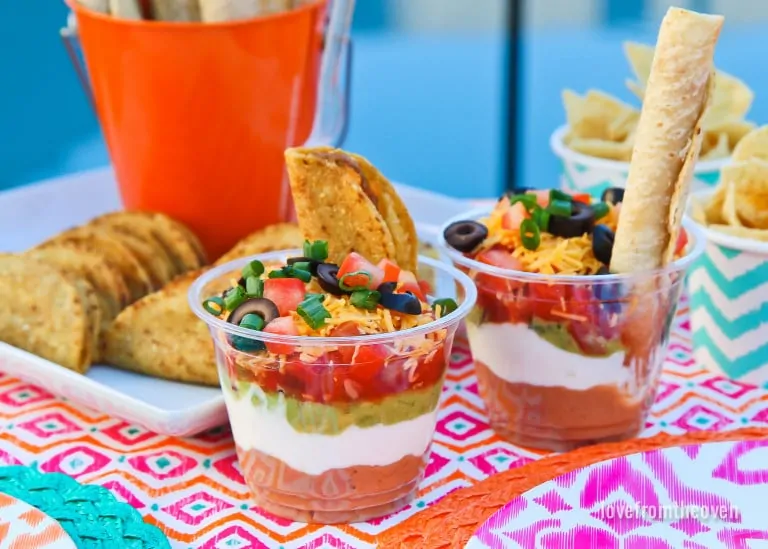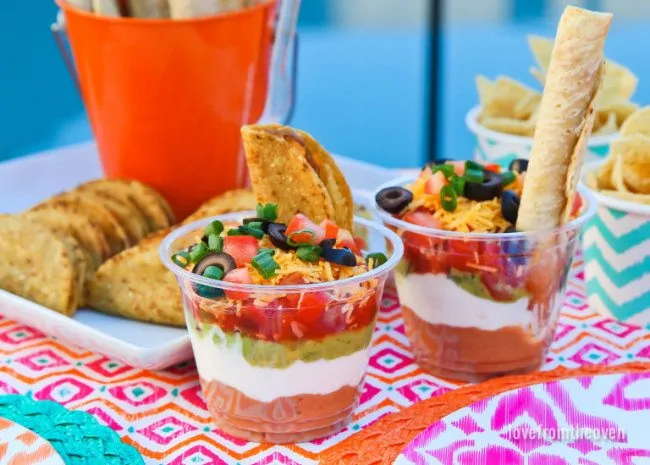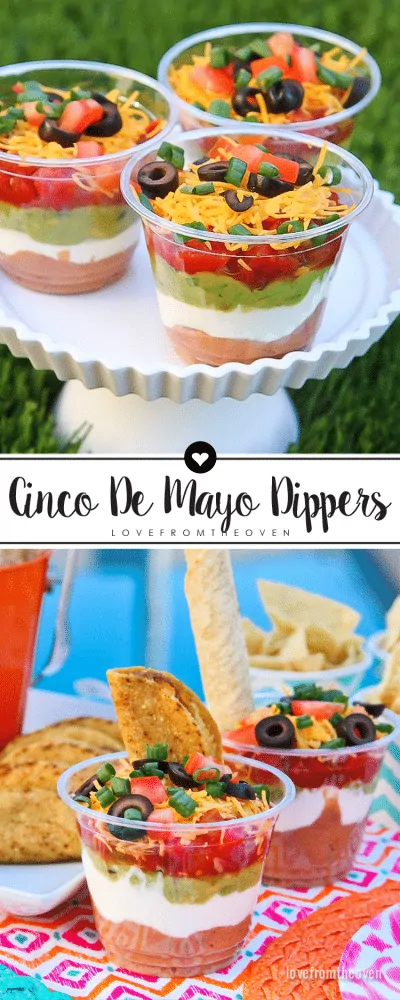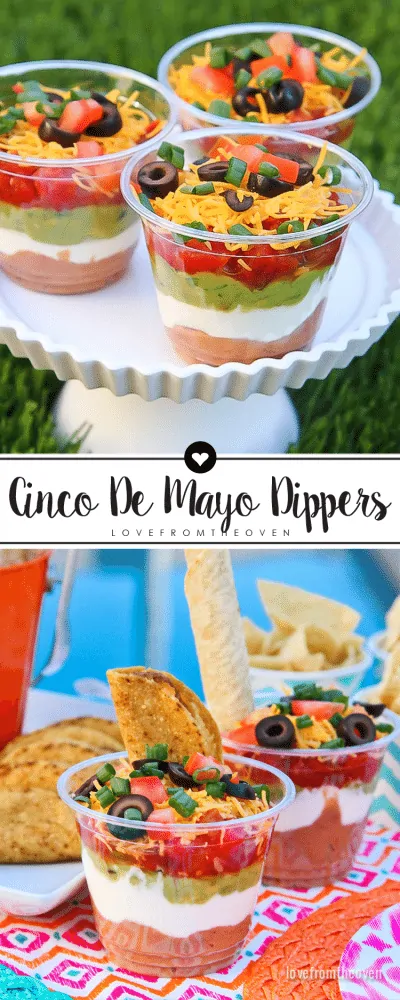 This is a sponsored conversation written by me on behalf of Jose Ole. The opinions and text are all mine.