Green Goddess Salad is a flavorful, nutrient-packed salad that will have you craving this colorful dish for days and days to come. Finely chopped vegetables are tossed in a creamy Green Goddess Dressing and served with tortilla chips, making this the best salad you'll ever eat!
There's a reason this Green Goddess salad went viral on Tik Tok; it really is THAT good!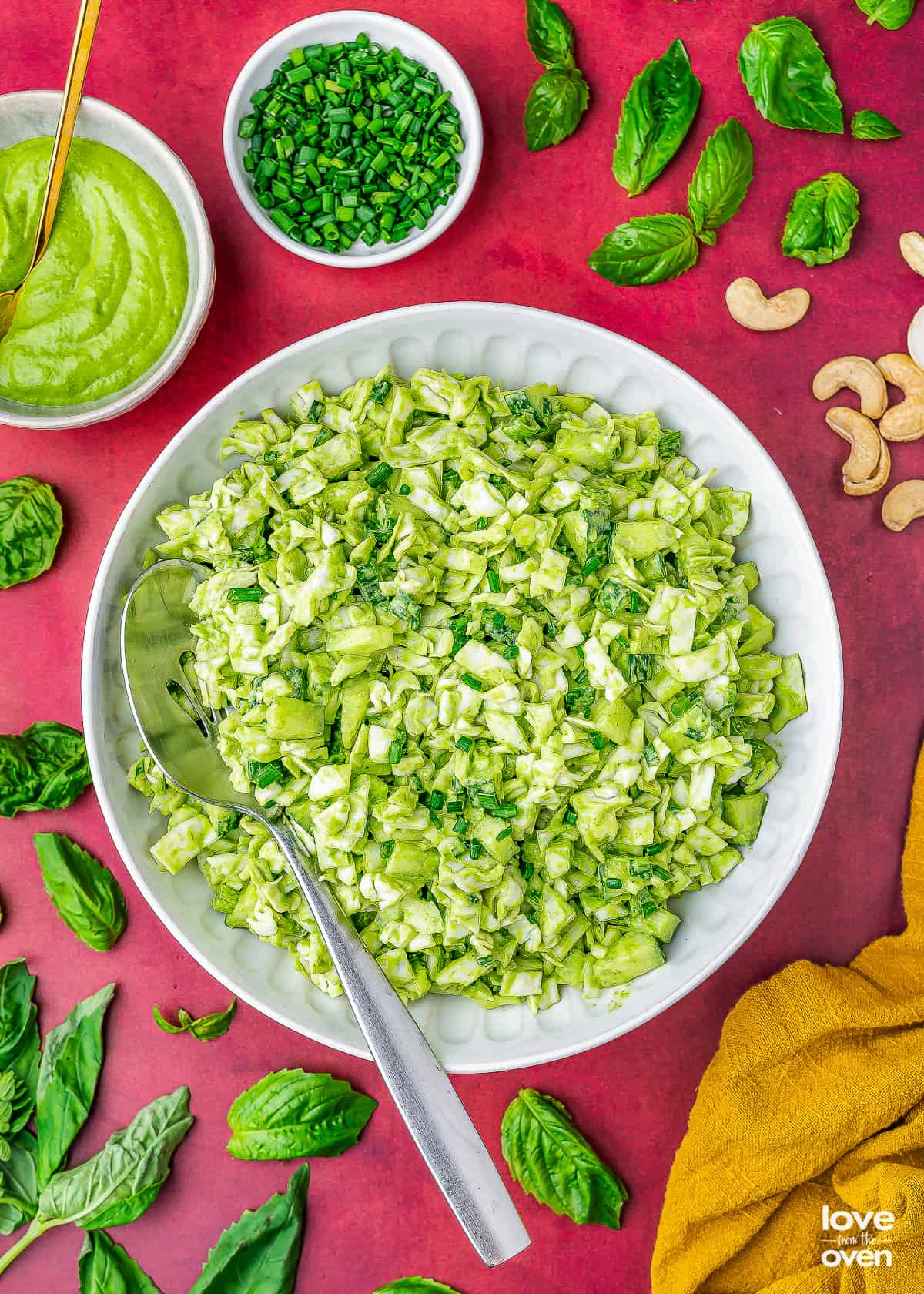 Reasons You'll Love This
Viral Recipe – There's a reason this delicious salad went viral on social media.
Flavor & Texture – The crunchy, crisp textures of the vegetables combined with the intense, savory flavor of the dressing truly makes this one of the best salads you'll ever have.
Nutrient Dense – This Green Goddess Salad is packed with all the vitamins and nutrients you need to keep you energized, and your tummy full! Not to mention it tastes amazing too!
Easy to Make – Have I mentioned yet how easy this is to make? It comes together in under 10 minutes!
Delicious Dressing – The dressing. Period. End of sentence. It's so good you'll want to put it on everything!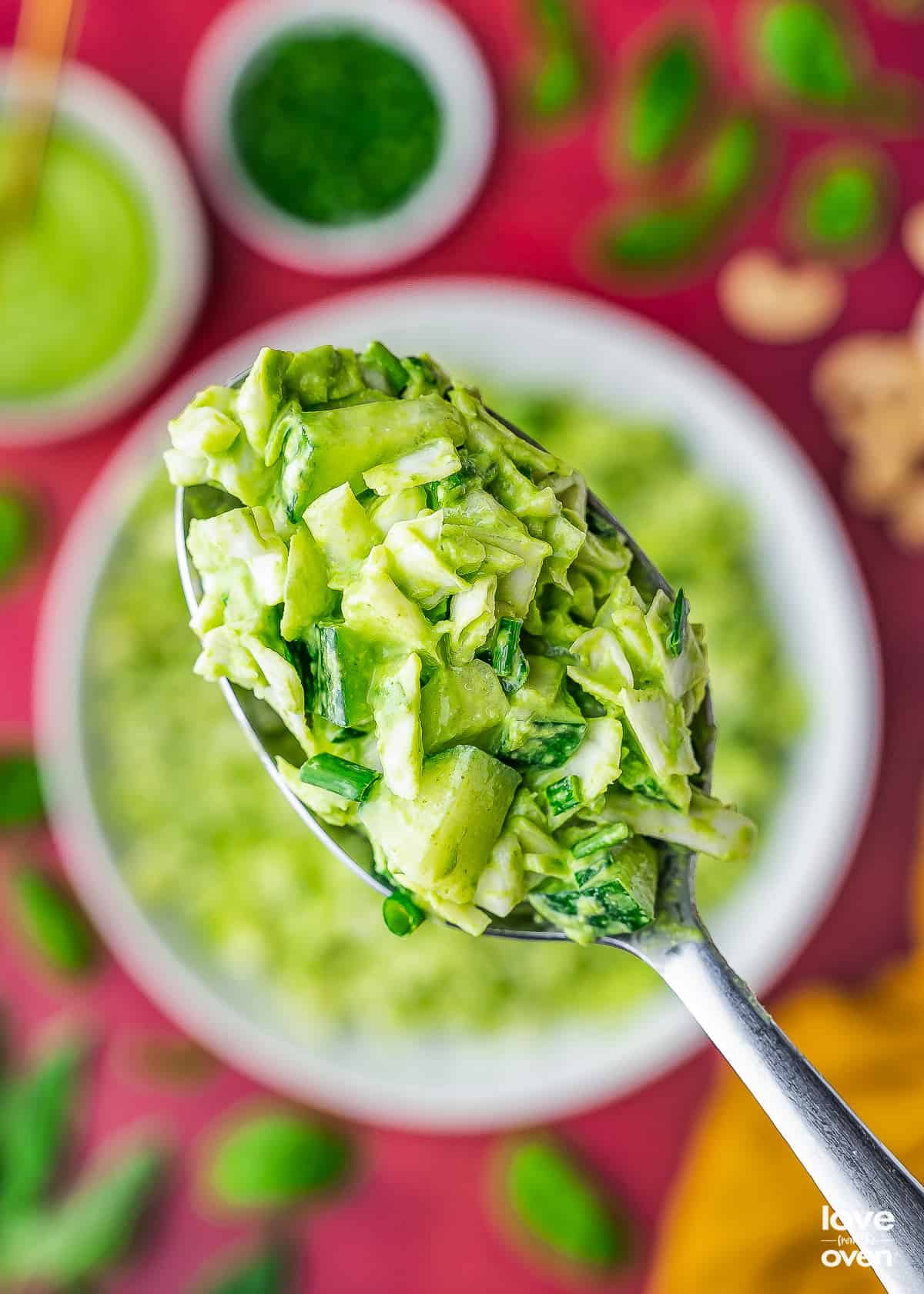 If you could be addicted to eating salads, this would be the salad that would get you. Seriously, you'll try this once, and find yourself craving green goddess salad every day of the week! Thankfully, this only takes 10 minutes to make, so you'll be shoveling this into your mouth in no time!
Ingredient Info
Let's discuss how to make Green Goddess Salad, as well as the ingredients that are needed. Please take note that below you will find discussion, expert tips, and answers to frequently asked questions about this recipe to help you recreate it in your kitchen. If you *just* want the recipe itself, scroll down. The full printable recipe itself, with exact measurements and instructions, is found at the bottom of this page.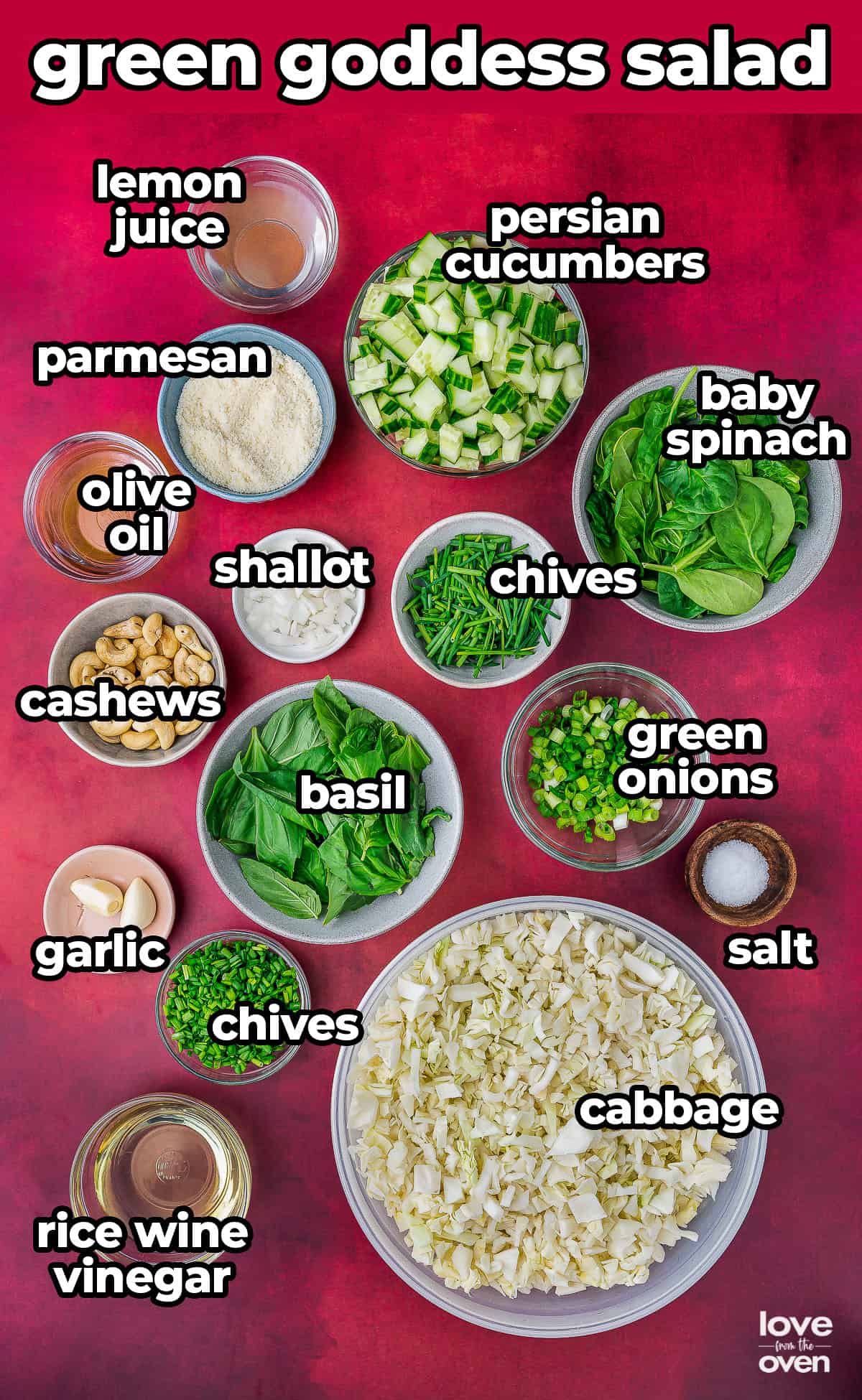 Cabbage – Highly recommend using green cabbage for this recipe, because it has a lovely crunch that you'll want for this salad. Make sure you finely chop the cabbage, more than usual. You can use a vegetable chopper to help you out with this task.
Chives – Finely dice up the chives before adding it to the salad. If you don't have any chives, you can use twice the amount of green onions.
Green Onion – Do a nice fine chop of the green onions as well.
Persian Cucumbers – Persian cucumbers specifically, have a nice crunch. You can also use regular cucumbers if you'd like.
Green Goddess Dressing – This dressing is so good it deserves it's whole post! Check out how to make a green goddess dressing here, or buy one from the store.
Tortilla Chips – You can also serve this with tortillas and make it a green goddess dip! This is optional, but it's a really fun way to eat this salad and you won't have to wash any utensils!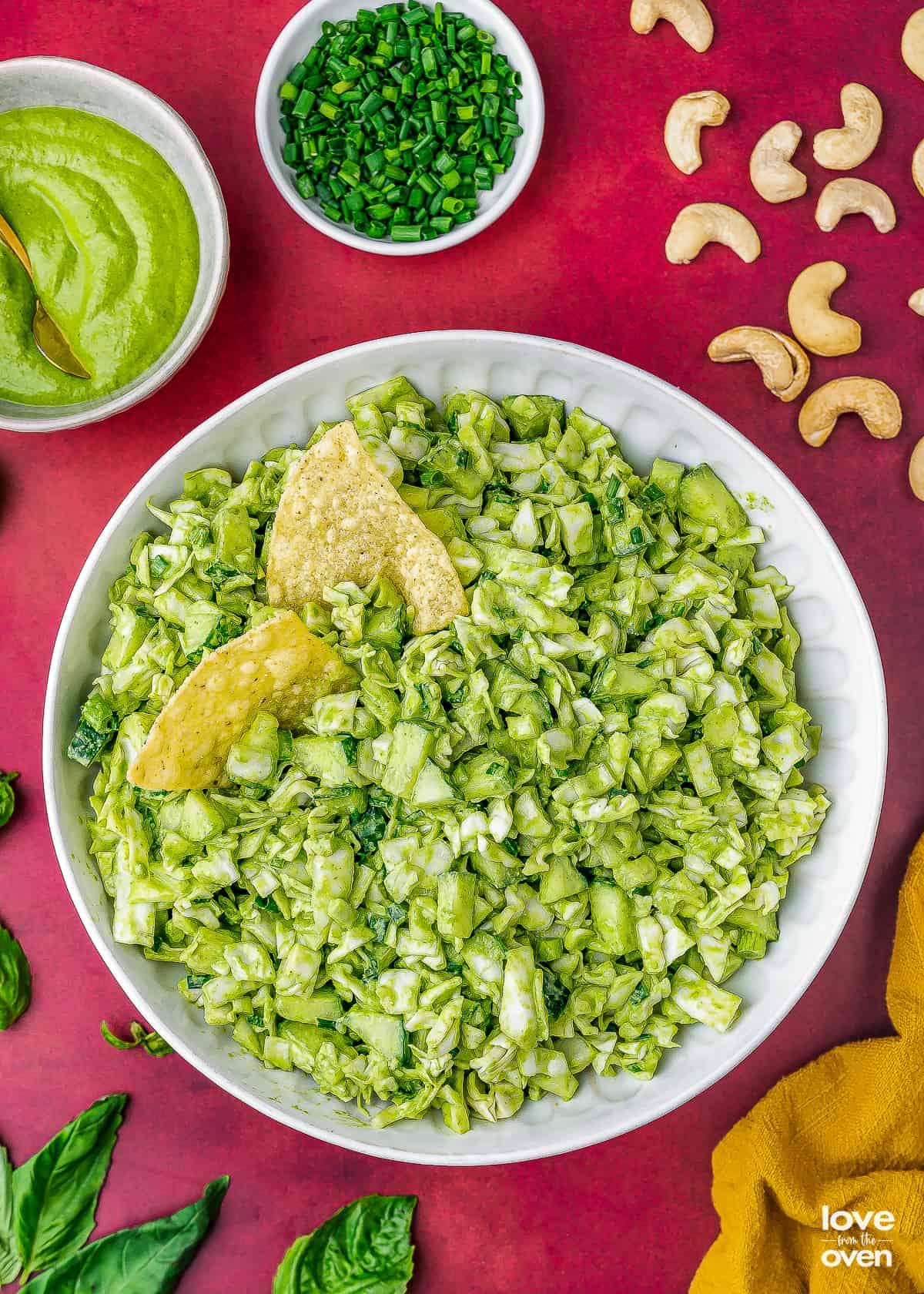 Step By Step Instructions
Finely chop up the Persian cucumbers, cabbage, chives and green onion and add it to a large mixing bowl.
Pour over the Green Goddess dressing, toss everything together until evenly coated, then serve.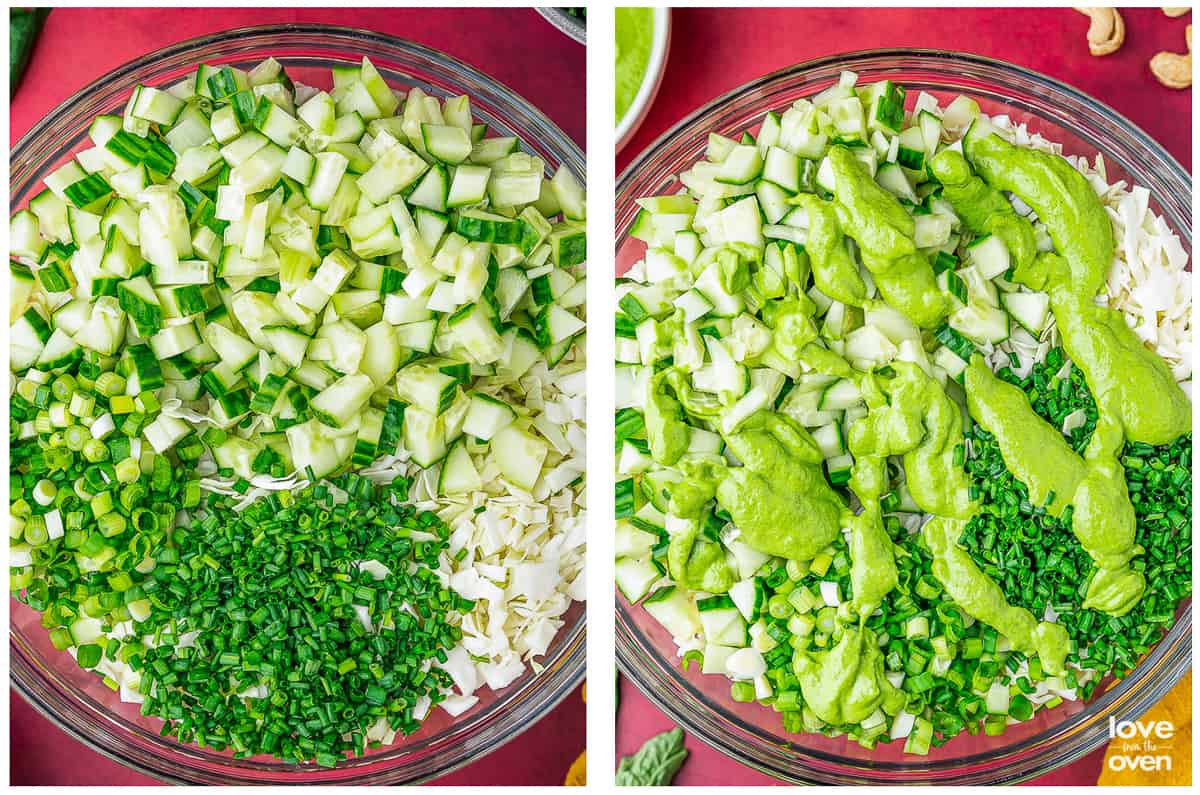 Tips And Advice
Storage – Unfortunately for this recipe, wouldn't recommend saving it for longer than a day. The longer it sits in the fridge, it will become very soggy. While the best way to enjoy this recipe is fresh, made day of, you can also try chopping up the veggies ahead of time, and saving it separately from the dressing until you're ready to serve.
Add something extra
You don't have to stop at just these salad ingredients listed. You can add many more of your favorite veggies that you like to make it your own. Some good additions would be diced avocado, jalapeño, green bell pepper, tomatoes, corn, beans, anything you'd like!
Equipment
For this recipe, you'll just need a large mixing bowl and some tongs. If you'd like to use a veggie chopper for an easier way to dice up your salad ingredients, I highly recommend it!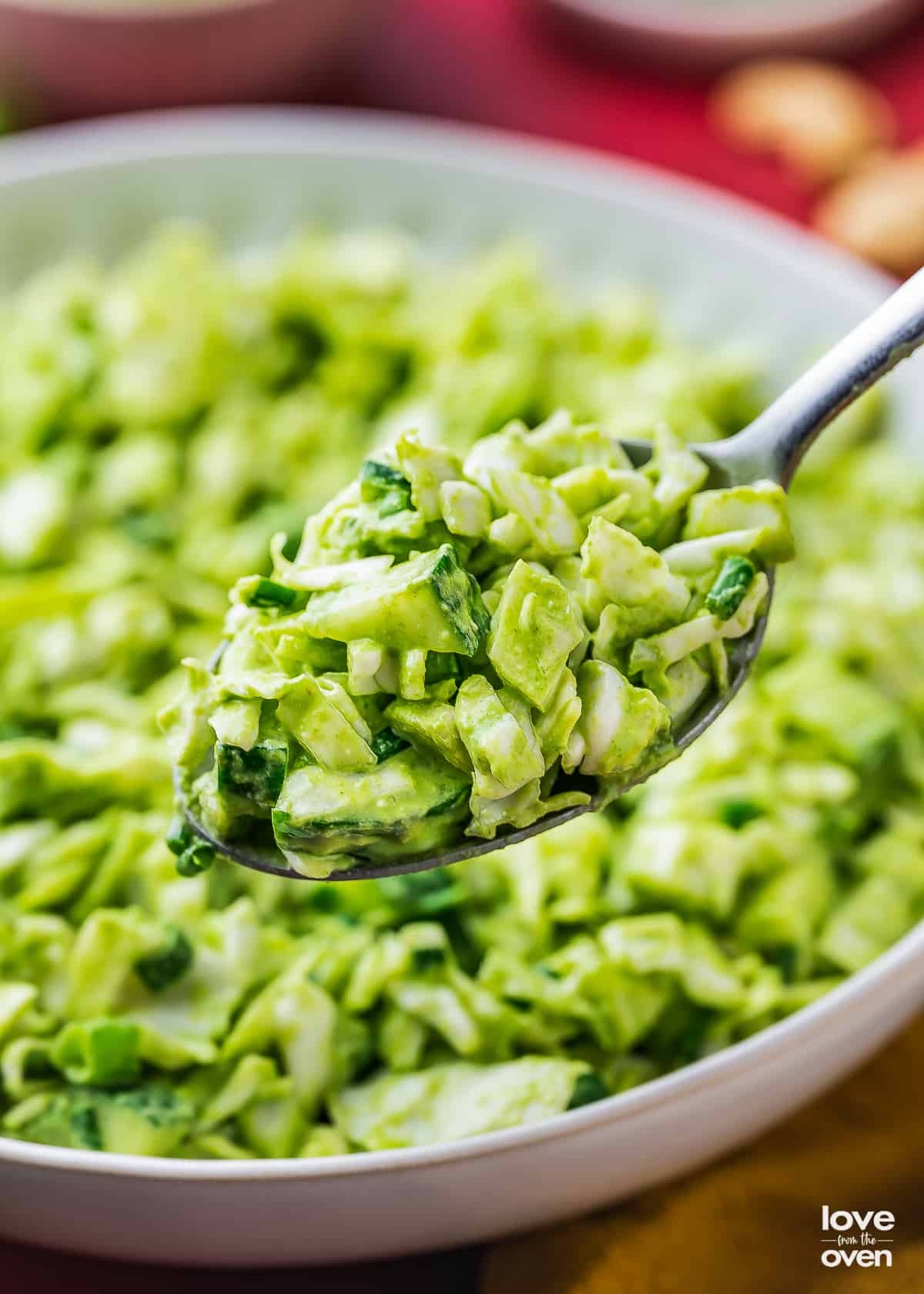 FAQs
What does green goddess salad taste like?
This salad tastes like crunchy, fresh veggies coated in something similar to a pesto sauce, that's creamy and has a bit more of a zing to it.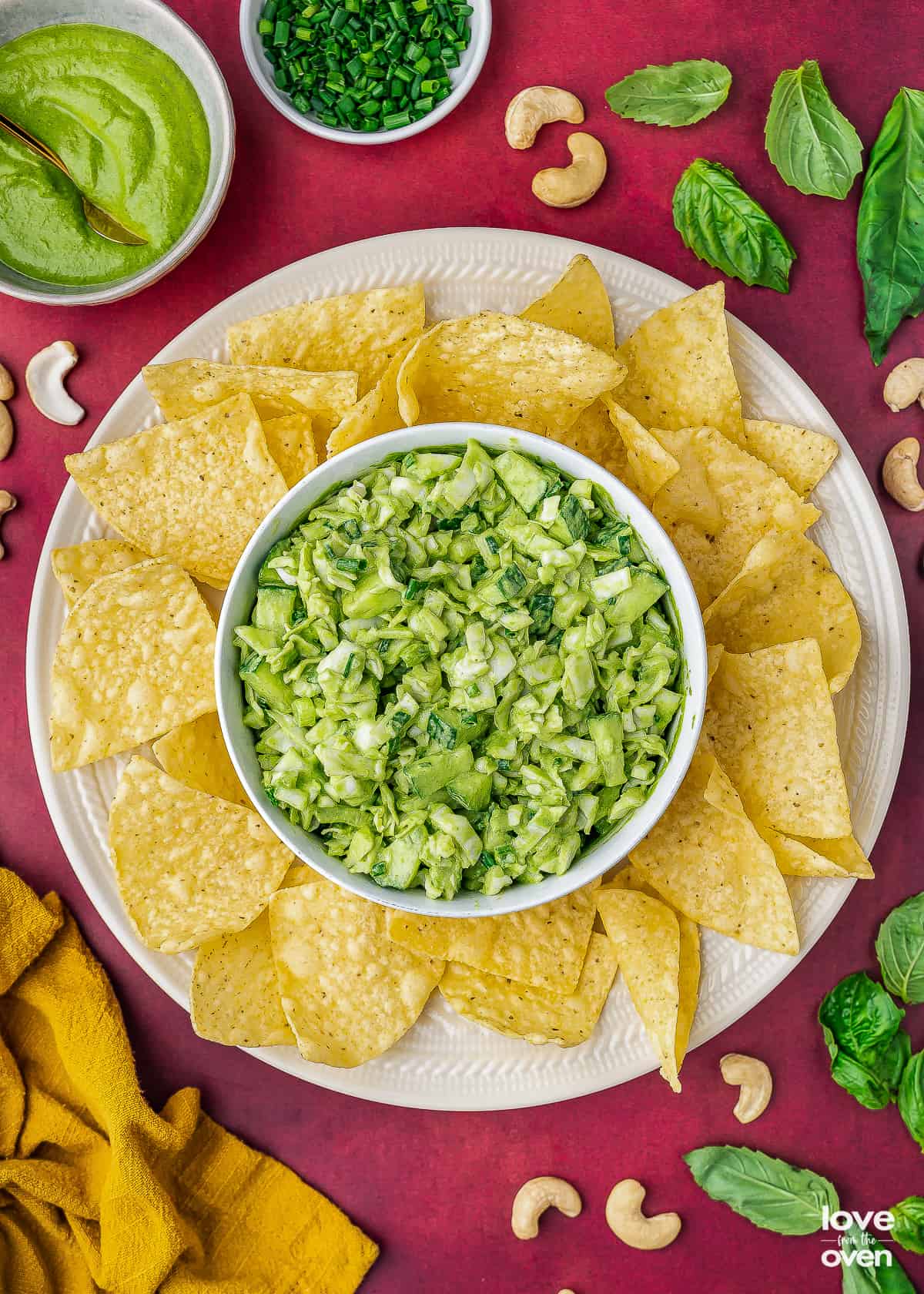 Recipes You'll Love
If you enjoyed this green goddess salad you might enjoy some of these other similar, yet just as delicious recipes!
More Recipes You'll Love!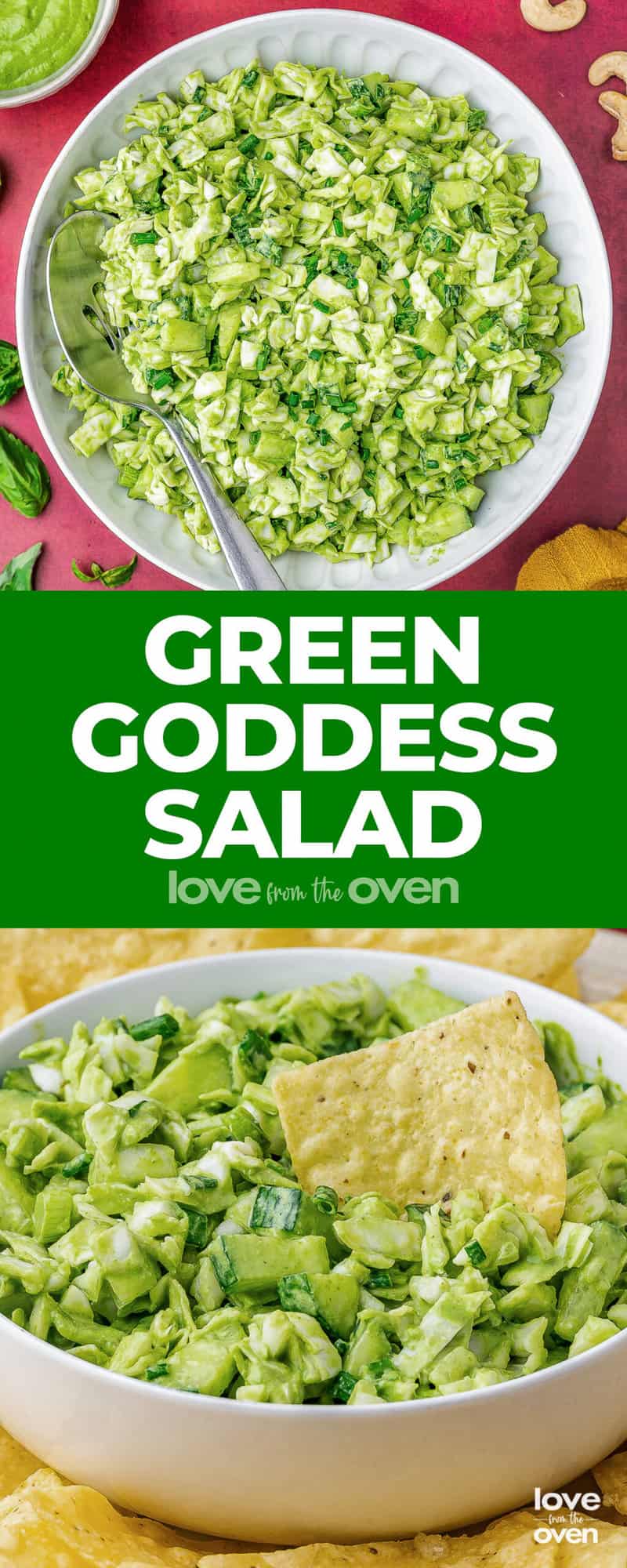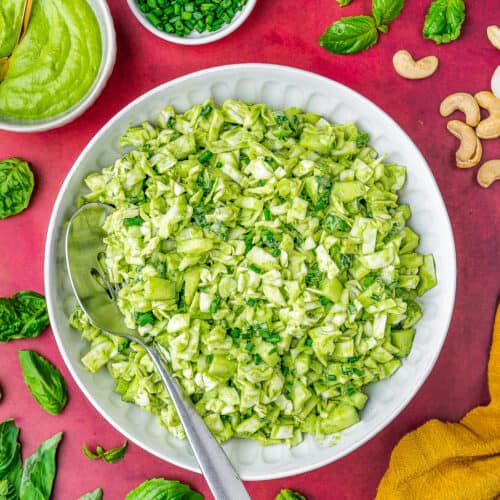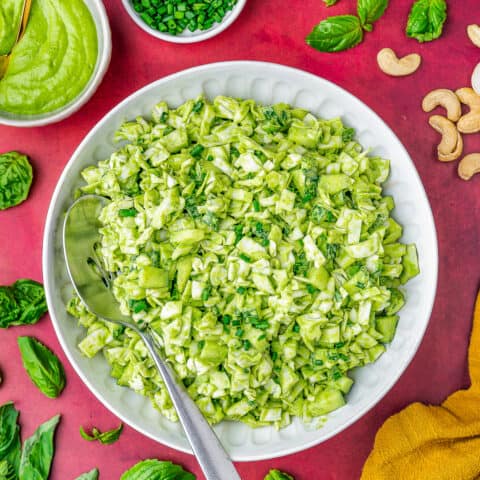 Green Goddess Salad
Ingredients
1

head of green cabbage

finely chopped

3

Persian cucumbers

finely diced

1

bundle green onions or scallions

finely chopped

1/4

cup

fresh chives

finely choppped

1

batch

green goddess dressing
Instructions
Place salad ingredients in a large bowl.

Pour Green Goddess dressing over ingredients.

Mix to thoroughly cover salad with dressing.

Serve and enjoy. It's great served with tortilla chips which can be used to scoop up bites of salad.
Notes
*Calories shown are for the salad, the dressing calories will vary based on which green goddess dressing you use.
This salad is best when fresh. Storing it can result in a soggy salad.
Nutrition
Calories:
65
kcal
|
Carbohydrates:
15
g
|
Protein:
3
g
|
Fat:
0.3
g
|
Saturated Fat:
0.1
g
|
Polyunsaturated Fat:
0.1
g
|
Monounsaturated Fat:
0.04
g
|
Sodium:
42
mg
|
Potassium:
463
mg
|
Fiber:
6
g
|
Sugar:
8
g
|
Vitamin A:
405
IU
|
Vitamin C:
86
mg
|
Calcium:
102
mg
|
Iron:
1
mg
Disclaimer
Nutrition information is estimated as a courtesy. If using for medical purposes, please verify information using your own nutritional calculator. Percent Daily Values are based on a 2000 calorie diet.