The Levain Cookie Recipe just might make the best chocolate chip cookies in existence. Inspired by the famous bakery in in NYC, these big, beautiful chocolate chip cookies are everything you could want in a cookie. They have a deliciously buttery flavor, are packed full of chocolate chips and walnuts, and have a soft and chewy center that is almost legendary. Even if you can't get to New York to try one of these incredible cookies, you can try this copycat Levain Cookie Recipe at home!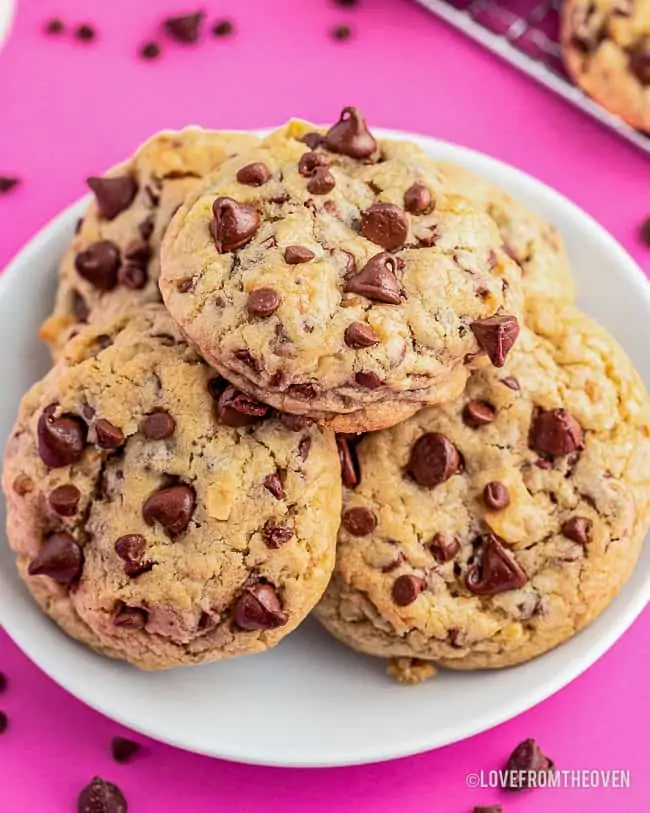 Levain Bakery Cookie Recipe
If you are constantly on the hunt for the best chocolate chip cookie recipe, you can probably stop looking now. You've found it. Levain Chocolate Chip Cookies are best sellers for a good reason. These cookies are just crispy enough on the outside, while being thick, soft and chewy on the inside.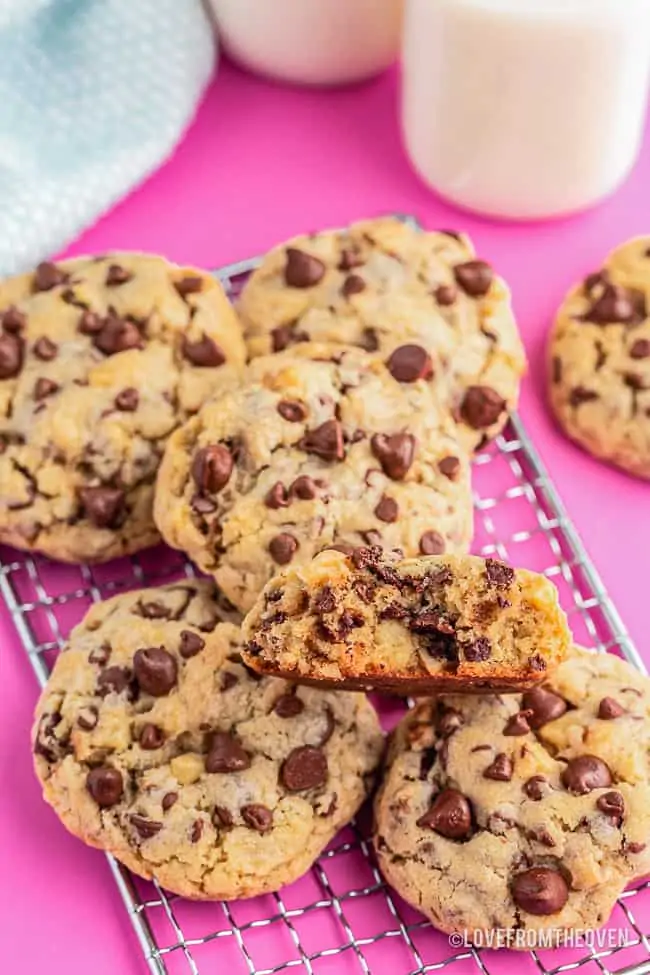 While I highly recommend trying the originals at Levain Bakery when and if you get the chance, I'm excited to share this copycat Levain cookie recipe so that you can make your own at home.
This recipe was first posted here on Love From The Oven, back on March 1, 2011 – it's been here for over a decade! I've left some of the original photos at the bottom of the post, but for now it's time to update the pictures, tweak the recipe a bit and add a long-overdue printable recipe card. I also have an older, still in need of an update, Levain Bakery Chocolate Cookie recipe.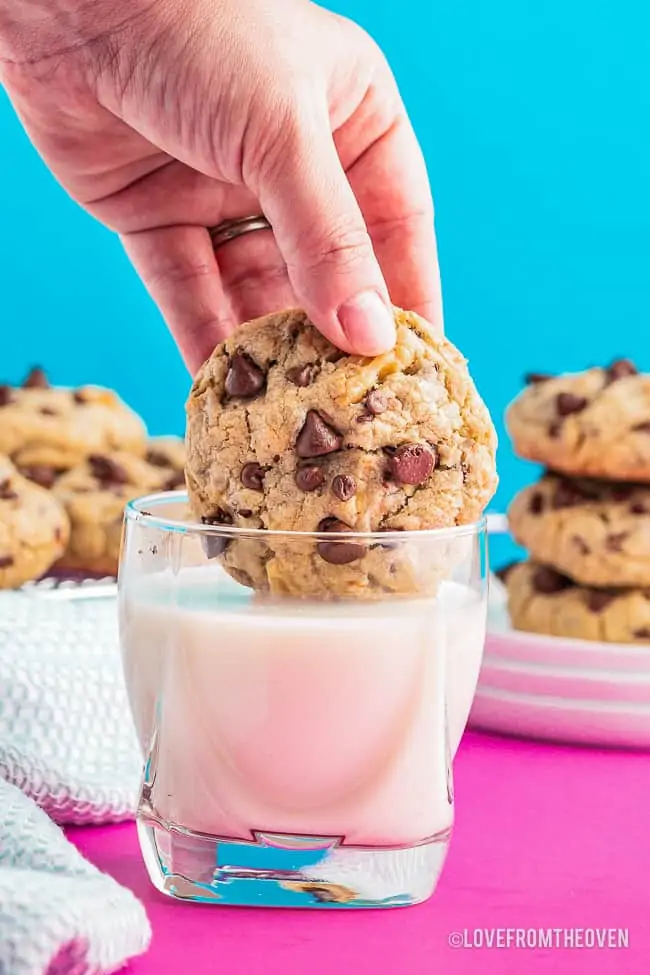 How To Make The Levain Cookie Recipe
While these cookies may be epic, the recipe itself is simple and straight forward. Reminder, the full printable recipe, with exact measurements and instructions, is found at the bottom of the page. This portion of the post is for discussion, helpful tips and answering common questions about the recipe.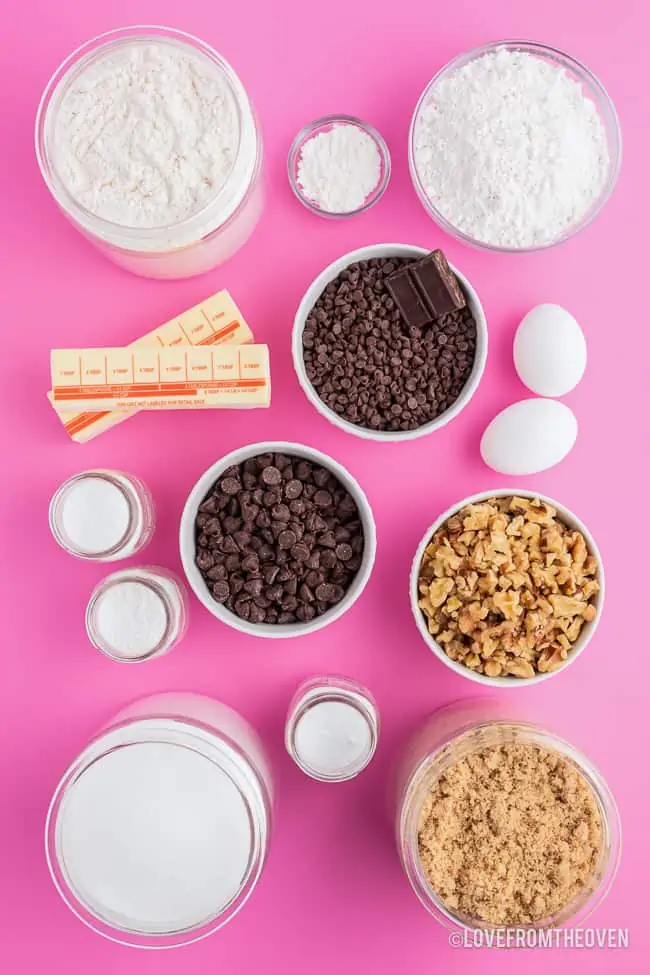 What You Will Need
Butter: While most recipes call for softened butter, this recipe specifically calls for cold butter, cut into cubes. I recommend chilling for a few minutes in the freezer prior to cutting, as it makes it easier and with less possible melting. Then I return it to the fridge or freezer to make sure it's good and cold. Salted or unsalted butter are fine. If you prefer a saltier flavor, like I do, go with salted.
Granulated Sugar: Granulated sugar, or the common white sugar most people have in their pantry, helps cookies spread and can help give them a crunch.
Brown Sugar: When it comes to flavor in cookies, brown sugar packs a bigger punch than granulated, helping provide that almost caramel like flavor we all love. Brown sugar helps make cookies soft and chewy, and due to it's acidity, it also reacts with baking soda to help cookies rise. Light brown sugar is a great choice in this recipe, but dark works as well.
Eggs: Make sure your eggs are large in size. It seems egg sizes are shrinking a bit, at least compared to what sizes have been in the past. If your eggs are too small, your cookies will lack valuable moisture.
All-Purpose Flour: When a cookie recipe calls for just "flour" all-purpose flour is always the gold standard to use. It is important to measure your flour correctly. Flour should be given a stir, then spooned into a measuring cup and leveled. Do not scoop the flour with the measuring cup, this will result in too much flour and too dry of dough.
Cake Flour: Cake flour has a lower protein content, which results in a softer texture. While making this recipe exclusively with cake flour can result in a too soft, cakey cookie, using both cake flour and all purpose flour creates a soft, but still chewy, cookie. Once again, make sure flour is spooned into the measuring cup and that you do not scoop with the measuring cup.
Salt: I recommend Kosher or sea salt for this recipe. Personally I also prefer to double the salt, because I think it compliments the sweet so wonderfully. If you love salty sweet treats, go ahead and increase the salt a bit.
Cornstarch: This is one of those secret ingredients that works magic in helping create tender cookies. If you think about the ever popular Pudding Cookies that many of us grew up on, cornstarch was a main ingredient in those boxes of pudding.
Baking Powder and Baking Soda: Make sure your baking powder and baking soda are not expired, that way you'll have the best rise.
Mix Ins
Chocolate: This recipe packs in the chocolate! In addition to chocolate chips, grated semi-sweet chocolate is added to the cookie dough, resulting in a hint of chocolate in every single bite. Don't skip this step, it adds so much to the flavor.
Walnuts: While Levain Bakery cookies contain walnuts, if you desire, or need to due to allergies, you can replace them with pecans or leave them out all together. If you leave them out I recommend adding in one additional cup of semi-sweet chocolate chips to help replace some of the the space the walnuts take in these cookies.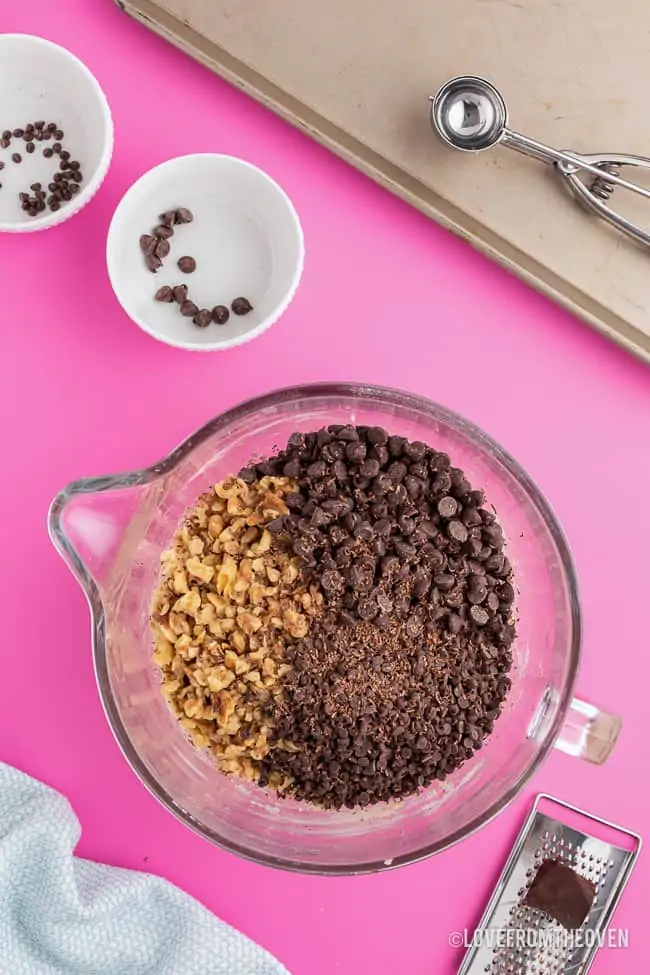 Steps To Take
To make the Levain cookie recipe, start by combining cubed cold butter and sugars in a mixing bowl. Beat well until light and fluffy. This may take a few minutes. Also, while some recipes can be made without an electric mixer, the cold butter is much easier to mix when using an electric mixer.
Next eggs are added, one at a time, and mixed to combine. Then it's time to add the flours, salt, cornstarch, baking powder and baking soda to the mixture. You can premix these in a bowl if desired, but I find they do okay going in together all at once.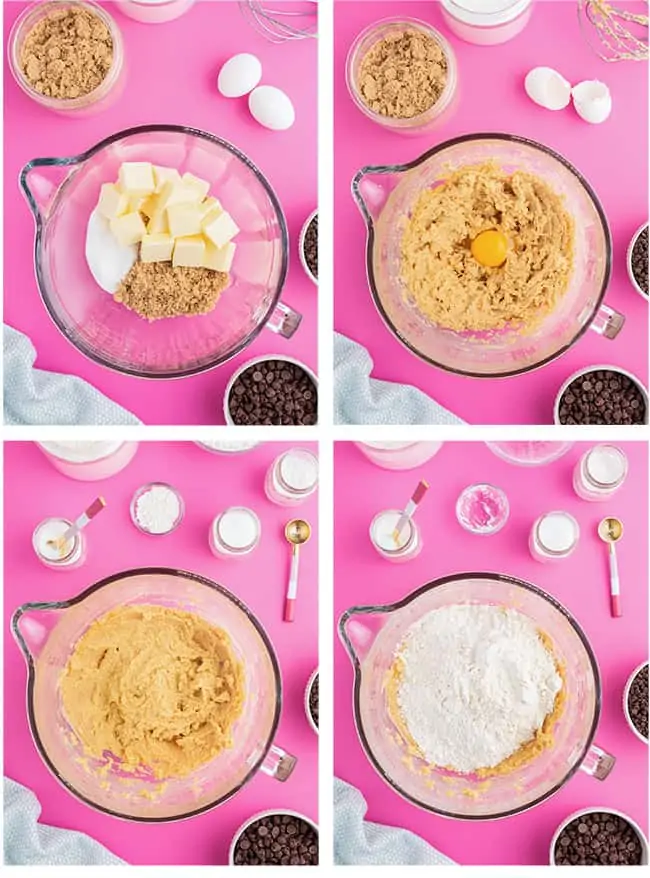 Do Not Over Mix
Mix ingredients until combined, but do not over mix the dough. Over-mixing can result in incorporating too much air into the cookie dough, which can then cause cookies to quickly rise… and fall, creating flat cookies.
Overmixing can also overdevelop the gluten in your cookies, resulting in cookies that are tough.
Once mixed, chocolate chip, grated chocolate and walnuts are added to the dough. A word of warning this can be a THICK dough once everything is combined. I have even on occasion stuck my hands into the dough to work things together. So don't worry if your dough seems to thick to easily stir, that's not a bad thing.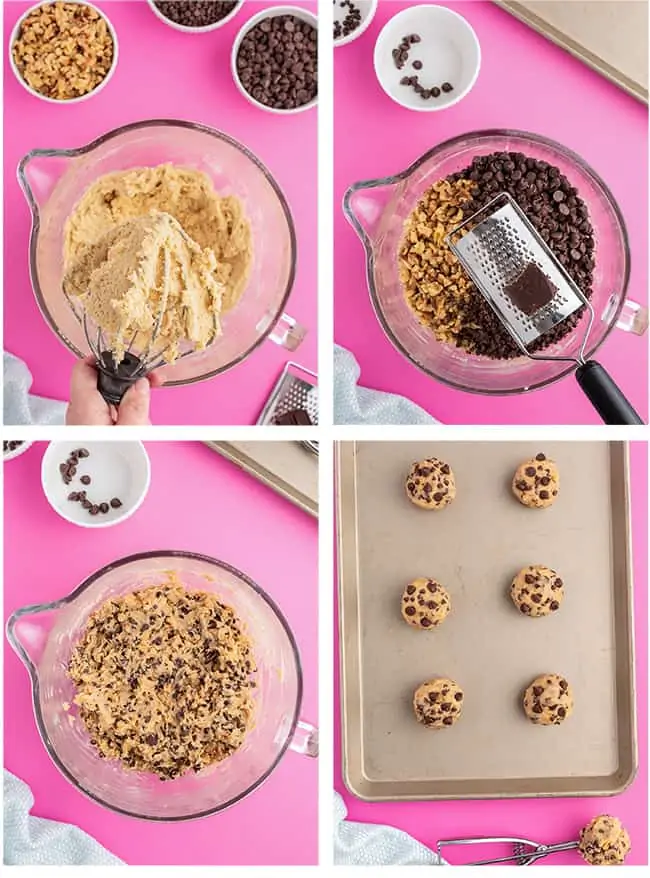 Bake
Finally the cookie dough is divided to be baked. I scaled back a bit from the giant Levain Bakery cookie and instead of making 12 cookies with this recipe, I made about 18. If you want to be specific you can weigh and measure your cookie dough balls to create 18 identically sized cookies.
I recommend not flattening your dough balls. If anything, keep them all the taller side. By doing this the center doesn't get a chance to bake at quite the same rate as the rest of the cookie, resulting in that chewy, slightly doughy interior that the Levain Bakery cookie recipe is known for.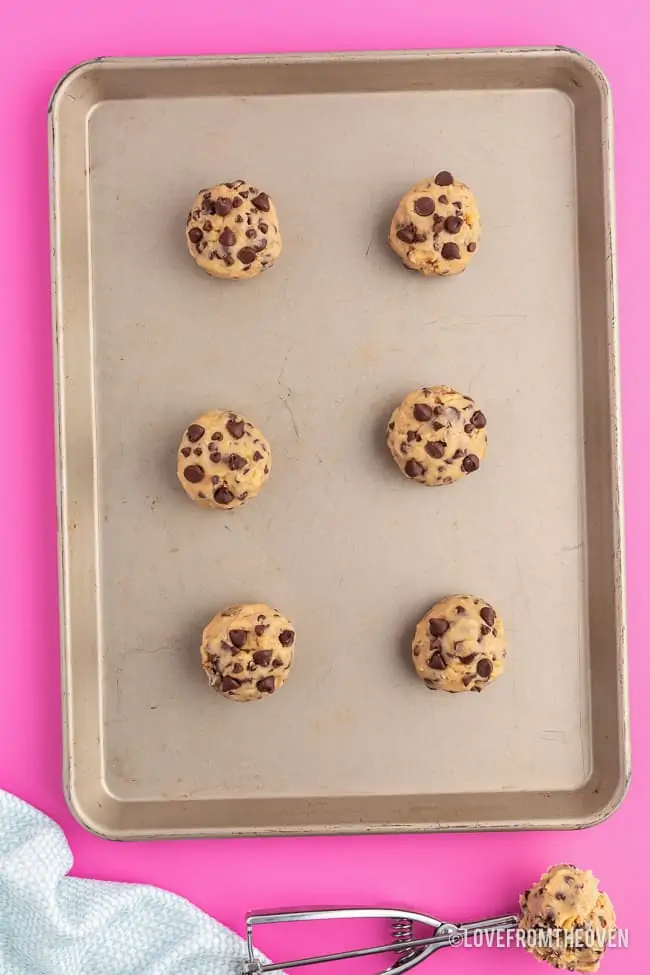 While I typically use a Siplat or parchment paper when baking chocolate chip cookies, I find this recipe does fine without them.
If you like, press a few extra chocolate chips into the top of each cookie – that's the secret behind the pretty chocolate chip cookies you see on food blogs. That said, if you have kids, those extra chocolate chips can lead to extra mess. You've been warned!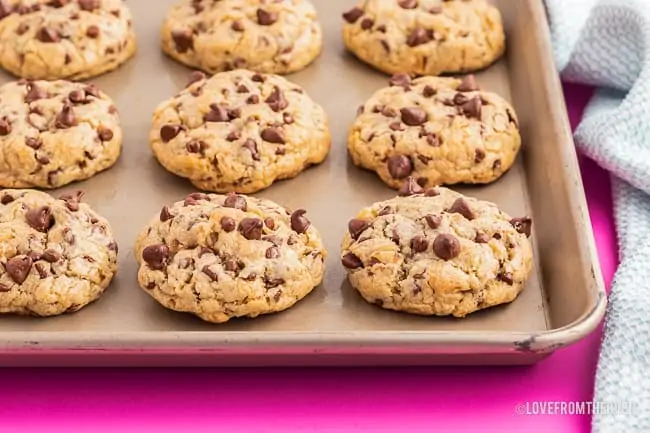 Slightly Under Baked Centers
These cookies bake for approximately 10-15 minutes IF you want that delightful underbaked center. When you pull them out of the oven, they should be starting to brown, but still seem not fully baked. As they sit on the baking pan after coming out of the oven, carry over cooking will continue to help them bake a bit more.
If you are not a fan of the gooey center, bake for 15-20 minutes. Allow these to cool on the pan before you transfer them to a wire rack. Since they are a bit underdone on the inside, moving them while they are still hot can result in them falling apart.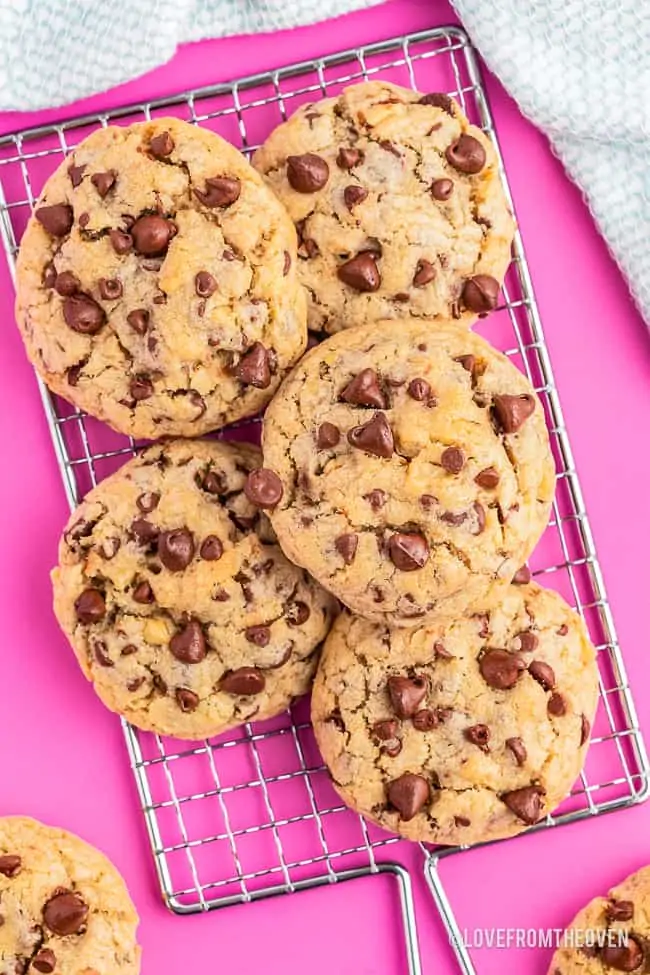 Questions and Answers
I don't have brown sugar, can I just use white sugar?
Technically you can, but I do not recommend it. The cookies will be flatter, paler and lack that buttery, caramel taste that chocolate chip cookies are famous for.
My brown sugar is hard, what do I do?
Brown sugar can be placed in a microwave safe bowl, topped with a moist paper towel, then microwaved for 20 seconds to soften it up. If needed you can give it a second 20 seconds. If that doesn't work, it might be time to replace your brown sugar.
What if I don't have cake flour?
If you do not have cake flour, replace it with all purpose flour and add an additional 2 teaspoons of cornstarch.
What if I don't have cake flour or cornstarch?
At that point, we're kind of losing what's special about the Levain bakery cookies. They'll still be good, just not as good as they can be.
Do I need to chill the dough?
No! In this recipe, no dough chilling is required. Instant gratification, coming up!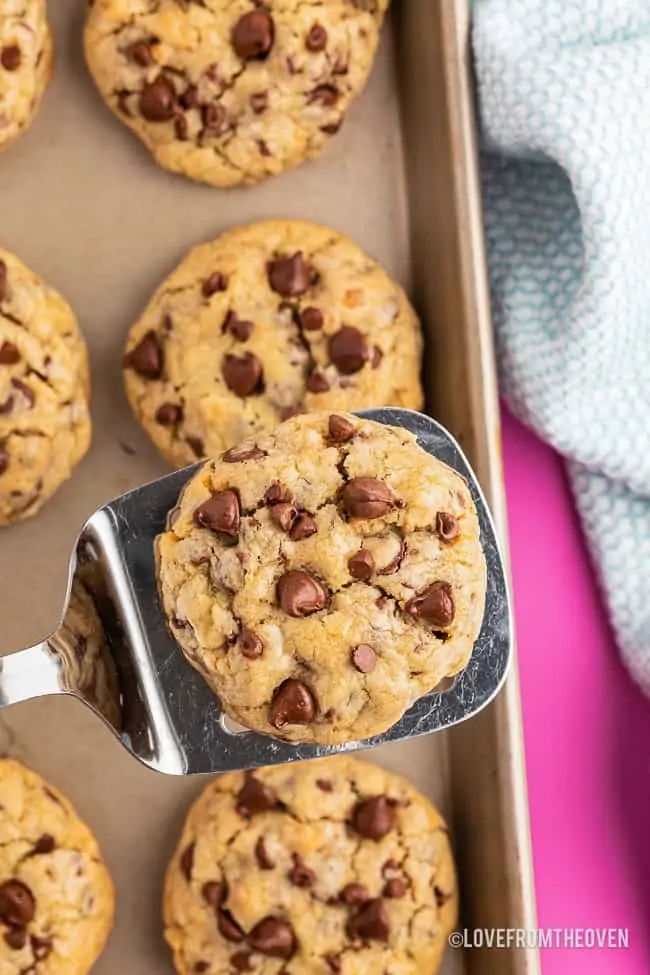 What chocolate chips should I use?
Semi-sweet chocolate chips and chocolate bars are my go to in recipes. They aren't overly sweet, but also aren't overly bitter. I love the Guittard Super Cookie Chocolate Chips. If you like dark chocolate, like I do, then by all means do a mix of semi-sweet and dark chocolate. If you like milk chocolate, that's up to you. I do not like milk chocolate in cookies as I find it too sweet and lacking in depth of flavor.
When possible, I like to use a variety of chocolate chips, both standard size morsels and mini morsels. Sometimes I just chop up chocolate for more of a chocolate chunk than chocolate chip style cookie.
Grated Chocolate
For the grated chocolate, I typically use Baker's Semi Sweet Chocolate Baking Bar. You can use a chocolate candy bar, or really any other type of chocolate bar you like. Just don't accidentally use an unsweetened bar of baking chocolate. It's a bitter lesson I learned as a child and never forgot!
If you need a grater for your chocolate, my favorites include this OXO Zester Grater and and this Better Zester.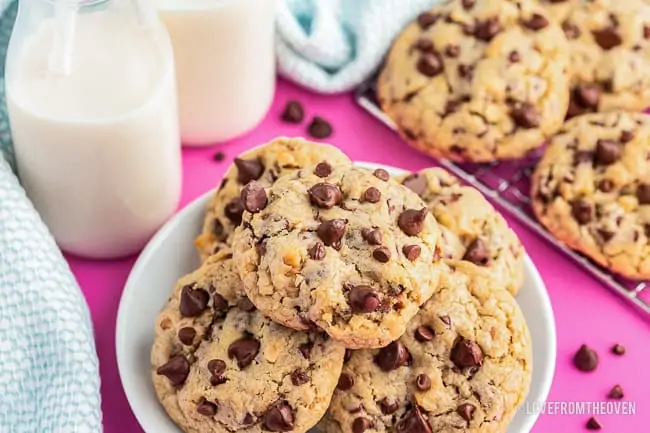 Storing Levain Bakery Cookies
How long do Levain chocolate chip cookies last?
Like all other chocolate chip cookies, these are best when consumed within a day or two. To help keep cookies soft, store them in an airtight container. You can also add a slice of sandwich bread, just run of the mill sandwich bread, in the container with the cookies. This will help keep the cookies soft. I don't recommend doing this right away, but after about 24-48 hours I sometimes add a slice of bread.
Can I freeze these Levain Bakery cookies?
Absolutely, and if you are unable to consume them within 2-3 days, I recommend that you do! When freezing these cookies, I wrap each completely cooled cookie individually in plastic wrap, then place them into a freezer bag, and free them. They can then be thawed at room temperature or, in a cookie craving moment, defrosted in the microwave.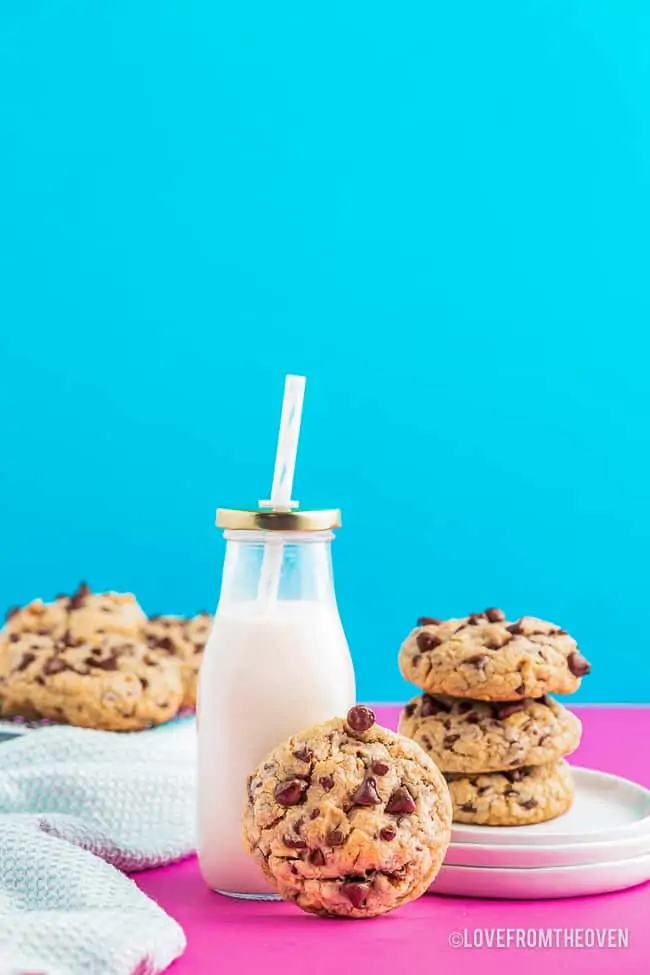 Levain Cookies At The Grocery Store
Where Can You Buy Levain Cookies
In 2020 Levain launched a line of frozen cookies available in stores throughout the country. I've yet to find or try them, but their store locator shows them available at Whole Foods in my area. It does appear to be limited, as only three Whole Foods in the entire Phoenix metro area are listed as carrying them.
If you are lucky enough to be in New York or DC, you can find your nearest Levain Bakery location here.
What Cookies Flavors Does Levain Bakery Make?
On their website they show that they have eight packs of cookies available in the following flavors: Two Chip Chocolate Chip, Dark Chocolate Chip, Chocolate Chip Walnut (which this recipe is based on), Oatmeal Raisin and Dark Chocolate Peanut Butter Chip, which is one of my favorites at their bakery.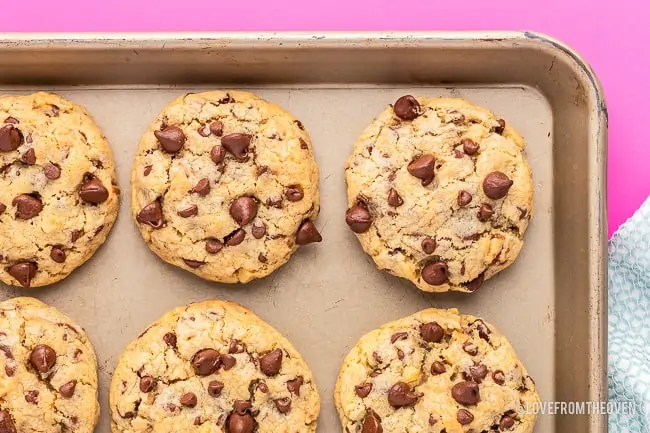 Chocolate Chip Cookie Recipes
If you love chocolate chip cookies, I have so many great recipes for you to try! Don't miss my copycat Chocolate Levain Bakery Cookie recipe.
You can find all of my favorites rounded up in my Best Chocolate Chip Cookies post, and here are some of my top choices.
I hope your family enjoys this Levain Cookie Recipe as much as my family does!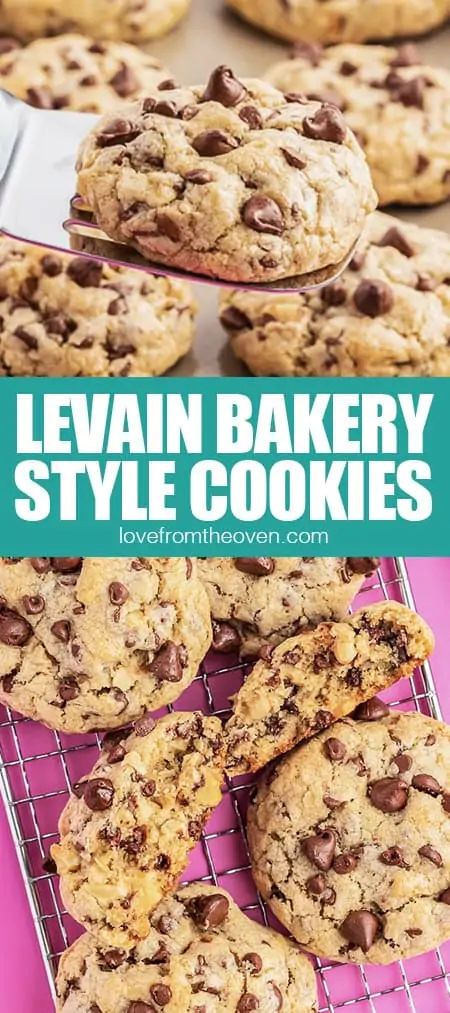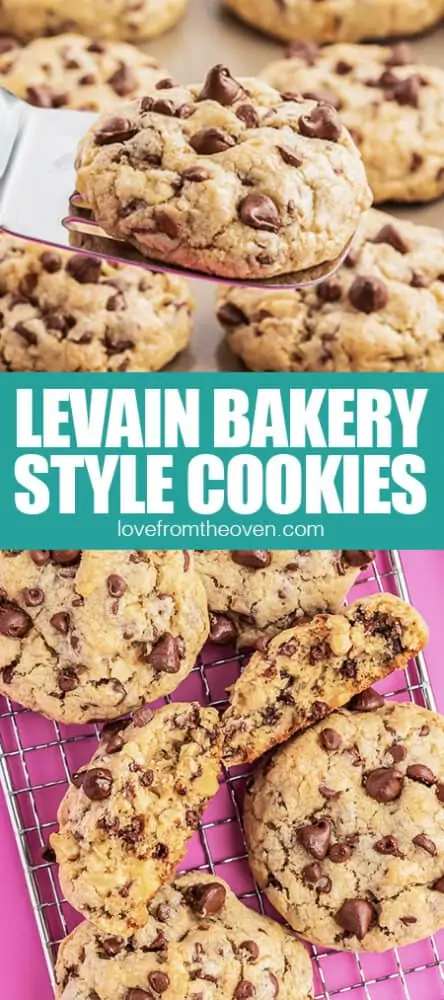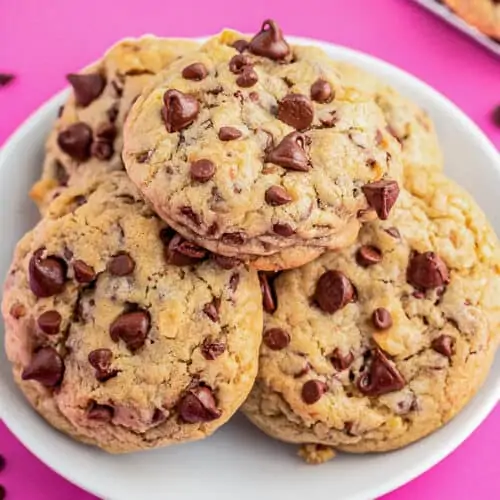 Levain Cookie Recipe
A copycat version of the famous Levain Bakery Chocolate Chip Cookie recipe. These delicious cookies are packed full of chocolate chips, grated chocolate and walnuts, and have a delightfully chewy center.
Ingredients
1

cup

butter

cold and cut into cubes (salted or unsalted)

1/2

cup

granulated sugar

1 1/4

cups

light brown sugar

dark can also be used

2

large

eggs

1 1/2

cups

cake flour

1 1/2

cups

all-purpose flour

1

tsp

kosher or sea salt

2

tsp

cornstarch

1

tsp

baking powder

1/2

tsp

baking soda

2

cups

semi-sweet chocolate chips

2

oz

grated semi-sweet chocolate

2

cups

chopped walnuts
Instructions
Preheat oven to 375 degrees F. In a large bowl/mixer bowl, cream together cubed butter and sugars until well blended and fluffy, approximately 2-3 minutes.

Add eggs, one at a time, mixing after each addition. Add flour, salt, cornstartch, baking powder, baking soda & salt to butter, sugar and egg mixture until just combined. This should be a very thick mixture, and not sticky. If your dough is still sticky, try adding more all-purpose flour, 1/8-1/4 cup at a time. Mix until combined but take care to not overmix.

Fold in chocolate chips, grated chocolate and nuts. If you are using a block of chocolate, you will want to grate it and add it in as well.

Divide dough into 18 portions. Cookie dough balls should be at least as tall as they are wide, do not flatten the cookie dough on the baking sheet. Leave at least 2-3 inches of space between cookies to allow to spread as they bake.

Bake for approximately 10-15 minutes* or until starting to turn lightly golden brown. Allow these to cool on the pan before you transfer them to a wire rack. Since they are a bit underdone on the inside, moving them while they are still hot can result in them falling apart. Store in an air tight container.
Notes
*These cookies bake for approximately 10-15 minutes IF you want that delightful under baked center. When you pull them out of the oven, they should be starting to brown, but still seem not fully baked. As they sit on the baking pan after coming out of the oven, carry over cooking will continue to help them bake a bit more. 
If you are not a fan of the gooey center, bake for 15-20 minutes.
Nutrition
Calories:
474
kcal
|
Carbohydrates:
50
g
|
Protein:
7
g
|
Fat:
28
g
|
Saturated Fat:
13
g
|
Trans Fat:
1
g
|
Cholesterol:
49
mg
|
Sodium:
136
mg
|
Potassium:
264
mg
|
Fiber:
3
g
|
Sugar:
29
g
|
Vitamin A:
360
IU
|
Vitamin C:
1
mg
|
Calcium:
59
mg
|
Iron:
3
mg
Disclaimer
Nutrition information is estimated as a courtesy. If using for medical purposes, please verify information using your own nutritional calculator. Percent Daily Values are based on a 2000 calorie diet.
Photos from post originally dated March 1, 2011.