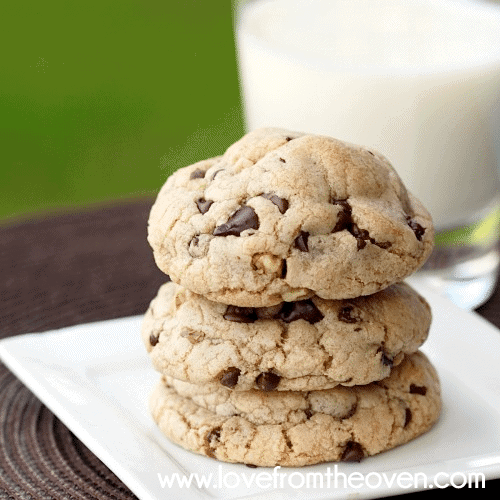 After making the amazingly delicious double dark chocolate Levain Bakery copycat recipe, I've been wanting to make the chocolate chip walnut cookie recipe. After searching around the web, I decided to work with the copy cat Levain Bakery recipe from Parsley, Sage, Desserts & Line Drives and tweak it a bit.
I've never been to the Levain Bakery, never had one of their cookies and am not so sure I ever will, and really haven't a clue if this actually tastes like their cookie, but this much I know…. This is one damn good cookie.
It maintains that slightly dough like consistency inside, which is heavenly. After making this cookie, I don't plan to be making the recipe off of the Nestle chocolate chip bag (though I will give it credit, it served me well for many years).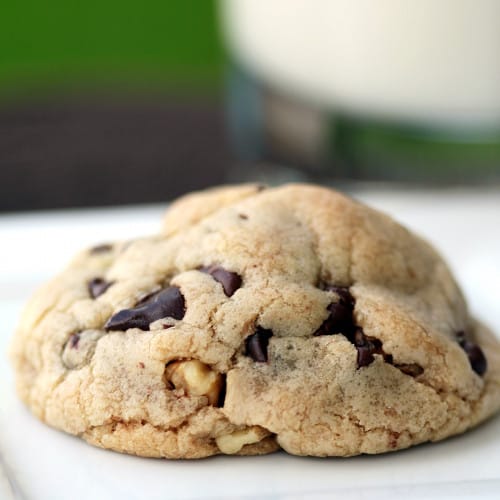 The biggest difference in this recipe for me was that it did not call for vanilla, and it included cornstarch. At first this seemed really odd, but I remember my mom always adding a box of vanilla pudding mix to her chocolate chips cookies. Given that the second ingredient on the pudding box is "modified food starch" (which apparently often means cornstarch), I figured it was a safe add in to try.
Here's what you need…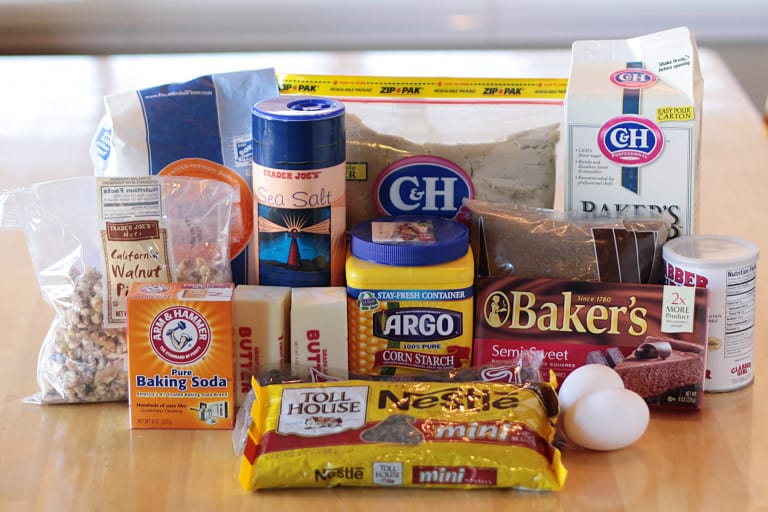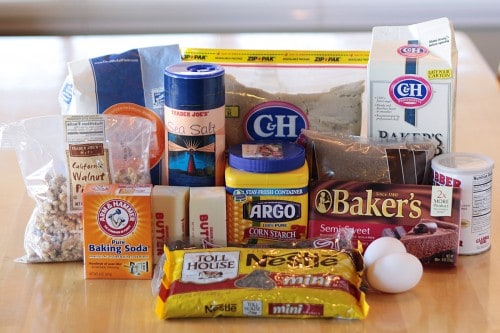 Levain Bakery Walnut Chocolate Chip Copycat Cookie Recipe
2 sticks butter – cold and cut into cubes
1/2 cup granulated sugar
1 1/4 cup brown sugar
2 eggs
1 1/2 cups cake flour
1 1/2 cups AP flour (you may need slightly less or more)
1 tsp salt (I prefer sea salt)
2 tsp cornstartch
1 tsp baking powder
1/2 tsp baking soda
2 cups chocolate chips – I used one cup regular semi-sweet chips and one cup mini chips
Optional – 1/2 block of semi-sweet or dark chocolate (not unsweetened baker's chocolate)
Optional – 2 cup chopped walnuts
Directions
1. Preheat oven to 375 degrees F
2. In a large bowl/mixer bowl, cream together cubed butter and sugars until well blended and fluffy.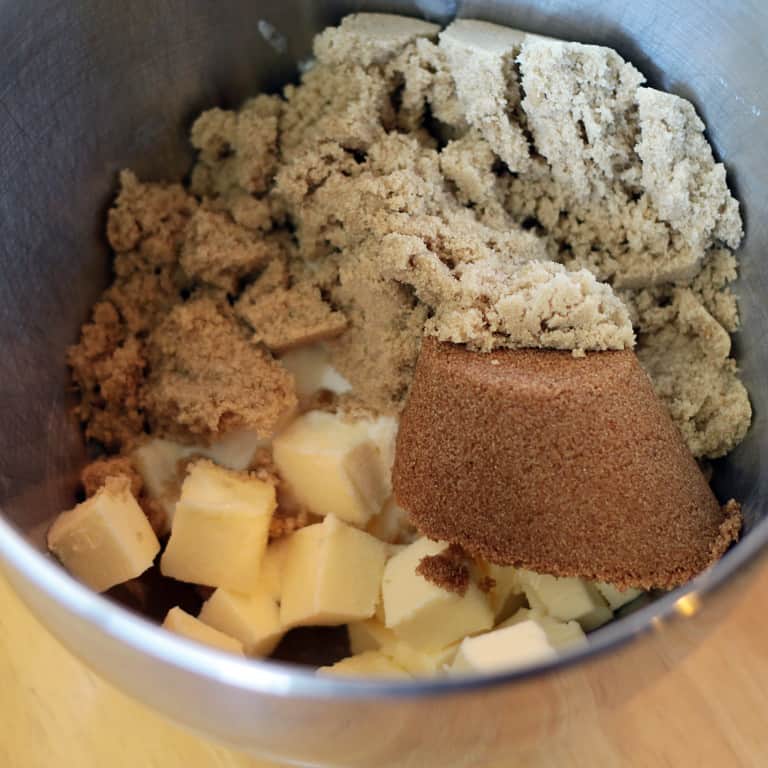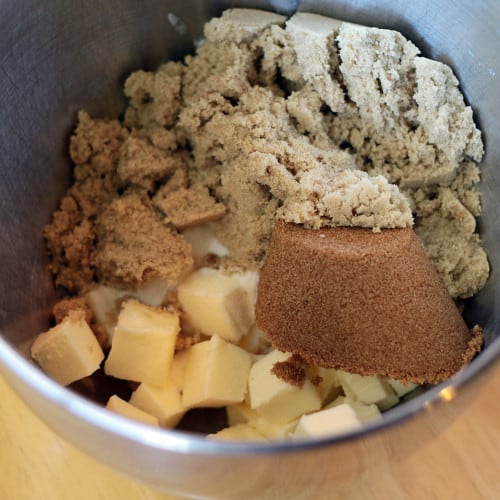 3. Add eggs, one at a time, until well mixed.
4. Add flour, salt, cornstartch, baking powder, baking soda & salt to butter, sugar and egg mixture until just combined. This should be a very thick mixture, and not sticky. If your dough is still sticky, try adding more flour, 1/8-1/4 cup at a time.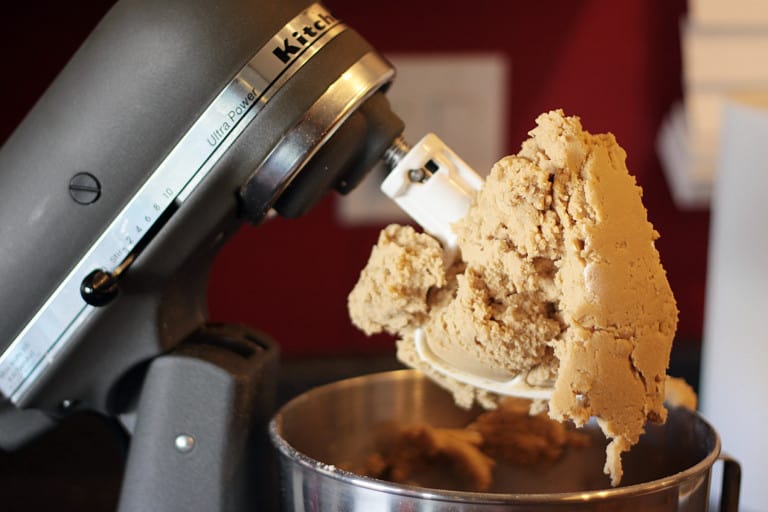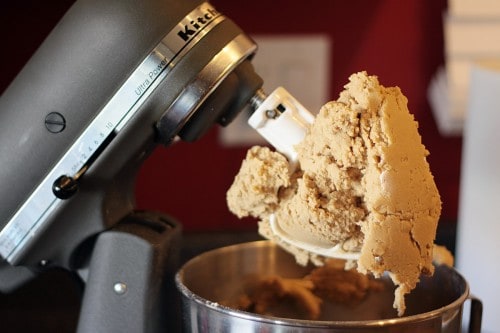 5. Add in chocolate chips and nuts. If you are using a block of chocolate, you will want to grate it and add it in as well.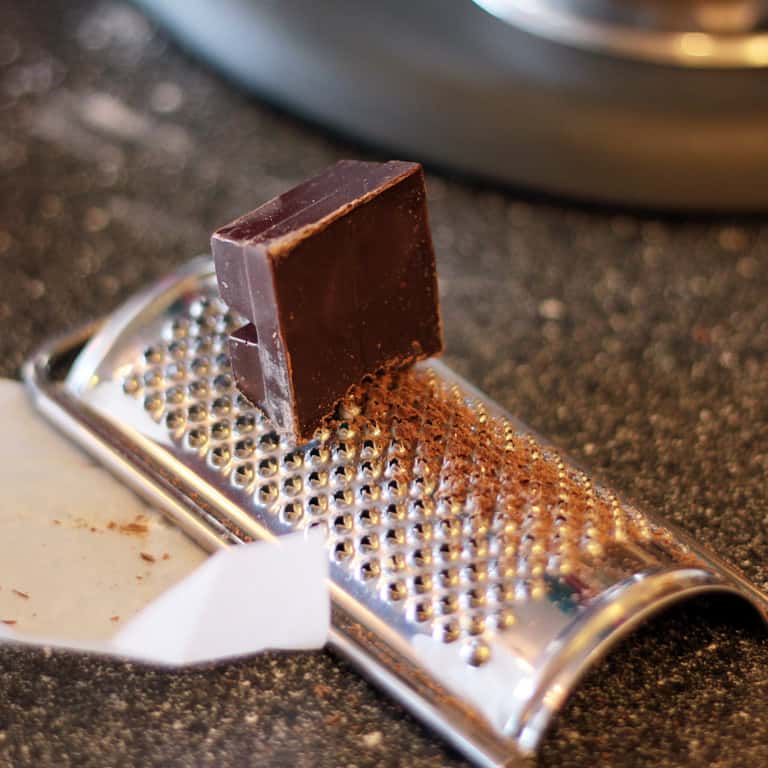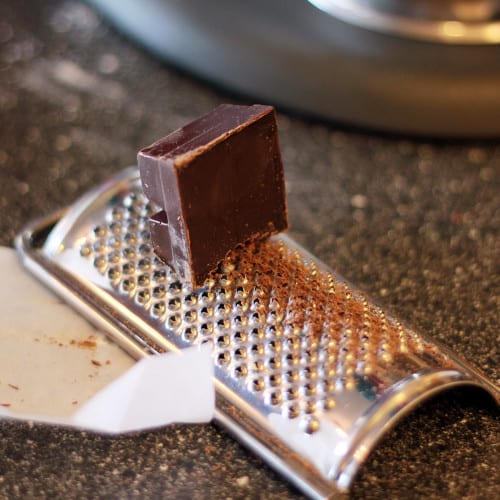 You can even use a chocolate candy bar for this part. The grated chocolate just adds a hint more chocolate in every bite.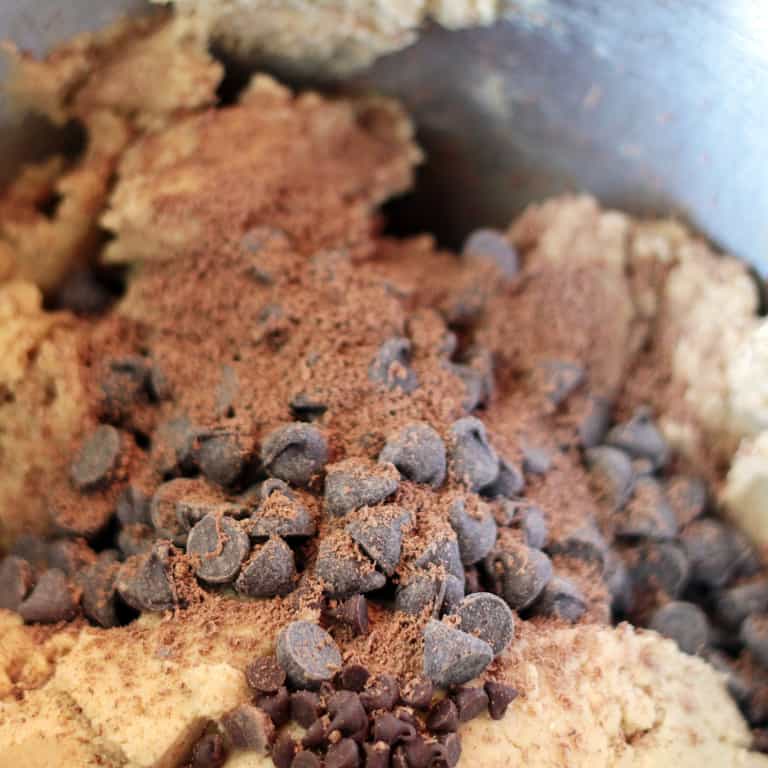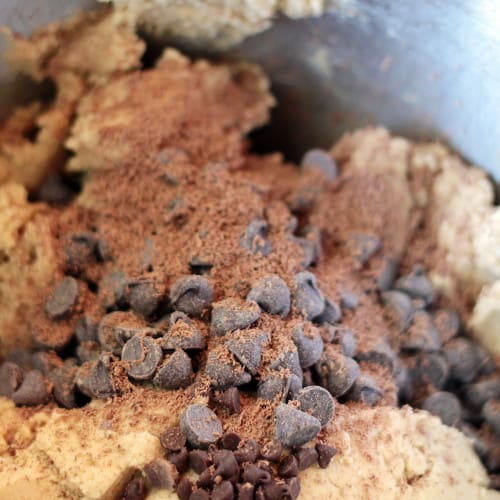 Yay for chocolate, chocolate and more chocolate!
6. Combine the dough and chocolate chips. My dough was so thick that I had to do this by hand, a bit like kneading bread.
7. Divide into portions to bake. I scaled back a bit from the giant Levain Bakery size cookie and instead of making 12 cookies with this recipe, I made about 18. I worked the dough into balls, and put them on the cookie sheet, leaving ample room between them. I did not flatten the dough out at all. I also did not use a silpat, parchment paper or grease the cookie sheets. I'm a baking rebel when it comes to putting my cookies on the cookie sheets.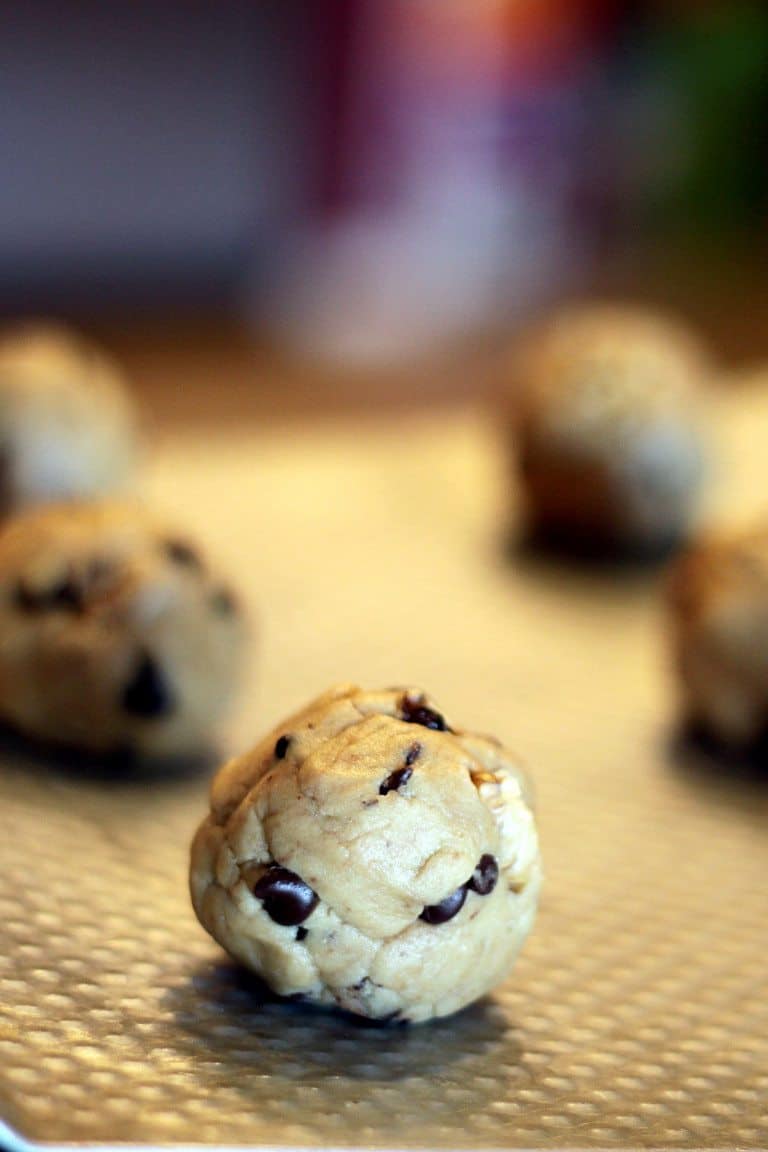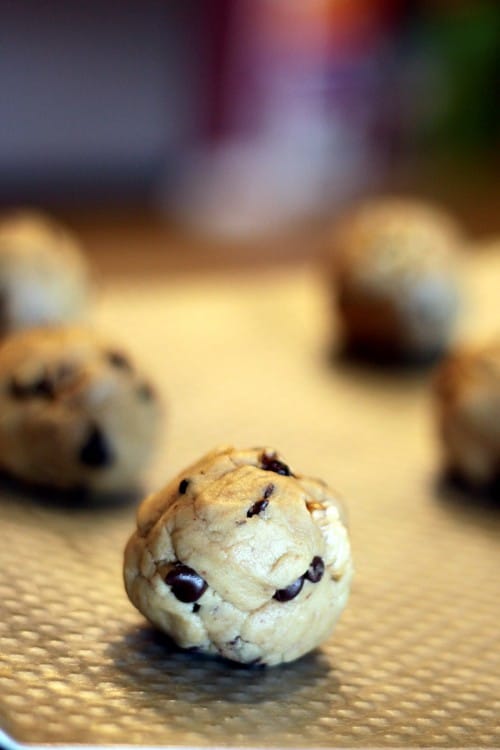 8. Put into the oven to bake. For my 18 cookies, each sheet took approximately 10-15 minutes. Larger cookies will obviously take a few more minutes. Watch them closely and don't over bake, or you will ruin the gooey wonderfulness inside. I pulled mine out as soon as I saw them start to lightly brown.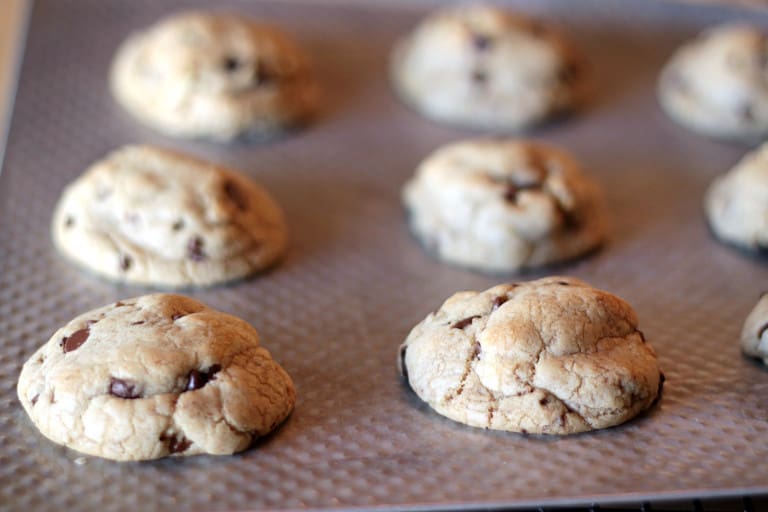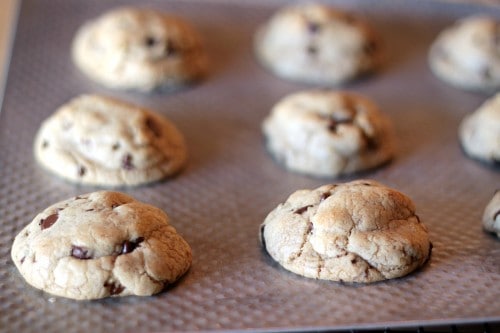 9. Let cool and remove from pan.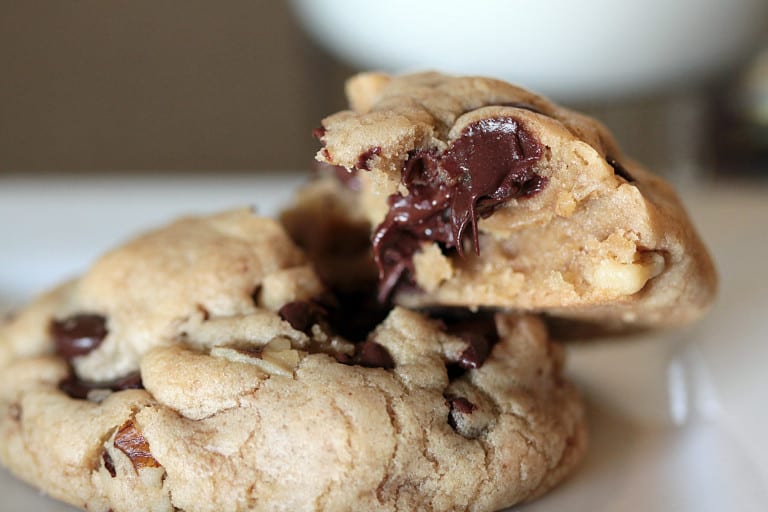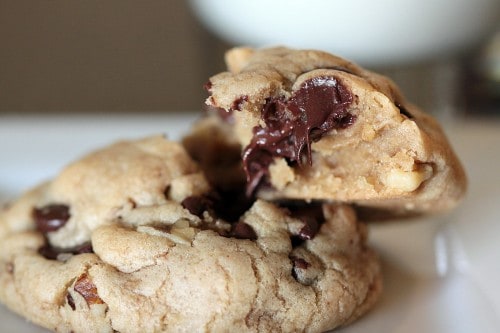 10. Break one open and eat. Squeal with joy after tasting. Figure out who to give them to or where to hide them so that you don't eat the entire batch in one sitting.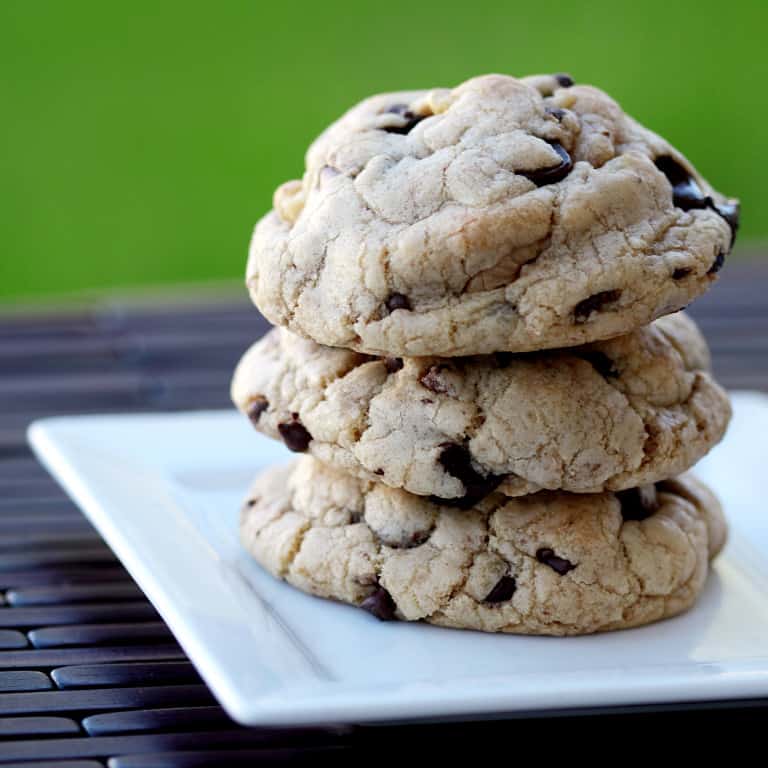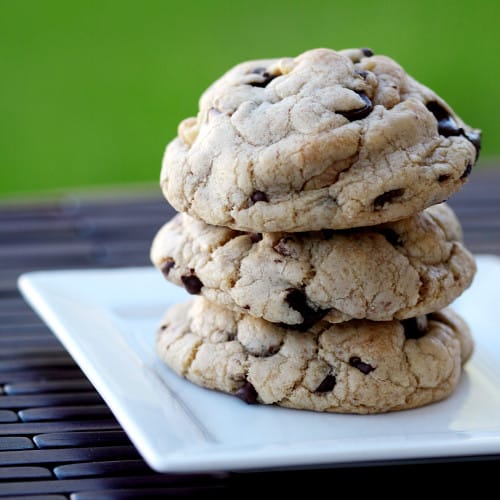 Some day I am really going to have to try an actual Levain Bakery cookie. So far the two knock offs have been AMAZING. Next time I may have to try the dark chocolate peanut butter cookie. Or the oatmeal, subbing out the raisins for butterscotch chips. Either way, I have a feeling it will be scrumptious!
Enjoy!