Make Ahead Cinnamon Rolls have always been a favorite family breakfast on holiday mornings for my family.  I still remember watching my great grandmother roll and knead cinnamon roll dough around the holidays when I was a little girl. I love carrying on the tradition of making cinnamon rolls for a special holiday breakfast for my daughters.  These make ahead cinnamon rolls are perfect for that!
When my friends at Philadelphia Cream Cheese asked me if I would like to share what I love to make for my family on Easter morning, the answer was an easy, "yes!", as it's always cinnamon rolls with cream cheese frosting.  Philadelphia Cream Cheese is a must when making the perfect frosting for topping my cinnamon rolls.   Thanks to Philadelphia Cream Cheese for sponsoring this post.
This make ahead cinnamon roll recipe is one I've been making for years.  I love that I can prep my cinnamon rolls ahead of time and bake them on Easter morning.  Holiday mornings can get a bit hectic, especially with kids, and I really want to make the most of that time with my family, and not be tied up in the kitchen all morning.  This recipe really gives you the best of both worlds: hot cinnamon rolls while you spend time with the ones you love.
I know working with yeast can be a bit intimidating for some, but these make ahead cinnamon rolls are SO easy.  I use a rapid rise yeast, which I find to be very easy to work with and quite forgiving!   You can make these rolls up to 24 hours in advance, though I typically prepare them the night before, so closer to 12 hours. You still have some rise time to allow for, but the rapid rise yeast cuts down on the typical rise times.
You start by preparing your dough, then letting it rise.  My favorite trick for letting your dough rise… preheat your oven for about 1-2 minutes, then turn it off.  This warms up your oven, but does not make it hot, and makes it a fabulous place to let your dough rise.  I put my bowl with my dough in my warm (but OFF) oven, covered, and let it do its thing.  I find this works great, especially in cooler months.
After my dough has risen, it's time to roll it out.  I aim for a rectangle, but mine are never perfect, and that's okay!  Once the dough is rolled out, I brush it with butter, then sprinkle with a mixture of cinnamon, sugar and a bit of cornstarch (which helps thicken up that cinnamon filling).
I like to use a fine mesh strainer to sprinkle on my cinnamon sugar mixture.  You do not have to do it this way, but for me this helps me be a bit more even in applying my cinnamon and sugar.  After I have covered my dough with the filling mixture, I use my rolling pin to lightly press the mixture into the dough.
Then it's time to roll up the dough and cut it into cinnamon rolls!
I cut my dough into 12 rolls and into my pan they go.
At this point you can now cover your pan of cinnamon rolls (I use plastic wrap to get a nice tight seal) and place them in the refrigerator to bake the next day.  One thing you want to make sure is that you allow enough time for them to lose their chill prior to baking.   As soon as I wake up on Easter morning, I preheat my oven for about two minutes, then turn it OFF.  I then place my pan of cinnamon rolls into the oven (which is off) for about 40 minutes.  After 40 minutes I pull them out of the oven, and actually start preheating my oven to bake, giving the rolls another 20 minutes or so to warm up and rise.
Then it's time to bake!  While my cinnamon rolls are baking, I whip up my cream cheese frosting.  If you like, you can make your frosting the day before, and store it tightly covered in the fridge.
For me, the cream cheese frosting is a big part of the cinnamon roll experience, so I never skip it!  This frosting is so easy to make and so yummy!  I like to frost my cinnamon rolls while they are hot out of the oven, allowing some of the frosting to melt right into the cinnamon rolls.  That's a personal preference, so feel free to frost your cinnamon rolls while hot or let them cool a bit.
And it melts right in!
Nothing beats a fresh, hot cinnamon roll with your family on a holiday morning!  I love to put out a big bowl of fruit, and whip up a quick batch of scrambled eggs, to go along with these.  It really is an impressive breakfast that takes almost no time to make if you get started the day before.
I hope your family enjoys these make ahead cinnamon rolls as much as we do.  It's so great to have them ready ahead of time and just pop them in the oven.  Anything to make the morning easier and more relaxing so that we can spend time together as a family is fantastic in my book!
Make Ahead Cinnamon Rolls Recipe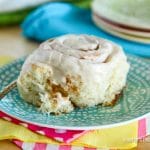 Make Ahead Cinnamon Rolls
Ingredients
Rolls
1/2

cup

butter

, softened

1/4

cup

sugar

1

teaspoons

salt

1

egg

2

envelopes rapid rise yeast

3 3/4

cups

all purpose flour

1

cup

plus 2 TBSP warm water

(120° to 130°F)
Filling
5

tablespoons

butter

, melted

1/2

cup

sugar

1

tsp

cornstarch

1-2

tablespoons

ground cinnamon
Frosting
4

oz

Philadelphia Cream Cheese Frosting

, softened

4

tbsp

butter

, softened

1

tsp

vanilla extract

2-3

tbsp

milk

2

cups

powdered sugar

1/4

tsp

salt
Instructions
Rolls
Mix 1/2 cup butter, sugar and salt in a large bowl. Add egg. In a separate bowl, combine yeast flour; mix thoroughly. Add flour mixture to butter/sugar mixture, then add warm water. Mix well and until soft smooth dough forms. Turn out on lightly floured surface. Knead until smooth. Cover and let dough rise for 15-30 minutes in a warm, draft free location.

Punch down dough and let rest for five minutes. Roll into a 14 x 8-inch rectangle (approximately) on a lightly floured surface. Brush each with softened butter for filling. Combine cup sugar, cornstarch and cinnamon. Sprinkle over buttered dough. Roll up from long side. Cut into 12 cinnamon rolls.

Place cinnamon rolls in 13x9 inch pan that has been lightly brushed with butter. At this point you can place rolls in the fridge to bake the following morning. Or, preheat your oven to 325 degrees F and let the dough rise for 30 minutes, then bake.

If placing rolls in the fridge, remove from fridge ONE HOUR prior to the time you will start baking them. Let them rest in a warm, draft free location for 40 minutes, then start preheating oven to 325 F.. Once oven is heated, bake rolls for approximately 20 minutes (or until lightly browned).
Frosting
Beat softened cream cheese and butter with mixer until fluffy. Add in vanilla, salt and milk and mix until well combined. Add in powdered sugar and slowly beat with mixer until smooth and creamy. If you would like your frosting thicker, add more powdered sugar, one tablespoon at a time and mix well. If you would like a thinner frosting, add more milk, one teaspoon at a time and mix well, until desired consistency is reached.

Once rolls are removed from oven, you can frost immediately or allow to cool slightly, then frost. Store any leftover rolls in refrigerator.
If you like these make ahead cinnamon rolls, I have quite a few other cinnamon roll recipes you might want to try!
Celebrating a birthday? These Birthday Cake Cinnamon Rolls are a favorite way to celebrate in our home!
Okay, these technically aren't cinnamon rolls. They are lemon rolls. And they are amazing.
Yep, I totally made chocolate cinnamon rolls. And you should, too.
I'm not going to lie, I was kind of shocked how great Whole Wheat Cinnamon Rolls are.
These Cake Mix Cinnamon Rolls have been a favorite on the blog for years.
I made these Pink Cinnamon Rolls for a friend who was doing a breast cancer walk fundraiser.
These pumpkin cinnamon rolls are a fall favorite.
Inside BruCrew Life made Banana Nut Cinnamon Rolls. Yes, please!
Your Home Based Mom makes some amazing Amish Cinnamon Rolls.
Spend With Pennies makes some dreamy Orange Cinnamon Rolls.
Thanks to Philadelphia Cream Cheese for allowing me to partner with them to come up with some fresh and delicious recipes for the Easter  season! Do you have any favorite Easter recipes using Philadelphia? I'd  love to hear your favorites in comments below. **Note: I came up with this recipe and it is not an original Kraft recipe. #OnlyPhiladelphia #LoveMyCreamCheese

Disclosure:  This post was sponsored by Philadelphia Cream Cheese.  All opinions however are mine and mine alone.