This brown sugar pork tenderloin recipe is flavorful and tender with rich maple flavor. Easy enough to whip up any night of the week, this baked pork tenderloin pairs perfectly with glazed carrots, Hawaiian macaroni salad, green beans almondine or potatoes.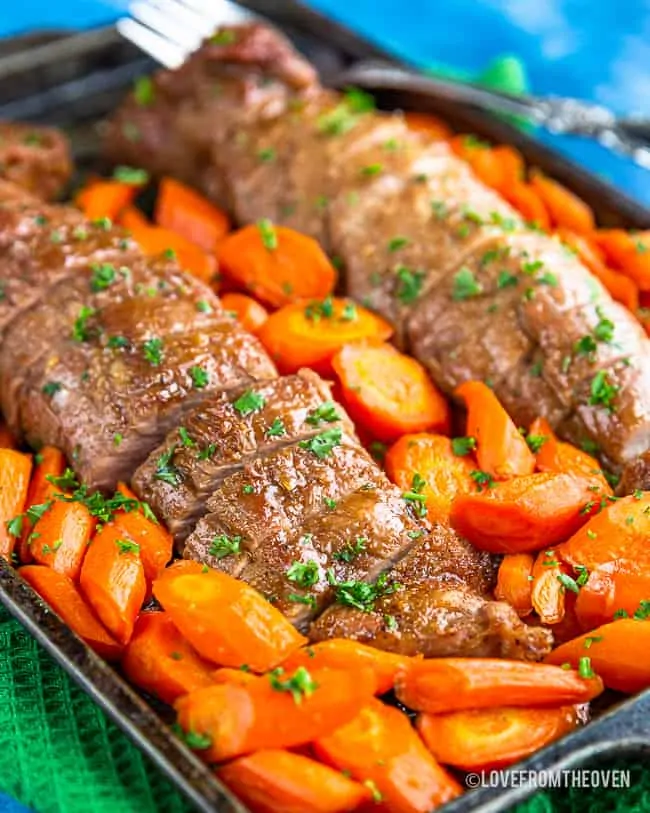 Inspired by my recent trip to a pig farm, the recipe I'm sharing today will also teach you how to make a perfect roast pork tenderloin every time. Thank you to The National Pork Board for sponsoring this post.
Maple brown sugar pork tenderloin got rave reviews from this family. I couldn't believe how tender the pork was with each and every bite.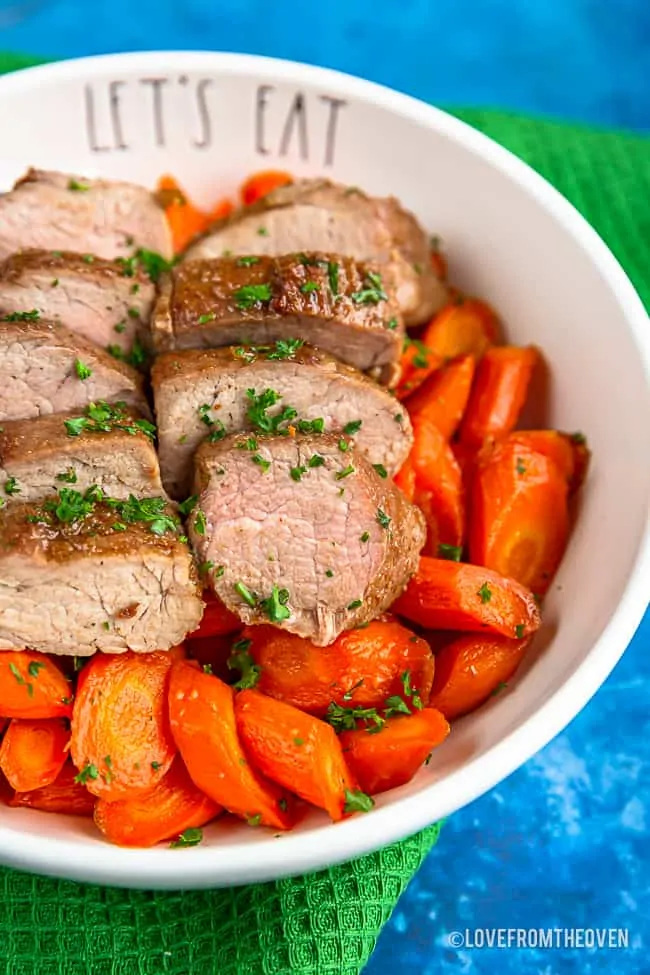 Pork Tenderloin
Have you ever cooked pork tenderloin?
It's one of the most tender and flavorful cuts of pork, yet I so often forget about it. After discovering this recipe for pork tenderloin baked in the oven with brown sugar, maple syrup and spices, I know it'll find itself on my regular dinner time rotation from now on.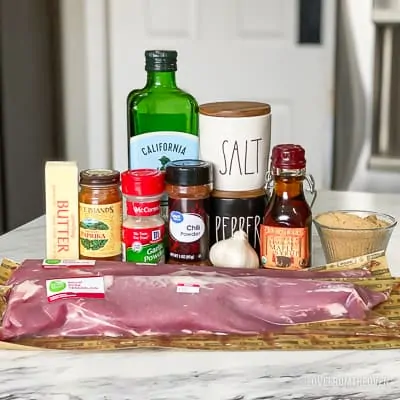 A couple of months back, I visited a working sow farm in Illinois, thanks to the National Pork Board. I learned SO much while I was there, from how farmers care for their animals to how to identify the best cuts of pork when I'm grocery shopping.
Want to know what blew my mind the most?
I found out I'd been cooking pork to the wrong temperature for years.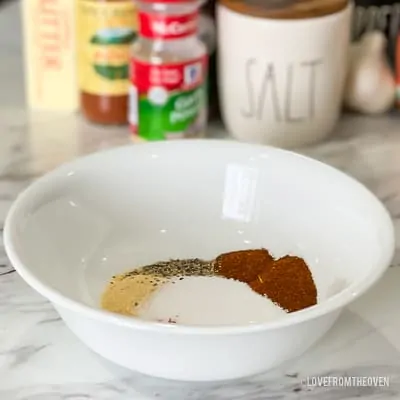 Pork Tenderloin Cooking Temperature
I had it in my head that the pork tenderloin internal temperature had to reach 165 F in order to be ready to eat. This is the temperature when the juices will run clear. Since this is an important rule for cooking chicken, I automatically extended the method to pork as well.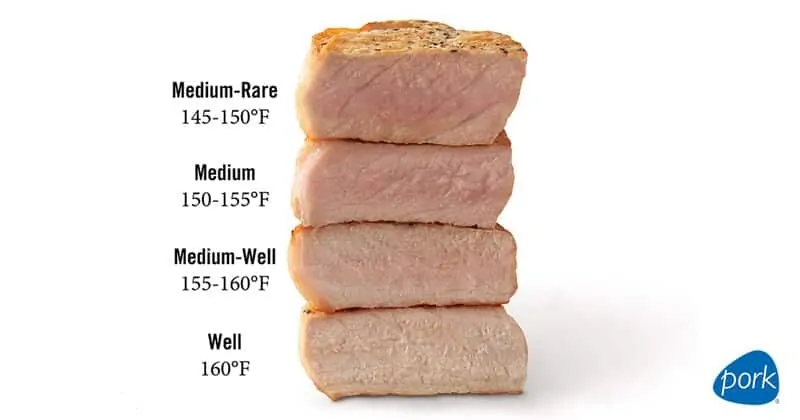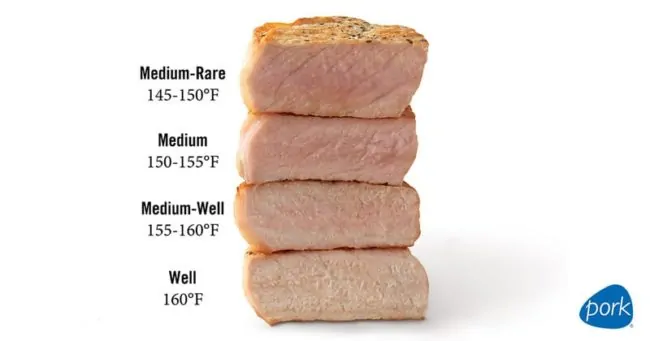 As it turns out, pork is much more like steak in this regard! Like beef, the internal temperature at which your pork tenderloin is done, depends on personal preference.
Pork Tenderloin Internal Temperature
For a medium-rare pork tenderloin cook to 145 – 150 degrees Fahrenheit.
For a medium pork tenderloin cook to 150 – 155 degrees Fahrenheit.
For a medium well pork tenderloin cook to 155 – 160 degrees Fahrenheit.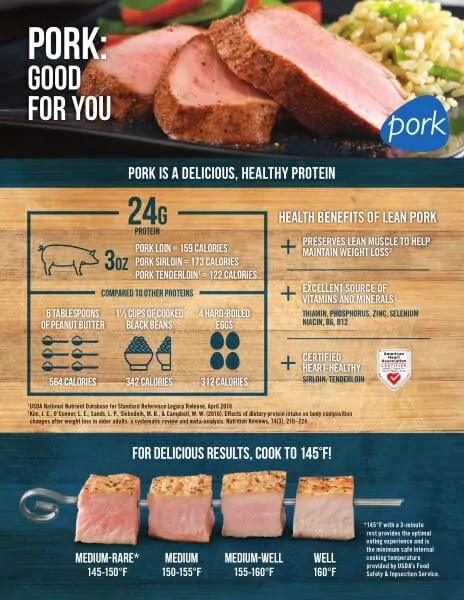 For this baked pork tenderloin recipe, we cook the pork to just barely medium-rare at 145 F.
I was blown away by how tender, juicy and delicious each and every bite of this pork was! For years I've thought of pork as a "tough" meat but that's just because I was overcooking it! My world is changed forever.
What else makes this the most delicious pork tenderloin I've ever tasted?
First, the spice rub. Before cooking, the porkt gets a thorough rub down with a blend of garlic powder, salt, chili powder and paprika.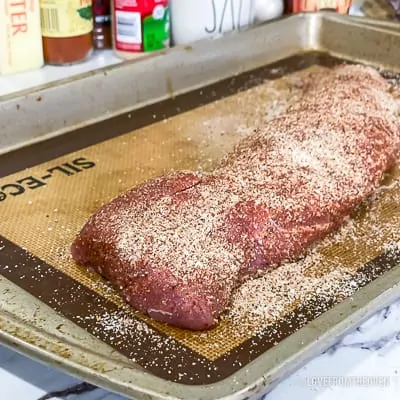 The spices alone are enough to make this pork sirloin tasty but the glaze sends the whole thing over the top. Maple syrup, butter and brown sugar come together to make the perfect sweet complement to the savory spicy pork.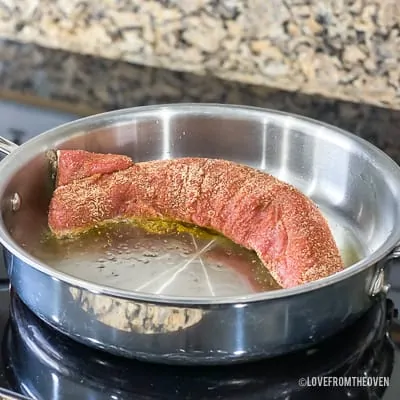 How to Bake Pork Tenderloin
This pork tenderloin recipe starts on the stove but the majority of cooking takes place in the oven.
Cooking the tenderloin in a pan for 5 to 6 minutes just until browned on all sides is vital! This searing step helps lock in the juices while also ensuring a perfect browned texture on the outside of the pork. Then into the oven it goes.
When roasting pork, you can keep those juices inside by covering your pan with foil. This step prevents your pork from drying out, especially on the outside.
Once the pork is almost done, take the foil off, pour the remaining brown sugar glaze on top and cook for just another few minutes. Then you'll remove the pan from the oven and let the pork rest.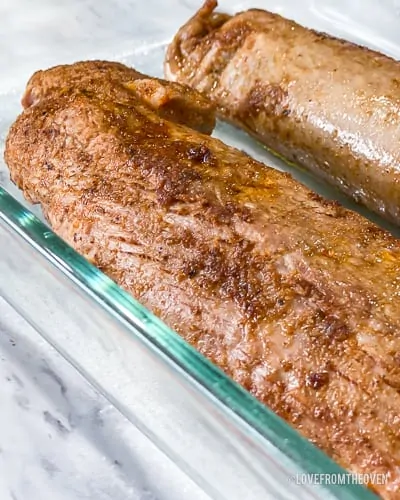 How Long to Cook Pork Tenderloin at 400 F
One of my favorite things about roasting pork tenderloin is how quickly it cooks. After a quick sear in a pan on the stove, this pork tenderloin took under 30 minutes in the oven.
Use a digital oven thermometer to check the internal temperature of the tenderloin. Pork dries out very quickly when overcooked. Keep in mind that the pork will continue cooking for a few minutes after you take it out of the oven.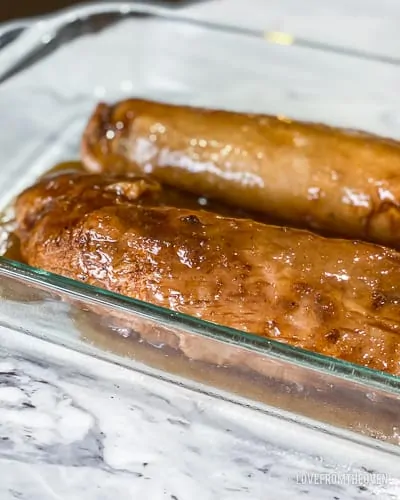 Pork Loin vs. Tenderloin
When you make this recipe, be sure to use a tenderloin, NOT pork loin. While the two cuts of pork have similar sounding names, they're taken from completely different part of the animal.
Pork loin is similar to a thick pork chop. Despite the name, pork loin comes from the pig's back where there's lots of muscle. As such, this cut of pork takes longer to cook.
Tenderloin cuts are thinner than pork loin; it's also some of the most tender pork you'll ever eat! Because tenderloin comes from the least exercised part of the pig, this pork cooks quickly while developing an amazing flavor.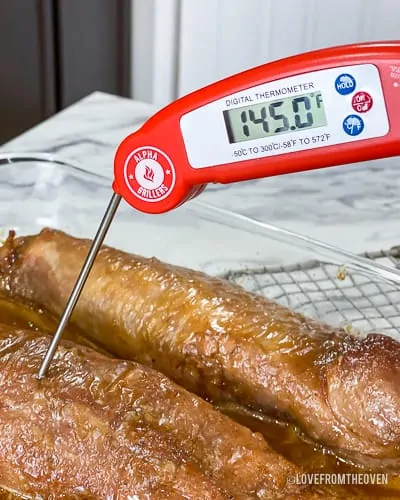 When your tenderloin has reached that perfect 145 Fahrenheit it's time to take it out of the oven–and let it rest. Don't skip this step! Letting the pork sit for at least 3 minutes before slicing in.
Resting helps the pork continue to grow more tender and flavorful as all those lovely juices settle in.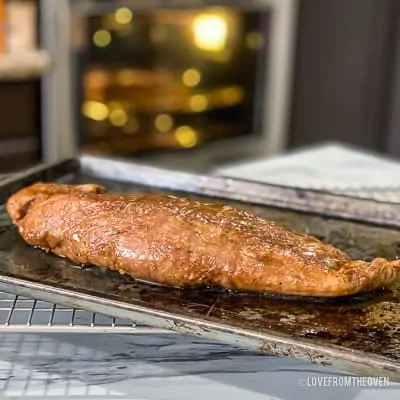 Once you've dutifully waited your 3 minutes before slicing, serve that pork right away! Leftovers can be stored int he fridge for a couple of days and are also delicious in sandwiches and salads for lunch the next day.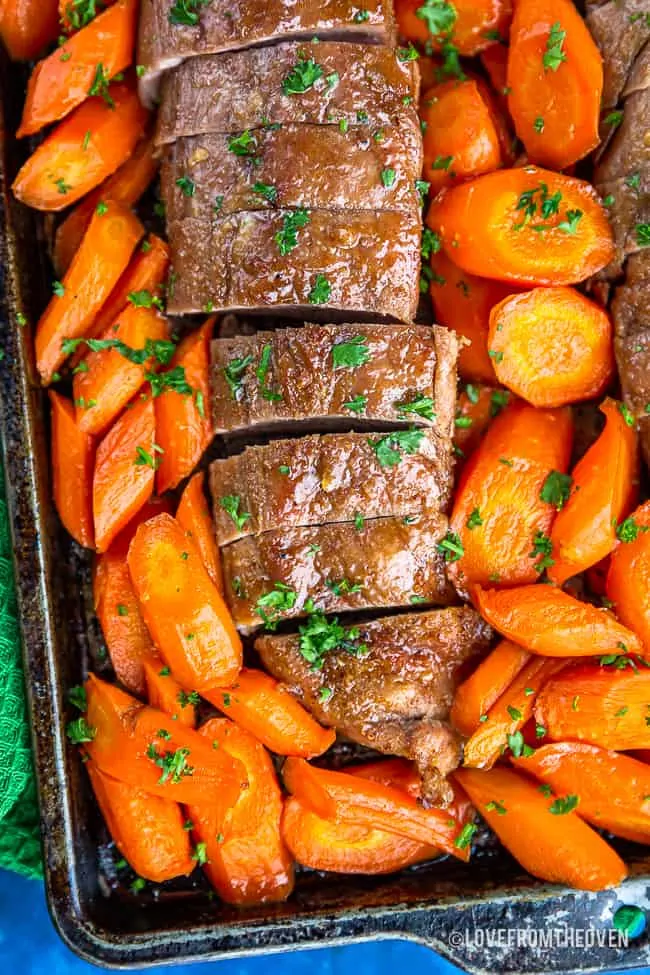 Make sure to also check out my Air Fryer Pork Tenderloin and Pork Tenderloin On The Grill recipes!
Side Dishes For Pork Tenderloin
Wondering what to serve with pork tenderloin? As seen here, I like to serve with sides of Air Fryer Brussel Sprouts and Easy Glazed Carrots. They tasted great with the run off from the brown sugar maple glaze! Next time I may try this pork recipe with Mashed Butternut Squash, Mashed Potatoes or Roasted Sweet Potatoes!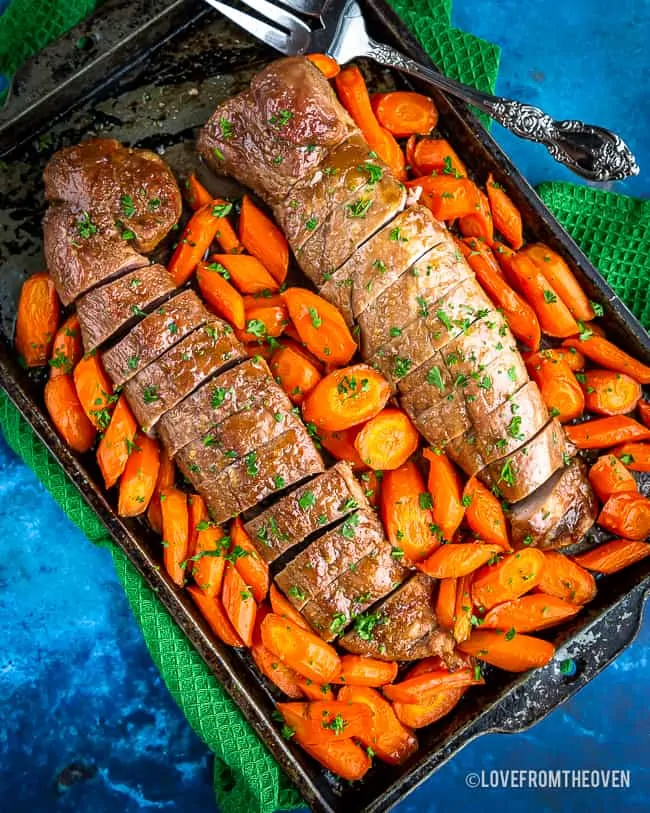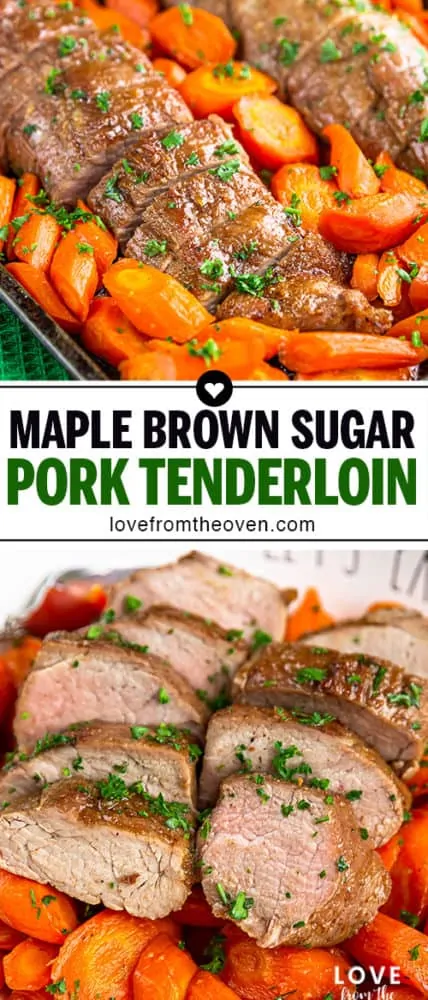 Click To Pin And Save Recipe
Pork Recipes
After my visit to Illinois to learn all about pig farming, I'm even more excited about bringing pork to my family table!
I've loved adding sausage to many of my favorite go-to dishes for a while. This Easy Sausage Pasta has filled our bellies on many a busy weeknight and it doesn't get much more comforting than a bowl of Sausage and Cheese Potato Soup. Bacon makes it simple to create a perfect breakfast in these Biscuit and Gravy Breakfast Sandwiches.
I couldn't be more pleased with this pork tenderloin recipe! With just a few minutes or preparation and less than a half-hour in the oven, you'll be ready to enjoy a plate of juicy, tender pork made even tastier with a maple brown sugar glaze.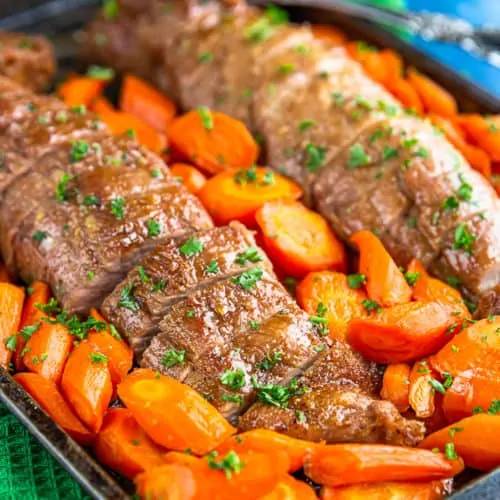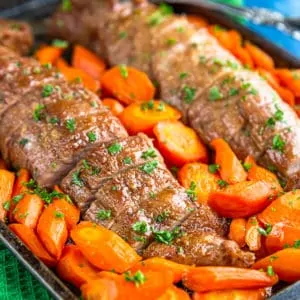 Brown Sugar Pork Tenderloin
This quick and delicious Maple Brown Sugar Pork Tenderloin is a great weeknight meal. It bakes quickly in the oven, and is great paired with carrots or potatoes.
Ingredients
2

Pork Tenderloins, approximately 1 pound each

3

tbsp

olive, canola or vegetable oil

2

tsp

garlic powder

2

tsp

salt

1/2

tsp

fresh black pepper

1

tsp

chili powder

1/2

tsp

paprika
Glaze
3/4

cup

brown sugar

packed

1/3

cup

maple or agave syrup

pure maple syrup, not pancake syrup or imitation maple syrup

1

tbsp

butter
Instructions
Preheat oven to 400 degrees F.

Combine garlic powder, salt, pepper, chili powder and paprika. Using clean hands, rub spice mixture over tenderloins to coat well.

Heat oil in a large pan over medium high heat, and add tenderloins to the pan to brown on all sides (approximately 5-6 minutes total)

While browning the pork, combine brown sugar, syrup and butter in a small saucepan. Cook on low, stirring constantly, for approximately three minutes or until smooth.

If using an oven safe skillet, leave tenderloins in pan and coat with approximately half of the glaze mixture. If not using an oven safe skillet, transfer tenderloins to a 9×13 glass baking dish that has been sprayed with non-stick cooking spray, then cover with half of the glaze mixture.

Cover and bake for approximately 18-20 minutes or until the internal temperature reaches 135 degrees. Remove from oven, remove foil and top with remaining glaze. Return to oven and bake for an additional 5-10 minutes or until the internal temperature reaches 140-145 degrees. Pork will continue to cook, due to carry over cooking, one removed from the oven

Remove from oven and allow to rest for ten minutes.
Notes
A digital thermometer is crucial to properly cooking your pork tenderloin. It allows you to know when your pork is done, without over cooking it. 
The target temperature for pork is 145 degrees. 140 is considered rare, and 145 is considered medium. Pork can dry out very quickly beyond this point. 
Nutrition
Calories:
266
kcal
|
Carbohydrates:
40
g
|
Protein:
18
g
|
Fat:
4
g
|
Saturated Fat:
2
g
|
Cholesterol:
60
mg
|
Sodium:
852
mg
|
Potassium:
430
mg
|
Fiber:
1
g
|
Sugar:
37
g
|
Vitamin A:
239
IU
|
Calcium:
47
mg
|
Iron:
1
mg
Disclaimer
Nutrition information is estimated as a courtesy. If using for medical purposes, please verify information using your own nutritional calculator. Percent Daily Values are based on a 2000 calorie diet.
Disclosure: This post was sponsored by the National Pork Board. All opinions however are mine and mine alone.