Overnight Cinnamon Rolls let you take your favorite pastry, make it ahead of time, and then bake the next day. Deliciously buttery cinnamon rolls spend that can be baked right away, or spend the night waiting for you until you're ready for them! Then it's time to bake and frost for a warm, comforting, breakfast that everyone will love. These are the perfect cinnamon rolls for a busy work week or even holiday mornings!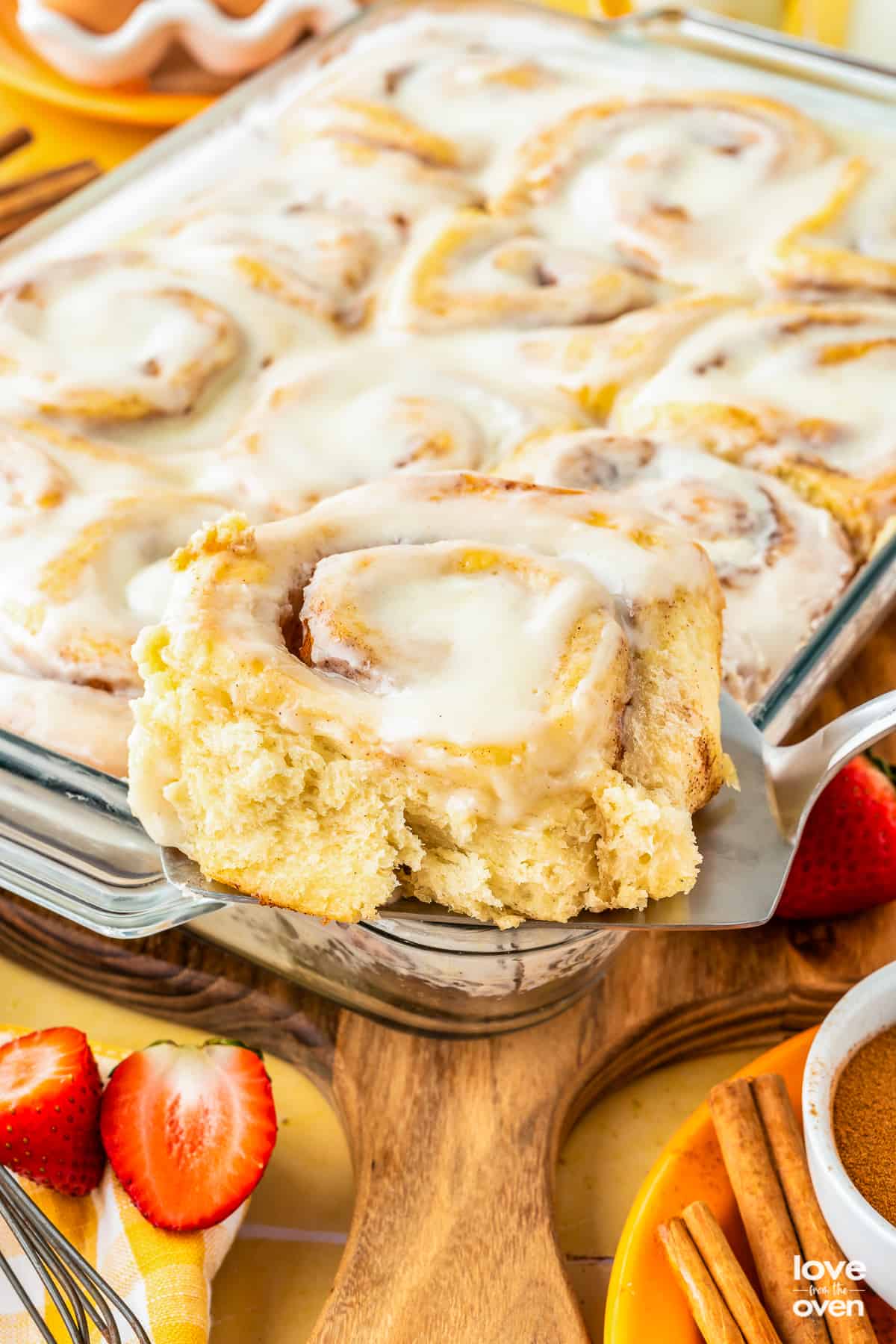 Reasons You'll Love This
Easy in the AM – The only thing better than cinnamon rolls are overnight cinnamon rolls. You know – fresh, hot cinnamon rolls that you don't have to wake up at the crack of dawn to bake! 
Holiday Breakfast – Christmas, Mother's day, Easter, you name it! No one wants to spend the mornings of their favorite holidays bent over the kitchen counter trying to whip up some breakfast. With these rolls, you can have a fresh, delicious breakfast and still spend time with your loved ones that morning. 
All The Smells – One of the best things in life is the scent of cinnamon rolls wafting through your home on a beautiful, early morning. 
Fresh as Ever – Even though these cinnamon rolls are made in advance, they still taste just as fresh, if not fresher when baked in the morning.
Cream Cheese Frosting – You simply can't have cinnamon rolls without a decadent cream cheese frosting!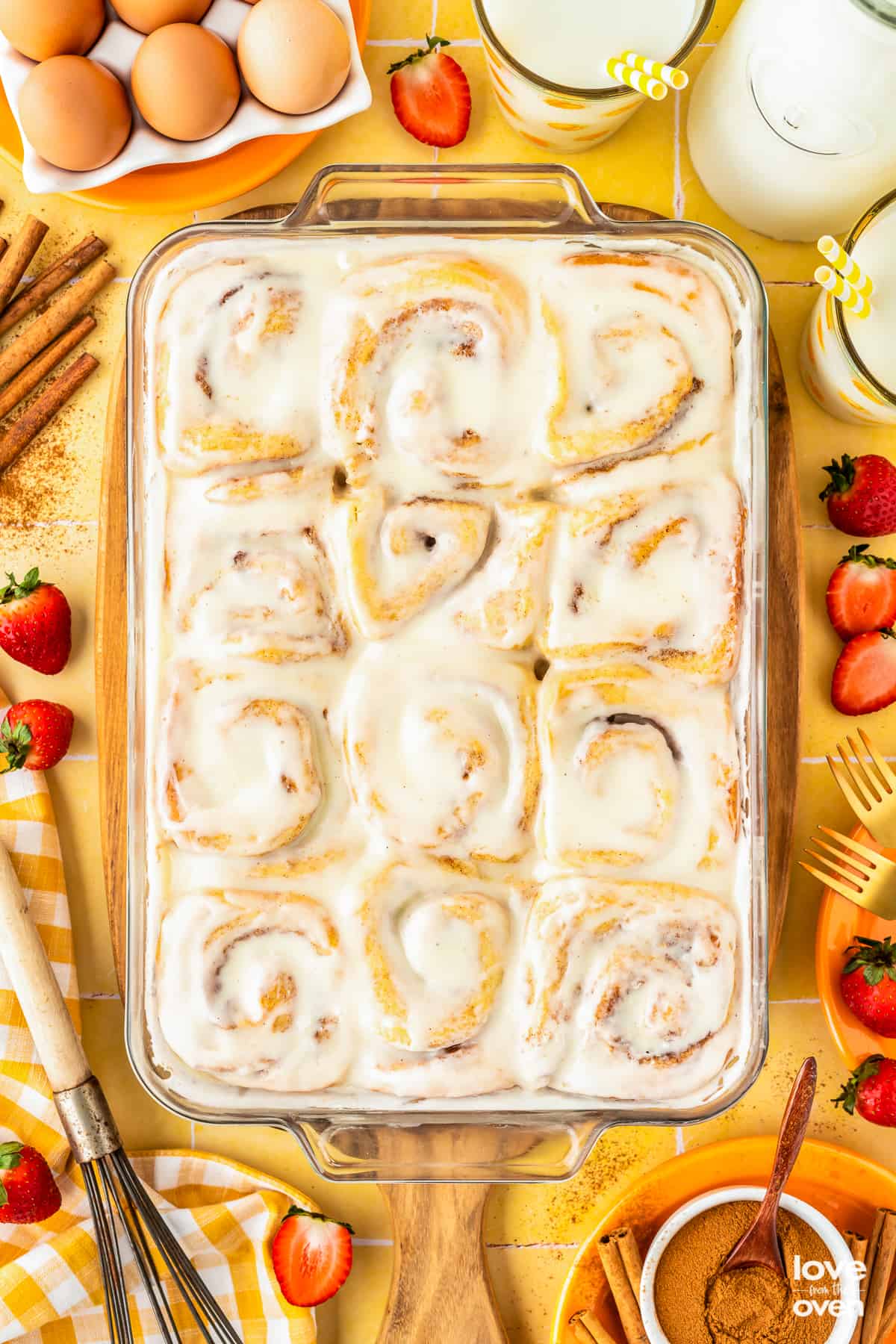 This recipe is for my not so early risers out there, because who should have to choose between some extra shut eye in the morning and an indulgent, satisfying breakfast? Well, here's the perfect way to have the best of both worlds.
Let's discuss how to make Overnight Cinnamon Rolls, as well as the ingredients that are needed. Please take note that below you will find discussion, expert tips, and answers to frequently asked questions about this recipe to help you recreate it in your kitchen. If you *just* want the recipe itself, scroll down. The full printable recipe itself, with exact measurements and instructions, is found at the bottom of this page.
Ingredient Information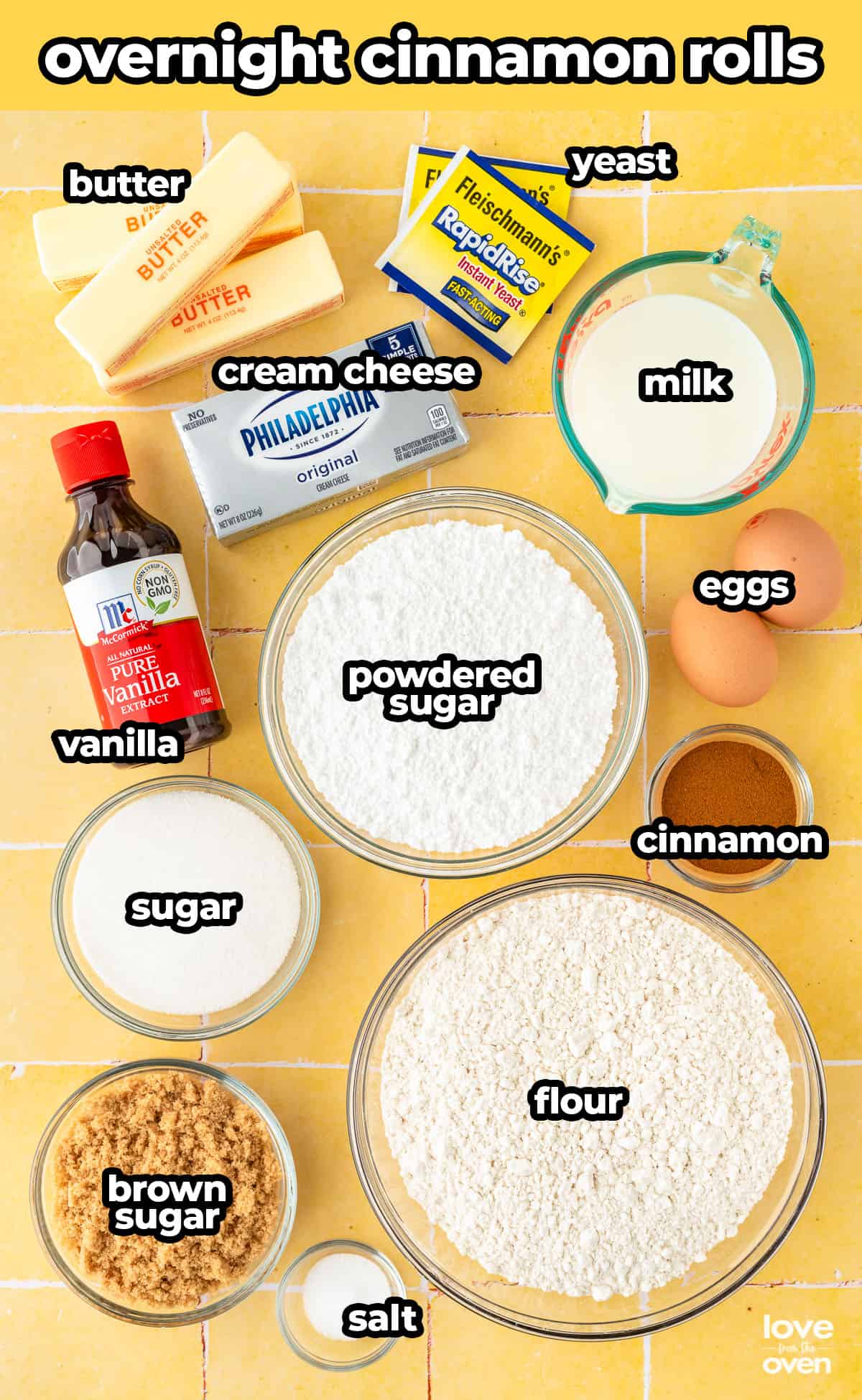 Sugar – You'll need some white granulated sugar for both the dough and the cinnamon sugar filling.
Butter – Unsalted butter is best for this recipe. You'll need melted butter for the dough, just make sure it has cooled down to room temperature before adding it to the dough. For the filling and frosting, the butter should be softened.
Eggs – The eggs should be at room temperature.
Flour – All purpose flour is the best choice for this recipe.
Yeast – Use Rapid Rise yeast compared to any of the other types of yeast since Rapid Rise is what this recipe is tailored for.
Milk – You'll need milk for the dough and the frosting. For the dough, you want the milk to be warm, but not too warm to where the heat kills the yeast, but not too cool to where the yeast doesn't activate. Keep the temperature of the milk between 115-120°F.
Brown Sugar – This adds a lovely caramel flavor to the filling.
Cinnamon – It wouldn't be cinnamon rolls without some ground cinnamon!
Cream Cheese – The cream cheese should be fully softened before use.
Powdered Sugar – You'll only need this ingredient for the frosting. Powdered sugar is the best sugar option when it comes to a cream cheese frosting.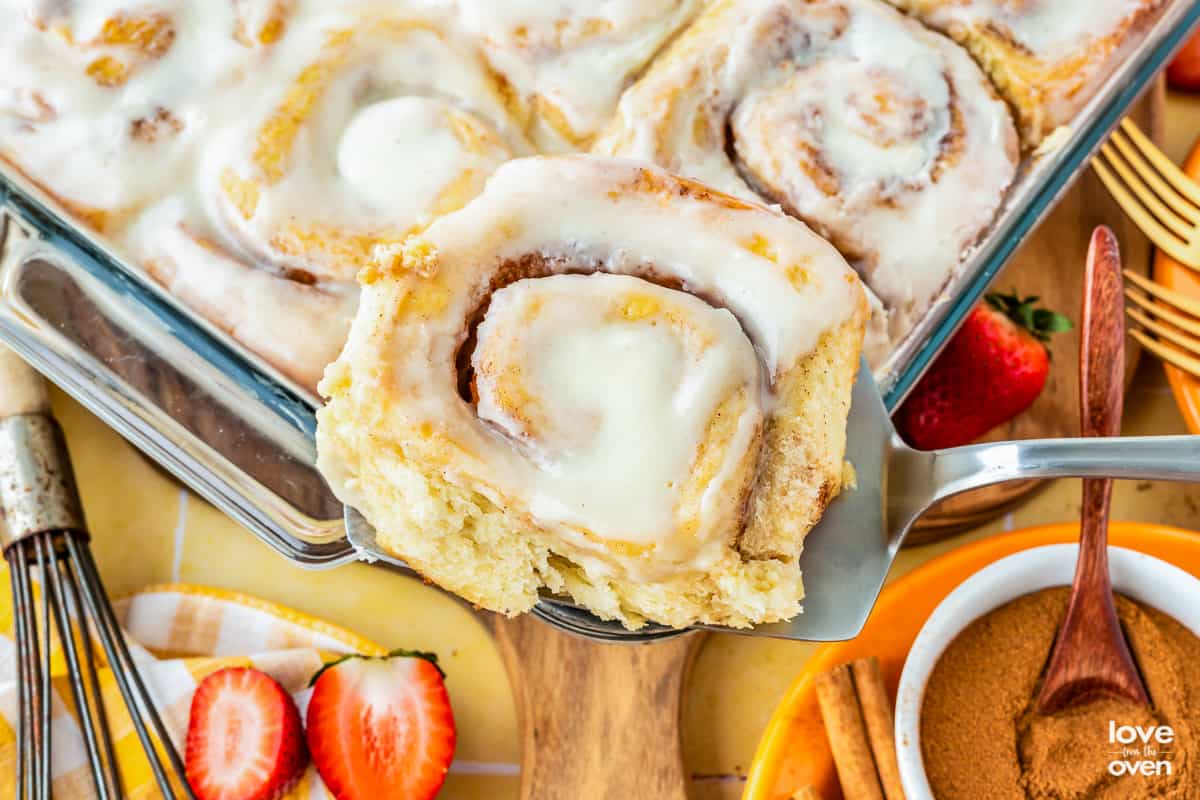 Step By Step Instructions
Begin by grabbing a large bowl. Add softened butter, sugar, and salt. Mix those ingredients together until well combined. Add both eggs and mix again until combined.
To the same bowl, add flour, Rapid Rise yeast and combine.
Pour in the warm milk and combine until a very soft dough forms.
Flour a large, flat surface. Place your dough ball on the surface and knead the dough about 10-12 times. Shape the dough into a ball. Grab a large bowl and oil the sides of it. Place the dough into the bowl, cover, and let it rise in a draft free area for 30 minutes.
Once the 30 minutes is up and the dough has doubled in size, punch it down and let it rest for about 5 more minutes.
Lightly flour another flat surface. Place the dough on the floured surface and roll it out into a 14 x 8 inch rectangle. Brush the top of the rolled out dough with softened butter. In a separate, smaller bowl, combine brown sugar, white granulated sugar and cinnamon and sprinkle it all over the buttered surface of the dough.
Starting from the long side of the dough, roll it up tightly.
Cut the cinnamon rolls into 12 even pieces. Grab a 9×13 baking dish and grease it with butter. Pack each cinnamon roll piece evenly into the baking dish. Cover the dish with aluminum foil or saran wrap and store them in the fridge until you're ready to bake.
When you're ready to bake the following morning, take the rolls out of the oven and let them sit at room temperature for 30-60 minutes. Preheat your oven to 350° F and place them in the oven to bake for 20 minutes, or until the top of the pastries have turned a light brown. While they bake, whip up a quick frosting.
In a large bowl, add softened cream cheese, softened butter and beat the two together with an electric hand or stand mixer. Add vanilla extract, salt, and milk and mix until smooth. Lastly add powdered sugar and mix it together until it becomes a smooth, creamy, frosting. Once the cinnamon rolls are done baking, you can put the frosting on the top of the cinnamon rolls immediately so it melts into the dough, or let it cool for a few minutes then frost it. Serve and enjoy!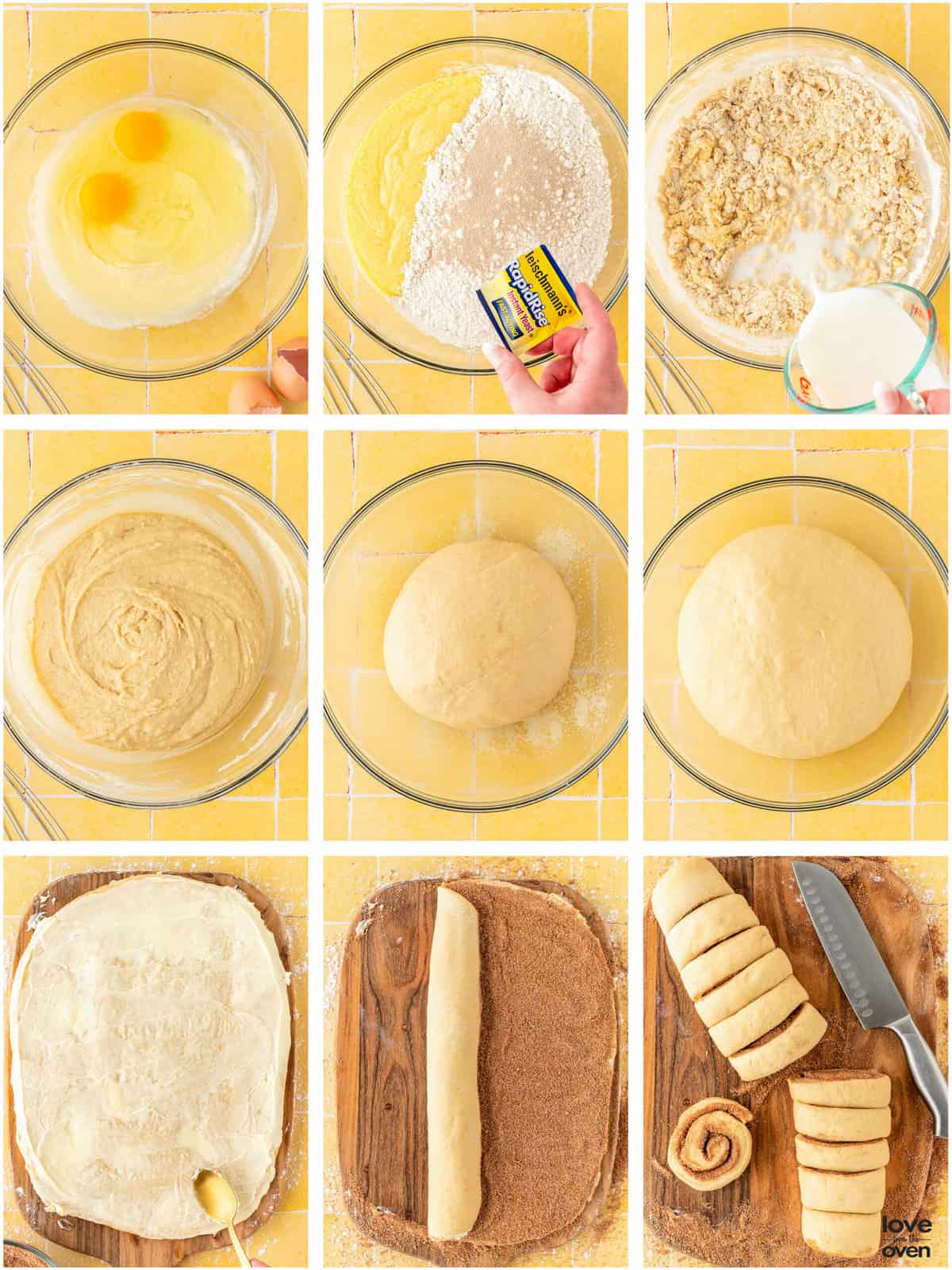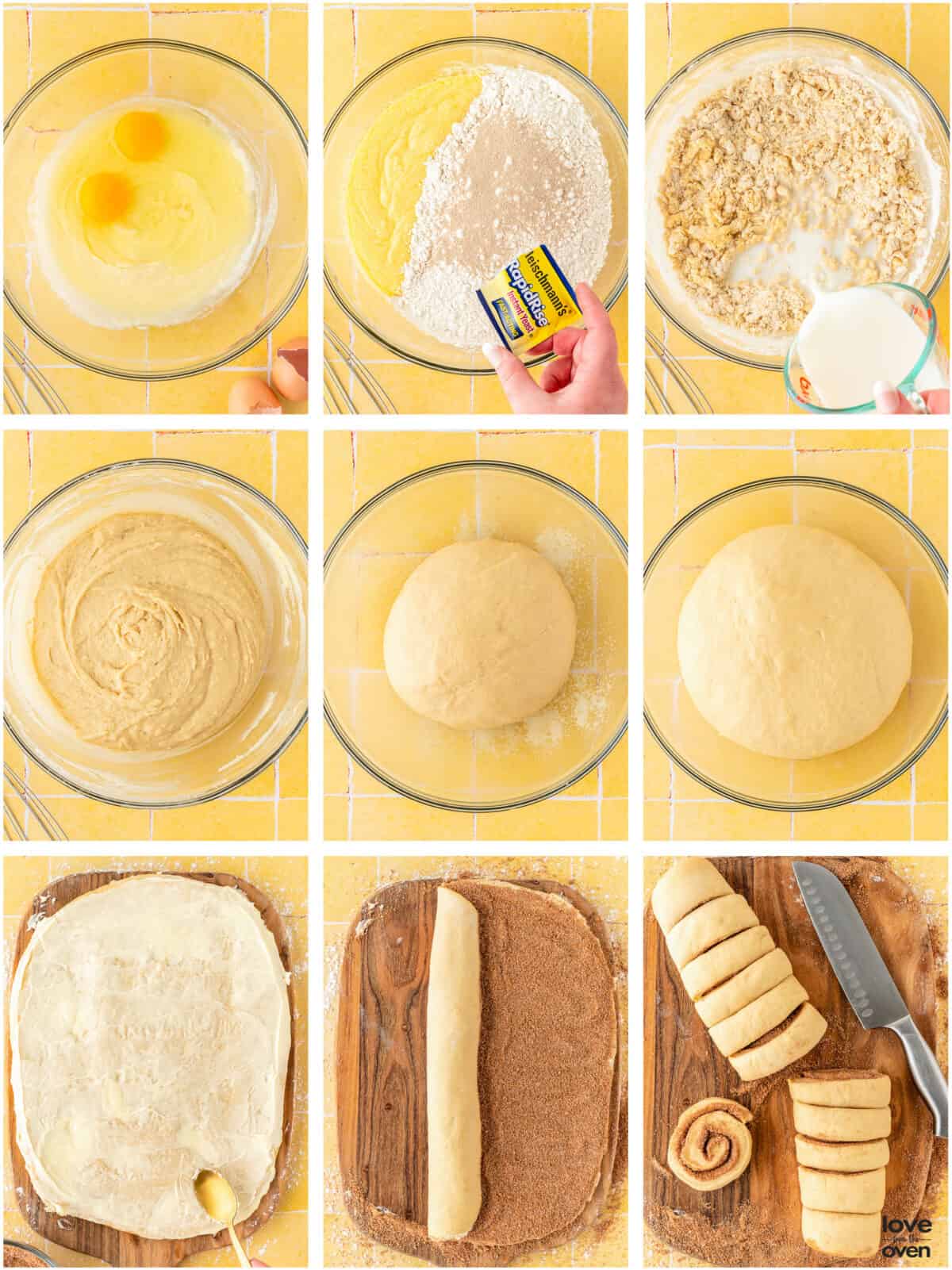 Tips and Advice
Storage – Because of the cream cheese frosting, you'll have to store the leftover cinnamon rolls in the fridge for 2-3 days. These reheat nicely in the microwave, or you can eat them cold as well. If you want to keep them at room temperature, simply frost each cinnamon roll when it's consumed, and store the frosting in the fridge instead.
Equipment – For this recipe, you'll need a rolling pin, a 9×13 baking dish, a few mixing bowls of various sizes, a hand or stand electric mixer, a cutting board or flat surface, and a knife.
Thick or Thin – If you like a thinner frosting, add more milk to it a teaspoon at a time. If you like a thicker frosting, add more powdered sugar one tablespoon at a time.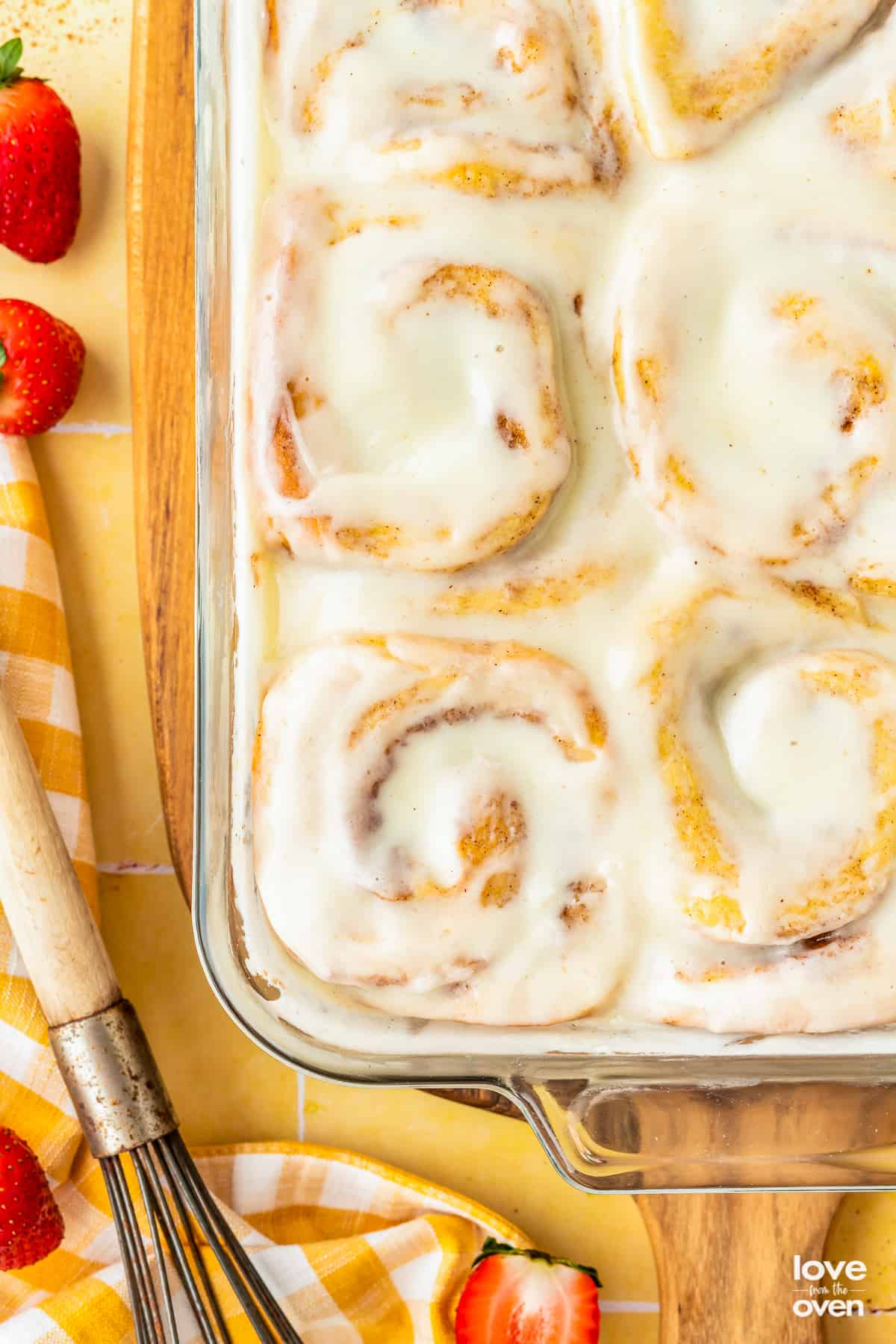 I CAn't wait!
So maybe you don't want to let these sit overnight, and instead just wanted a really good cinnamon roll recipe? Well, all you have to do is after you place the cinnamon rolls in the baking dish, let them sit for 30-60 minutes at room temperature so they rise a little more. Then, preheat the oven to 350°F, and continue making the recipe as normal.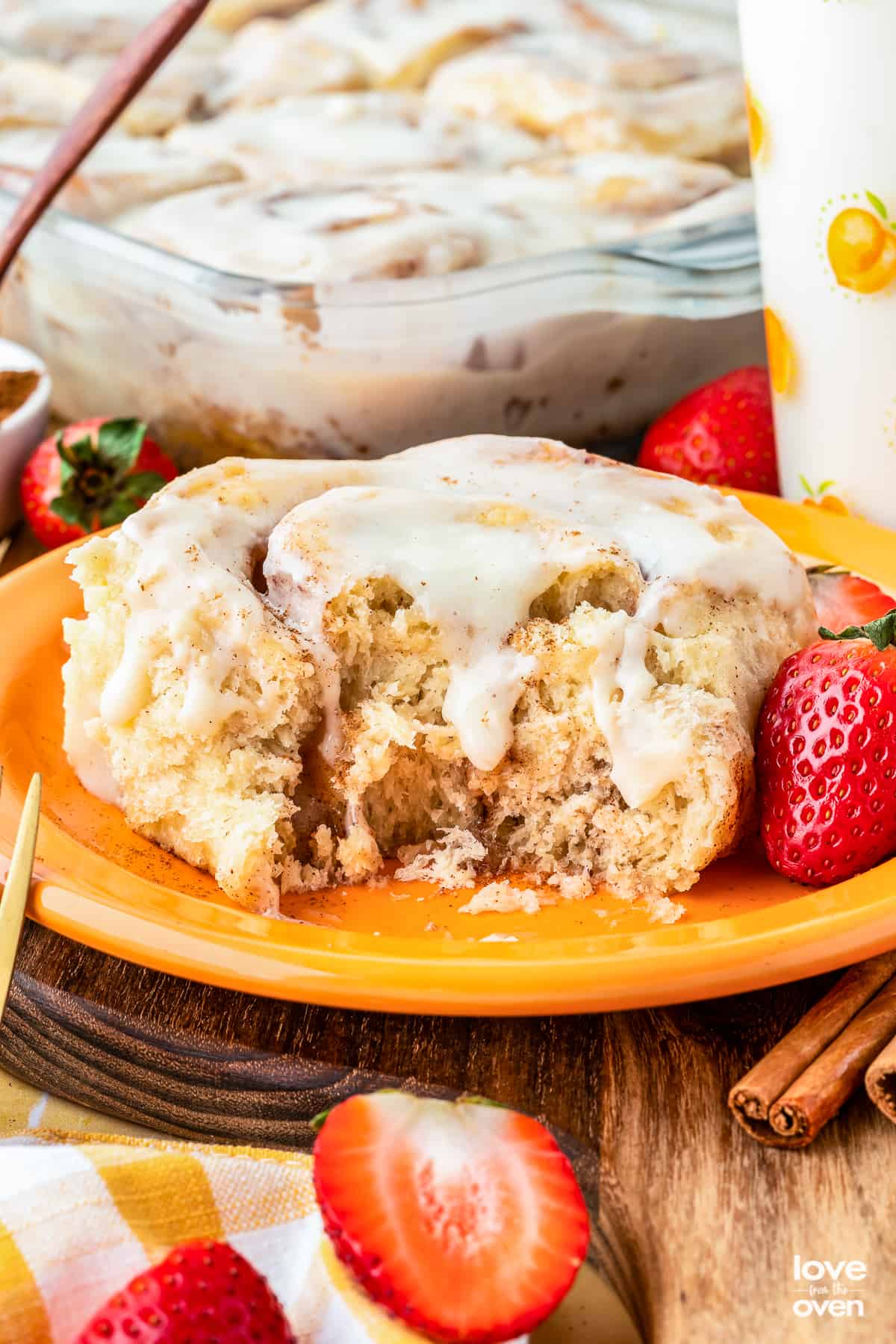 FAQs
Is it OK to let cinnamon rolls rise overnight?
Yes, as long as you let them rest overnight in the fridge, they will be perfectly fine to bake the next morning.
Recipes You'll Love
How many more ways could you possibly make cinnamon rolls? Well, there's quite a few! If you love cinnamon rolls as much as I do then you're gonna adore some of these other, fantastic cinnamon roll recipes.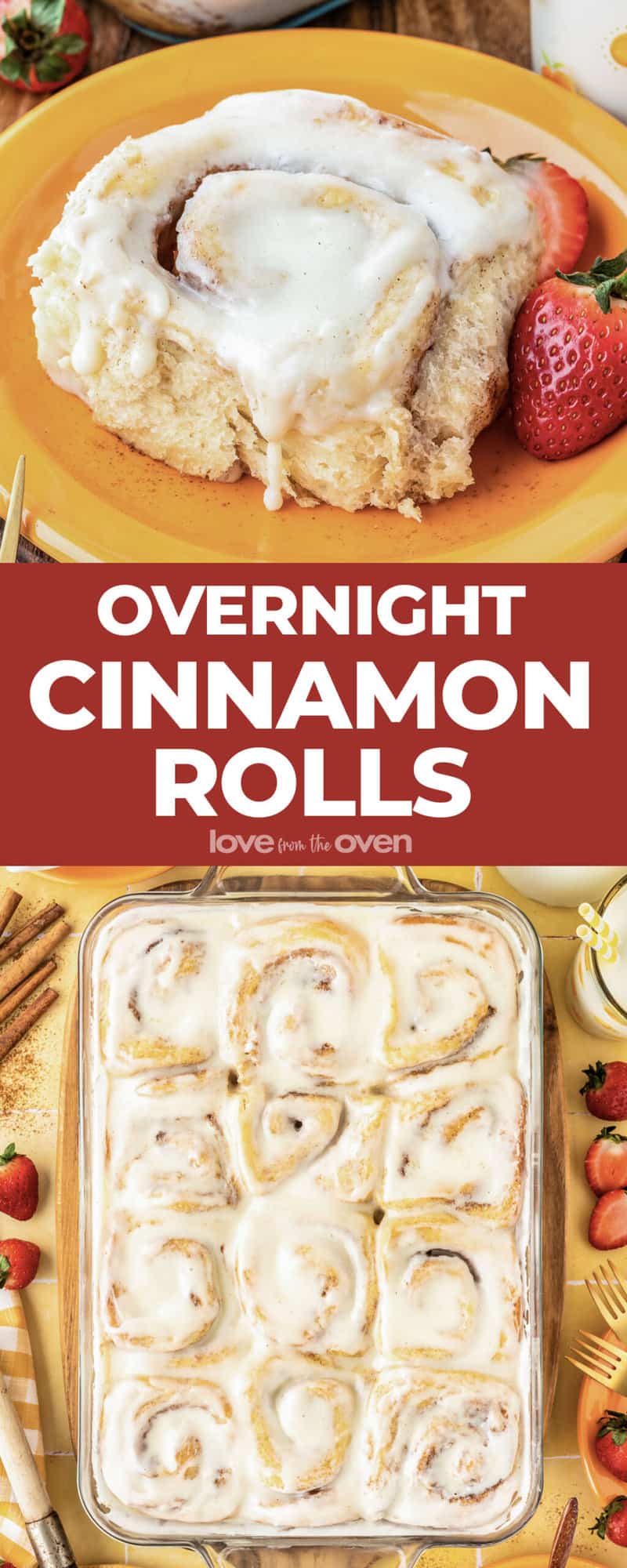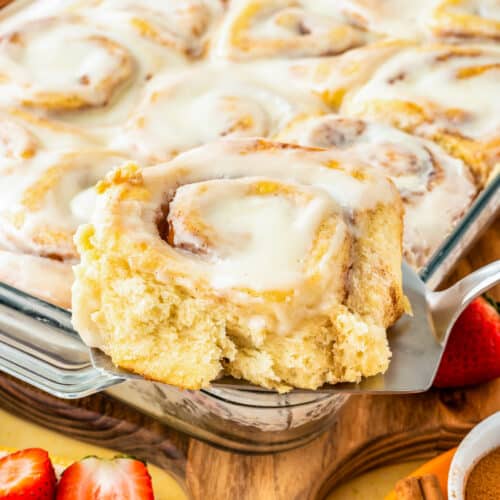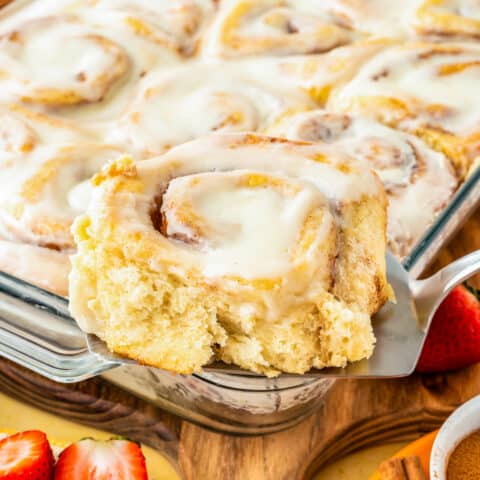 Overnight Cinnamon Rolls
These overnight cinnamon rolls are perfect for making the night before you need them. Bake them fresh in the morning.
Ingredients
Dough
1/2

cup

sugar

1/2

cup

butter

melted then cooled to room temperature

1

teaspoon

salt

2

eggs

room temperature

4

cups

all-purpose flour

2

packets RAPID RISE yeast

(this recipe is based on Rapid Rise yeast, and will not work quite the same with other varieties of yeast)

1

cup

warm milk

115-120 degrees F, no hotter than 125 to avoid killing the yeast, no cooler or yeast will not activate
Filling
1/2

cup

butter

softened

1/2

cup

sugar

1/2

cup

brown sugar

1-2

TBSP

cinnamon
Frosting
4

oz

cream cheese

softened

4

tablespoon

butter

softened

1

teaspoon

vanilla extract

2-3

tablespoon

milk

2

cups

powdered sugar

1/4

teaspoon

salt
Instructions
Dough
Mix butter, sugar and salt in a large bowl until well combined. Add egg and mix until combined. Add in flour and Rapid Rise yeast, stir to combine. Add in warm milk and mix well and until soft smooth dough forms.

Turn out on lightly floured surface. Knead a 10-12 times then place into a large bowl that has been well oiled. Cover and let dough rise in a draft free location for at least 30 minutes or until almost doubled in size.

Once risen, punch down dough and let rest for five minutes. Roll into a 14 x 8-inch rectangle (approximately) on a lightly floured surface. Brush with softened butter for filling. Combine cup sugar, brown sugar and cinnamon. Sprinkle over buttered dough. Roll up from long side. Cut into 12 cinnamon rolls.

Place cinnamon rolls in 13×9 inch pan that has been brushed with butter. At this point you can cover the rolls with plastic wrap or foil and place rolls in the fridge to bake the following morning, or preheat your oven to 350 degrees F and let the dough rise for 30 minutes, then bake.

If placing rolls in the fridge, remove from fridge 30-60 minutes prior to the time you will start baking them (60 minutes is best). Let them rest in a warm, draft free location. Preheat oven to 350 degrees. Once oven is heated, bake rolls for approximately 20 minutes (or until lightly browned). Remove from oven and frost immediately.
Frosting
With an electric mixer, mix together softened cream cheese and softened butter. Add in vanilla, salt and milk and mix until well combined. Add in powdered sugar and mix until smooth and creamy. If you would like your frosting thicker, add more powdered sugar, one tablespoon at a time and mix well. If you would like a thinner frosting, add more milk, one teaspoon at a time and mix well, until desired consistency is reached.

Once rolls are removed from oven, you can frost immediately or allow to cool slightly, then frost. Store any leftover rolls in refrigerator (due to the cream cheese in the frosting).
Nutrition
Calories:
553
kcal
|
Carbohydrates:
79
g
|
Protein:
6
g
|
Fat:
23
g
|
Saturated Fat:
14
g
|
Cholesterol:
89
mg
|
Sodium:
465
mg
|
Potassium:
112
mg
|
Fiber:
1
g
|
Sugar:
46
g
|
Vitamin A:
795
IU
|
Calcium:
67
mg
|
Iron:
2.2
mg
Disclaimer
Nutrition information is estimated as a courtesy. If using for medical purposes, please verify information using your own nutritional calculator. Percent Daily Values are based on a 2000 calorie diet.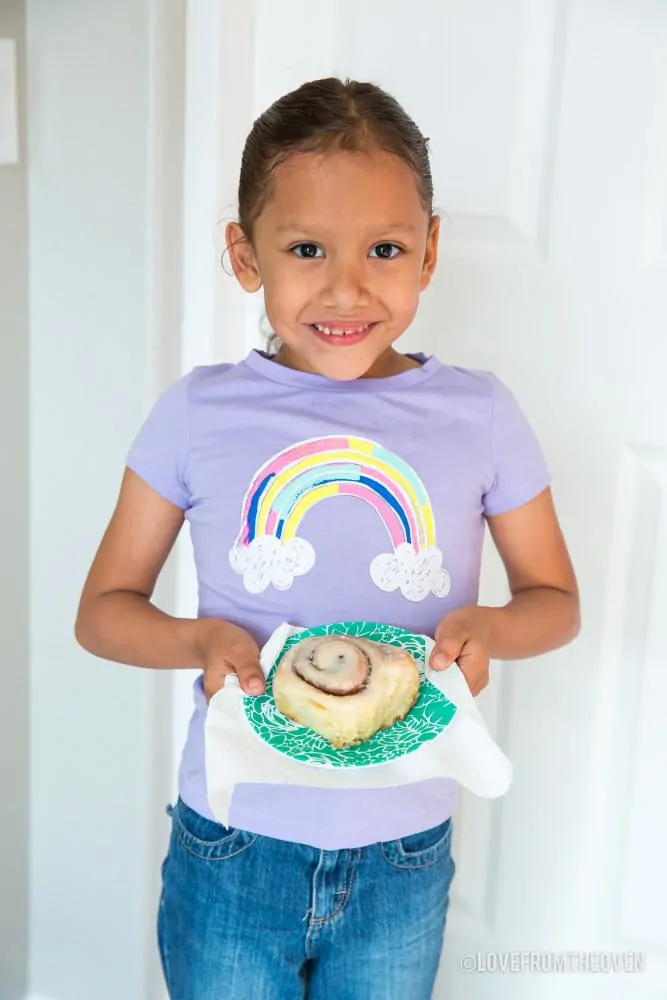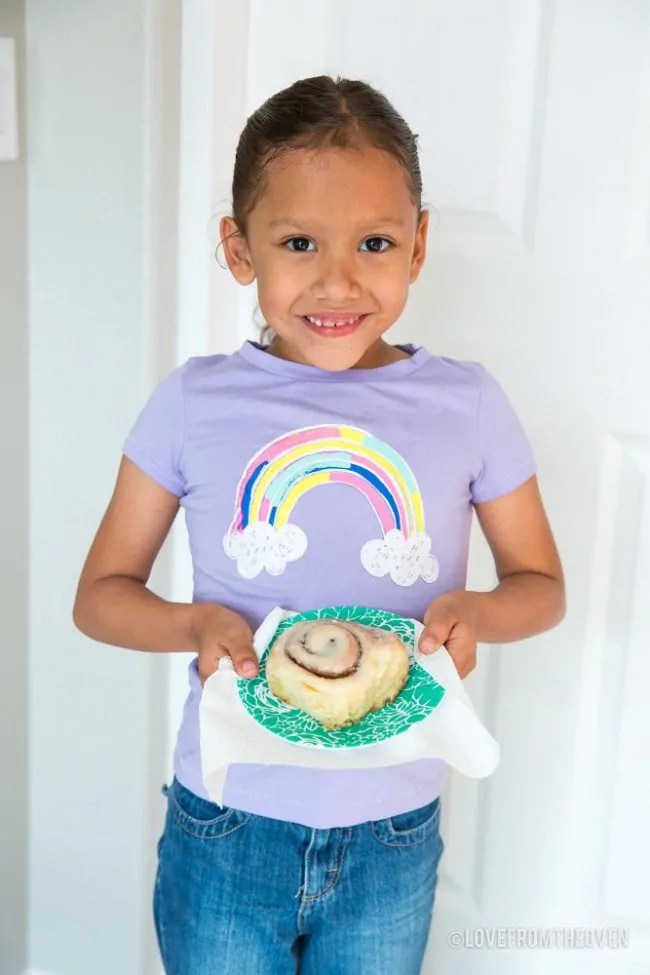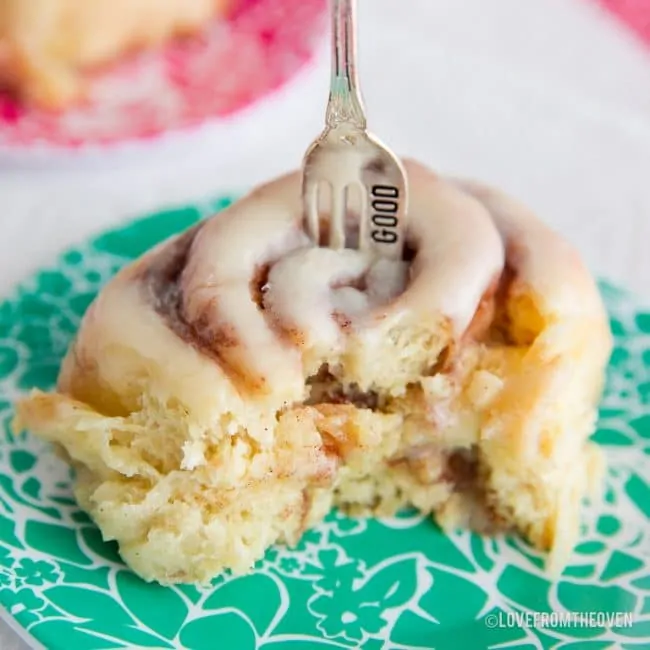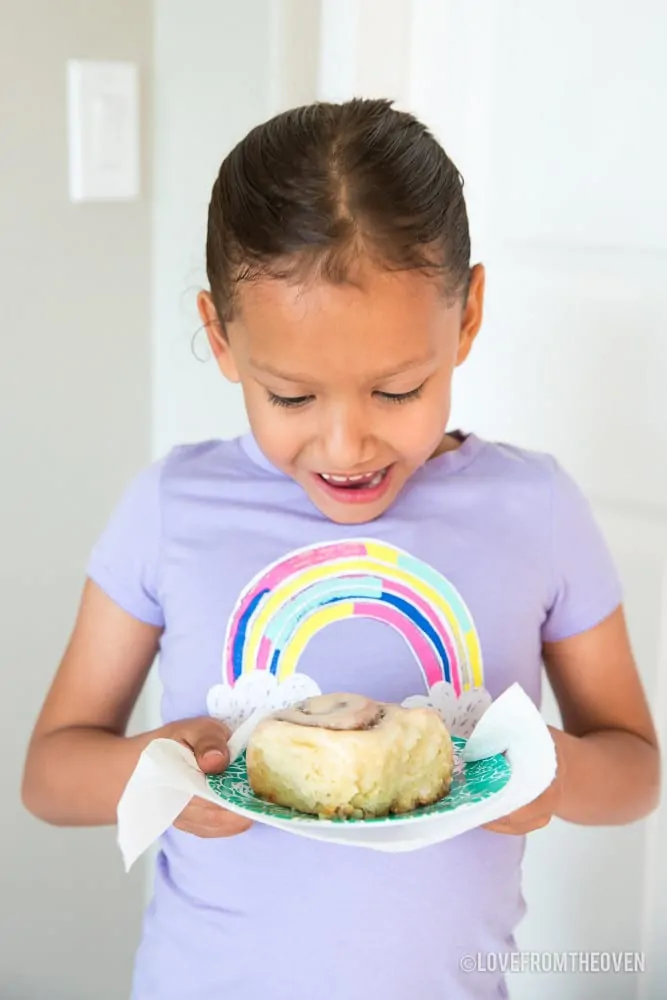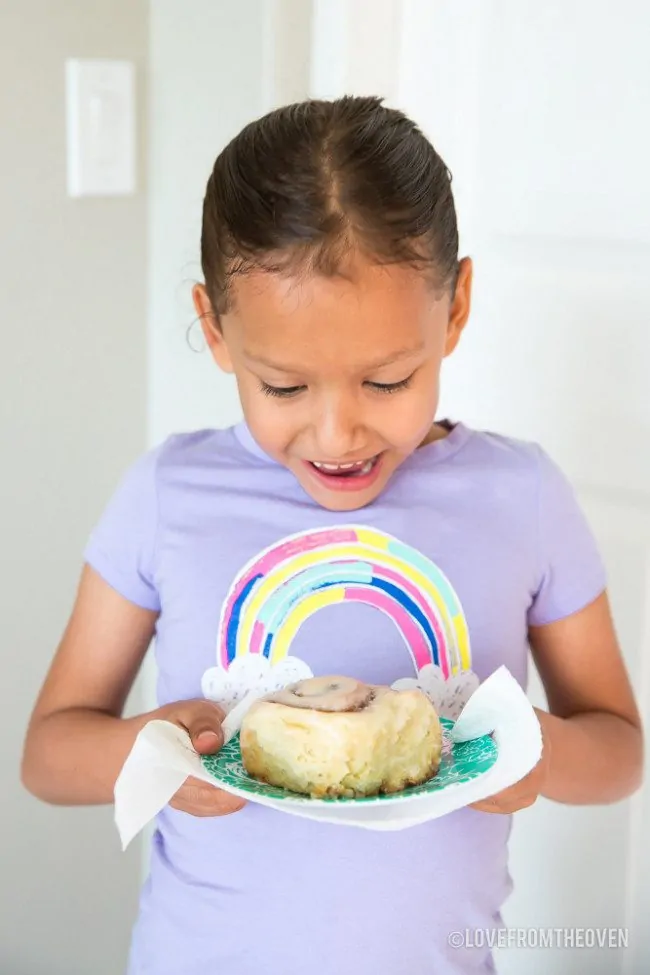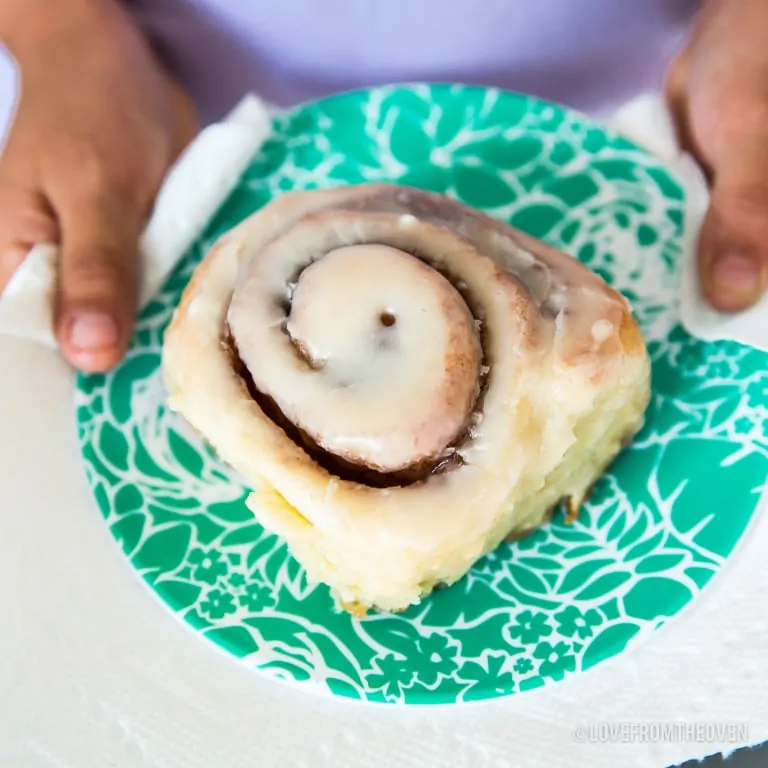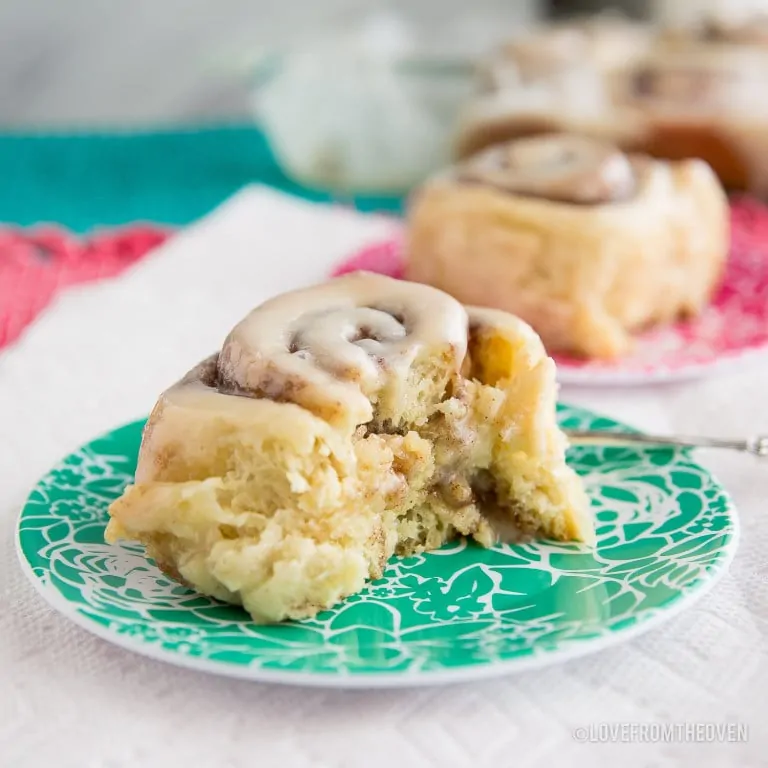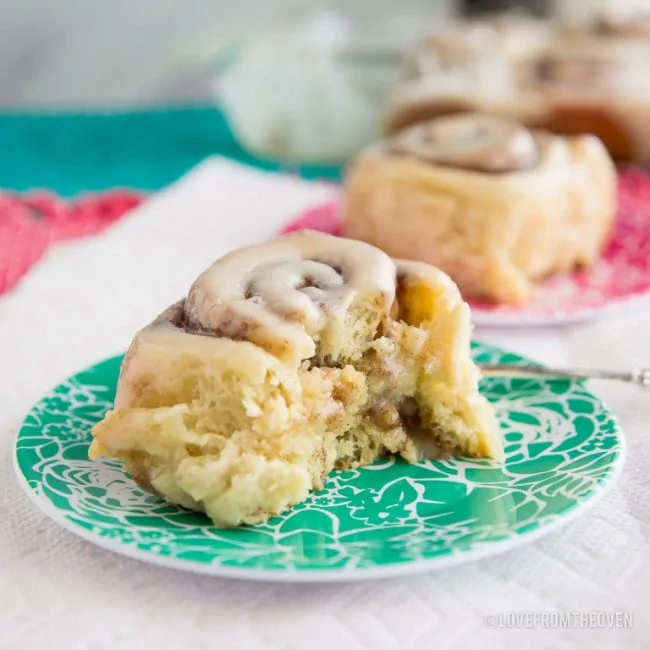 Originally published May 2017 in collaboration with Bounty Paper Towels.