Chocolate Peanut Butter Cake is a decadent, rich dessert that is not only incredibly divine, but looks stunning too! This moist chocolate cake is covered in creamy peanut butter frosting, topped with silky chocolate ganache and then garnished with peanut butter cups. Don't worry, you're not dreaming. This is real and tastes as unbelievable as it looks!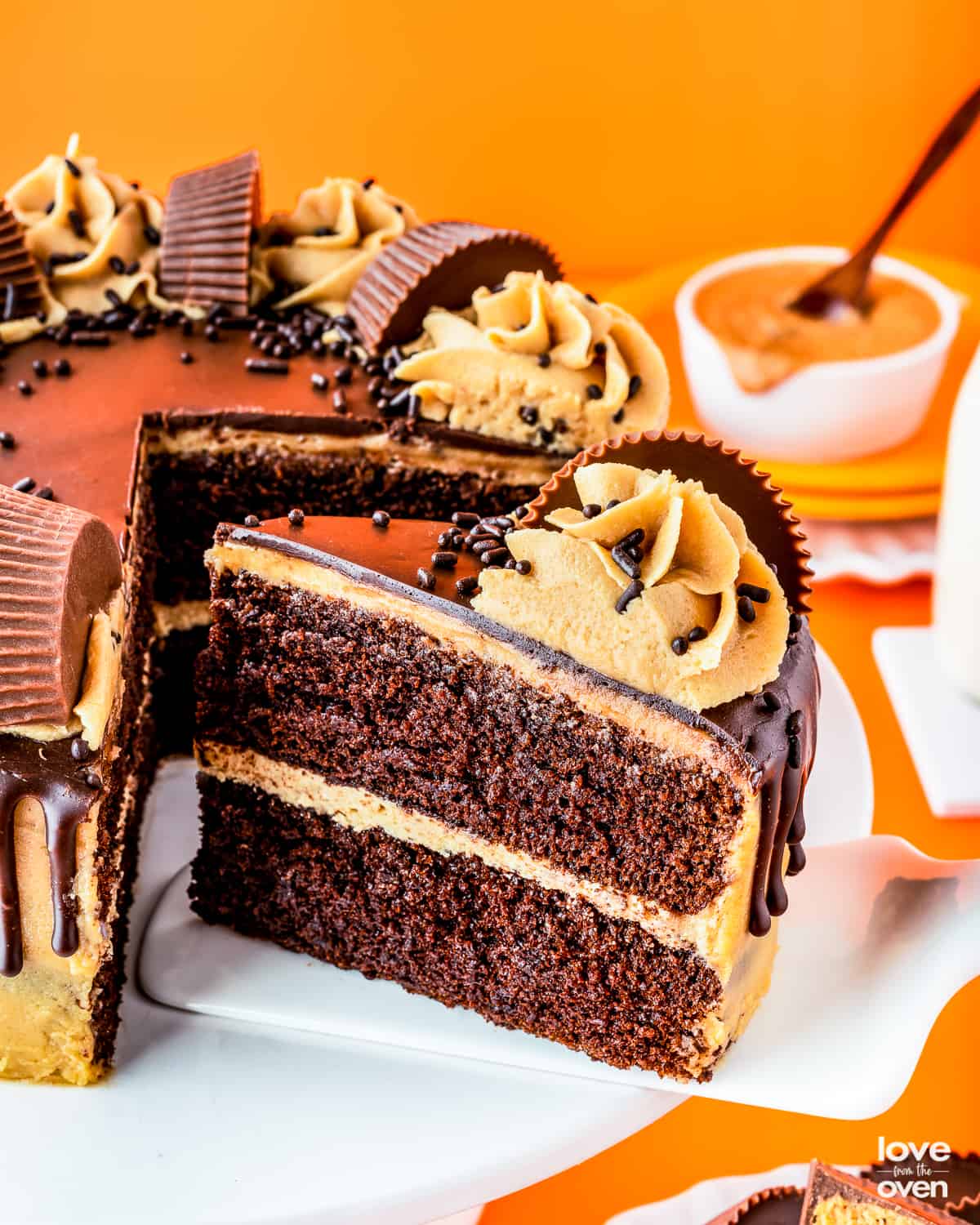 Reasons You'll Love This
Chocolate + PB – Arguably the most iconic and complimentary flavor combination to exist. Not a big peanut butter fan? That's okay! Here's a similar recipe for just a chocolate cake. 
Impressive – I guarantee you'll impress all your friends and family when you put this bad boy on the table.
Melt in Your Mouth – The fluffy cake batter and the velvety frosting will dissolve on your tongue the very instant you take a bite.
Cake Decorators – If you love watching those cake decorating videos online, but need a recipe to learn where to start, look no further than right here. It's super simple!
Peanut Butter Cups – Not only does this entire cake taste like a giant Reeses peanut butter cup, it is topped with them too!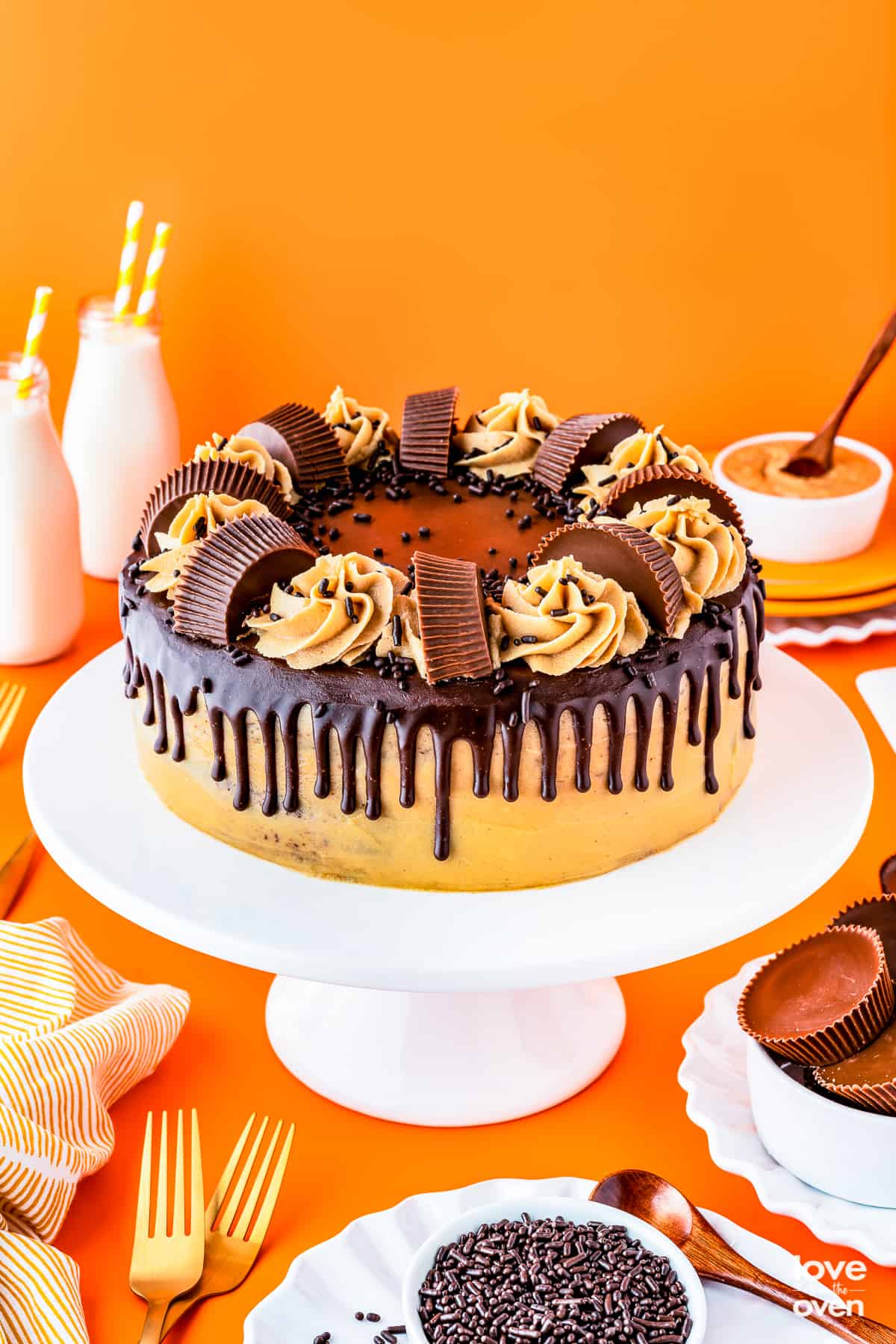 Skip the grocery store cakes, and make this sweet, spongy cake from the comfort of your own home. I know what you may be thinking, but seriously, don't let the look of this recipe intimidate you. Baking and decorating cakes from scratch can be a lot simpler than you may think!
Let's discuss how to make this Chocolate Peanut Butter Cake, as well as the ingredients that are needed. Please take note that below you will find discussion, expert tips, and answers to frequently asked questions about this recipe to help you recreate it in your kitchen. If you *just* want the recipe itself, scroll down. The full printable recipe itself, with exact measurements and instructions, is found at the bottom of this page.
Ingredient Info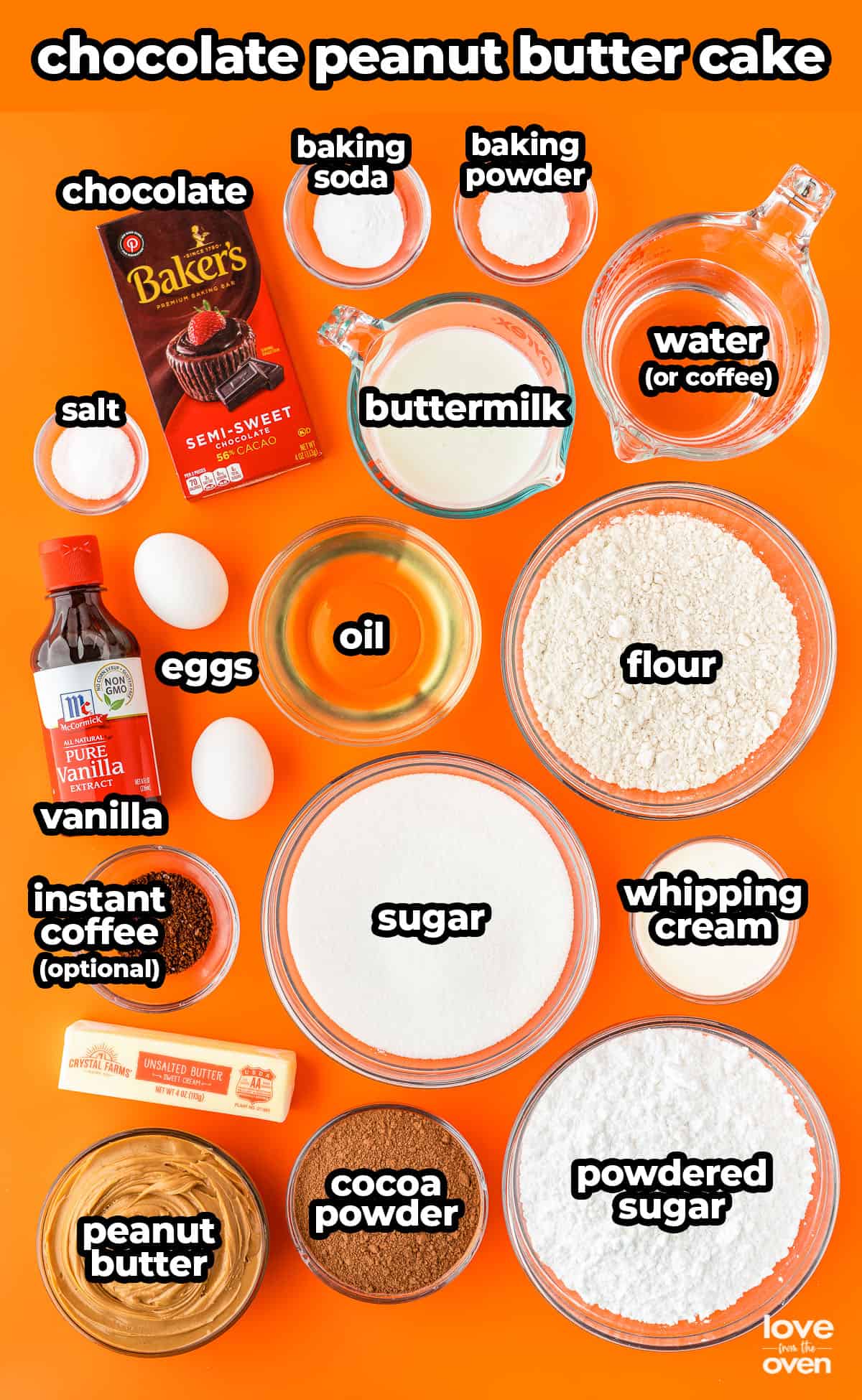 Buttermilk – Buttermilk helps create a tender cake, and it aids in helping the cake rise. No buttermilk on hand? You can also make your own buttermilk from scratch.
Water – This will go into the cake batter boiling hot and combined with the instant coffee. You can also boil a pot of coffee instead, or just skip all of that and just add the water to the batter.
Instant Coffee – Again, this ingredient is optional, but using coffee of any kind can really bring out some wonderful flavors in the chocolate cake. It will not make your cake taste like coffee (trust me) but it will give the chocolate an even richer flavor. If you choose to use this instant coffee, make sure you mix it with the water before adding it to the cake batter.
Granulated Sugar – Use white granulated sugar for the cake batter.
Flour – All purpose flour is best for this recipe. Make sure you are measuring out your flour by spooning it into the measuring cup, leveling it off, then using it in the recipe. Do not pack the flour in tight or else your cake will come out too dry.
Powdered Sugar – This is the best type of sugar to use for a frosting.
Whipping Cream – The whipping cream is for the frosting, but if you don't have any on hand you can use heavy cream, half and half, or just plain milk.
Cocoa Powder – Hershey's Special Dark Cocoa powder is highly recommended for this recipe, but feel free to use whatever cocoa powder you have on hand.
Creamy Peanut Butter – More natural types of peanut butter that are liquid-y and oily are not the best option to use in the frosting. I recommend using a generic, creamy, spreadable brand that you can get at any grocery store.
Baker's Chocolate – This is for the chocolate ganache topping, which is optional, but really amazing when drizzled over the peanut butter frosting. You can use any kind of semi-sweet chocolate you have on hand, including chocolate chips. You can also use dark chocolate. Milk chocolate is an option, but can be overly sweet.
Optional Toppings – If you love to add a little 'pizzazz' to your cakes, you can top it with some halved Reese's peanut butter cups, some chocolate sprinkles, and any leftover peanut butter frosting you have.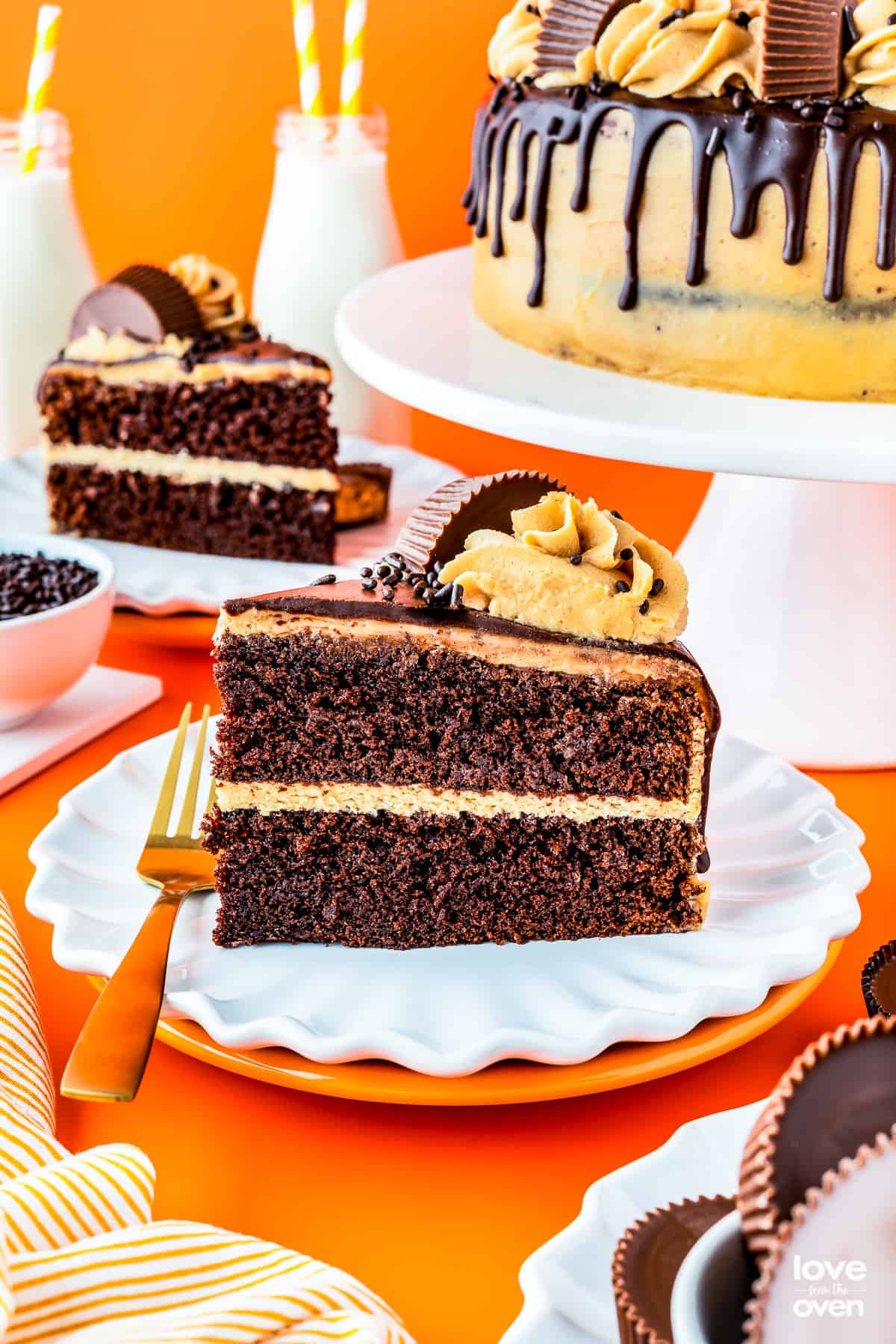 Step By Step Instructions
Begin by preheating your oven to 350°F, then grease and flour two round 9 inch cake pans. Set those off to the side and grab a large mixing bowl. To the bowl, add the flour, granulated sugar, cocoa powder, baking soda, baking powder and salt. Whisk that together until combined.
To the same bowl, add the oil, eggs, vanilla extract and milk. Beat that together with an electric hand or stand mixer until smooth. (Takes about 2 minutes) Next, combine the instant coffee with your boiling water OR just pour your boiling water straight into the batter. Continue to beat it together until smooth. The batter should be fairly thin.
Once combined, grab your two greased and floured cake pans. Pour half of the batter into one pan, and the remaining half into the other. Place the cake pans in the oven and bake for 30-35 minutes or until done. You can test for doneness by inserting a toothpick into the center of the cake, and if it comes out clean you know it's done.
While the cakes bake, begin on the peanut butter frosting. In a large mixing bowl, add peanut butter and softened butter. Beat that together with an electric hand or stand mixer until smooth and creamy. Add in vanilla extract and continue to beat.
Next, add in half the powdered sugar. Beat that together before adding half of the whipping cream. Beat it together until light and fluffy. Add in the remaining powdered sugar, beat it together, then add the remaining cream and beat it together. You can add as much cream as you need until you get the frosting consistency that you desire.
Take the cakes out of the oven once they're done. Let them cool in the pan for 10 minutes before transferring them to a cooling rack to cool completely. Don't frost the cake until the cakes have cooled completely.
For the chocolate ganache, you'll start by grabbing a large, heavy saucepan and adding the semi sweet chocolate and heavy whipping cream. Heat the saucepan on the stove over a low heat and continuously stir.
Continue to stir until the chocolate is fully melted. Remove the pan from the heat and allow the ganache to cool in the saucepan until you're ready to decorate. Stir the ganache occasionally so it doesn't harden.
When the cakes are cooled and you're ready to decorate, you can use a spatula or piping bag to pipe the frosting onto the cake. Pour or spoon the cooled chocolate ganache over the top of the cake. Garnish with more frosting, Reeses peanut butter cups and chocolate sprinkles. Serve and enjoy!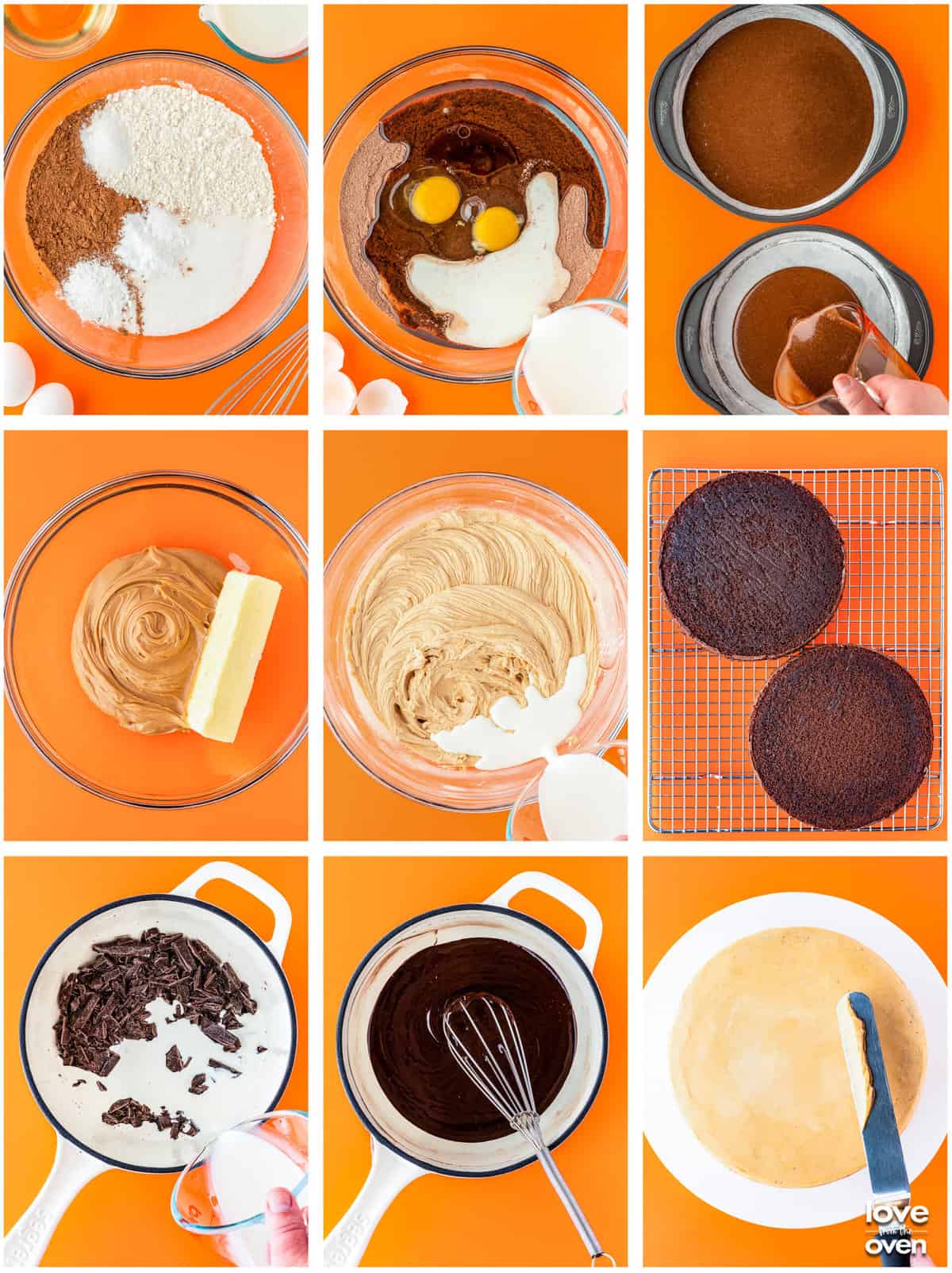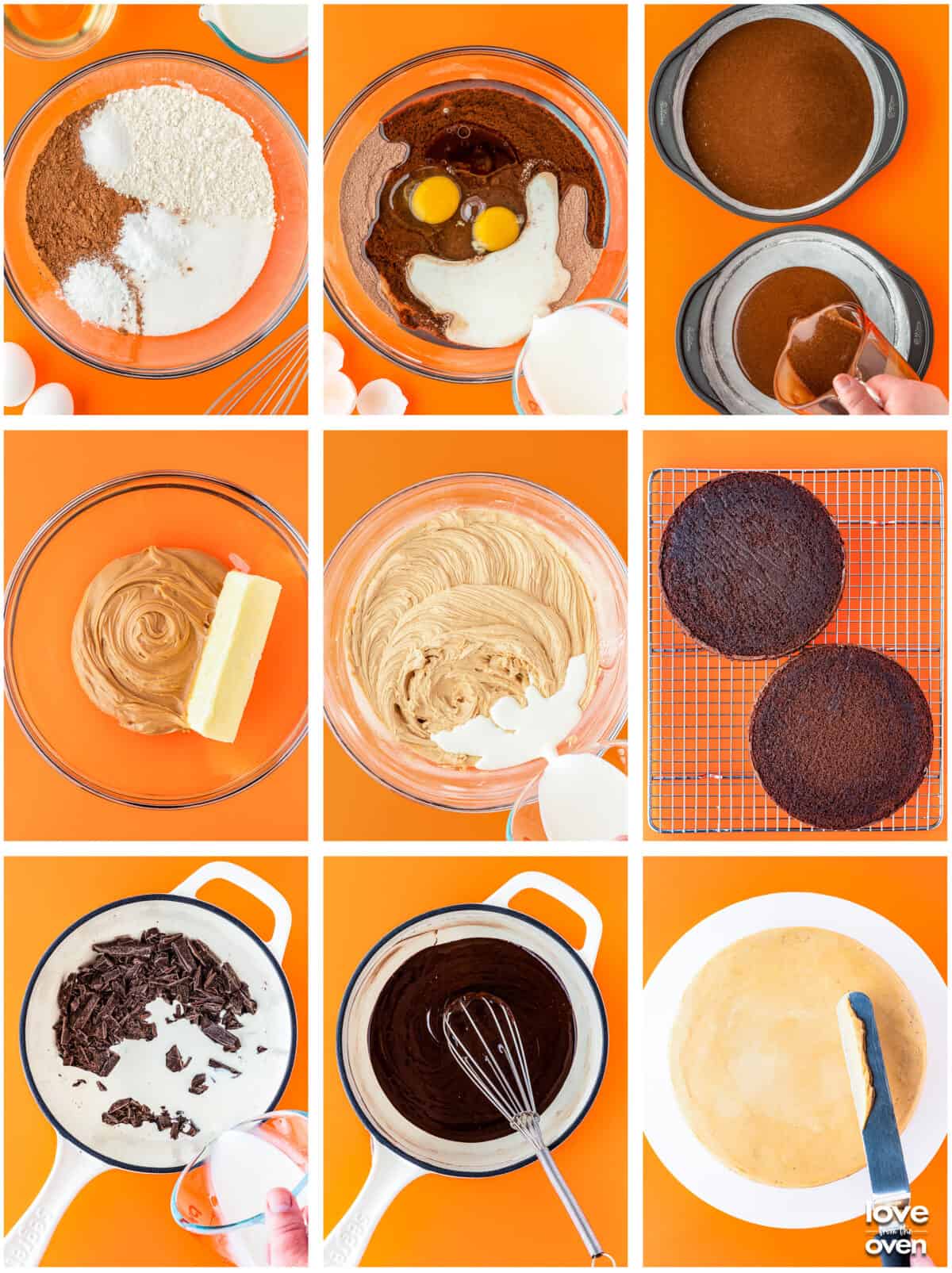 Tips and Advice
Storage – You can store the leftover cake covered at room temperature for 3-4 days, or you can freeze it for up to 2 months.
Equipment – For this recipe you'll need a hand or stand electric mixer, two 9 inch round cake pans, a cooling rack, a saucepan, whisk or something to stir with, mixing bowls, an offset spatula, as well as a piping bag and tip.
Prevent Sticky Situations – If you struggle with cakes sticking to your pans, here are two products I highly recommend. Parchment Rounds fit perfectly in your cake pan, and make it super easy to get your cakes out of the pan. You can also make these yourself by cutting your own. Baker's Joy is a non-stick baking spray with flour, it is great for having cakes, and other baked goods, easily release from their pans.
Cake Decorating Tips
If you want your cake to turn out picture perfect, here are a few tips to help you achieve that! If the top of the cakes dome up in the oven, cut the tops off and level out the cakes as best as you can.
When frosting the cakes, use more frosting than you think you'll need at first, because you can scrape some off later. I recommend using an angled icing spatula to frost the cake. You can also pipe the icing onto the cake with a piping bag, then even it out with a spatula.
For the chocolate ganache, spoon it on top of the cake then use the same icing spatula to even it out as best as you can. You can let it drip down the sides, though you may have to coax it over the sides with a spatula. This "drip cake" is a fun look that is easy to create.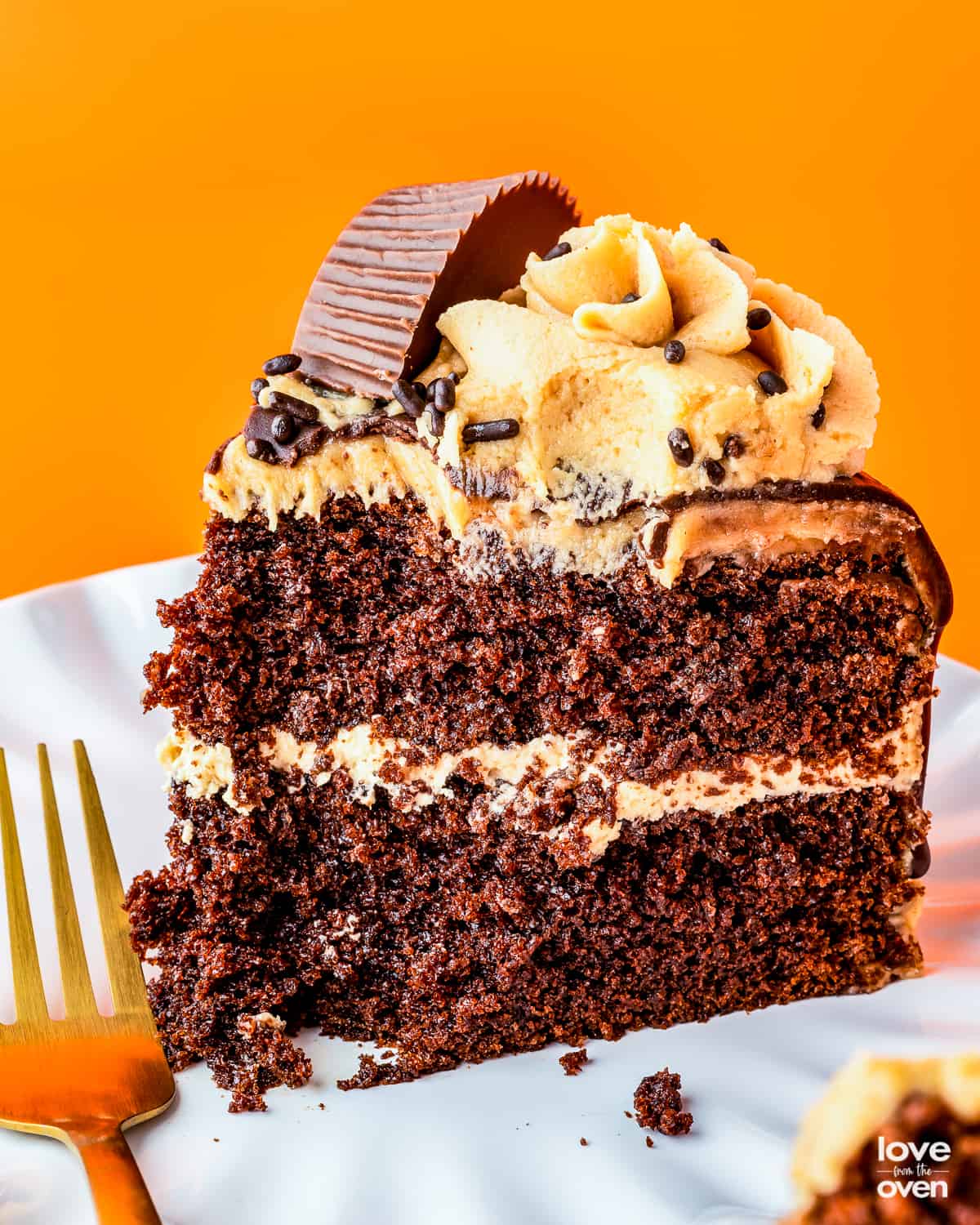 FAQs
What is the secret to super moist cake?
The secret to moist cake is all about using fresh ingredients, accurately measuring, and not over baking the cake. As long as you achieve those 3 things, I guarantee your cake will turn out fluffy, moist and delicious!
Why did my peanut butter frosting separate?
This could be because the temperature of your frosting ingredients were different. Try to add only room temperature peanut butter and butter to the frosting. If either of those ingredients are too warm or too cold, the frosting could separate.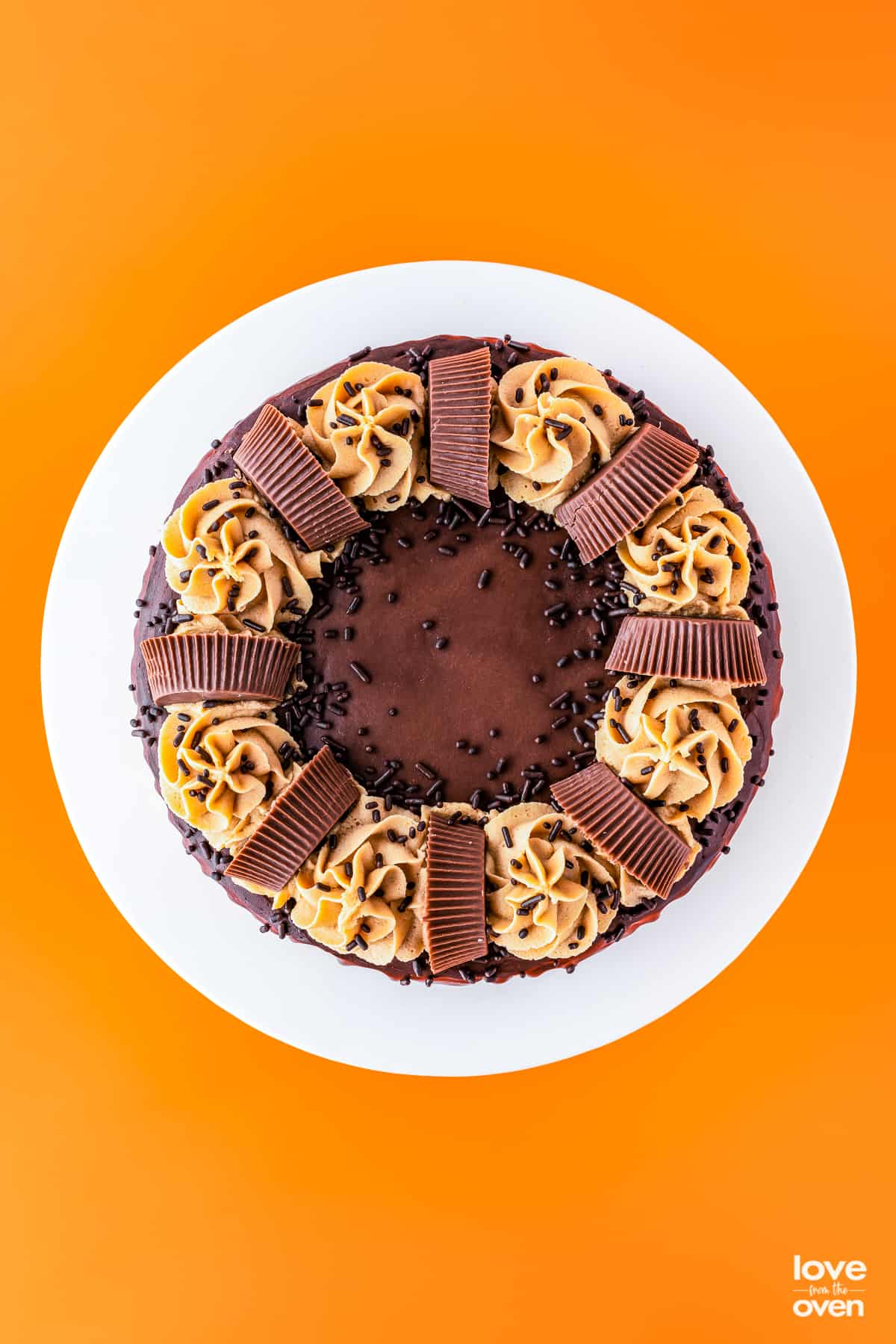 Recipes You'll Love
Chocolate and peanut butter are some of the worlds greatest pleasures. So why stop at just one recipe? Here are a few more decadent and divine chocolate and peanut butter recipes you won't want to miss out on.
More Chocolate and Peanut Butter!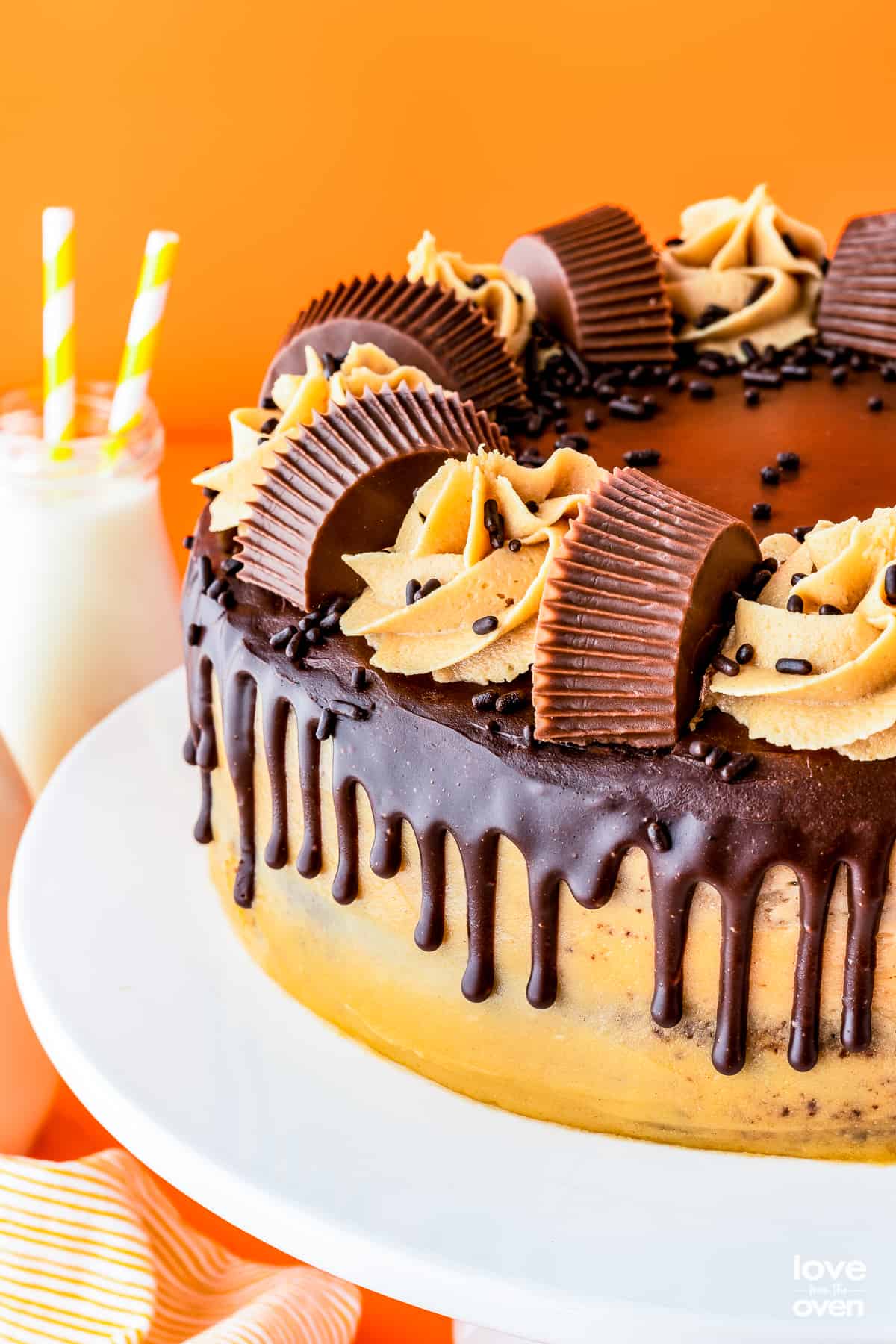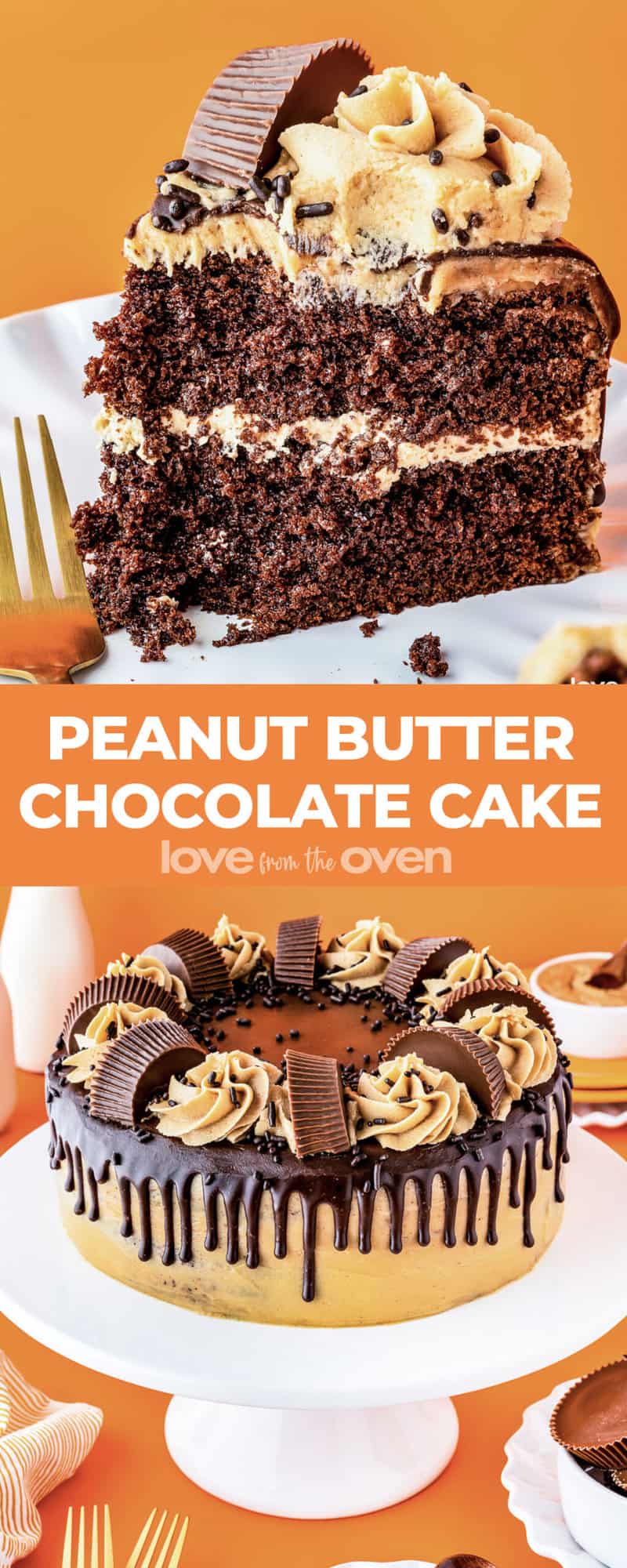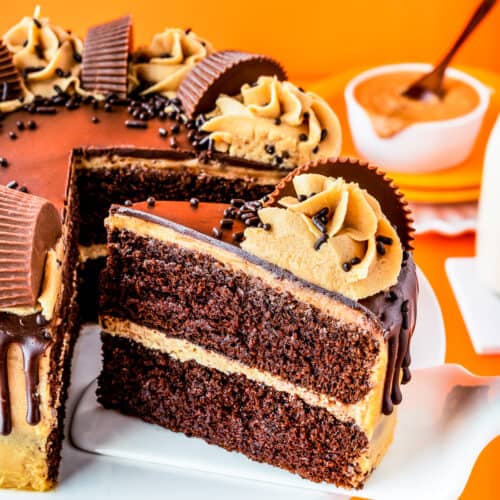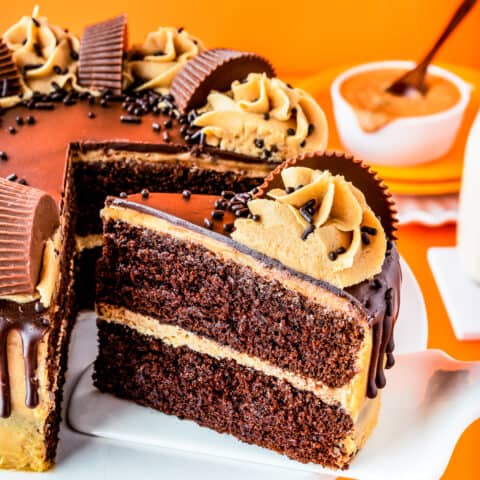 Chocolate Peanut Butter Cake
This moist chocolate cake is covered in creamy peanut butter frosting, topped with silky chocolate ganache and then garnished with peanut butter cups.
Ingredients
Cake
2

cups

sugar

1 3/4

cups

all purpose flour

3/4

cup

Hershey's Cocoa Powder

Special Dark Cocoa Powder is a great choice

1 1/2

tsp

baking powder

1 1/2

tsp

baking soda

1

tsp

salt

1

cup

milk

buttermilk can also be used

2

eggs

1/2

cup

vegetable oil

2

tsp

vanilla extract

1

cup

boiling water

or coffee

1

serving

instant coffee crystals

optional, leave out if using coffee
Peanut Butter Frosting
1

cup

creamy peanut butter

natural varieties that need to be stirred do not work as well

1/2

cup

butter

softened

1

teaspoon

vanilla extract

3

cups

powdered sugar

1/4

cup

heavy whipping cream

substitutes include heavy cream, half and half or milk
Chocolate Ganache (Optional)
4

ounces

semi-sweet chocolate

1/3

cup

heavy whipping cream

or heavy cream
Toppings (Optional)
peanut butter cups

sprinkles
Instructions
Cake
Preheat oven to 350 degrees F. Grease and flour two 9" round cake pans.

In a large mixing bowl combine sugar, flour, cocoa powder, baking powder, baking soda and salt. Mix well to combine.

Add eggs, milk, oil and vanilla to mixture. Beat with an electric mixer on medium speed for two minutes.

Carefully pour boiling water or coffee (or boiling water with instant coffee dissolved into it) into the cake ingredients and stir. Mix until combined. The batter will be quite thin.

Pour batter into prepared baking pans. Bake for 30 to 35 minutes or until a toothpick inserted into the center comes out clean and the top starts to spring back when gently touched.

Cool for 10 minutes then remove from pans and allow to cool completely on wire cooling racks.
Peanut Butter Frosting
In a large bowl with an electric mixer, beat butter and peanut butter until light and creamy. Add in vanilla and mix well.

Add in half of the powdered sugar, mixing well to combine, followed by half the cream, mixing well to combine. Repeat with remaining powdered sugar and cream. If needed, add more cream, a tsp at a time, for a thinner frosting consistency.

Once cake has been completely cooled, cake can be assembled and frosted. Frosting can be spread on with a spatula or piped on with a piping bag and tip.
Chocolate Ganache (Optional)
Chop up chocolate and place in a heavy sauce pan, then add the whipping cream to the chocolate. Cook on low heat, stirring constantly, until the chocolate is melted and combined with the cream.

Remove from heat and allow to cool. Stir from time to time to help the ganache cool evenly. Once cooled to room temperature, ganache can be poured or spooned onto the frosted cake. If desired, add items such as peanut butter cups, sprinkles or even Reese's Pieces to decorate.
Notes
Store covered, at room temperature, for 3-4 days, or freeze for up to 2 months. 
Nutrition
Calories:
540
kcal
|
Carbohydrates:
69
g
|
Protein:
8
g
|
Fat:
28
g
|
Saturated Fat:
11
g
|
Polyunsaturated Fat:
7
g
|
Monounsaturated Fat:
9
g
|
Trans Fat:
0.3
g
|
Cholesterol:
48
mg
|
Sodium:
382
mg
|
Potassium:
287
mg
|
Fiber:
3
g
|
Sugar:
52
g
|
Vitamin A:
363
IU
|
Vitamin C:
0.1
mg
|
Calcium:
66
mg
|
Iron:
2
mg
Disclaimer
Nutrition information is estimated as a courtesy. If using for medical purposes, please verify information using your own nutritional calculator. Percent Daily Values are based on a 2000 calorie diet.