This Strawberry Milkshake recipe is classic and refreshing; perfect for slurping down on a hot summer's day! Sweet frozen strawberries are combined with creamy vanilla ice cream and blended together perfectly to make this dreamy, diner style strawberry milkshake. If you're looking for a silky smooth milkshake that's bursting with a strong strawberry flavor, then keep reading!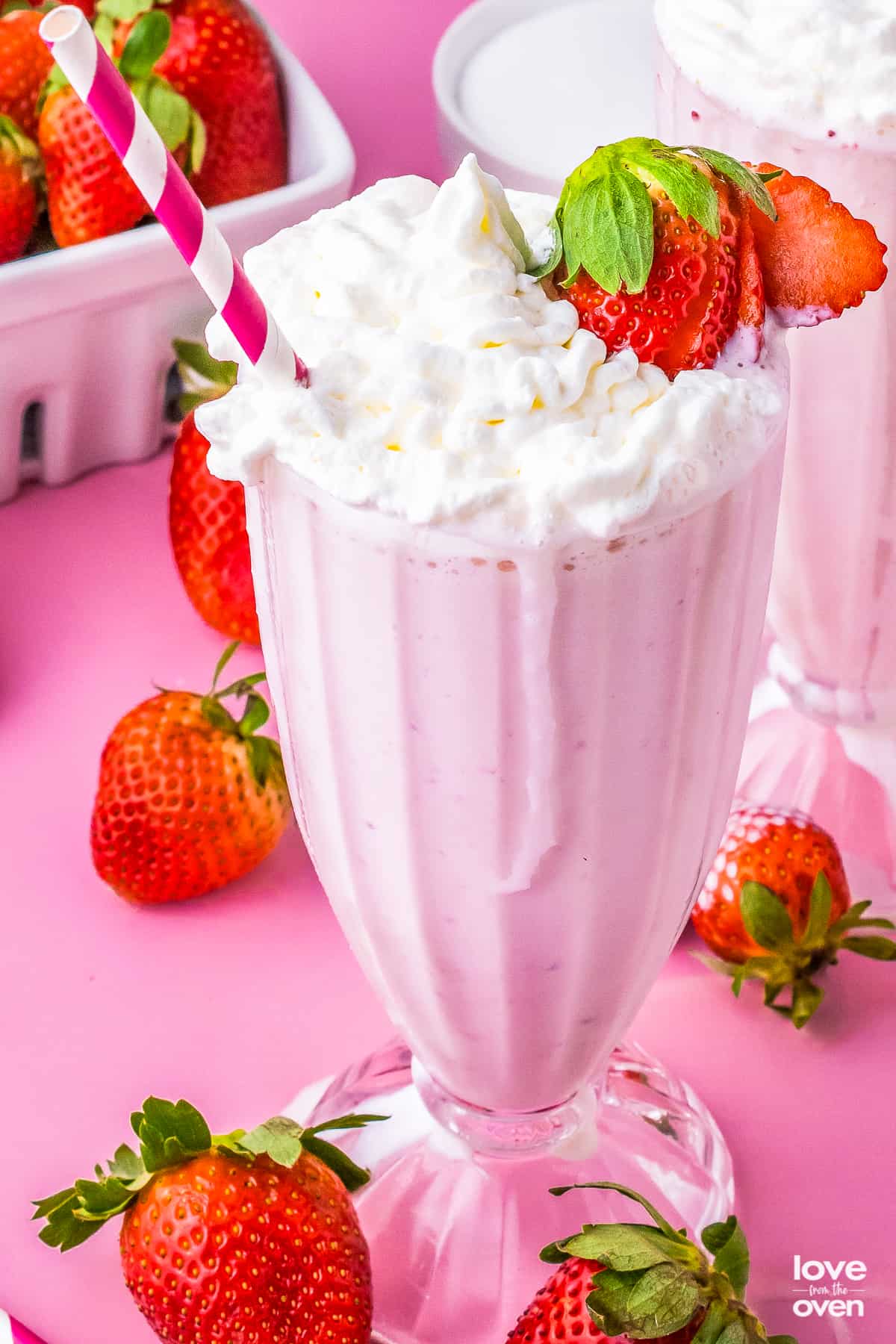 Reasons You'll Love This
Super Simple – It doesn't get much easier than a simple, strawberry milkshake. As long as you have a blender, a freezer and your ingredients, this will come out perfectly!
Diner Grade Milkshake – Do your strawberry milkshakes often come out watery and not as good as a restaurants? As long as you follow the advice in this recipe, I guarantee your milkshake will come out better than your local diner's!
Cold and Creamy – Now that the weather is starting to warm up, this is the perfect drink to cool you down, and satisfy your sweet tooth at the same time.
Strawberries – Strawberry lovers know that a strawberry milkshake is the superior milkshake flavor!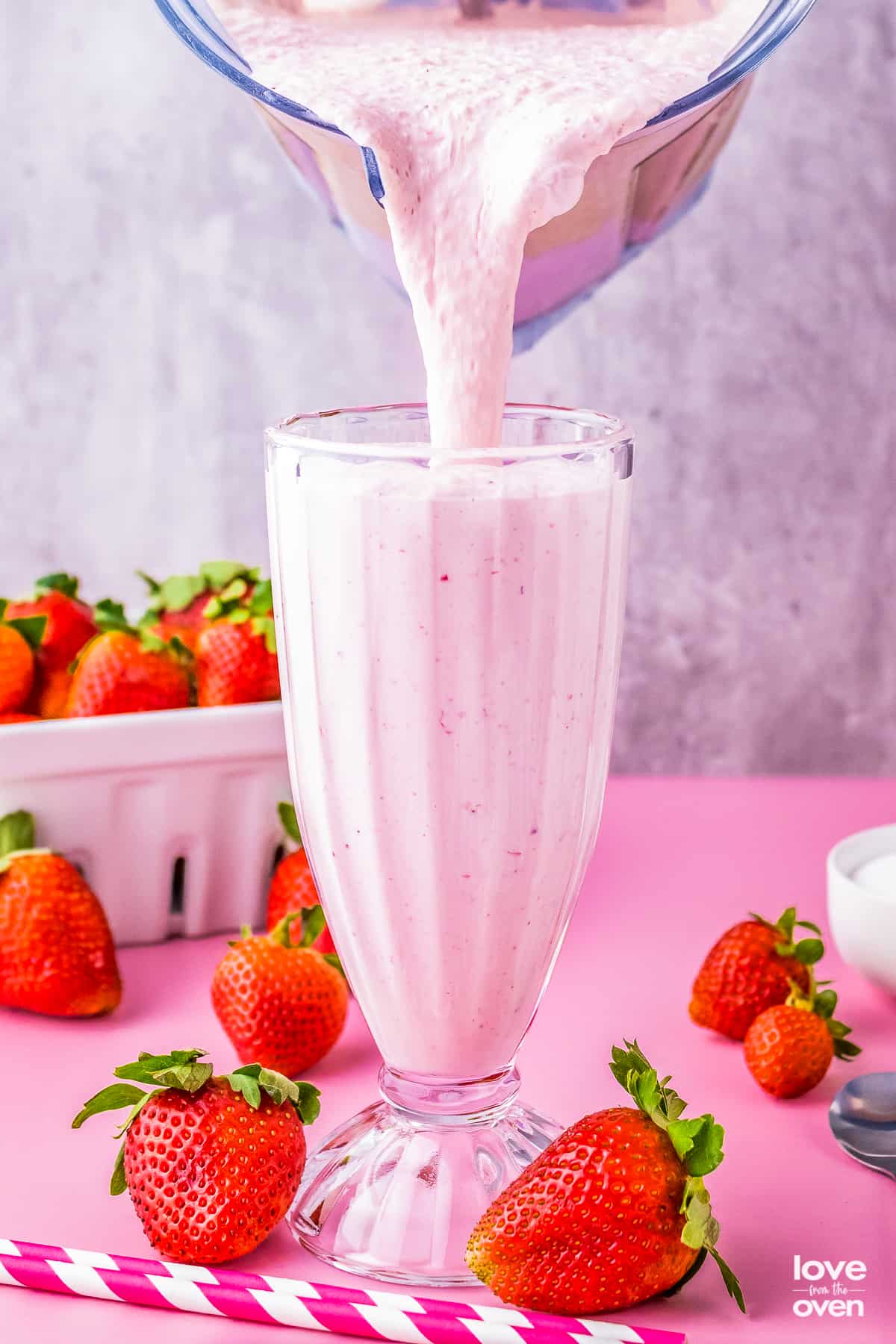 Whether you drink your milkshake with a straw, or eat it with a spoon, this recipe will satisfy your milkshake craving. This is a great recipe when you want to use up those leftover strawberries in the fridge, or when you just want a delicious after dinner treat.
Let's discuss how to make a Strawberry Milkshake, as well as the ingredients that are needed. Please take note that below you will find discussion, expert tips, and answers to frequently asked questions about this recipe to help you recreate it in your kitchen. If you *just* want the recipe itself, scroll down. The full printable recipe itself, with exact measurements and instructions, is found at the bottom of this page.
Ingredient Info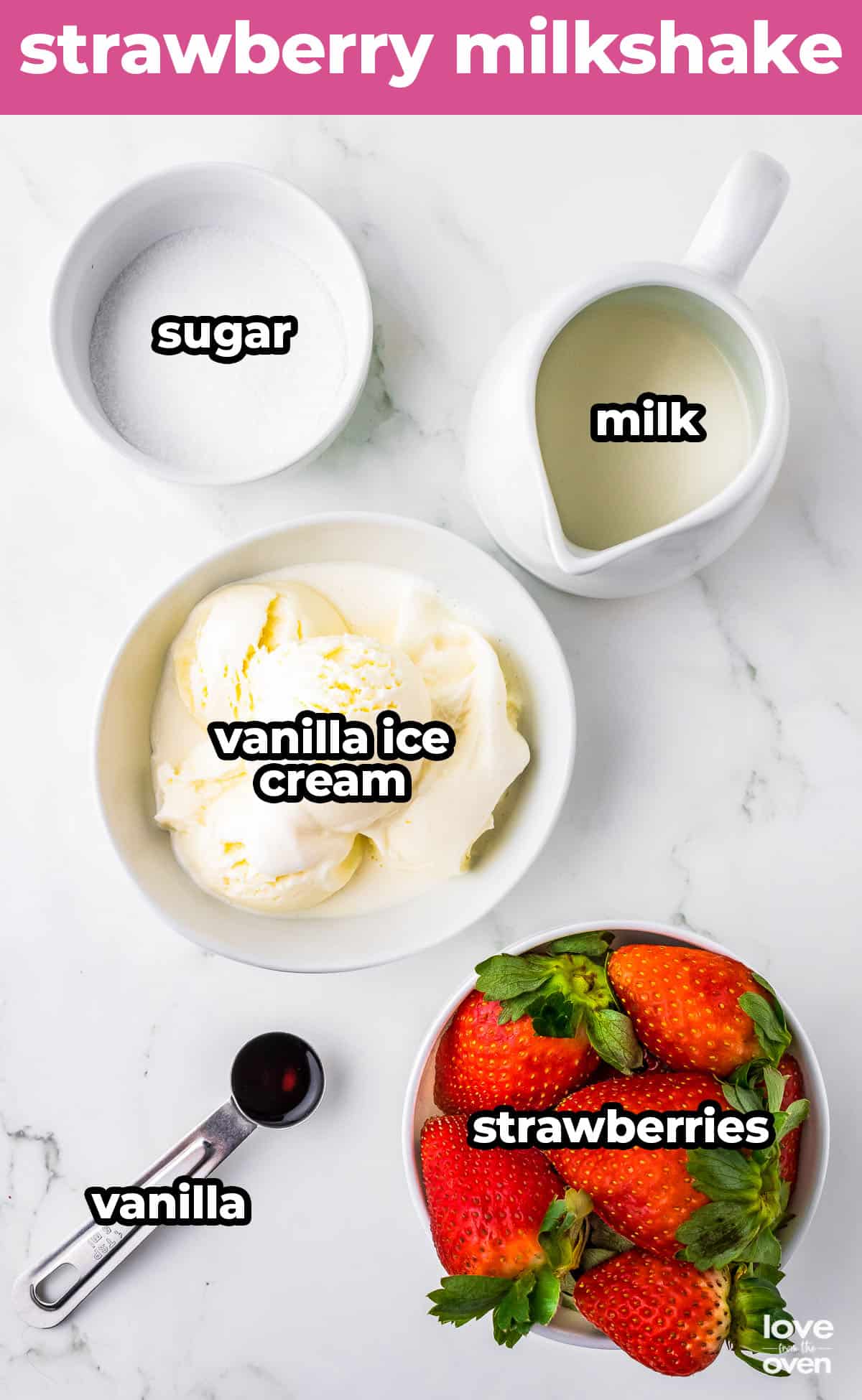 Vanilla Ice Cream – Vanilla flavored ice cream is ideal for this recipe, but you can use strawberry ice cream if you really want a super strong strawberry flavor. A good quality ice cream will always give you the best results.
Strawberries – This recipe uses fresh strawberries that you'll freeze yourself, but you can also use already frozen strawberries if you want. If you choose to go the frozen route, make sure to buy frozen sliced strawberries, not whole strawberries.
Milk – The milk will be used to thin out the milkshake and make it more drinkable. If you thaw out the ice cream long enough you may not need to add milk. Just use your best judgement. Whole milk will give you the creamiest result, but any milk will work.
Sugar – You'll sprinkle some white granulated sugar on the strawberries before you freeze them. This not only adds some sweetness to the fruit, but brings out a lot of the fruit's natural sweetness as well.
Vanilla Extract – You can omit this ingredient if you'd like.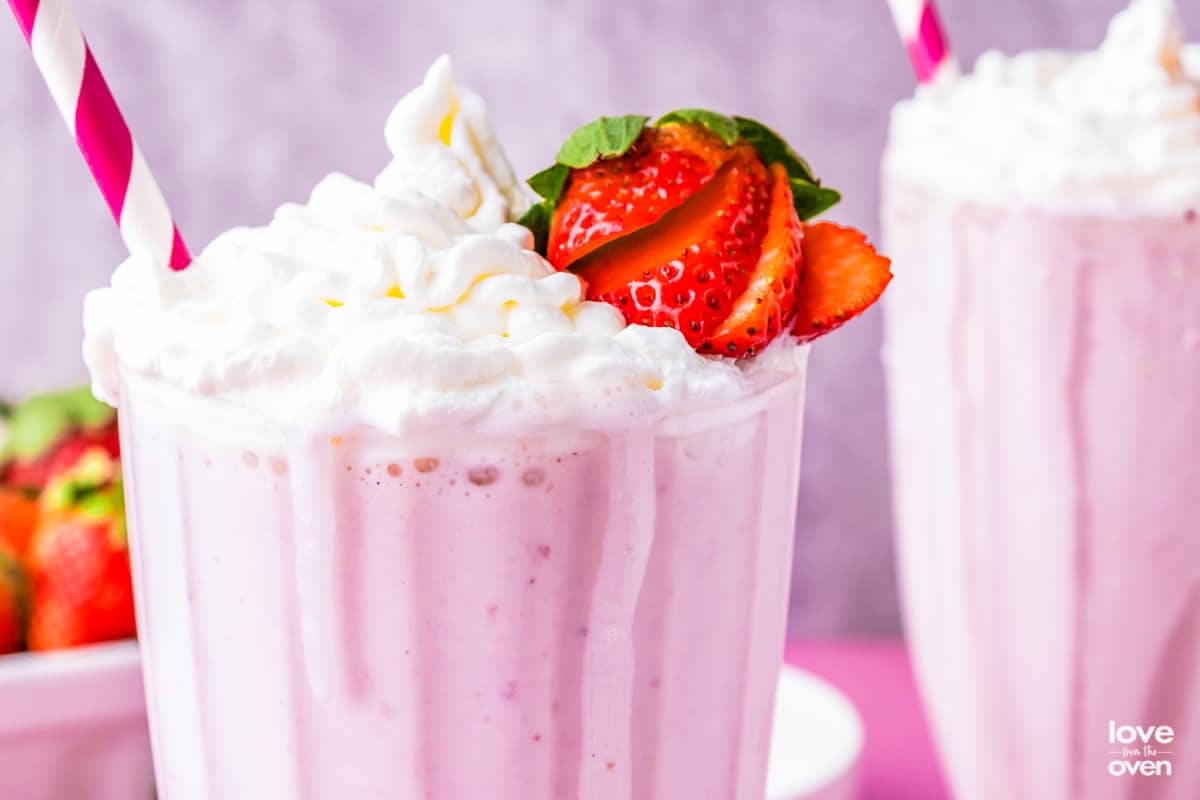 Step By Step Instructions
Begin by lining a baking sheet with parchment paper. Then, slice up the strawberries and add them to the baking sheet. Sprinkle the sugar over top the strawberries then set them in the freezer. Let them freeze for about 30 minutes.
Once the 30 minutes are up, grab a blender, then add your thawed vanilla ice cream.
Next, add your strawberries and vanilla extract to the blender. Put the top on the blender and blend until you get a nice, thick, and smooth consistency. Add milk to the milkshake if needed. Pour the finished beverage into a glass and enjoy!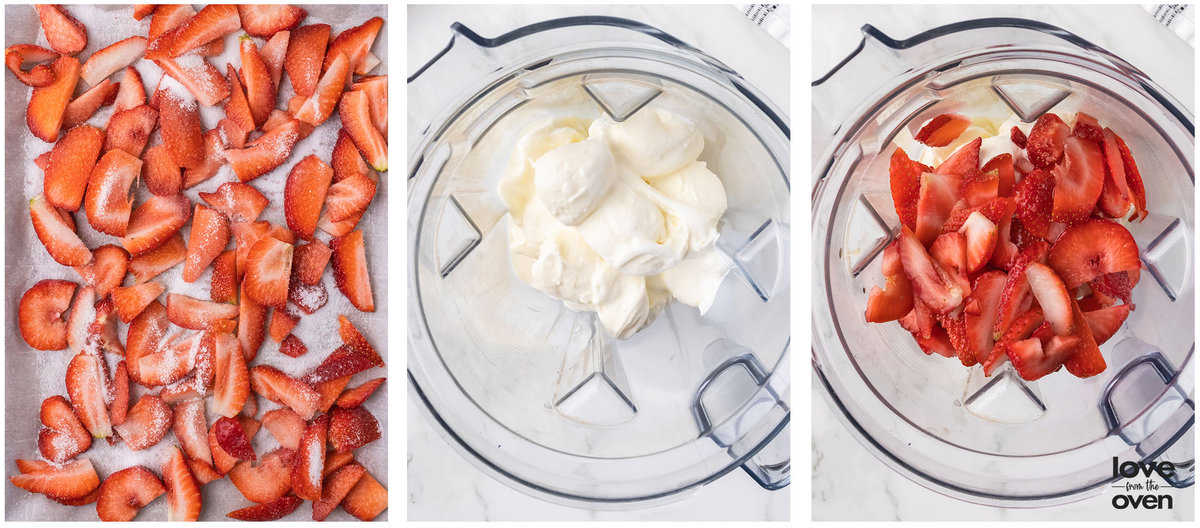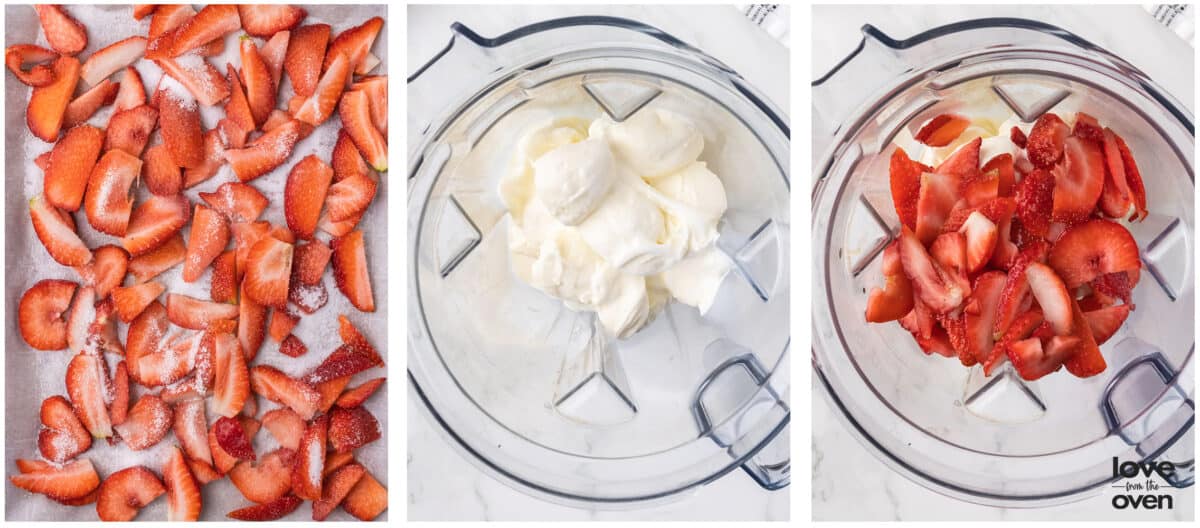 Tips and Advice
Storage – Unfortunately, it's difficult to save a milkshake for leftovers. What I recommend doing is cutting the measurements in half and making enough for 1 serving. If you have leftovers and don't want them to go to waste, you can pour the remaining shake into popsicle molds and freeze them, or pour the milkshake into a loaf pan and freeze it and can eat it like ice cream later on.
Equipment – For this recipe you'll need a blender, a knife to cut the strawberries, a baking tray, parchment paper, and an ice cream scoop or spoon.
Frozen Strawberries – If you buy the frozen strawberries from the frozen fruit aisle at the grocery store, you'll want them to thaw out just a little bit before adding them to the drink. You want them thawed enough so they're not sticking together.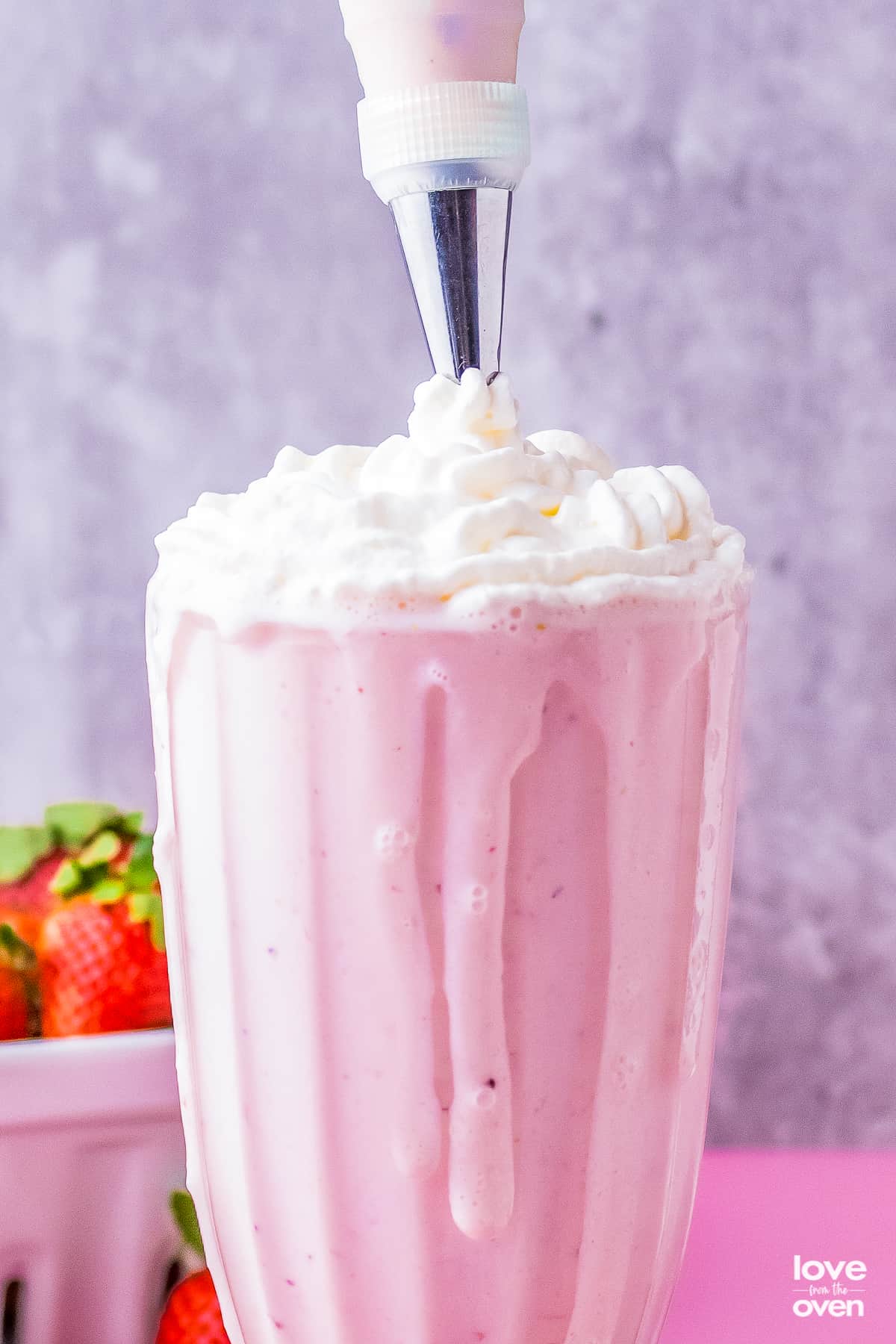 Thick or Thin
If your milkshake is too thick, add milk, a teaspoon at a time, until you reach your desired consistency. If your milkshake is too thin, add some more frozen ice cream until you reach your desired consistency. If you don't have any more frozen ice cream, you can add ice cubes, but it will just water down your milkshake a bit. You can also re-freeze the milkshake and blend it again to get a thicker consistency.
FAQs
Do you put ice in a milkshake?
Some milkshake recipes will put ice in a milkshake, but for this recipe you don't need it.
What type of milk is used in a milkshake?
You can use any kind of milk you like! Any dairy milk works, but you can use almond milk, oat milk, coconut milk, cashew milk, etc. You can also use dairy free ice cream and make the recipe completely plant-based!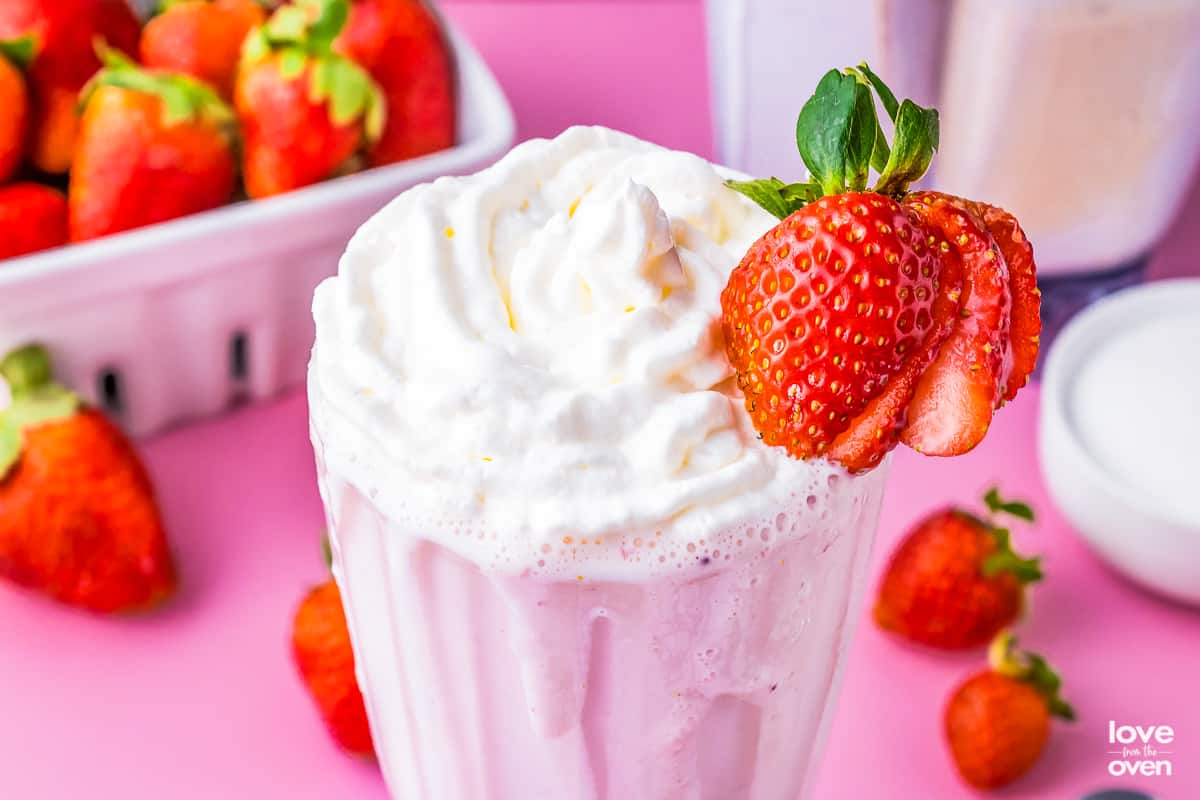 Recipes You'll Love
In need of some more cool, refreshing, dessert beverages? Try out a few more of these similar recipes that will fit the bill just in time for the summer.
Recipes For Strawberry Lovers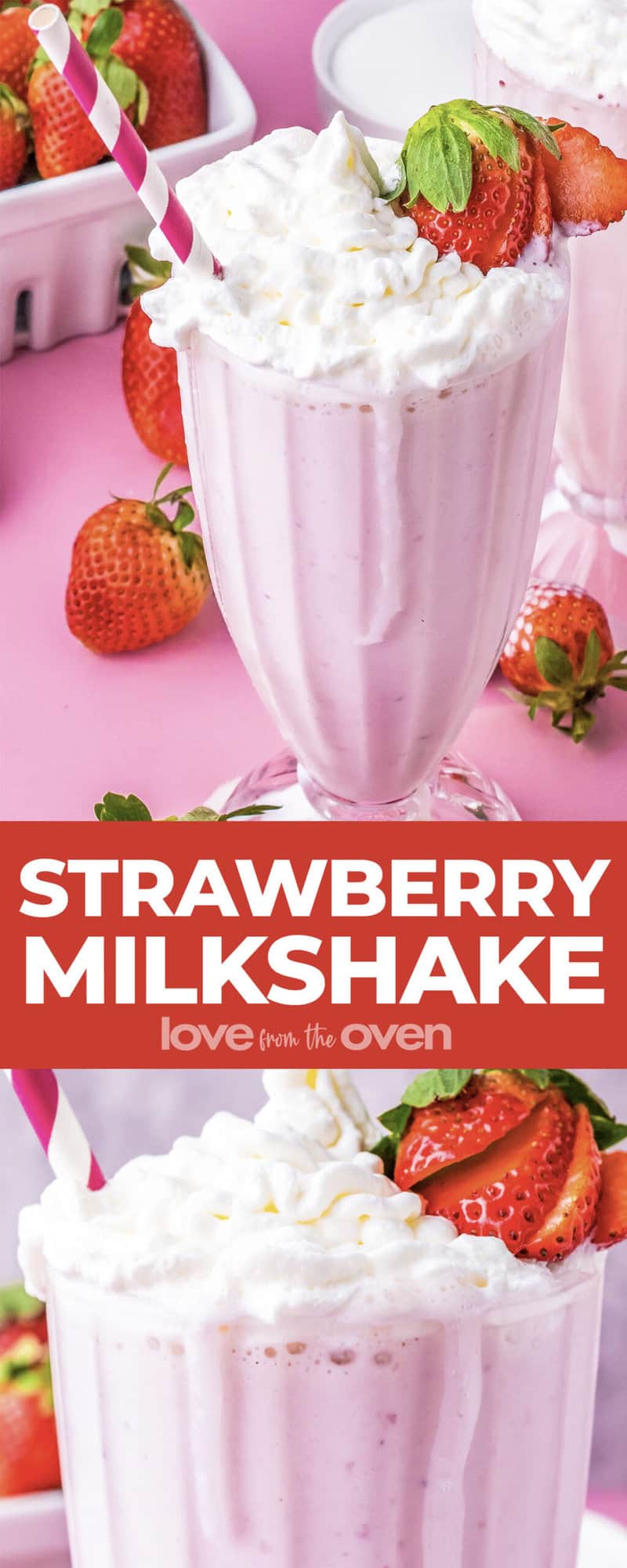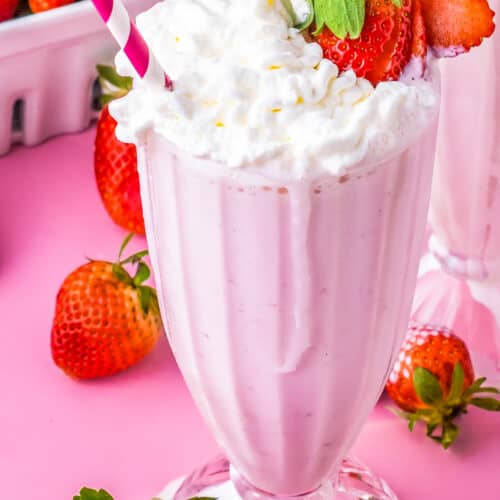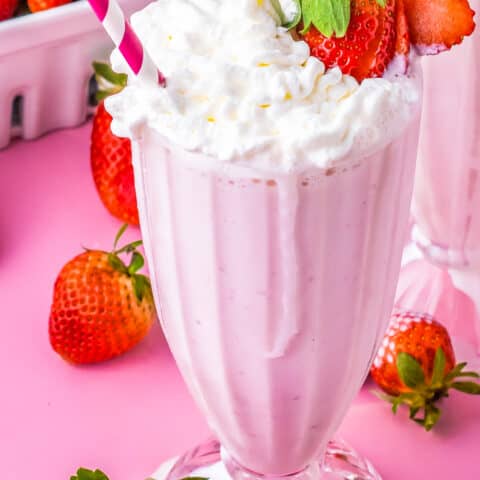 Strawberry Milkshake
Sweet frozen strawberries are combined with creamy vanilla ice cream and blended together perfectly to make this dreamy, diner style strawberry milkshake. 
Ingredients
2

cups

sliced strawberries

or 15 to 16 ounces frozen strawberries

2

tablespoons

sugar

omit if using frozen strawberries

4

cups

vanilla ice cream

1

teaspoon

vanilla extract

milk to blend to desired consistency

whipped cream and strawberries to top

optional
Instructions
First, prepare the strawberries by slicing them, sprinkling the sugar over them and set in the freezer for about 30 minutes.

When ready to make, thaw out ice cream enough to scoop out and add to blender.

Add strawberries and vanilla, then blend for 45-60 seconds. Add milk to the mixture if, or when, needed.

Once desired consistency is reached, pour into glasses and top with whipped cream and a strawberry before enjoying!
Notes
The amount of milk you'll need, if any, will depend on how thawed your ice cream and strawberries are. If your ice cream is partially melted, you may not need any milk at all.
Nutrition
Calories:
322
kcal
|
Carbohydrates:
43
g
|
Protein:
5
g
|
Fat:
15
g
|
Saturated Fat:
9
g
|
Polyunsaturated Fat:
1
g
|
Monounsaturated Fat:
4
g
|
Cholesterol:
58
mg
|
Sodium:
106
mg
|
Potassium:
374
mg
|
Fiber:
2
g
|
Sugar:
38
g
|
Vitamin A:
564
IU
|
Vitamin C:
43
mg
|
Calcium:
181
mg
|
Iron:
0.4
mg
Disclaimer
Nutrition information is estimated as a courtesy. If using for medical purposes, please verify information using your own nutritional calculator. Percent Daily Values are based on a 2000 calorie diet.