Frozen Hot Chocolate is a smooth and creamy frozen treat you can enjoy all year round. Famously known from Serendipity 3's, this copycat frozen hot chocolate will have you transported to that cute little ice cream shop in New York City. A rich yet refreshing beverage made in a matter of minutes, you'll be enjoying one of these delicious drinks in no time!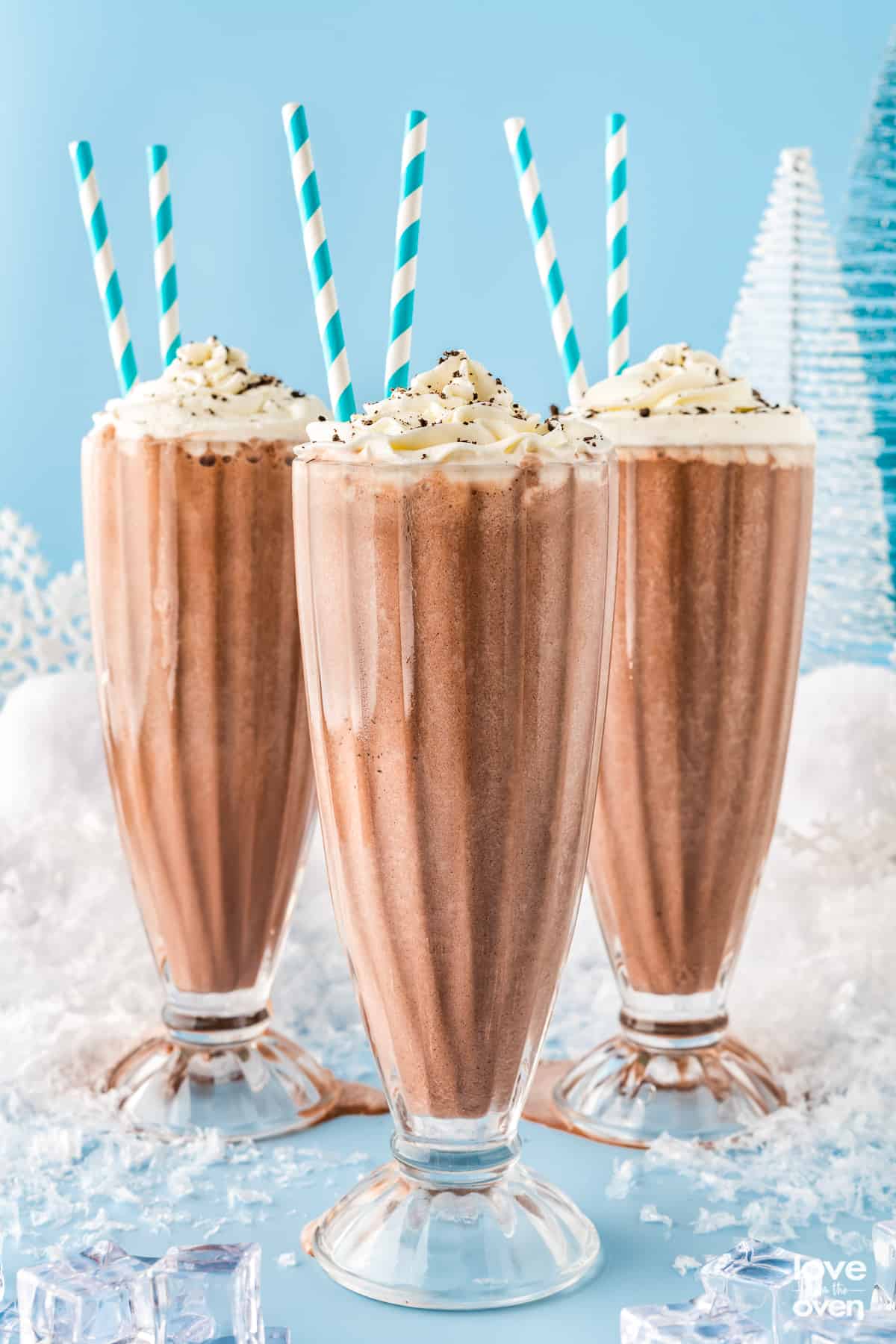 Reasons You'll Love This Recipe
"Hot" Chocolate – Finally, a hot chocolate recipe that won't burn your mouth after the first sip!
Easy To Make – Frozen hot chocolate can be made in about 5 minutes, and uses 5 simple ingredients you may already have in your home.
Like a Milkshake – For when you're craving a milkshake but you're out of ice cream!
For The Kids – This is really simple for kids to make and is great for an after dinner treat.
Copycat Recipe – If you've ever had the privilege to try the incredible frozen hot chocolate from Serendipity 3, you'll know that this recipe is extremely similar, if not identical!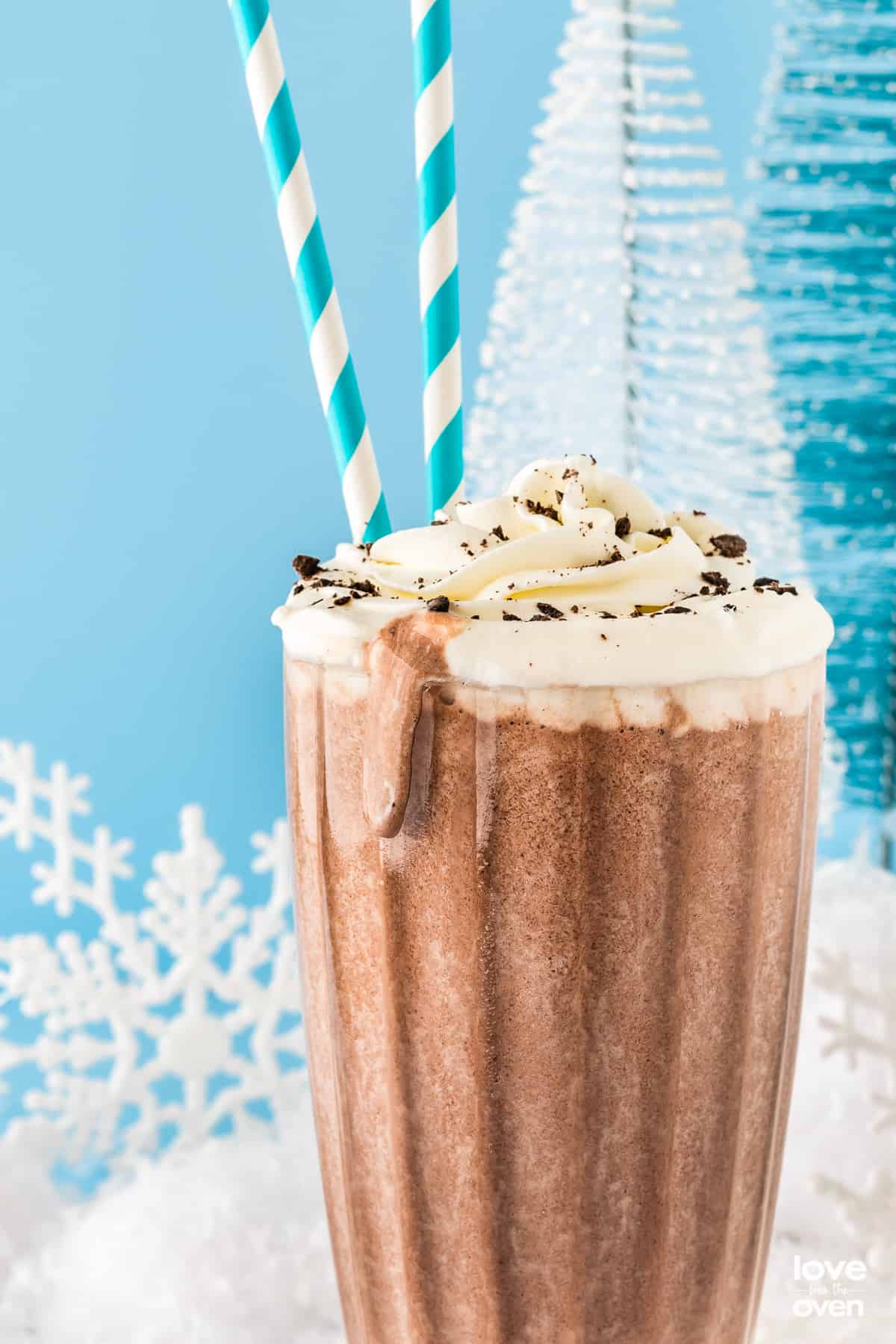 "How do you even make hot chocolate frozen? Doesn't that defeat the purpose of a HOT chocolate?" Well, I suppose that's why we invented oxymorons! This drink just might be the most delicious contradiction you'll ever come by.
This recipe uses hot chocolate mix, which will give you that classic hot cocoa flavor, while also being a refreshing beverage you can enjoy on a hot summer's day!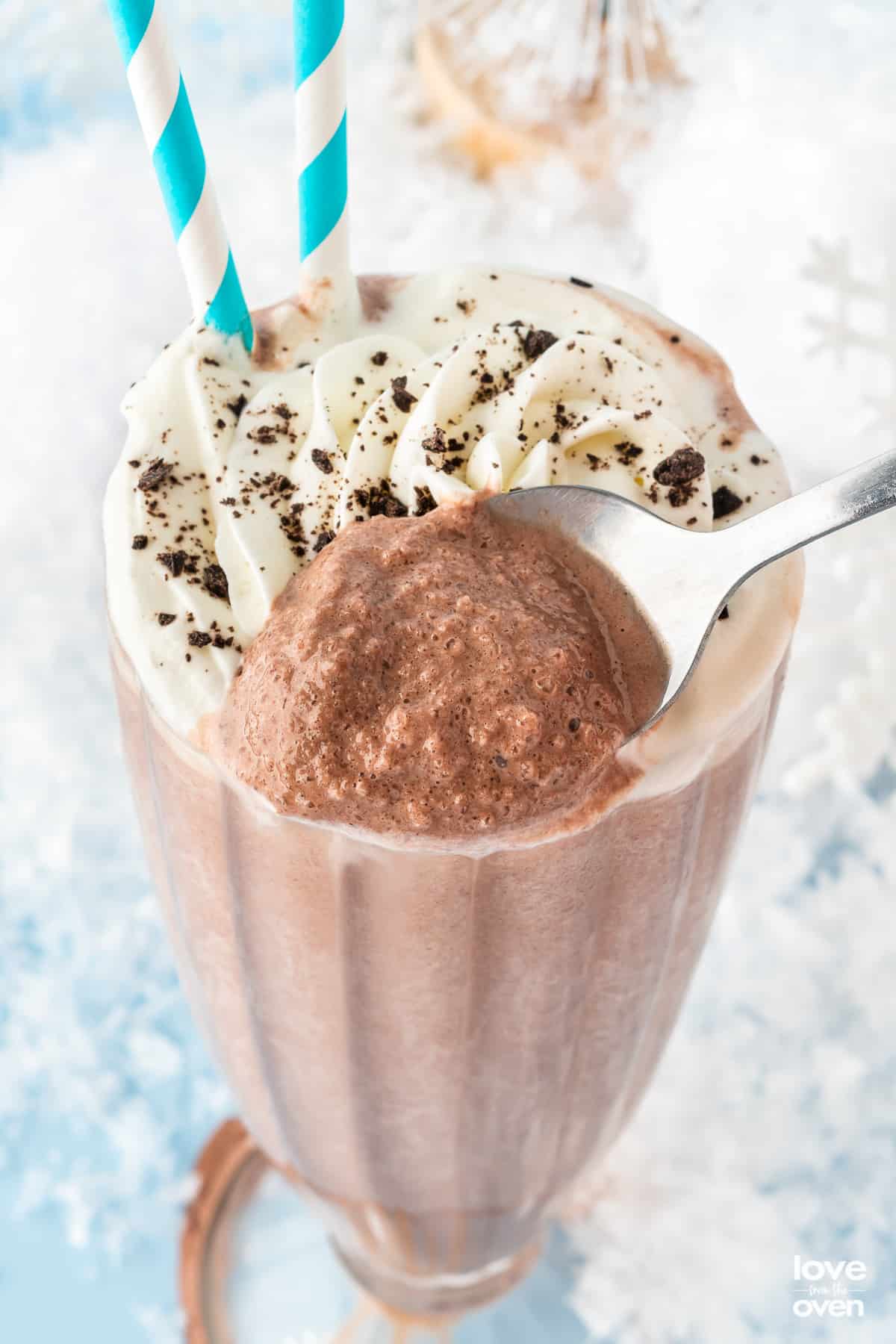 Ingredients and Substitutions
Recipe Discussion
Let's discuss how to make this Frozen Hot Chocolate recipe, as well as the ingredients that are needed. Please take note that below you will find discussion, expert tips, and answers to frequently asked questions about this recipe to help you recreate it in your kitchen. If you *just* want the recipe itself, scroll down. The full printable recipe itself, with exact measurements and instructions, is found at the bottom of this page.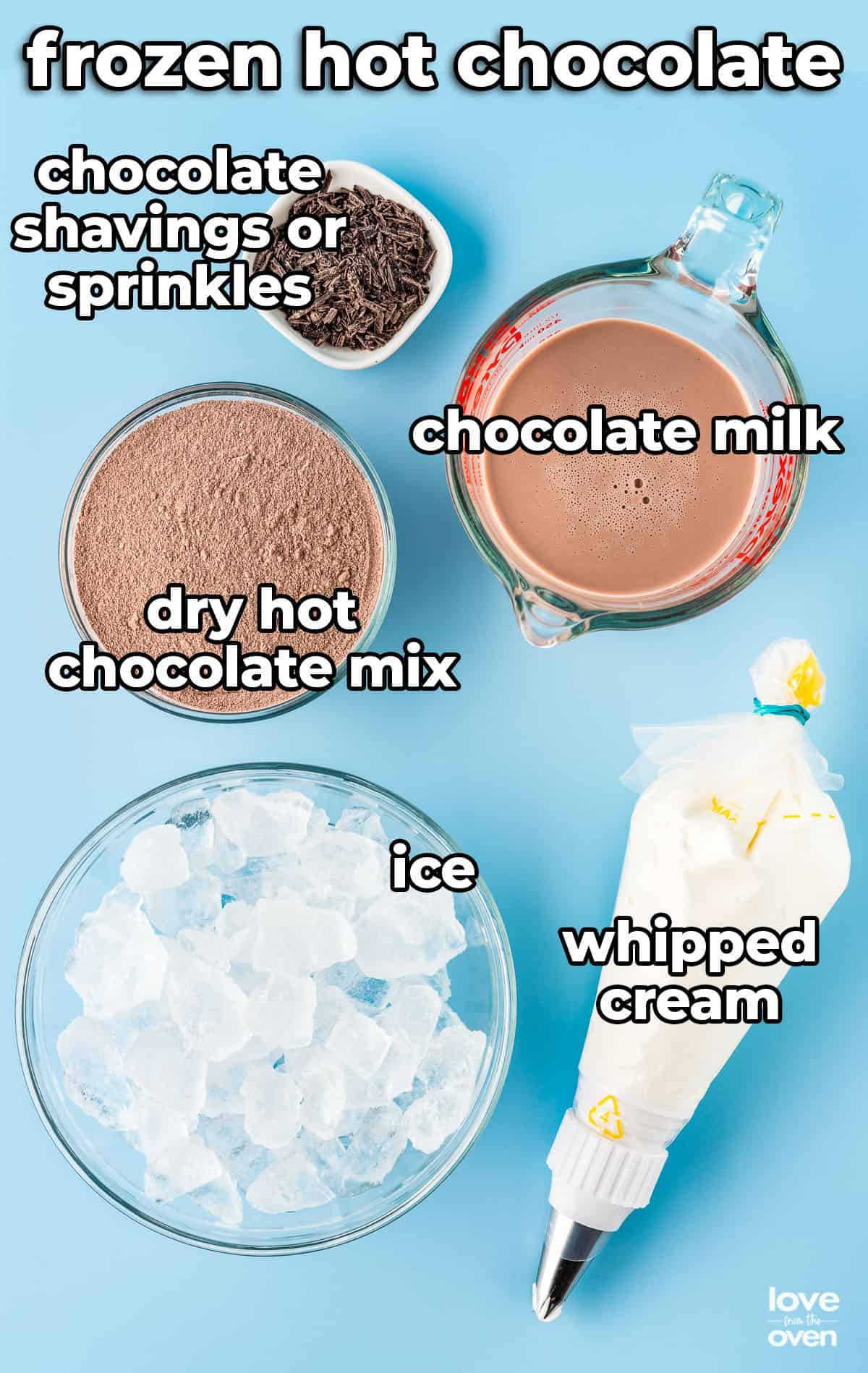 Chocolate Milk – The secret ingredient! This will give your frozen hot cocoa that extra chocolatey flavor. If you don't have chocolate milk, it's really easy to make yourself. Just use the same amount of regular milk and add 1 ½ to 2 tablespoons of chocolate syrup. You can also use regular milk, you'll just have a bit less chocolate flavor. I have not used a dairy free milk, but I imagine those would work fine.
Dry Hot Chocolate Mix – Just use the dry mix in the recipe, there is no need to combine it with any liquid. Any brand of hot cocoa mix will work. Some of my favorites are the Swiss Miss Dark Chocolate, or the Good and Gather Double Chocolate Hot Cocoa Mix from Target.
Ice – I find using smaller ice cubes gives the frozen hot chocolate a smoother texture.
Whipped Cream – You can use canned whipped cream, whipped topping, or make you own homemade whipped cream. This would pair really nicely with some homemade cinnamon whipped cream.
Chocolate Shavings – This is optional, but makes a lovely garnish! You can use dark chocolate, milk chocolate, or any kind of chocolate you can think of. Other great garnishes are crushed peppermint, caramel syrup, chocolate syrup, or even marshmallow bits!
How To Make Frozen Hot Chocolate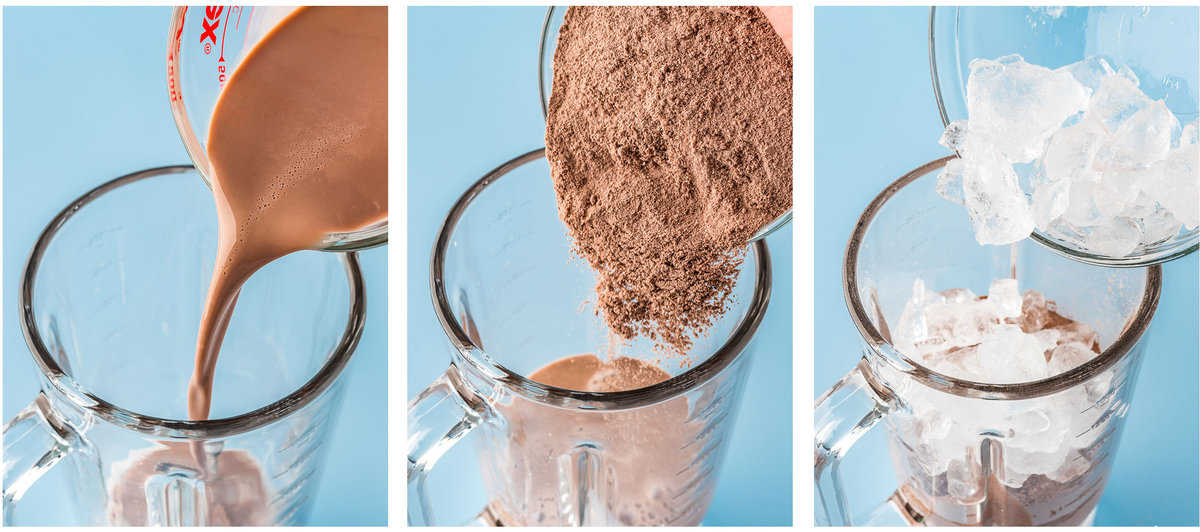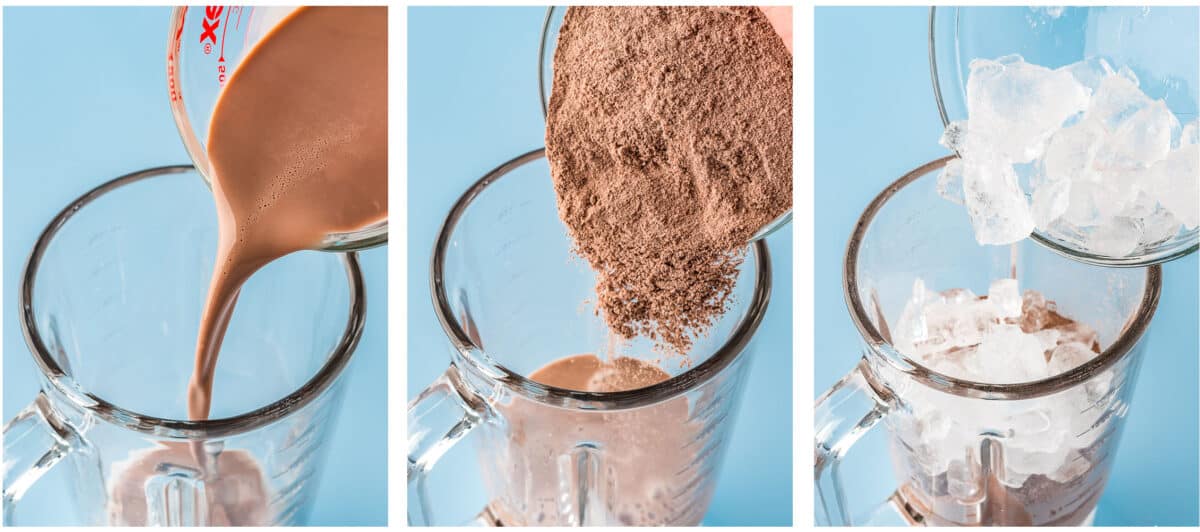 To a blender, add the chocolate milk.
Next, add the dry hot cocoa mix to the chocolate milk.
Finally, add the ice on top, cover the blender with a lid and blend on a medium-high setting until the beverage is smooth. Pour a serving of the frozen hot chocolate into a glass and garnish with whipped cream and chocolate shavings.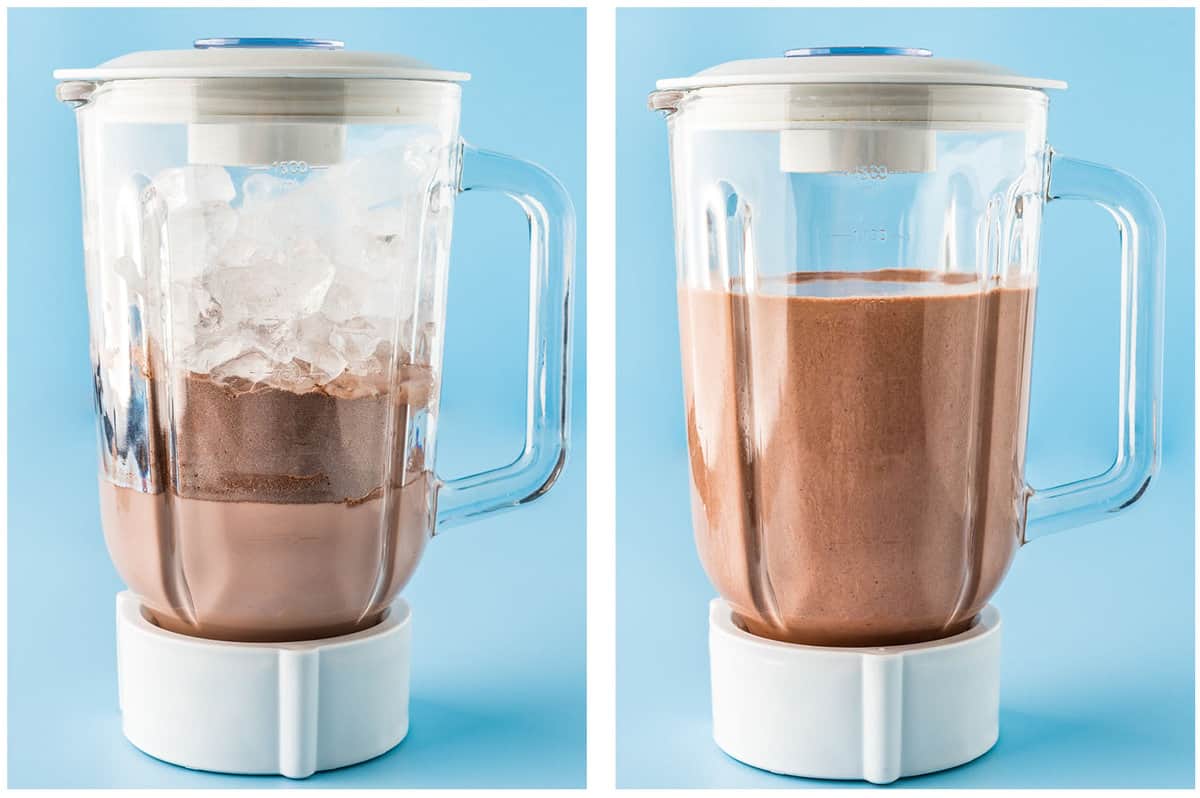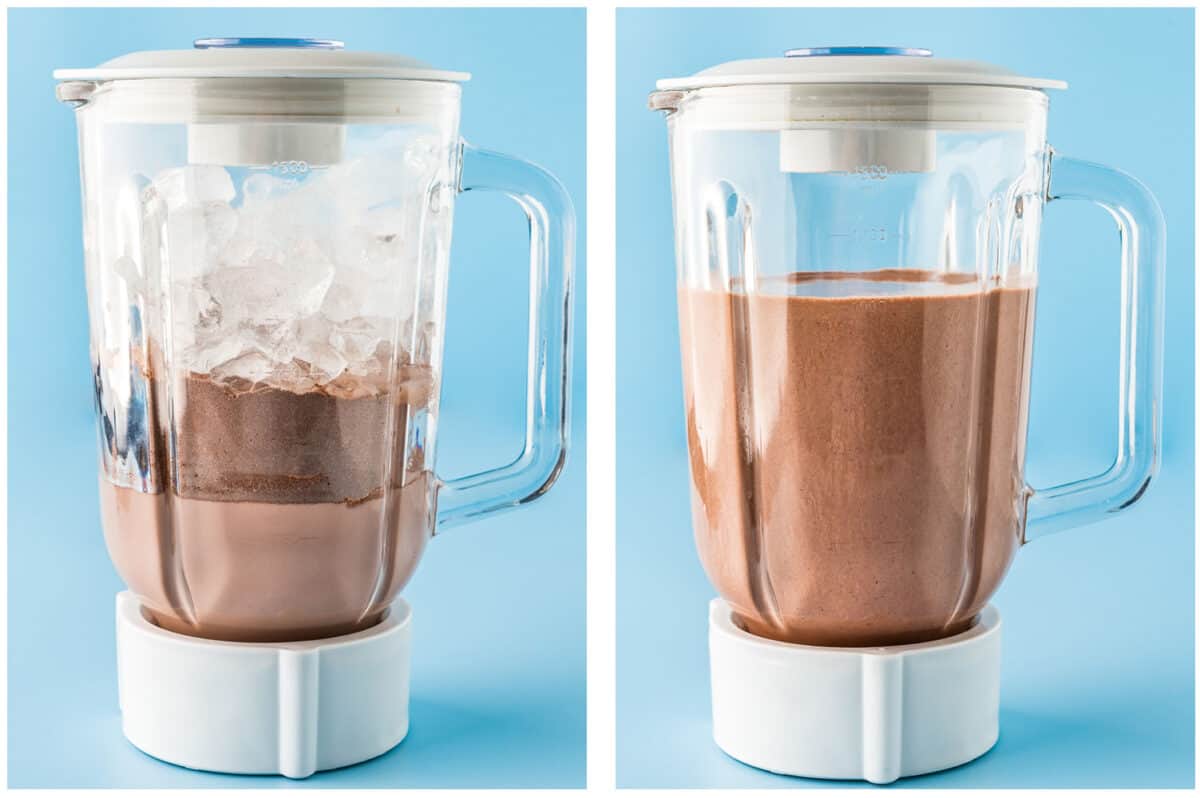 Recipe Tips and Advice
Storage – Store the leftover frozen hot chocolate in a jar or jug in the fridge for the day. The beverage won't stay frozen for very long, so I recommend drinking it within the day before it melts.
Equipment – For this recipe you'll need a blender and a few serving glasses. Ninja makes an awesome blender for drinks like this.
Recipe Upgrades – There are so many ways you can customize this recipe to make it your own! You can use peppermint flavored hot cocoa mix as well as adding a small dash of peppermint extract to the blender for a minty touch. You can also add caramel syrup to the blender and on top for an extra sweet kick. Maybe you need a morning pick me up? You can add a shot of chilled espresso and leave out a 1/4 a cup of chocolate milk and top it with chocolate covered espresso beans!
I Can't Drink That Much! – No worries, If you're only making a glass for yourself, this recipe can be easily cut in half and made in a smaller blender. If you're entertaining a crowd, this recipe doubles easily as well.
Ice Cream Maker Variation – My original version of this recipe was made in an ice cream maker. It's delicious and super creamy, but I've updated this recipe to use a blender, which more people have. However if you do have an ice cream maker, I recommend trying my Ice Cream Maker Frozen Hot Chocolate. You'll find the recipe, in a blue box, just below the recipe card below. Just scroll down.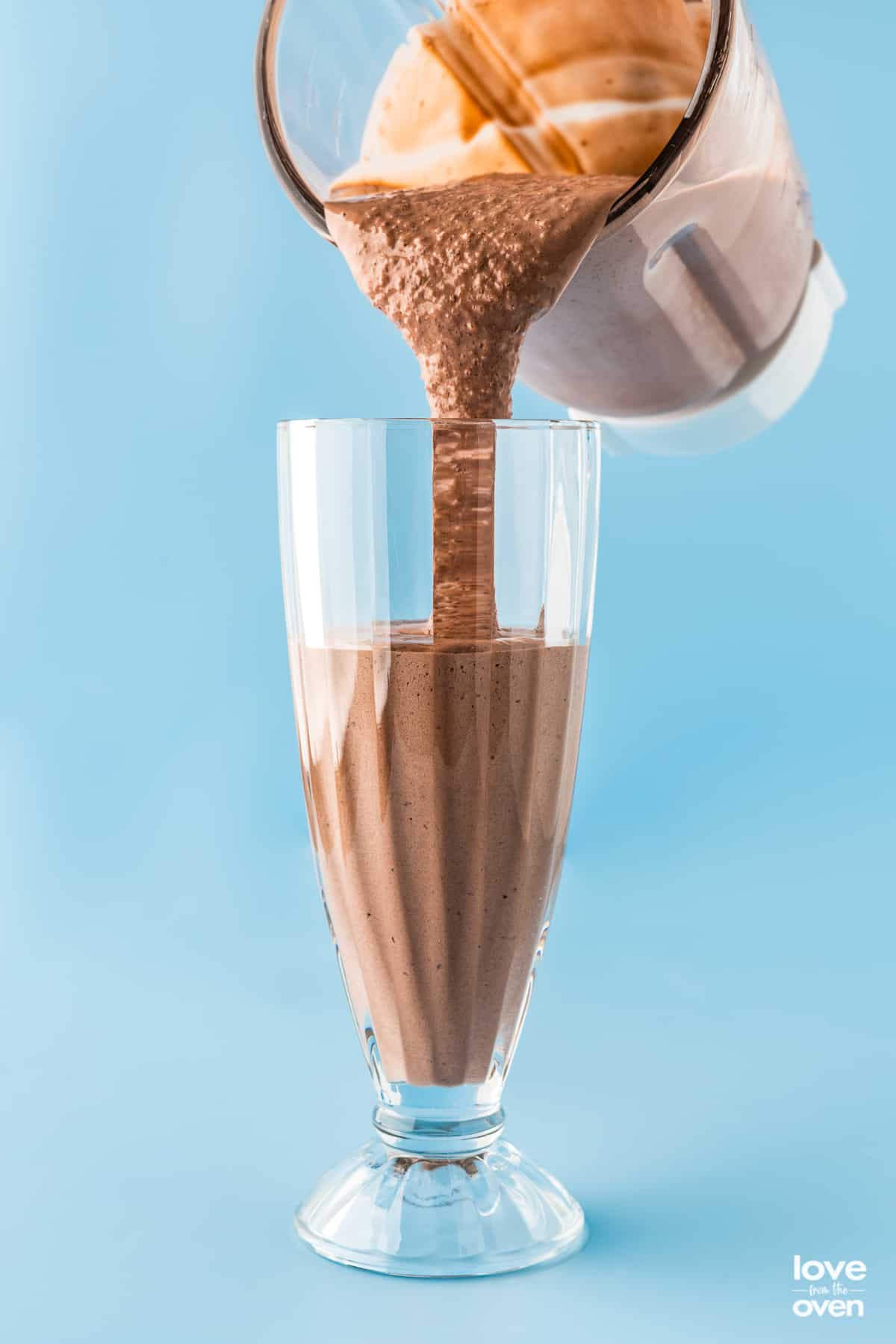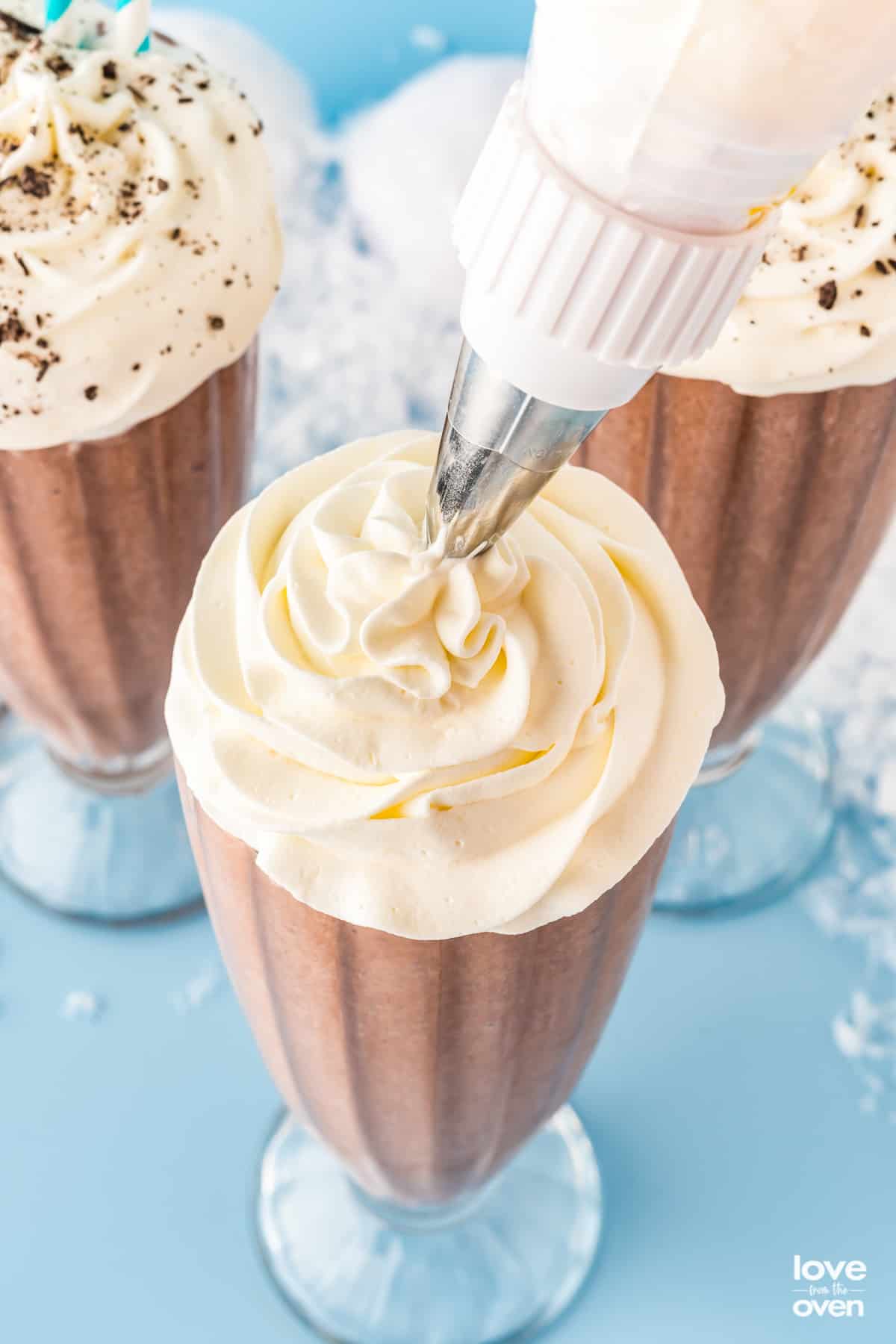 Recipe FAQs
What's the difference between frozen hot chocolate and a milkshake?
This frozen hot chocolate recipe does not contain ice cream, whereas a typical milkshake would. If you'd like to add ice cream to this recipe, feel free! Then, you'll have a hot chocolate milkshake!
Is there caffeine in frozen hot chocolate?
Not typically, but will depend on the hot chocolate mix you use. Unless you add some coffee or espresso, this recipe typically does not contain caffeine.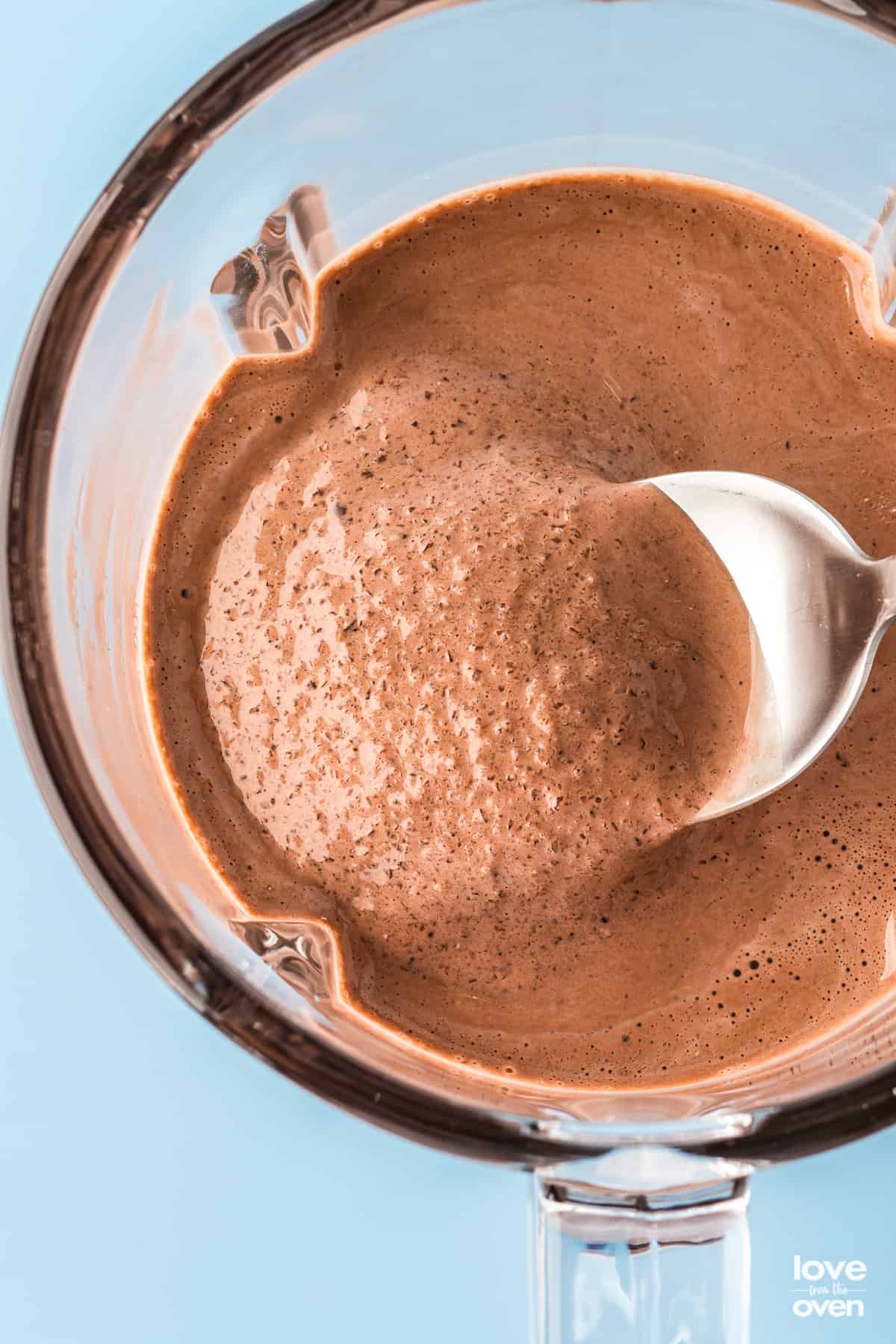 More Recipes To Try
Hot chocolate doesn't have to be strictly for the winter months! Here are some more amazing hot chocolate recipes you can make all year round.
More Frozen Drink Recipes!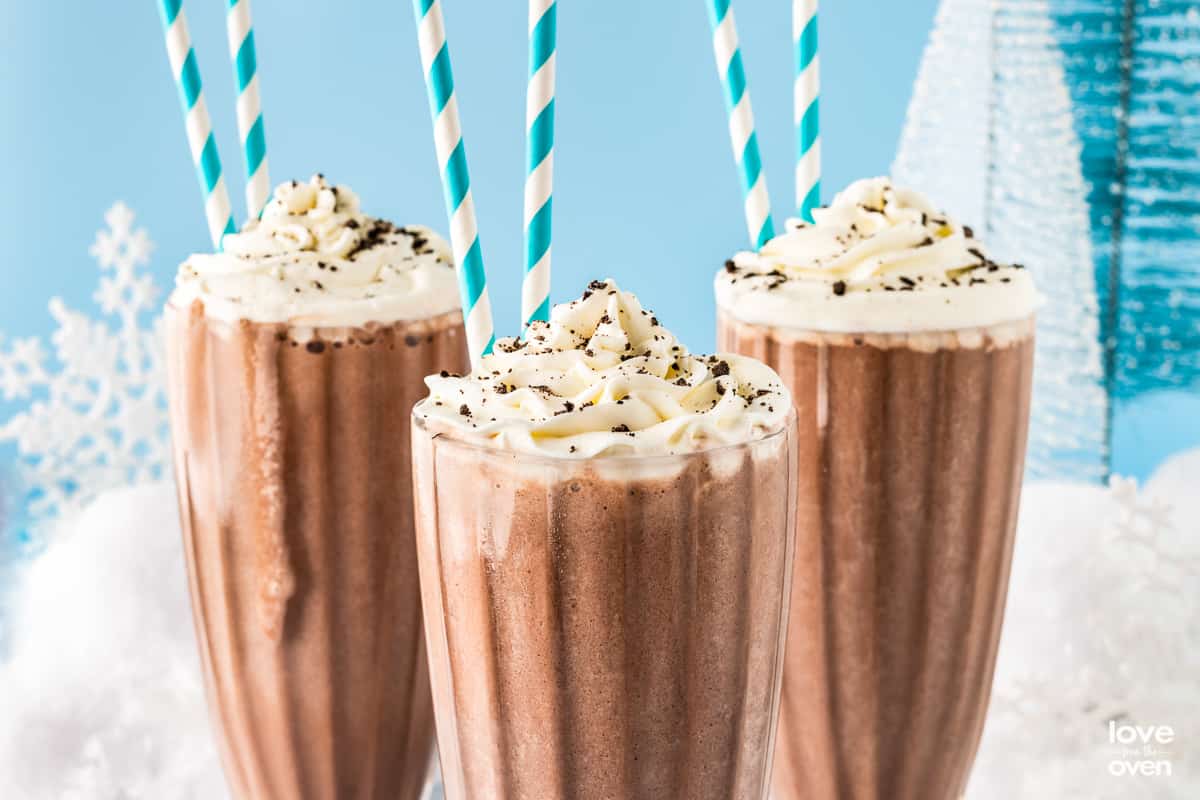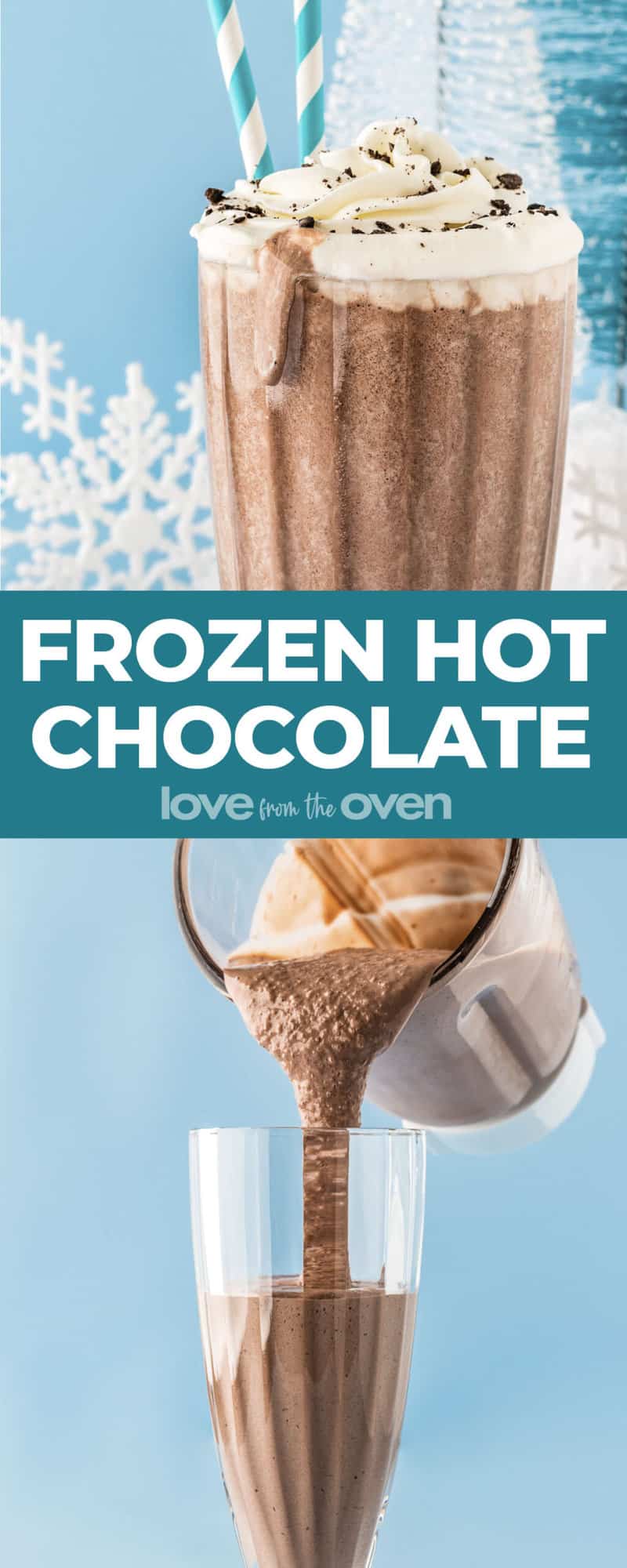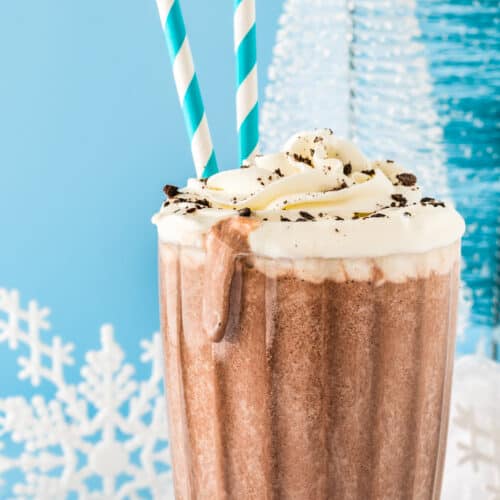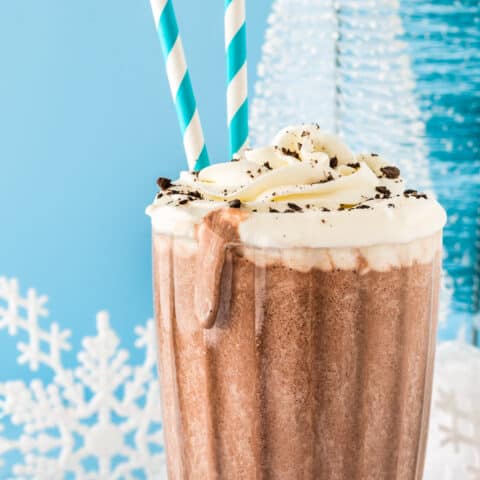 Frozen Hot Chocolate
Frozen Hot Chocolate is a smooth and creamy frozen treat you can enjoy all year round. Inspired by the famous drink from Serendipity 3.
Ingredients
1 1/2

cups

Chocolate Milk

using chocolate milk is highly recommended, but regular milk can also be used

3/4

cup

hot chocolate mix

just use the dry mix, do not follow the directions on it

3-4

cups

ice cubes

OPTIONAL Whipped cream, mini chocolate chips, sprinkles and/or marshmallows for topping
Instructions
Place all ingredients into a blender and blend until smooth. If desired, top with whipped cream, sprinkles, chocolate sauce, mini chocolate chips, and so on. Serve immediately.
Notes
You can use your favorite hot cocoa mix. I'm particularly fond of Swiss Miss Dark Chocolate, or the Good and Gather Double Chocolate Hot Cocoa Mix from Target.
Nutrition
Calories:
290
kcal
|
Carbohydrates:
42
g
|
Protein:
7
g
|
Fat:
13
g
|
Saturated Fat:
8
g
|
Polyunsaturated Fat:
0.2
g
|
Monounsaturated Fat:
1
g
|
Trans Fat:
0.1
g
|
Cholesterol:
22
mg
|
Sodium:
470
mg
|
Potassium:
275
mg
|
Fiber:
2
g
|
Sugar:
36
g
|
Vitamin A:
301
IU
|
Calcium:
281
mg
|
Iron:
1
mg
Disclaimer
Nutrition information is estimated as a courtesy. If using for medical purposes, please verify information using your own nutritional calculator. Percent Daily Values are based on a 2000 calorie diet.
Frozen Hot Chocolate
*Ice Cream Maker VARIATION*
If you want your frozen hot chocolate to be a bit creamier and more similar to ice cream or a milkshake, Here is my original (2011) Frozen Hot Chocolate recipe that was made in an ice cream maker. It's incredibly creamy and delicious! I love this recipe, but know many of you don't have an ice cream maker, thus why I've updated this recipe to use a blender.
Ingredients
5 Packets Swiss Miss Hot Cocoa (Approximately 10 tablespoons)
3 Cups Whole Milk or Chocolate Milk
1 Cup Half And Half
Whipping cream mini chocolate chips and marshmallows optional, but delicious.
Instructions
Mix your milk, half and half and Swiss Miss Hot Cocoa in a large bowl with a whisk, stirring until well combined. It will have a bit of texture to it, and that is just fine. Once prepared, pour into a 1 1/2 quart ice cream maker (other sizes will work as well), and run ice cream maker according to manufacturer's directions for approximately 20 minutes. Scoop into cups, top with whipped cream and your favorite toppings, grab a straw and enjoy! Makes four one cup servings.