I'm excited to share with you the only Carrot Cake Recipe you'll ever need. Truly. This carrot cake is rich, moist and lightly spiced, made even better with the addition of cream cheese frosting.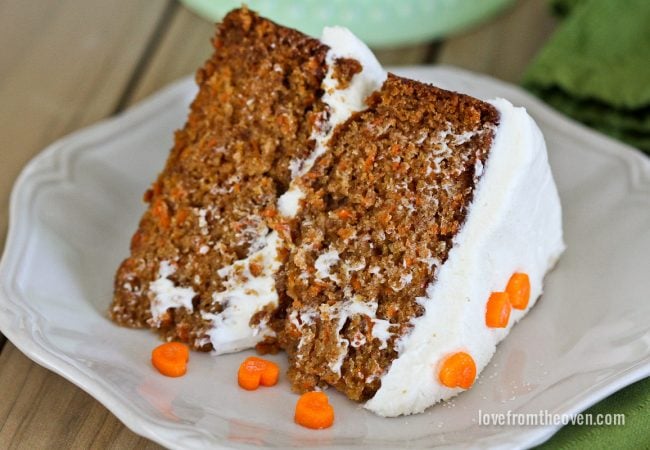 I love a good carrot cake recipe, and this homemade carrot cake recipe is probably one of my all time favorite cake recipes. Above all the flavor and texture combination created in this cake are simply divine.
While carrot cake is a must have Easter dessert for my family, truth be told I could happily eat it long beyond spring. As it seems like any good carrot cake should be, this one is topped with an amazing cream cheese frosting. If you only make one carrot cake recipe from scratch in your life, this should be it!
HOMEMADE CARROT CAKE RECIPE
This has usually been my go-to Carrot Cake Recipe since I was in college. Because I like to keep my recipes simple, this recipe has always been at the top of my list. However this cake is not only the best because of its simplicity; it's also unbelievably delicious. I've tasted many good carrot cakes in my time but this one has remained top of my list.
For me it's essential that carrot cake is homemade, therefore I rarely start with a box mix.
While I am a big fan of doctored cake mixes, I think carrot cake is one you want to go from scratch instead. Thankfully making carrot cake from scratch is particularly easy as far as homemade cakes, go. If you haven't made one before, you will probably be surprised at how simple they are to make.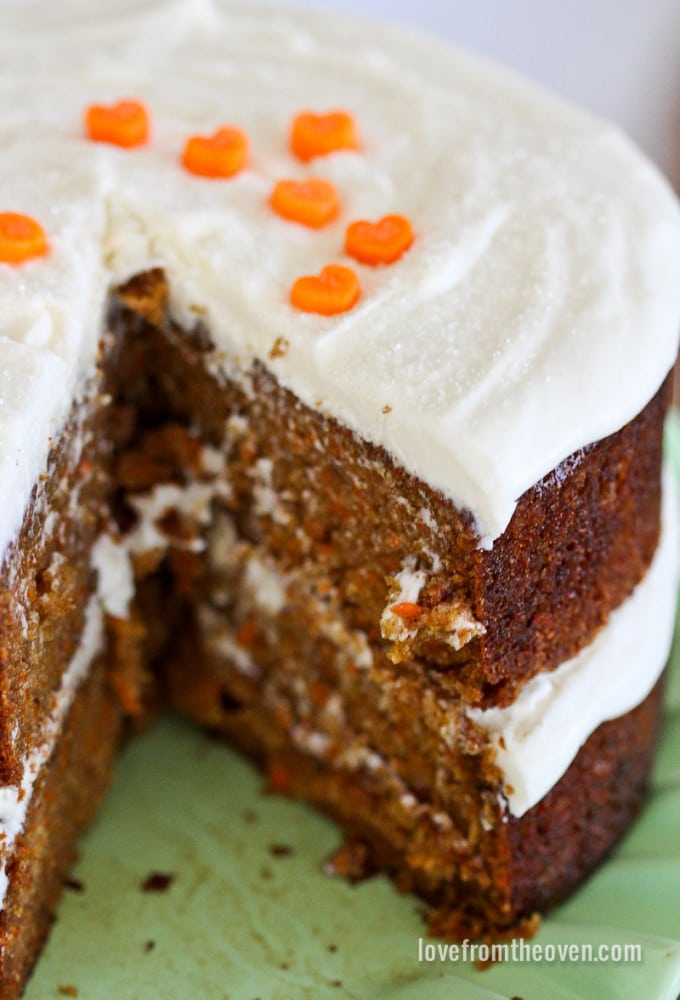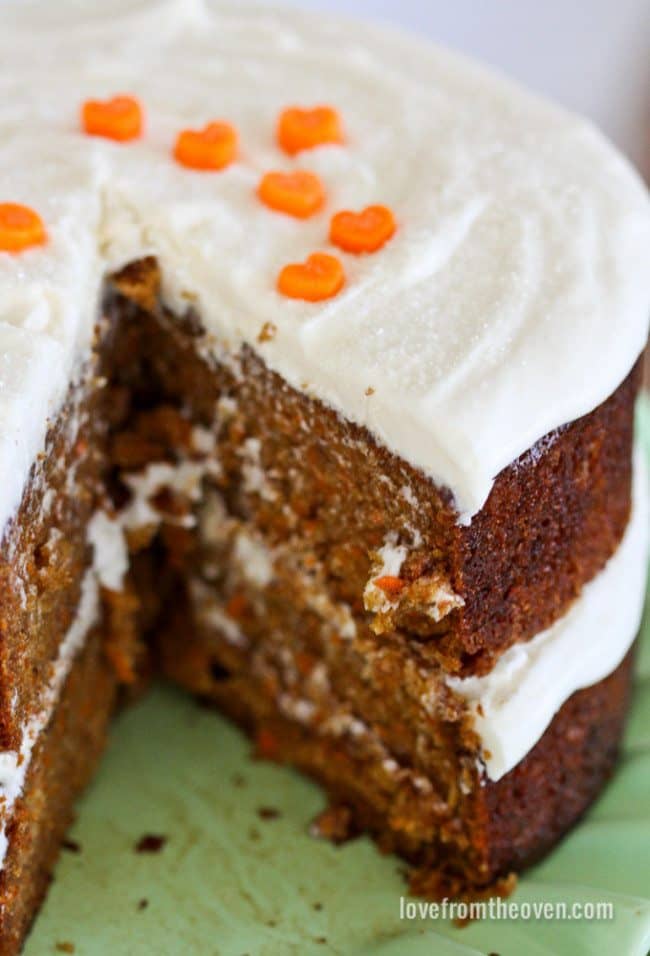 Whenever I make this cake people have a tendency to say things about it. For instance I often hear, "this is the best cake I've ever had" or "I need this recipe immediately". In other words, this is a cake that your friends and family will especially love.
I'm always hesitant to call anything I make the "best" but in this case, the honor is well earned: This really is the best carrot cake recipe! In all honesty this is probably one of the best cake recipes I have, therefore I'm really excited to share it with you.
Mix-In Options
Another great thing about this carrot cake recipe is that it's really flexible and forgiving. Carrot cake is a rather dense cake instead of a light and airy cake, hence there is more flexibility for mix-in ingredients.
If you want nuts or raisins in your cake, go ahead and add them. Shredded coconut and coconut flakes would be another great mix-in for this carrot cake. (I know some of you out there are coconut lovers, so go for it!)

HOMEMADE POWDERED SUGAR
Due to poor planning on my part, when I made this cake I did not have any powdered sugar on hand. Because in my opinion cream cheese frosting is absolutely essential when it comes to carrot cake, consequently I needed powdered sugar. Thankfully it's easy to make your own powdered sugar at home.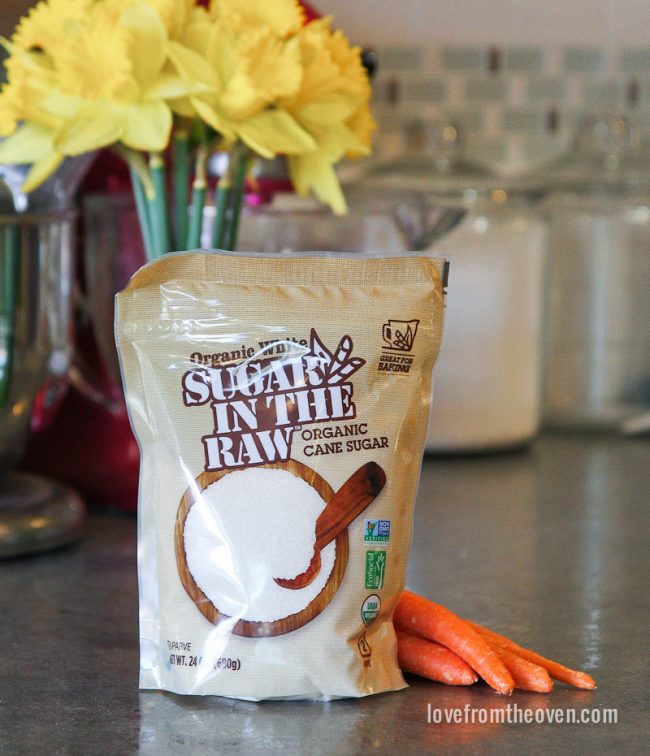 In case you ever find yourself in the same situation, here's how you can make powdered sugar from granulated sugar. You just have to run your sugar through a food processor or blender. Just a few short minutes later it will transform into powdered sugar which is perfect for your favorite frosting recipes. As a result there is no need for that last minute store run to buy powdered sugar.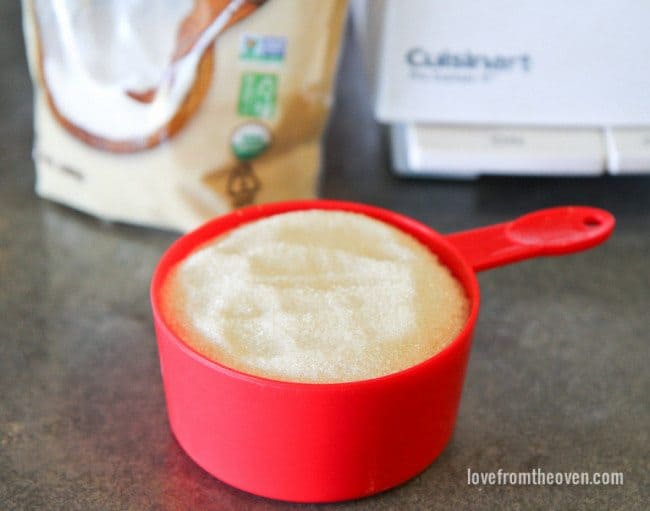 Simply add your granulated sugar to your food processor and run it for about five minutes.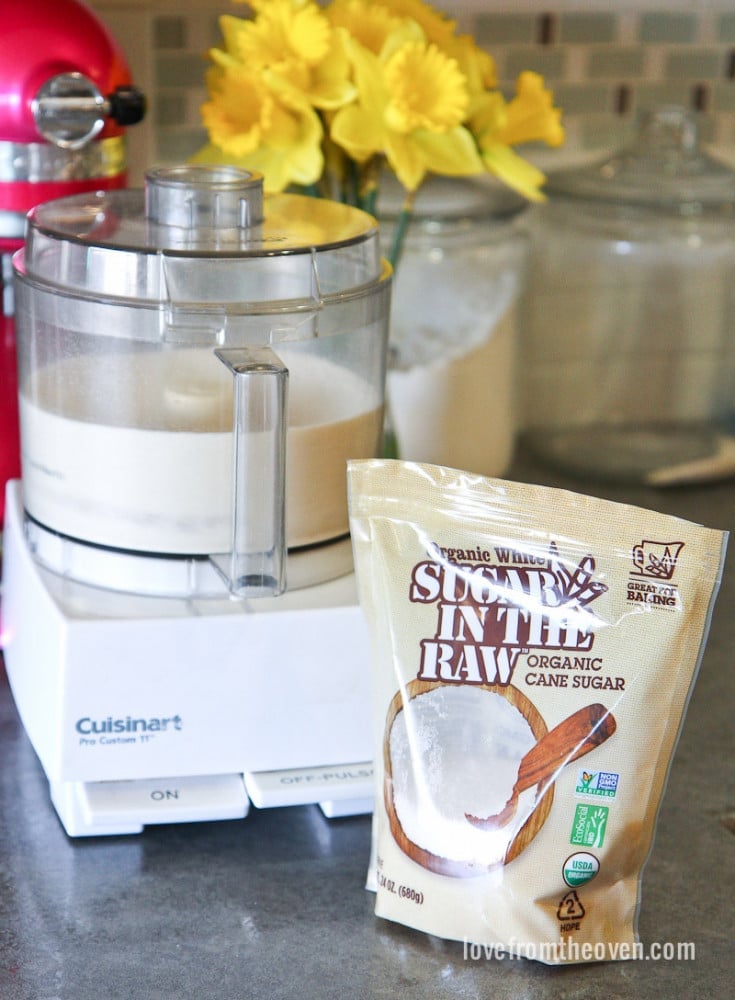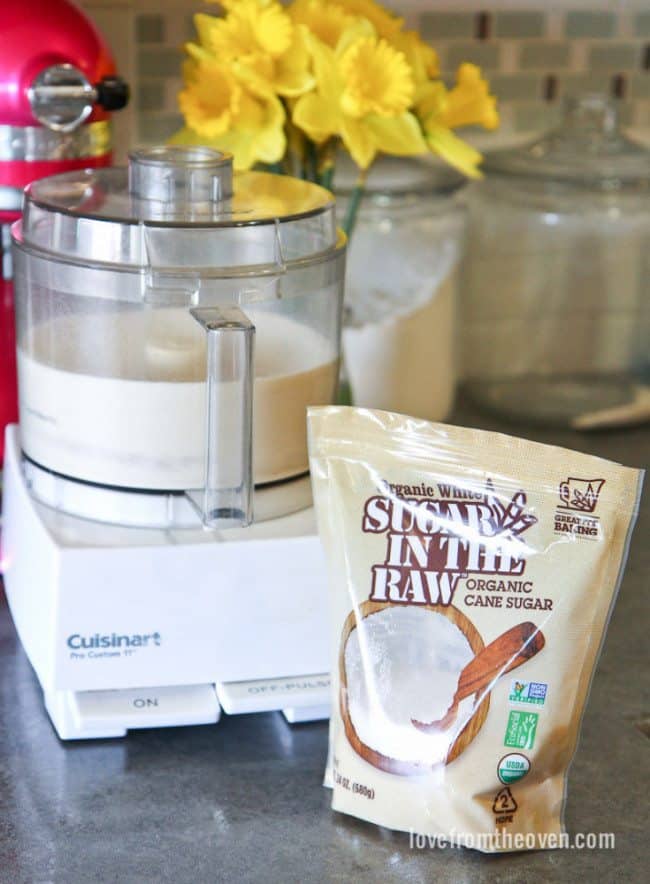 Voila, finally you have made powdered sugar! Given the choice I still prefer a traditional powdered sugar as this isn't quite the same. When in a pinch however, homemade powdered sugar is almost as good as the real deal, and it works great.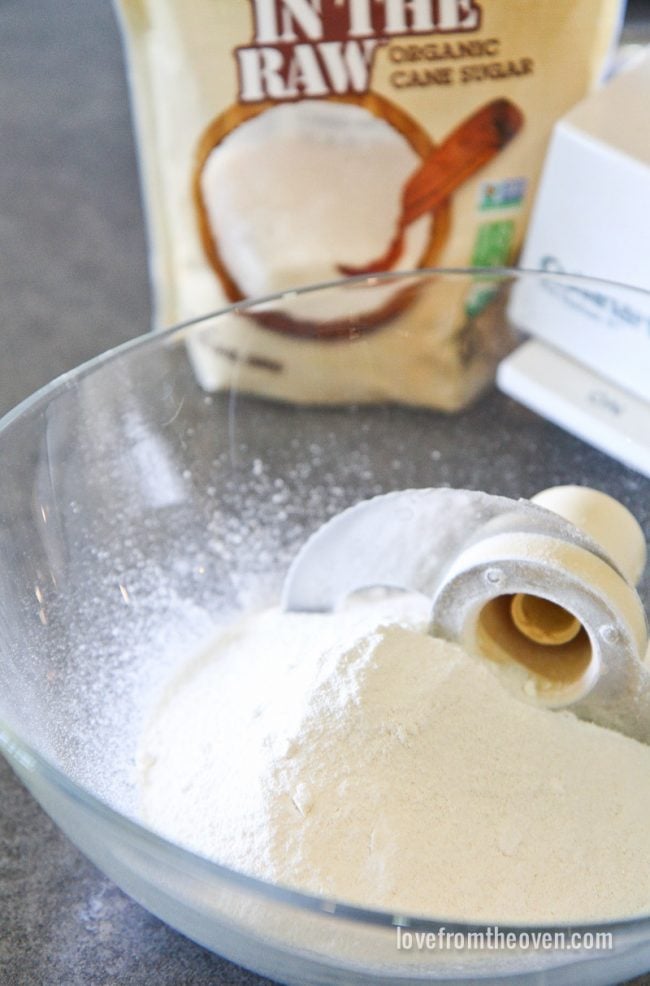 How Do You Make Carrot Cake
Back to our cake, which you don't even need your stand mixer for. This carrot cake is easily mixed by hand and as a result you could make it all in one bowl if you like.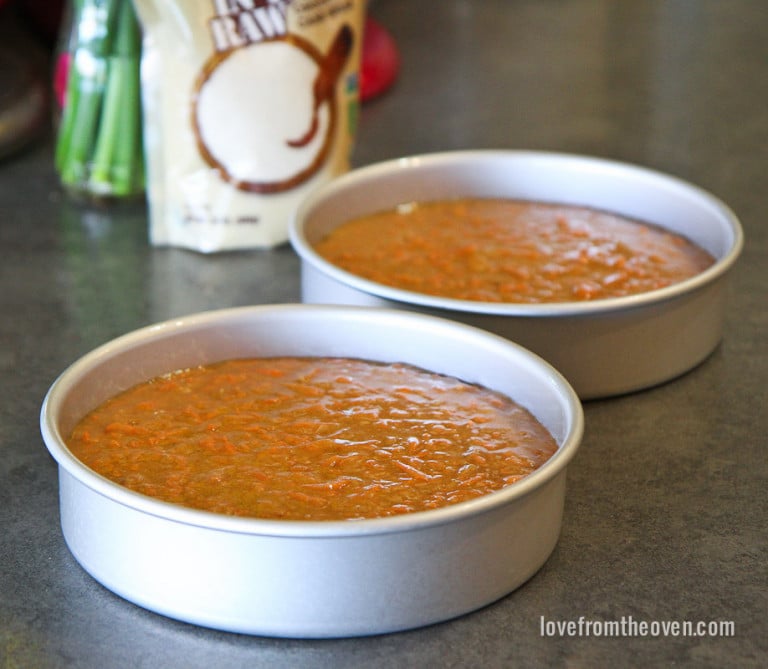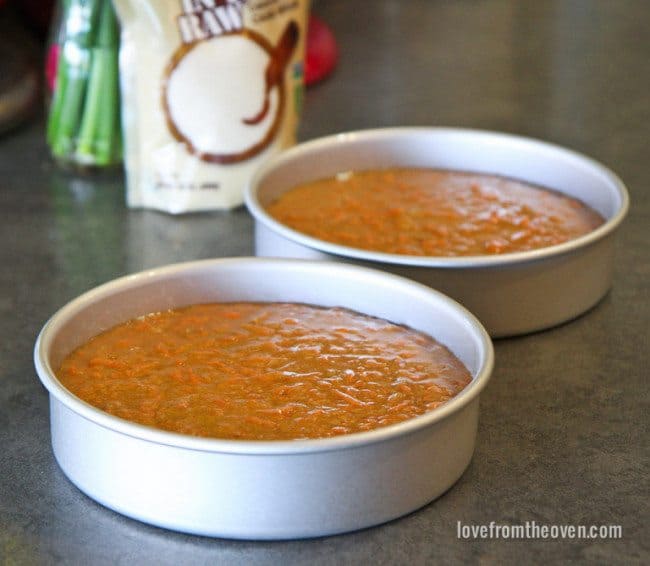 While I leave out the nuts in our carrot cake due to a tree nut allergy in our family, I do prefer this cake with walnuts or pecans. What I do not enjoy in my carrot cake is raisins, though I won't judge if they are a favorite in your family. Simply add in a cup of raisins or chopped nuts to the batter if desired.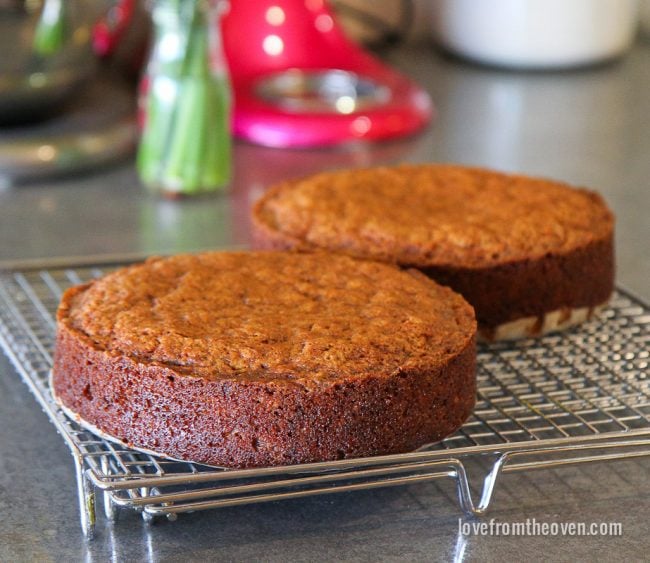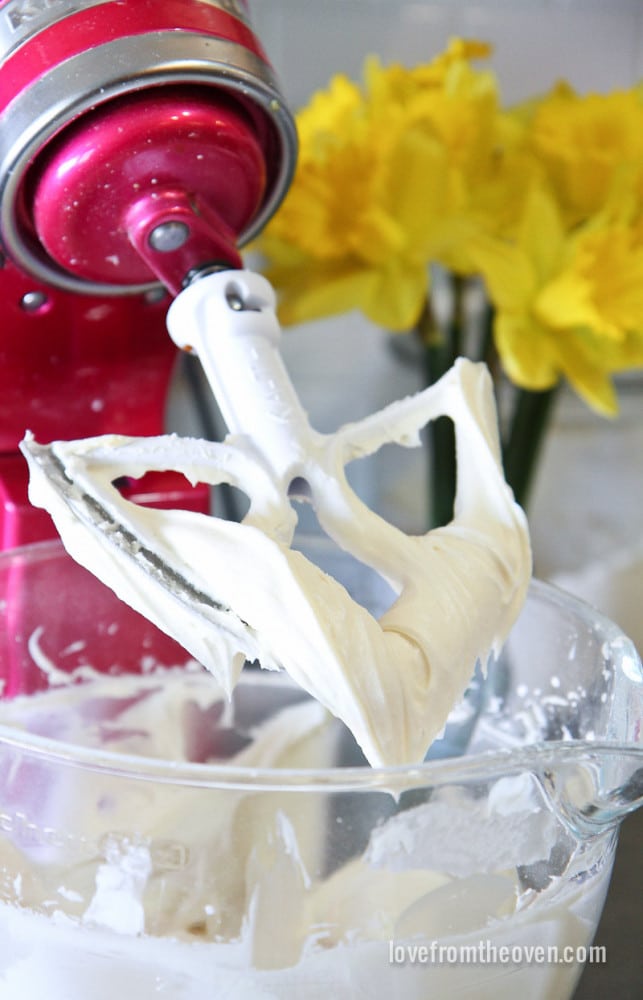 CREAM CHEESE FROSTING
Once the cake is completely cool, it's time for frosting. The current trend for "naked" cakes works wonderfully with this cake. Naked cakes are incredibly easy, using a less is more philosophy. Another reason the naked cake concept works well with this recipe is that carrot cake is undeniably rich. Therefore using less frosting helps balance out the rich cake flavor.
If you like a "naked" cake, go for it! As a huge bonus, you save yourself the extra step and get to spend more time eating cake.
I, however, have a deep and undying love for cream cheese frosting. My carrot cake just doesn't feel complete with out it. This cream cheese frosting comes together with little effort and adds a tangy sweetness that works beautifully with carrot cake.
A little frosting tip for you: When adding frosting to cakes use an ice cream scoop rather than your spatula to get the frosting to the cake! Then spread the frosting evening with an offset spatula. This helps the frosting go on smoothly with way less mess than putting it on with a spatula directly.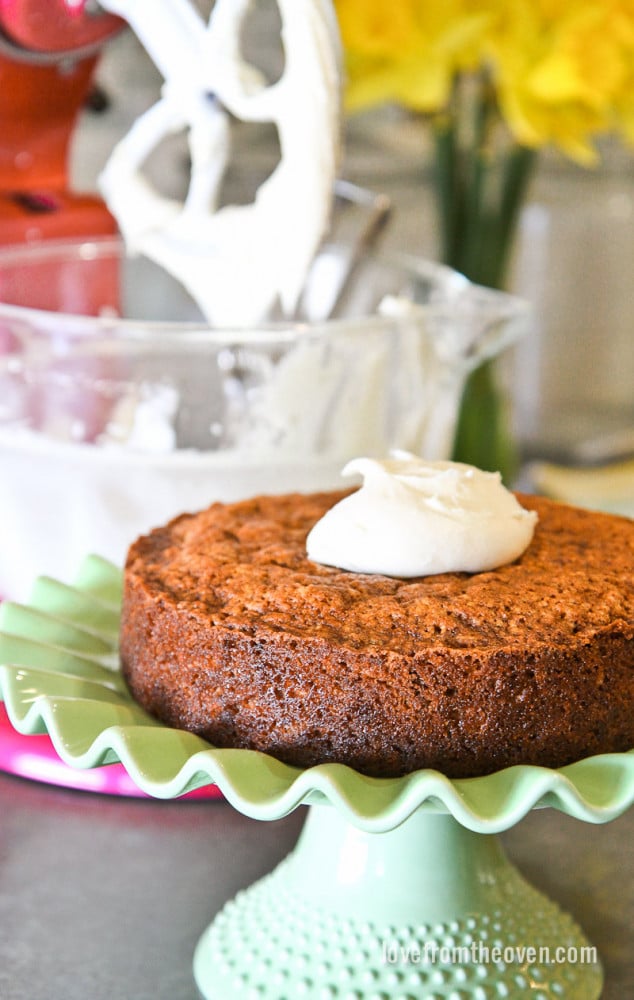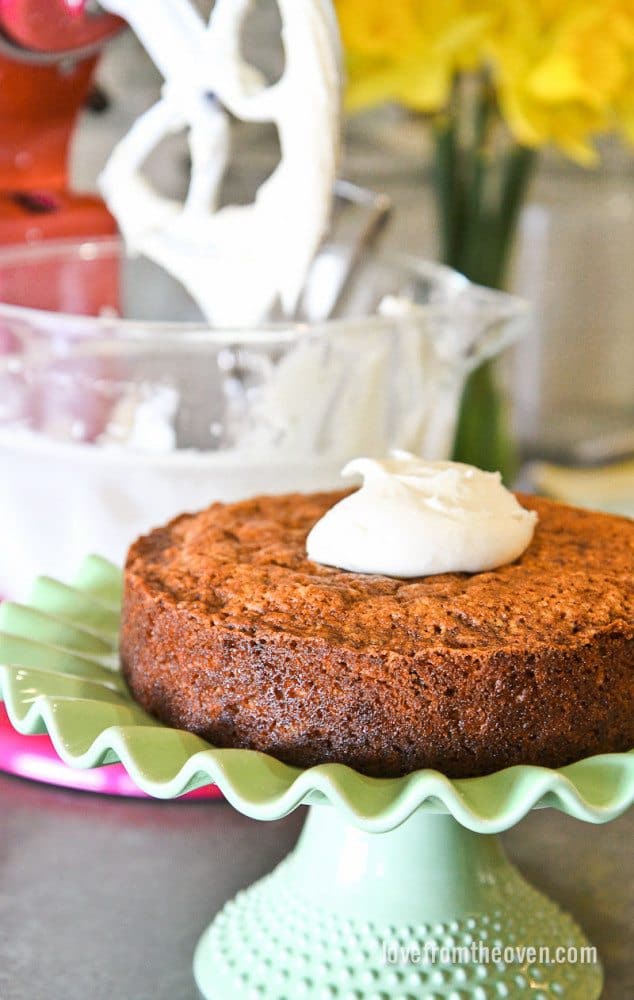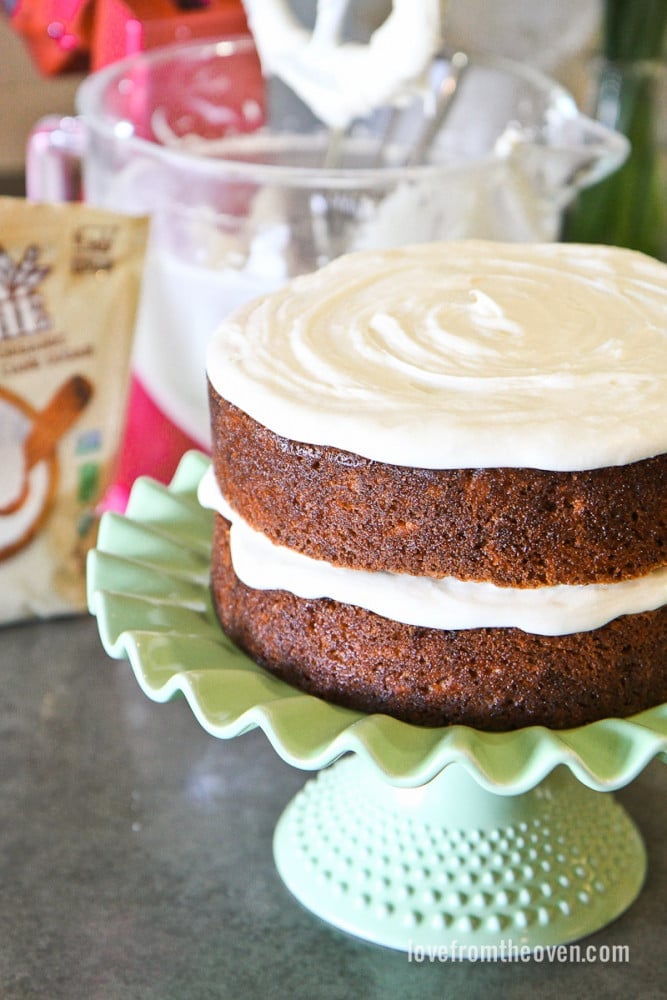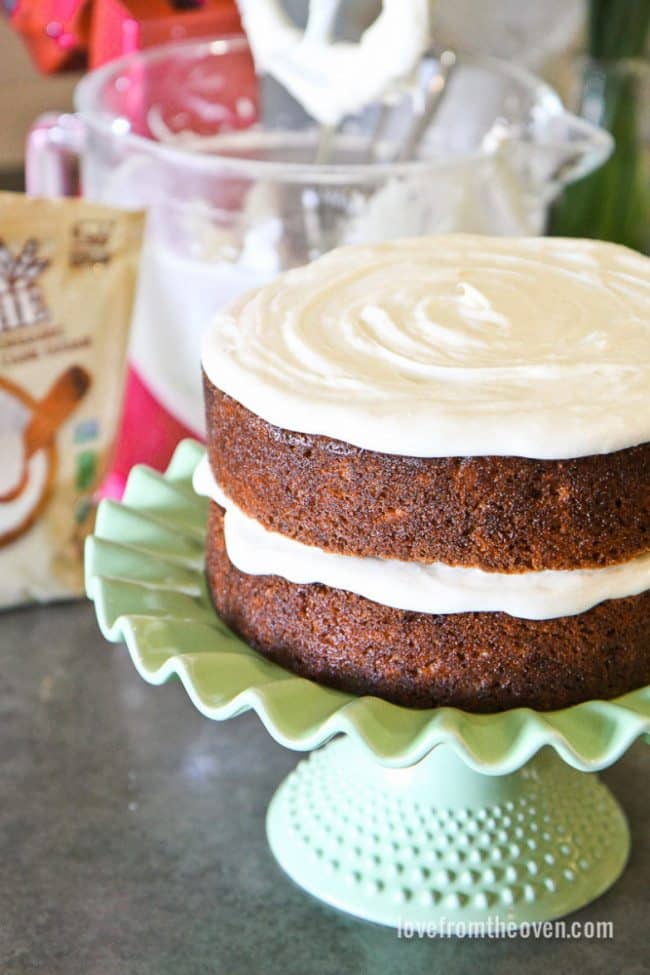 Decorating Carrot Cake
Finally it's time to decorate our cake!
Carrot cake is one of the cakes I struggle with when it comes to decoration ideas. Growing up my mom used to cover ours in chopped walnuts, but that's not a choice for us because of food allergies.
Accordingly, I have to find something different such as sprinkles or candied carrot curls. Candied carrot curls make for a particularly pretty cake topping. Cupcake Project has a great tutorial on making candied carrot curls, if that appeals to you.
This time, I used small cut-out carrot hearts to decorate the carrot cake. These sweet little hearts are made by first cutting a carrot into thin slices. Next the slices are cut into heart shapes out of them with a miniature cutter.
The cutter I use is actually made for working with clay. Small cutters can be found in your hobby or craft store. My mini heart cutters were ordered online through Amazon.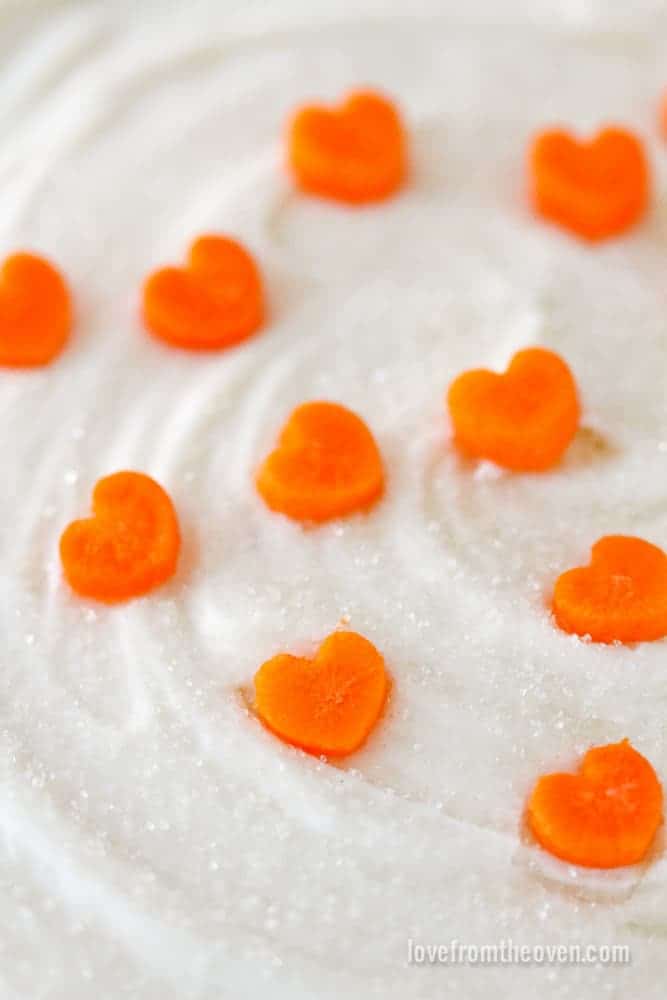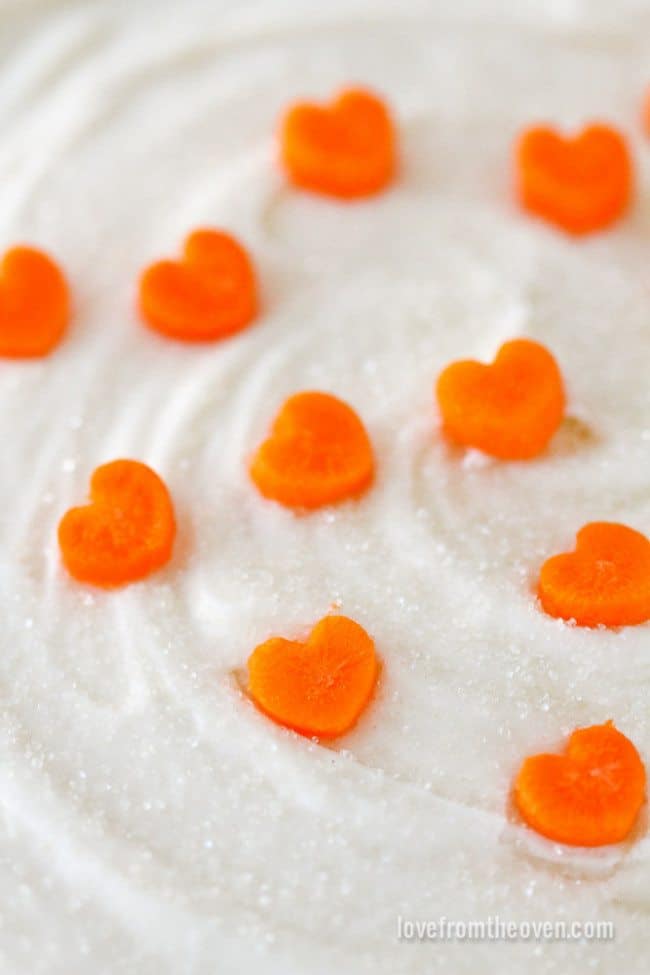 Final Touches
Finally, in addition to sprinkling on carrot hearts, I also added some sugar crystals to the cake. Toppings such as these are optional and you can use as little or as much as you would like. After all, this is one of the few cakes that I think looks especially nice with minimal decoration. As a result just using frosting alone can be enough to make this cake look beautiful.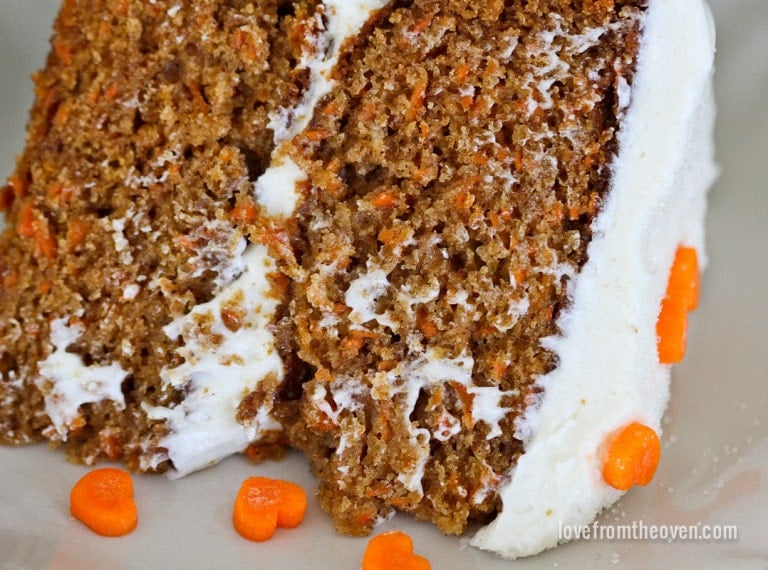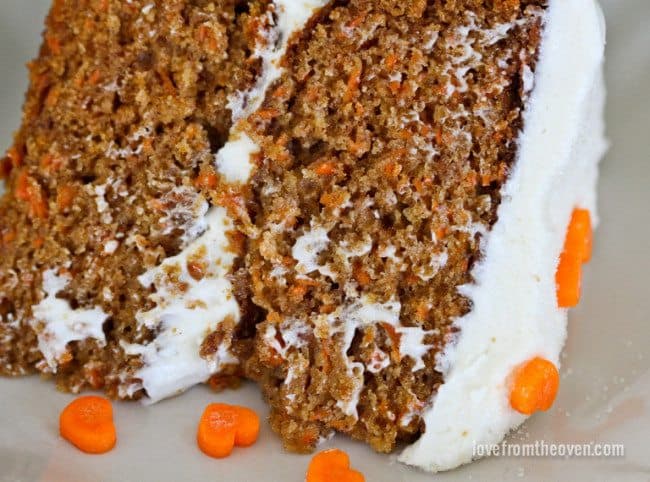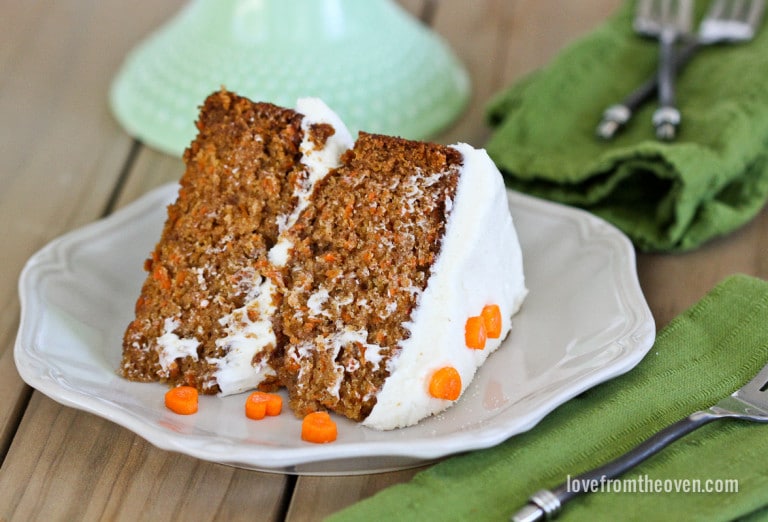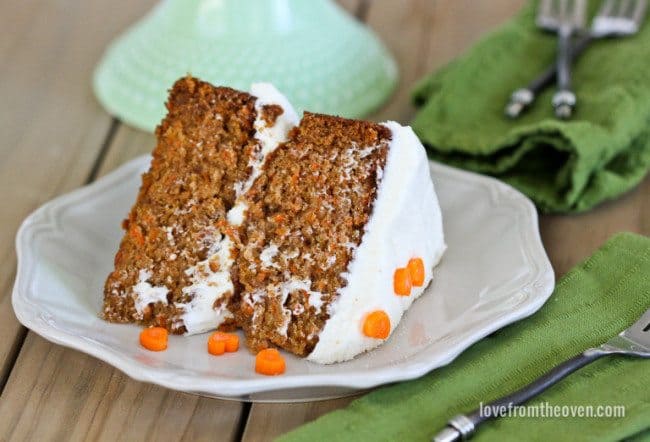 EASY CARROT CAKE RECIPE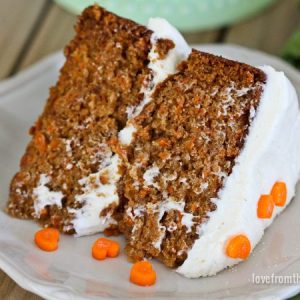 Carrot Cake Recipe
A moist, rich and delicious carrot cake recipe that comes together quickly and easily. Decadent cream cheese frosting recipe included.
Ingredients
Carrot Cake
3

cups

all purpose flour

2

teaspoons

baking soda

1

tablespoon

cinnamon

1

teaspoon

salt

2 1/2

cups

granulated sugar

4

eggs

1 1/2

cups

vegetable oil

you could use coconut oil or another oil if you prefer

1

cup

applesauce

2

teaspoons

vanilla extract

3

cups

shredded carrots
Frosting
8

oz

softened cream cheese

1/2

cup

softened butter

3 1/2

cups

powdered sugar

2

teaspoons

vanilla extract

Pinch of salt

1

tablespoon

whipping cream

milk will also work
Instructions
Cake
First, preheat oven to 325 degrees Fahrenheit. Next grease and flour two 9-inch round cake pans. If desired add parchment circles to the bottom of the pans for easy cake removal.

In a large bowl mixing bowl, mix together flour, sugar, baking soda, cinnamon and salt.

Using a separate bowl, beat eggs slightly. Add oil and vanilla extract to eggs. Stir to combine. Add shredded carrots and apple sauce to the mixture and stir to combine.

Fold the wet mixture to dry mixture and stir until just combined. Do not over stir.

Finally spoon batter into prepared pans and bake for 45 to 55 minutes or until a toothpick inserted into the center of the cakes comes out clean.

Cool cake for approximately 10 minutes in pans, then transfer cake to wire racks to cool completely prior to frosting.
Frosting
In a large mixing bowl, beat together softened cream cheese and butter until light and fluffy.

Next, with the mixer on low, slowly add powdered sugar, mixing well. Add in vanilla, salt and whipping cream. Beat mixture on medium for approximately three minutes. If frosting is thicker than you prefer, you can add an additional tablespoon of cream or milk.

Finally frost cake as desired. Store cake and frosting in refrigerator.
Notes
Mix-ins such as chopped walnuts, pecans or raisins can be added to the batter just prior to pouring batter into pans. This recipe can accommodate about one and one half cups of mix-ins. 
As a rule I mix wet ingredients and dry ingredients separately. However I have mixed all ingredients in the same bowl without noticing a difference in the final product. To use a single bowl, mix wet ingredients first followed by the dry ingredients.  
Nutrition
More Great Carrot Recipes
By the way, I have a few other carrot cake recipes that are beyond delicious. In addition to this recipe, check out my other carrot cake recipes. Do you prefer a sheet cake instead of a layer cake? This Carrot Sheet Cake recipe is similar, but is especially easy to transport due to being made in a sheet pan.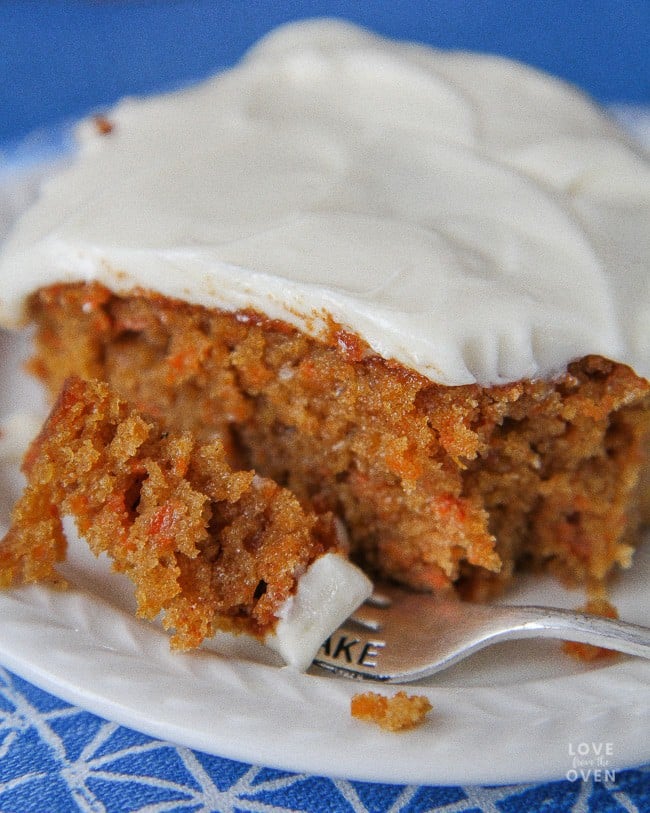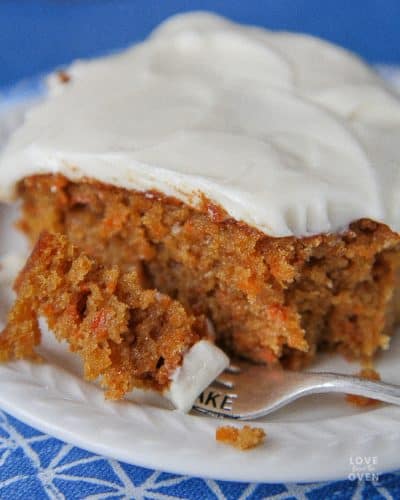 It doesn't get much cuter than bite-size Carrot Mini Bundt Cakes.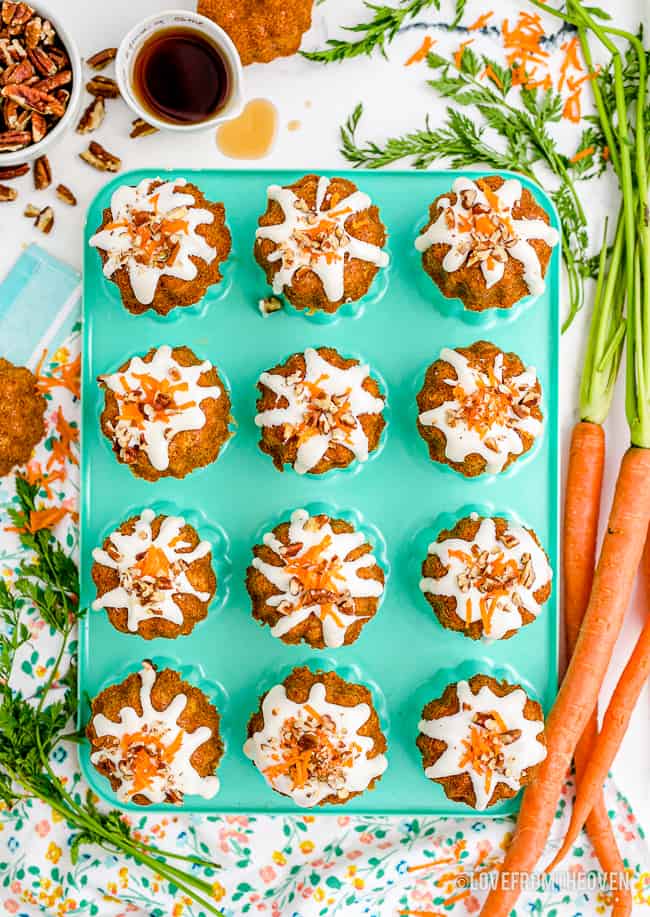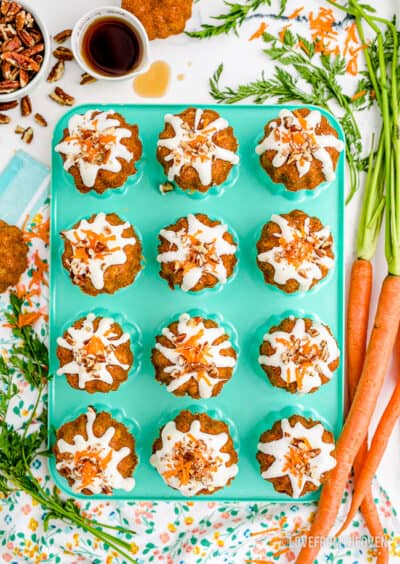 Need a lighter cake instead of a decadent one? For this reason you might want to try my light version of this cake. Applesauce is increased in this recipe and as a result you have a lighter cake.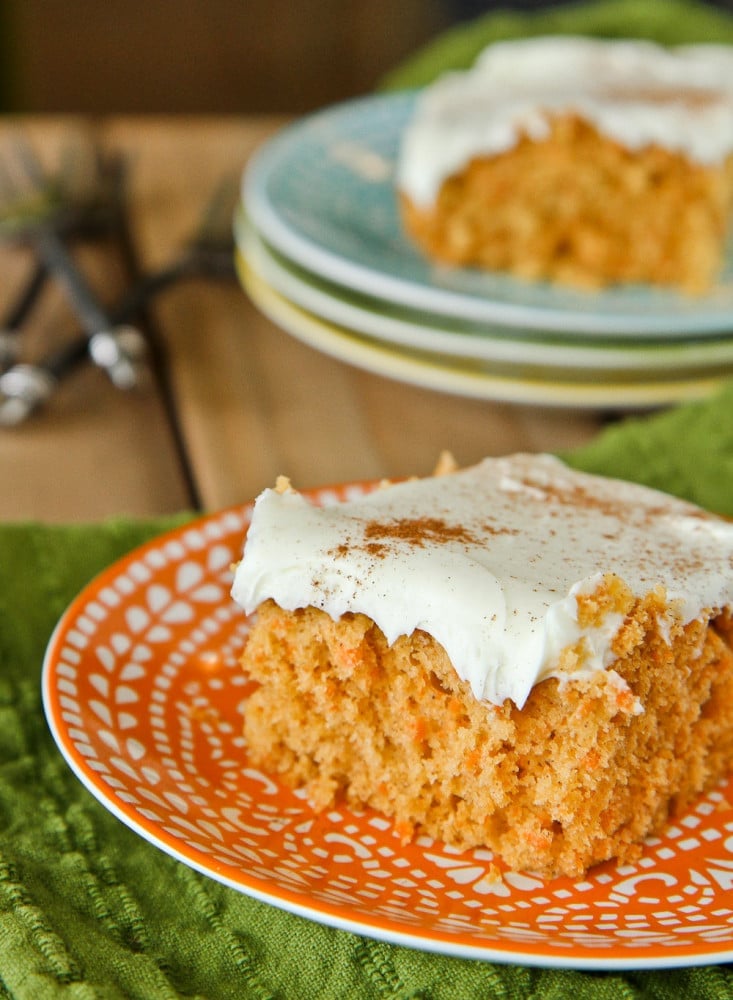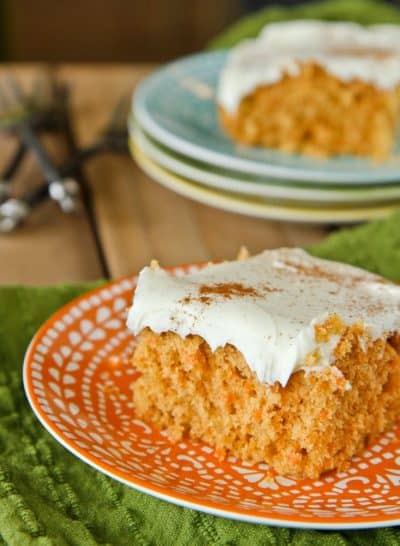 In addition to today's recipe, I also have a Carrot Bundt Cake recipe. This delicious cake has some rather surprising ingredients in it. It's lighter and healthier, nevertheless it's still the rich and delicious cake one expects with carrot cakes.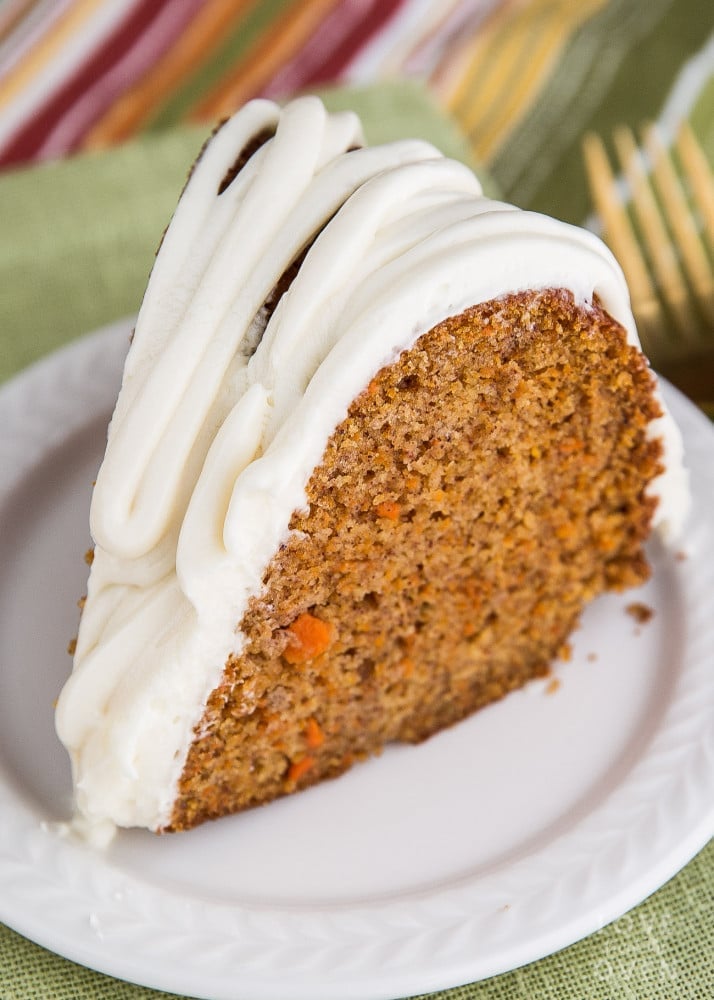 My carrot cupcakes are similar, however they offer built in portion control! By the way, I won't judge if you eat two at a time.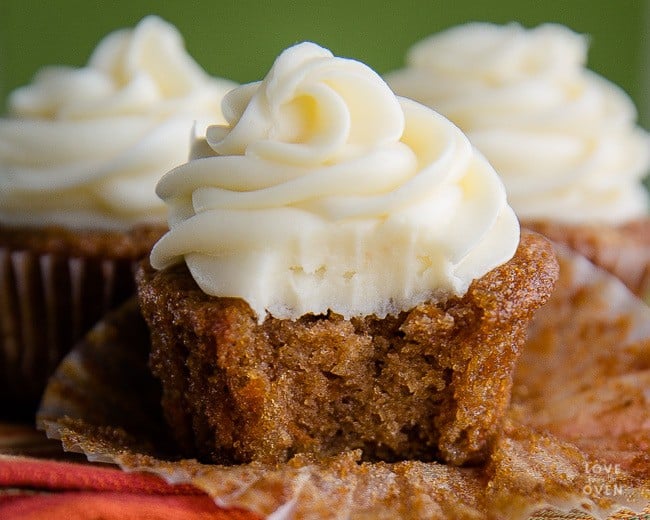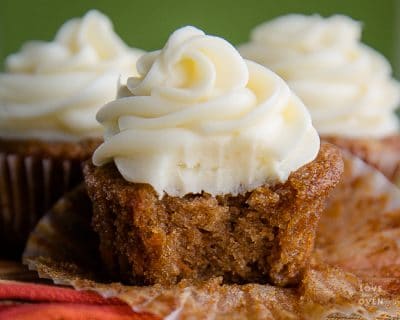 Carrot Recipes From Other Bloggers
Many of my blogger friends also have great carrot recipes. Here are some additional recipes you can try as well! If you'd rather have cookies try these Zucchini Carrot Oatmeal Cookies from Mom On Timeout.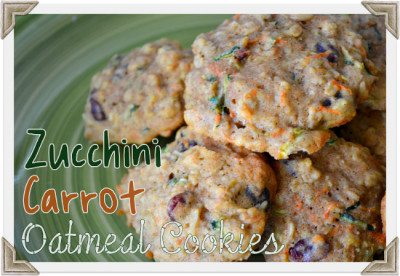 Carrot Pineapple Cake With Blackberry Icing From The View From Great Island is likewise a great option that packs in the flavor.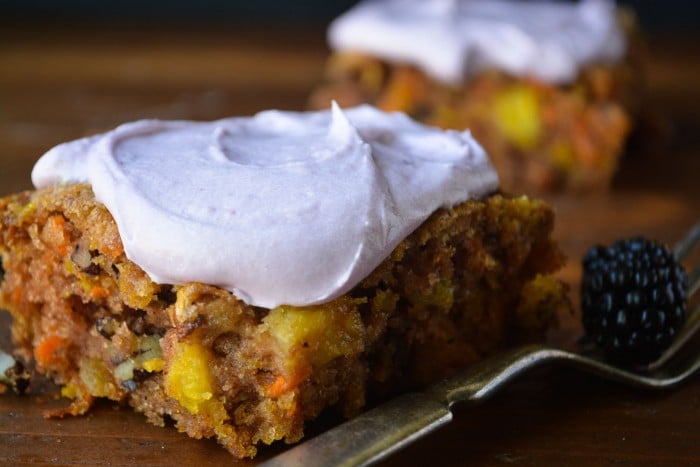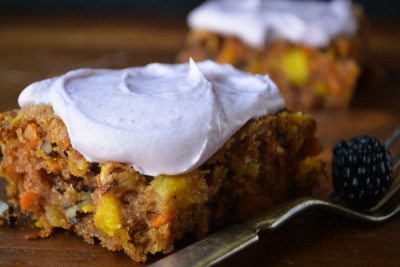 On the other hand, it's hard to go wrong with these Healthy Pumpkin Carrot Pecan Muffins from A Beautiful Plate.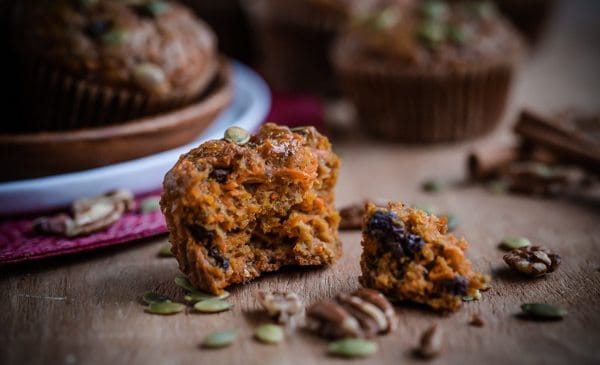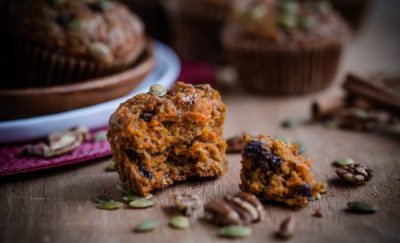 This Carrot Apple Bread From Averie Cooks is especially good.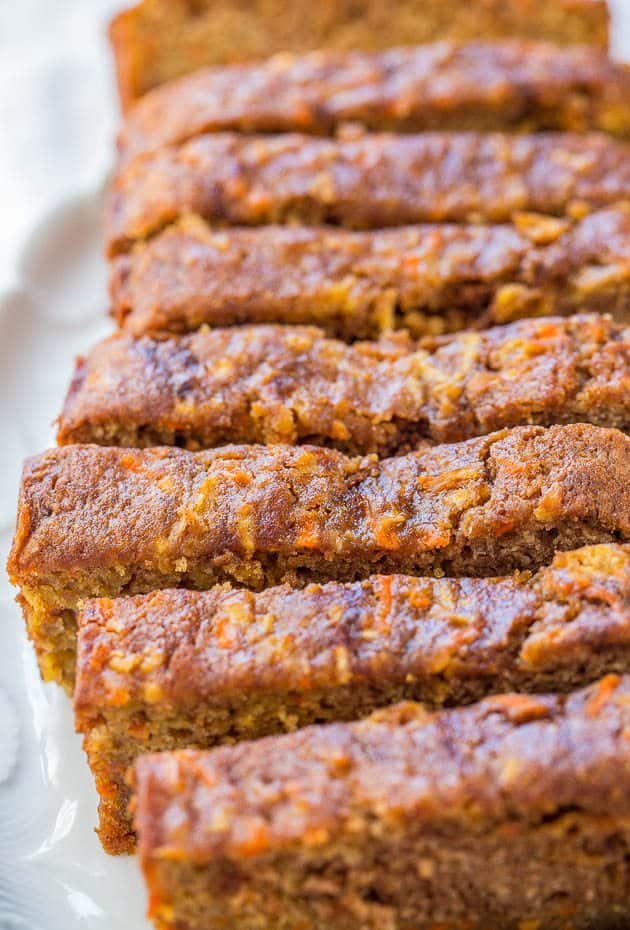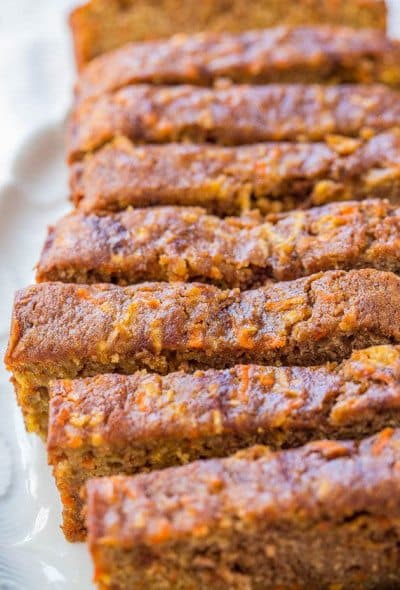 After all of these great recipes, run to the store soon and buy some carrots! And by the way, I can't wait for you to try this amazing, but above all delicious, carrot cake recipe!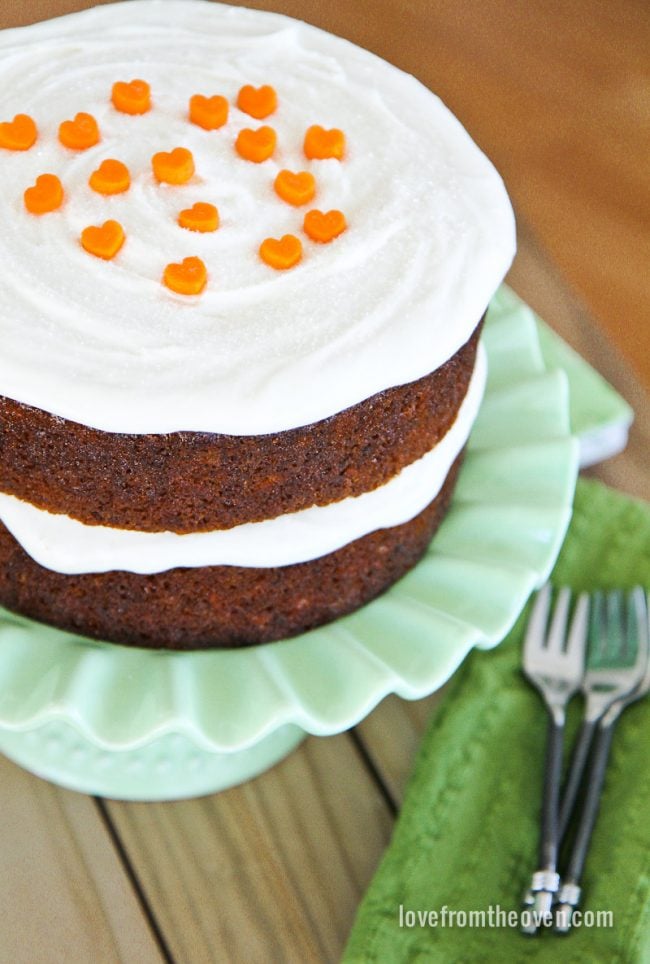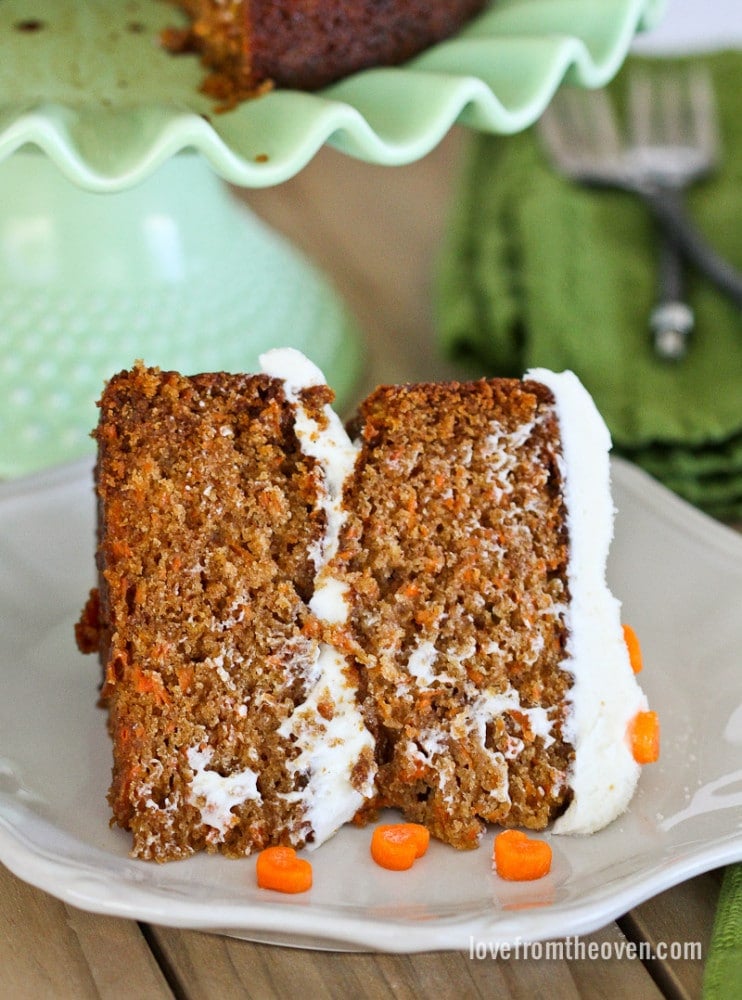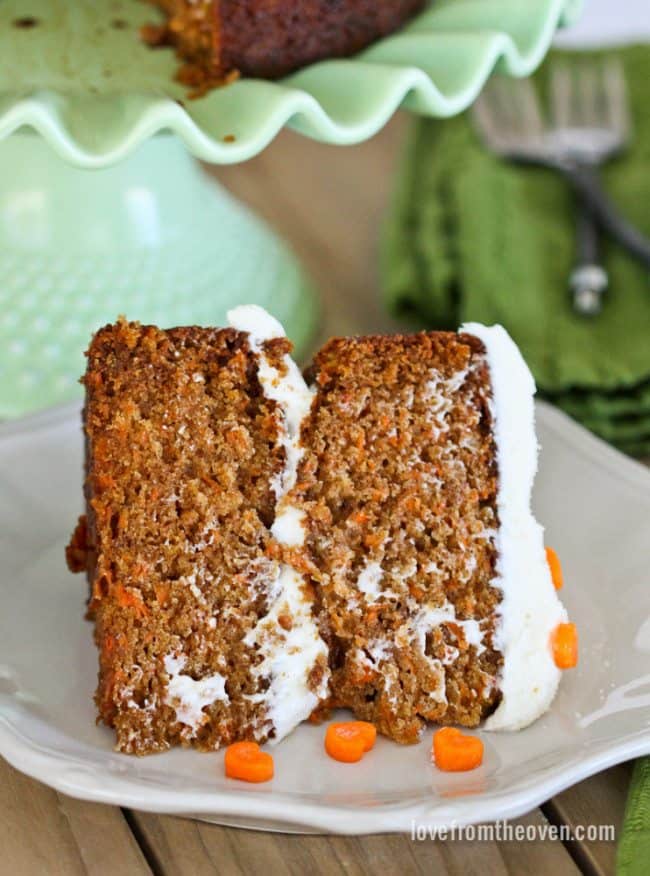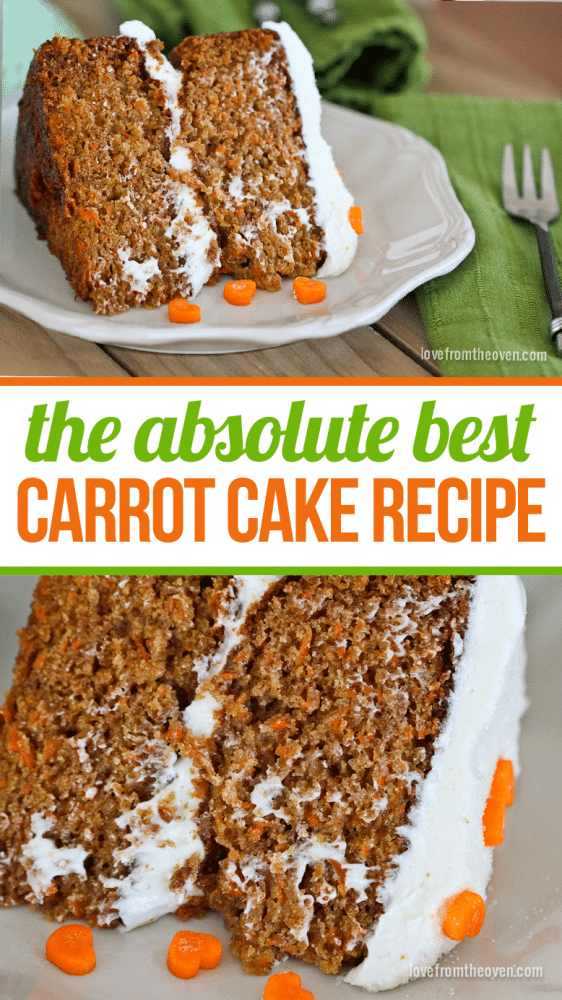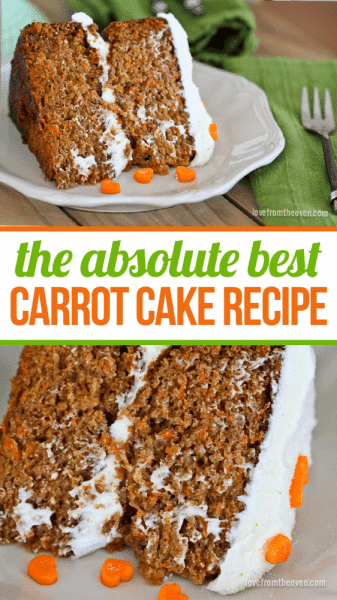 ORIGINALLY PUBLISHED MARCH 2015. Recipe notes updated February 2020. Disclosure: This post was sponsored by In The Raw through Burst Media. All opinions however are mine and mine alone.