One of my all time favorite cakes of all time is carrot cake.  It is such an amazing combination of flavors and textures.  For whatever reason, I seem to always save carrot cakes for Easter, and for my family it is an Easter "must have" dessert.
CARROT CAKE RECIPE
I've been making this recipe since I was in college, and always go back to it.  It is moist and delicious and it's packed full of carrots.

Whenever I make this carrot cake, people have a tendency to say things like, "this is the best carrot cake I've ever had!".  I certainly do not disagree.  It's pretty amazing, and very easy to make. In The Raw's new Sugar In The Raw Organic White works wonderfully in this recipe.

I didn't just use Sugar In The Raw Organic White in the cake, I also used it in the frosting. I'm not sure what is better, the moist and flavorful carrot cake or the amazing cream cheese frosting.  These two are total BFFs.

Did you know that you can make your own powdered sugar?  Yep, you totally can, and it's super easy.  You just have to run your sugar through a food processor or blender (or I've even heard of people using their coffee grinder) for a while, and it will transform into a lovely powdered sugar, perfect for your favorite frosting recipes.
You can't really tell in the photos, but this sugar is the most gorgeous shade of shimmery gold.  It almost looks like fairy dust.  🙂  Add this to your food processor and run it for about five minutes.
And voila, you just made powdered sugar.  SO easy.
Little things like this make me happy.  🙂  This cake is very straight forward to make and you do not even need to use your stand mixer for the cake, you can just mix it by hand in a bowl.
As soon as I get the batter made, I always remember just how delicious this carrot cake is.  Not that I'm suggesting you eat the batter (but pull up a seat next to me if you do). I *love* to add walnuts or pecans to this cake as well, but due to nut allergies in our family, I have to leave them out (sad face).  I'm of the theory that raisins do not belong in cakes, or cookies for that matter, so I leave them out. If raisins are your thing, toss some in.
After making my cake, I let it cool and whip up my frosting, which is every bit as simple as the cake.
Once the cake is completely cool and I've made my frosting, it's time to frost.  I'm kind of loving this trend of "naked" cakes, which aren't fully frosted.  First, it is SUPER easy.  I used an ice cream scoop to add my frosting to my cake, and just spread the frosting with the back of the ice cream scoop. I'm always so busy getting everything ready for holiday meals that a time saver like this works wonderfully.  Another reason I like the less is more approach with this cake and the frosting is that this is a really rich cake, and I think this is the perfect amount of frosting, a great balance.
Simple. Beautiful. Delicious.   I always need a little something extra on my cakes, so I finished it off with some carrot hearts I made by slicing up a carrot and using a itty bitty cutter (you can find tiny cutters in the craft section of hobby stores, they are usually with the clay tools).
Love those little hearts!  I never quite know how to decorate carrot cakes. It's the one cake where sprinkles don't always feel like the answer. Little carrot hearts it is! My family loved this cake, and I'm sure yours will as well.
 CARROT CAKE WITH
CREAM CHEESE FROSTING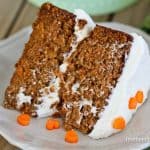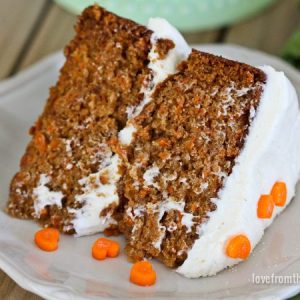 Carrot Cake
Ingredients
Carrot Cake
3

cups

all purpose flour

2

teaspoons

baking soda

1

tablespoon

cinnamon

1

teaspoon

salt

2 1/2

cups

granulated sugar

4

eggs

1 1/2

cups

vegetable oil

you could use coconut oil or another oil if you prefer

1

cup

applesauce

2

teaspoons

vanilla extract

3

cups

shredded carrots
Frosting
8

oz

softened cream cheese

1/2

cup

softened butter

3 1/2

cups

powdered sugar

2

teaspoons

vanilla extract

Pinch of salt

1

tablespoon

whipping cream

milk will also work
Instructions
Cake
Preheat oven to 325 degrees Grease and flour two 9-inch round cake pans.

In a large bowl, mix flour, sugar, baking soda, cinnamon and salt.

In a separate bowl, beat eggs slightly. Add oil and vanilla extract to eggs and stir to combine. Add shredded carrots and apple sauce to mixture and stir to combine.

Add wet mixture to dry mixture and stir until just combined. Do not over stir.

Spoon batter into your pans and bake for 40 to 45 minutes or until a toothpick inserted into the center of the cakes comes out clean.

Cool cake for approximately 10 minutes in pans, then transfer cake to wire racks to cool completely prior to frosting.
Frosting
In a mixing bowl, beat together softened cream cheese and butter until light and fluffy. With mixer on low, slowly add powdered sugar, mixing well. Add in vanilla, salt and whipping cream. Beat on medium for approximately three minutes. If frosting is thicker than you like, you can add an additional tablespoon of cream or milk. Frost cake as desired. Store cake and frosting in refrigerator.
Want to try some more delicious carrot recipes? Check out some of the great carrot recipes from other bloggers around the web.
Zucchini Carrot Oatmeal Cookies from Mom On Timeout
Carrot Pineapple Cake With Blackberry Icing From The View From Great Island
Healthy Pumpkin Carrot Pecan Muffins from A Beautiful Plate
Carrot Apple Bread From Averie Cooks
I can't wait for you to try this amazing carrot cake recipe!
Disclosure: This post was sponsored by In The Raw through Burst Media.  All opinions however are mine and mine alone.