Let's talk fudge.  Fudge is one of those treats that is so delicious and can be so easy, yet I only find myself making it around the holidays.  I often find that fudge lovers fall into two camps, those who like their fudge creamy and pure, and those who like lots of "stuff" in their fudge, which is the side I'm on.  I like a fudge with lots crunch, chew and texture to it.  So when my friends at McCormick asked me if I would like to combine Santa's traditional "milk and cookies" into a single treat, a cookie filled fudge instantly came to mind!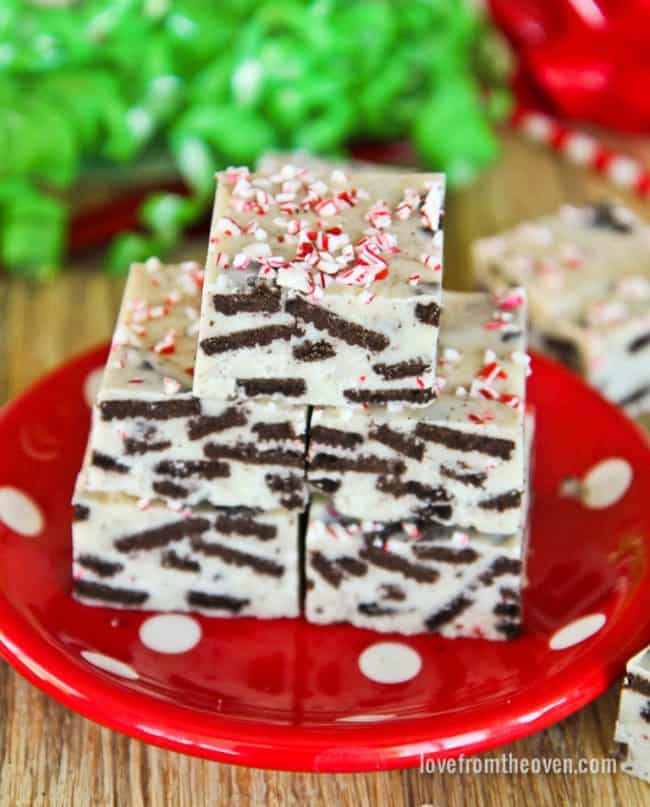 But this isn't just any cookies and cream fudge, this is peppermint cookies and cream fudge, and it is amazing!  A combo of cookies, a creamy milky fudge base and a kick of peppermint, this fudge is going to be fantastic on goody trays this holiday season!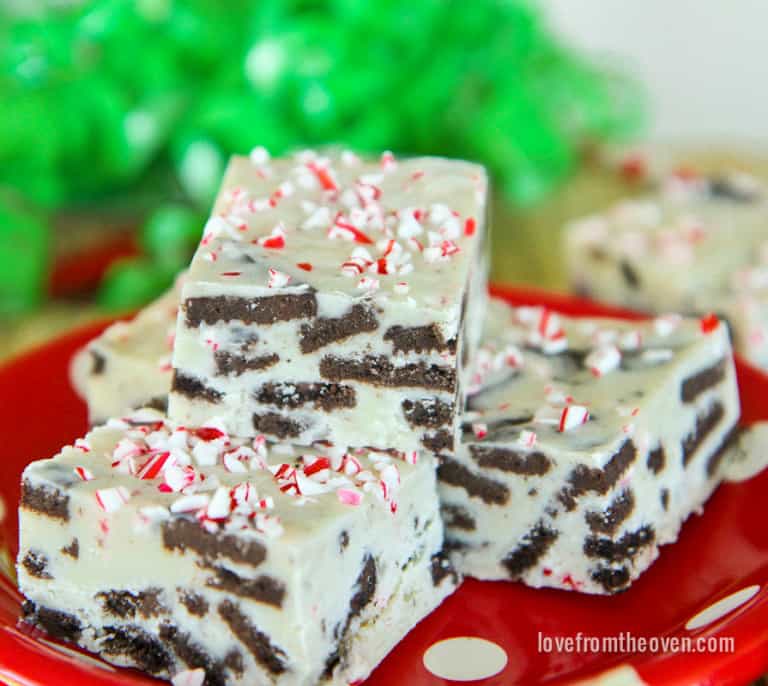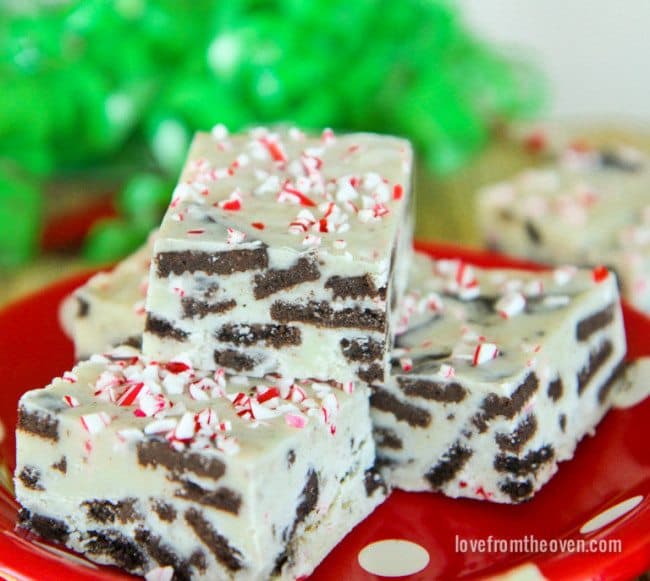 I did mention I like my fudge with lots of stuff in it, right?   This one is a winner for sure!  Because I'm all about keeping backing simple and easy, this can be made on your stovetop or in your microwave, and no candy thermometer is needed.   I love that you can whip a batch of this fudge up in no time.   While I love to bake cookies in advance and freeze them, fudge is one of my favorite last minute holiday treats to make.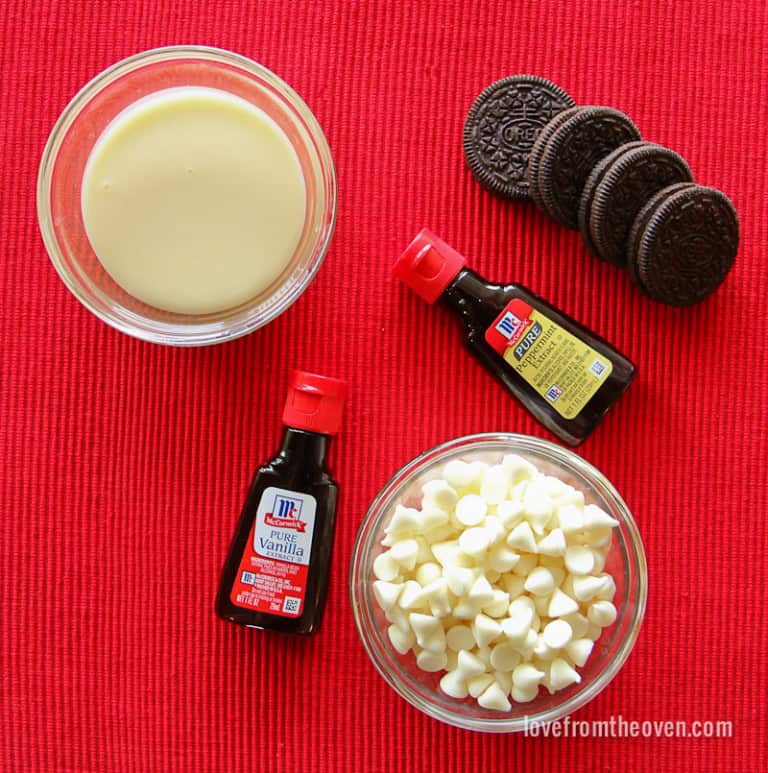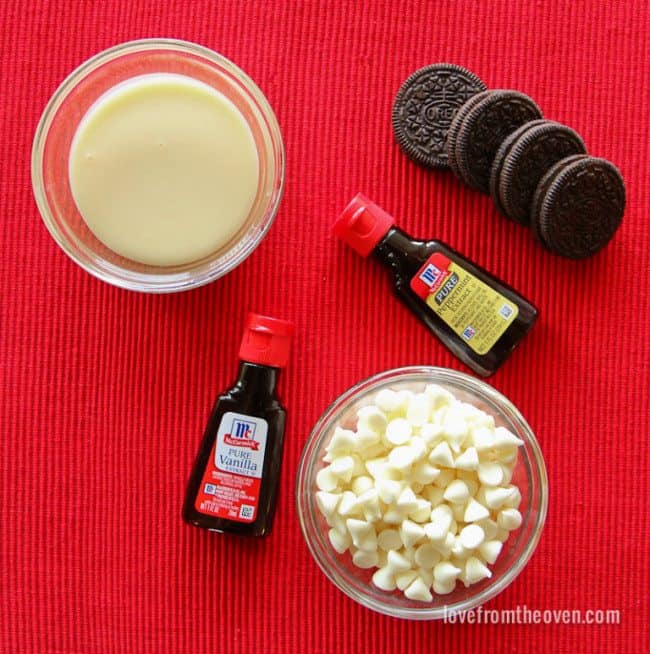 While this fudge is super simple to make, I do have a few tips to help make it even easier.    When you chop up your cookies for this fudge, you will get quite a bit of crumbs with your cookie pieces.  You can certainly mix those right on in, but if you want a "clean" look to your cookies and cream fudge, then giving your cookie pieces a little shake in a mesh strainer will help separate the large pieces from the fine pieces.
SMART COOKIE TIP: For a clean look with your cookies and cream fudge, shake out small cookie crumbs with a mesh strainer.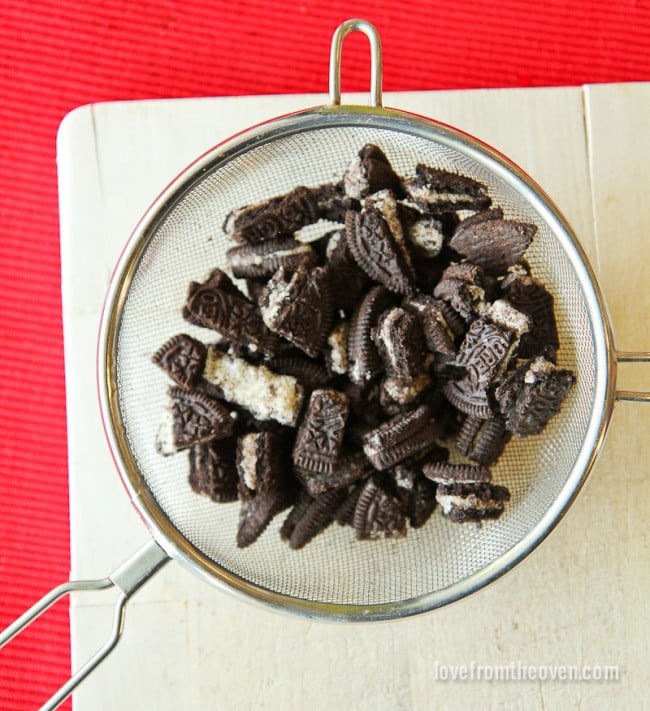 Another thing that I always like to do when I make fudge is line my pan with foil.  Not only does this allow you to easily pull your fudge out of the pan for cutting, it allows you to free up your pan more quickly if you need to make multiple batches of fudge and need to reuse the pan.  I find that after about 45 minutes in the fridge, I can pull my foil and fudge out, place them back in the fridge, and use my pan for my next batch (I've got another delicious fudge recipe coming for you tomorrow!).
SMART COOKIE TIP: Line an 8×8 or 9×9 pain with foil to allow easy removal of your fudge.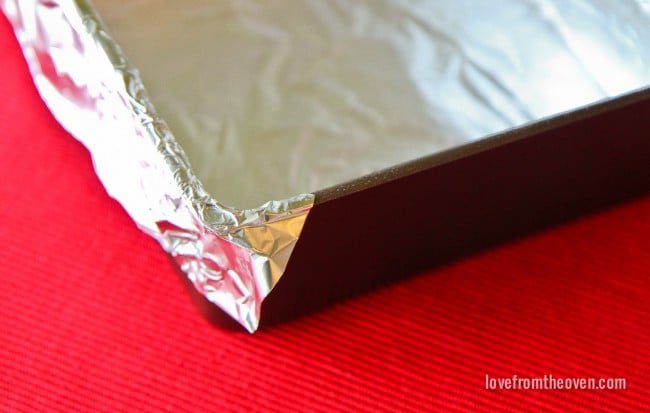 Now let's make some fudge!   This fudge gets it's delicious flavor from a combination of both McCormick's Vanilla Extract and Peppermint Extract.  The amount of Peppermint Extract can be adjusted depending on your tastes.  If you like a hint of mint, 1/2 a teaspoon is a great place to start, and if you love peppermint, you can go up to two teaspoons of peppermint extract.    I love a combo of a white chocolate base and peppermint!   If you want even more peppermint, you can add in some crushed candy canes and sprinkle them on top as well.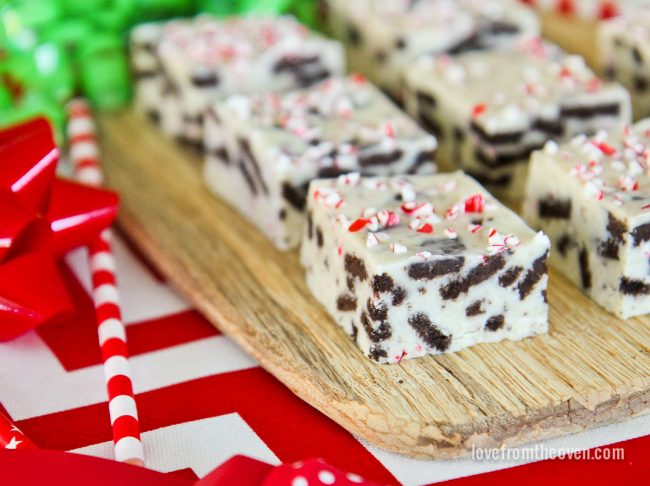 SMART COOKIE TIP: To help get a clean cut when cutting fudge, make sure fudge is chilled and use a knife that has been run under hot water (dry prior to cutting).   Reheat knife with water (and dry) between each cut, for a clean cut.
Peppermint Cookies And Cream Fudge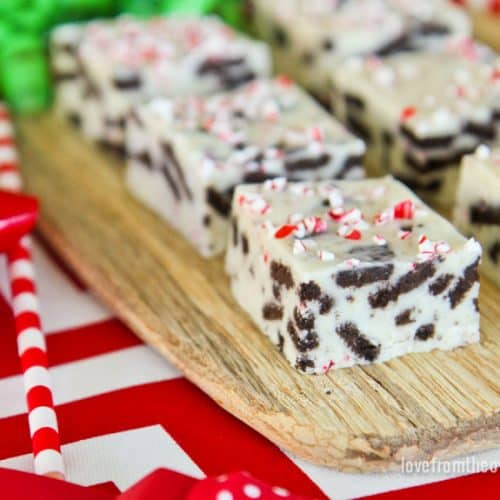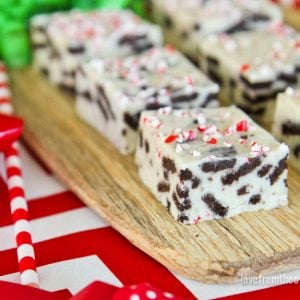 Ingredients
1

14 ounce can sweetened condensed milk

3

cups

white chocolate chips

Pinch

of salt

1 1/2

tsp

McCormick Vanilla Extract

1/2 - 2

tsp

McCormick Peppermint Extract

1

and 1/2 cups chopped up chocolate sandwich cookies

OPTIONAL: 1/4 cup crushed candy canes for garnish
Instructions
Line an 8x8 or 9x9 inch pan with foil. Make sure to use enough foil for foil to overhang the pan, making it easy for you to remove.

In a heavy pa over low heat, melt sweetened condensed milk, white chocolate chips and salt. Stir almost constantly until almost all chips have melted (they will continue to melt once removed from heat).

Remove from heat, stir in vanilla and peppermint extracts. Mixture will be very thick. Fold in chopped up cookies. Scoop mixture into prepared pan, pressing in to create an even layer.

Place fudge in fridge for at least two hours to set. When ready, cut into squares to serve. Can be stored covered at room temperature, or kept in fridge for up to a week.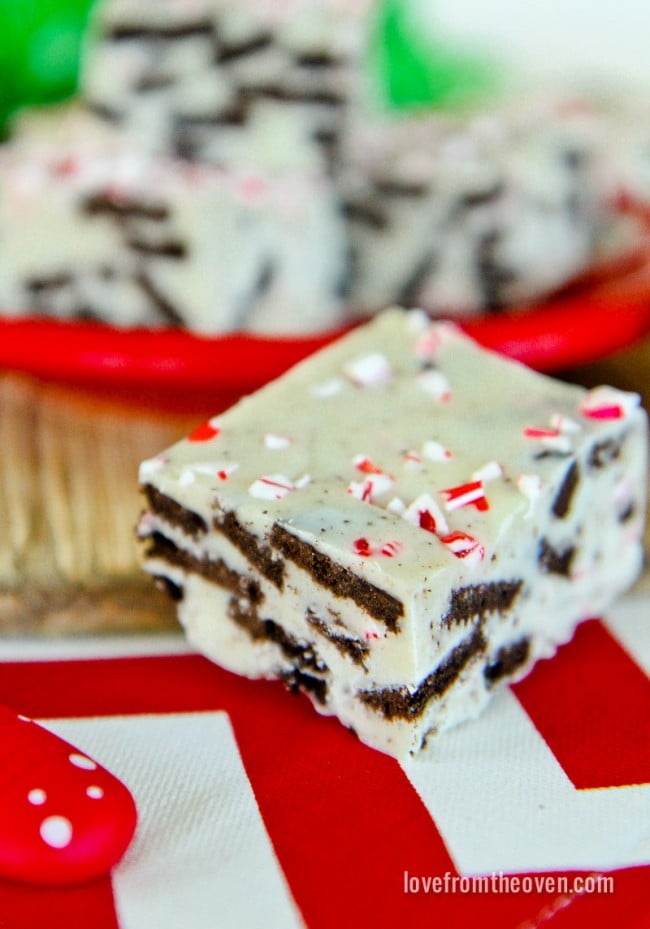 I hope your family loves this Cookies And Cream Fudge as much as we do!  Tomorrow I will have another delicious fudge recipe that combines milk and cookies for you, so make sure to check back!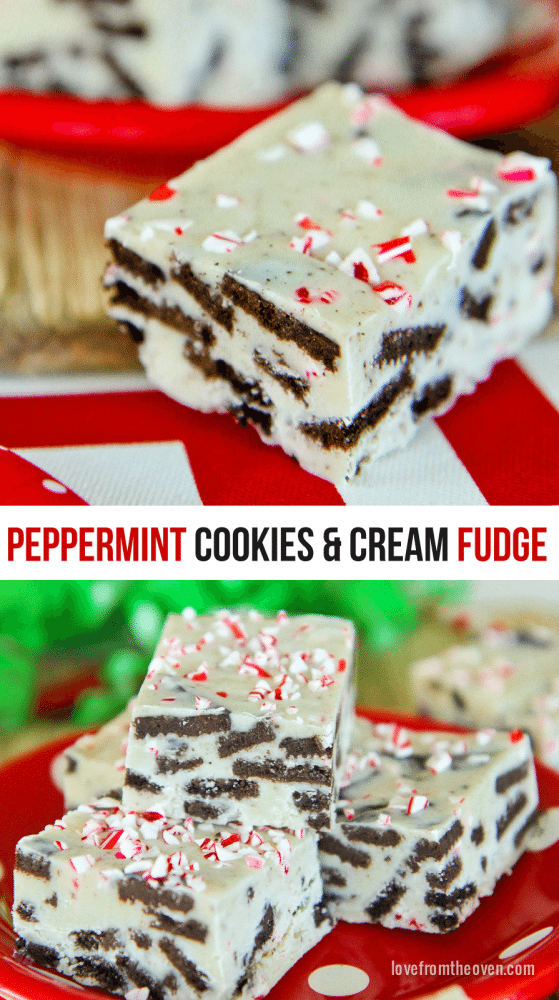 Disclaimer: I am compensated for my posts with McCormick, but all opinions are mine and mine alone.  🙂