One of my favorite things this time of year is peppermint, and one of my favorite forms of peppermint is easy pretty peppermint bark! Nothing beats that moment that you add peppermint oil to the warm chocolate and the kitchen fills with that amazing minty aroma! Okay, maybe something beats it… eating it!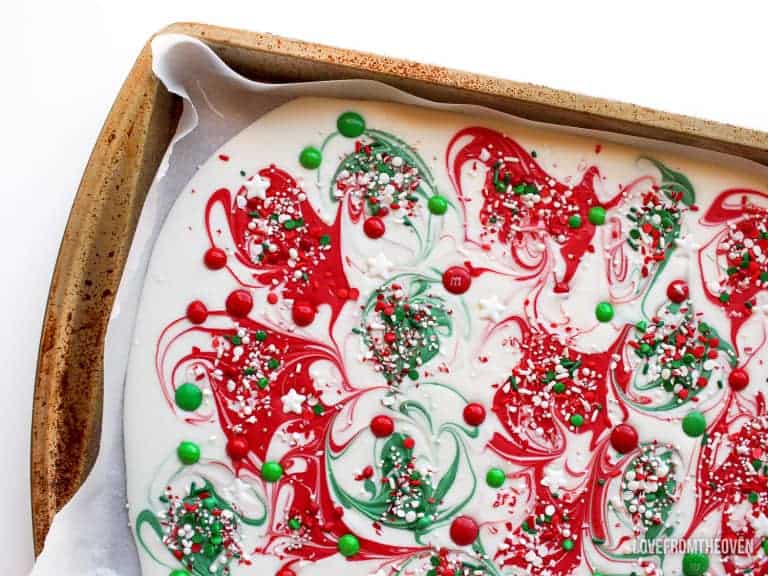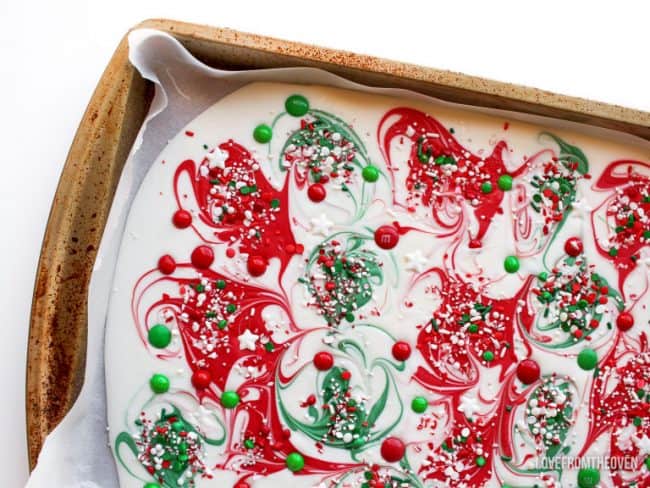 Peppermint bark is so easy to make. This year I decided to combine my love of the Katherine Sabbath style unicorn bark with pretty peppermint bark. Swirl and sprinkles and sweetness, oh my!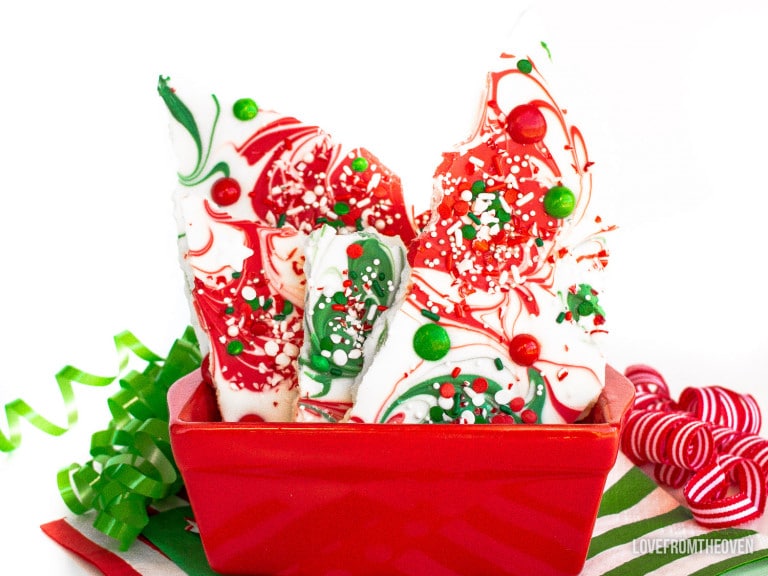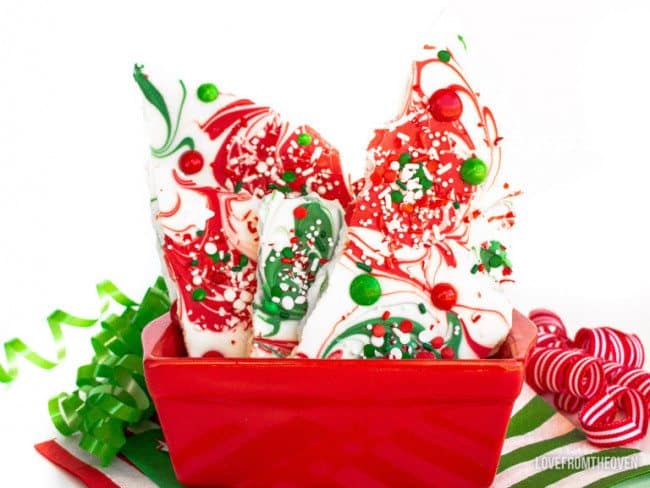 When I say it's easy to make, let me show you…
Easy peasy, right?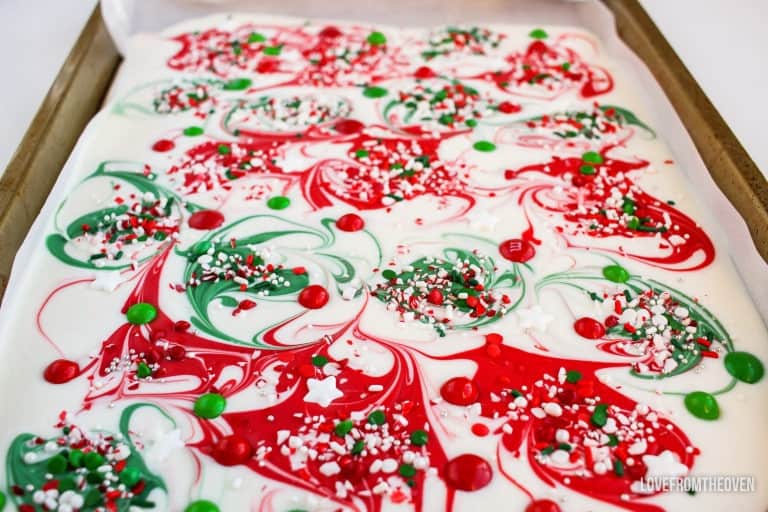 I love this crazy style of bark. I've made a few versions. First there was the Pretty Pastel Unicorn Bark.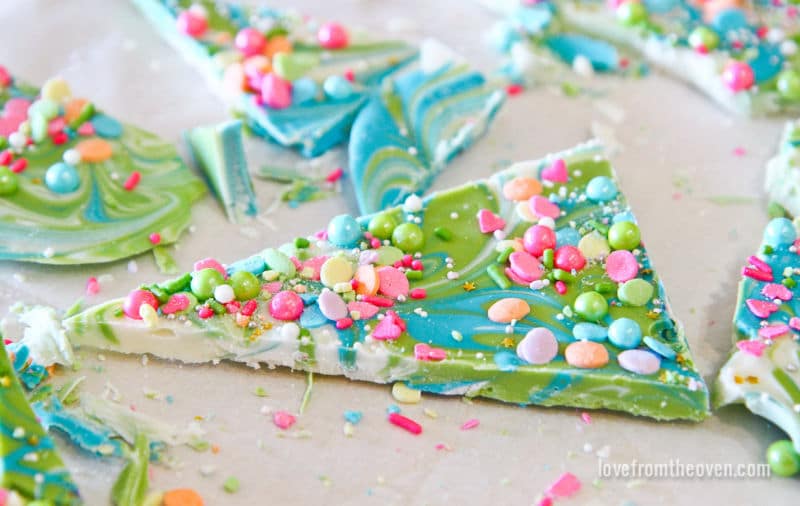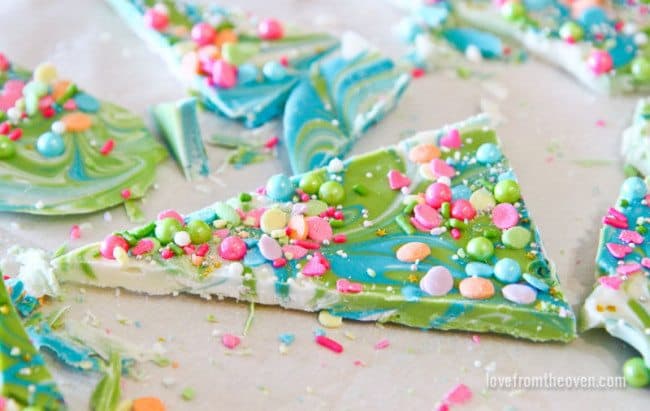 Which I put onto a cake for my daughter's birthday…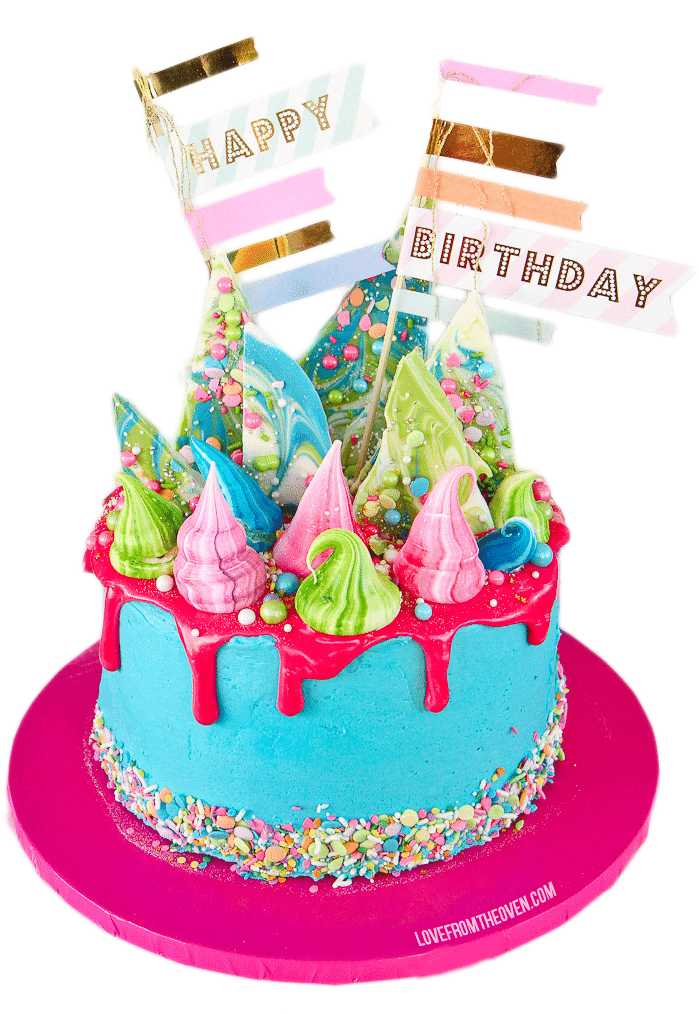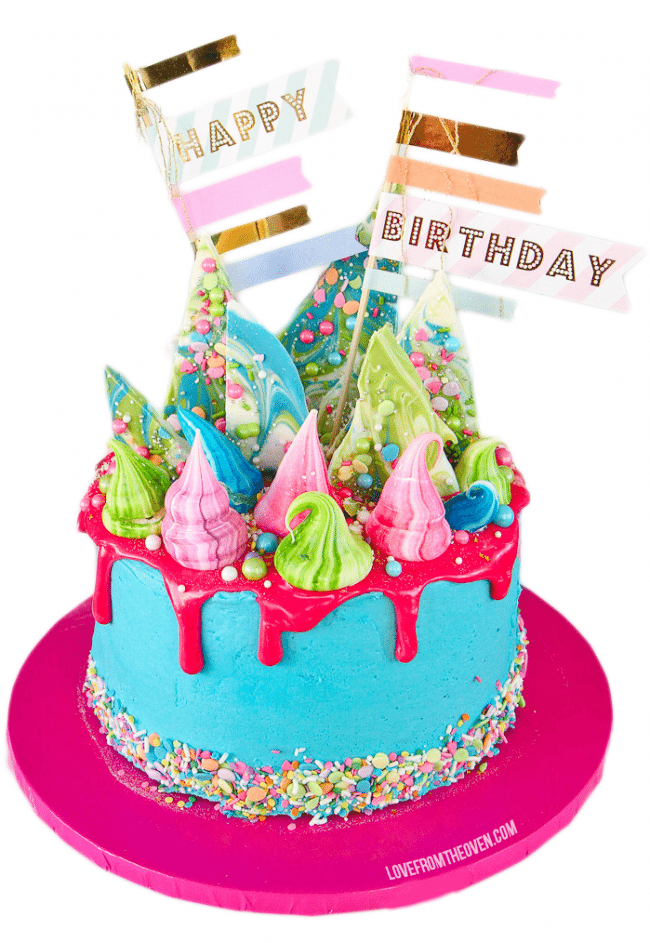 This cake was so over the top and so FUN! While it looks like a lot of work, and well, it kind of was, the thing is you don't have to be a cake decorator to do this. Cake decorating is not my thing, I'm not good at the perfect details thing. That's probably why I love this style so much, it's whimsical and wild and nothing is perfect or symmetric or matching. That's totally my style.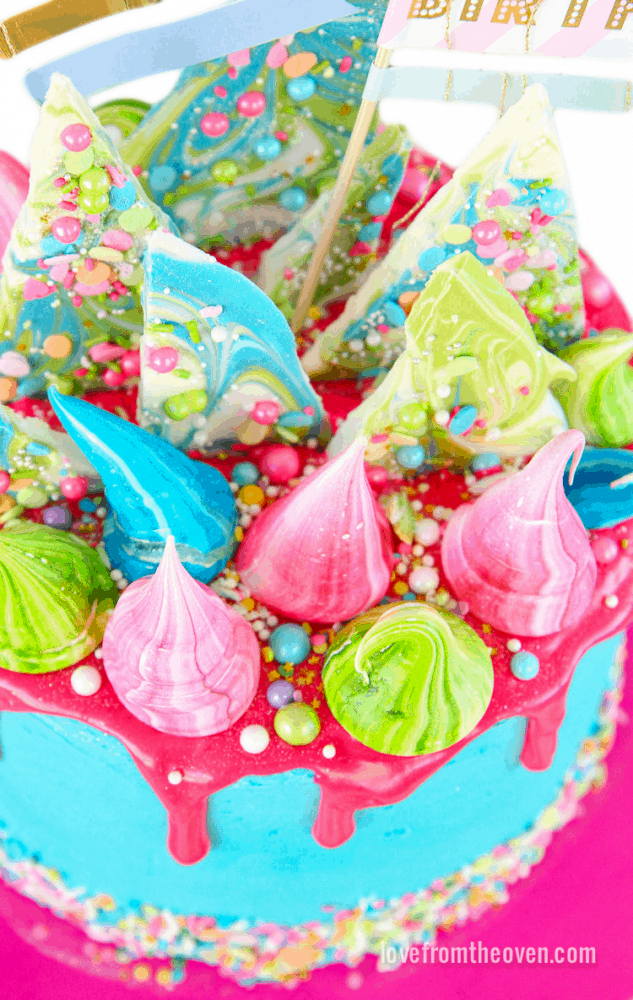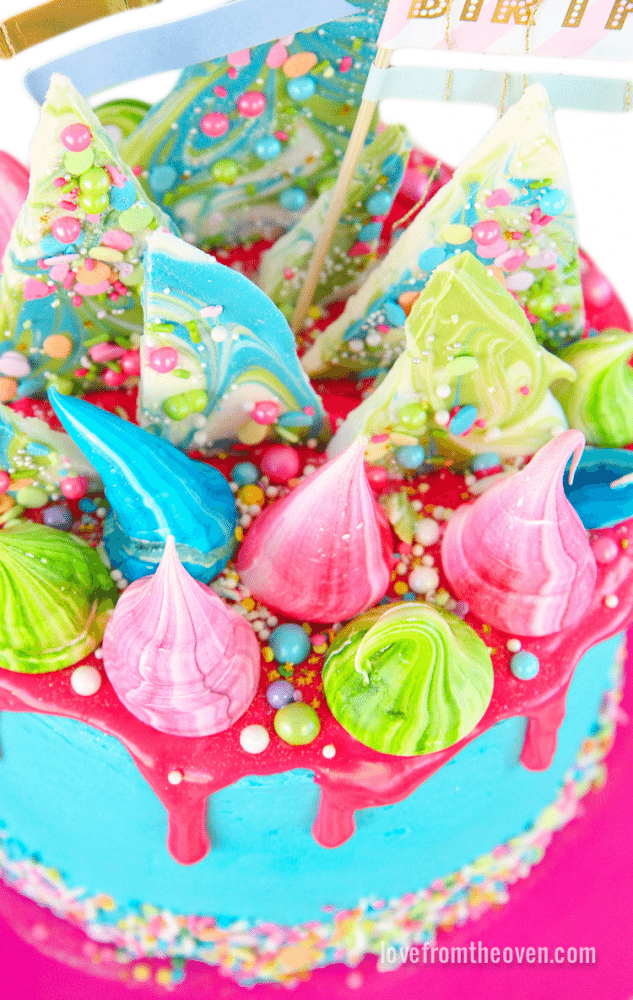 I forgot how much I loved that cake!
And since that was so much fun I made some not quite so crazy chocolate peanut butter bark and put it on a cake for a friend. This was kept a bit more simple as it needed to be gluten free, so I held back on all the sprinkles to be safe. That's not easy though, I do love my sprinkles.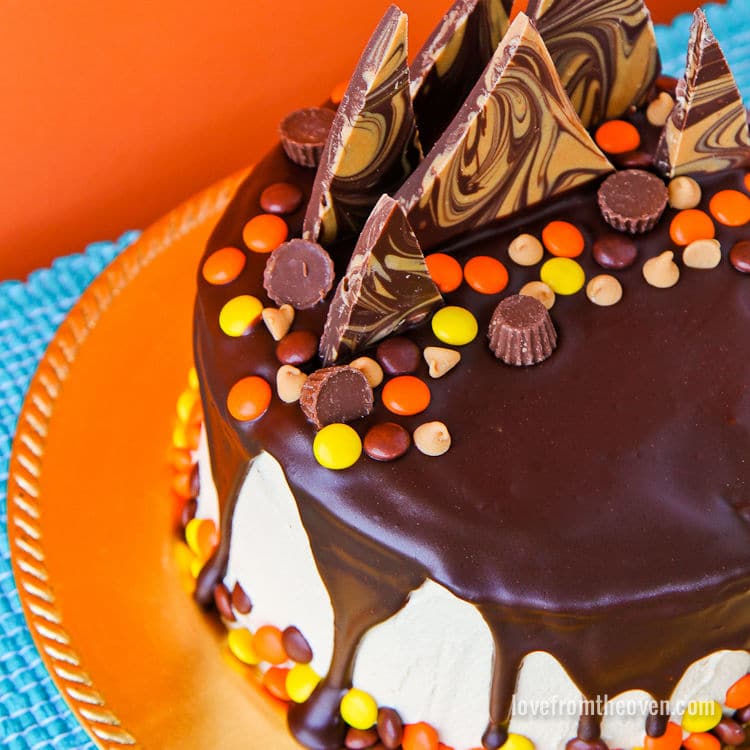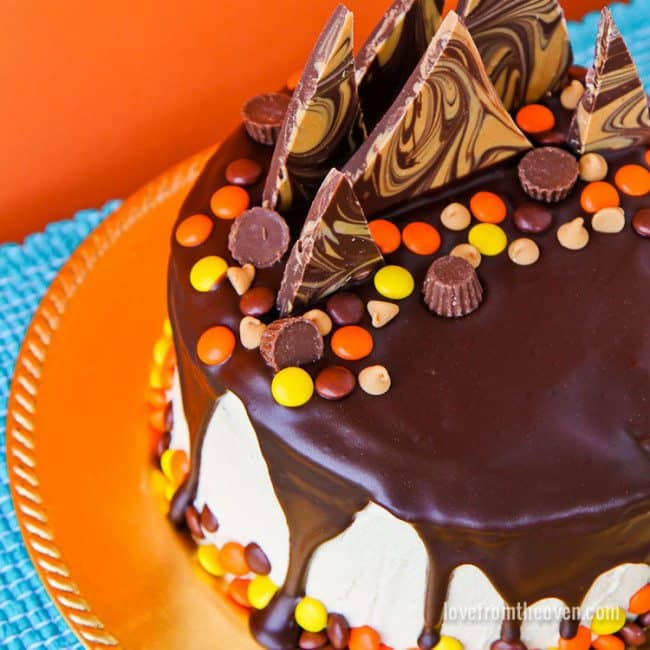 And then there was Candy Corn Bark for Halloween. Next year I want to try a version with orange, purple and green, I think that would be fun.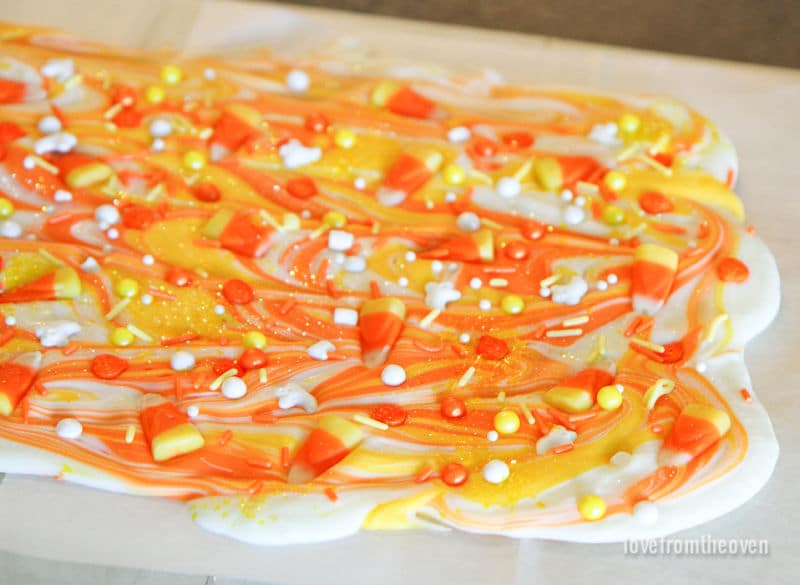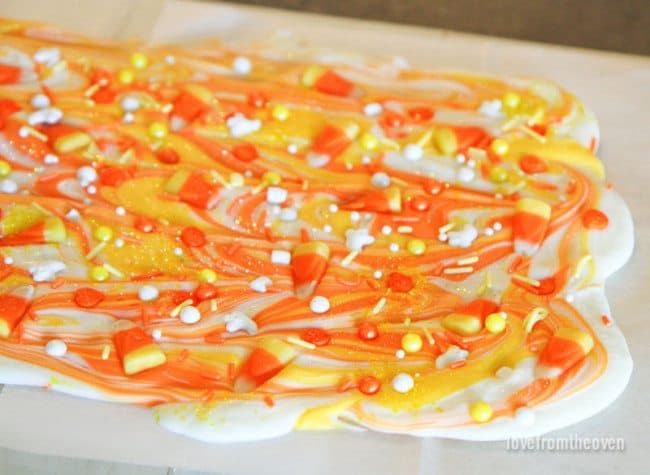 Now I'm kind of thinking I might need to make another batch of this pretty easy peppermint bark and put it on top of a chocolate cake. That seems kind of necessary actually. I swear I could make a version of this bark for every holiday or event. Red and pink for Valentine's Day. Light blue and purple for a Frozen theme. Multiple shades of green for St. Patrick's Day. You get the idea. The hardest part about it is just picking out your sprinkles, candies and colors. You really can't mess it up.
Pretty Easy Peppermint Bark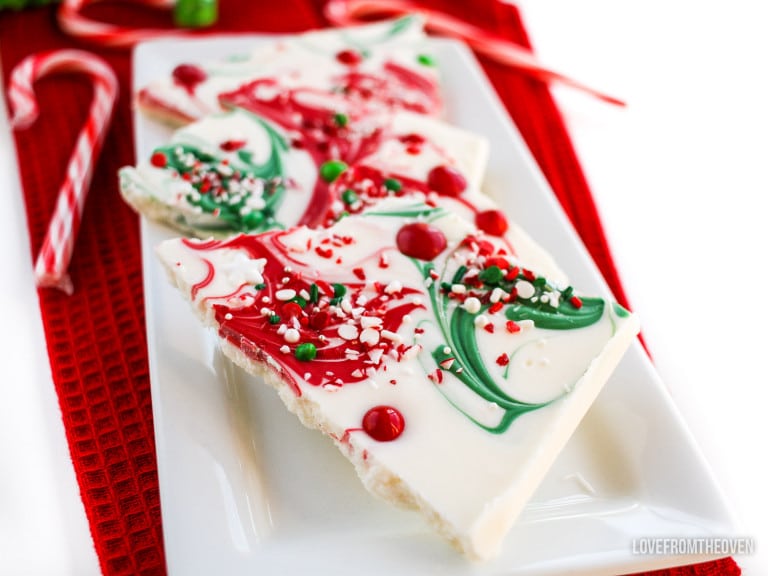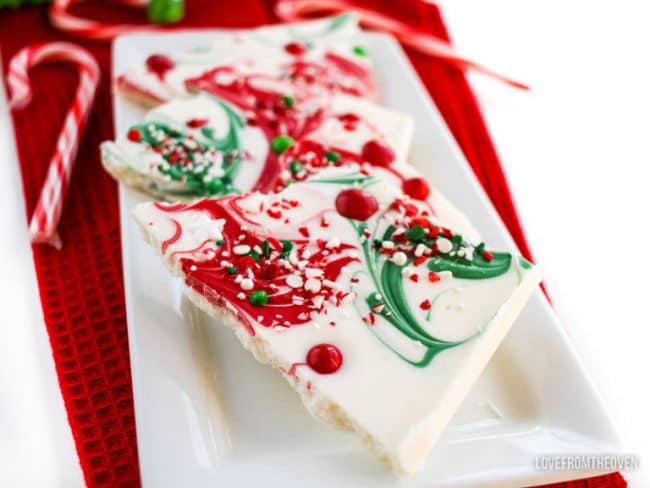 Okay, I've said enough, let's make some Peppermint Bark!
Pretty Peppermint Bark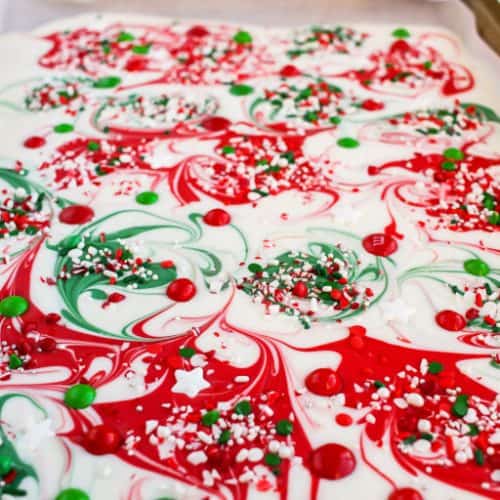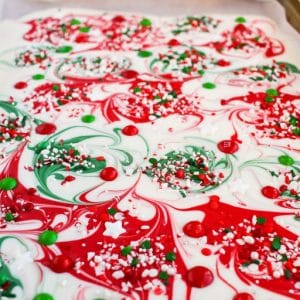 Ingredients
1 16

oz

Package Vanilla Candiquik

or Vanilla Wilton Melts or almond bark

2

tsps

to 4 pure peppermint extract

depending on how strong you like your peppermint

6

oz

Wilton Candy Melts Red

6

oz

Wilton Candy Melts Green
Instructions
To make your peppermint bark, you will start by melting your Candiquik, vanilla candy coating or almond bark according to the directions on the package. Three different colors of candy coating works well, but you could use two colors or go for four colors, this is more of an idea than a specific recipe. You can add one teaspoon of peppermint flavor to each color after melting, or simply add 2-4 teaspoons of peppermint extract to the vanilla.

The real fun of this candy bark comes from the swirling of your different colored candy melts together, and sprinkling it with a variety of seasonal sprinkles and candies. The sky is the limit as to what you use for your toppings, so have fun with it!

Once everything is ready, line a baking sheet with parchment paper. Prepare your candy melts or almond bark according to package directions.

Start with your vanilla and place spoonfuls of candy coating onto your parchment paper. It doesn't have to be perfect; you just want to get your white spaced out around the pan. After that, drop spoonfuls of your colored candy coatings around the pan, on and around the vanilla candy coating. Refer to the video to see how I did mine.

Once all of your melted candy coating is on the baking sheet, you will use a stick or a knife to gently swirl your colors together. Do not over-mix or stir, as that will blend the colors (though if that's the look you want, go for it!). Just gently use a stick or knife and swirl.

Now it's time for sprinkles! This is the fun part, and there are no rules; sprinkle on as little or as much as you want! You do however need to work fairly quickly, before the candy coating sets up, in order to have all of your toppings stick to the bark. For toppings I used a variety of red and green sprinkles, M&M'S Candies, Sixlets and crushed candy canes.

Chill in the fridge for at least two hours, then break by hand or slice into pieces. Serve and enjoy. It can be stored in the fridge or at room temperature as long as that temperature is on the cooler side.