Liege Waffles are a delightful treat that is guaranteed to bring a smile to your face. These incredible liege style waffles have a light and crispy crust, with an inside so soft and chewy, you'll think you're dreaming. Whether you're enjoying them for breakfast, brunch, or even as a sweet dessert, they are sure to become a fan favorite in your home.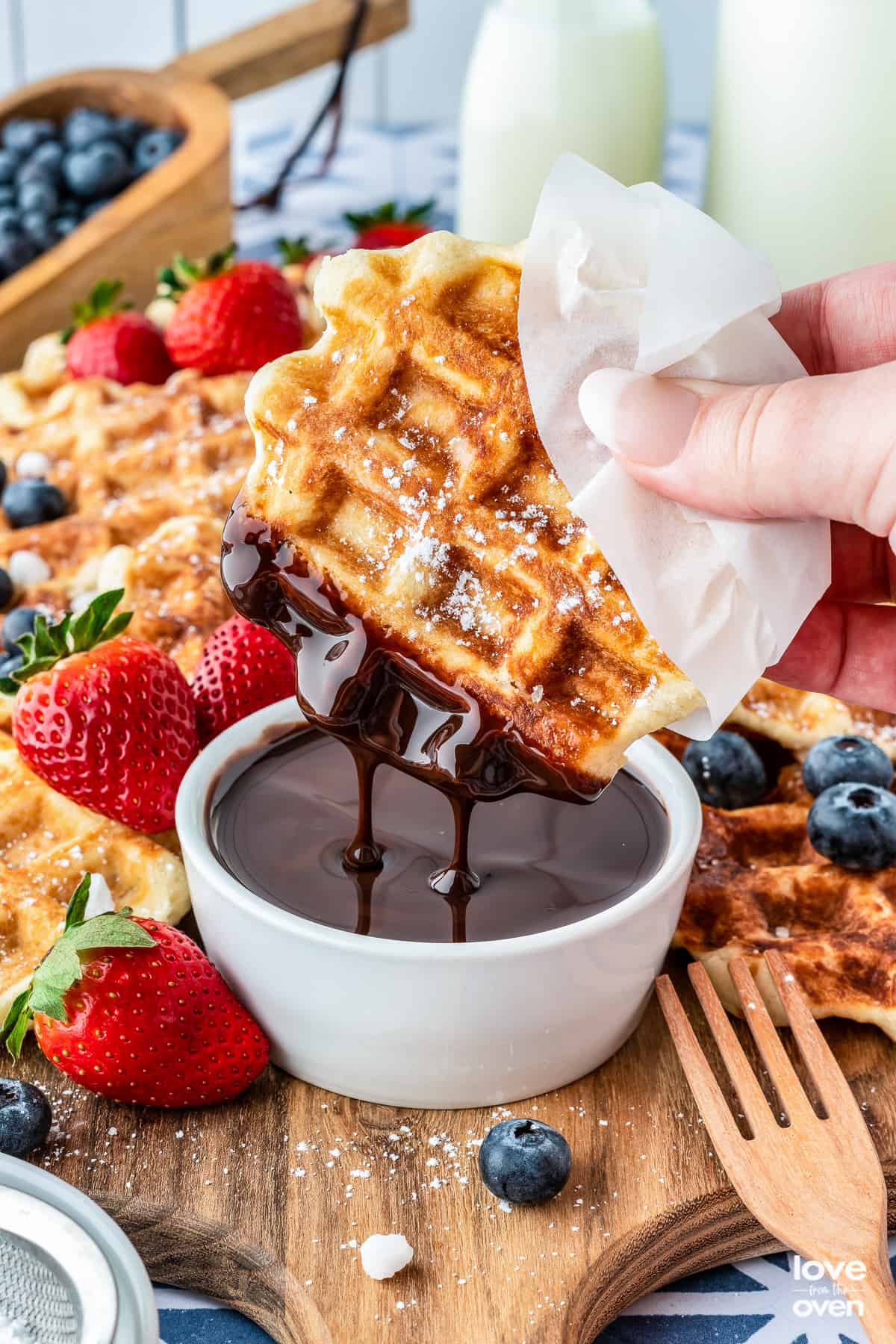 Reasons You'll Love This Recipe
Fancy Waffles – Liege waffles are all the rage! From food trucks to restaurants, if you have yet to try Liege waffles, you are in for a treat! 
Simple To Make – They may sound intimidating, but they are actually fairly easy to make. Most of the time is spent waiting for the dough to rise.
Thick and Fluffy – These waffles are made with a thick, rich dough that will just melt in your mouth.
Toppings People – This recipe is great because the waffle batter is fairly plain and sweet which means you can top it with anything your heart desires. Fruit, syrups, sugars, whipped cream, etc.! 
Dessert for Breakfast – Or breakfast for dessert! You can make these waffles in the morning, or as an after dinner treat. You can even serve them with chocolate fondue!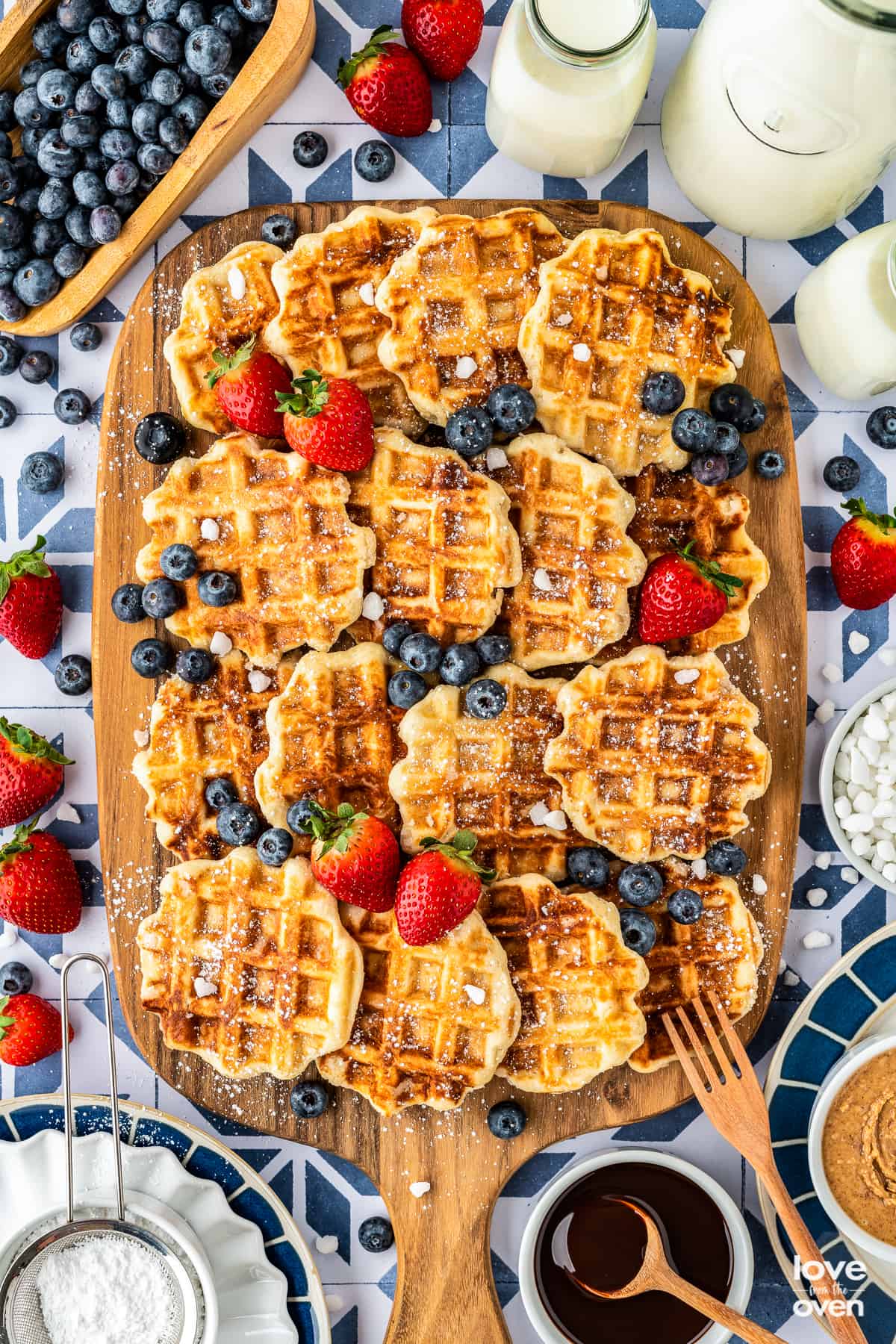 We first tried Liege Waffles from a food truck called Waffle Love. Both Waffle Love and Waffle Crush have become wildly popular food trucks due to their delicious waffles. Since the food truck isn't always nearby, I had to create this amazing treat at home.
These Liege waffles not only taste amazing, but they give you a fancy answer when someone asks "what's for breakfast?" Your friends and family will rave about kitchen skills when these are on the menu. They are best enjoyed warm, straight off the waffle iron, and with all the toppings you can possibly think of.
Ingredients and Substitutions
Recipe Discussion
Let's discuss how to make this Liege Waffle recipe, as well as the ingredients that are needed. Please take note that below you will find discussion, expert tips, and answers to frequently asked questions about this recipe to help you recreate it in your kitchen. If you *just* want the recipe itself, scroll down. The full printable recipe itself, with exact measurements and instructions, is found at the bottom of this page.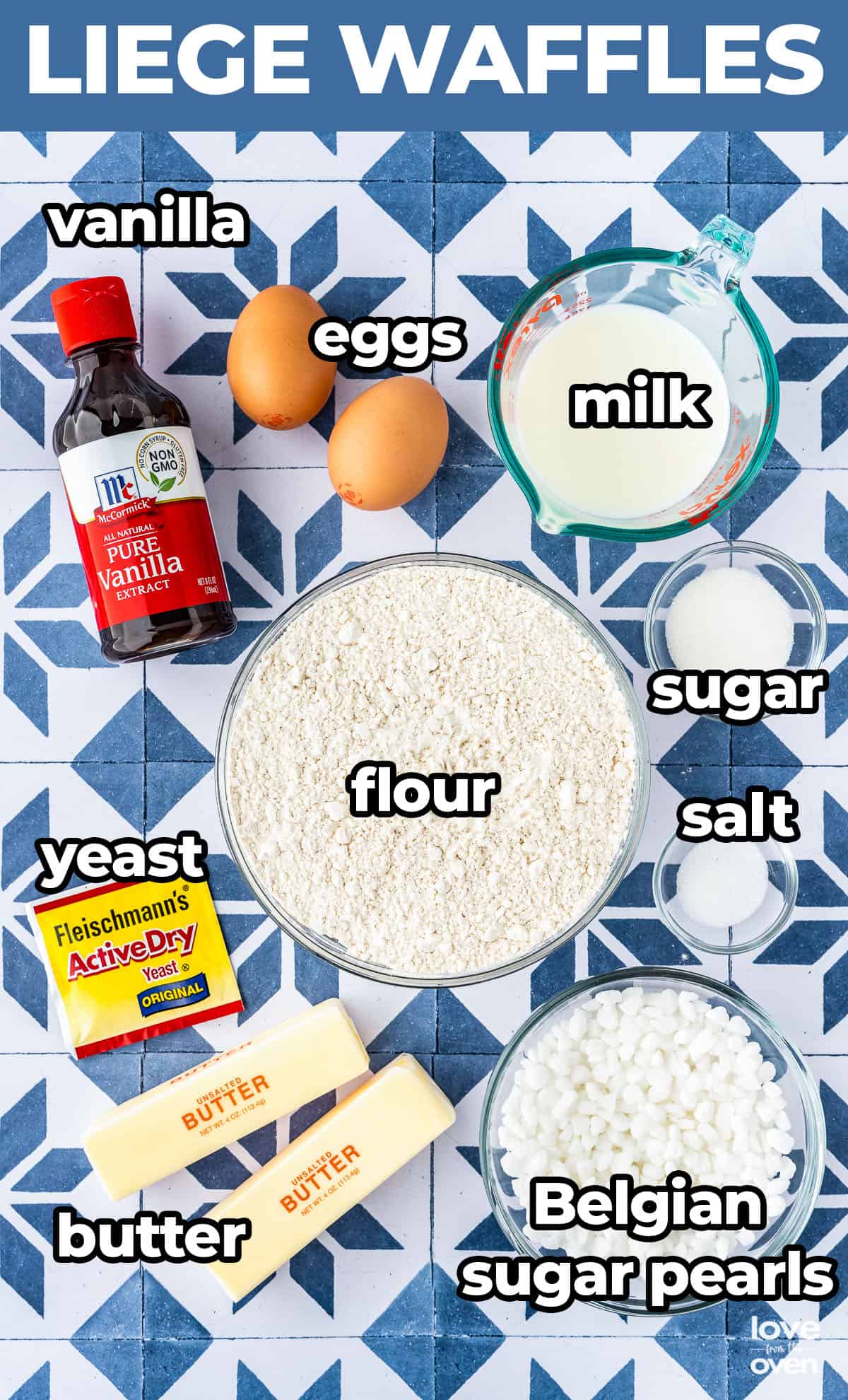 Flour – All purpose flour works fine for this recipe. 
Dry Yeast – This recipe calls for the regular active dry yeast, but you can use the rapid rise if that's all you have. Just make sure you don't skip the first step of letting the yeast activate.
Milk – You'll want to warm the milk up so it's lukewarm. Not too hot, but hot enough to activate the yeast. Ideally you want it between 105° and 110°F. Too cool and it won't activate, too hot (over 120) and it will start to kill the yeast. I highly recommend a thermometer when working with yeast.
Butter – Make sure the butter is super soft! You don't want melted butter, just soft enough that it doesn't hold much of a shape. 
Sugar – You'll need a little bit of white granulated sugar.
Eggs – Take the eggs out of the fridge 30 minutes to an hour before use so that they are at room temperature.
Belgian Pearl Sugar – This is what differentiates liege waffles from the rest. These are large chunks of compressed sugar. You can find pearl sugar at Walmart, or online on Amazon. You can also make your own sugar pearls. This is the one I usually buy.
Toppings – These are optional, but some great toppings for liege waffles include any type of fruit, caramel sauce or chocolate sauce, whipped cream, powdered sugar, ice cream, Nutella, maple syrup, chopped nuts, cream cheese frosting, and so much more!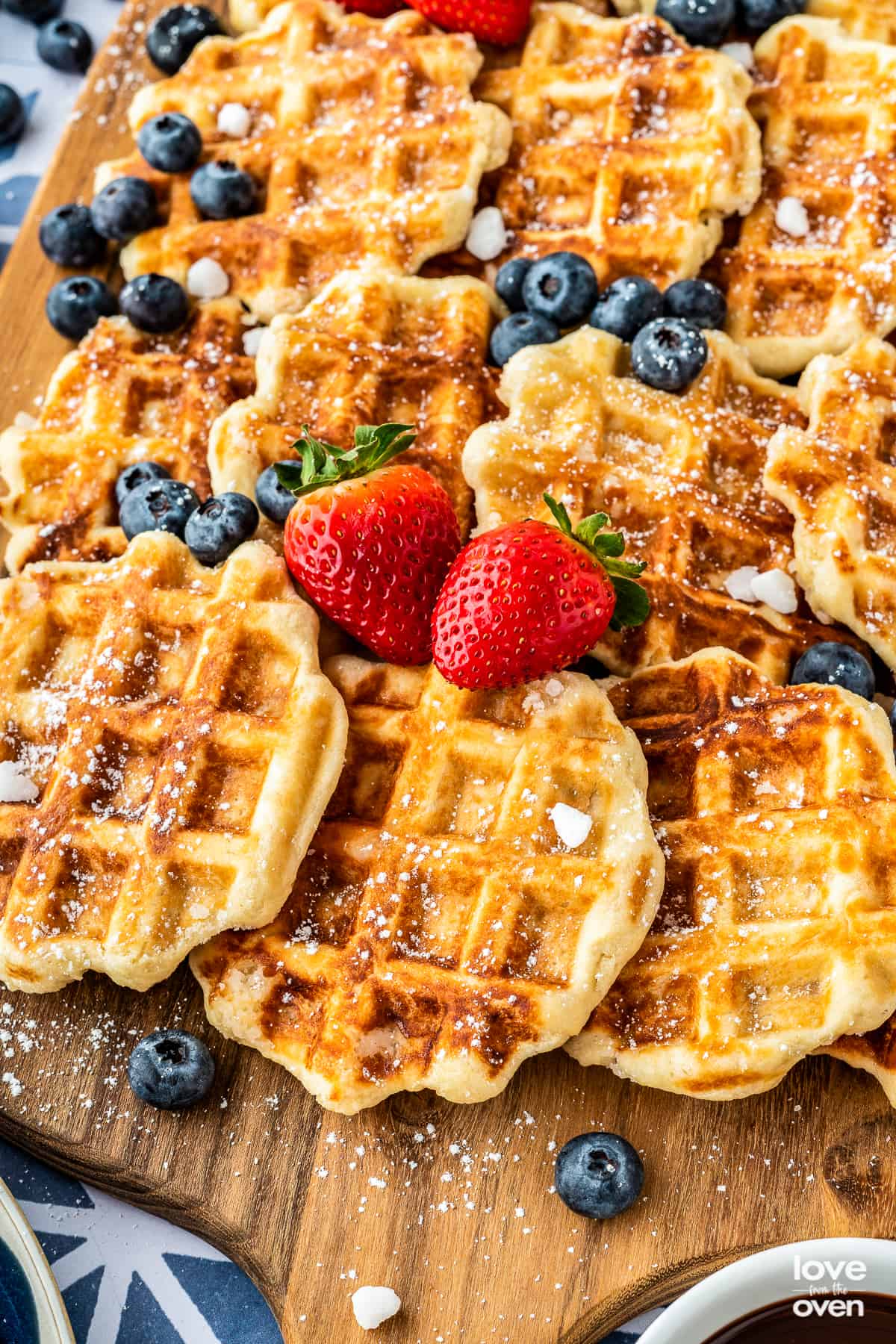 How To Make Liege Waffles
Start by warming up the milk in a small bowl. Sprinkle the yeast and granulated sugar into the milk.
Stir around a few times and let it sit off to the side for 15 minutes.
To the activated yeast mixture, add the softened butter, eggs, and vanilla. Stir that together thoroughly until combined.
In a separate, large sized mixing bowl, add flour and salt. Whisk that together until combined.
Pour your wet ingredients into the bowl with the dry ingredients. Combine the two together until you form a dough. The dough should be soft, and try your best not to over mix.
Once you form a dough, let it sit in the bowl, and cover it for 30 minutes so it can rise. Store it in a warm place indoors with no draft.
After 30 minutes, check on the dough. It should have doubled in size. If it hasn't, wait a few more minutes until it has.
When the dough is ready, add the sugar pearls to the dough and knead it together using your hands or a spatula.
Preheat a waffle iron of your choice, and prepare it according to the manufacturer's instructions. Split the waffle dough into 10 even balls.
Place the dough balls into the center of your heated waffle iron. Close the iron and let the waffles cook for about 2-3 minutes or longer depending on the heat of your waffle iron.
Remove the cooked waffles from the iron using a utensil. Be VERY careful not to remove the hot waffles with your bare hands. The pearl sugar, when it melts, becomes extremely hot and can burn you. Let the waffles cool for a few minutes before topping with your favorite ingredients. Serve and enjoy!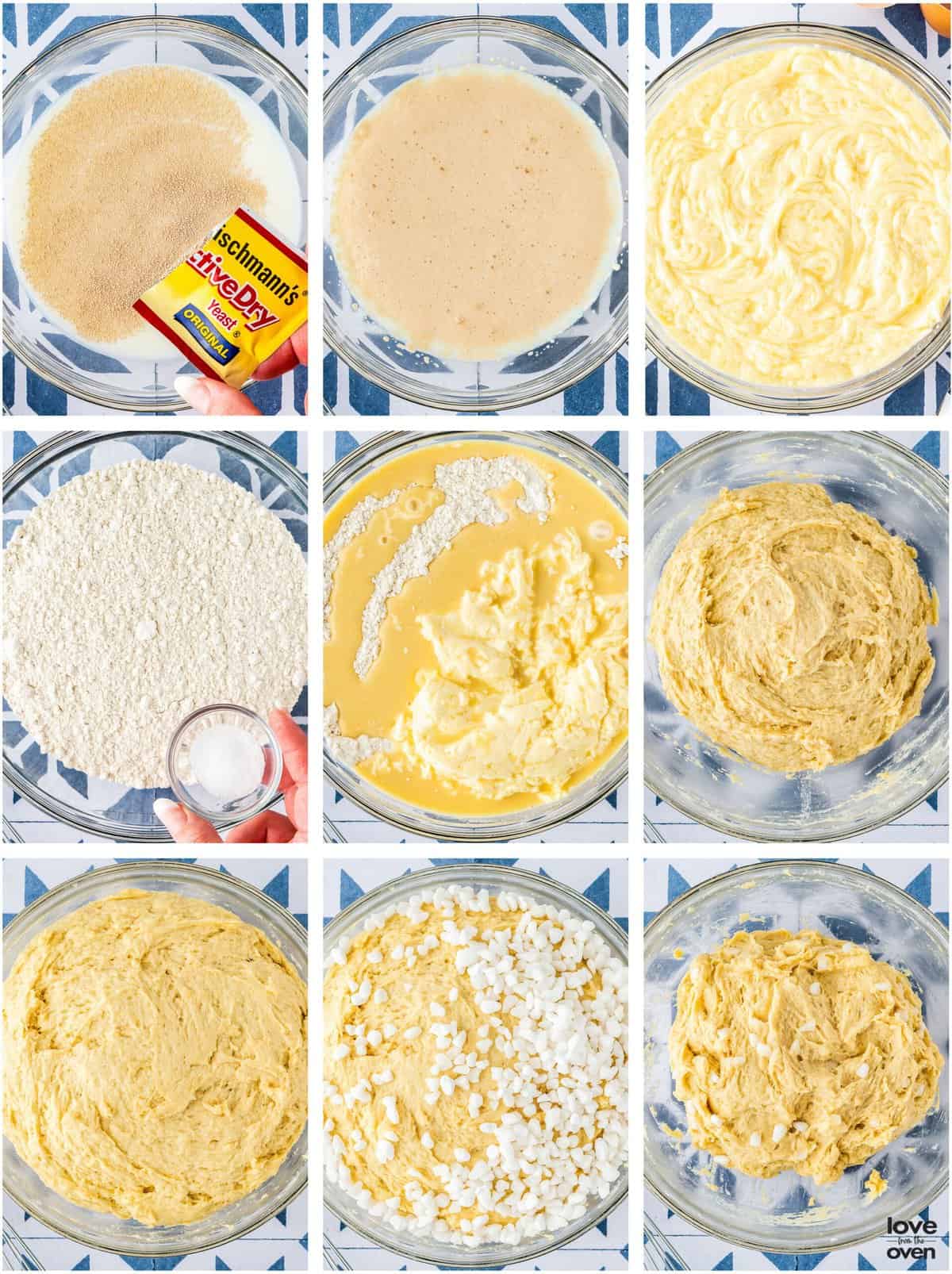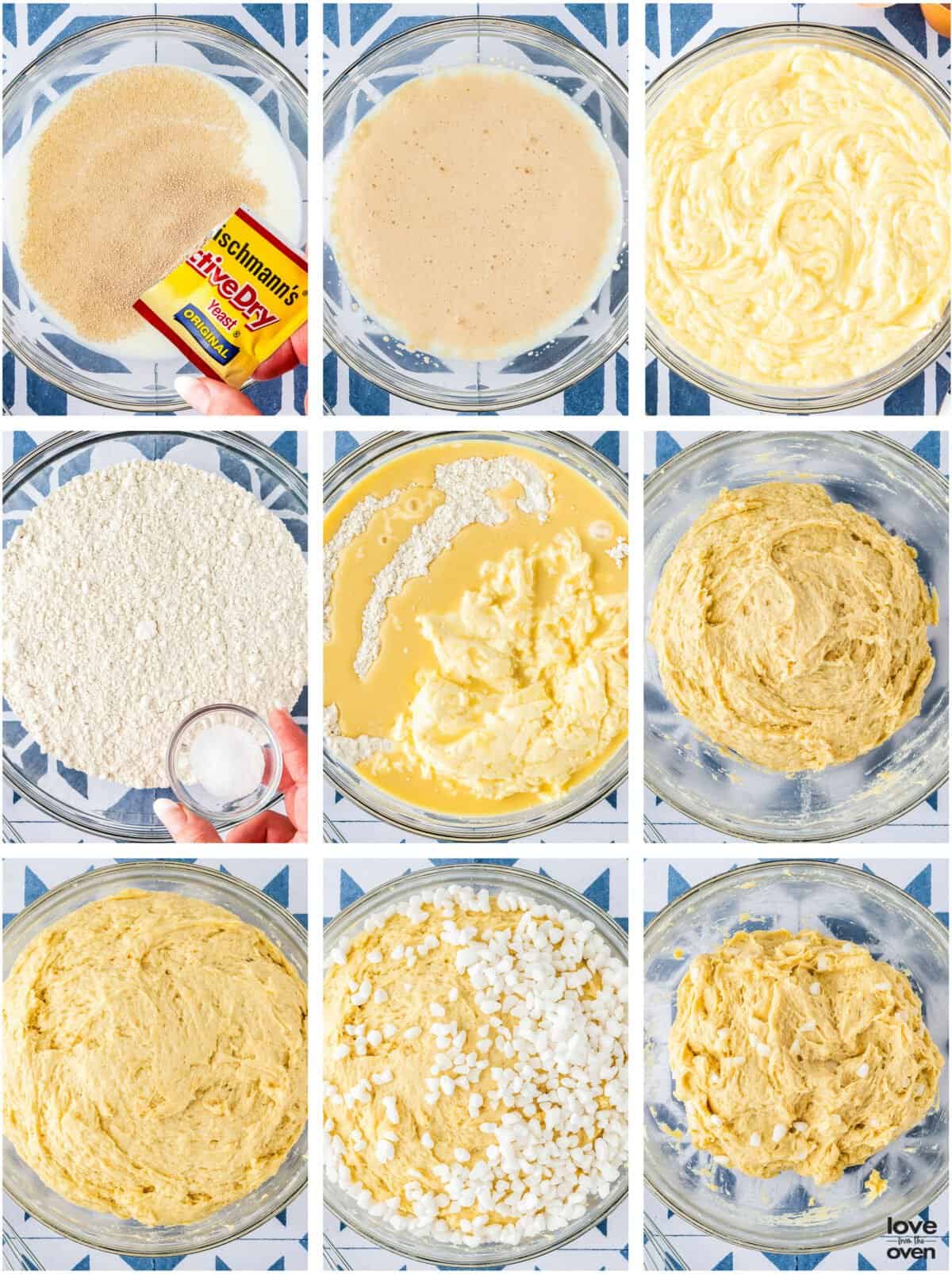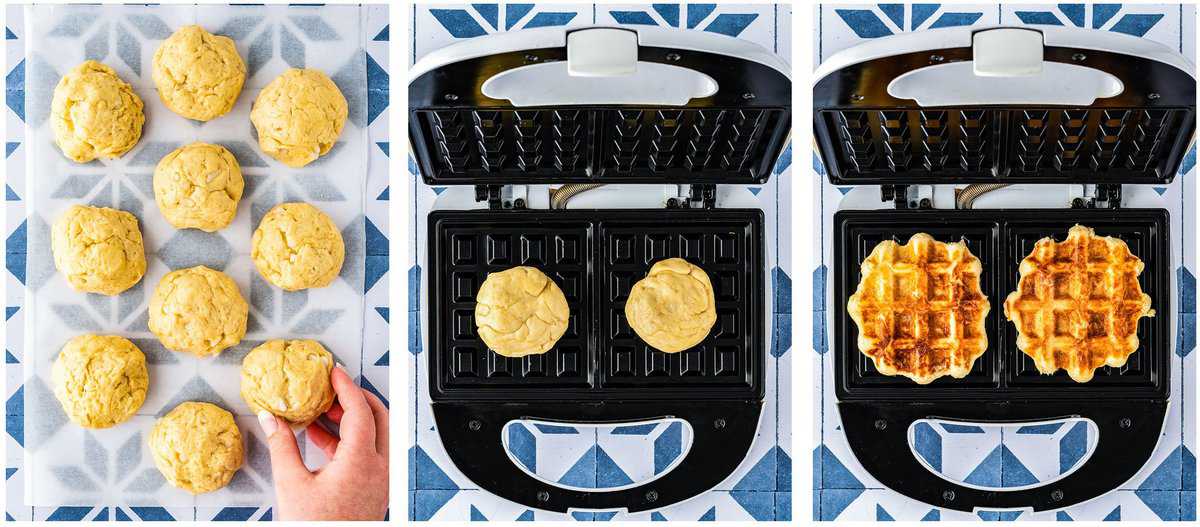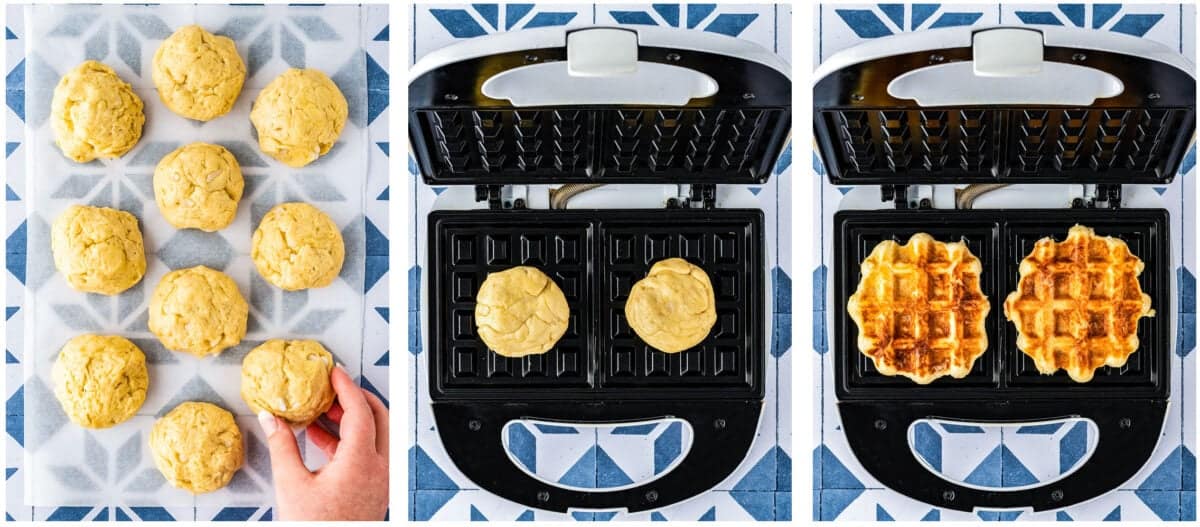 Tips and Advice
Storage – Store the leftover waffles in the fridge for about 3-4 days after cooking. I typically store mine in a Ziplock freezer bag. You can also freeze them for up to 3 months. If you'd like to store the dough, you can do so for up to 2-3 days in the fridge. I don't recommend storing frozen liege waffle dough due to the yeast.
Equipment – For this recipe you'll need a waffle iron, a few mixing bowls, a whisk, and something to stir with. I highly recommend a simple thermometer whenever cooking or baking with yeast. You will also need Pearl Sugar, which is an ingredient that you aren't likely to have on hand.
Enjoy Them Warm! – The pearl sugar will harden when they cool down, and will be crunchy when you take a bite. I highly recommend serving and enjoying them warm.
Upgraded Waffles
Want to really impress your friends and family? You can add all sorts of things to the dough to make some lovely waffles. Try adding a small piece of chocolate to the center of the dough balls, so melted chocolate comes out after cooking. You can also add spices like cinnamon and nutmeg to the flour mixture for an extra kick of flavor.
Recipe FAQs
How do you keep liege waffles warm?
These are best served hot of the waffle iron, but if you're making these for a party or setting them out for brunch, you can store them in a low heated oven for the time being (200°F) or keep them covered in a heat retaining dish.
How do you reheat liege waffles?
You can either pop them in the microwave or reheat them in the oven at a low temperature. (Anything under 200°F). They also reheat well in an air fryer.
What do you top liege waffles with?
Toppings for liege waffles include any type of fruit, caramel or chocolate sauce, whipped cream, powdered sugar, ice cream, Nutella, maple syrup, chopped nuts, cream cheese frosting, and so much more!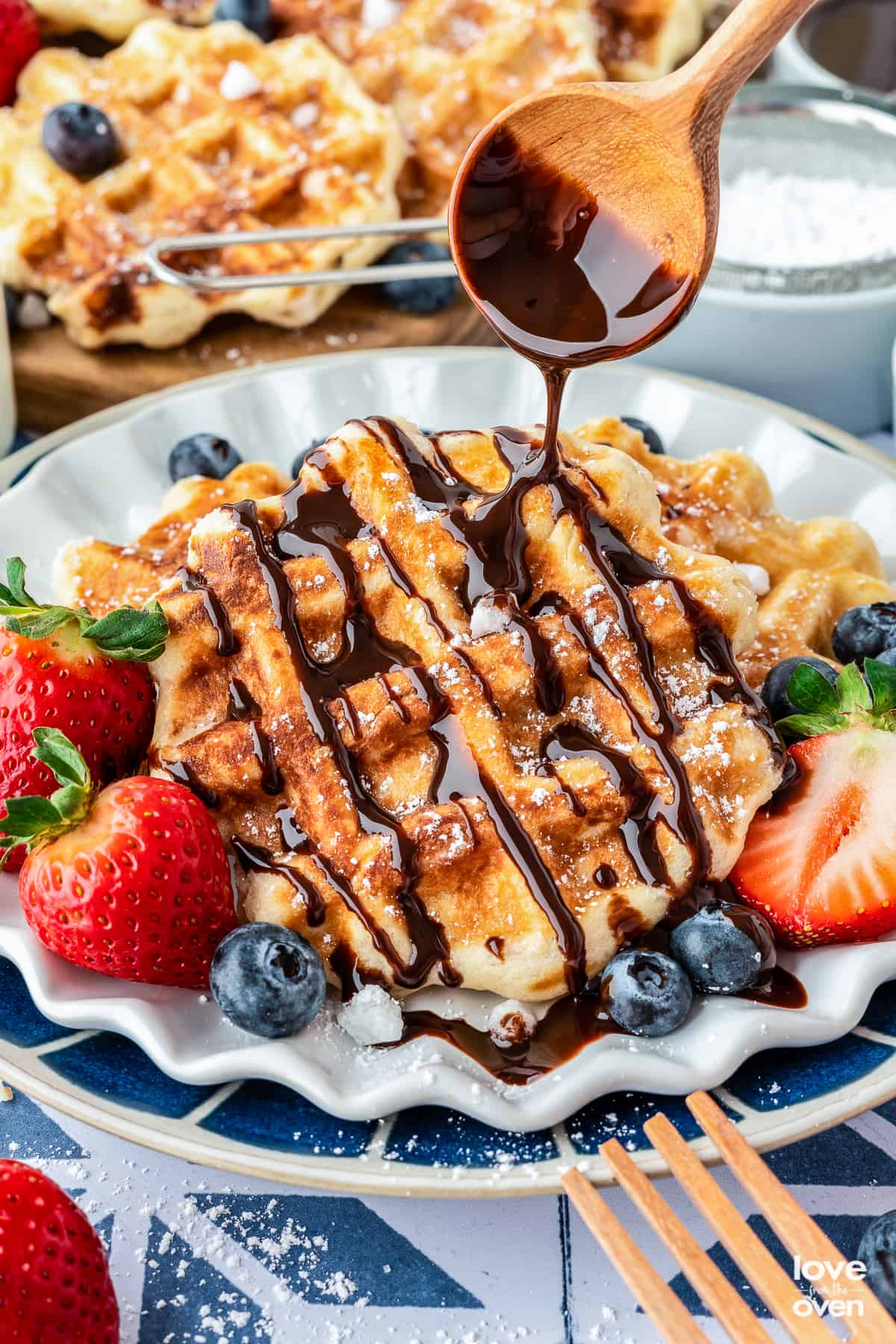 What To Serve With Liege Waffles
These liege waffles taste amazing with any toppings, but if you want to try something fancy, a strawberry sauce, lemon curd, or cinnamon whipped cream would taste amazing on top of these delightful treats.
if you're the type of person who has to have something savory with your sweet breakfast, try out a few of these savory breakfast side dishes you can pair them with.
More Recipes To Try
Breakfast Recipes You'll Love!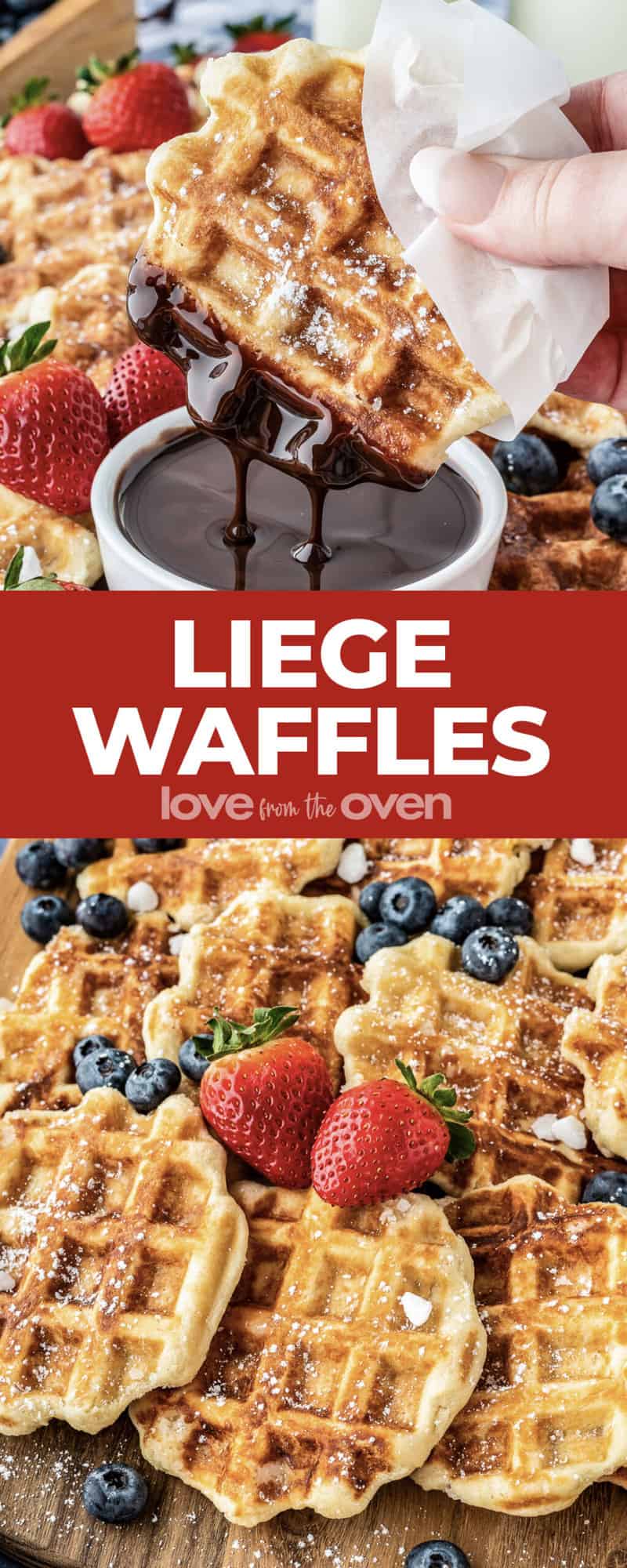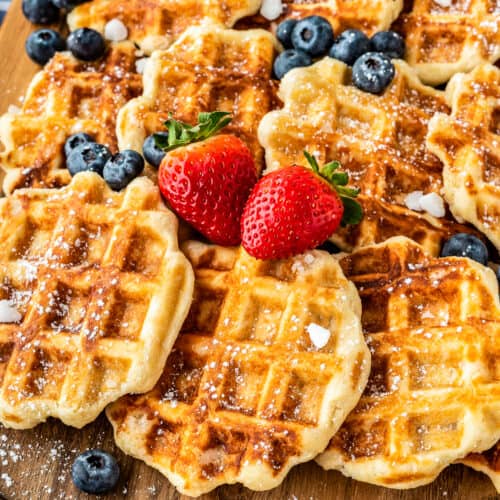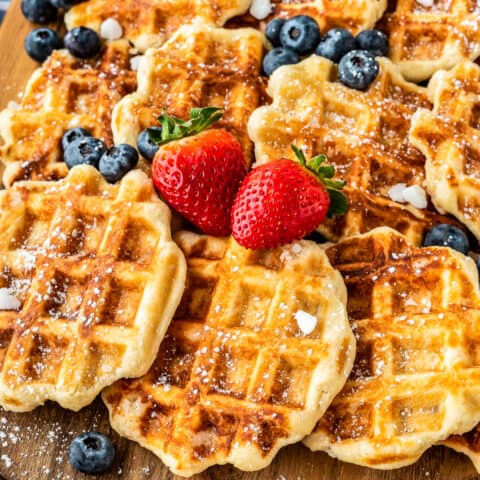 Liege Waffles
These incredible liege style waffles have a light and crispy crust, with an inside so soft and chewy, you'll think you're dreaming!
Ingredients
3 1/2

cups

flour

1

packet active dry yeast

this is equal to 2 1/4 teaspoons

3/4

cup

lukewarm milk

Ideally you want it between 105° and 110°F. Too cool and it won't activate, too hot (over 120) and it will start to kill the yeast.

1

cup

softened butter

not quite melted, but very soft

1

tablespoon

sugar

2

eggs

room temperature

1/2

teaspoon

salt

1

teaspoon

vanilla

8

ounces

Belgian Pearl Sugar
Instructions
Sprinkle yeast and sugar over warm milk in a small bowl. Give a quick stir, then let stand for 15 minutes.

Add eggs, softened butter and vanilla to the yeast, sugar and milk mixture, and stir until well combined.

In a separate bowl, combine flour and salt. Pour the liquid mixture into the flour and salt mixture and stir well until just combined and a soft dough forms.

Once dough comes together, cover bowl and place in a warm draft free place until dough has doubled in volume, about 30 minutes. Once dough has risen, gently stir or knead in Belgian Sugar Pearls.

Preheat and prepare waffle iron according to manufacturer's directions.

Divide dough up into approximately 10 equal size pieces, shaped into round or oval shapes. Cook waffles on a waffle iron until lightly browned and crispy, about 2-3 minutes depending on waffle iron. Serve hot.
Notes
Be careful when touching warm waffles, the sugar starts to melt with heat and becomes very hot. Use tongs or utensils to remove waffles from waffle iron and make sure to allow to cool for a few minutes prior to serving. Enjoy!
Nutrition
Calories:
436
kcal
|
Carbohydrates:
60
g
|
Protein:
6
g
|
Fat:
20
g
|
Saturated Fat:
12
g
|
Polyunsaturated Fat:
1
g
|
Monounsaturated Fat:
5
g
|
Trans Fat:
1
g
|
Cholesterol:
82
mg
|
Sodium:
276
mg
|
Potassium:
65
mg
|
Fiber:
1
g
|
Sugar:
27
g
|
Vitamin A:
615
IU
|
Calcium:
17
mg
|
Iron:
2
mg
Disclaimer
Nutrition information is estimated as a courtesy. If using for medical purposes, please verify information using your own nutritional calculator. Percent Daily Values are based on a 2000 calorie diet.
Photos and text below from original post in 2014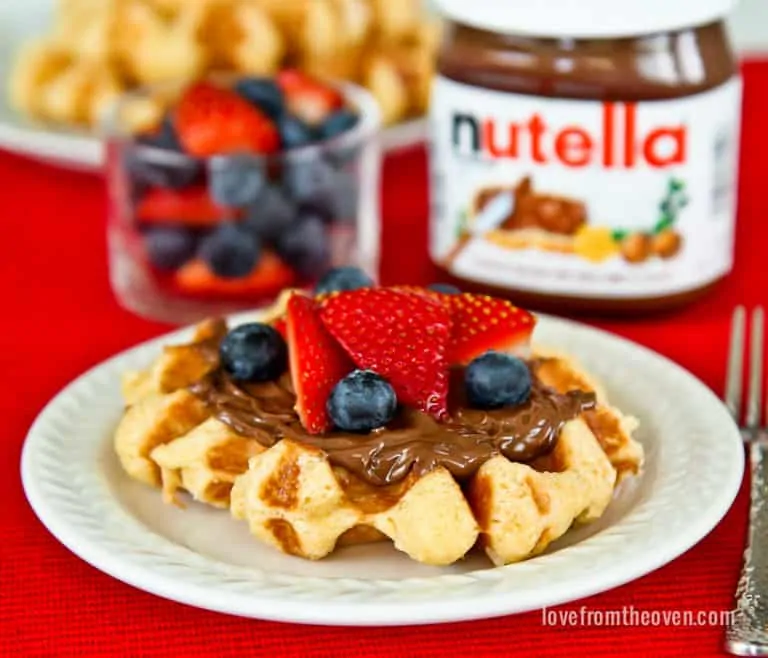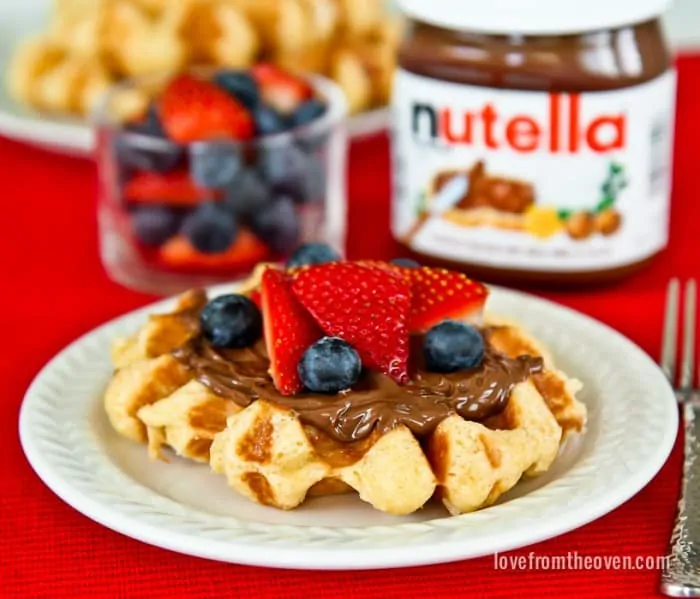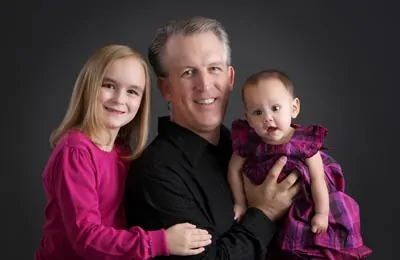 With Father's Day coming up, it is the perfect time to spread some happiness in our home and make something special for my husband, who is an amazing dad to our two daughters. While I could have made anything for my husband, I really wanted to make waffles – for a reason. Recently a waffle food truck was up in our neighborhood, and with our youngest daughter already asleep for the night, there was no way we could all go as a family. As my husband often does, he happily told me to take our oldest daughter and go enjoy some waffles, he'd stay home. He so often does things like this, making sacrifices big and small, for our daughters and myself. He is always quick to make sure that all the girls in the house are happy and taken care of, and never thinks twice if that means more work on his part or even missing out on things.