Pink Velvet Cupcakes are the bright, rosy colored sweet treats you never knew you needed. These oh-so- tempting, velvety soft cupcakes are topped with a dollop of whipped buttercream frosting and packed with a superb sprinkle surprise. In less than 30 minutes, you'll be celebrating Valentine's Day the right way; eating these heavenly cupcakes!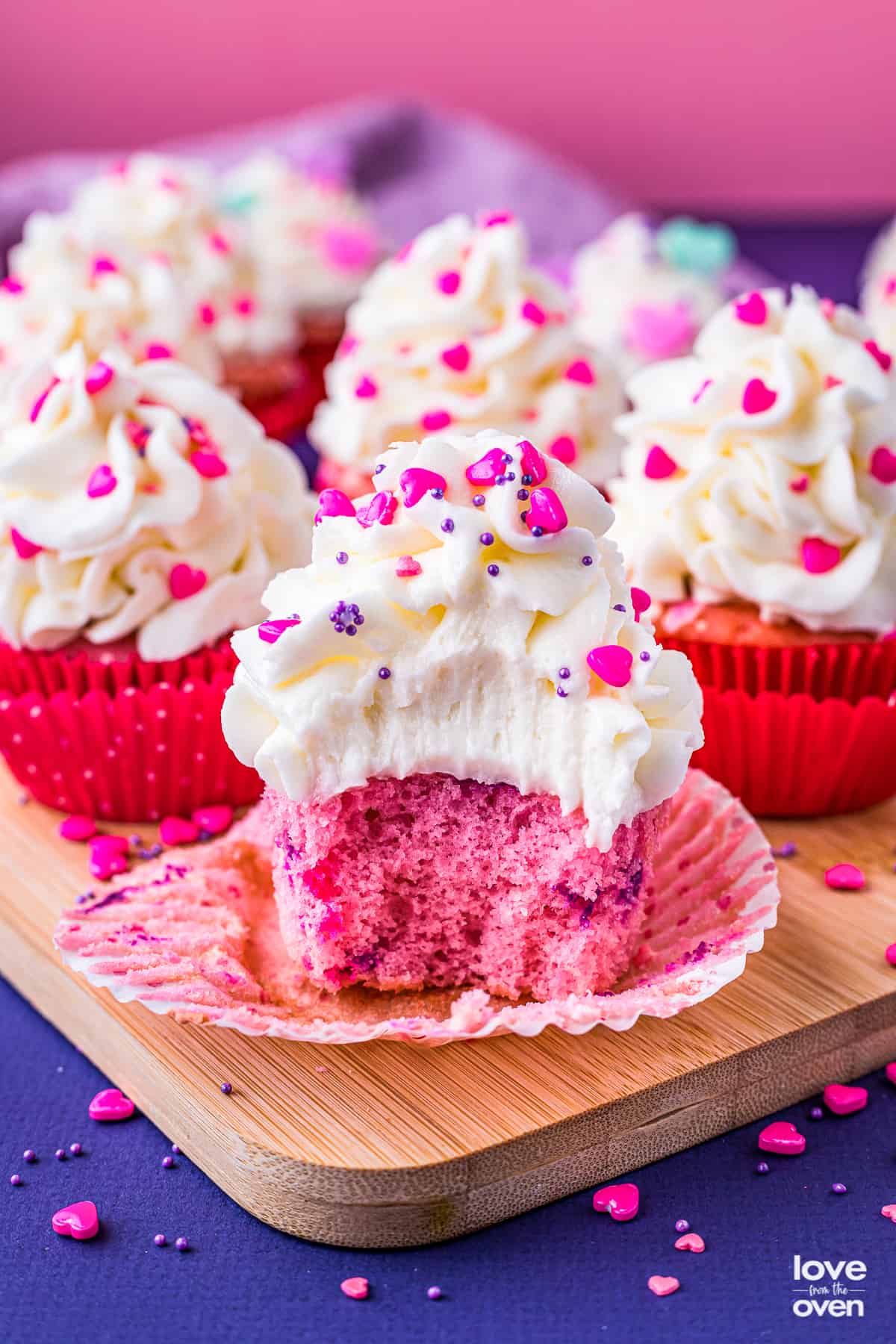 Reasons You'll Love This Recipe
Pretty in Pink – In search for the perfect V-Day dessert? Well, nothing screams "Be my Valentine" like a bright pink cupcake with sprinkles!
Made With Love – And cake mix! This recipe uses a box mix for the cake batter, yet they still taste like bakery quality cupcakes.
From Scratch Option – If you don't like using cake mix, scroll to the "Recipe Tips and Advice" section to see how to make them from scratch.
Kids Love These – No seriously, they LOVE these. Not only will your kiddos have a blast shoving these cupcakes into their mouths, they are super simple to make and decorate.
Easy To Make – You'll only need 30 minutes of your time to whip up a batch of these!
With Love and Sprinkles – Sprinkles on top of cupcakes is one thing, but inside the batter too? Now you're talking.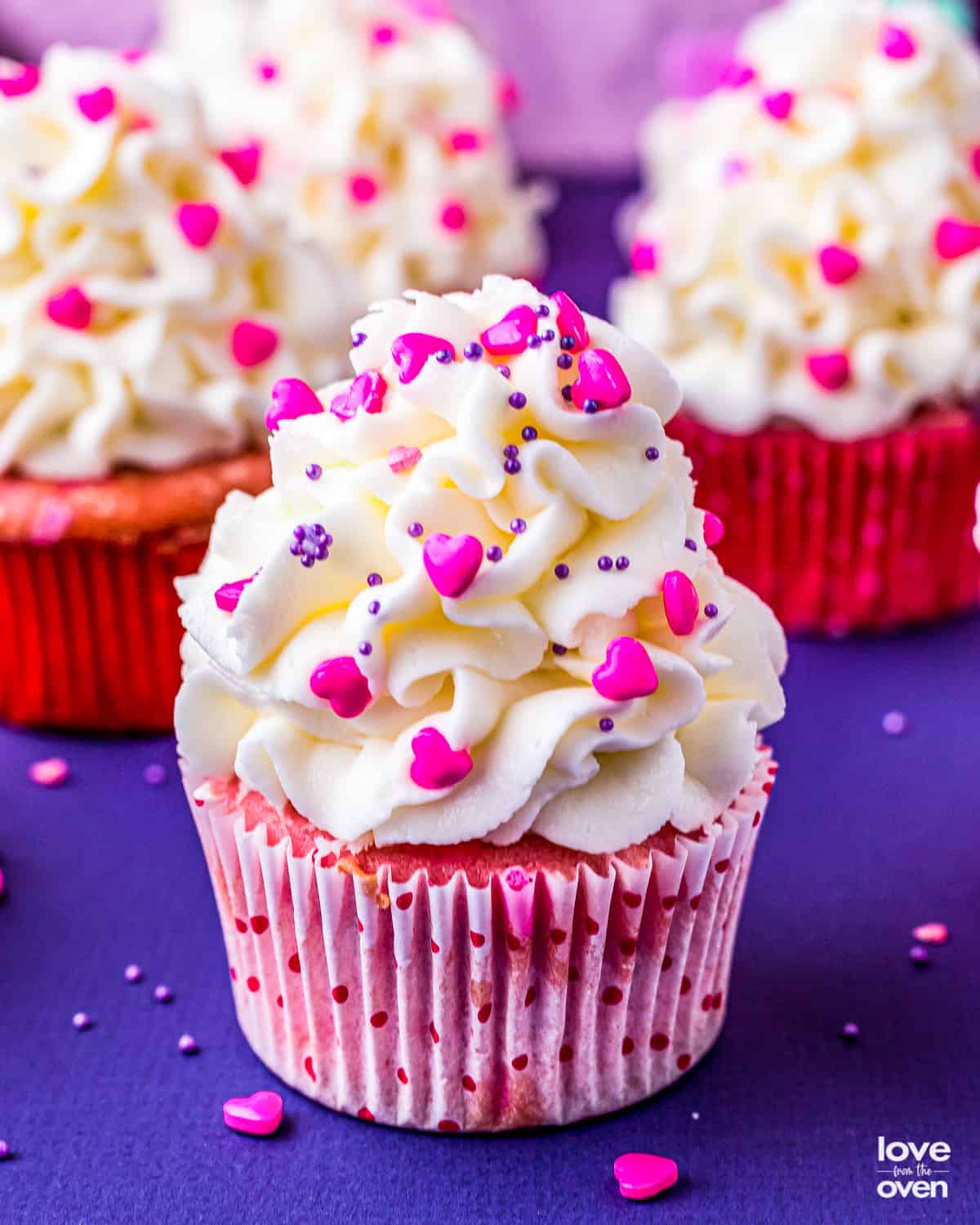 Nothing says "I love you" quite like giving someone a Valentine in the shape of a homemade Pink Velvet Funfetti Cupcake. The doctored cake mix batter tastes like it came straight from the cake shop, and the buttercream frosting is so good you could drink it. Forget Cupid, if you need someone to fall in love with you fast before February 14th, just give them these cupcakes and then they'll keep coming back for more!
Ingredients and Substitutions
Recipe Discussion
Let's discuss how to make this Pink Velvet Cupcake recipe, as well as the ingredients that are needed. Please take note that below you will find discussion, expert tips, and answers to frequently asked questions about this recipe to help you recreate it in your kitchen. If you *just* want the recipe itself, scroll down. The full printable recipe itself, with exact measurements and instructions, is found at the bottom of this page.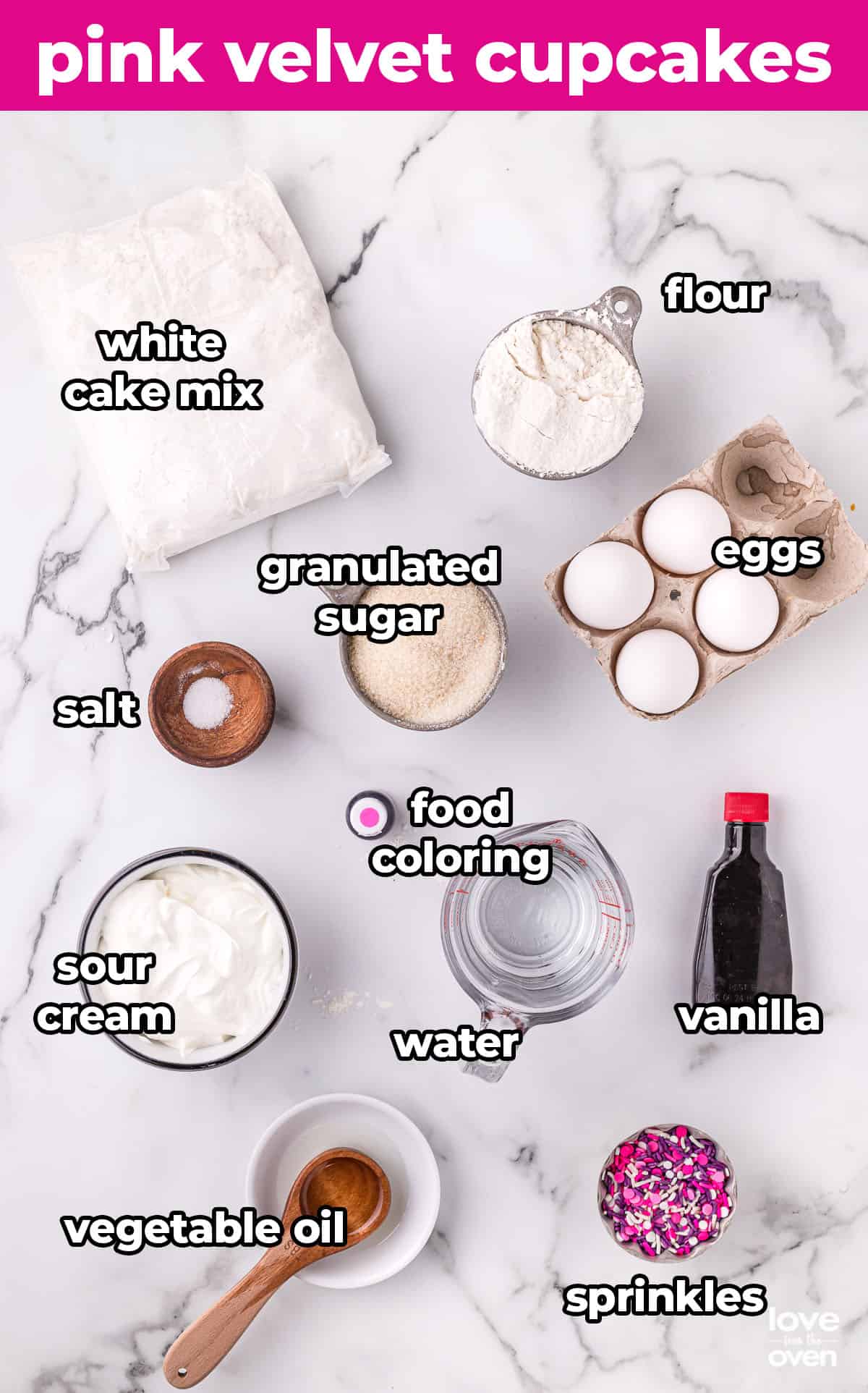 Cake Batter Ingredients
White Cake Mix – While this recipe calls for a cake mix, you won't be following the package directions. You can use whatever brand of white cake mix you like, but don't stray from white cake otherwise the pink food coloring won't show through. If you don't want to use cake mix, scroll to the "Recipe Tips and Advice" section to see how to make them from scratch.
Eggs – For this recipe you'll only need the egg whites. I don't recommend using the whole egg, he egg whites will make cupcakes nice and fluffy, and keeping the batter bright white will let you get the best pink coloring.
Flour – Since you'll be adding more wet ingredients to the batter, you'll need an extra cup of flour on top of the cake mix.
Granulated Sugar – The extra cup of flour means you'll need some extra sugar as well. White granulated sugar is the best option for this recipe.
Food Coloring – Any brand of pink food coloring will work. When working with pink food coloring, only add a few drops at a time until you get the color you desire. You can use food coloring gel as well, it's just a bit more pigmented so you won't need as much as you would with the liquid stuff. You can use as little (light pink) or as much (bright/dark pink) as you'd like. If you would rather use a natural dye, I'm guessing that will work just fine.
Sour Cream – Adding sour cream to a cake batter makes the final product so soft and moist, I wouldn't skip out on this ingredient! Don't worry, you won't be able to taste it.
Sprinkles – It's not a Funfetti recipe without the sprinkles! You can find some fun holiday sprinkles at stores like Michaels, Joanns, or Hobby Lobby in their cake section. Many holiday sections at grocery stores or a Target and Walmart will have some versions as well.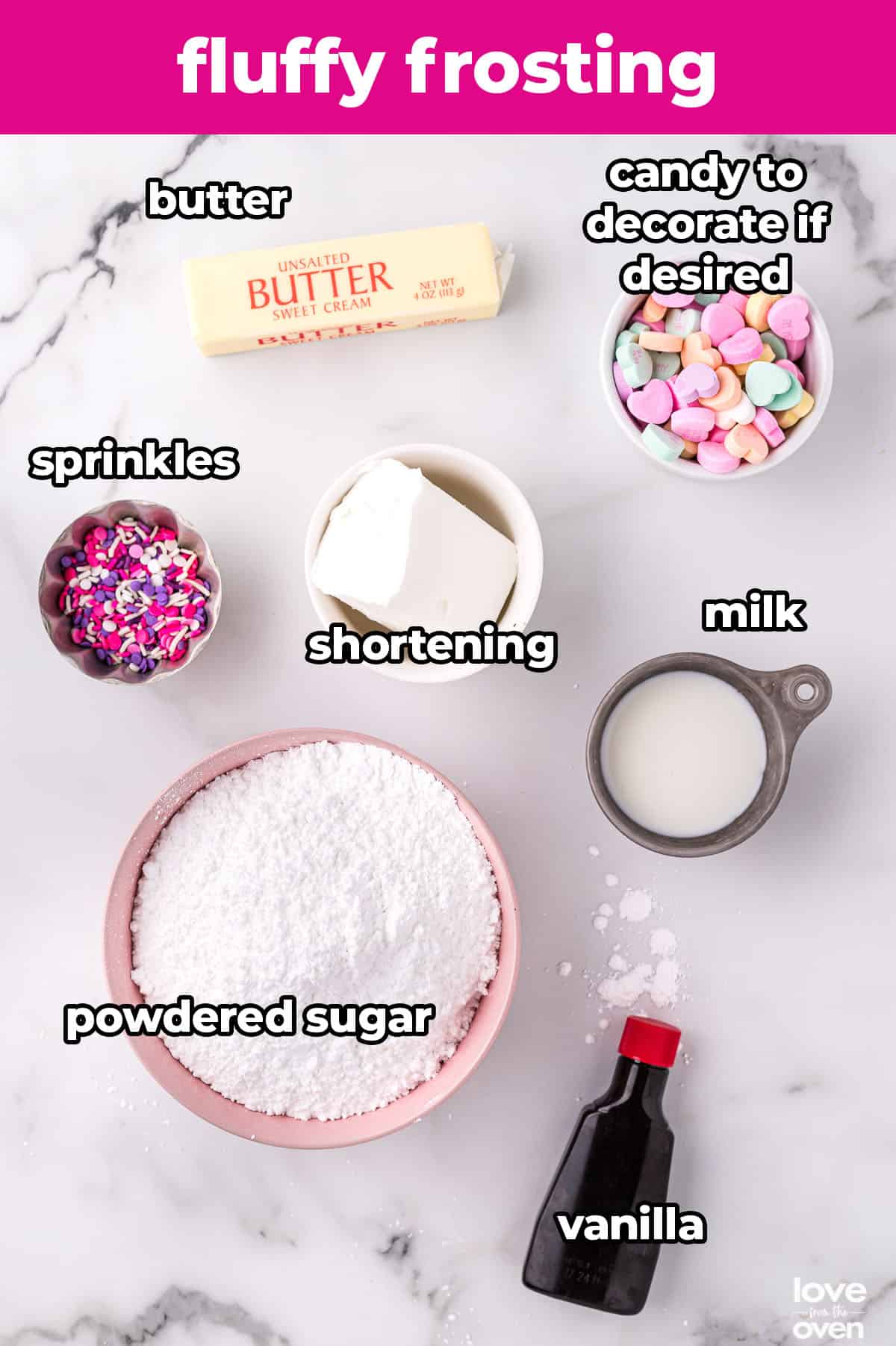 Buttercream Frosting Ingredients
While we are taking a short cut with the cake mix, frosting from scratch is always the way to go. It's quick and easy to make, and you just can't beat the flavor. Almost any cake mix can be greatly improved upon just by topping with homemade frosting.
Powdered Sugar – Powdered sugar is the best type of sugar for making a frosting, so I don't recommend substituting this ingredient.
Butter – For this frosting recipe you will need unsalted, softened butter.
Shortening – Shortening works similarly to the butter, except it helps the frosting hold its shape, and adds a lovely light texture. White vegetable shortening will be your best option for this recipe. I know it's not as desirable as butter, but shortening will give you more of the bakery style frosting that everyone loves. I usually use Crisco sticks.
Milk – The milk helps break down the powdered sugar. Alternatively, you could use water or a plant-based milk.
Vanilla – Vanilla extract adds a great depth of flavor to the frosting but you can leave this out if you like, or replace it with a different flavored extract.
Sprinkles & Candy – This is to decorate the top of the cupcakes. You can use the same sprinkles you put in the batter or different ones. You can also decorate with some fun Valentine's candy like conversation hearts.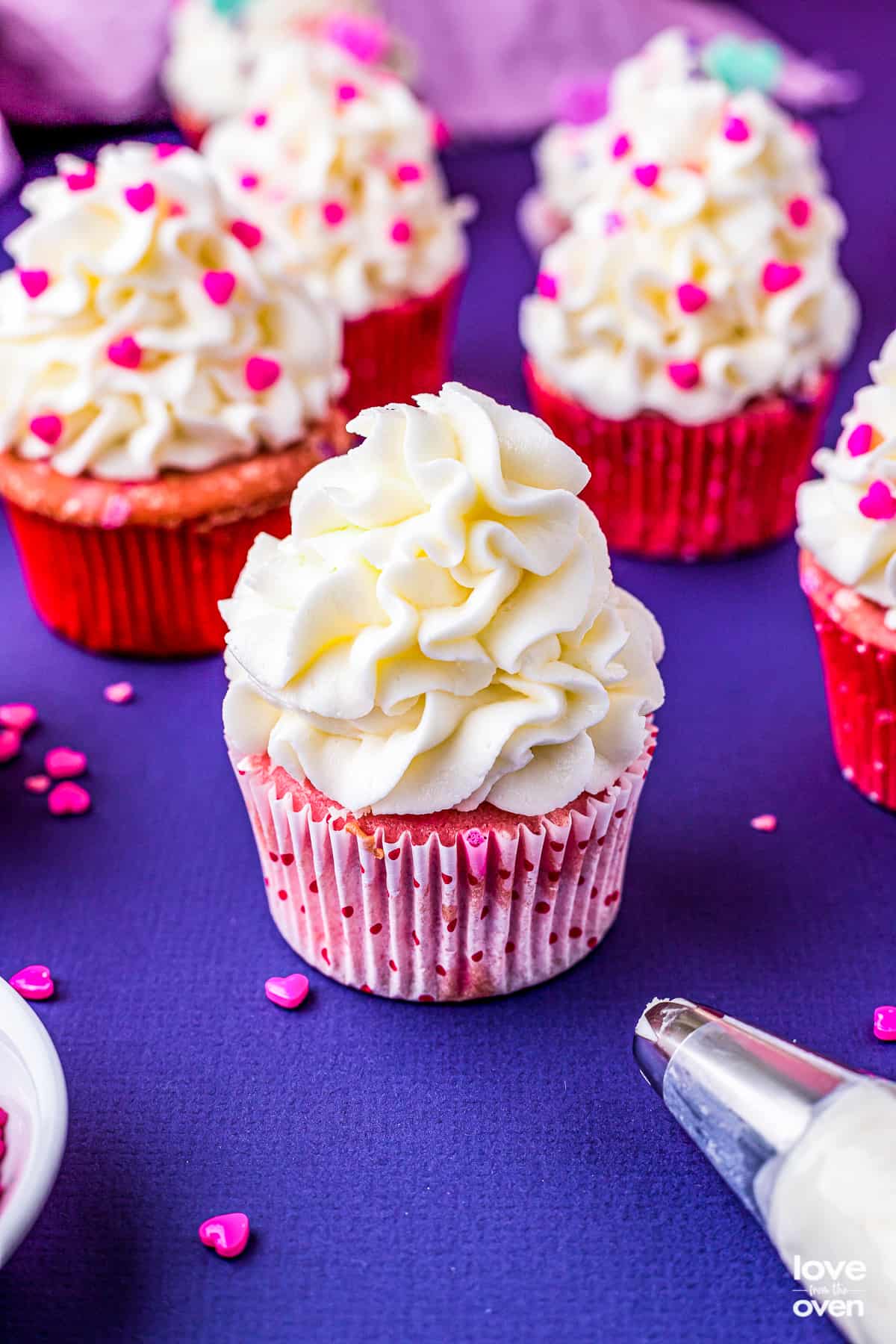 How To Make Pink Velvet Cupcakes
Begin by preheating the oven to 325°. Grab a large mixing bowl and add the cake mix as well as the flour, sugar, and salt. Using a hand or stand mixer, gently mix the dry ingredients together on a low setting. You could also whisk it together by hand.
Add the sprinkles to the dry ingredients and gently fold it in together.
Next, slowly add in the water, vegetable oil, egg whites, and vanilla extract to the dry ingredients. Continue to mix it all together until everything is fully combined.
Add the sour cream and 3 drops of pink food coloring to the batter.
Mix everything together until it is fully combined. Feel free to add more or less food coloring as you see fit.
Line a cupcake pan with liners, and spoon the pink velvet batter into each liner. Fill each divet about ⅔ of the way full because the batter will rise. You can add a few extra sprinkles to the tops of each cupcake before placing them in the oven. Set a timer for 22 minutes to let the cupcakes bake while you start on the frosting.
In a large bowl, add the softened butter and shortening. Beat them together using a hand or stand mixer for about 3 minutes until it becomes smooth and creamy.
Add the milk and vanilla extract to the frosting base and combine. Slowly add the powdered sugar to the butter mixture a little bit at a time until you reach the desired frosting consistency. Mix together for 3 more minutes. (You may not use all the powdered sugar depending on your preference.)
Check the center of a cupcake with a toothpick to make sure it's baked all the way through before taking the cupcakes out of the oven. Transfer the cupcakes to a cooling rack and let them cool completely. Add the buttercream frosting to a piping bag and frost the fully cooled cupcakes. Top the frosting with extra sprinkles or candy hearts and serve!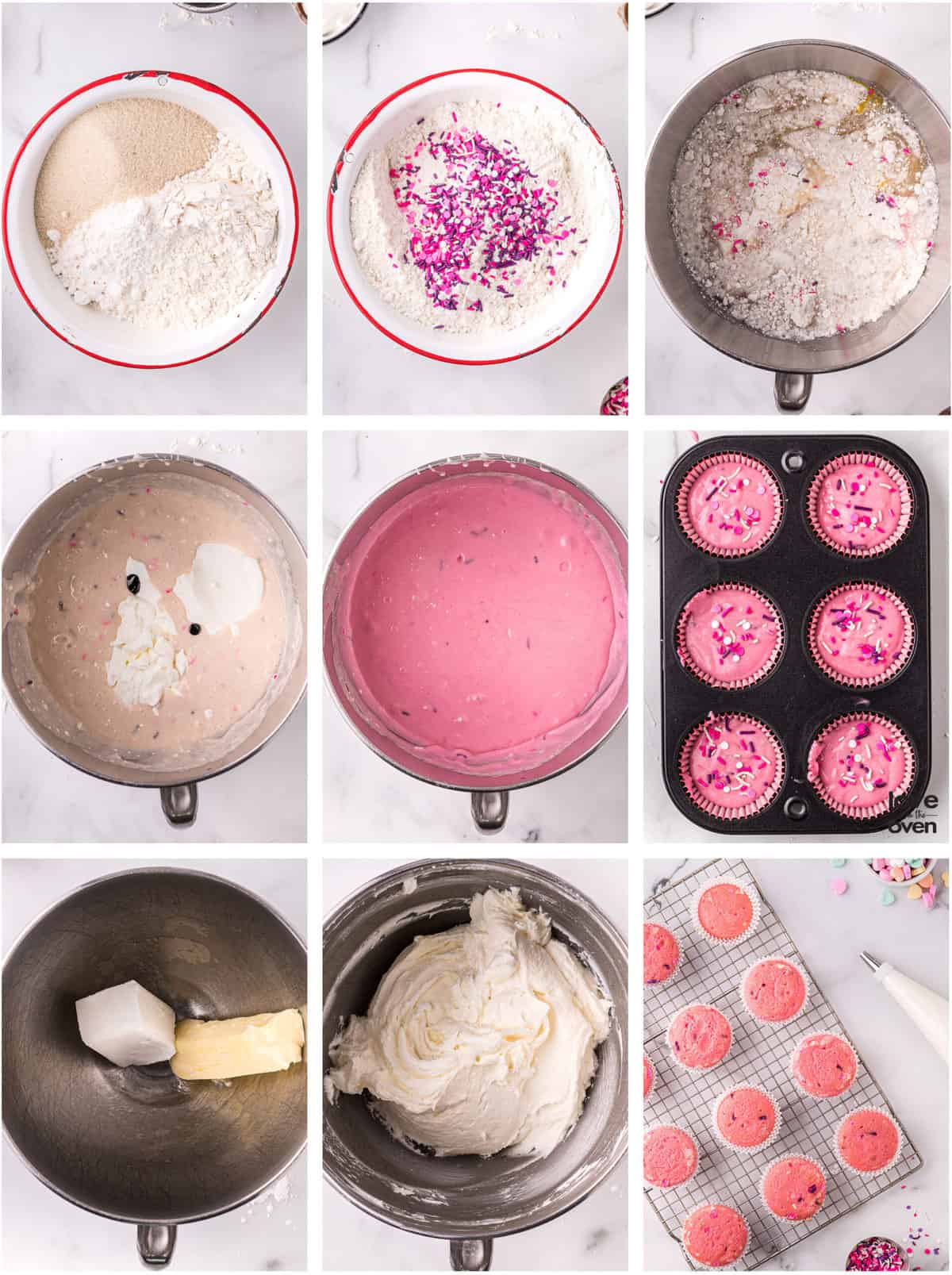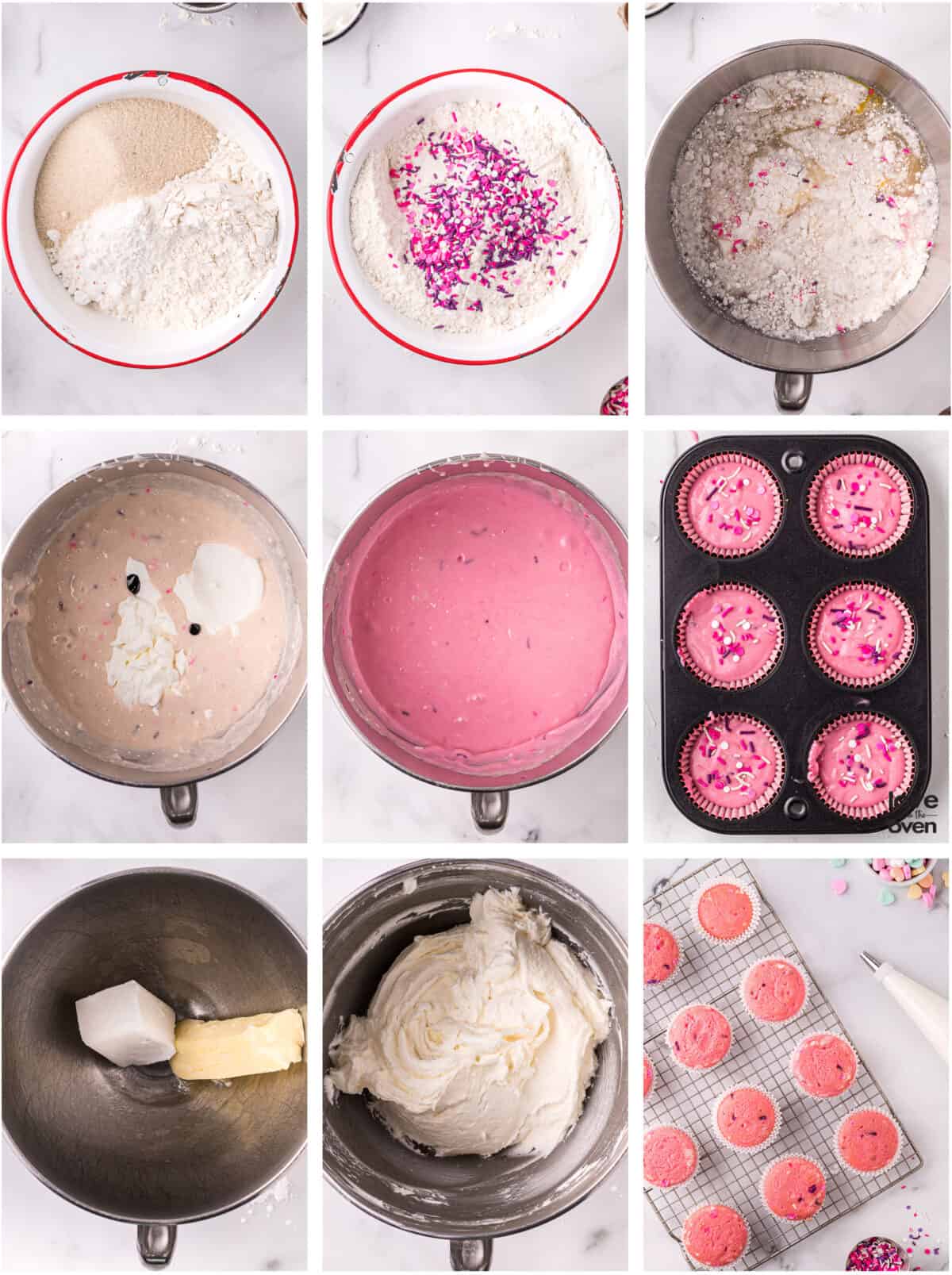 Recipe Tips and Advice
Storage – Store the leftover cupcakes in a covered, airtight container for up to 2 days at room temperature or 3 days in the fridge.
Equipment & Supply Recommendations – Here are some items that will help you make these fun pink velvet cupcakes.
Piping tips 2A, 1M, 6B, and 2D will all do a great job at forming that picture perfect icing that looks like it just came from a bakery.
From Scratch Option
So maybe you're not a fan of cake mix, and would prefer to make it from scratch. Here is a quick rundown of how to make some pink velvet cupcakes without cake mix!
Pink Velvet Cupcakes – From Scratch Version
Ingredients:
1 cup of butter softened
1 1/3 cups sugar
Pink food coloring
3 eggs
2 tsp vanilla extract
2 1/2 cups all purpose flour
1 1/2 teaspoons baking powder
1/4 teaspoon baking soda
1/2 teaspoon salt
1 cup buttermilk
Directions: 
Preheat oven to 350 degrees F.
In a large bowl, cream together butter and sugar. Once light and fluffy add your pink food coloring a few drops at a time until you reach your desired color. Blend well with butter and sugar. Add in eggs, one at a time, beating well after each addition. Add in vanilla and beat well.
Combine the flour, baking powder, baking soda and salt in a separate bowl. Add 1/3 of the dry ingredients to the batter and beat until well combined. Add in 1/2 of the buttermilk, beat until combined, followed by another 1/3 of the dry, then the remaining buttermilk and finally the remaining dry ingredients. The batter may look a bit lumpy after buttermilk is first added, but beat well and it will combine nicely.
Fill paper lined cupcake tins two-thirds of the way full and bake at 350 degrees for approximately 20-25 minutes, or until a toothpick inserted into the center comes out clean. Watch the cupcakes closely in the last few minutes of baking so that they do not get too brown. Let the cupcakes cool for ten minutes before removing from pan, then transfer to a wire rack to finish cooling.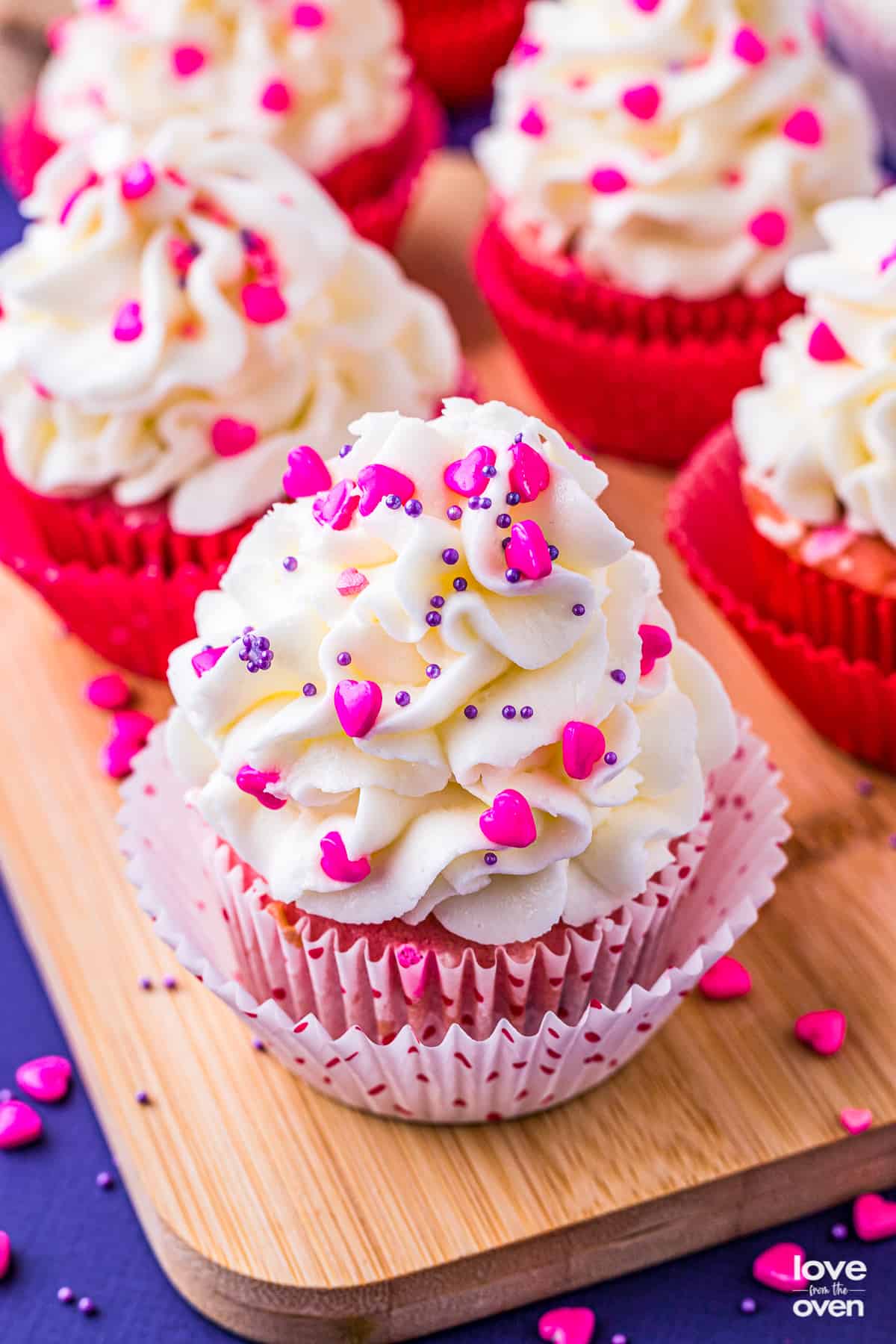 Recipe FAQs
Is pink velvet the same as red velvet?
No, red velvet is typically made with cocoa powder or has chocolate in it. This recipe does not contain chocolate.
Why is my buttercream runny?
This might be because you did not add enough powdered sugar or added too much milk to the frosting. You can fix this by gradually adding powdered sugar until you reach the consistency you like.
Why is buttercream really thick?
Alternatively, if your buttercream frosting is too thick, that means there is not enough liquid in the mixture. Add a teaspoon of milk to the frosting and continue to mix until you reach the desired consistency.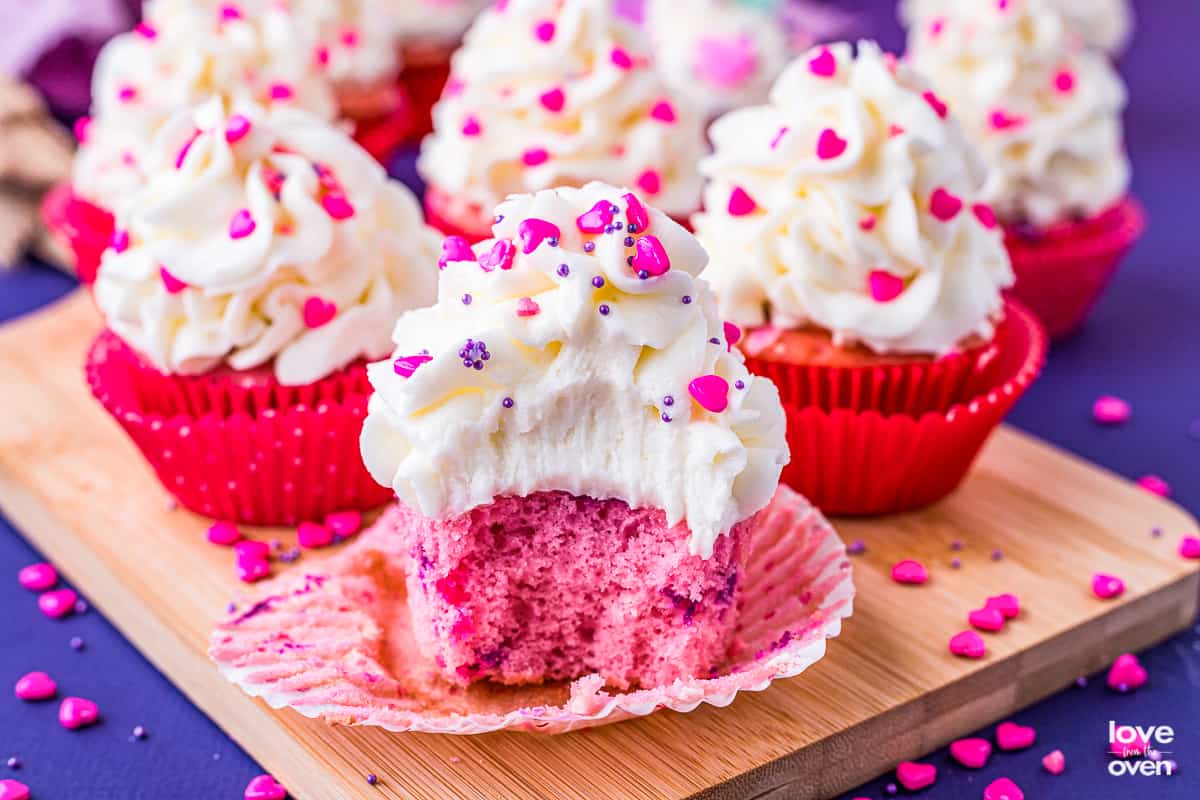 More Fun Recipes
Celebrate Cupcakes! How about a few more cupcake recipes? I knew you wouldn't say no! Check out some more fan favorite baked goods that won't disappoint.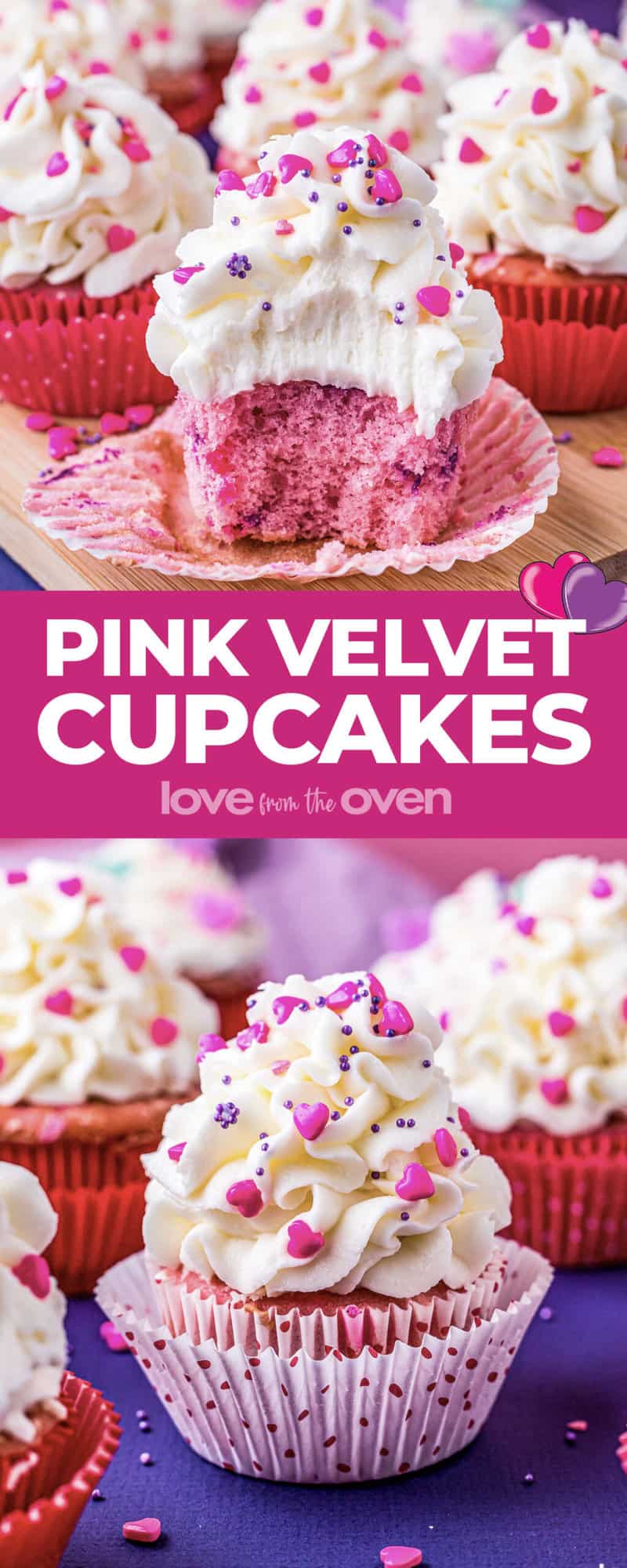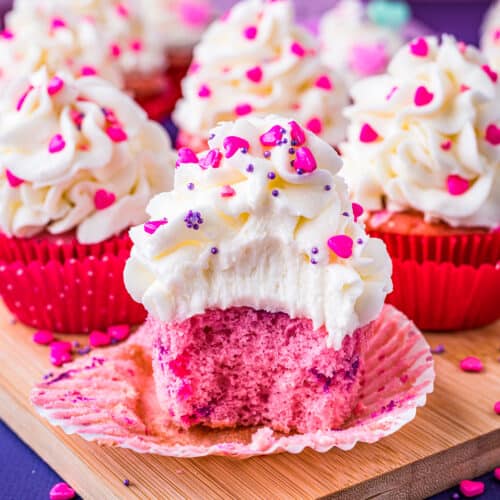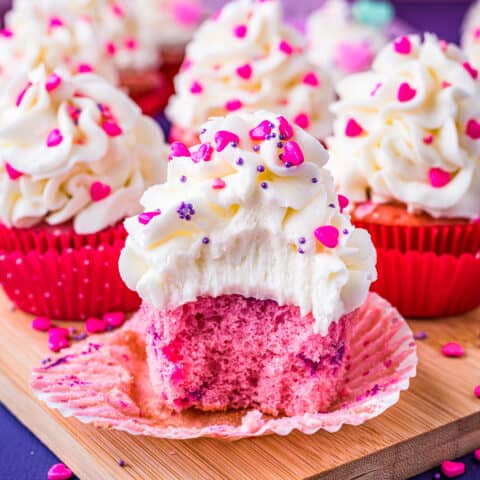 Pink Velvet Cupcakes
In less than 30 minutes, you'll be celebrating Valentine's Day the right way; eating these heavenly Pink Velvet cupcakes!
Ingredients
Pink Velvet Cupcakes
1

white cake mix

1

cup

all purpose flour

1

cup

granulated sugar

1/2

teaspoon

salt

1 1/3

cups

water

1

cup

sour cream

4

egg whites

room temperature

2

tablespoons

vegetable oil

1

teaspoon

vanilla extract

3-4

drops

pink food coloring

1/2

cup

Valentine sprinkles

optional, for a Funfetti type look
Buttercream Frosting
1

cup

butter

softened

3/4

cups

shortening

such as Crisco

5

tablespoons

milk

2

teaspoons

clear vanilla extract

regular vanilla can also be used

4

cups

powdered sugar
Instructions
Preheat oven to 325 degrees. Line cupcake pans with cupcake liners and set it aside.

In a large mixing bowl, whisk together, cake mix, all-purpose flour, granulated sugar, and salt.

Slowly, add in water, sour cream, egg whites, vegetable oil, and vanilla extract. Mix with an electric mixer until everything has been well combined. Add 3 drops of pink food gel coloring to the cupcake batter, and mix.

FUNFETTI OPTION: If desired, stir in sprinkles to the batter.

Pour or spoon batter into the lined cupcake pan. Make sure to only fill about 2/3 of the cupcake liner, since the batter will rise a bit.

Bake in preheated oven for 22 minutes or until the center is baked. Remove from oven and allow to cool on a cooling rack.

While cupcakes are cooling, prepare the frosting. With an electric mixer, mix together butter and shortening until smooth and creamy, about 3 minutes.

Add in milk and vanilla extract. Slowly, add in confectioners sugar a little at a time. If frosting is too thick you can add 1 teaspoon of milk until you have reached the texture you are looking for. Mix frosting for another 3 minutes.

Add frosting to a piping bag and pipe cupcakes, or spread with a spatula. Top with sprinkles or candy hearts.
Nutrition
Calories:
367
kcal
|
Carbohydrates:
50
g
|
Protein:
2
g
|
Fat:
18
g
|
Saturated Fat:
8
g
|
Polyunsaturated Fat:
3
g
|
Monounsaturated Fat:
6
g
|
Trans Fat:
1
g
|
Cholesterol:
26
mg
|
Sodium:
273
mg
|
Potassium:
47
mg
|
Fiber:
0.4
g
|
Sugar:
37
g
|
Vitamin A:
301
IU
|
Vitamin C:
0.1
mg
|
Calcium:
65
mg
|
Iron:
1
mg
Disclaimer
Nutrition information is estimated as a courtesy. If using for medical purposes, please verify information using your own nutritional calculator. Percent Daily Values are based on a 2000 calorie diet.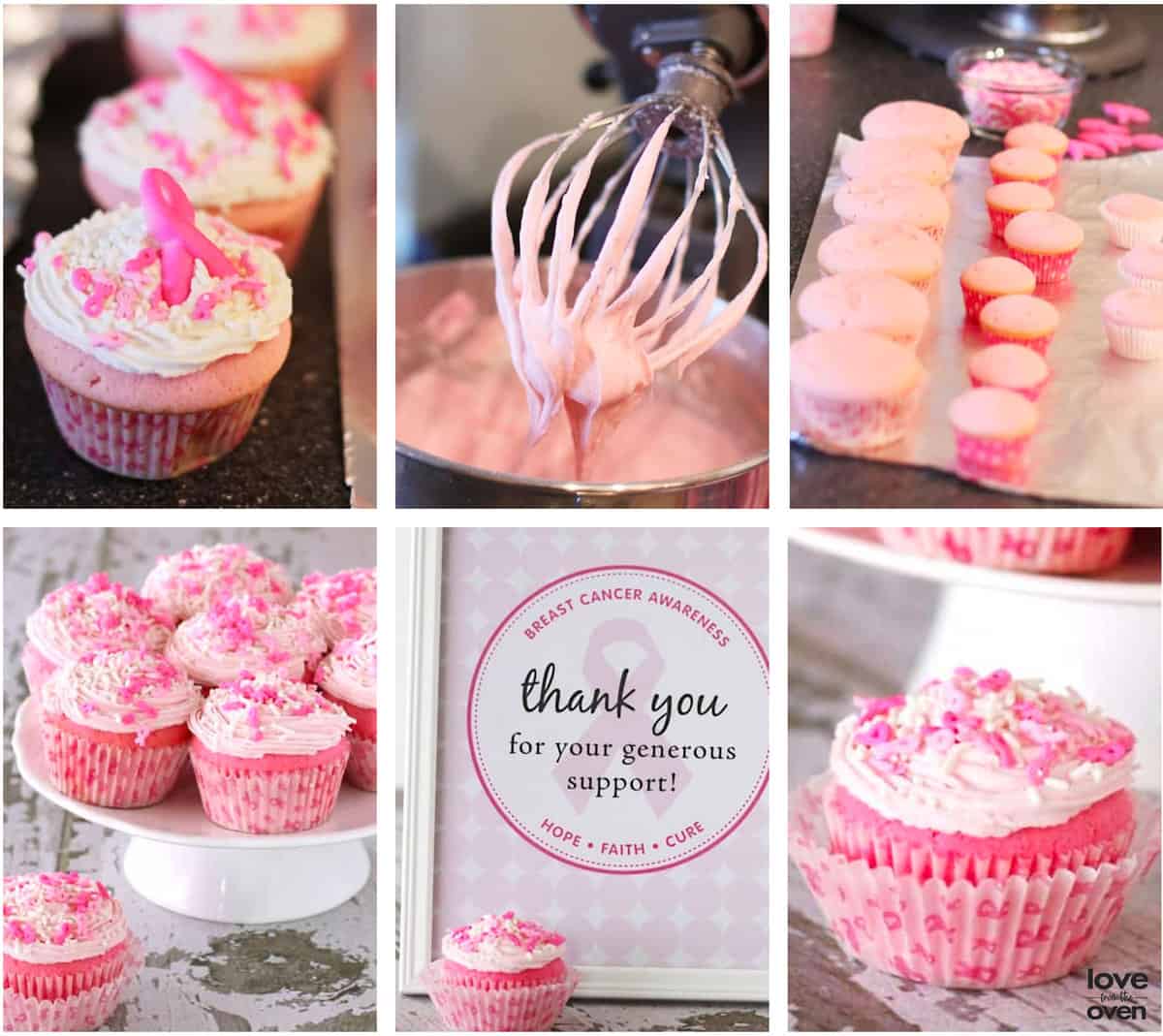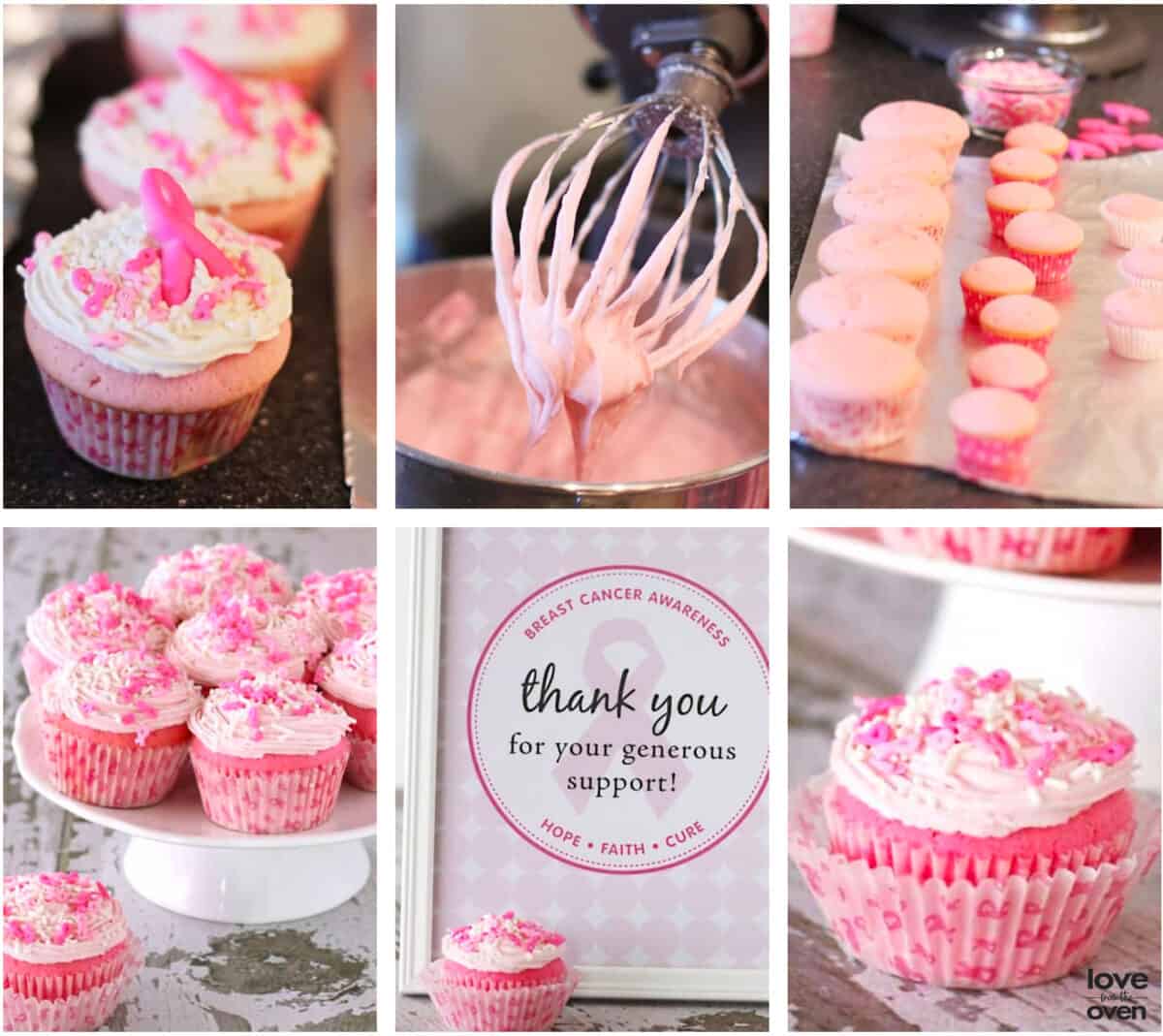 From the original post in October 2011 – Each year a dear friend of mine participates in the Susan G. Komen Race For The Cure in Phoenix to raise money in the fight against breast cancer. To help her out with her fundraising this year, I thought I would create some sweet treats that she could share to say "thank you" to those who are donating. This recipe is made even sweeter by using Pink Ribbon cupcake liners and Pink Ribbon sprinkles. Check out this amazing set over at Chickabug. What a fabulous asset to those who are fundraising!