Pumpkin Streusel Muffins are bakery level pastries you can make in the comfort of your own home. The sweet and soft pumpkin muffin batter is baked with a lovely streusel topping that just melts in your mouth. Grab yourself a hot cup of coffee to pair with these amazing pumpkin crumb muffins, and enjoy these warm, delightful treats on a chilly fall morning.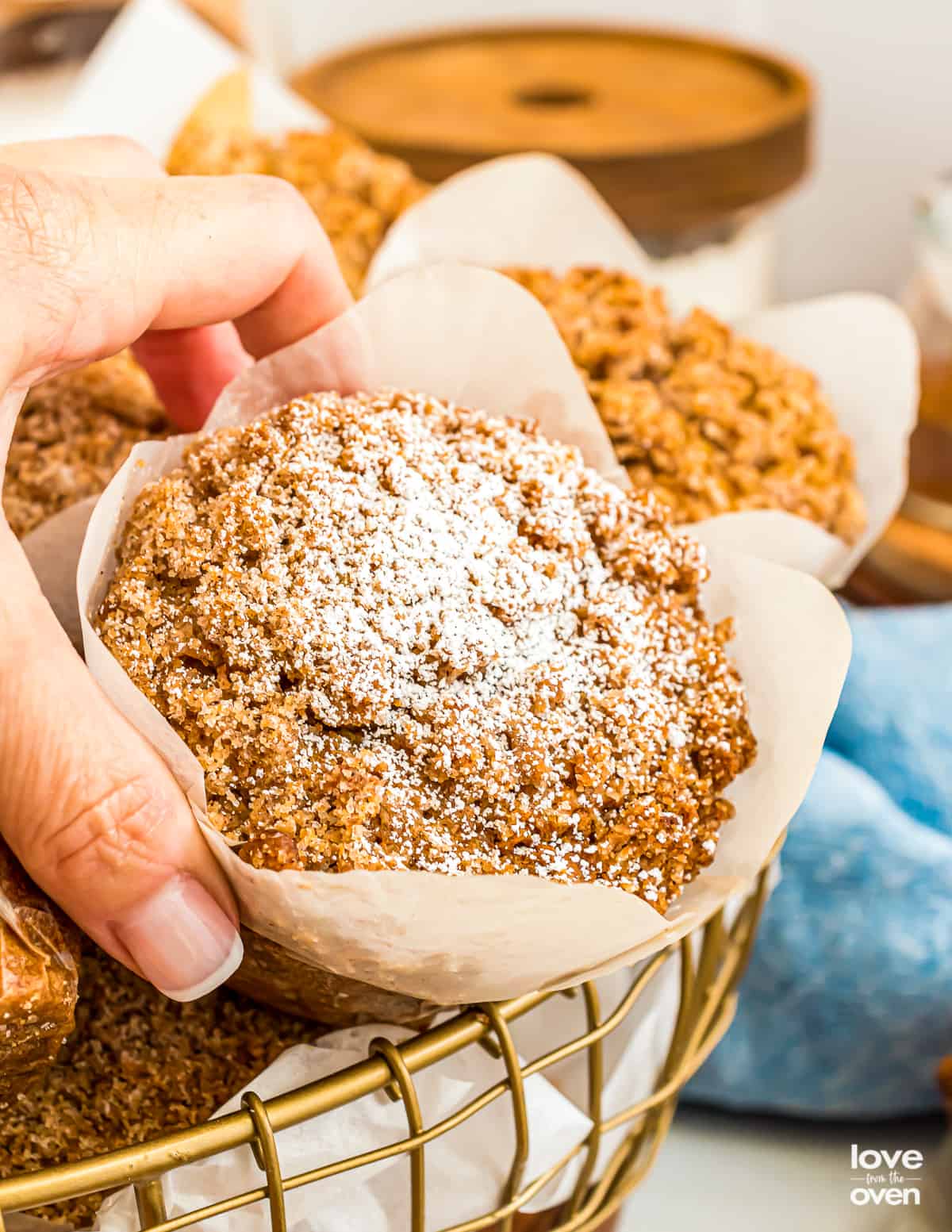 Reasons You'll Love This Recipe
Pump up the Pumpkin! – I hope you're not tired of pumpkin recipes yet, because these pumpkin streusel muffins are absolutely incredible.
Fall Spices – These muffins are loaded with all those familiar fall spices you can't get enough of.
Bakery Grade Muffins – Seriously, these taste like your favorite local bakery pumpkin muffins. If your local bakery doesn't have pumpkin muffins, well, you have the recipe now!
So Much Streusel – Muffins are already some of the greatest things in the world, but muffins with a streusel topping? Don't even get me started.
Jumbo Muffins – This recipe uses that giant muffin pan, so you don't have to worry about your pumpkin streusel muffins "disappearing" in just a few bites.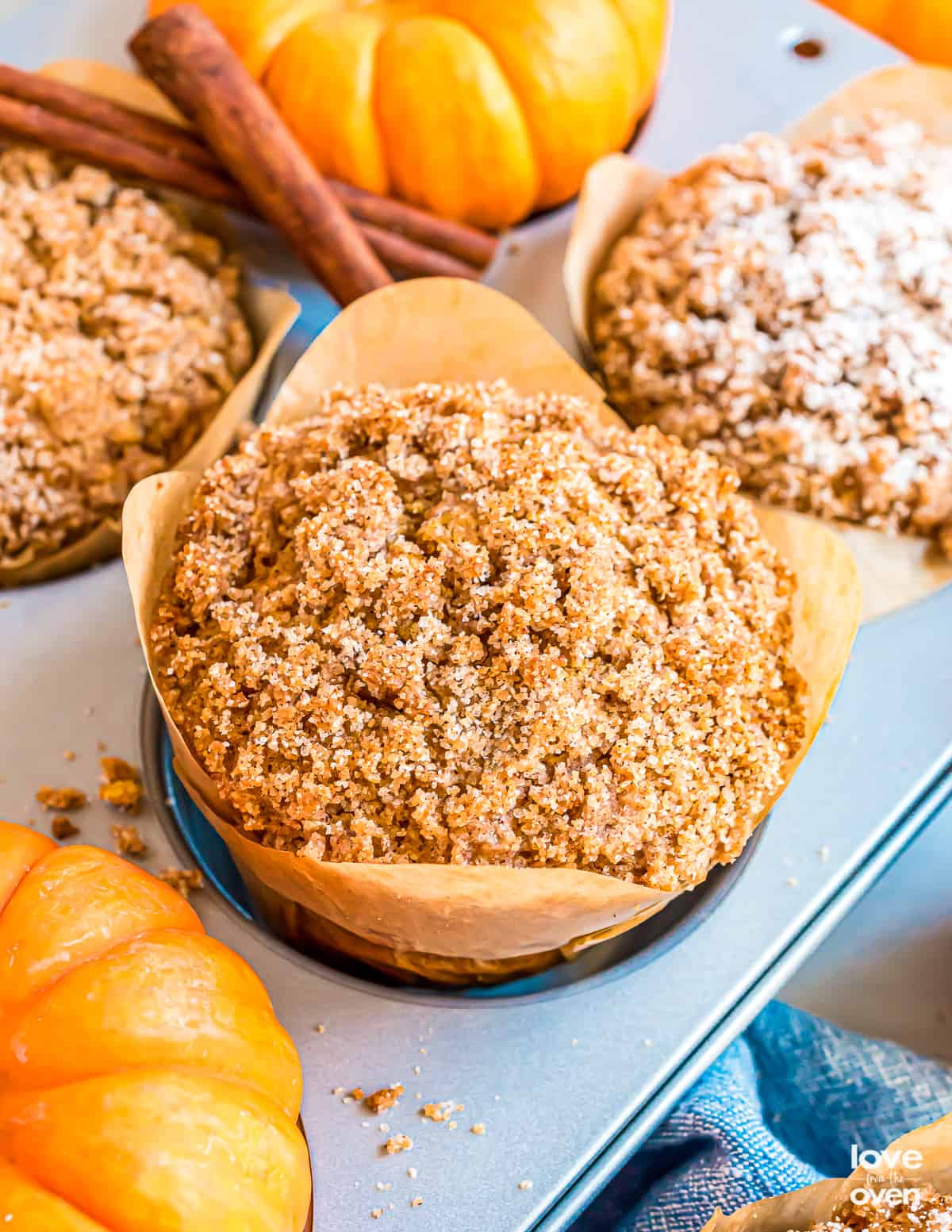 The aroma of these pumpkin muffins baking will fill your house with so much joy. These fall months are truly some of the best times of the year, and to make it even better, these muffins are here to party!
Ingredients and Substitutions
Recipe Discussion
Let's discuss how to make this recipe, as well as the ingredients that are needed. Please take note that below you will find discussion, expert tips, and answers to frequently asked questions about this recipe to help you recreate it in your kitchen. If you *just* want the recipe itself, scroll down. The full printable recipe itself, with exact measurements and instructions, is found at the bottom of this page.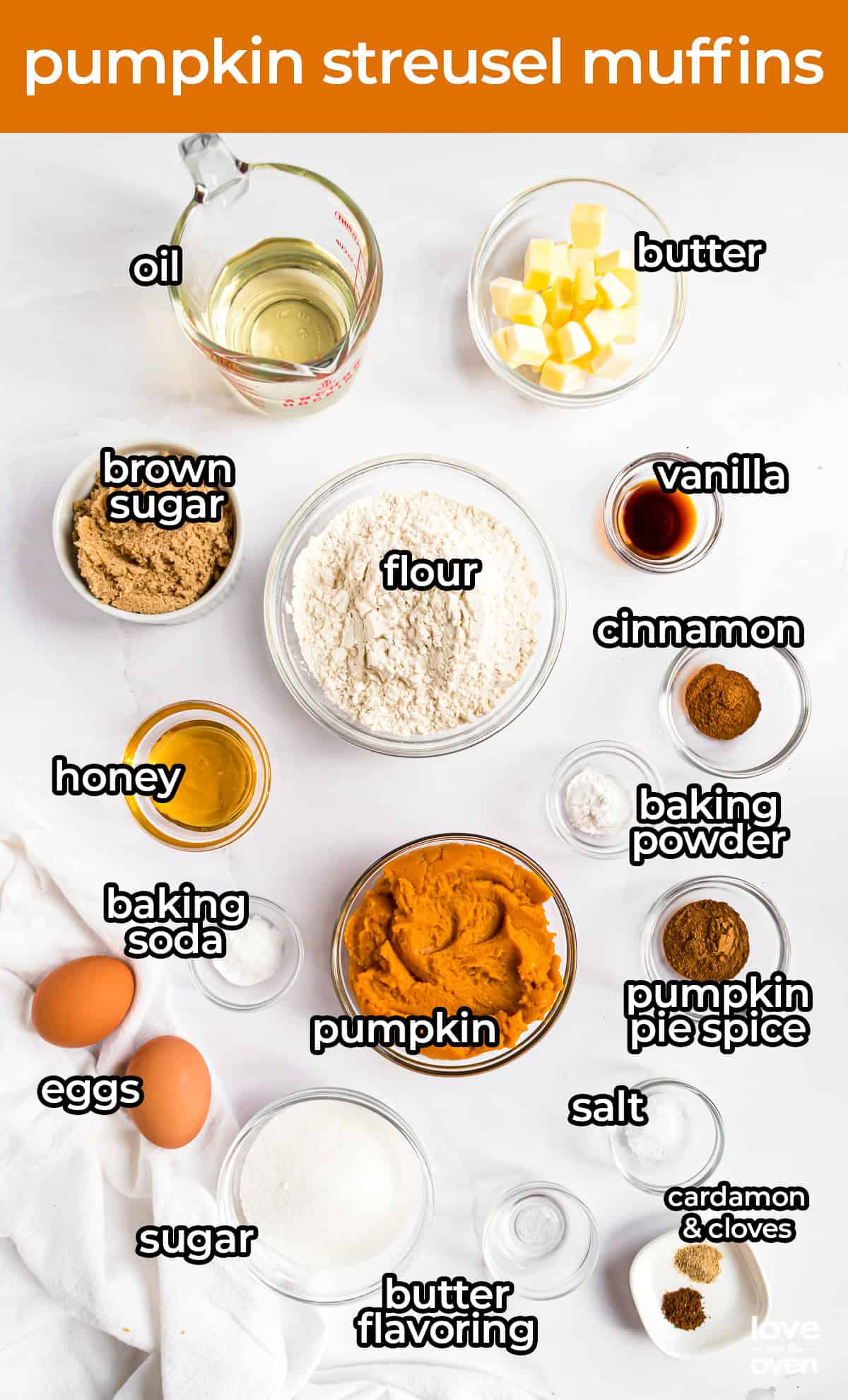 Canned Pumpkin – Make sure you get canned pumpkin puree, not pumpkin pie filling. Libby's canned pumpkin has a firmer texture which is good for this recipe. Other canned pumpkin brands may have a more watery texture so if you use a different brand you may have to add a bit more flour.
Light Brown Sugar – Be sure that the brown sugar is packed tight in the measuring cup before using it.
Granulated Sugar – You'll want granulated sugar for both the muffin batter and the streusel topping, so be sure to pay extra attention to the measurements.
Unsalted Butter – For the topping, the unsalted butter should be cold and cut into cubes.
All-Purpose Flour – Make sure you have plenty for the topping and the batter.
Pumpkin Pie Spice – Along with pumpkin pie spice, this recipe calls for cardamom and cloves. If the brand of pumpkin pie spice you use has cardamom and cloves in it, you can omit those additional spices from the recipe.
Butter Flavoring – You can find butter flavoring at the grocery store in the baking aisle near the extracts and flavorings.
Powdered Sugar – Perfect for garnishing these muffins, just make sure to top these muffins with powdered sugar once they are completely cool, otherwise the warm muffins will melt the powdered sugar. You can also make an optional powdered sugar glaze or maple syrup glaze for these.
Honey – This is a great addition to the muffins, and compliments the pumpkin perfectly.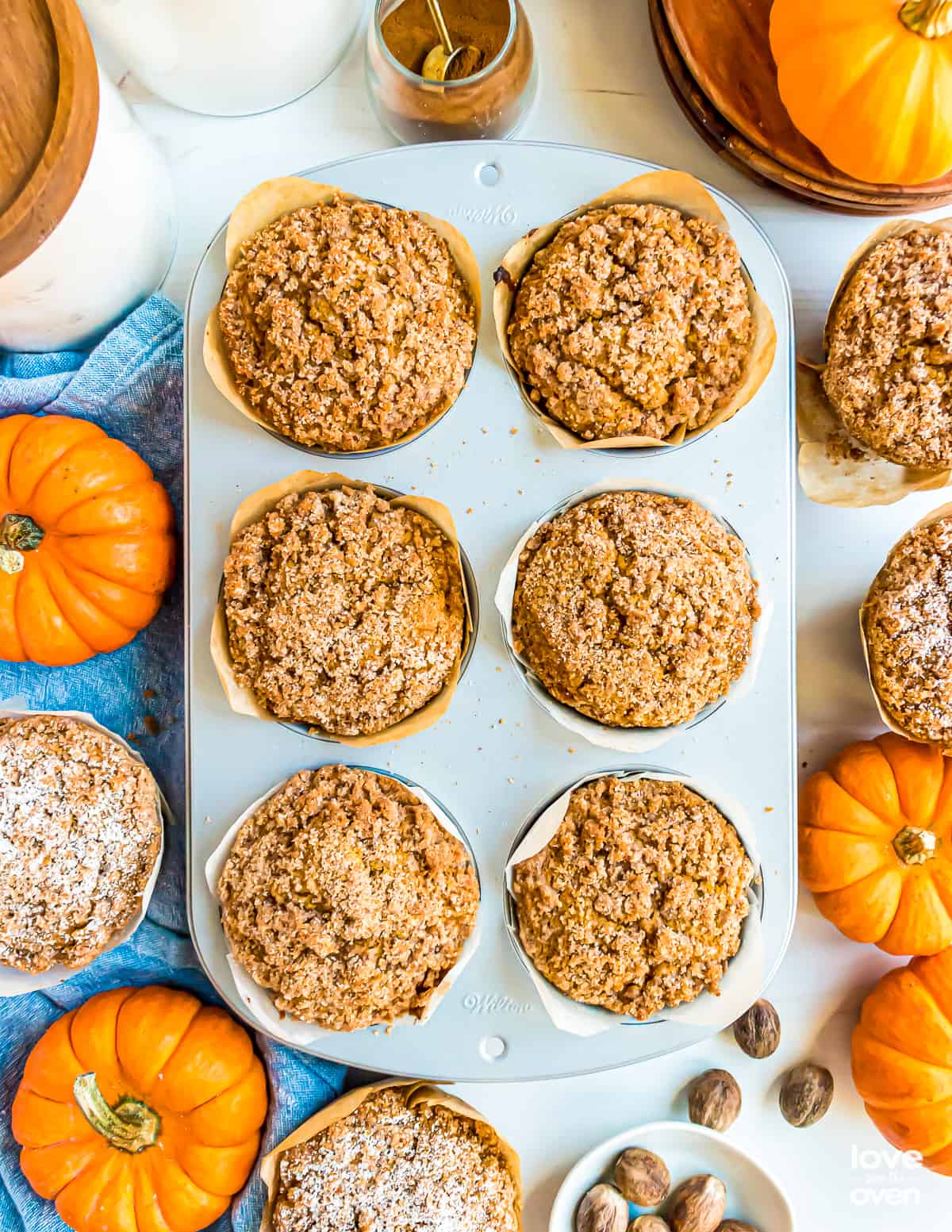 How To Make Pumpkin Streusel Muffins
Begin by preheating your oven to 375° and lining a jumbo muffin tin with jumbo paper liners, or spray the pan with baking spray. Next grab a large mixing bowl and add in the oil, brown and white sugars, honey, pumpkin, eggs, vanilla and butter flavoring. Stir this together by hand and don't over mix.
Next, to a separate large bowl, add in your flour, salt, baking powder and soda, cinnamon, pumpkin pie spice, cardamom and cloves and whisk this together until combined.
Add the dry ingredients to the pumpkin mixture and stir together just enough until there are no white streaks in the batter but too much to where it's over mixed. Set this to the side and begin on the streusel topping.
In a separate medium sized bowl, add in the cold, cubed butter, granulated sugar, flour, cinnamon, pumpkin pie spice, honey and salt. Mash this together either with a fork or a pastry cutter until combined and set to the side.
Begin dividing your muffin batter into the muffin tins until they're about ⅔ of the way full. (About 5-6 hefty tablespoons) Top the muffin batter with a generous amount of streusel topping. (About 2 tablespoons)
Put the muffins in the oven and bake for 28-30 minutes, or until a toothpick comes out of the center of the muffins with little moist pieces of batter attached to it. You don't want the batter to be too wet or too dry so use your best judgment. Take them out of the oven and let them sit in the muffin tin to cool for approximately 10 minutes and then transfer them to a wire rack to completely cool before dusting with powdered sugar.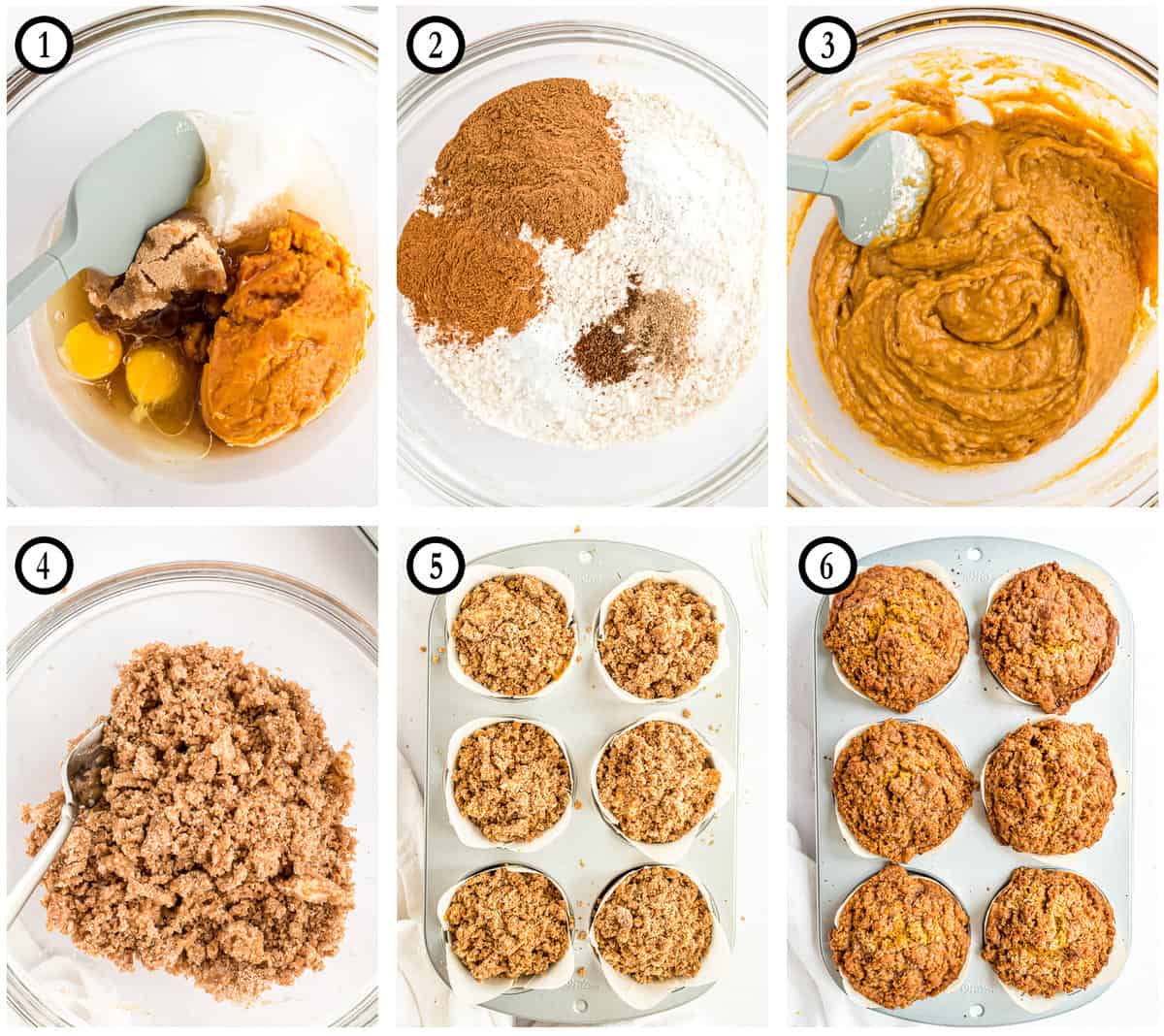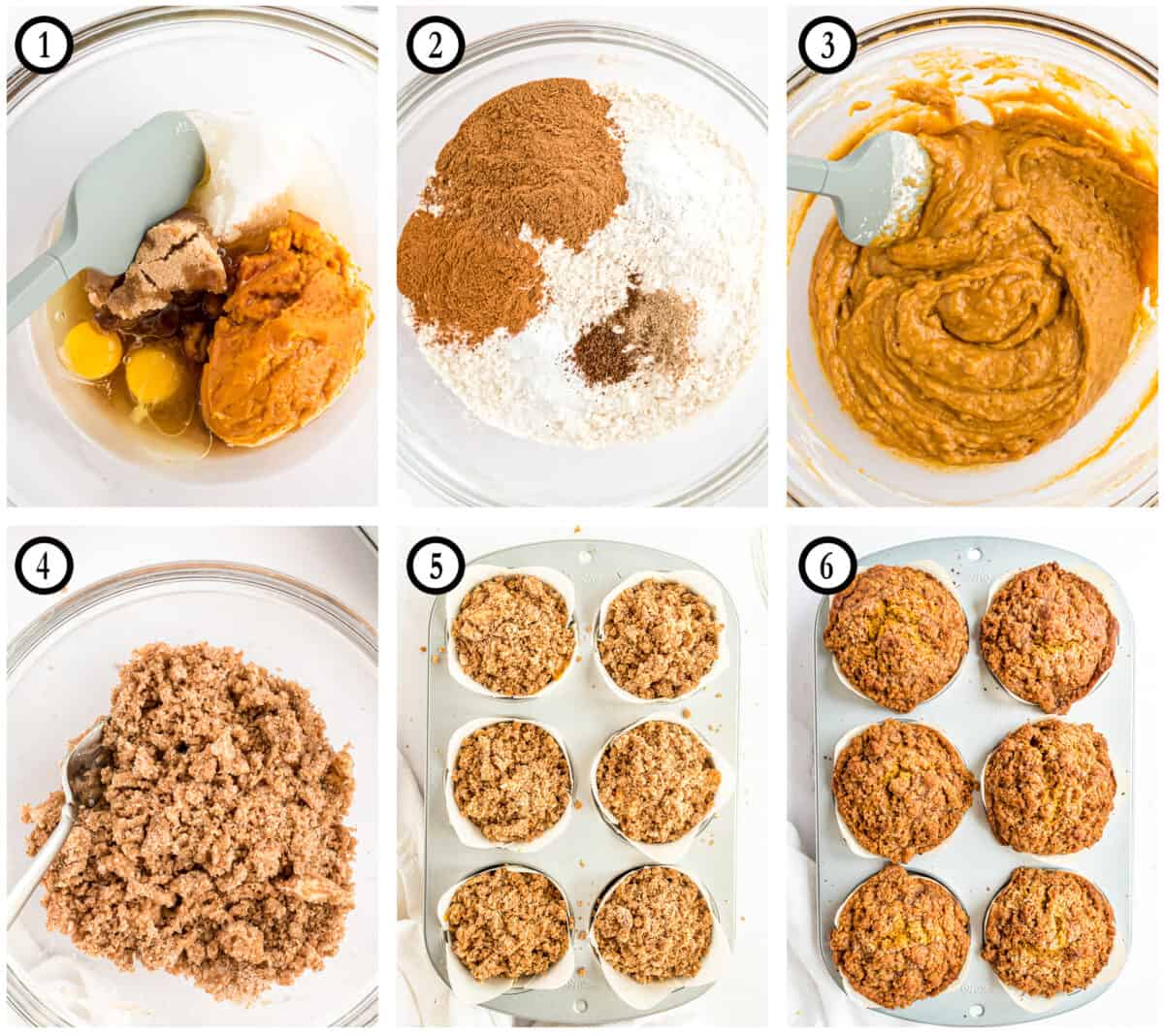 Recipe Tips and Advice
Storage – Highly recommend eating these the day you baked them (share with friends and family!) because the top of the muffin will be the crunchiest, and the center will be the softest. If you can't manage to eat 6 jumbo muffins in one day however, you can store these in an airtight container lined with a few paper towels at room temperature for 3-4 days.
Equipment – For this recipe you'll need a few mixing bowls varied in size, a jumbo muffin tin, jumbo muffin liners, a spatula to mix with, and some optional materials like a large cookie scoop to scoop the batter or a pastry cutter to mix the crumb topping with. If you have a hard time finding jumbo liners, you can make your own out of parchment paper by taking a 6″x6″ piece of parchment paper, and molding it to the bottom of a cup or glass that is about the same size as the jumbo muffin tin wells.
No Jumbo? No Problem.
If you are not an owner of a jumbo muffin tin, but have a regular muffin tin, worry not! You can use the same amount of batter for 12 regular sized muffins. 3 tablespoons of the batter should fill up each well. However, you will need to DOUBLE the streusel topping and disperse it evenly.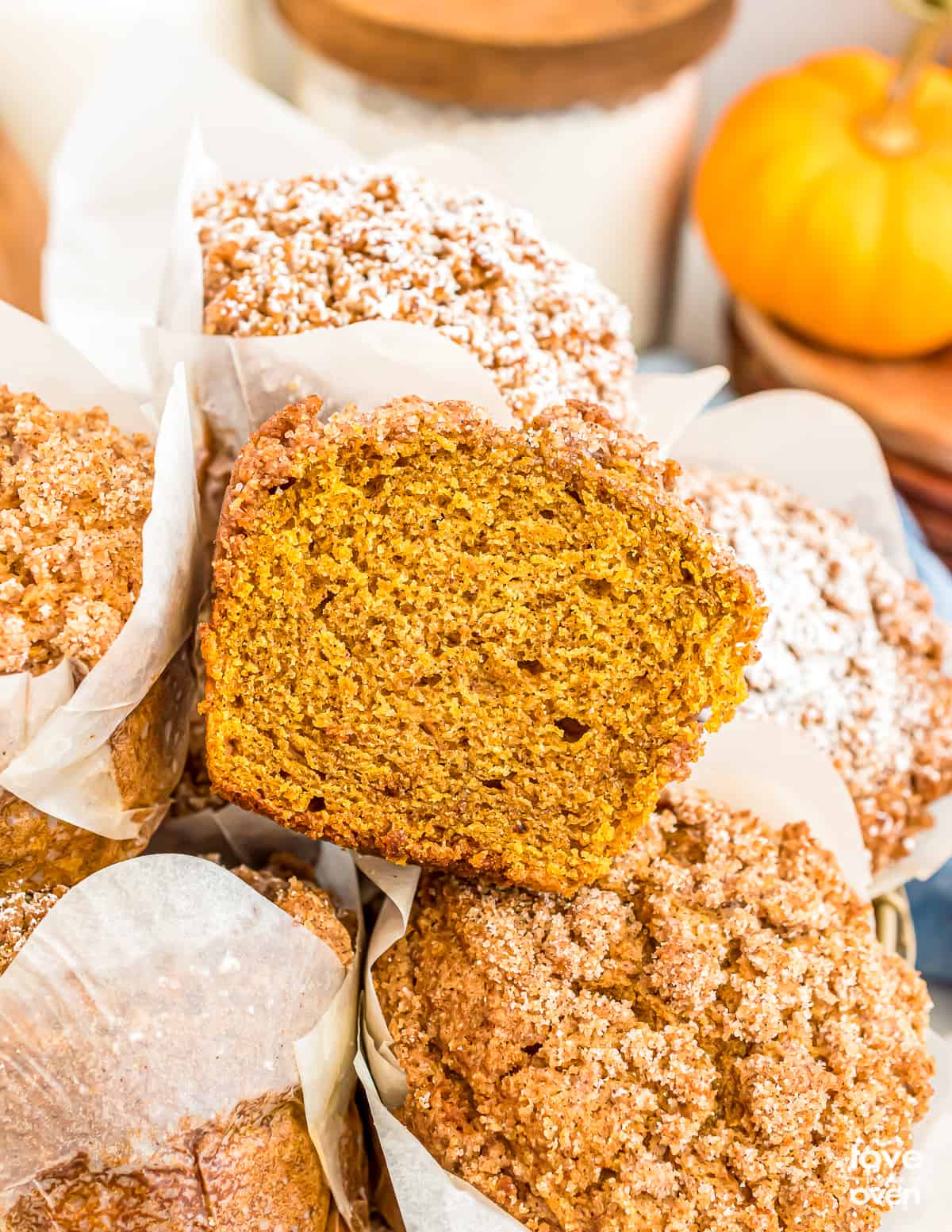 Do Less Dishes – Normally, with baking recipes, you don't want to combine the dry ingredients with the wet ingredients right away. However, for this recipe you can! To save yourself some dish washing time, you can add all of your dry ingredients to a large bowl and whisk them together to combine. Then, to that same bowl you can add the remaining ingredients and stir. Just make sure you don't over mix.
Recipe FAQs
Can I double the recipe and make more?
Yes, if you end up doubling the recipe however, you only need 3 eggs instead of 4. Everything else will remain the same.
Why are my pumpkin muffins so dense?
This is likely because you over mixed the batter. A light mixing keeps air trapped inside the batter. If you over mix, you push the air out causing them to be much more dense.
Is canned pumpkin the same thing as pumpkin puree?
Yep! these are the same thing and either will work for this recipe.
More Muffin Recipes To Try
Are you a pumpkin fanatic? Well, if you loved these Pumpkin Streusel Recipes, you're going to love these similar recipes!
More Recipes You'll Love!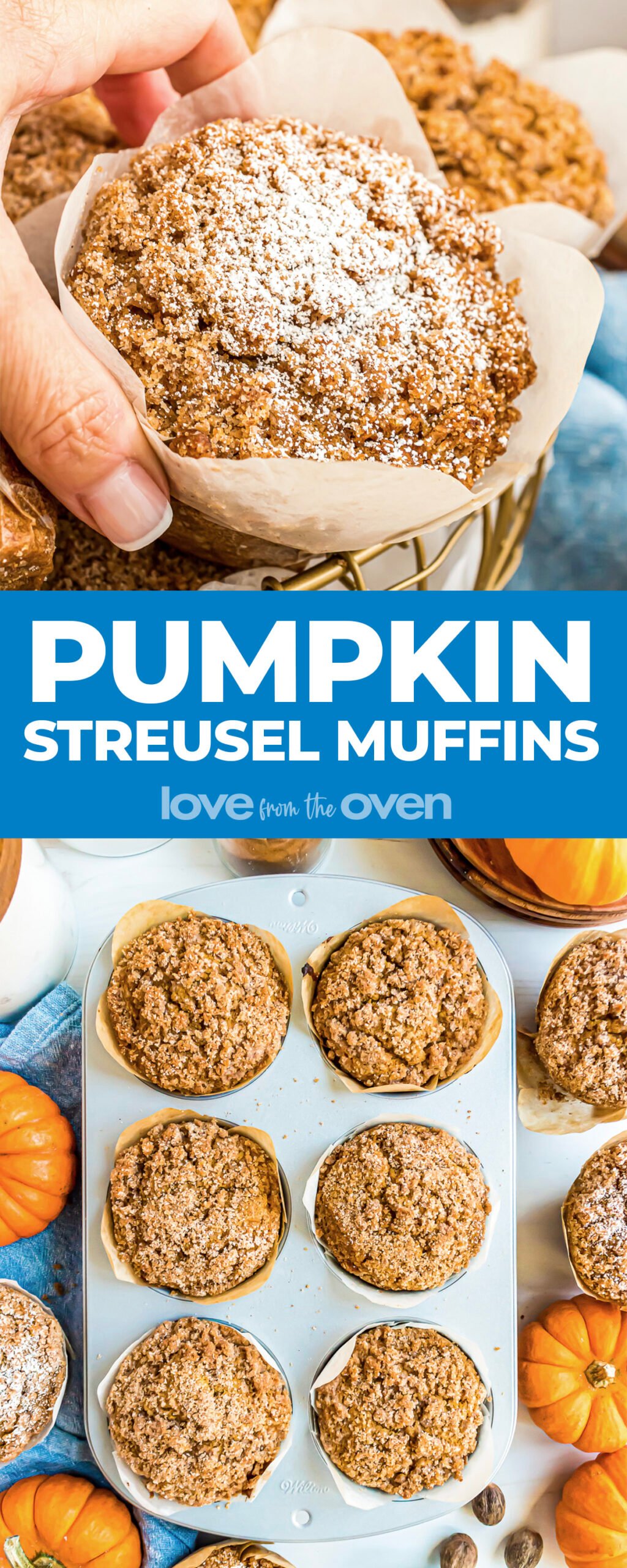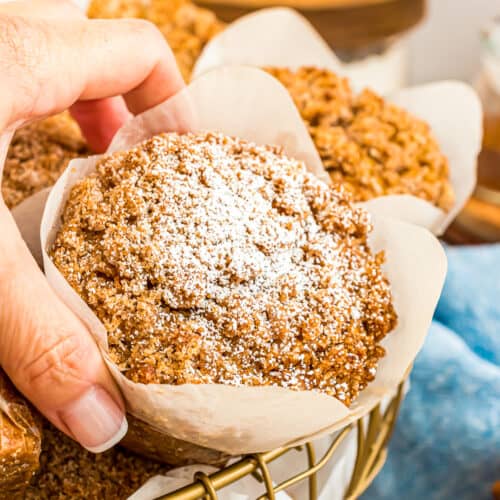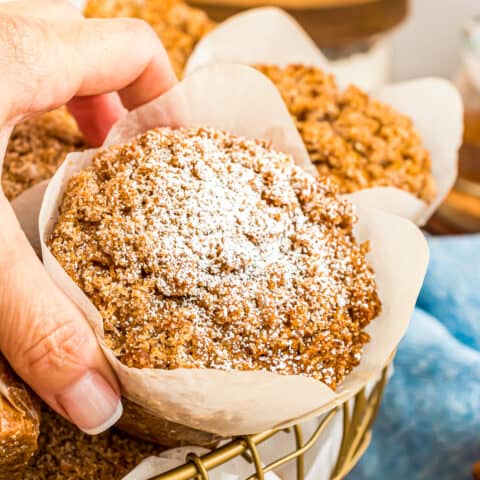 Pumpkin Streusel Muffins
The sweet and soft pumpkin muffin batter is baked with a lovely streusel topping that just melts in your mouth.
Ingredients
Muffins
1

cup

canned pumpkin

not pumpkin pie filling

2

large

eggs

1/2

cup

light brown sugar

measure packed

1/2

cup

granulated sugar

1

tablespoon

honey

1/2

cup

vegetable oil

1

teaspoon

vanilla extract

1/2

teaspoon

butter flavoring

1 1/2

cups

all-purpose flour

1/2

teaspoon

kosher salt

1/2

teaspoon

baking soda

1

teaspoon

baking powder

1

teaspoon

ground cinnamon

2

teaspoons

pumpkin pie spice

1/4

teaspoon

groundn cardamon

1/4

teaspoon

ground cloves
Streusel Topping
4

tablespoons

unsalted butter

cold, cut into small pieces

1/2

cup

granulated sugar

1/2

cup

all purpose flour

2

teaspoons

ground cinnamon

1

teaspoon

pumpkin pie spice

2

tablespoons

honey

1/2

teaspoon

Kosher salt

powdered sugar

for garnish
Instructions
Preheat oven to 375℉. Line a jumbo muffin tin with paper liners, or spray pans with baking spray.

In a large mixing bowl, add oil, sugars, honey, eggs, pumpkin, vanilla, and butter flavoring. Stir well by hand to combine. Set aside.

In a medium bowl, whisk together flour, salt, baking powder, baking soda, cinnamon, pumpkin pie spice, cardamom, and cloves.

Add flour mixture to the wet ingredients, just until there are no streaks of the dry ingredients. Set aside so the muffin batter can hydrate for a few minutes while you make the streusel.

In a medium size bowl, mix together the butter, granulated sugar, flour, cinnamon, pumpkin pie spice, honey, and salt. You may use a large fork or pastry blender until the mixture is evenly mixed. Set aside

Fill muffin cups about ⅔ full, dividing evenly into the wells.

Top the batter with streusel mixture, dividing evenly among the muffins. Each muffin should be topped with about 2 Tablespoons of streusel.

Bake for 28-30 minutes, until a toothpick inserted in the center comes out with moist crumbs clinging to it. If the toothpick comes out with batter sticking to it, they may need another minute or two.

Cool cupcakes in the pan for about 10 minutes, then transfer them to a wire rack to finish cooling. When completely cool, sift powdered sugar over the top to serve.
Notes
Storage: These are wonderful eaten the first day because of the crunchy top and moist interior, but will keep in a covered container lined with a paper towel for 3 or 4 days. Freezing: They may be frozen in an airtight container or individually wrapped in plastic wrap and placed in a freezer bag for up to 3 months. The topping will not be as crunchy, but it will still be delicious.
Nutrition
Calories:
656
kcal
|
Carbohydrates:
97
g
|
Protein:
7
g
|
Fat:
28
g
|
Saturated Fat:
8
g
|
Polyunsaturated Fat:
11
g
|
Monounsaturated Fat:
7
g
|
Trans Fat:
0.4
g
|
Cholesterol:
82
mg
|
Sodium:
514
mg
|
Potassium:
265
mg
|
Fiber:
3
g
|
Sugar:
61
g
|
Vitamin A:
6684
IU
|
Vitamin C:
2
mg
|
Calcium:
91
mg
|
Iron:
3
mg
Disclaimer
Nutrition information is estimated as a courtesy. If using for medical purposes, please verify information using your own nutritional calculator. Percent Daily Values are based on a 2000 calorie diet.