This Red White and Blue Cocktail is here to help you stay cool all summer long. A fun 4th of July cocktail recipe that only takes you 5 minutes to make, is exactly what you need to beat the heat, and will impress all your friends and family.
It looks like a bomb pop, tastes like a bomb pop, and will make you feel like the bomb!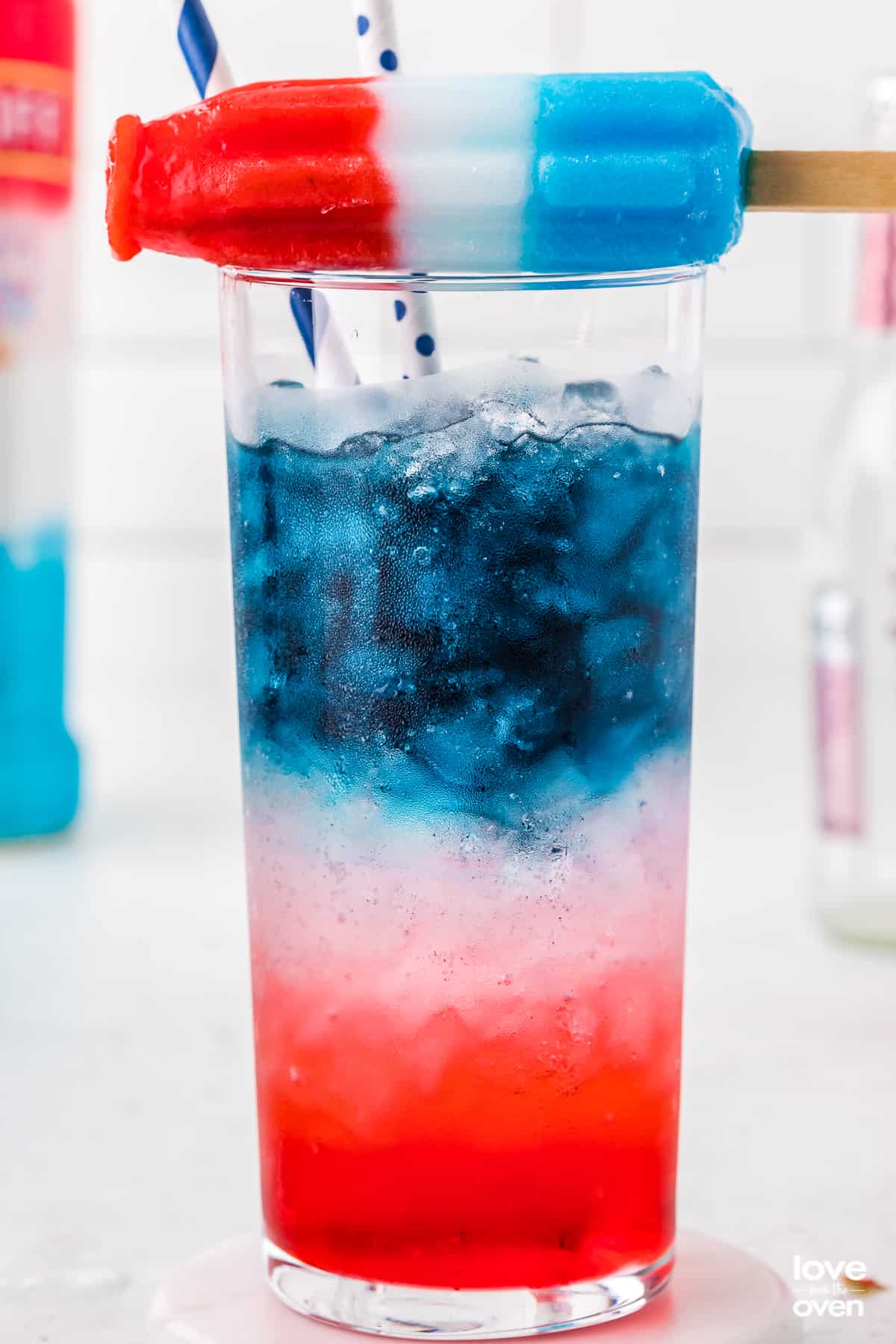 Reasons You'll Love This
#Winning – If you want to win 4th of July this summer, you absolutely have to make these! 
Bomb Pop Cocktail – Loved having bomb pops as a kid? Well here's the adult version!
Sweet and Refreshing – These are perfect to sip on during a hot, sunny day, out by the pool! 
Red, White, and Blue – If you're already planning on having red, white, and blue food this 4th of July, you can't forget about the drinks! 
Party Trick – Impress all your party guests with the different color liquids layered on top of each other.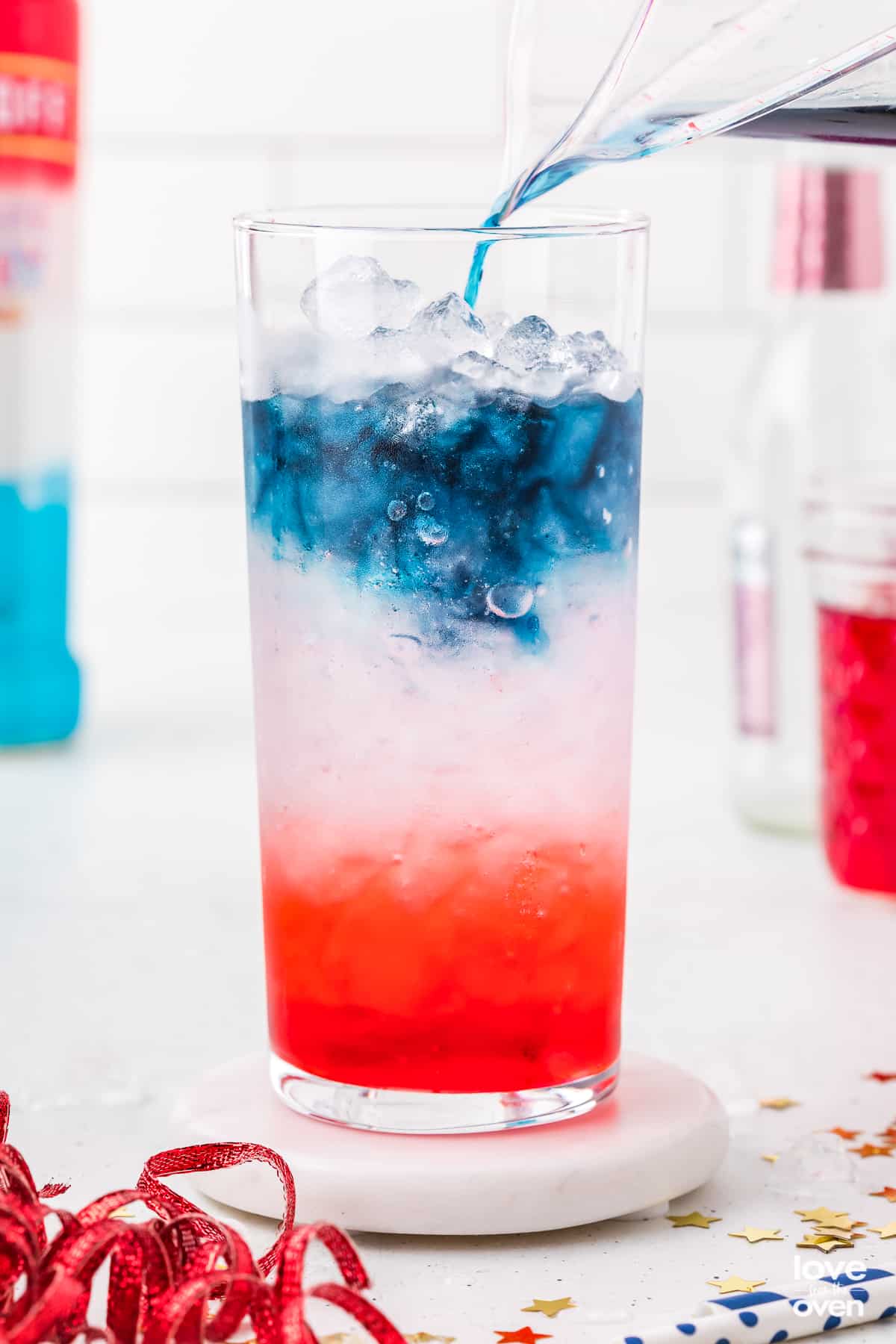 Not only does this drink look insanely cool, it tastes sooo good, especially if you like your cocktails on the sweeter side. Garnished with an entire bomb pop, these Fourth of July drinks are just plain fun! Make these for any patriotic parties, or just for a fun weekend activity.
Ingredient Info
Let's discuss how to make this Red, White and Blue Cocktail, as well as the ingredients that are needed. Please take note that below you will find discussion, expert tips, and answers to frequently asked questions about this recipe to help you recreate it in your kitchen. If you *just* want the recipe itself, scroll down. The full printable recipe itself, with exact measurements and instructions, is found at the bottom of this page.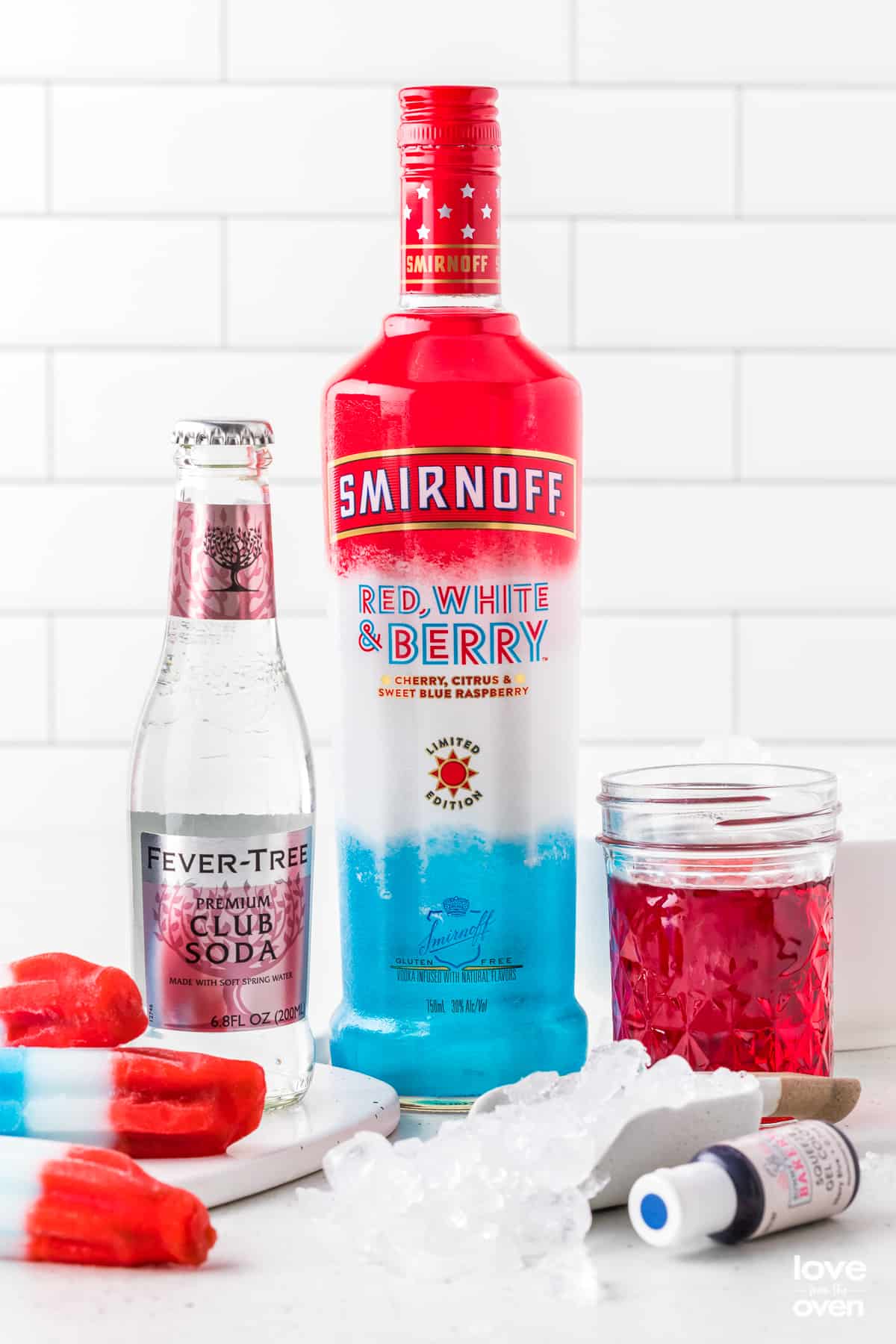 Grenadine – This is the red layer, and what makes the drink taste like a bomb pop! You can find it at most grocery stores and liquor stores.
Crushed Ice – Because crushed ice is superior!
Club Soda – Since the grenadine is so sweet already, we used club soda for this recipe. But if you like your drinks super sweet, you can substitute for any lemon lime soda or lemonade if you'd like!
Vodka – Smirnoff has a Red White and Berry Vodka, which is what was used for this recipe. However, you can use any flavor you like!
Blue Food Coloring – To turn the vodka blue! Use as little or as much as you like. If you want a natural food coloring, this is a good option.
Bomb Pop Popsicle – This makes such a fun garnish for the drink, but totally optional! You can also stir the drink with the popsicle to make it sweeter.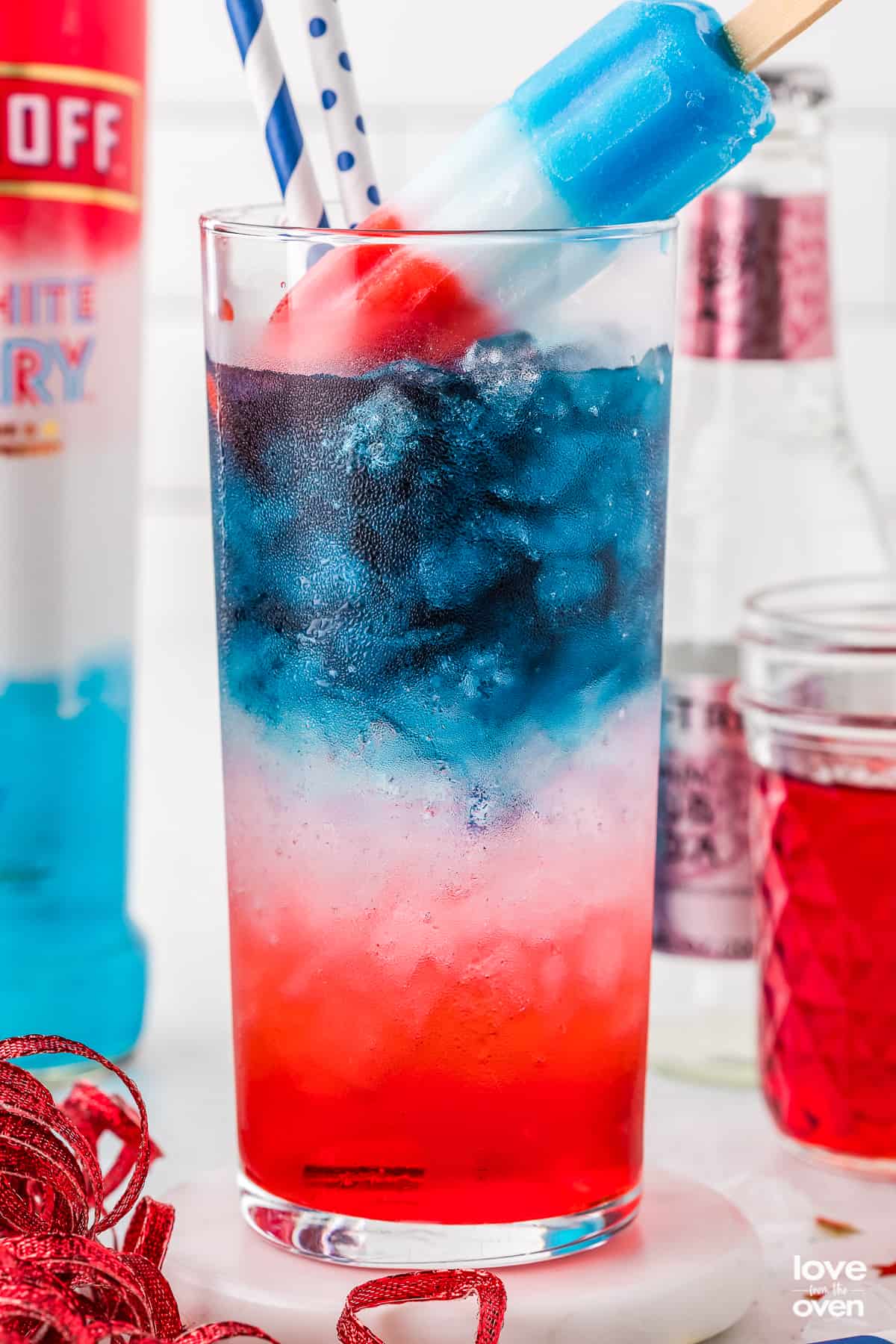 Step By Step Instructions
Add 4 ounces of vodka to a measuring cup. To the vodka, add 1-2 drops of the blue food coloring. Stir that together & add more if necessary until you're satisfied with the color. Grab your tall glass of choice and pour 1 ounce of grenadine in your glass.
Fill the glass with 1 cup of crushed ice on top of the grenadine. You want the glass to be full of ice, so if it's not, add more ice.
Slowly pour about 4 ounces of club soda into the glass on top of the grenadine.
Next, pour 2 ounces of the blue vodka on top of the club soda. Garnish the drink with a Bomb Pop if desired and repeat steps 2-4 for each glass. Serve and enjoy!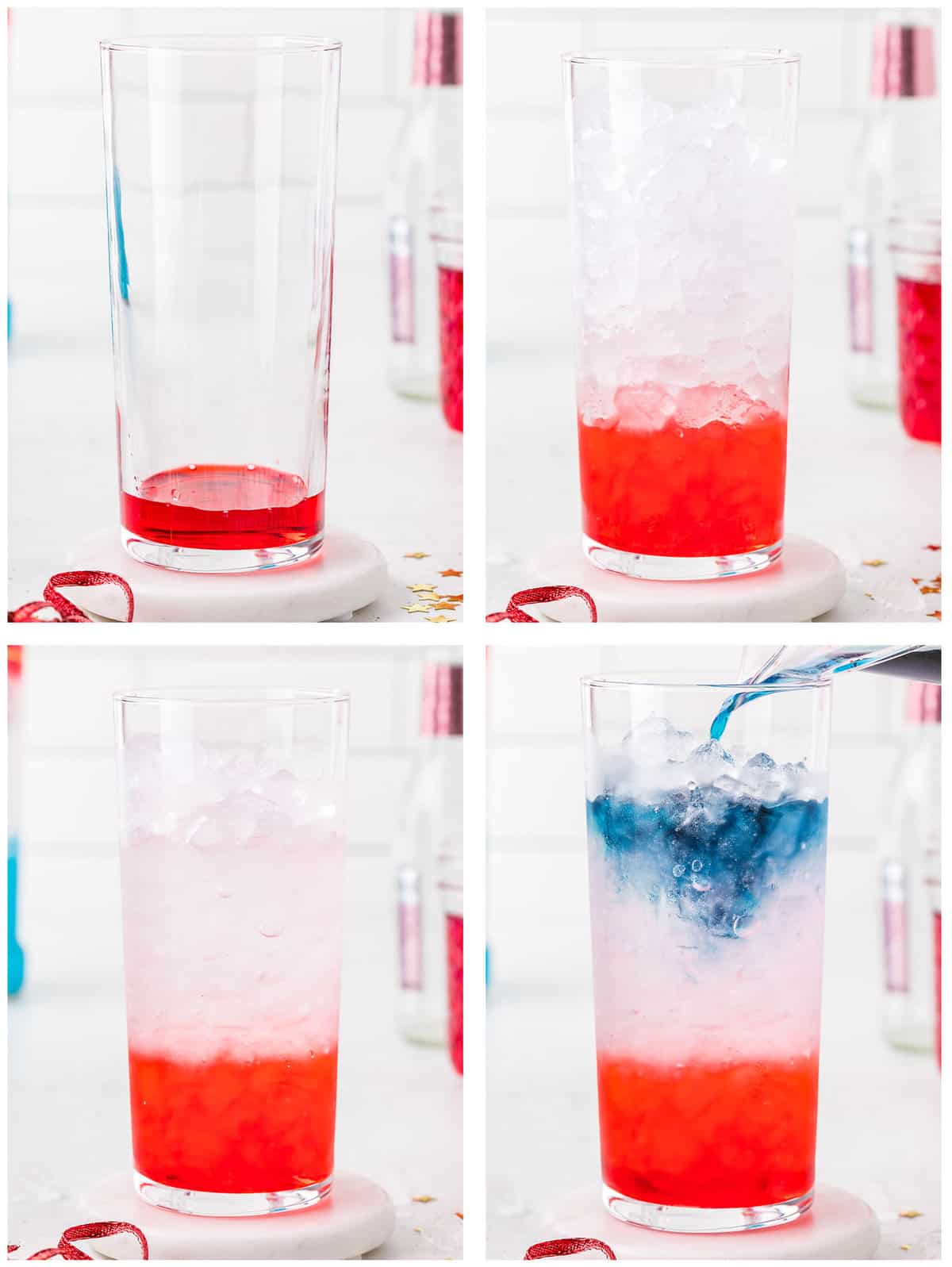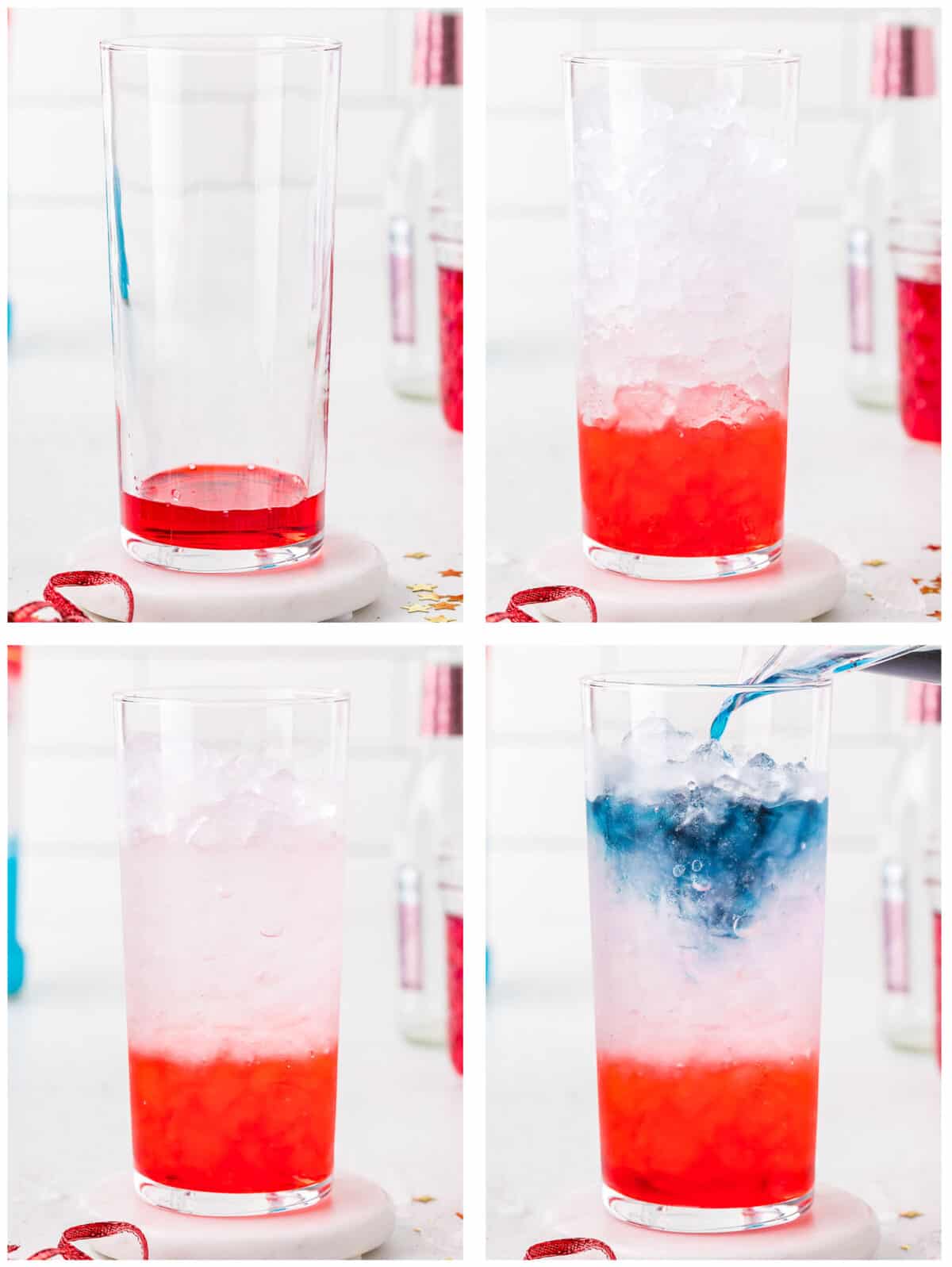 Tips And Advice
Storage – You'll want to serve these drinks right away, or else the ice will melt and the liquids will eventually blend together and not have those pretty red, white and blue layers. Since it's not a make ahead cocktail, I don't recommend trying to save these. You can turn the vodka blue ahead of time, and store that in the fridge until you're ready to pour!
Quick Bartending Tip – Pour the liquid into the glass very slowly when layering liquids. Use a measuring cup with a spout to control your pour a bit better, and get close to the cup when pouring.
Make it a mocktail
You can absolutely make this a mocktail if you have kids, or don't like alcohol! You can still use grenadine as the red layer, or you can use something like fruit punch or KoolAid. For the white layer, you can still use club soda, lemon lime soda, or lemonade. For the blue layer you can substitute it for some blue Hawaiian punch, blue raspberry soda, or blue Gatorade.
Equipment
You'll want clear glasses for this recipe, so you can see the red, white and blue layers from the outside. Also the taller the glass, the better. Here are some really great options:
Otherwise, you'll just need some measuring cups, and something to stir with. If you want to add some decorative straws to the drink, make sure you put the straw in the cup before adding the liquid.
FAQs
What is the best alcoholic drink in the summer?
Vodka is a fairly light alcohol, and mixes with most fruit juices and sodas. So, like this drink, makes it the perfect drink choice for the summer!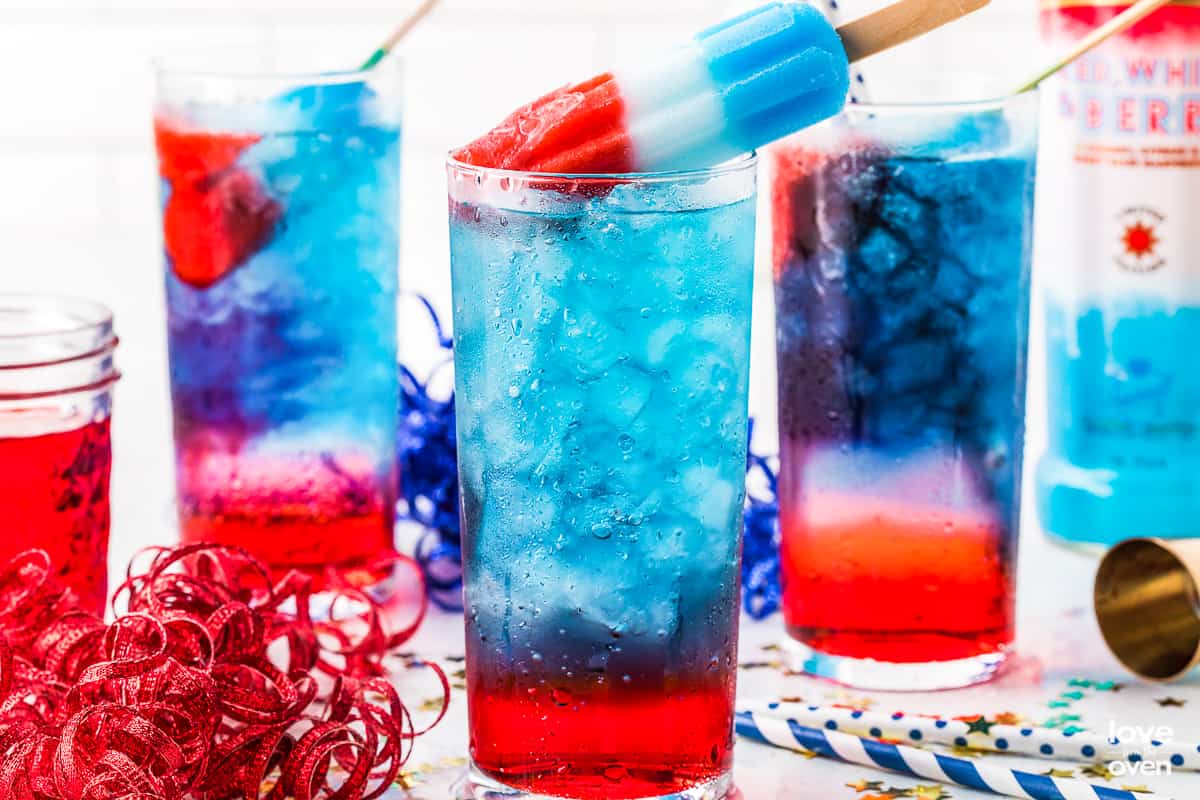 Recipes You'll Love
Now that you've got the drinks covered, here are some great backyard barbecue foods that would pair perfectly with this drink!
More Recipes You'll Love!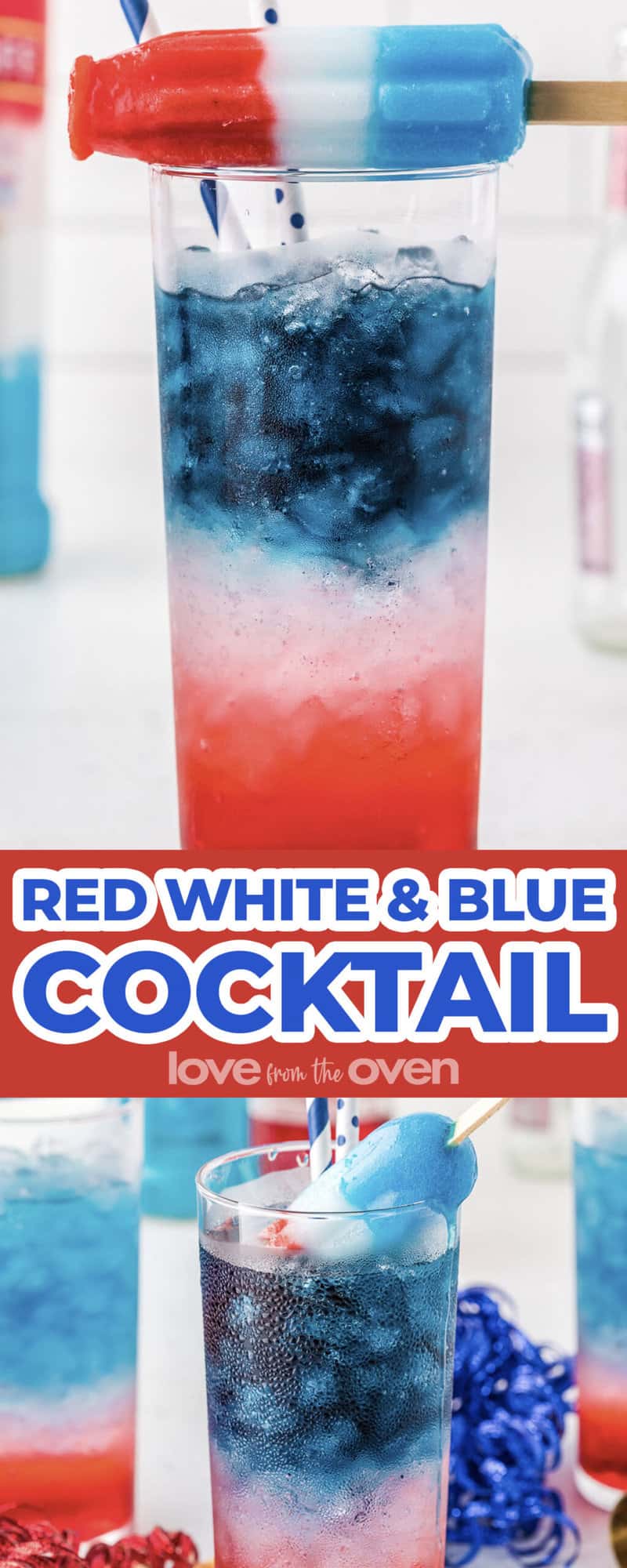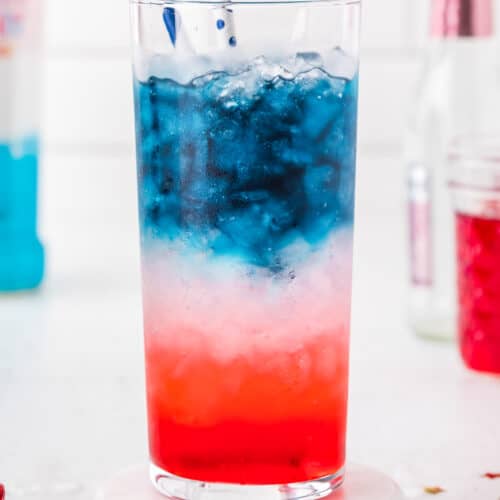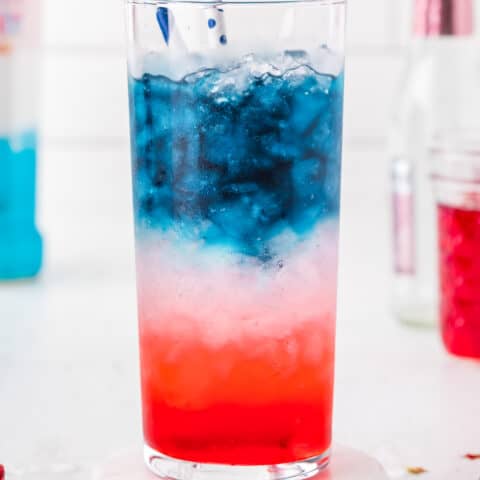 Red White and Blue Cocktail
A fun 4th of July cocktail recipe that only takes you 5 minutes to make, is Red, White and Blue Cocktail is exactly what you need to beat the heat, and will impress all your friends and family. 
Ingredients
2

ounces

grenadine

2

cups

crushed ice

8

ounces

club soda

blue food coloring

4

ounces

vodka

2

bomb pops
Instructions
In a measuring cup, add 1-2 drops of food-safe food coloring to 4 ounces of vodka. Stir to combine, add more food coloring until the desired color is reached. Set aside.

Pour 1 ounce of grenadine into each 16-ounce tall glass.

Add 1 cup of crushed ice to each glass, or until the glass is nearly full.

Slowly pour 4 ounces of Club Soda into each glass.

Slowly pour 2 ounces of blue vodka from step one into each glass.

Garnish each glass with a Bomb Pop Popsicle.
Notes
Pour each layer slowly, trying to avoid the sides of the glass and avoid disrupting the layer underneath as little as possible.
If you plan to serve with a straw, place the straw into the glass first before adding your ingredients.
Nutrition
Calories:
207
kcal
|
Carbohydrates:
19
g
|
Sodium:
44
mg
|
Potassium:
11
mg
|
Sugar:
13
g
|
Calcium:
14
mg
|
Iron:
0.03
mg
Disclaimer
Nutrition information is estimated as a courtesy. If using for medical purposes, please verify information using your own nutritional calculator. Percent Daily Values are based on a 2000 calorie diet.