Let's face it, Thanksgiving can be… stressful! While I can't reduce the stress of traveling, crazy relatives or unexpected mishaps, I do have some tips and tricks that will help make your Thanksgiving cooking and baking successful. You'll find those, as well as 25+ of my favorite Thanksgiving side dish recipe and Thanksgiving dessert recipes, below!
Tips For a Successful And Stress Free Thanksgiving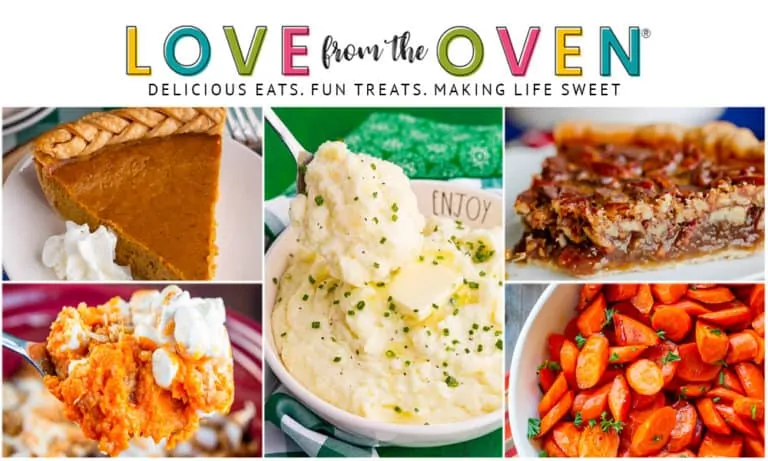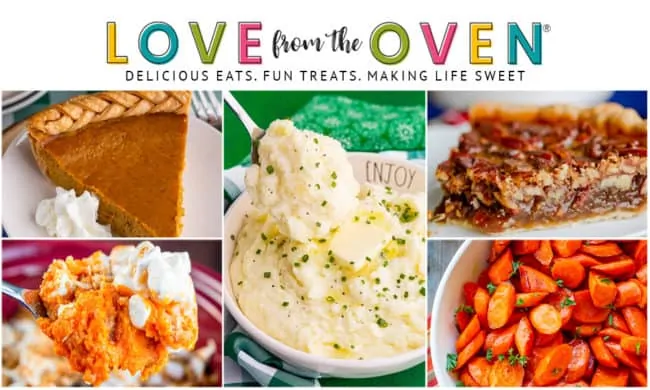 One of the best things you can do is simply be prepared. This is not my strongest suit, but I've learned some ways to better be on top of things. I hope you find these Thanksgiving Tips and Tricks helpful!
Print your recipes ahead of time, then read them! I am very guilty of just "scanning" a recipe, and missing something I should have known before I started making it.While we often focus on making sure we have the right ingredients, it's also important to make sure we know what we will be doing, and how long it will take.
Test runs are fantastic! Big important meals with the family aren't always the best time to try a completely new recipe.Sure, some recipes are pretty simple and you'll be good, but if you are trying a recipe unlike one you've ever made before, maybe have a practice run that will let you master the recipe so that you know what to expect.
Make a shopping list for all of your recipes. I often assume I have certain ingredients, then find out I don't – at the last minute!What works for me is to create a list of all of the ingredients, then check my pantry and fridge and cross off what I verify that I have on hand, and is fresh and ready to go.
Plan your oven time – even make a schedule. Thanksgiving always seems like the holiday where the oven is always in use. Especially if you are making the turkey, make sure that you have time allotted for the oven.If you find that you simply won't be able to get a dish into the oven when needed, then look for an alternate cooking method or recipe.
Make ahead whatever recipes you can. Many recipes can be made ahead of time, so take advantage of it!Also there are many things you can prep ahead of time, right down to measuring out your ingredients. There are many items you can prep ahead of time even if you don't fully make them in advance.
Use an ice chest to gain fridge space. Realizing you need more space for your Thanksgiving food? Prep an ice chest and temporarily store items there.Things like that Costco size bottle of maple syrup might be able to hang out in an ice filled ice chest for the day, letting you have more usable fridge space.
Before the gravy boat, use the gravy Thermos. We often use a pre-heated Thermos (heat with hot water according to instructions) to keep items like gravy warm. Make it ahead, set it aside, it'll stay nice and hot!
Plan tasks for helpers. I admit, I can be a bit controlling in my kitchen, and I prefer to do it all myself #stubborn. That said, people want to help! I find it helpful to have a list, mental or physical, that you can give to those people who ask what they can do to help.Often it helps me to give helpers a task, as it makes me feel a bit less pressured with everyone waiting for me (even if they aren't, sometimes it feels like it!). Maybe they help in the kitchen, or maybe the help make sure everyone has drinks, or it could be keeping the kiddos entertained.
Place appetizers and drinks outside of the kitchen. The kitchen is my domain, but I get a little twitchy when it's full of people and I'm trying to pull off the perfect meal.People congregate where food is, so if you like your space in your kitchen, feel free to set your snacks and sips in a different area. People will follow the food!
Store bought can be great. Not every last thing HAS to be cut, diced and made from scratch.Salad and appetizer items can often easily be purchased washed, prepped and ready to go. I LOVE a frozen pie crust, they are so simple, foolproof and most brands taste great! Sometimes a few simple shortcuts can really help.
When it comes to allergies or dietary restrictions, go with the flow. Many of us who deal with food allergies or dietary restrictions can be a bit nervous on food based holidays.While it's great to plan ahead and accommodate accordingly, if on Thanksgiving Day cousin Jane wants to pass on a few items due to allergy concerns, just let her, and go with the flow. While people can have GREAT intentions, those dealing with food allergies often don't want a big deal made. If my daughter passes on a food or doesn't feel something is safe, she hates to offend the host and doesn't want a big deal made of it. There is nothing worse then feeling pressure to eat something that you don't feel safe eating. So just try and go with the flow, following the lead of those with the dietary restrictions. At least that's what my food allergy family appreciates.
Have leftover containers on hand, ready to share. You can pick up great leftover containers in your store or online. I love Chinese take out boxes!This way you, or your guests, can package up leftovers to take home. This helps make clean up easier, and everyone leaves with a smile, and a to go box!
Keep it simple and keep smiling. I know, I know, this one is so much easier said than done. But Thanksgiving is about spending time together, the food is just a delicious added bonus.If you tell yourself ahead of time that maybe something will go wrong, but that in the big picture, it's really no big deal, then you are in the right frame of mind. Keep smiling and keep laughing. That's the best recipe there is.
Have a turkey emergency? Call the Turkey Talkline! While I haven't used it, Butterball is pretty famous for their Turkey Talkline, so in a pinch, I'd absolutely reach out. You can even text!
My Favorite Thanksgiving Recipes
Thanksgiving Side Dish Recipes
Thanksgiving Pie Recipes
Thanksgiving Dessert Recipes That Aren't Pie
I hope these tips, tricks and recipes help you have a happy, healthy and stress-free Thanksgiving with your friends and family. I'm thankful to have you all as readers!
From my family to yours!