Blackberry Cobbler is the ultimate easy dessert that is bursting with a deep, fruity flavor you've been searching for your whole life! Craving a fruit pie but not craving all the work it takes to make one? This cobbler is about to become your best friend. The sweet and tart blackberry filling combined with the crispy yet doughy cobbler topping is sure to create an explosion of flavor in your mouth.
Reasons You'll Love This
Perfect Summer Dessert – We are slowly approaching blackberry season, and you can put this recipe on your radar for when it rolls around. I guarantee you'll never eat another cobbler so fresh and so sweet!
Cobbler Lovers – If you're the type of person who could care less to spend all that time making a fruit pie, and just want to throw everything into one dish… this is the recipe for you! 
Served Warm – There is truly nothing better than taking a heaping portion of some warm fruit cobbler, plopping a giant scoop of vanilla ice cream on top, and letting it all melt together in harmony. 
Easy Bake – Sometimes you just need one of those easy fruit desserts that are quick to whip up with simple ingredients you likely have in your kitchen already.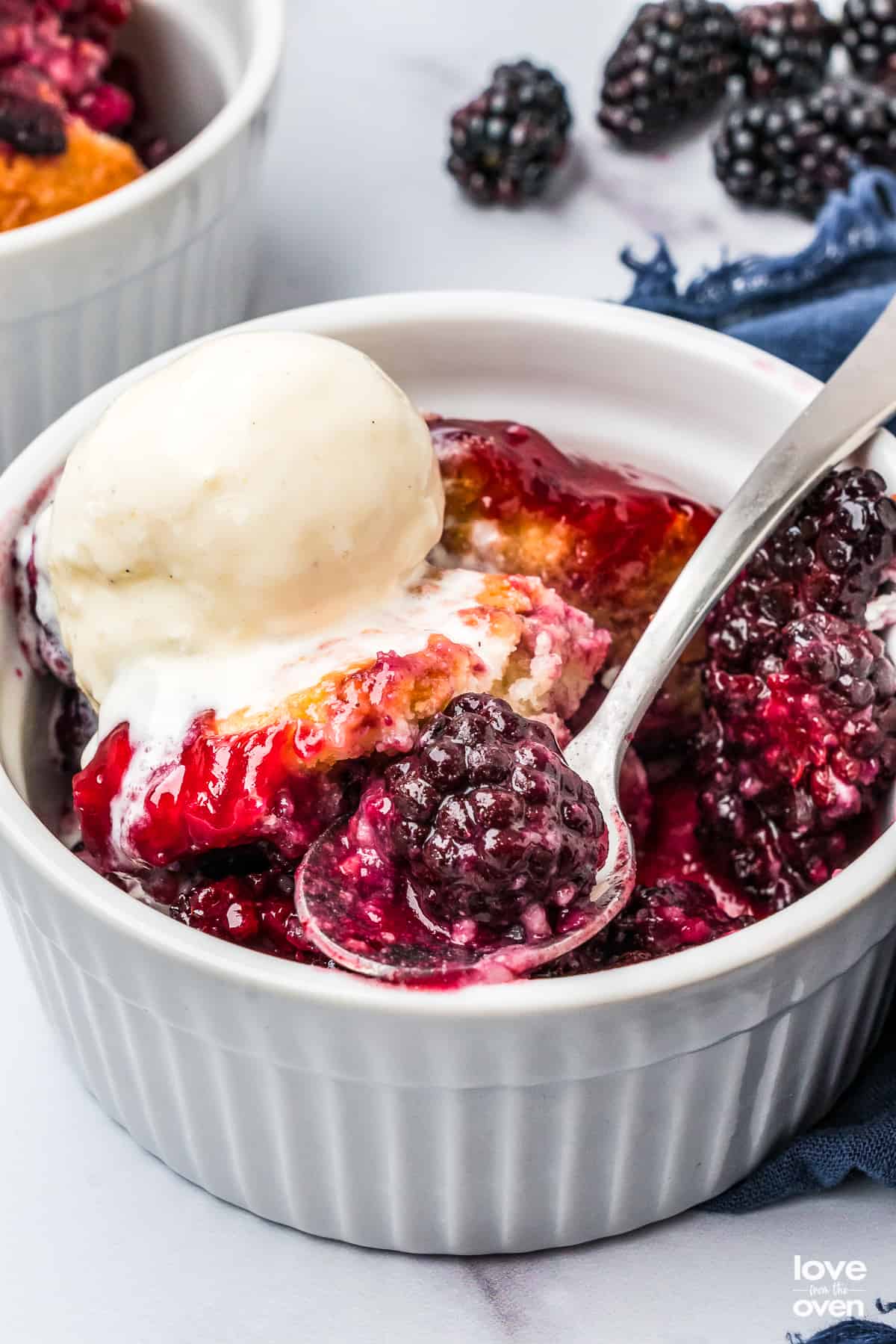 Good old fashioned Blackberry Cobbler has always been one of those simple, trusty goodies that you know will always turn out amazing. You seriously can't go wrong with this recipe! No one in their right mind would turn down this oh-so-gooey, southern dessert. Don't believe it? You'll just have to make this yourself to find out!
Let's discuss how to make Blackberry Cobbler, as well as the ingredients that are needed. Please take note that below you will find discussion, expert tips, and answers to frequently asked questions about this recipe to help you recreate it in your kitchen. If you *just* want the recipe itself, scroll down. The full printable recipe itself, with exact measurements and instructions, is found at the bottom of this page.
Ingredient Info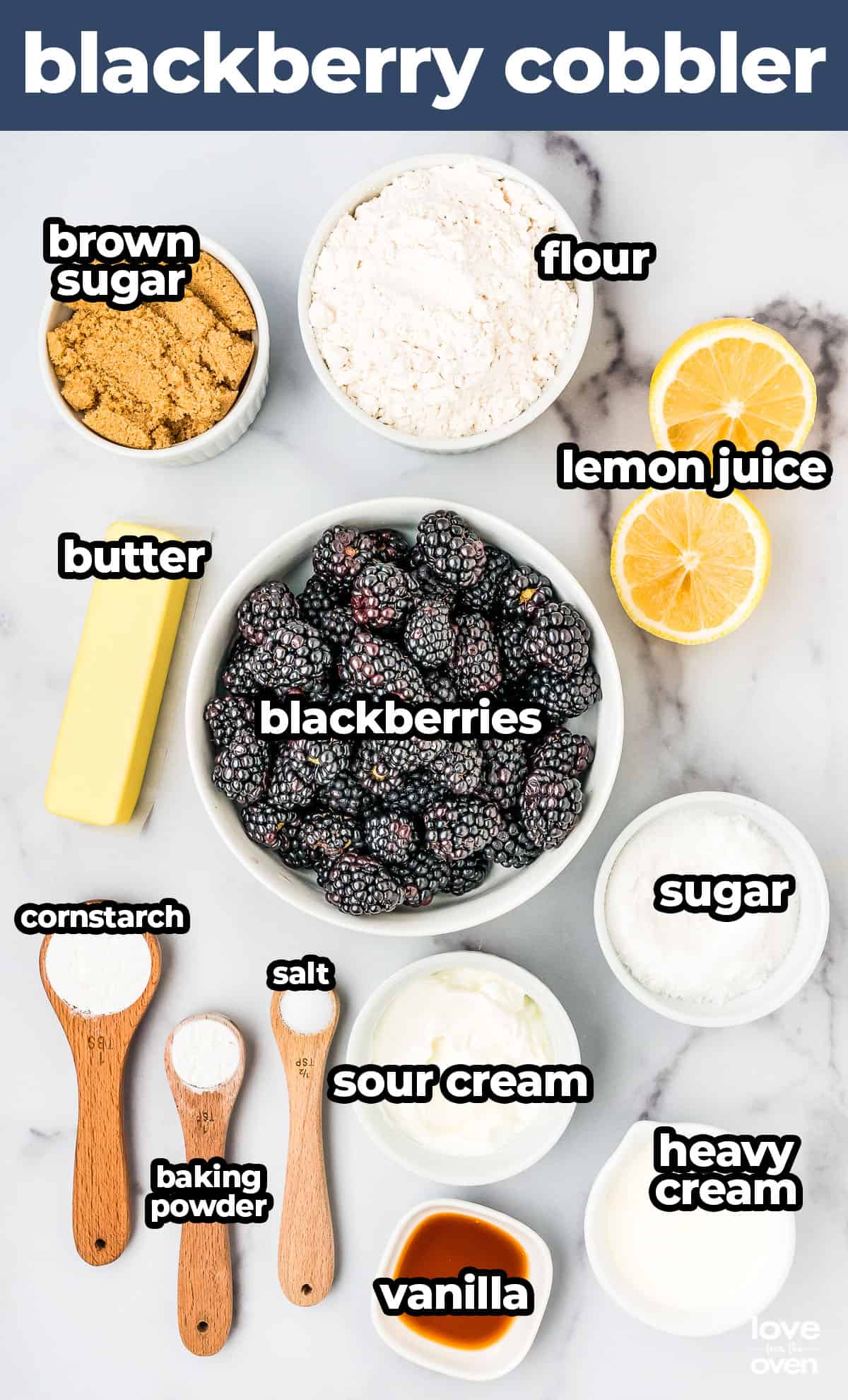 Blackberries – Highly recommend using fresh blackberries in season for this recipe. But if you're reading this and it's not blackberry season yet don't fret! You can still enjoy this dessert just the same because the sugar and lemon juice will really bring out that lovely blackberry flavor you want.
Brown Sugar – The deep flavor of brown sugar really absorbs into the fresh fruit giving them a whole different level of sweetness as well as a thicker texture.
Cornstarch – Cornstarch makes the blackberry juice turn into a thicker sauce, so your cobbler doesn't turn out runny or watery.
Lemon Juice – As contradictory as it sounds, lemon juice actually brings out the sweetness in the juicy berries! Fresh lemon juice is always superior, but if you only have bottled, that works as well.
Flour – All purpose flour is the best option for this recipe.
Butter – You'll want to use a stick of unsalted butter cut into cubes, and make sure it's fairly cold. That will be key to getting that chewy, buttery texture in the crumb topping.
Heavy Cream – Also known as heavy whipping cream. Either one will work for this recipe.
Sour Cream – You should be putting sour cream into everything you bake! Okay… not actually; but if you haven't tried baking with sour cream, you're missing out. This makes the dough turn out so moist and fluffy.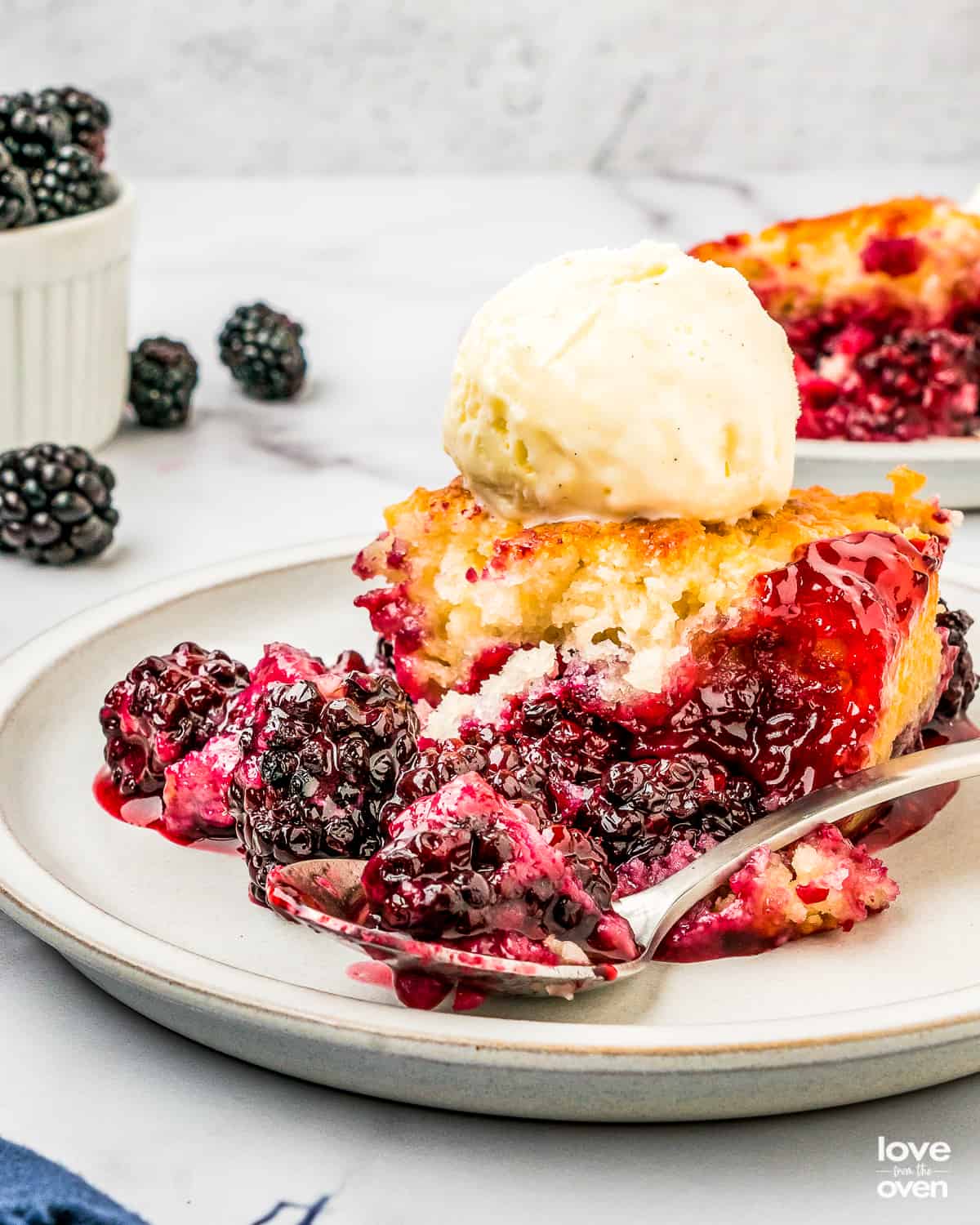 Step By Step Instructions
Heat oven to 400°F then grab a strainer and rinse the blackberries well under cold running water. Shake the excess water off the fruit and place blackberries in the bottom of a 9×13 casserole dish. Sprinkle the top of the berries with the brown sugar, cornstarch and lemon juice. Use a spoon to stir the blackberries around so they're evenly coated.
Grab a separate medium bowl and add the flour, sugar, baking powder and salt. Mix that together until combined.
Add the cubed, cold butter to the flour mixture. Using a pastry cutter or pastry blender, knead the butter and flour mixture together until a crumb topping forms. It should look chunky with small pieces of butter in the mixture.
To the topping mixture, add the heavy cream, sour cream, and vanilla extract and mix batter with the back of a spoon to combine until you get a thick, fluffy dough. It should be really thick.
Using a spoon, add the dough to the top of the blackberries. Don't worry about covering the entire area of the dish, as long as it's fairly evenly spread on top.
Bake the cobbler in the oven for about 35-40 minutes, or until the top of the batter turns a golden brown, and the blackberry filling is bubbling through the cracks. Remove from the oven, let it cool at room temperature for a few minutes, and serve warm right out of the dish. Top with your favorite ice cream and some whipped cream and enjoy!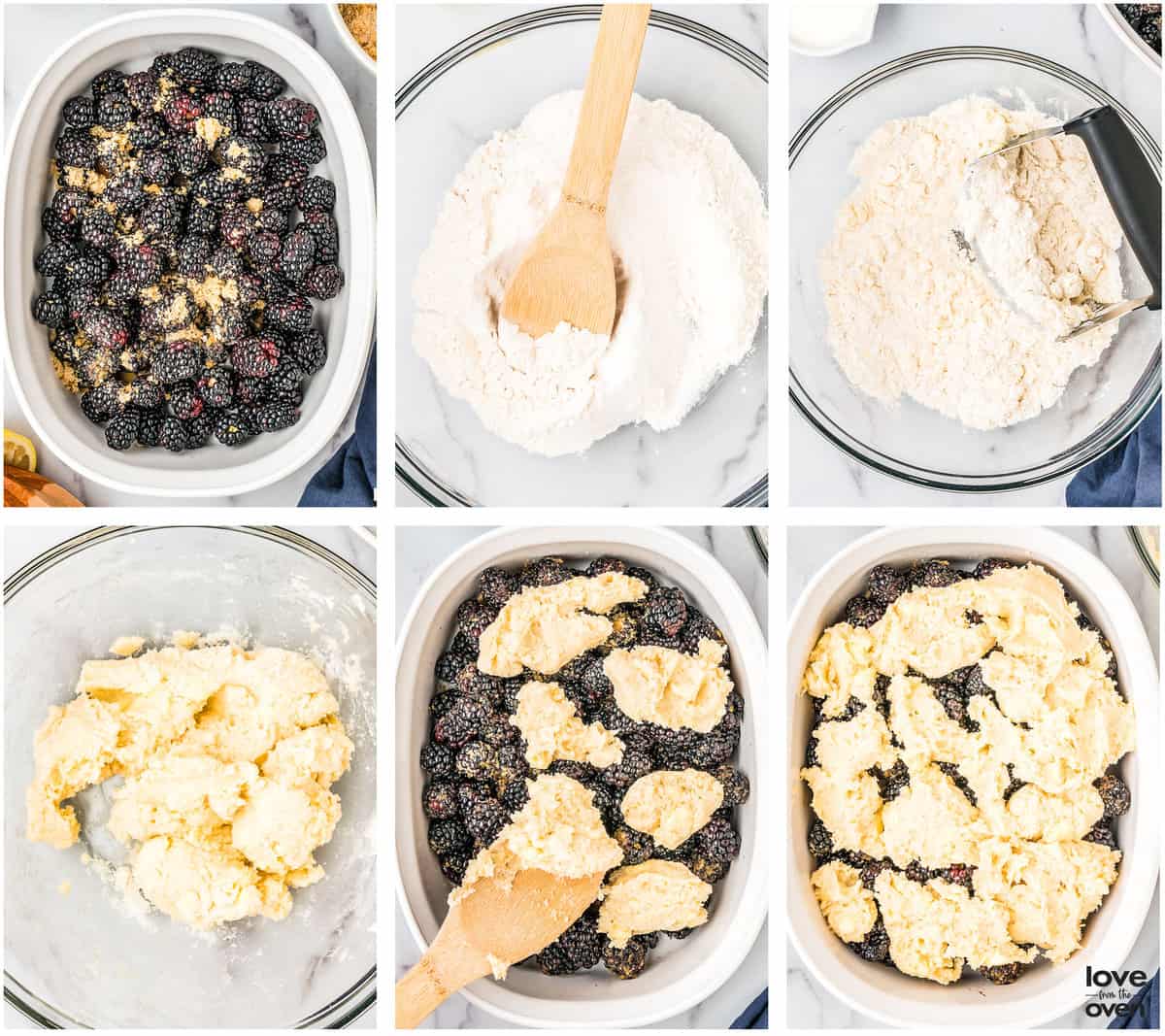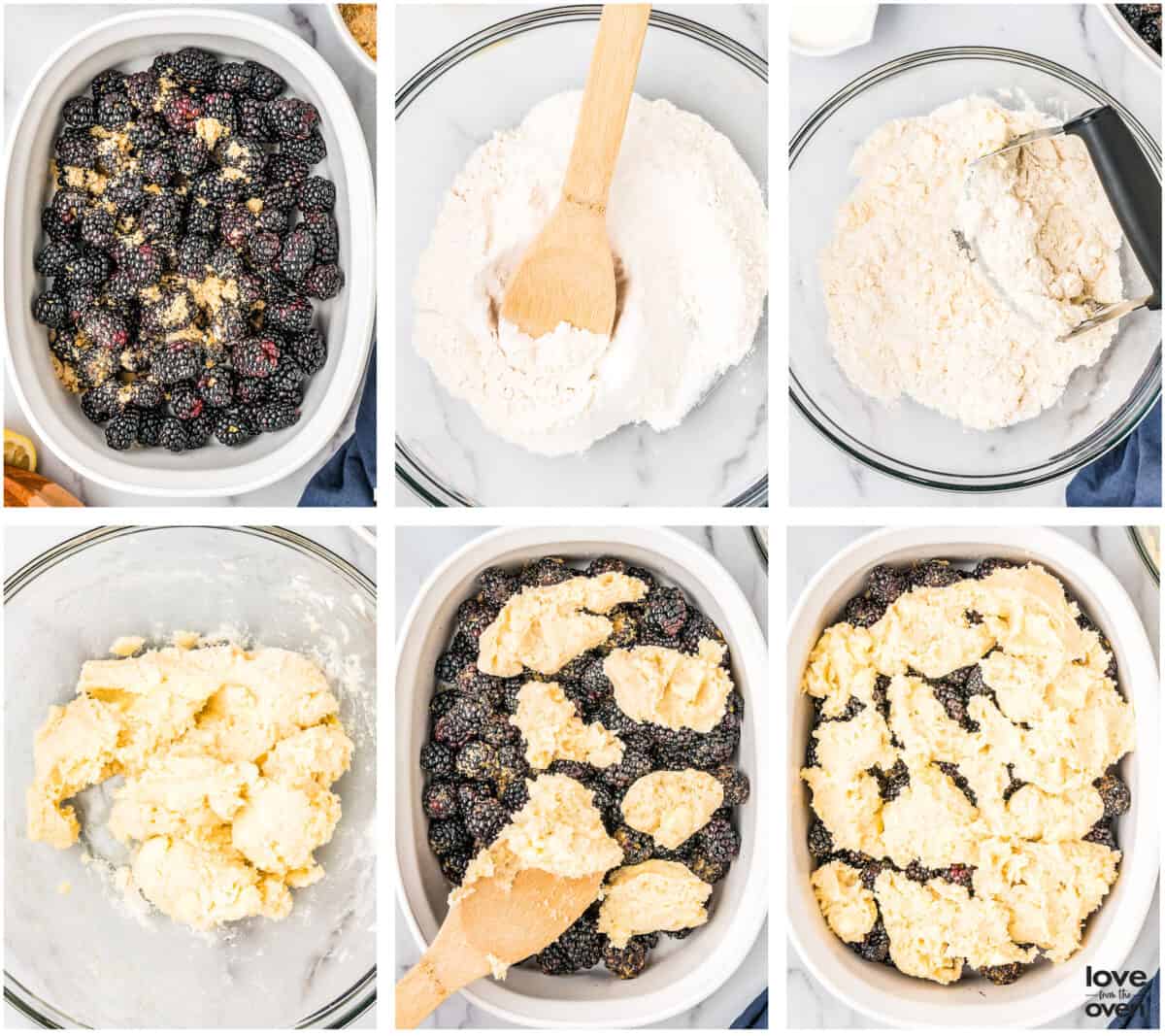 Tips and Advice
Storage – The leftover cobbler should be stored covered or in an airtight container in the fridge for 3-4 days. You can reheat the leftovers by scooping out a serving and heating it in the microwave for a minute or you can cover the cobbler with aluminum foil and reheat it back in the oven at 350°F for about 20 minutes, or until warm enough.
Equipment – For this simple recipe you'll need a 9×13 casserole or baking dish, a large mixing bowl, a pastry cutter or pastry blender, and a spoon or something to mix with.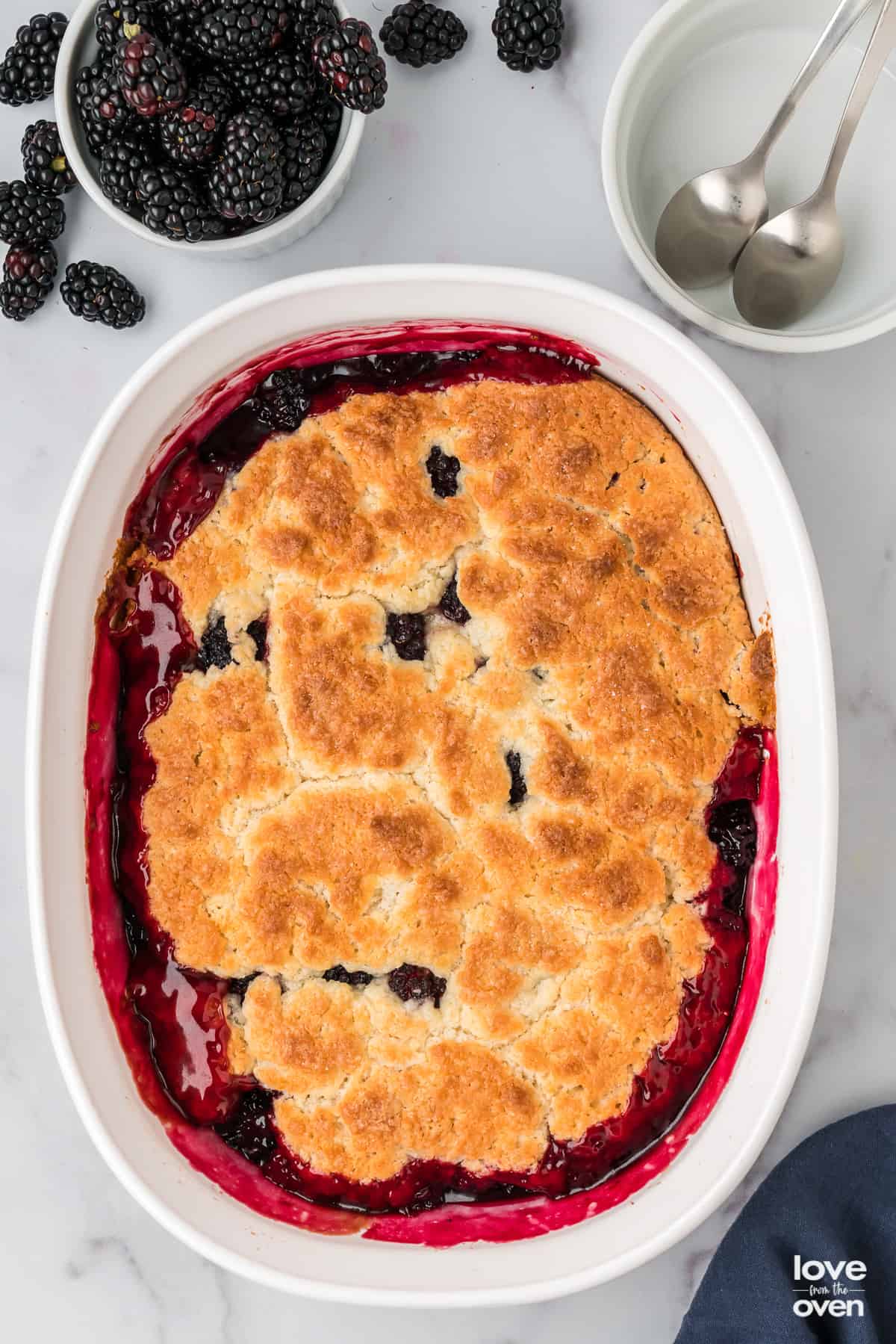 Make Ahead
Since I highly recommend serving this delicious cobbler right out of the oven, you can make this delicious dessert ahead of time and assemble/bake it 40 minutes before you're ready to serve. Just toss the blackberries as directed, and make the dough as directed. Then, instead of putting the topping on right away, store them covered in plastic wrap separately in the fridge until you're ready to assemble. You may want it to thaw for 10-20 minutes before you assemble, otherwise you're good to go!
FAQs
What is the difference between blackberry pie and blackberry cobbler?
Blackberry pie will likely have a bottom and top pie crust, and the pie crust is much thinner and flakier than a cobbler dough. Blackberry cobbler will have fruit on the bottom with a thick, doughy batter on top. Not to be confused with a blackberry crumble which has a more streusel-like topping.
How do you make blackberry cobbler not runny?
Make sure the cornstarch is evenly coating the blackberries. The starch will soak up all the liquid from the juicy blackberries and turn it into a beautifully sweet paste.
Why is my blackberry cobbler bitter?
This may be due to the fact that the blackberries you used were too tart, and not in season. This is okay! You can still enjoy this delicacy during the off season. Once you sprinkle the fresh berries with sugar, cornstarch and lemon juice, allow it to sit in the fridge and marinate for 30-ish minutes so the sugar can really pull out the sweet blackberry flavor that you're looking for. You can taste a blackberry before adding the topping to ensure that it meets your sweetness requirements.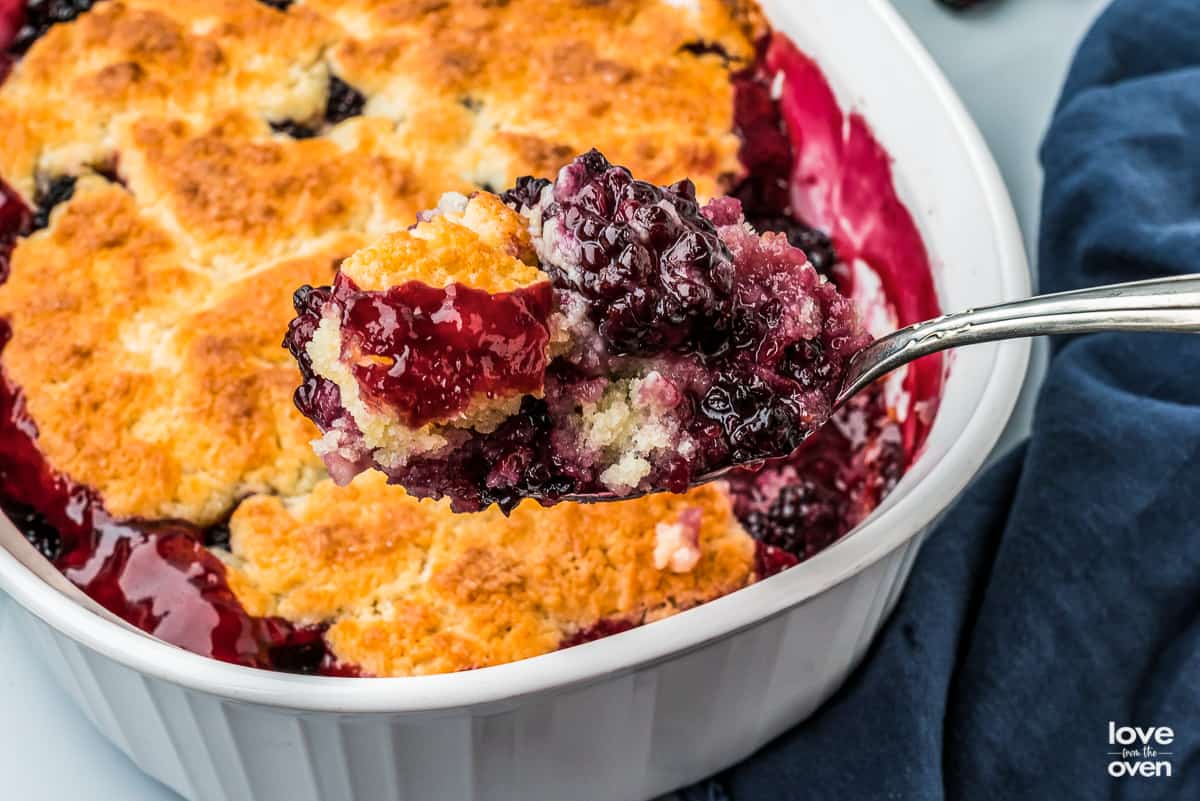 Recipes You'll Love
If you liked this blackberry cobbler recipe, be sure to check out some more easy recipes & berry desserts that are just as simple and just as yummy as this one!
More Recipes You'll Love!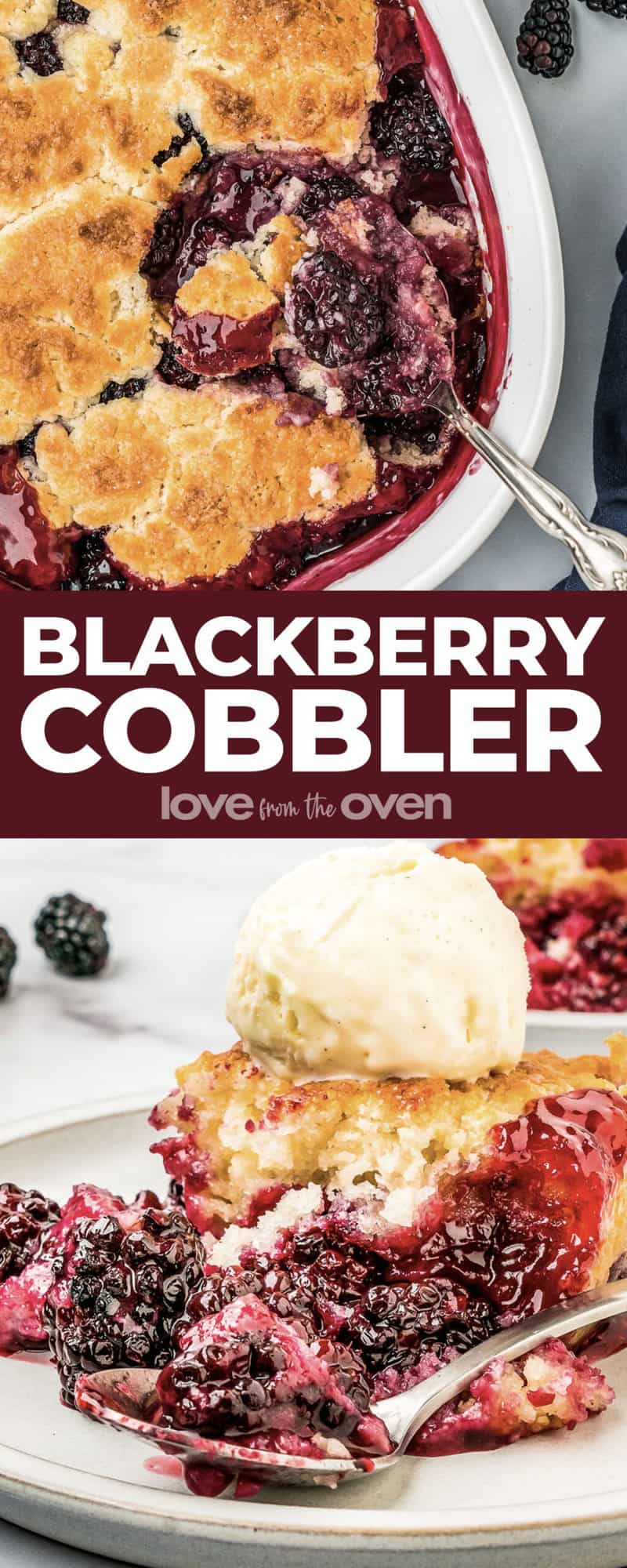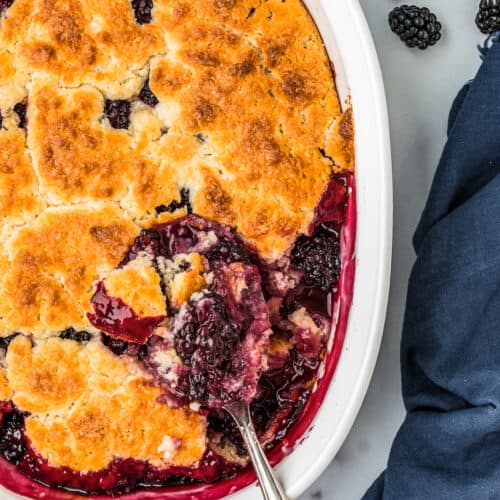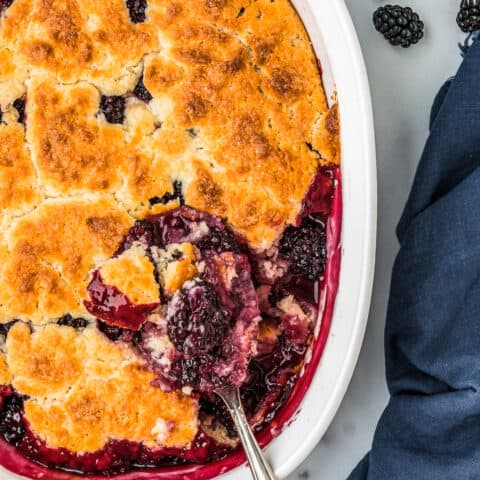 Blackberry Cobbler
The sweet and tart blackberry filling combined with the crispy yet doughy cobbler topping is sure to create an explosion of flavor in your mouth in this easy Blackberry Cobbler.
Ingredients
Blackberry Cobbler Filling
24

ounces

blackberries

1/2

cup

brown sugar

light or dark brown can be used

1

tablespoon

cornstarch

2

teaspoons

lemon juice
Topping
1 1/4

cups

all-purpose flour

1/2

cup

sugar

2

teaspoons

baking powder

1/2

teaspoon

salt

1/2

cups

unsalted butter

cold and cut into small cubes

1/4

cup

heavy cream

or heavy whipping cream

1/3

cup

sour cream

1

teaspoon

vanilla extract
Instructions
Preheat the oven to 400 degrees Fahrenheit.

Rinse blackberries under cool water, and pat until just slightly damp. Add the blackberries to a casserole dish.  Sprinkle the blackberries with brown sugar, cornstarch and lemon juice. Toss to coat the berries. 

In a separate bowl add the flour, sugar, baking powder and salt. Use a pastry cutter or two knives to cut in the cold butter. The mixture will be crumbly.

Stir in the heavy cream, sour cream and vanilla extract. The mixture will be very thick, and need to be pushed together with the back of a spoon.

Drop spoonfuls of dough on top of the blackberries. There likely will not be enough to cover all of the blackberries and this is perfectly fine, it actually looks even better that way.

Bake for 35-40 minutes or until the cobbler is golden brown and the berries are bubbling around the edges.

Allow to cool slightly, then serve warm. Vanilla ice cream makes the perfect topping.
Notes
Storage: Store leftover blackberry cobbler in an airtight container in the refrigerator for 3-4 days. 
Rehating: To reheat the cobbler in the oven, cover with foil and place in a 350 degree oven for 20 minutes or until warmed through.  Or microwave individual pieces for 60 seconds.
Nutrition
Calories:
361
kcal
|
Carbohydrates:
51
g
|
Protein:
4
g
|
Fat:
17
g
|
Saturated Fat:
10
g
|
Polyunsaturated Fat:
1
g
|
Monounsaturated Fat:
4
g
|
Trans Fat:
0.5
g
|
Cholesterol:
45
mg
|
Sodium:
158
mg
|
Potassium:
303
mg
|
Fiber:
5
g
|
Sugar:
31
g
|
Vitamin A:
706
IU
|
Vitamin C:
18
mg
|
Calcium:
101
mg
|
Iron:
2
mg
Disclaimer
Nutrition information is estimated as a courtesy. If using for medical purposes, please verify information using your own nutritional calculator. Percent Daily Values are based on a 2000 calorie diet.