Air fryer potato wedges are a quick and easy side dish that are perfect for burger night. Thanks to the air fryer, these steak fries turn out perfectly crispy and delicious. If your family loves potatoes and french fries as much as mine does, then get ready for cheers when these are on the menu!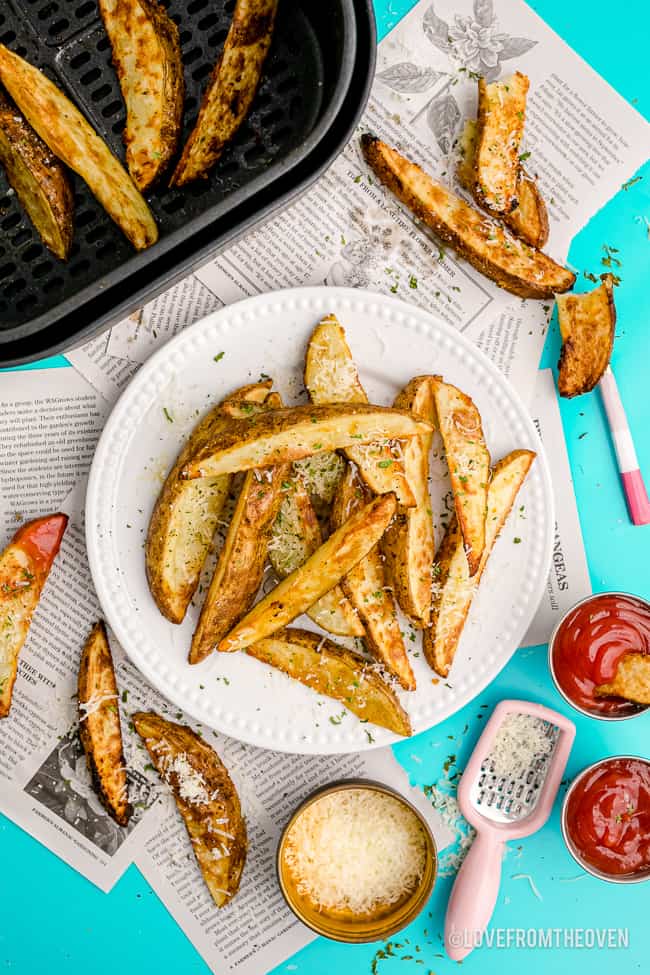 Reasons You'll Love Potato Wedges In The Air Fryer
Simple ingredients.

These homemade wedge potato fries use simple ingredients that you probably already have on hand. 

Taste great.

Potato wedges are a variety of French fry that just taste great. The seasoning mixture used for these fries give them an amazing flavor. 

Easy to make.

Your Air Fryer does most of the work for these potato wedges. Simply prep and cook. No deep fryer or oil to deal with. 

Healthier Than Fried.  Skip all that oil and let the air fryer work it's magic.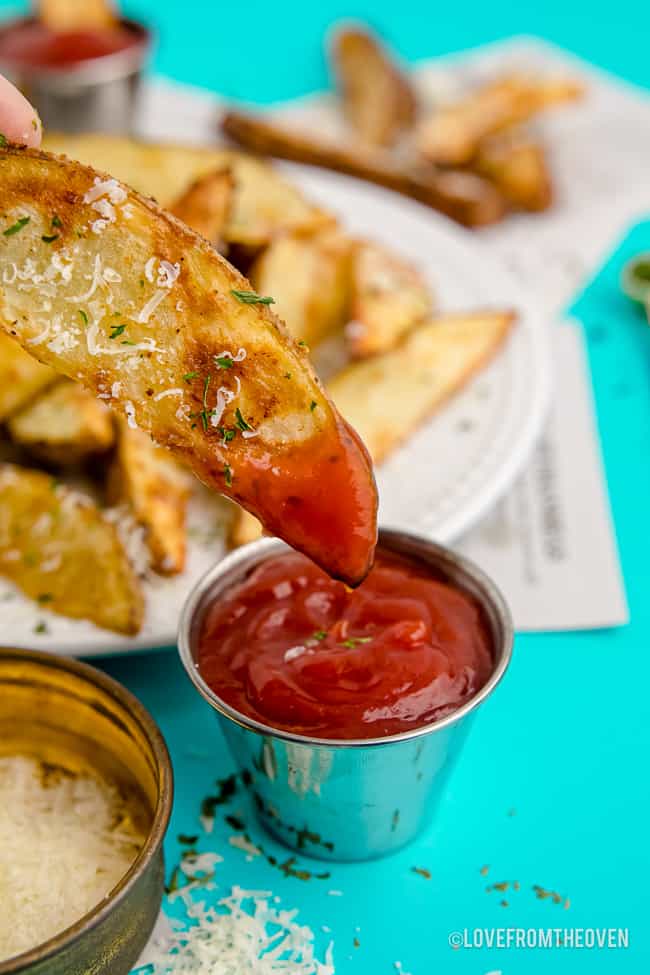 Air Fryer Potato Wedges
We love potato recipes in this house, especially in fry form! From air fryer sweet potato fries to air fryer frozen french fries to chili cheese fries, everyone is happy when fries are part of dinner.
These crispy air fryer potato wedges are a type of French fry, but they are a lot simpler to make than some other fries are. I love these easy potato wedges when we have burger night, but they are also great with any meal.
They are a natural with Air Fryer Cheeseburgers, but we also love them with Air Fryer Chicken Drumsticks, Air Fryer Chicken Tenders, Crockpot BBQ Chicken Sandwiches, Popcorn Chicken and Air Fryer Chicken Thighs. And you can't go wrong pairing them with Frozen Chicken Wings In The Air Fryer.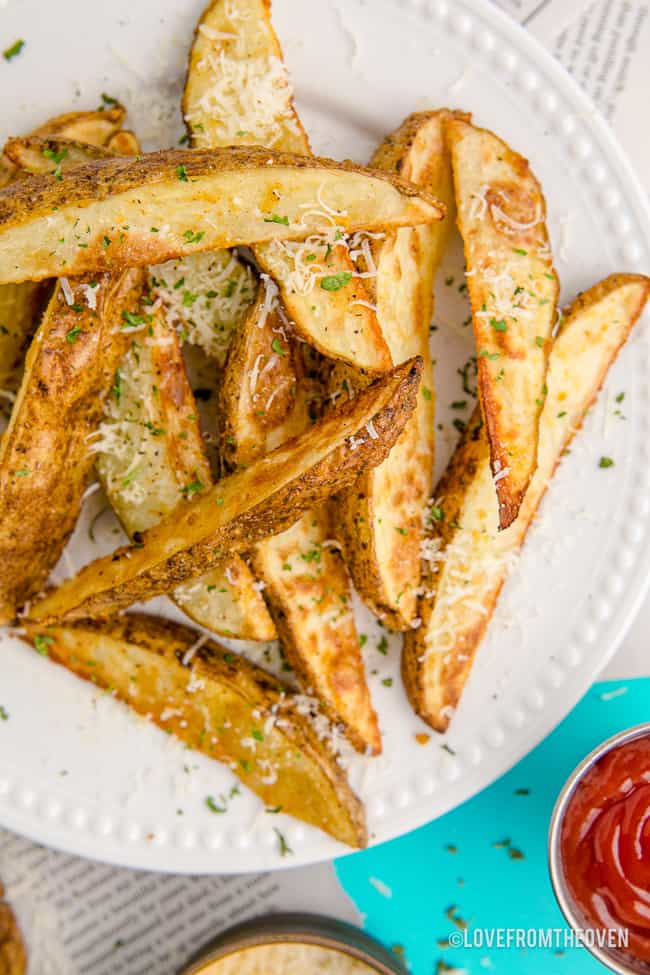 Let's discuss how to make this Air Fryer Potato Wedges recipe, as well as the ingredients that are needed. Please take note that below you will find discussion, expert tips, and answers to frequently asked questions about this recipe to help you recreate it in your kitchen. If you *just* want the recipe itself, scroll down. The full printable recipe itself, with exact measurements and instructions, is found at the bottom of this page.
How To Make Potato Wedges In An Air Fryer
Ingredients Discussion
Russet potatoes – I have found that Russets work best for homemade potato wedges.
Olive oil – This helps allow the spices to stick to the wedges and to crisp them up in the air fryer.
Seasoning salt – You can use your favorite seasoning salt for this recipe or just plain table salt.
Onion powder, garlic powder and pepper.
Parmesan cheese – The Parmesan is an additional topping that really takes these wedges to the next level.
Parsley – Parsley is always gives a dish great visual appeal.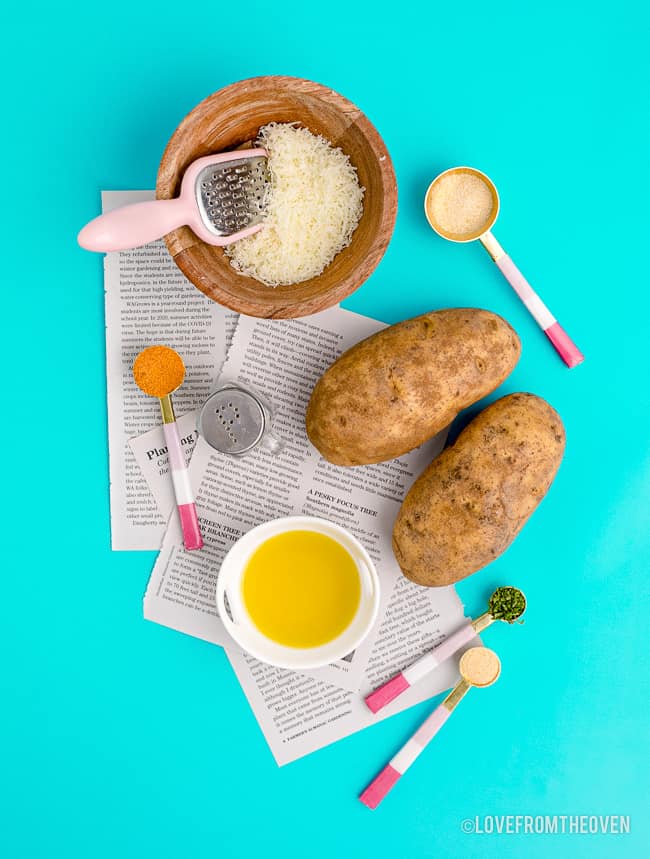 Directions
Start by washing and drying your Russet potatoes. You can even use a veggie brush to get them extra clean! Cut potatoes in half lengthwise on a cutting board. Take the two halves and cut them in half lengthwise again.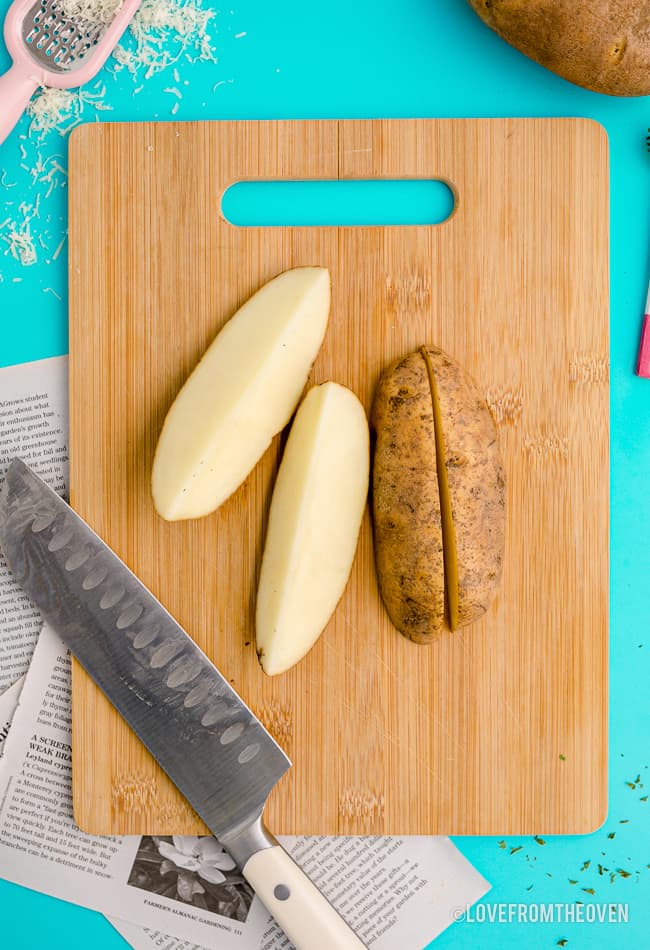 Cut the slices one more time lengthwise creating 8 slices. Place your cut potato wedges in a bowl of cold water for 30 minutes. This will remove the start and results in a crispier fry. After the 30 minutes, remove them from the water bath and pat them dry with paper towels.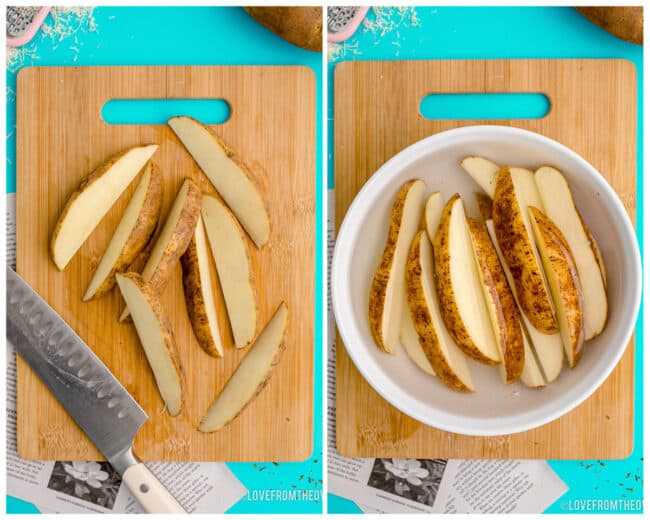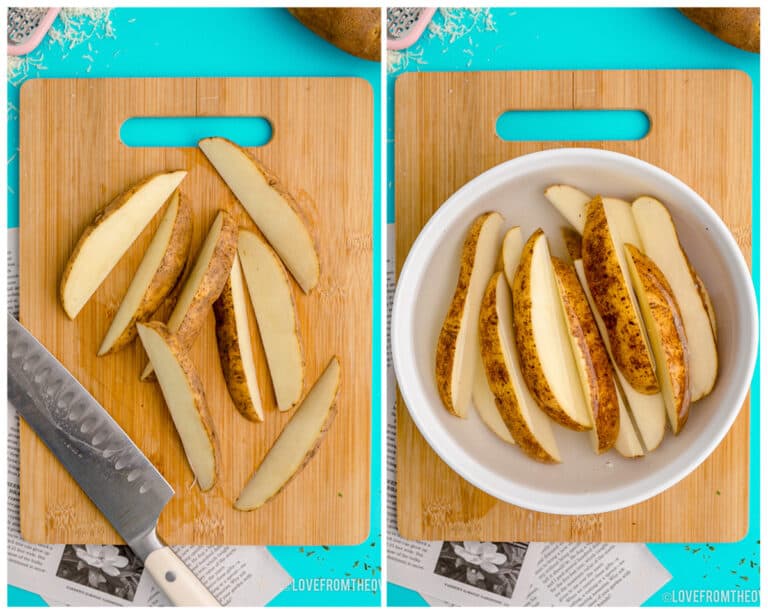 Toss your potato wedges in olive oil and set them aside while you make the seasoning.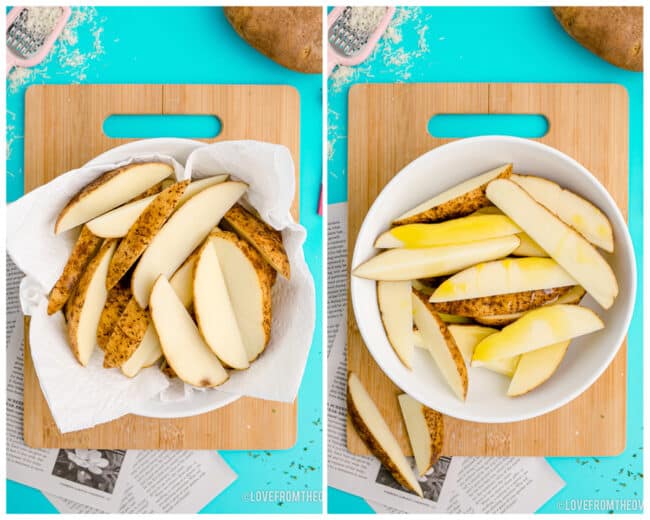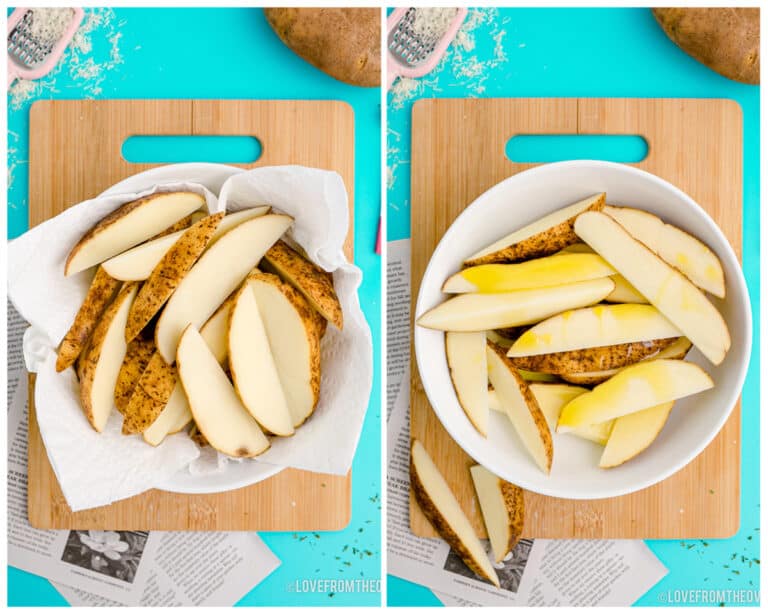 Combine the seasoning salt, pepper, onion and garlic powder together.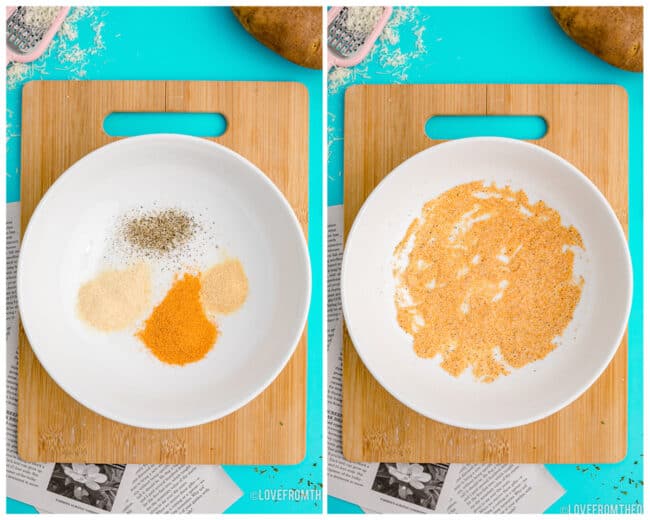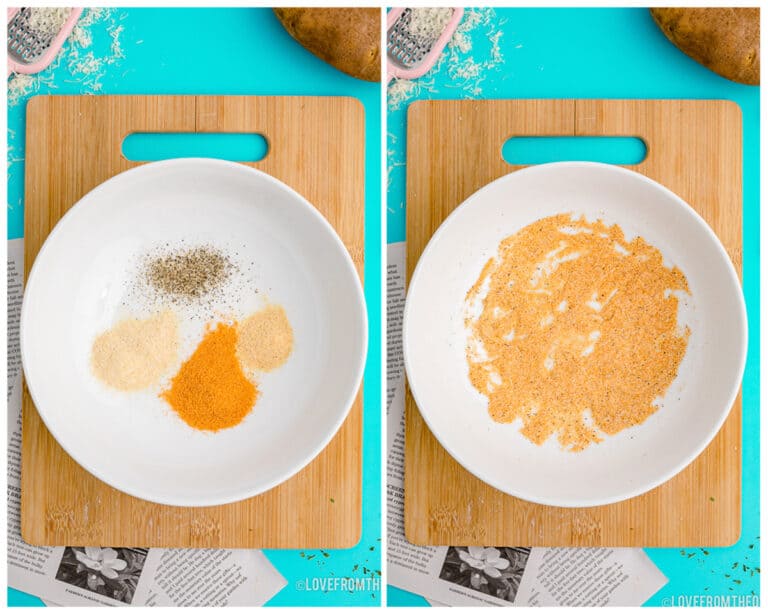 Add the seasoning to the oiled potato wedges and toss to coat evenly. For crispy potato wedges, place 8 in your Air Fryer basket in a single layer and cook for 15 minutes at 400 degrees. Shake the basket halfway through. If you are short on time or don't like your fries crispy, you can add all 16 wedges to the basket at once. The same cooking time of 15 minutes will cook these potatoes through.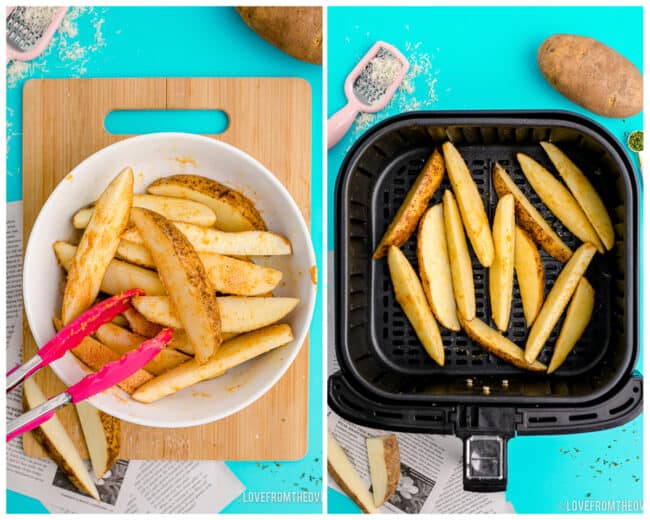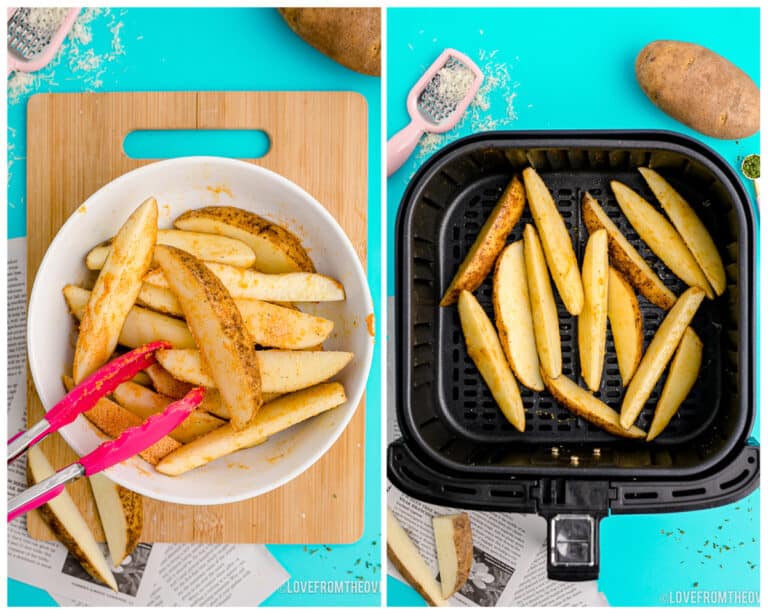 Remove your potato wedges from the Air Fryer basket and top with your Parmesan cheese and fresh parsley.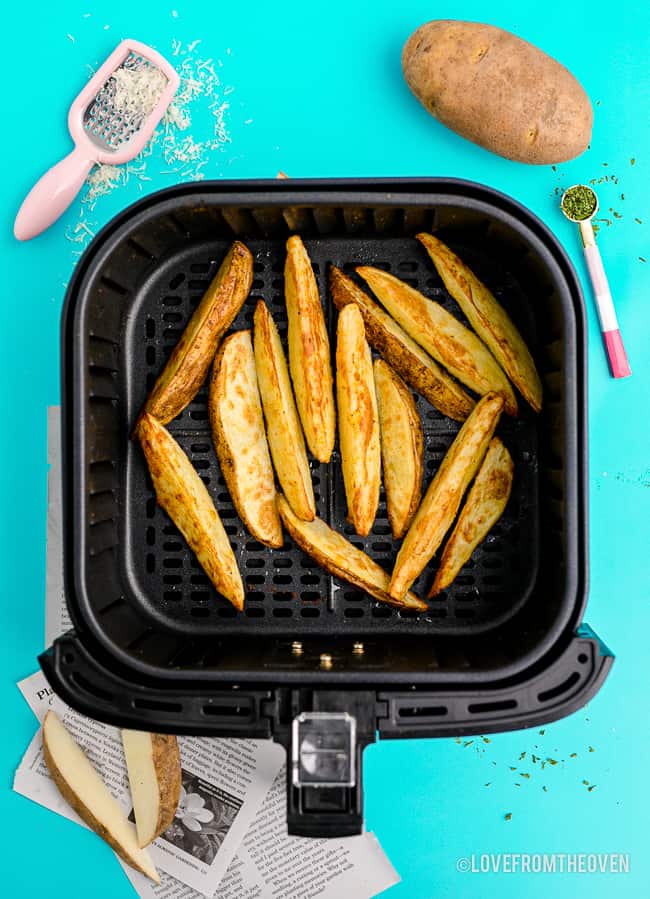 Serve and enjoy! These are great with Air Fryer Chicken Tenders and Homemade Cane's Sauce! We also love them with Cheeseburger Sliders and this Smash Burger Recipe.
Expert Tips
Make sure that you use a sharp knife on a stable cutting board when you are making these potato wedges. 
You can substitute olive oil spray instead of using olive oil to make these fries a bit healthier. 
Don't overcrowd the Air Fryer basket if you want a crispy potato wedge. 
Feel free to use your favorite spices on these homemade wedges. 
These will keep for 3 to 5 days in the fridge.  They are best reheated in the air fryer at 370 degrees for 2 minutes.  Or you may freeze them for up to 3 months.  Reheat frozen wedges by cooking for 15 minutes at 400 degrees.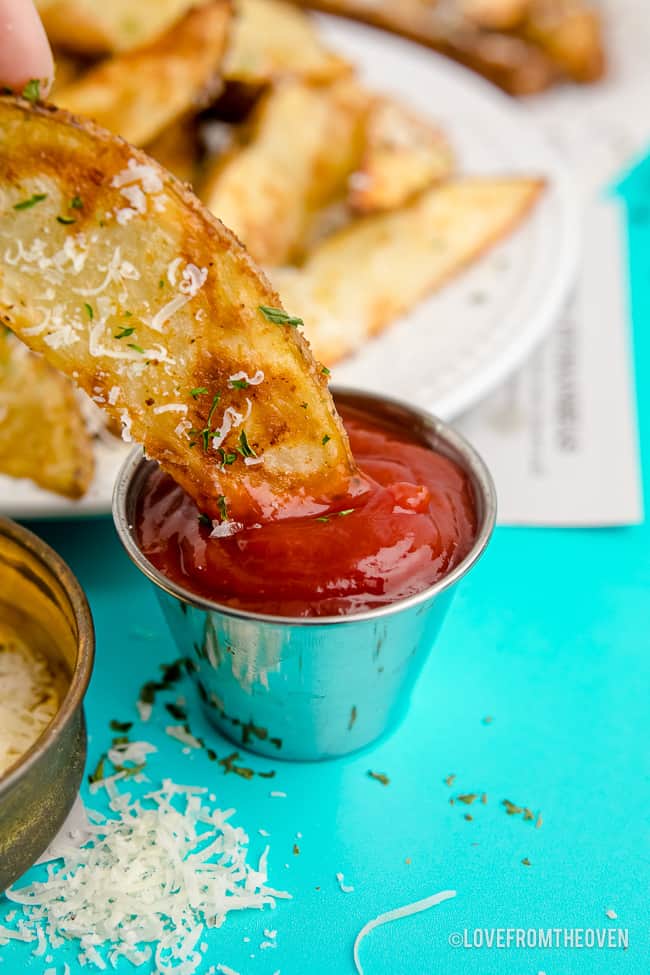 Frequently Asked Questions (F.A.Q.)
What potatoes work best for wedges?
I have found that Russets work best for homemade potato wedges. They tend to crisp up better and have a better texture overall than other potatoes. Yellow potatoes, Yukon gold, red, and white potatoes work too but will not be as crispy and will not have as nice a texture.
Are these potato wedges spicy?
These are flavorful but not spicy. If you'd like to make them spicy try adding 1 teaspoon of chili powder. You can also add a pinch of red pepper flakes as well. 
How long do you cook potato wedges in the Air Fryer?
You will need to cook these potato wedges for 15 minutes at 400 degrees in your Air Fryer. If you want a crispier potato wedge, make sure to not overcrowd the Air Fryer basket.
Check out all of my Air Fryer Recipes!
Recipes For Potato Lovers
If you love this recipe, here are some other recipes I think you will enjoy!
Potato Recipes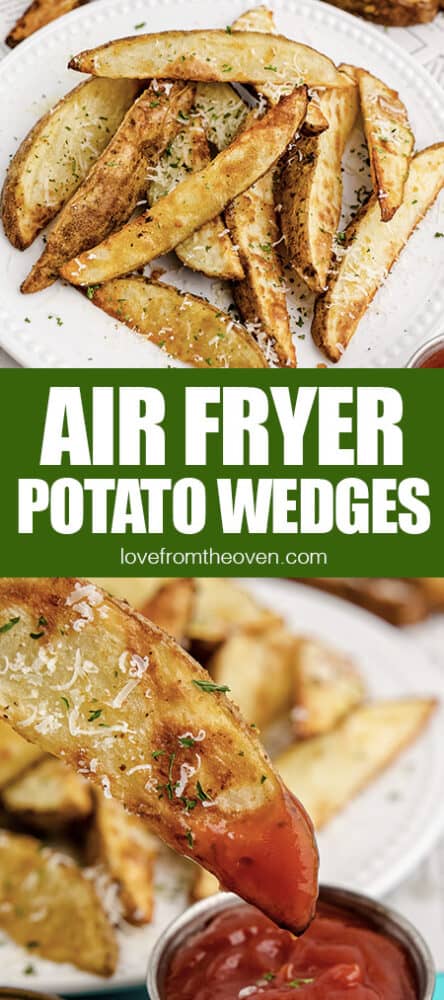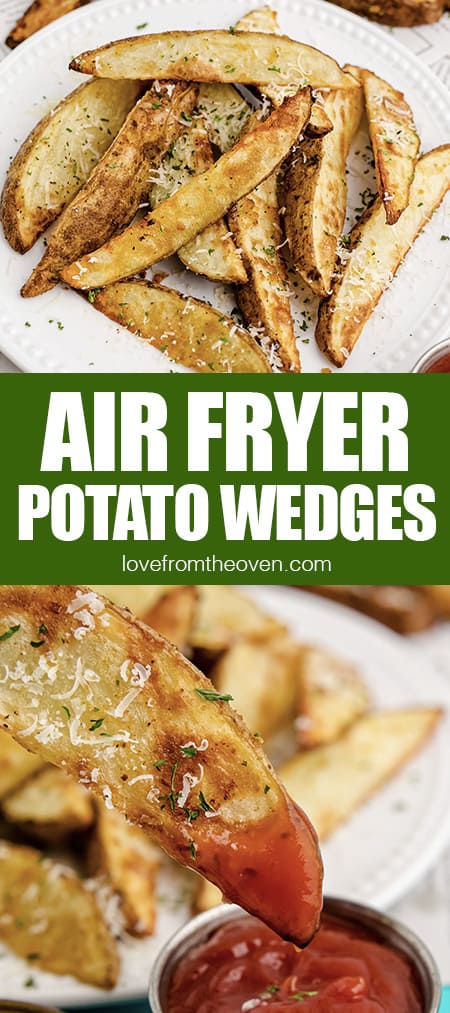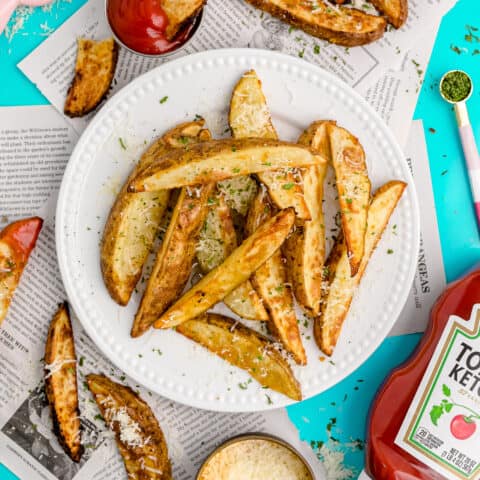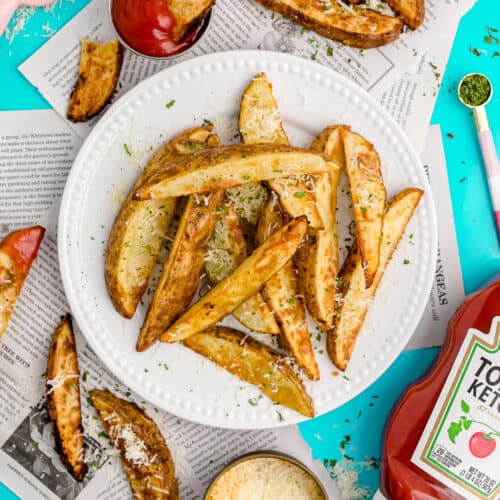 Air Fryer Potato Wedges
Air fryer potato wedges are a quick side dish that are perfect for burger night. Use your favorite dip for these easy potato wedges that turn out super crispy in the air fryer.
Ingredients
2

Russet Potatoes

Medium to large size

2

tbsp

olive oil

1

tsp

seasoning salt

1

tsp

onion powder

1/2

tsp

garlic powder

1/2

tsp

ground black pepper

1

tbsp

grated parmesan cheese

optional

1

tbsp

chopped fresh parsley

optional
Instructions
Cut in half lengthwise, then cut in half lengthwise again, and then once more. This will give you 8 wedges from each potato.

Soak the wedges in cold water for 30 minutes to help remove the starch. This will make your wedges crispier. Then dry them really well and place them in a large bowl.

Toss the wedges with olive oil. Set this aside. Mix the seasonings: seasoning salt, onion powder, pepper, and garlic powder, in a small bowl. Add the seasoning mix to the potatoes and stir to coat the wedges.

Place 8 wedges* in the air fryer basket at a time so that they are not crowded.

Bake for 15 minutes at 400 degrees, shaking the basket about halfway through. Serve with your favorite dipping sauce.
Notes
*I tried cooking these wedges with all 16 in at once and a batch with just 8 wedges at once and the batch with 8 turned out MUCH crispier, so it just depends on your preference and how much time you have. Both ways will cook the wedges through evenly, the more crowded basket will just be a bit less crisp.
Potato choices: Yellow potatoes, Yukon gold, red, and white potatoes work too but will not be as crispy and will not have as nice a texture.
Nutrition
Calories:
155
kcal
|
Carbohydrates:
20
g
|
Protein:
3
g
|
Fat:
7
g
|
Saturated Fat:
1
g
|
Polyunsaturated Fat:
1
g
|
Monounsaturated Fat:
5
g
|
Cholesterol:
1
mg
|
Sodium:
607
mg
|
Potassium:
459
mg
|
Fiber:
2
g
|
Sugar:
1
g
|
Vitamin A:
13
IU
|
Vitamin C:
6
mg
|
Calcium:
31
mg
|
Iron:
1
mg
Disclaimer
Nutrition information is estimated as a courtesy. If using for medical purposes, please verify information using your own nutritional calculator. Percent Daily Values are based on a 2000 calorie diet.