Lemon Blueberry Muffins are a delightful way to start the day. Bursting with a fruity flavor, the addition of lemon takes blueberry muffins to a whole other level. Sweet, with just the right amount of tangy, this is a recipe you'll make time and time again.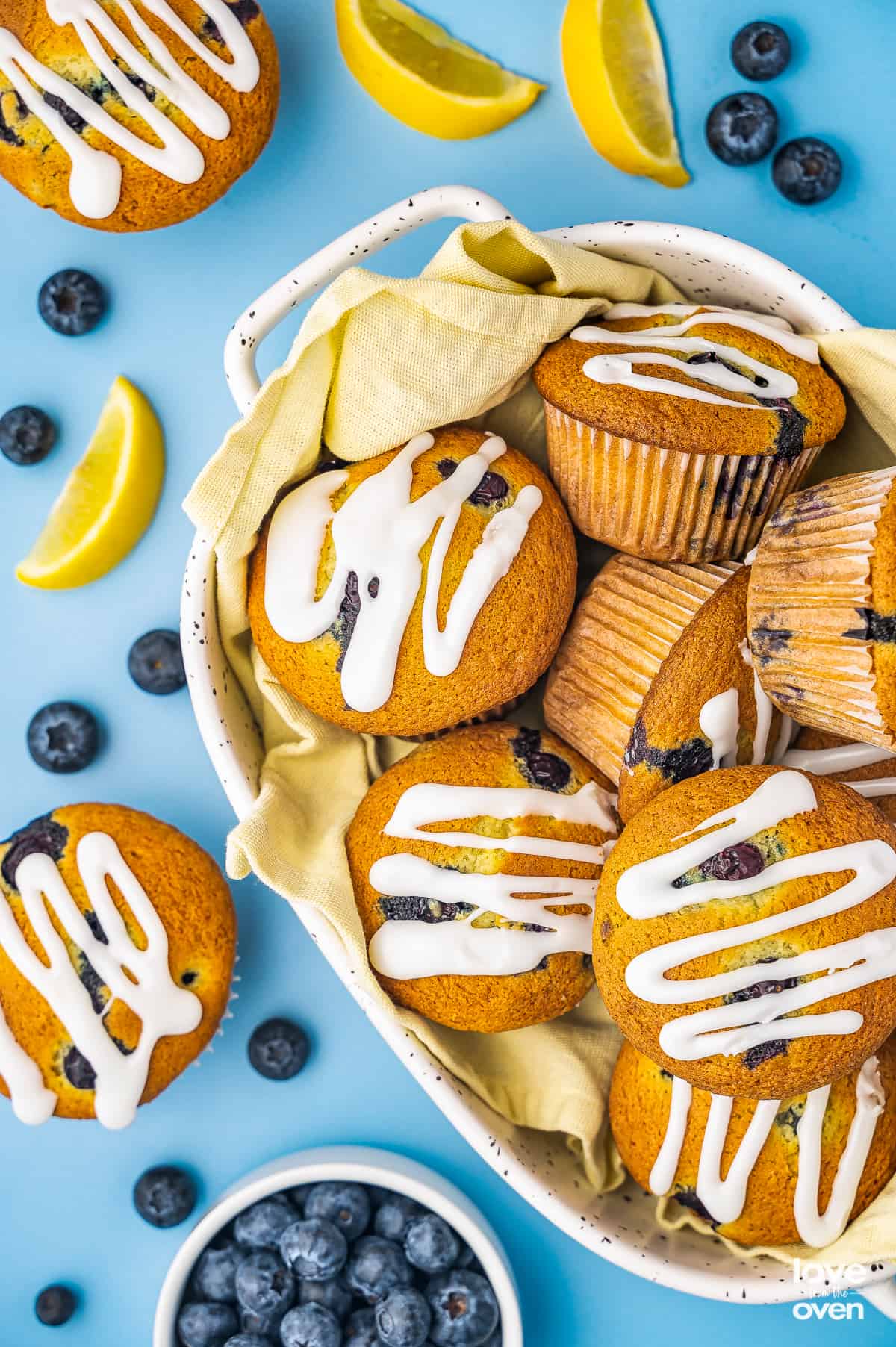 Reasons You'll Love This
Blueberry Muffin Upgrade – Nothing beats an old-fashioned blueberry muffin, but wait until you add that zing of citrus from the lemon! You'll fall in love all over again. 
Gorgeous Glaze – These muffins are finished off with a light lemon glaze, which is so good you might be tempted to eat it with a spoon! 
Fresh or Frozen – You can still make these muffins whether it's blueberry season or not. Fresh and frozen blueberries are used in this recipe!
Citrus Season – AZ locals know, if you don't have a lemon tree yourself, you know someone who does! Put those lemons to good use and make yourself a batch of these goodies. 
On the Go – These are great pastries to keep on hand when you need something quick to grab on the way out the door in the morning.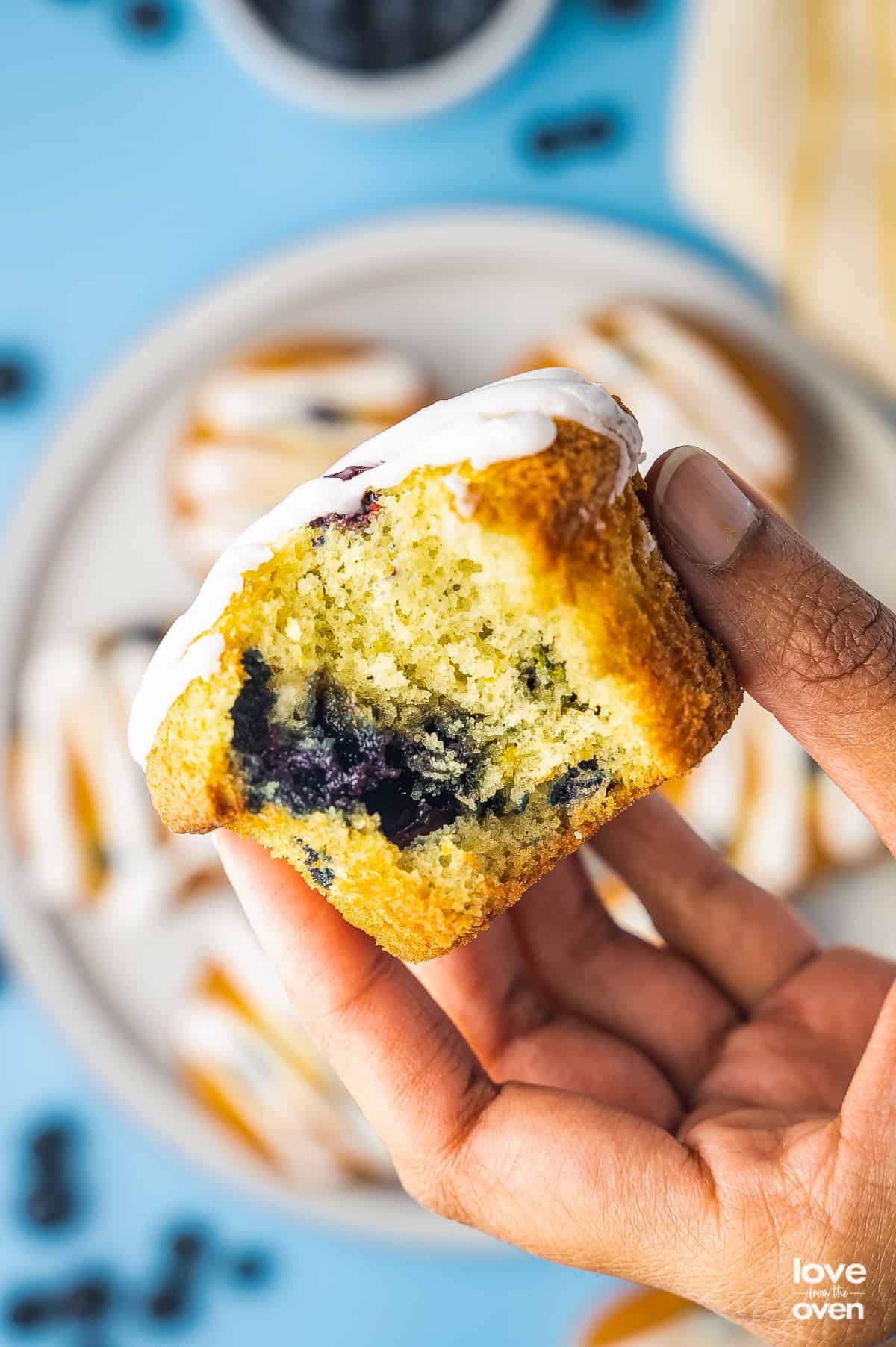 Can there be anything more satisfying than sinking your teeth into a warm, lemon blueberry muffin, and having that juicy, tart, explosion of warm blueberries in your mouth? Bubbling blueberries, a sweet and moist lemon batter topped with a dreamy lemon glaze? I'm drooling just typing this!
Ingredient Info
Let's discuss how to make Lemon Blueberry Muffins, as well as the ingredients that are needed. Please take note that below you will find discussion, expert tips, and answers to frequently asked questions about this recipe to help you recreate it in your kitchen. If you *just* want the recipe itself, scroll down. The full printable recipe itself, with exact measurements and instructions, is found at the bottom of this page.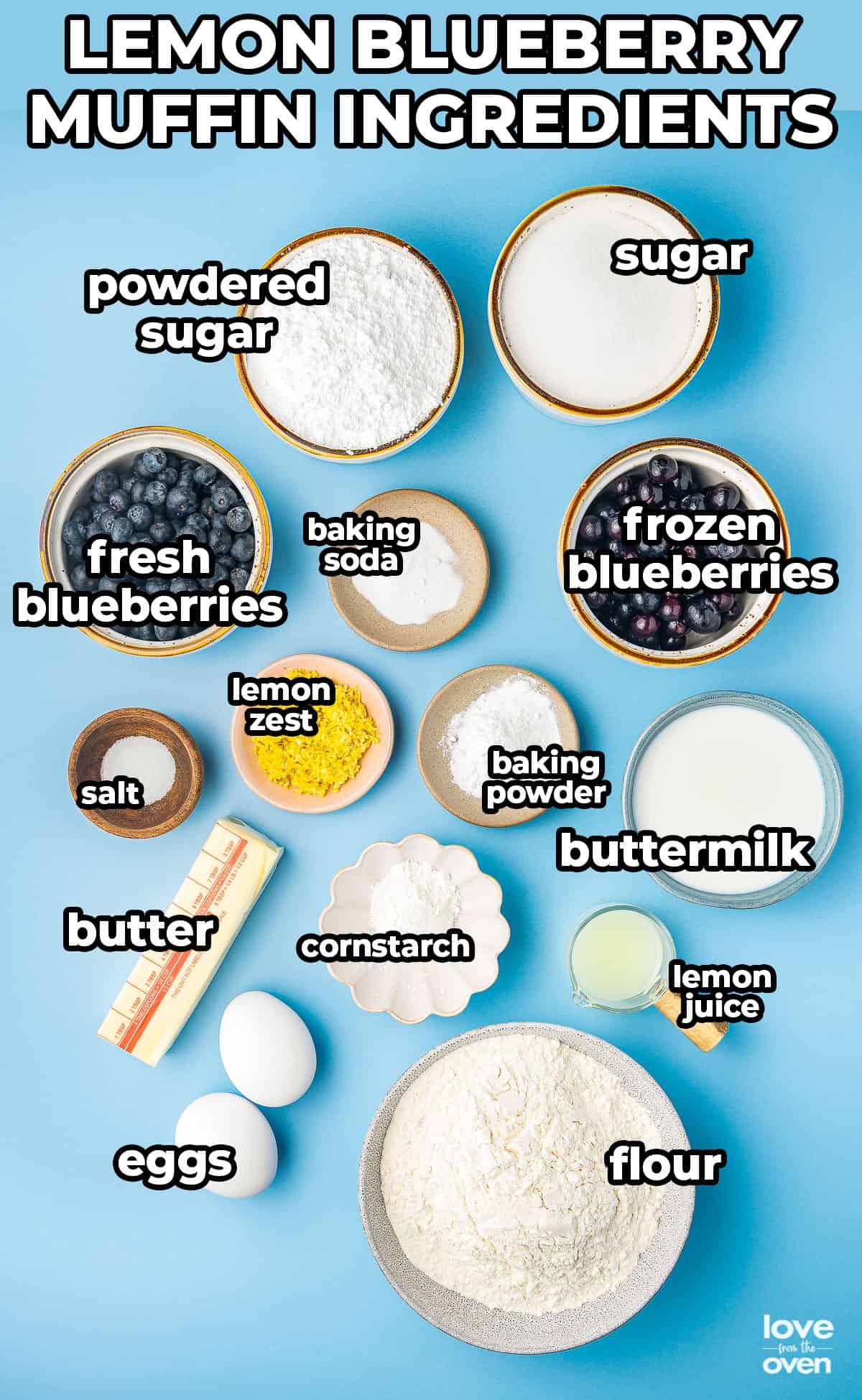 Butter – Use unsalted butter, and make sure it's softened to room temperature before use.
Sugar – White granulated sugar is recommended for this recipe!
Lemon Zest – You get lemon zest by grating the peel of a lemon. The best way to do this is by using a lemon zester, and scraping the sides of a lemon until you get little lemon peel shavings.
Flour – To ensure your muffins don't come out too dense, measure your flour by spooning it into the measuring cup and leveling it off before adding it to the recipe.
Cornstarch – This is the secret ingredient to getting a beautiful chewy, and soft texture in the muffins.
Lemon Juice – Fresh lemon juice is always ideal when it comes to any baking recipe, but bottled will work just fine. You'll need some lemon juice for the batter and for the glaze. For the batter, you can substitute for 2 tsp of lemon extract instead.
Buttermilk – Buttermilk is one of my favorite baking ingredients, and one you should always keep on hand. If you don't have buttermilk, you can either make your own, or use regular milk. They'll still be delicious!
Blueberries – This recipe calls for a combo of both fresh blueberries and frozen blueberries. You can use all frozen blueberries, or all fresh blueberries instead if you'd like. Make sure you rinse both the fresh AND frozen blueberries VERY well. Pat them both dry as much as you can, otherwise the frozen blueberries will turn your muffins purple.
Powdered Sugar – Also known as confectioners sugar, this will be used for the glaze.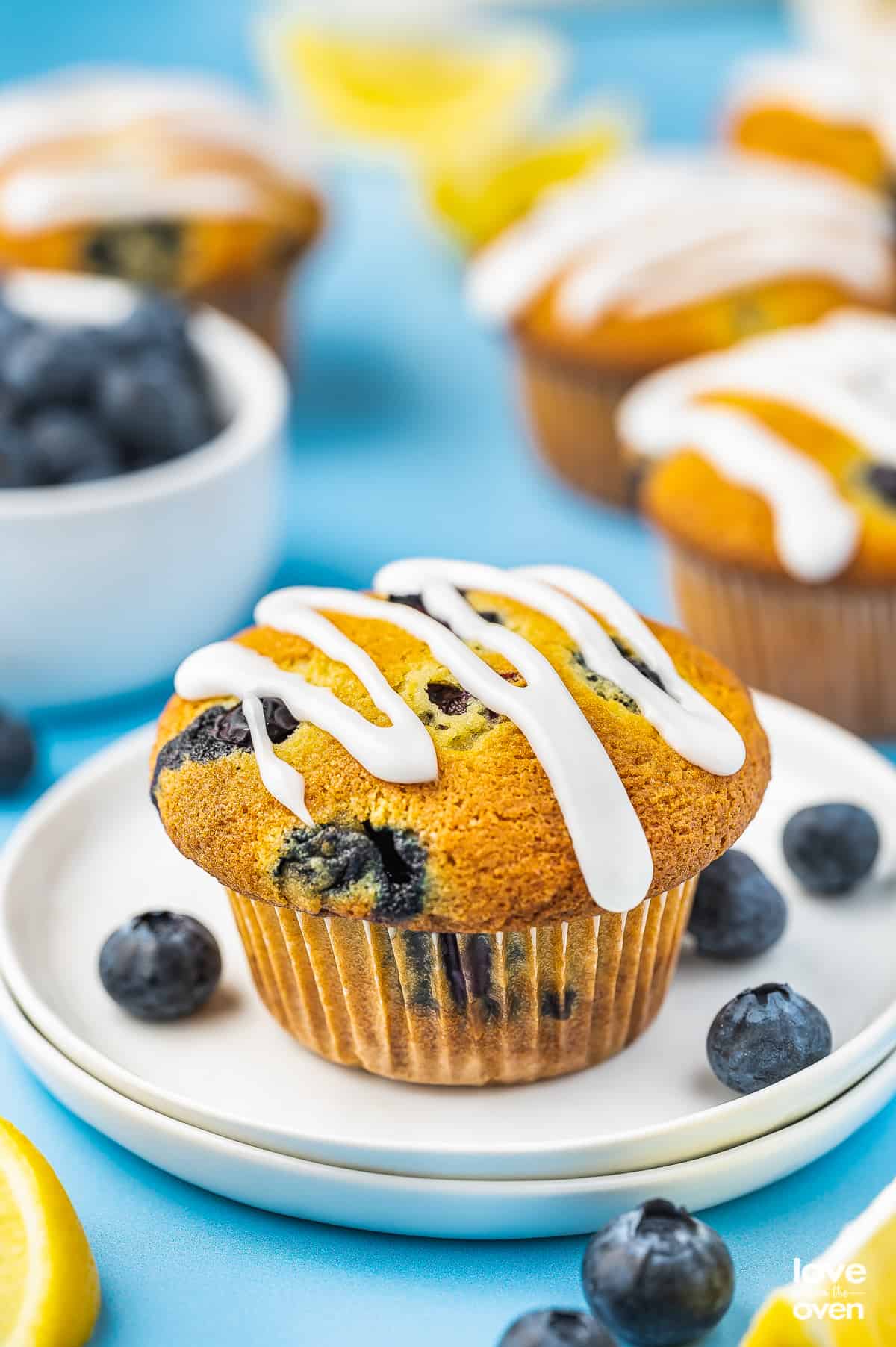 Step by Step Instructions
Begin by preheating the oven to 400°F. Line a muffin tin with liners, parchment paper, or grease them really well. Set this aside. Grab a large mixing bowl and add flour, baking powder, baking soda, cornstarch, and salt. Whisk this together until combined, then set it aside.
In a separate large mixing bowl, add the softened butter and granulated sugar. Beat that together using an electric hand or stand mixer. Add the eggs one at a time and continue to beat it together, scraping the sides of the bowl in between each addition. Make sure everything is combined well before adding the lemon zest and mixing until incorporated.
To the wet ingredients, add half of the dry ingredients and mix that together by hand.
Once combined, add half of the buttermilk, and stir that by hand until combined. Add the remaining flour, stir, then add the remaining buttermilk and stir until combined.
Pour in the fresh and frozen blueberries to the batter and fold them in until evenly incorporated. Do your best not to over mix at this point, the batter will be fairly thick and possibly a bit lumpy.
Scoop a quarter cup of the batter into each of the lined muffin tins. The wells will be fairly full, this is okay. Bake the muffins in the oven for about 20 minutes, or until a toothpick inserted into the center comes out clean, and the muffin tops have turned a golden brown.
While the muffins bake, make the icing by combining powdered sugar and lemon juice in a separate bowl and whisking until you get the consistency you like.
Take the muffins out of the oven when they're done and let them cool slightly. Drizzle the glaze over top of the muffins, serve and enjoy!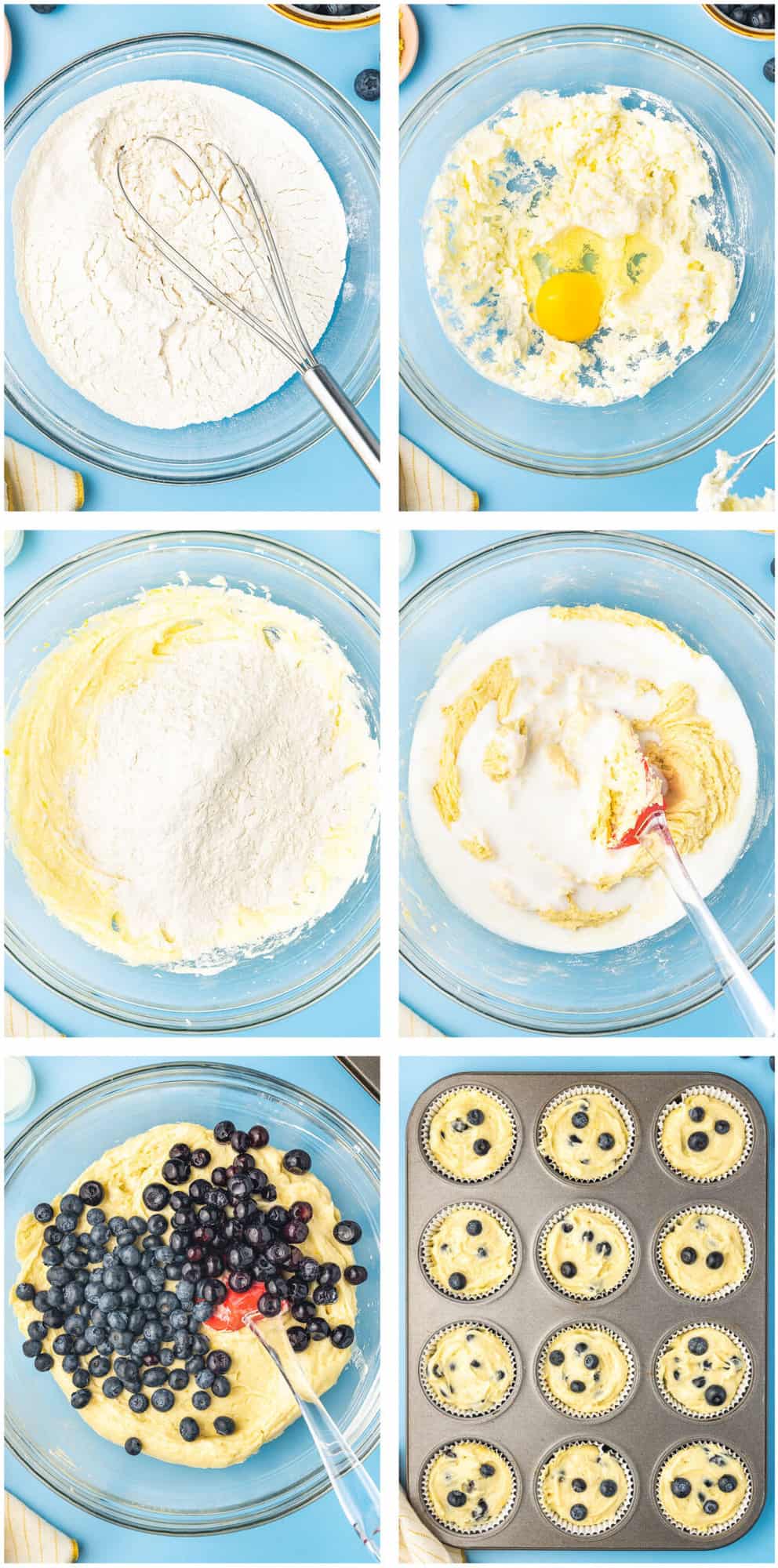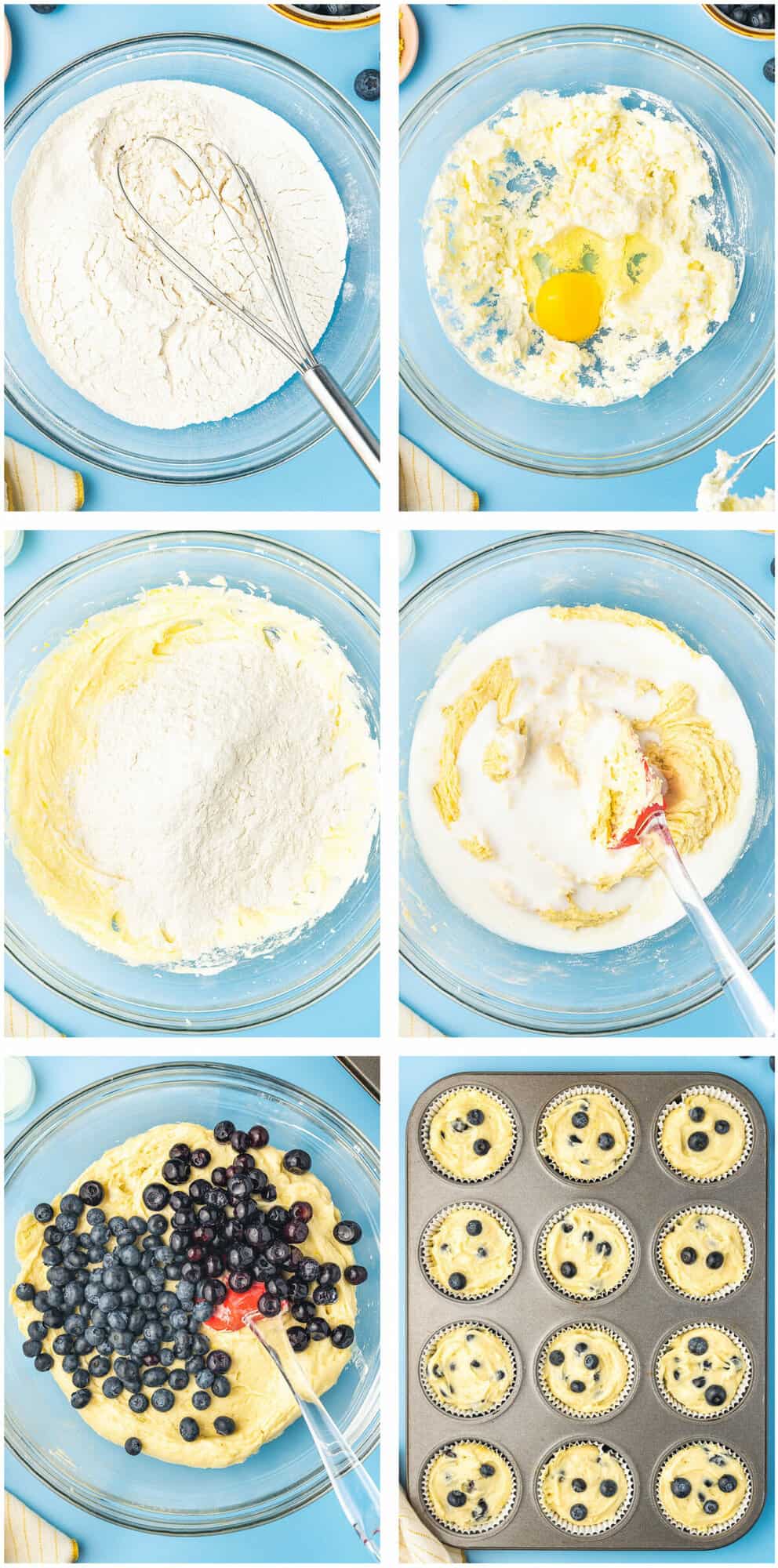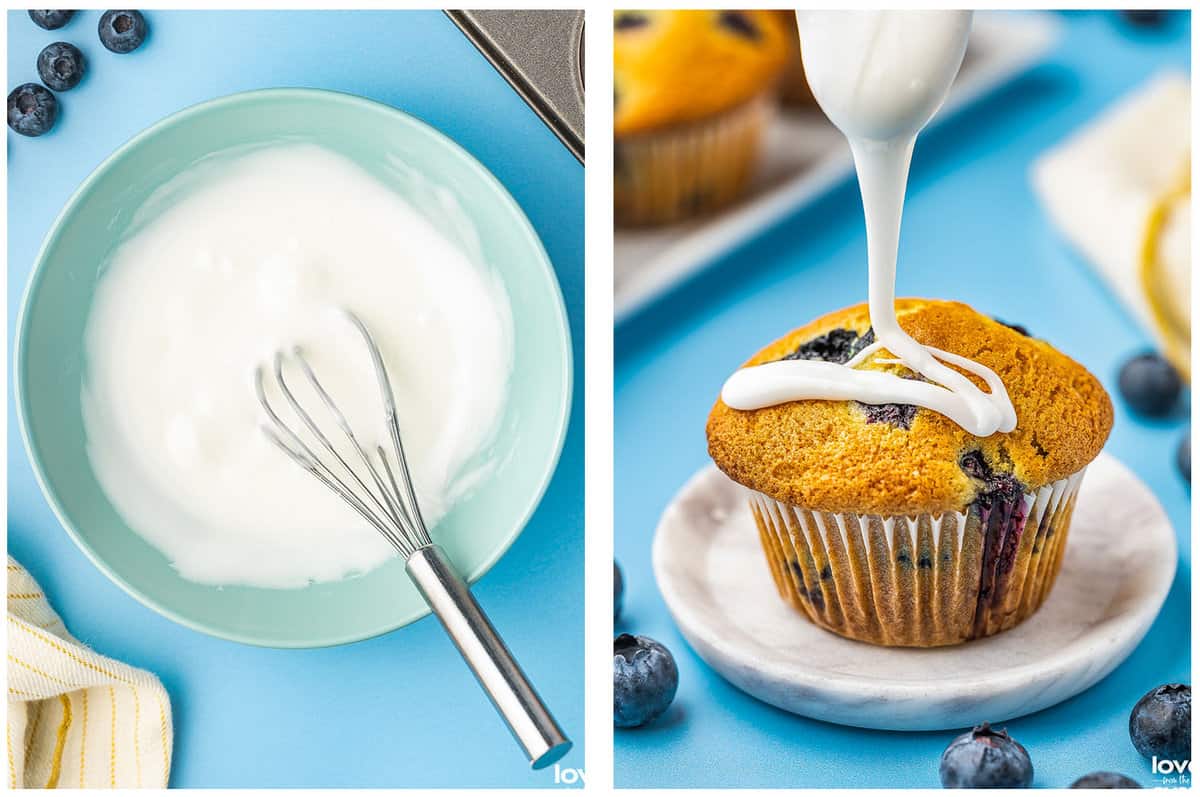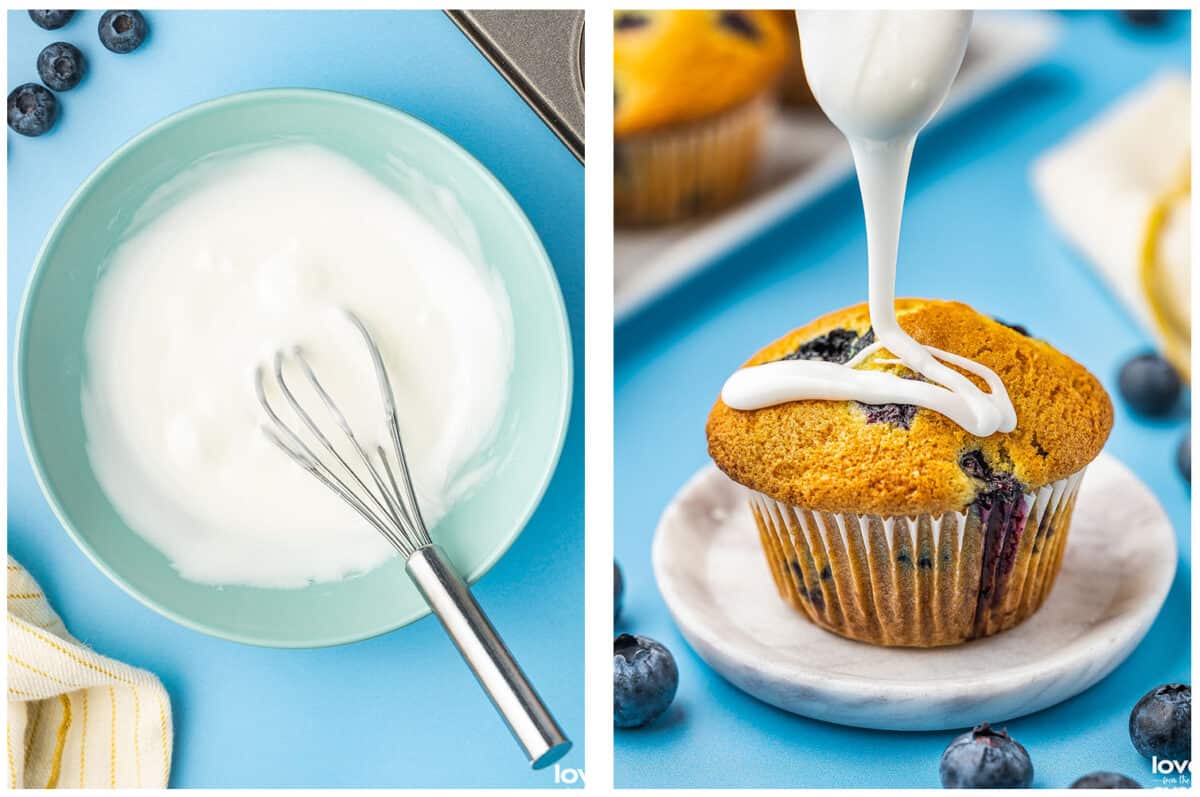 Tips And Advice
Storage – Store the lemon blueberry muffins at room temperature in an airtight container for up to 4 days.
Depending on how you choose to glaze these muffins, you may want to consider holding off on adding the icing until it's time to serve the muffins. The longer the glaze sits on the muffins at room temperature the stickier it could get. 
Making Icing:
You can make an icing as thick or as thin as you want. If you want your icing to be thicker, add more powdered sugar. If you want an icing to be thinner, add more lemon juice, or a splash of milk if you don't want an overpowering lemon flavor.
If you go for a thinner icing, know that it may soak into the muffins. This is still just as tasty and will look just as cute, but it may be a bit stickier. You can also decide to leave the icing off the muffins completely!
Hot and Cold – Let's talk glazing! You can add the icing to the top of the muffins a few minutes after they leave the oven, or wait for them to cool completely before glazing.
If you do it while it's still hot, just know that the icing may soak into the top of the muffins. This will still look and taste delicious, but it may be a bit stickier. If you wait til the muffins have cooled completely, the icing will likely harden on top. 
Here's a photo of muffins glazed while hot, which allows the icing to sink in. You can't go wrong either way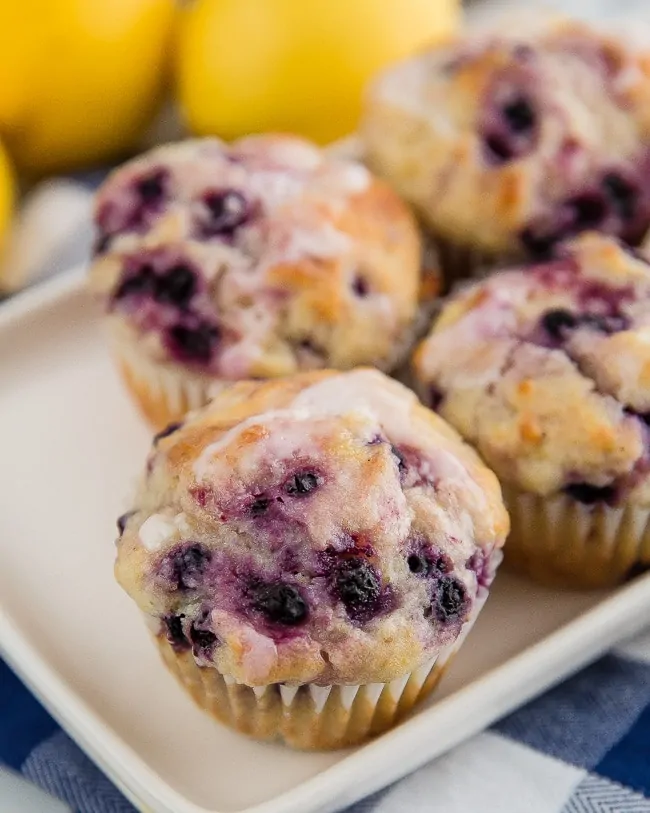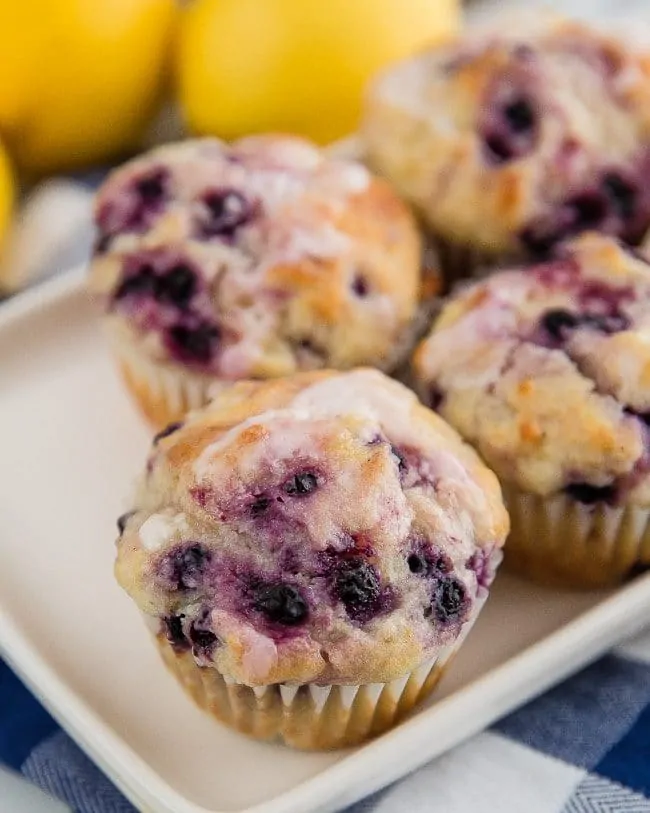 Equipment
For this recipe, you'll need the following materials:
Muffin Tin
Muffin Liners, Parchment Paper or Grease
Large Mixing Bowls
Electric Hand Mixer or Electric Stand Mixer
Whisk
Silicone Spatula
Measuring Cups and Spoons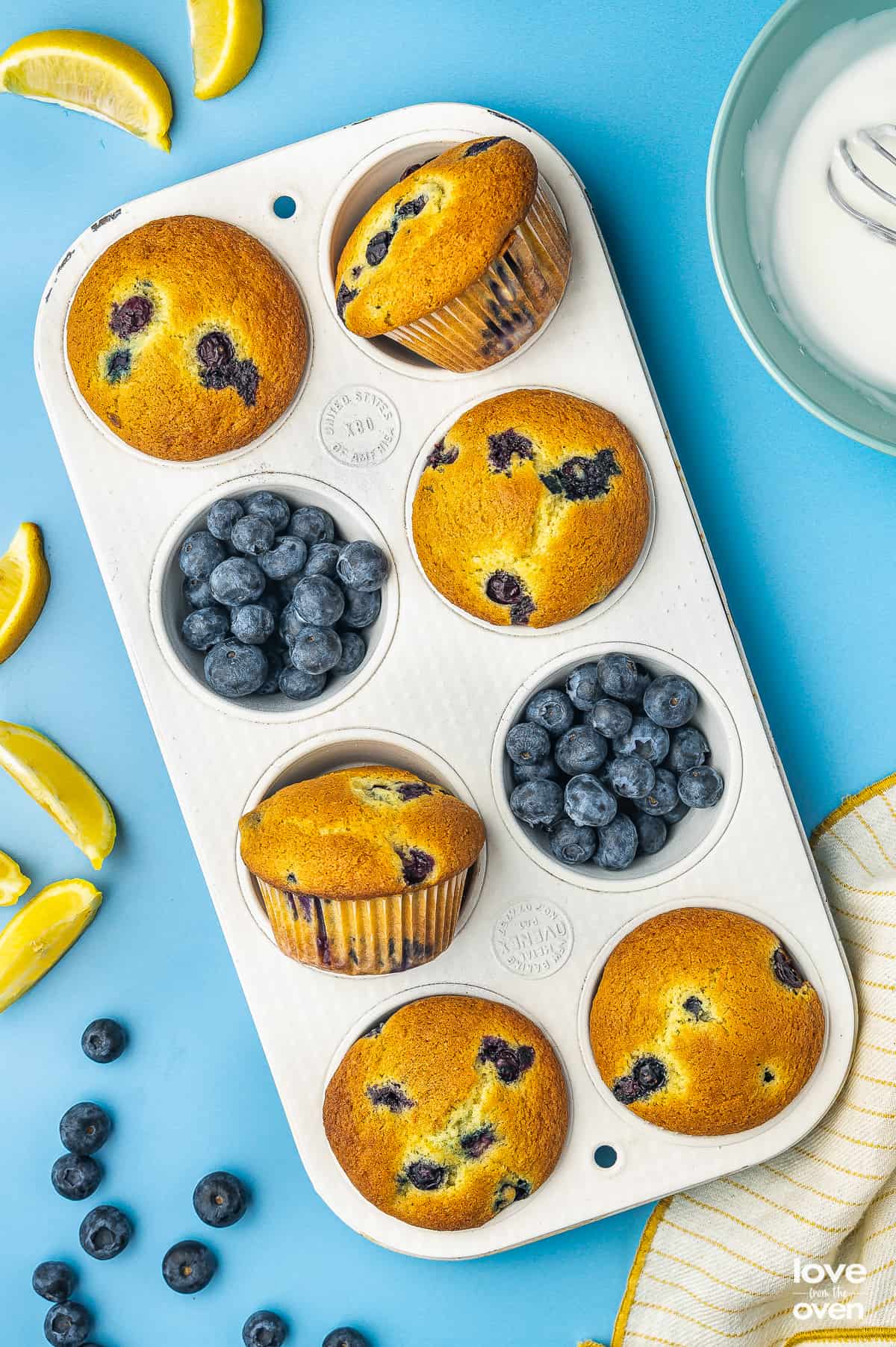 FAQs
Is it best to use fresh blueberries or frozen blueberries in blueberry muffins?
Deciding to use fresh blueberries or frozen blueberries is really a matter of personal preference. Personally I've always had a bit of a preference for the smaller, frozen blueberries in my blueberry recipes.

Why do you rinse blueberries in muffin mix?
If you use frozen blueberries, I recommend gently rinsing and draining them a few times prior to use.

Use lukewarm water which will help to both thaw the blueberries, and remove from the intensely colored juice that can turn your muffins purple. If you bake your muffins with your blueberries still frozen, they will likely require additional baking time.

I usually rinse mine until the water runs clear, then sit on a paper towel to dry prior to adding to the muffin batter. 
Recipes You'll Love
Still need some recipes to satisfy that citrus craving? Maybe you have an overload of lemons in your backyard? Regardless, here are some more sweet recipes for you to try your hand at!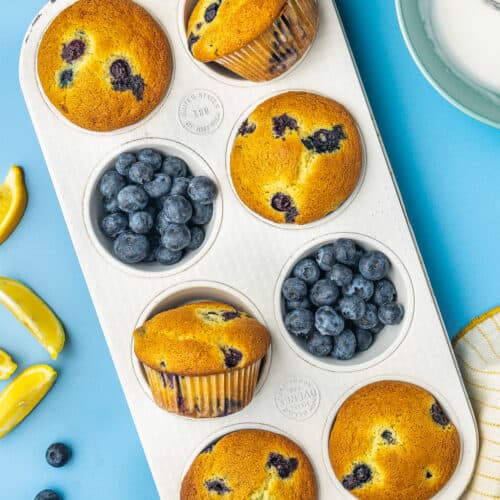 Blueberry Lemon Muffins
Bursting with flavor, these lemon blueberry muffins are moist, delicious and easy to make. Topped with an optional lemon glaze, your family will request these blueberry lemon muffins often.
Ingredients
1/2

cup

butter

softened

1

cup

sugar

2

large eggs

2

TBSP

grated lemon zest

2

cups

all purpose flour

2

tsp

baking powder

1

tsp

baking soda

1

tablespoon

cornstarch

1/2

tsp

salt

4

TBSP

lemon juice

2 tsp lemon extract can be substituted

1/2

cup

buttermilk

1

cup

fresh blueberries

washed and dried well

1

cup

frozen blueberries

rinsed and dried well
Lemon Glaze
1

cup

powdered sugar

1-2

tablespoons

lemon juice

more lemon juice can be added for a thinner glaze
Instructions
First, preheat oven to 400 degrees F.

In a bowl combine flour, baking powder, baking soda, cornstarch and salt. Set aside.

In a separate bowl beat together butter and sugar until light and fluffy. Add eggs one at a time, scraping down the bowl after each egg, making sure they are combined well. Add lemon zest and mix until combined.

Add half the dry ingredients (flour mixture) to the wet ingredients (sugar, butter and eggs mixture), stirring by hand until just combined.

Next add in half the buttermilk and lemon juice, stir until just combined.

Then add in remaining flour mixture, stirring until just combined. Follow with remaining buttermilk, stirring until just combined.

Fold in blueberries, mixing until just combined. Do not over-mix or as a result muffins may be tough. Batter will be thick and may be a bit lumpy.

Scoop batter by quarter cups into a 12 count muffin pan that has been lined with paper liners or greased. Each muffin cup will be quite full.

Bake for approximately 20 minutes or until a toothpick inserted into the center comes out clean and tops are starting to turn golden brown.

Remove from oven and place muffin pan on a wire rack. Remove from muffin pan after 10 minutes and allow muffins to continue cooling on the wire rack, which will reduce condensation which may occur when cooling directly on a surface.

Finally, if topping with lemon glaze, mix powdered sugar and lemon juice until well combined. Glaze can be as thick or as thin as you like. Add more lemon juice for a thinner glaze or more powdered sugar for a thicker glaze. Drizzle glaze over muffins. Muffins can be glazed hot, which will allow the glaze to soak in, or can be glazed once completely cooled.

Enjoy!
Notes
If desired, milk may replace buttermilk.
Lemon extract can replace lemon juice, however lemon extract is much stronger than lemon juice in terms of flavor when baking, so not as much is needed.
Nutrition
Calories:
273
kcal
|
Carbohydrates:
46
g
|
Protein:
4
g
|
Fat:
9
g
|
Saturated Fat:
5
g
|
Cholesterol:
49
mg
|
Sodium:
292
mg
|
Potassium:
124
mg
|
Fiber:
1
g
|
Sugar:
28
g
|
Vitamin A:
299
IU
|
Vitamin C:
4
mg
|
Calcium:
48
mg
|
Iron:
1
mg
Disclaimer
Nutrition information is estimated as a courtesy. If using for medical purposes, please verify information using your own nutritional calculator. Percent Daily Values are based on a 2000 calorie diet.