Let's talk about one of my favorite things. Sprinkles.

I don't just like sprinkles, I love them. There is something simple and sweet and just plain happy about sprinkles. Plain sprinkles, fancy sprinkles, holiday sprinkles, you name it, I love sprinkles. Any cupcake, cookie or sweet treat can be transformed with these sweet little things. I know that many of you feel the same way, so I've decided to devote this week to sprinkles. Yes, a whole week about sprinkles. Woohoo! Welcome to Sprinkle School.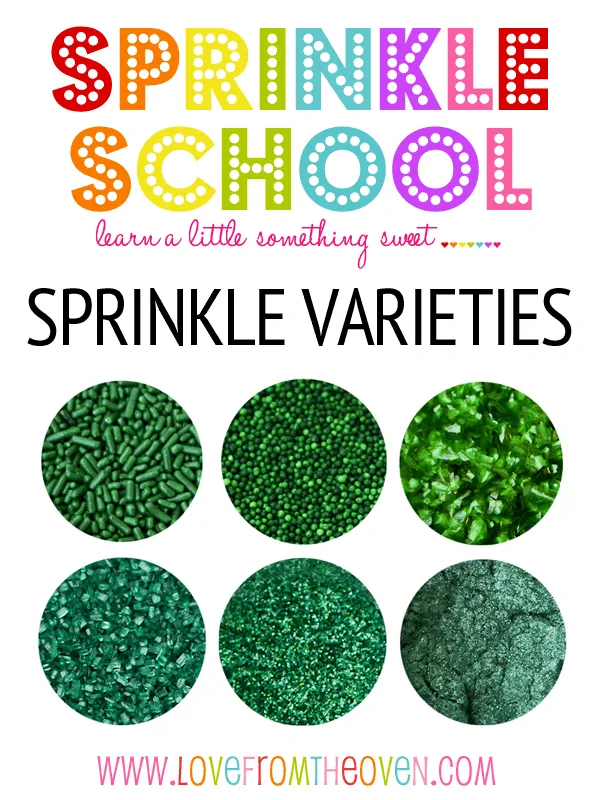 Let's start this week off with the basics. The different varieties of sprinkles. They come in so many shapes, colors and sizes that it can be hard to know what is what. Especially if your local baking supply store is like mine and has, as I like to call it, a wall of sprinkles. Let me introduce you to my happy place, the sprinkle wall at ABC Cake Decorating Supplies. Click here for my photo tour of the entire store.

Nice, eh? That's a LOT of sprinkles. And that amazing wall of sprinkles has also led to what might be classified as sprinkle hoarding at my house…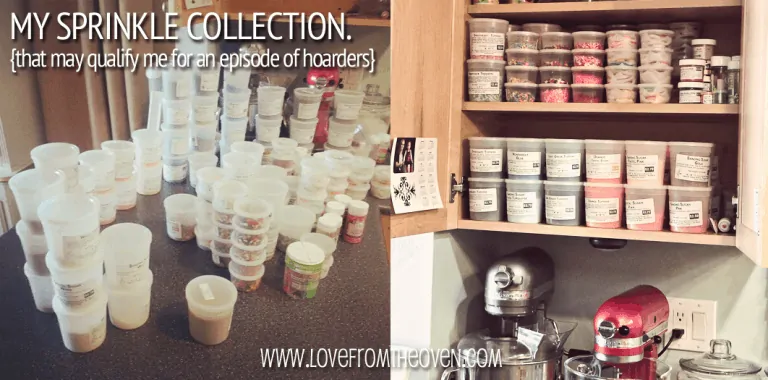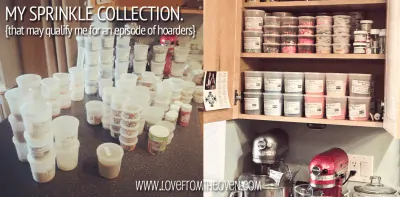 So let's break down what the different types of sprinkles are.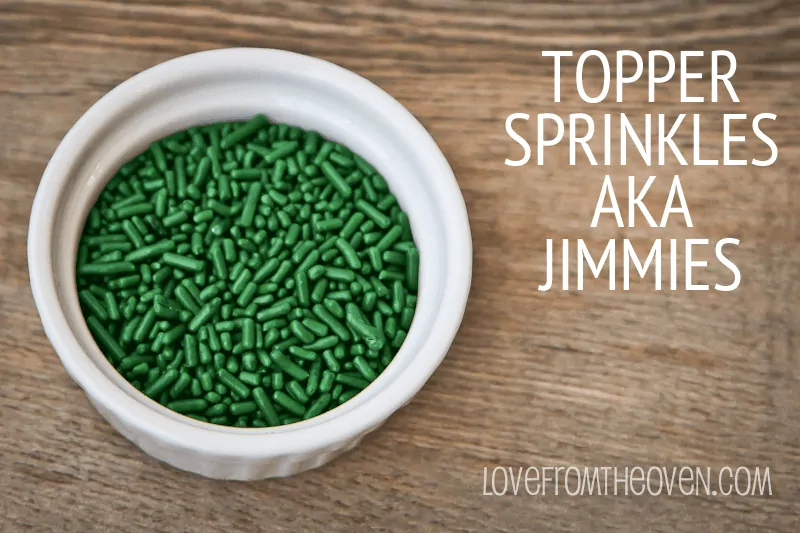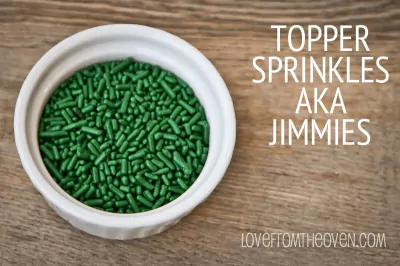 One of my favorite types of sprinkles are Topper sprinkles, also called jimmies. This is what I use most often on cupcakes, and also use on cookies, cake pops, Oreo pops, chocolate covered pretzels, you name it. While I use them on cake pops, they are not my favorite for these. They are one of the heavier sprinkles if you have problems with chocolate dripping off, these can add to that issue.
Like most sprinkles, toppers & jimmies come in almost every color of the rainbow as well as in blends. You can buy blends premade or make your own by mixing your colors. I love to make my own blends, and find keeping a set of each of each color of toppers allows me to create any mix that I need, any time. You can also add them to any regular light colored cake mix or recipe and create your own "funfetti" type cake.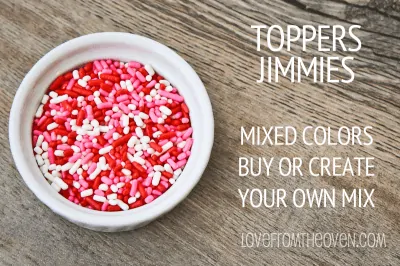 The next type of sprinkle is Crystal Sugar – one of two types of Decorative Sugar Sprinkles.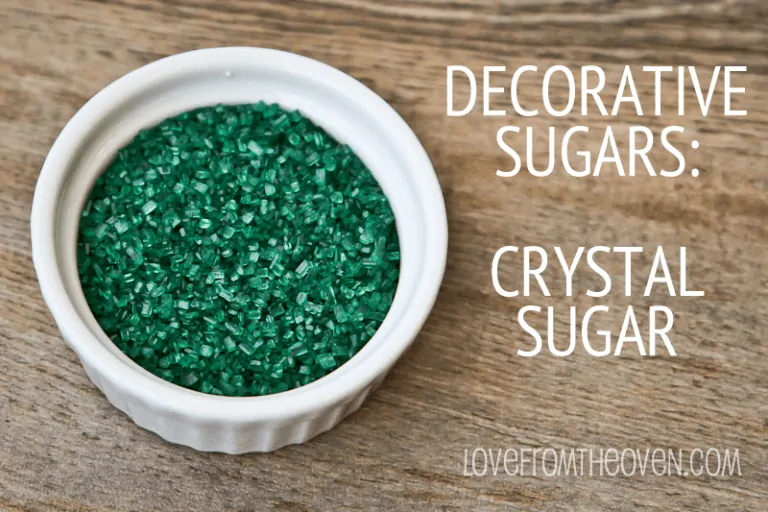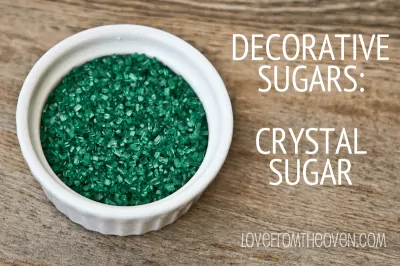 Crystal sugar is a larger sugar – certainly bigger than typical granulated white sugar for example, it's more the size of say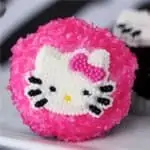 a coarse salt. One thing I really love about crystal sugar is that it adds a nice crunch to whatever you use it on. I love to use this on chocolate covered pretzels as well as many other things, it's a very versatile sprinkle. It's a lighter sprinkle than the toppers, so I use them a bit more often on cake pops.
The other type of Decorative Sugar Sprinkles is Sanding Sugar.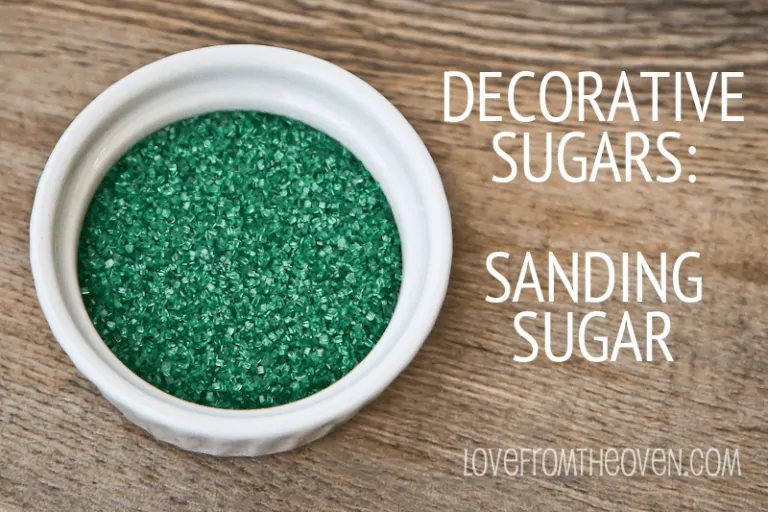 Sanding sugar sprinkles are much finer than crystal sugar sprinkles, very similar to your standard granulated sugar. I absolutely love using sanding sugar. It's lightweight which makes it stick to chocolate coatings and frosting easily. This is probably what I use most with pretzels and I use it often with cake pops. It also creates almost a nice "crust" if you will to whatever you put it on, which is great if you are transporting items like cookies or cupcakes. I often stick with white frosting or chocolate coating and depend on sanding sugar to add color to my creations.
The next type of sprinkles are Nonpareils. Also known as those teeny tiny balls that tend to want to go everywhere in my kitchen. 🙂 Sometimes these are spelled all one word, nonpareils and other times as two words, non pareils.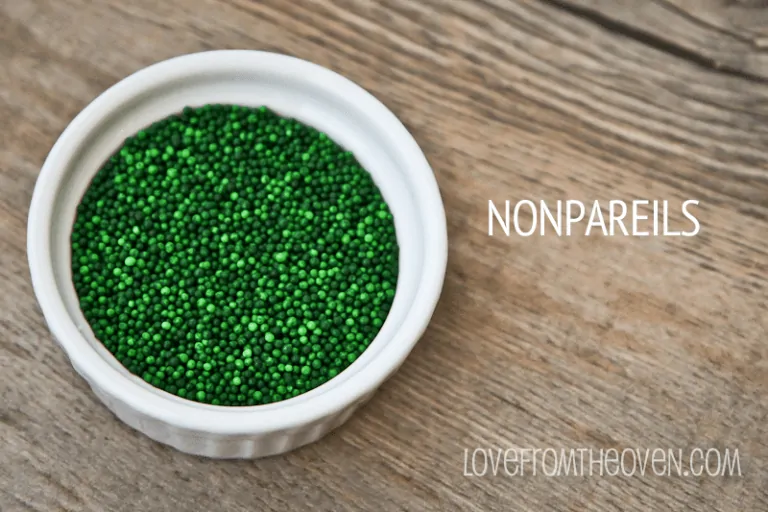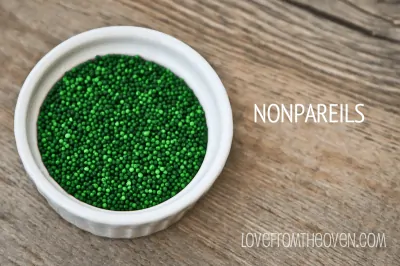 I do not use these as often as others, mainly because I seem to make a huge mess when I do! But these are great for adding color and texture. Because they are teeny tiny, you can get an entire rainbow of color packed into a small treat.
Another super fun sprinkle is the Quin.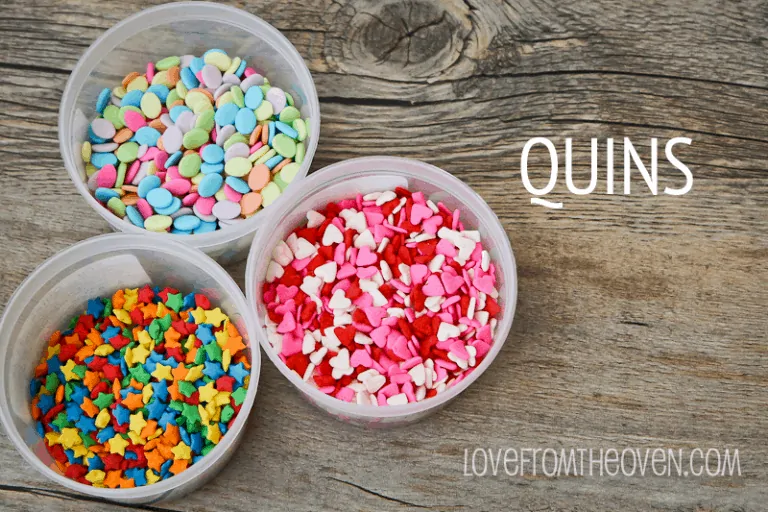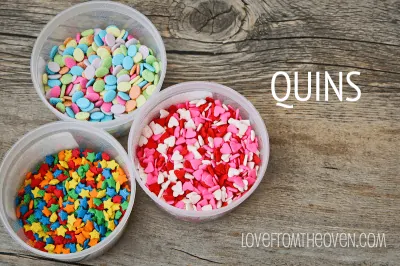 Quins are those fun, festive and creative little sweet shaped sprinkles. These are fabulous for holidays, special occasions, themes – you name it. I LOVE quins and use them all the time. These are probably the most fun of all sprinkles in my opinion. They range from itty bitty micro sized sprinkles to jumbo.
Now we start getting into the sprinkles that are more like glitter.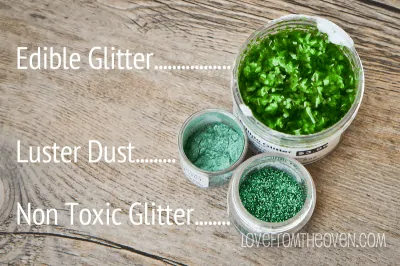 The first one is Edible Glitter. Edible glitter has a flake like consistency. It sparkles and shines on treats, but it does not look like the glitter you pick up on on the craft isle. It adds a bit of texture and is completely edible (take note, this is the "edible" version of glitter). It's usually made of Gum Arabic which is a natural gum made of hardened sap from two different types of acacia trees. I have to say in the jar I never think it's going to look that great, but when I get it on to my treats, it seems to really transform and have a really pretty delicate quality to it.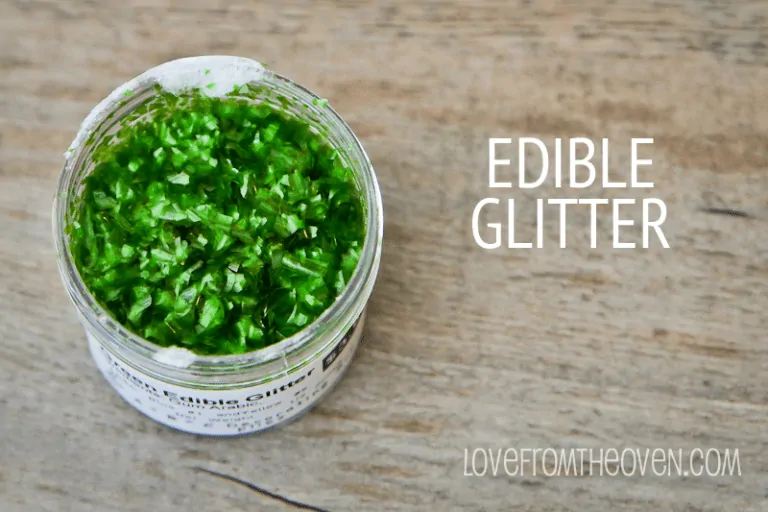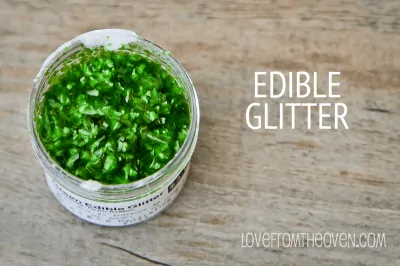 I recently used Edible Glitter (along with non-toxic glitter which I will talk about next) to create glittery cake pops.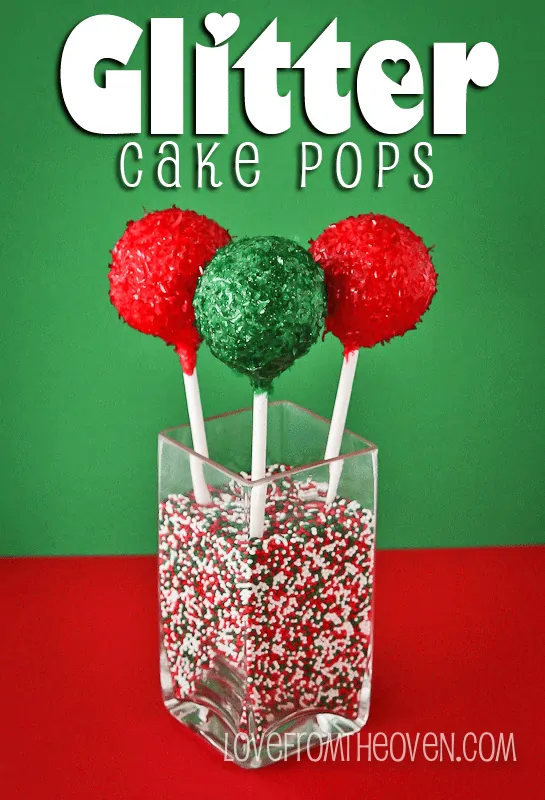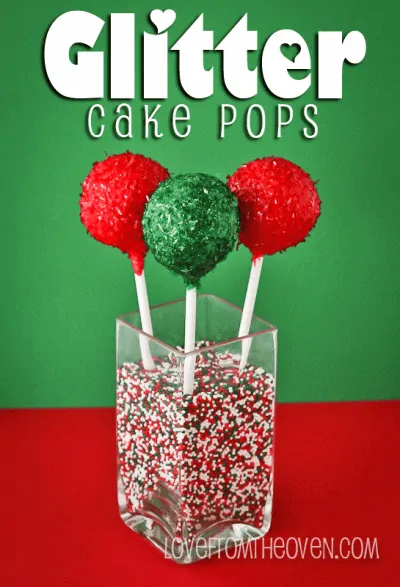 Now the other type of glitter. Non-Toxic Glitter, also known as Disco Dust or Pixie Dust. When you think "glitter" – this is what you are thinking. It sparkles and shines and I could coat everything with it. Sparkle, sparkle, sparkle! This stuff has more sparkle than episodes of Toddlers And Tiaras and Dance Moms, combined. Bling!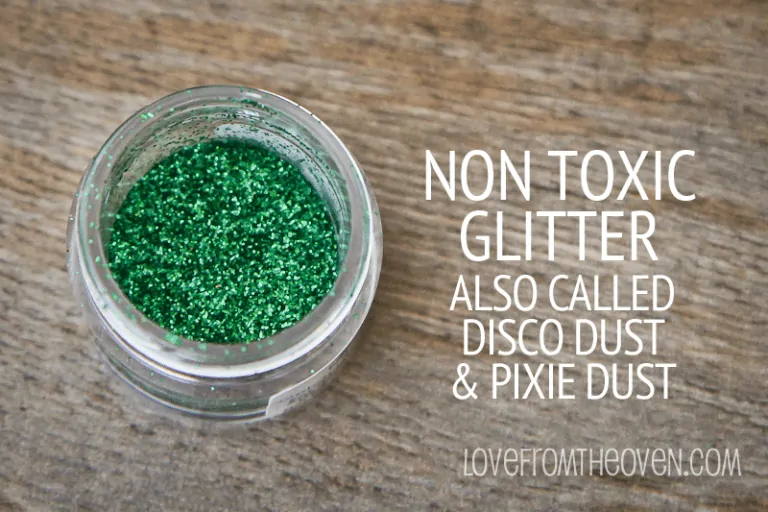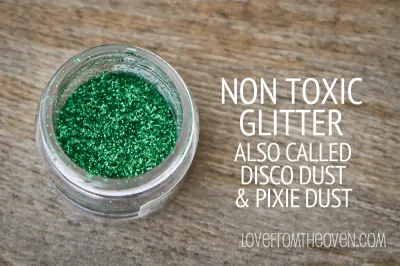 It's dramatic and pretty and, well, it's glitter! What it is not however is an actual food product. It is "non toxic" not "edible". So while it's gorgeous, I don't use it often, because I'm kind of big on food being edible. But it has wow factor, and some people do eat it. I kind of think of my kid's play dough, I mean it's okay to eat, but I really don't want to put it on my cupcakes. For the cake pops I made that you see above, I covered them in the edible glitter and then did a tiny shake of the disco dust / pixie dust / non toxic glitter. It really did the trick of making them sparkle.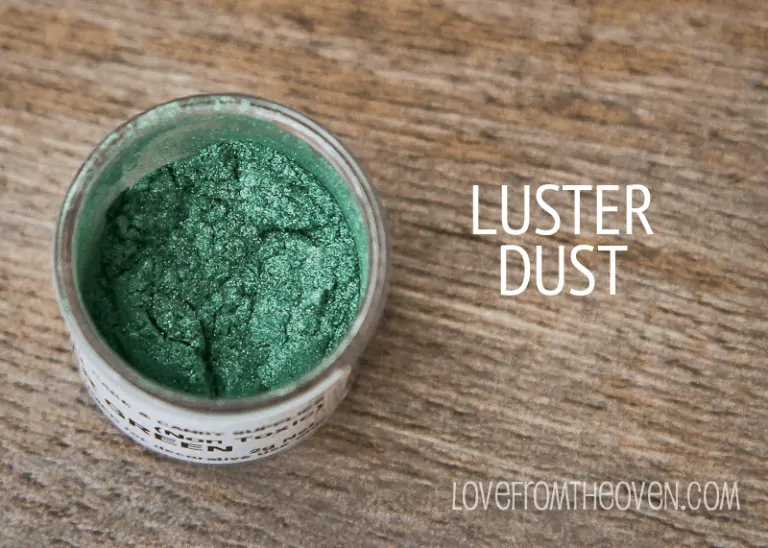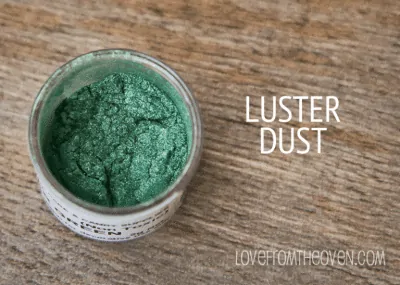 I have one last kind of sprinkles/dusts to share today and those are Luster Dust and Petal Dust. Luster dust has a pearl like finish to it and is often used to give a sheen type of finish. Petal dust provides more matte hues and color, without the pearl like finish. Both of these are typically applied with a brush and often used on things like gumpaste or fondant. Given I really never work with either, I also really never work with Luster or Petal Dust, but I wanted to include them with the glitters. These are also "non toxic" versus edible. Since I do not work with these, I don't have many words of wisdom, but you can check out the following..
See how Bridgette over at Bake At 350 uses uses Luster Dust and Disco Dust.
Haniela's has a great post all about Luster Dust.
And I almost forgot a variety! Thanks to Evie & Mallow Cake Pop & Party Shoppe for catching it for me. Dragees!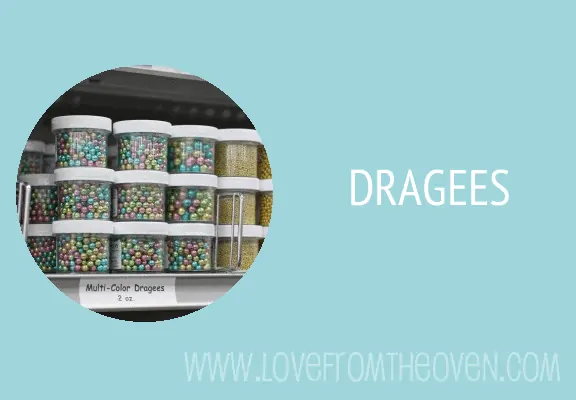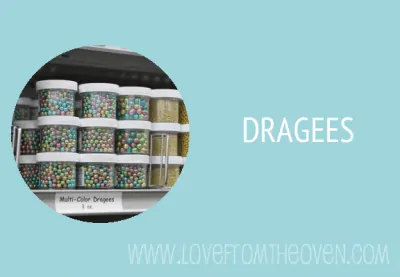 Dragees. Dragees are defined as a "bite sized, colorful form of confectionery with a hard outer shell". The one that always comes to mind for me are the little silver balls. My mom seemed to use them often, especially when decorating sugar cookies. I might have bitten into a few too many and sort of lost my taste for them, which is probably why I don't really use them. But they are so darn pretty, I think I need to rethink my usage. They are so cute. Head over to Sprinkle Bakes to check out her beautiful usage of dragees on her Sparkling Champagne Cupcakes.
Hopefully this post has helped clear up the differences between different types of sprinkles. I will be following this post with additional Sprinkle School posts to talk about places to buy sprinkles, how to store them, how to make some of your own and answering some of the questions you have. If you have questions you'd like me to try and answer, please leave a comment and let me know. I'm working on getting some experts to help out on that one as well. 🙂